Q&A with Dan Spinosa and Drew Stanley from Fixable on building a managed marketplace for DIYers
Featuring
Fixable is a two-sided marketplace for home improvement connecting homeowners and contractors.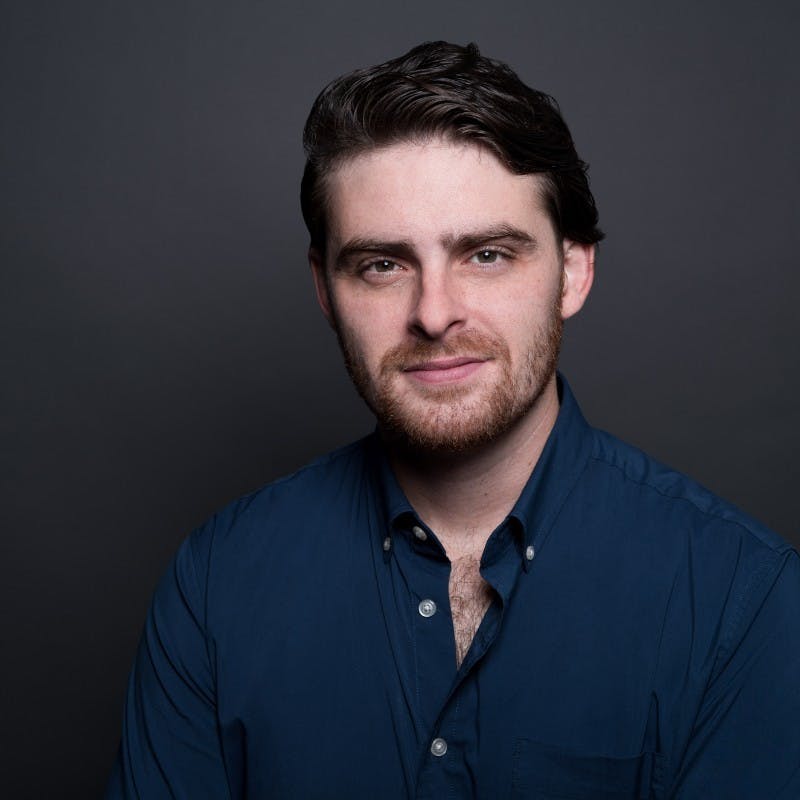 Conor Gleeson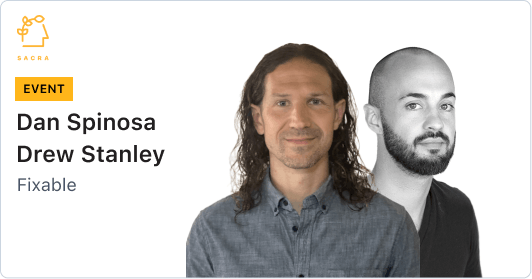 Background
Dan Spinosa (CEO) and Drew Stanley (CDO) are co-founders of Fixable. We talked to Dan and Drew about customer acquisition for their vertical marketplace for contracts and home improvement experts, layering additional revenue streams onto that core product, and why Home Depot (the $250B gorilla in the space) isn't building this.
Questions
Interview
What is Fixable? What's the problem that you're solving with the company?
It started when I was taking on more projects at home during the early days of the pandemic. I was getting texts from friends—they're doing some backsplash tiling or putting in a fan, stuff like that—and they're asking me how to do it because they expect I would know. 
All of us are Googling and going on YouTube, and we're finding contradicting answers and videos that don't fully solve the problem because they don't quite match up. 
What I realized was that the tools just haven't kept pace. There's no way for me to just virtually talk to an expert who knows what we're doing, who can look at my specific problem, meet me where I am, and give me some answers.
Professionals like these skilled workers—they're becoming scarce, they're becoming expensive, they're not being replenished by the trade schools, and everything out there is designed to just try to physically bring them into your house. There's no virtual solution. 
That's what Fixable is. It's a managed marketplace, but we're connecting you—the homeowner or the business owner, the DIYer—with the right pro for your project. It's a virtual consultation. It's all on your phone, text, pictures, video chat to help you with your specific project and then to give you all the tools to be successful there.
Have you launched in a particular vertical? Like, if you think about the telehealth example, are you thinking in terms of maybe plumbers? Just curious about that.
We're pre-launch, and at this point, we have a focus on the supply side, so we're talking with pros. We've onboarded about 50 since June, and they span all the trades. 
What's nice is a pro can handle lots of users. We've got HVAC, plumbing, electrical, construction, floors, you name it. They run the gamut.
On the go-to market side, we will be looking at particular verticals. Smart homes are a very interesting one. I've had lots of folks reach out to me because these things are supposed to be consumer approachable and easy to do, but when you open it up, lots of people say to themselves, "I don't know if I want to. Does this make sense? Can I do this? Am I going to burn the house down?" 
We're going to be looking at marketing and go-to-market on a handful of verticals, but with our pros, generally, the plan is now to cover almost all the bases.
How have you sourced the pros so far? Is it cold calling, working your own networks? What does that look like?
We've used online ads, which has worked really well actually. That creates a filter because these pros are going to be doing virtual consultations, and some of them don't want to touch a phone, so we can filter them out immediately because they don't even respond. 
We do everything online: they reach out, we go over email, texts, we'll do a FaceTime or video call, and that's just to make sure that they can handle the basics of this stuff. From there, we'll go on to vet them and make sure they actually know their skills and can do what they promise to do.
What's the QA or the quality control for that? I'm pretty handy, but I don't know if people would trust me to do their electrical wiring or things like that.
Our third co-founder, my brother, is a mechanical engineer. He's run overseas manufacturing, importing, and warehouses, so he knows that side—the physical world—forward and backward. He's been on our professional ops onboarding these pros and vetting them, so it's about talking and asking questions about previous projects and what they've done.
He'll be growing out a small team over there to keep the quality control really high because obviously, that's super important for so many reasons—not just that you want to have a good relationship with a person who knows what they're doing, but because your home is the biggest investment.
Why is now the right time for Fixable?
There's a handful of reasons. One is that people are working from home more. COVID has obviously accelerated that a ton. Another is that the labor market is tougher. It's tough to find people to get in your house. Lastly, technology has come a long way. Something like 20% of homeowners are digital natives, and yet the one store we still go to is Home Depot. This is something that it's not obvious you can bring online, but you can.
On top of that, trade schools aren't pumping out as many professionals, and older ones are retiring because their bodies can only do it for so much longer. This gives them access to work from home, like the rest of us have.
A handful of things line up to make sense with us now, and it's somewhat surprising, but no one's doing it. No one's attacking the virtual side of this. It's clear to me that this will go virtual. We're not going to do everything online, and you'll still have the one hardware store as the only place you have to go, but we'll be able to get you help. We'll be able to bring you the items. You can do the one-click shopping, and you'll be able to get all these projects done faster, at a tenth of the cost, and with higher quality because you have help from a pro.
How do unions feel about you guys? Are you guys scabs, to use the union vernacular? Like, how would they look at you guys?
They don't look at us yet, but it's a good question. It's also not just unions, but the municipalities, the planners, the permitting offices, the inspectors, the cities. They're all going to have an opinion and a view on us. We'll be under the radar for a little bit, of course.
However, the inspectors actually love when homeowners do things—because homeowners tend to do them well. When you have a handyman or a contractor come in, a lot of them rush it. They try to get it done quickly. They try to get it done cheaply. Inspectors are coming in with more of a harsh eye. 
There's a chance for us to work with some of these larger groups, and, actually, be preferred vendors—working with the unions, making sure that guys are still getting the licenses they need, still doing the proper work, still being approved by states or cities and municipalities. If we do that, we can become part of their education cycle. They can train their apprentices with some of the older guys, and that could potentially happen through Fixable. 
At this point, it's very early. We're not having in-depth conversations, but it's something worth thinking about. We don't have to come in like Uber and just come in guns blazing and fighting everybody.
Have you thought about the content side of things, too, like repurposing some of these visits? If you're a master electrician, you know there's 10 things that pretty much anybody who buys a house needs to know. Have you thought about courses or things like that?
That's going to be a big part of this.
One of the problems with YouTube videos is that they're trying to make money. They really want to sell ads and they want you to come back for more. They're not really trying to solve your problem so much. 
We can have our pros, and we can give them the tools, and we can put out a lot of content that's very specific: like, here's the difference between a claw hammer or a ball-peen hammer. Here's how you use the two. Here's the job for that. There are lots of content opportunities there. 
There are also DIY influencers that I think would be awesome to work with. If you've got someone who does something incredible, like penny tiling on a bathroom floor—that's great. I want to do that in my bathroom, and I also want to talk to that guy that just did it on TikTok. That could be a very cool inbound source for us as well.
You mentioned some other potential revenue streams both earlier and then in the deck. One being the recurring transaction, like maintenance, seasonal checkups, maybe winterizing a home. What are the longer-term revenue plays on the recurring piece?
Materials and supplies and tools are an obvious one. If we can tell you, "Here's what you need for the project; you've got that buy now button. It all shows up Friday. You're ready to work on Saturday," then everyone's happy. We don't need to do all the fulfillment ourselves—we can start off using a Home Depot API. We get 5% or 6% commission on that, and that's great. 
We can possibly white-label certain products that we fulfill ourselves, especially on seasonal stuff, whether it's pest control or lawn care or winterizing or whatever, and then make better margins on those projects. 
Key not just to revenue but the rest of the business generally is seasonality. That's a lot of where we're going to be exploring additional software, even for free and just to keep you engaged as a user.
For example, let's say winter's coming. We know you have a sprinkler system in the yard, and we can remind you to winterize it. We can share our three top videos on winterizing your system. If something happens, like the water's not draining or you don't have antifreeze, you can quickly jump on with a Fixable pro and get a consultation there. 
That, I think, would be really big and really help everybody who owns a home, especially for new homeowners, because there are so many things you don't realize until you go through a full winter.
We also were looking at the home-buying and living and selling journeys as potential places to plug Fixable into the conscious behaviors of homeowners. If you're doing an inspection or doing due diligence or thinking about buying a home, where can we snap in and provide services and insight? 
We jokingly refer to this thing called the "Uncle Bill Effect", which is having almost like on-call, 24/7 access to someone that you trust to answer problems and provide guidance and make you feel empowered.
How do you think about adjacent competitors from the Lowe's and Home Depots of the world and then other more tech platforms like TaskRabbit or Outfit House?
Home Depot is the $250 billion elephant in the room, and they should build this. They should have built this five years ago, honestly. It's crazy, but they have a capital and management structure that's not built for innovation—it's built for doing what they currently do. 
I think there could be a cool opportunity to partner with them, where you could go on their site and get in touch with an actual skilled tradesperson who knows what they're talking about instead of customer service. That's generally how we think about the big incumbents, which we see as possible partners but not someone that's going to innovate and get ahead of us. 
I don't think any of the other marketplaces in this space—the Thumbtacks, Handys, Angis—have hit it out of the park. I don't know anyone who has had a really great experience with them. Maybe they work a little bit for finding cleaners, but I've never hired a professional through them. 
It's not what we're trying to do, at any rate, which is stay on the virtual side. Then there are companies like Outfit or Houzz—I think they're more interesting as partners to talk to. If you buy some products there and you're putting them in, you want that "Uncle Bill" to call and say, "I've got this new vanity for the bathroom, I took out the old one, and the rough-in doesn't look good or match this vanity I got on Houzz." That's a place where Houzz doesn't complete the offering—they don't take you through the entire journey from purchase to successful install. We could potentially fill in that gap better.
Can you walk people through how big this could be? I think people understand the creator economy, they understand this idea of enabling craftspeople to diversify their own revenue streams, to keep up with new trends, but how big is this opportunity, realistically? What size company do you think this can become with this wedge market that you've picked?
Home improvement is pretty big—the full home improvement space is almost a $500 billion market. $250 billion of that is home center sales, which is like Home Depot and Lowe's. About half of that is probably pros or semi-pros directly. The other half is homeowners, small business owners, and folks that would be in our market.
The instruction and the scope of what we can do there—with 20% of homeowners being digital natives now—is probably a $10 to $11 billion opportunity. 
On top of that, we're going to expand the size of the market. We're going to expand both the number of folks that would take on projects and the number of projects that folks take on because we're going to make it easier, we're going to make it cheaper, and you're going to have successful outcomes from it. The key there is that when you have someone who knows what they're doing guiding you, you're going to have a much better result in your project. You're going to love it, you're going to feel pride in it, and you're going to do more of those types of projects.
Disclaimers
This transcript is for information purposes only and does not constitute advice of any type or trade recommendation and should not form the basis of any investment decision. Sacra accepts no liability for the transcript or for any errors, omissions or inaccuracies in respect of it. The views of the experts expressed in the transcript are those of the experts and they are not endorsed by, nor do they represent the opinion of Sacra. Sacra reserves all copyright, intellectual property rights in the transcript. Any modification, copying, displaying, distributing, transmitting, publishing, licensing, creating derivative works from, or selling any transcript is strictly prohibited.