David Lin, CEO of Duffl, on the economics of hyperlocal ultrafast delivery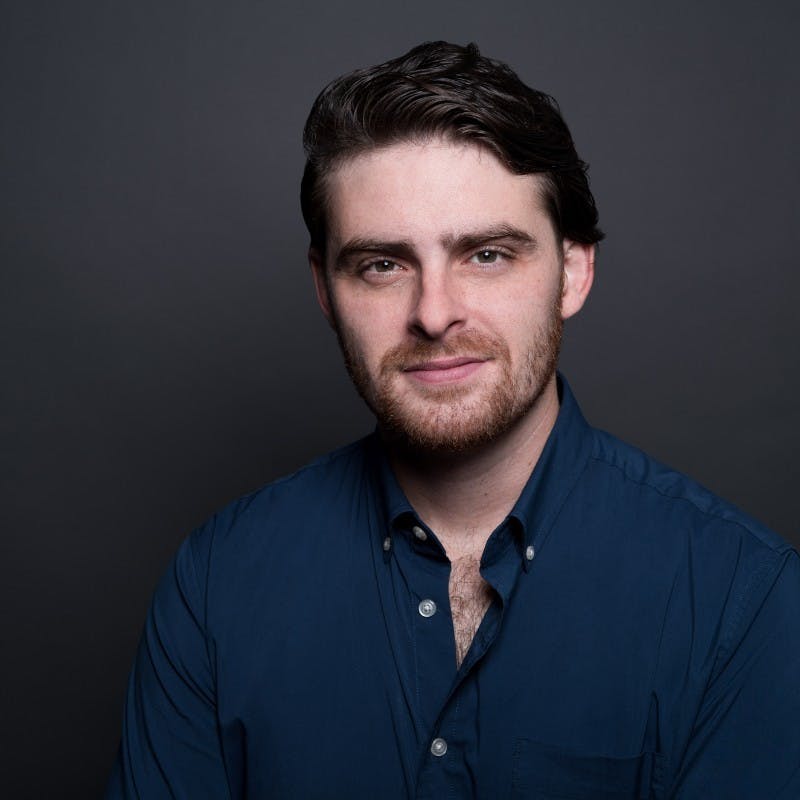 Conor Gleeson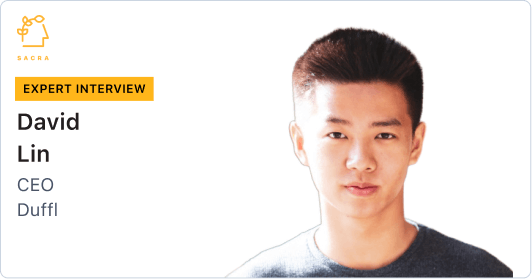 Background
David Lin is the the CEO and co-founder of Duffl. We interviewed David to learn more about the economics of building an ultrafast, on-demand delivery business, the competitive positioning of the campus-based Duffl vs. bigger players in the space like GoPuff and Gorillas, and their unique labor model that sources new employees from among the service's customers.
Questions
Interview
Could you explain what Duffl is and why you decided to build it?
Duffl is a 10-minute delivery service for college students. We deliver snacks, drinks, and groceries. The reason I started it was because I had an existential crisis in college, studying philosophy, and realized I didn't want to pursue a traditional career path.
I remember sitting on Janss Steps at UCLA and literally thinking about ants and just contemplating how every single ant has a role in the colony, and I was wondering what my role was. Based on my personality, it became very clear I'm a founder at heart, so it was just a matter of finding something to start. 
I created a list of startup ideas. The second one was this electric scooter delivery system that was inspired by Bird Scooters because we were the first campus they dropped. I built a scrappy Weebly website, linked it up with a Google sheet, and the rest is history. Got into YC a year later, and that's when it became real, and we just raised $12 million, so off to the races.
Could you talk a bit about Duffl's early product market fit and the extent of your operations today? How many campuses are you on and what does the transaction volume look like?
One of the best lessons Y Combinator taught me is the importance of product market fit and finding that before scaling the team or the business. We were and are really data driven, really customer centric. One of the core metrics we looked at from the very beginning was retention rate and order frequency. Our cohort retention rate was 52-53%.
After six months, our dollar retention was $110 to $125, depending on the month. We had net positive churn—people were just staying on the service, ordering more and more. 
We iterated from different models to get to these numbers. We started with kind of an all-purpose delivery service, sort of like Postmates but more concierge, and then we delivered something that was in my mini fridge—a Yerba Mate—in four minutes to a dorm. The guy just lost his mind, and we were like, "Okay, this is the light bulb moment." That was in 2019. Obviously, we know what happened in 2020 with all these quick commerce players.
What is it about college campuses that makes it a particularly attractive market to launch ultra-fast delivery in?
Good question. I think the reason a lot of these players are emerging from Europe and Southeast Asia and they're growing very quickly is because of their population and transport density. There are so many people living in close-knit communities, it financially justifies the existence of the dark store on every corner.
Now America is obviously not like European countries. It's very spread out. There are areas wheire there are maybe five houses in a mile. But college campuses are different. So even compared to the largest metropolitan cities, like New York has 27,000 per square mile or something like that, UCLA at its peak has 80,000 people in a half-mile radius at all times.
That population density allows for higher labor efficiency. And obviously, college students are always hanging out and talking to each other, so there's a lot of virality and cheap customer acquisition. 
So I believe in a world where every single player is going to be going after real estate and cheaper COGs through direct procurement and vertical integration – all else being equal, it's going to come down to the labor cost and the acquisition cost that makes the difference.
Can you talk about the consumption patterns you've seen with college students where Duffl fits? How do college students think about their options when they drop into a dining hall or a convenience store in the Credit Union versus dining out, ordering delivery, or ordering via Duffl?
We've done a lot of services about this. I think for our existing markets, their alternatives are obviously going to the grocery store, eating on campus, cooking, or Uber Eats / DoorDash. They're not really of the quick commerce model. And GoPuff just landed in LA, and it's going to take them some time, I think, to educate the market and the general populace about quick commerce. 
But at least for our college students in our schools, they see us as a more convenient and a quicker UberEats. And this serves a totally different purpose. So what we're really replacing in their share of wallet is not restaurant food and ordering takeout. You'll still do that. It's fewer trips to 7-Eleven, fewer trips to Ralphs, and more on-demand purchasing.
Could you walk us through the supply chain for Duffl? Are you relying on dark stores, as you mentioned, or do you exist in campus convenience stores? Are you with any local or regional national chains?
The future iteration of all of this is direct procurement as close to the sources you can get, like farmer, manufacturer, and doing your own distribution. Right now, we work with national distributors, much like how other players are starting and have started – so companies like McLane, Core-Mark, and UNFI. 
And we're purchasing and leasing real estate as close to the end customer as possible in the commercial districts in the college towns. So literally, we map out the zoning and identify the closest retail locations. And we definitely partner with a lot of local brands. So obviously, you want the Coca-Colas and the Unilevers to be on your side, but that just comes with scale and volume. And everybody's going to get there. 
The question is, "How can you excel at local produce and local products that are unique to each campus?" So, for example, we partner with local fruit trucks to deliver fresh-cut fruit. And that has been the fastest-growing product in our healthy section – we literally sold 20 in the first month. And then three months later, we're selling 2,000. And the same thing with baked cookies. 
We have a customer who's a baker starting a cookie brand. She literally bakes thousands of cookies for us every month. And they're Duffl private-labeled. It's those unique offerings – like our Santa Barbara School partners with their local taco stand. Doing that better than anyone else, I think, is the edge. 
Disclaimers
Read more from
Read more from
Read more from