David Lin, CEO of Duffl, on the economics of hyperlocal ultrafast delivery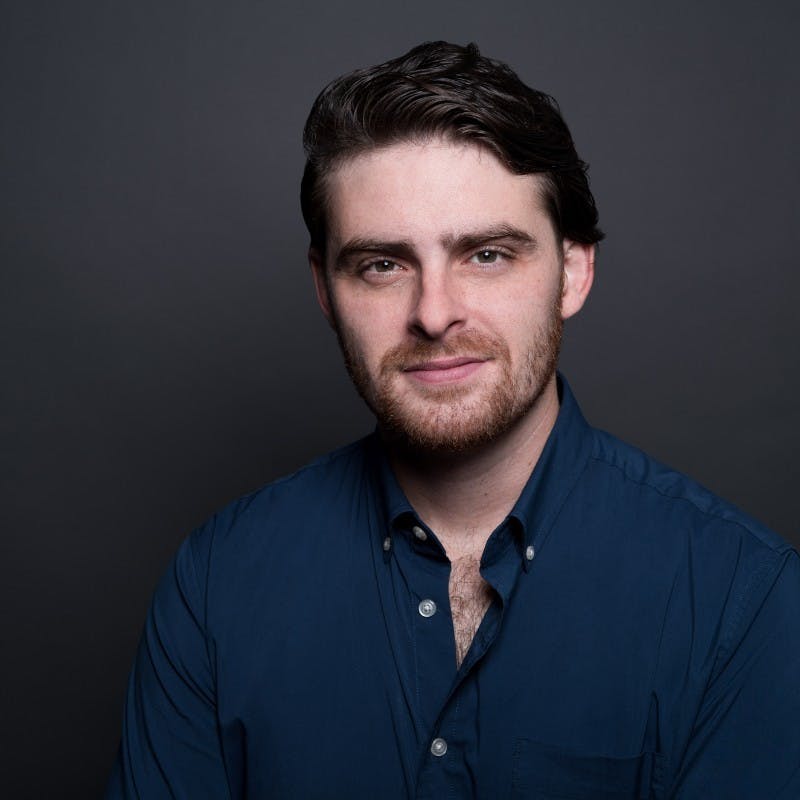 Conor Gleeson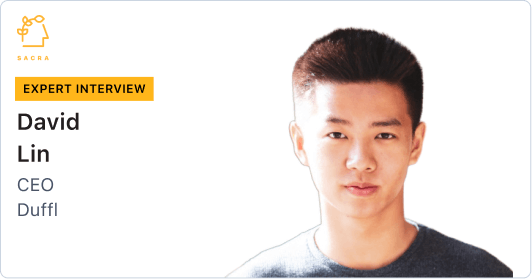 Background
David Lin is the the CEO and co-founder of Duffl. We interviewed David to learn more about the economics of building an ultrafast, on-demand delivery business, the competitive positioning of the campus-based Duffl vs. bigger players in the space like GoPuff and Gorillas, and their unique labor model that sources new employees from among the service's customers.
Questions
Interview
Could you explain what Duffl is and why you decided to build it?
Duffl is a 10-minute delivery service for college students. We deliver snacks, drinks, and groceries. The reason I started it was because I had an existential crisis in college, studying philosophy, and realized I didn't want to pursue a traditional career path.
I remember sitting on Janss Steps at UCLA and literally thinking about ants and just contemplating how every single ant has a role in the colony, and I was wondering what my role was. Based on my personality, it became very clear I'm a founder at heart, so it was just a matter of finding something to start. 
I created a list of startup ideas. The second one was this electric scooter delivery system that was inspired by Bird Scooters because we were the first campus they dropped. I built a scrappy Weebly website, linked it up with a Google sheet, and the rest is history. Got into YC a year later, and that's when it became real, and we just raised $12 million, so off to the races.
Could you talk a bit about Duffl's early product market fit and the extent of your operations today? How many campuses are you on and what does the transaction volume look like?
One of the best lessons Y Combinator taught me is the importance of product market fit and finding that before scaling the team or the business. We were and are really data driven, really customer centric. One of the core metrics we looked at from the very beginning was retention rate and order frequency. Our cohort retention rate was 52-53%.
After six months, our dollar retention was $110 to $125, depending on the month. We had net positive churn—people were just staying on the service, ordering more and more. 
We iterated from different models to get to these numbers. We started with kind of an all-purpose delivery service, sort of like Postmates but more concierge, and then we delivered something that was in my mini fridge—a Yerba Mate—in four minutes to a dorm. The guy just lost his mind, and we were like, "Okay, this is the light bulb moment." That was in 2019. Obviously, we know what happened in 2020 with all these quick commerce players.
What is it about college campuses that makes it a particularly attractive market to launch ultra-fast delivery in?
Good question. I think the reason a lot of these players are emerging from Europe and Southeast Asia and they're growing very quickly is because of their population and transport density. There are so many people living in close-knit communities, it financially justifies the existence of the dark store on every corner.
Now America is obviously not like European countries. It's very spread out. There are areas wheire there are maybe five houses in a mile. But college campuses are different. So even compared to the largest metropolitan cities, like New York has 27,000 per square mile or something like that, UCLA at its peak has 80,000 people in a half-mile radius at all times.
That population density allows for higher labor efficiency. And obviously, college students are always hanging out and talking to each other, so there's a lot of virality and cheap customer acquisition. 
So I believe in a world where every single player is going to be going after real estate and cheaper COGs through direct procurement and vertical integration – all else being equal, it's going to come down to the labor cost and the acquisition cost that makes the difference.
Can you talk about the consumption patterns you've seen with college students where Duffl fits? How do college students think about their options when they drop into a dining hall or a convenience store in the Credit Union versus dining out, ordering delivery, or ordering via Duffl?
We've done a lot of services about this. I think for our existing markets, their alternatives are obviously going to the grocery store, eating on campus, cooking, or Uber Eats / DoorDash. They're not really of the quick commerce model. And GoPuff just landed in LA, and it's going to take them some time, I think, to educate the market and the general populace about quick commerce. 
But at least for our college students in our schools, they see us as a more convenient and a quicker UberEats. And this serves a totally different purpose. So what we're really replacing in their share of wallet is not restaurant food and ordering takeout. You'll still do that. It's fewer trips to 7-Eleven, fewer trips to Ralphs, and more on-demand purchasing.
Could you walk us through the supply chain for Duffl? Are you relying on dark stores, as you mentioned, or do you exist in campus convenience stores? Are you with any local or regional national chains?
The future iteration of all of this is direct procurement as close to the sources you can get, like farmer, manufacturer, and doing your own distribution. Right now, we work with national distributors, much like how other players are starting and have started – so companies like McLane, Core-Mark, and UNFI. 
And we're purchasing and leasing real estate as close to the end customer as possible in the commercial districts in the college towns. So literally, we map out the zoning and identify the closest retail locations. And we definitely partner with a lot of local brands. So obviously, you want the Coca-Colas and the Unilevers to be on your side, but that just comes with scale and volume. And everybody's going to get there. 
The question is, "How can you excel at local produce and local products that are unique to each campus?" So, for example, we partner with local fruit trucks to deliver fresh-cut fruit. And that has been the fastest-growing product in our healthy section – we literally sold 20 in the first month. And then three months later, we're selling 2,000. And the same thing with baked cookies. 
We have a customer who's a baker starting a cookie brand. She literally bakes thousands of cookies for us every month. And they're Duffl private-labeled. It's those unique offerings – like our Santa Barbara School partners with their local taco stand. Doing that better than anyone else, I think, is the edge. 
Again, just more on the earlier points, I think it's important to mention the labor side. Most players in this industry are doing somewhere between three to six orders per hour per driver. We excel in the density of campus by being able to stack four or five orders per trip, making multiple trips in an hour. Our average is 10 to 12 orders per hour per racer. We think a realistic target is 16, and the hypothetical limit is 27. 
So we've done 81 orders in three hours in a three-hour shift by a single racer in the past. And we've achieved the 10 to 12 level without any tech. We don't have a batching system or anything – we rely on the students' institutional knowledge of campus. It's like they know every single address. They see a screen list of addresses, and their brain is the ultimate routing system. They've delivered there a thousand times, and they can just coordinate exactly which orders to take, what the door code is, what the alleyway looks like, what the shortcut is. And I think with a driver in a car, it's a different dynamic.
Do you integrate with college payment systems like meal plans, Rambler Bucks, etc.?
Not yet, but we've experimented with this a lot. We're building that partnership team internally to reach out proactively to colleges because we do see one of our competitive modes at scale, which is direct partnerships with universities. Integrating with their payment system is a huge opportunity. 
So I go to UCLA, and they have easy pay. They have Trojan cash or something, Trojan dollars. And a lot of students don't use all of their swipes and all of the currency on their card at the end of the year. And there's no system for them to redistribute that to other students or to purchase other stuff. The moment we unlock that, I think, would be a huge growth source.
How do you use data and tech to manage inventory and demand?
This is actually our core competency. In order to deliver in 10 minutes, the products have to be five minutes away before the customer orders them. So it's fundamentally a data challenge. How do you predict what people want before they want it? I think this is why having a store that's built entirely on a digital substrate is very advantageous. 
The fact that you can track every single view, every single click, every single Add To Cart, every single Remove From Cart, every single conversion, every single time a person comes back for the same product, what time they come back, who they are, the demographic data, and all of that mostly right now, the frequency (but slowly as our models improve) of every single component like their search, the wording they use, their delivery address – all those factors are going into the supply chain algorithm to decide what we buy on any given week from any given supplier.
So the way it works today is we click a button, and it generates a list of products to buy from every single supplier. And that's the software we give to our store managers and admirals (the students running the store).
We use the data we collect on the consumer app to inform the supply chain algorithm. So we've abstracted that entire merchandising process that people have to do. But I think the next step is, number one, having a really good SKU cycle.
What I mean by that is, how do you experiment with 15 to 30 skews per store systematically every single week? What are the evaluation metrics? Is it search conversion rate, retention rate, rate of sale? How many sales per hour? Or is it an internal democratic rating system by the entire community? And then how is that data being used to generate the next set of products, and how are they deactivated? And how are they resurrected after they're deactivated? 
So having that fluid pipeline will be very powerful so each store has a unique selection that's curated for that demographic. I think the UC Berkeley store is going to look fundamentally different from the Arizona State University store with different people. 
And overall, how can you then personalize on the customer side using state-of-the-art machine learning to be like the TikTok of snacks, basically? How do we get to the point where they trust us to show them what they actually would like? And that's a lot to build, but that's where we're headed.
Duffl seems well-positioned to launch an ad platform based on its penetration on local college campuses and high-intent, high-frequency engagement of interactions, similar to what you're talking about with TikTok. Do you have an ad platform in the marketplace? Do you have plans to launch one? And can you talk about your ad vision in general?
In terms of Act II for the company, I think the ad route is very promising. Obviously, there are other companies that have done it before and done it successfully. CPG Brands has huge marketing budgets, and our demographic is a very valuable one from their perspective. We understand the entire journey from freshman to senior year, and we develop such strong loyalty and brand recognition with the student. 
And if – what I described earlier with the personalization – it really works, and they start trusting us as their de facto source or the friend who recommends to you the next snack you're going to love, then we're talking something totally different. But I think strategically right now, I'm more inclined to say we'll use the data to improve our product internally. 
Someday we might use it as an alternative revenue stream. But there are a lot of potential Act IIs for the company. There's a social play here, given that we're in colleges, that really taps into virality. There's a franchise play here, given that we've made the software and the store's so easy to replicate. And the ad platform idea is one we'll consider seriously as well. 
But again, I think the key is first to become the trusted source. Basically, how Costco has Costco samples, we should be doing strategic samples to the point where we know what the next snack you're going to love is before you know it. And it just happens to be in your bag for free and you try it, and then next time you come back, you want to get it.
How do you approach launching on a new campus? What demand, density, demographics, and other characteristics are you looking for?
We definitely have a very comprehensive scorecard that takes into account everything from population density to terrain, to weather, to Greek life permits, to legal compliance. Not going to get into the details obviously, but we take all those factors into account, and then we rank all the universities. Then we reach out to them all from a real estate perspective, and we just go where it makes the most sense.
Can you talk about the Admiral program, how it works, how's it similar to or different from other sorts of campus evangelism programs?
From a growth and marketing perspective, our Admiral program has been the most effective system we've come up with. The key is that you have to understand, on college campuses, it's really a battle of cultures. When there are two competing brands, surprisingly, it's less about delivery time or price or even selection. It's about who knows who and who's friends with who.
I hypothesize that it is a very anthropological and evolutionary thing. We're very tribalistic, especially at the age on college campuses. People are just always trying to support their friends, and they're looking for belonging. So the Admiral program is different in that, that person is the store. The Admiral is the face of the store, is the face of the brand. 
For all intents and purposes, they're the founder of Duffl at that school. And there's so much ownership to that. And we're slowly iterating on this Admiral idea. Right now, they're doing all of it. They're recruiting the racers, some of whom are their friends. They're literally converting their Greek house that they're part of to Duffl. They're evangelizing the brand from their personal social network. And they're also doing the supply chain, the inventory, and the merchandising. All of it. 
Our goal is to remove a lot of that operational burden so the Admiral can focus solely on growing the brand and the culture. And that's the process we're going through right now. But I'd say the biggest thing is just ownership and its authenticity, too. In a lot of these campus ambassador programs, you see a friend posting something on an Instagram story, like, "Oh, you order with my code or blah, blah." It feels like a sell out.
I don't think that's the case here because they're literally employing all their friends – they're creating jobs. They live and breathe the company culture. And it's a community that's real. It becomes a really exclusive club on campus, and people love it.
Can you share high level on how you think about unity economics on a per delivery and per customer basis? How long does it take to break even and turn a profit at each campus?
High level, there are four key components to ... Well, there are really two key components on a unity economic basis, but on a P&L basis, there's four. So there's the cost of product, the cost of delivery, infrastructure, and credit card processing fees, but there's also real estate and customer acquisition.
A lot of people don't consider real estate and customer acquisition as a unity economics or contribution perspective; they only consider the first two items. But we like to take a holistic view. Like what does it really take to deliver this order? And all our mature stores have been profitable and contributing to an emerging positive contribution margin for a long time. And the pace of that, again, is the density of orders, which then drives the labor efficiency, which drives things like referrals and lowers our customer acquisition costs. 
So our goal is to really reduce the time to break even at each store. But we have relatively smaller cart sizes and high frequency, very high frequency. So people are ordering four to six times a week, and we're delivering very frequently, sometimes multiple times a day to the same person, to the same address, to the same apartment.
And our customer acquisition cost is very, very low. When we surveyed our customers, 80% of them said they found out about Duffl through some sort of social connection, Greek life, their friend, a direct referral.
Consumer apps for college students, like Yik Yak, have exploded among college students. How do you think about customer acquisition retention when it comes to college students? What misconceptions do people have about college students as a market?
A lot of apps have come and died on college campuses. Some have taken longer than others. Like MySpace was a long journey. But I think there's a reason a lot of huge brands are founded on college campuses. It's the next generation of humans. And there are all these social dynamics that are so unique to incubating a viral idea. 
And I think acquisition, obviously like Facebook, Tinder, Bumble, they've really nailed how to grow through college campuses using Greek life as a huge lever, or just existing social networks like Facebook in its early days had like a class schedule built into the site. People don't remember that, but over time, it's evolved into the mainstream. 
I think the reason an app like Yik Yak might have come and gone is that there's a very cool novelty factor, but there's no true core product value to a person's life. And I think dark stores have fundamentally very strong core product value. Everybody has to eat, and everybody has the same amount of hours in a day. We all live the same 24 hours as Bill Gates and Elon Musk. They just abstract a lot of stuff out of their lives. 
And packing your own groceries is something we've grown accustomed to. But if you think about it from first principles, it's really not a good use of everybody's time. Walking around these giant stores, wandering these aisles, and looking for something that should literally be a Google search is just weird. Like how is that more energy or time efficient? How is it efficient for 1,000 households to take 1,000 trips to the store every single weekend? 
And when one person could be making all of those trips. It's a waste of food because you try to predict what you're going to buy, you both purchase, and then you throw a third of it away. It's a waste of energy. So many repeated redundant trips and steps and real estate spent. And it's a huge cost to the environment. So much carbon emission. Transcontinental journey for bananas to end up rotting in your fridge.
How does Duffl win on campuses with the likes of DoorDash and Gopuff entering the ultra-fast space with large balance sheets, willing to spend considerable amounts on CAC? How do you think about the defensibility of your business relative to those competitors?
I can talk about speed as being defensible. Speed is twofold. To deliver quickly and consistently requires closer real estate, and there's a very limited selection of those near colleges.
In the markets we're at, we have the best real estate position. Of course they can replicate that, but fundamentally, they have a different model. Especially DoorDash and Gopuff. I wouldn't say they're running the same operation as the micro fulfillment stores of these other quick commerce players. They're leaning more on the cars, parking lots, warehouses, bigger real estate footprint, and 20- to 30-minute timeframes. That has its own advantages and disadvantages. 
For them to try to imitate us, it's fundamentally asking them to sacrifice an interconnected chain of systems that they've developed serving millions of customers with their distributed network of drivers, with their warehouse management infrastructure and software, to replicate what we're trying to do, which is a lot more decentralized and smaller. 
And that would take a considerable amount of resources, not so much financially, but in terms of focus. And when a big company like that tries to focus on catching a nimble startup, you know what happens. Like the David v Goliath story, it has happened before. And we know we're not the biggest player, and Facebook wasn't either in its early days. It's about exactly how much you can tap into that tribalism thing I mentioned earlier. 
We've had adverse reactions when we enter a market that has a local copycat. Imagine DoorDash or Gopuff or another corporate brand trying to enter a college campus where we're loved. There's almost a knee jerk, just like an emotional reaction, to that, regardless of if it's faster or cheaper or if you'll pay me $100 to buy. I'll take your money, I'll buy your stuff, and I won't come back. That's what I've seen. 
And again, that's why I think advertising is definitely another cool revenue stream, but I think a powerful Act II is social. How do you make it more social? How do you make it more integrated with the community? How do you partner with the universities themselves? All those become defensible value props. 
And culture is a big defensibility as well. I think the quality of the racer employee experience fundamentally determines the quality of the customer experience. And I just know that's not as big of a focus with these other companies as it is for us.
Can you talk about partnering with and competing against universities and local small businesses as an ultrafast delivery business?
A truly enlightened university board would replace their store with a Duffl store, but I think that would take a lot of convincing, obviously. In terms of local small business, it is true. In Westwood, for example, the 7-Eleven closed. The local vape shop is struggling. We bought the local convenience store and liquor store.
On some level, I can say we support local businesses in the sense that we've 10Xed the fruit truck's revenue or enabled this student to sell and grow her brand of cookies. On another level, yeah, we're replacing local retail with a better alternative. We don't ride horses anymore. That's a part of reality. I don't think people will be worse off because there are more dark stores. I think they'll get to spend less time packing groceries and more time doing what they love. As a net, it's a benefit.
In the case of a college company Duffl, the typical customer lifetime might be capped at around four years. Can you talk about LTV, and can you talk about your payback periods and LTV to CAC ratio? And if you don't agree with the assumption around the four years, I'd love to hear that too.
It is definitely right. Internally, we actually assume closer to three years, depending on when we acquire the customer, but again, I think strategy is about tradeoffs. Ikea doesn't make Italian handcrafted furniture, but they do something really, really well, and we think of ourselves in the same way.
We are going to be the best at acquiring customers cheaply. Partially, that's because after three or four years, they're gone, but it's about becoming an integral part of their lives while they're here, where they're ordering from us multiple times a week every single week. That LTV number—I can give you a number, but I think it's kind of bullshit. How can you assume any of these factors, lifetime, frequency, cart size? If the product improves, all these metrics change.It doesn't stay consistent over the years for a startup. 
CAC is simply as low as possible, like under $10. How can you make it so most of the customers are just finding us through the product itself, through the viral features in the product, through free methods that we've experimented with and duplicated? Why not through the university itself? What if the university just blasted every single freshman with, "Download Duffl?" What if at the orientation they're like, "Hey, this is the library, and that's the Duffl store, and you should download that."
I think a lot can change in the future, especially when we're talking about four years, but the goal is to have LTV as high as possible and the CAC as well so the ratio is as high as possible.
Can you talk about the racer program, the labor side of the business. Are most racers also college students at the same school? And are they typically also customers of Duffl?
This is the most unique piece of our business model: the fact that our racers are our customers are our brand ambassadors. Out of our top 10 customers of all time, 7 are racers. 100 of our racers account for 30% of all referrals, whereas the next 70% is generated by over 10,000 people, so that gives you a sense of just how powerful they are as evangelists for the brand.
It makes sense. This is a person who literally orders Duffl every single day, sometimes multiple times a day, they work for Duffl, their income comes from Duffl, so it's like a self-sustaining cycle. They work so they can eat so they can work, and they're hanging out with all their friends while they're working, and it's really a tight-knit community of people. It's to their benefit in every way to grow the community, to onboard more customers, and to recommend their friends to join the job so they have more friends to hang out with at the job. 
Overall, I'd say every single racer is a customer, and only the best customers get to be racers. Out of about 800 applications at UCLA, we have a less-than-1% acceptance rate.
Duffl seems strategically well-positioned to deliver financial services to college students through Zap. That would be a major driver for increased RPU over LTV. Can you talk about your fintech vision and what you've built towards that?
We're exploring a proprietary partnership to enable credit for our community through the app. We've also thought about Web3 a lot, but I wouldn't say it's our focus—again, we have limited resources and limited time as a company, and we are going to be really good at what we do, which is delivering what you want in 10 minutes. That sounds like a simple value proposition, but it requires a lot of infrastructure. 
I mentioned Duffl was the second idea on my list of ideas. The first was actually a fintech idea. As a founder, I have an affinity to fintech, and I've thought about it a lot, but for the next two to three years, I don't think it'll be a focus. At a high level, though, I think students need more access to capital, they need more liquidity, and they can benefit from a centralized wallet from which they buy everything.
You raised a $12 million Series A recently. Where are you investing the most right now? And what milestones do you want to reach to get to your Series B?
The biggest investment is definitely in the team. At the start of last year, we had one full-time employee, and that was my co-founder. He left. Now it's about using the team we've recruited, like my entire new leadership team, and getting to the revenue and metric milestones that we need to raise a Series B.
We want to be doing $7 to $10 million by May in run rate, and then 2-3Xing that by October. Right now, we're going through the annual planning and budgeting process, but making a huge investment around launch and team.
Disclaimers
This transcript is for information purposes only and does not constitute advice of any type or trade recommendation and should not form the basis of any investment decision. Sacra accepts no liability for the transcript or for any errors, omissions or inaccuracies in respect of it. The views of the experts expressed in the transcript are those of the experts and they are not endorsed by, nor do they represent the opinion of Sacra. Sacra reserves all copyright, intellectual property rights in the transcript. Any modification, copying, displaying, distributing, transmitting, publishing, licensing, creating derivative works from, or selling any transcript is strictly prohibited.
Read more from
Read more from
Read more from