Cristóbal Valenzuela, CEO of Runway, on rethinking the primitives of video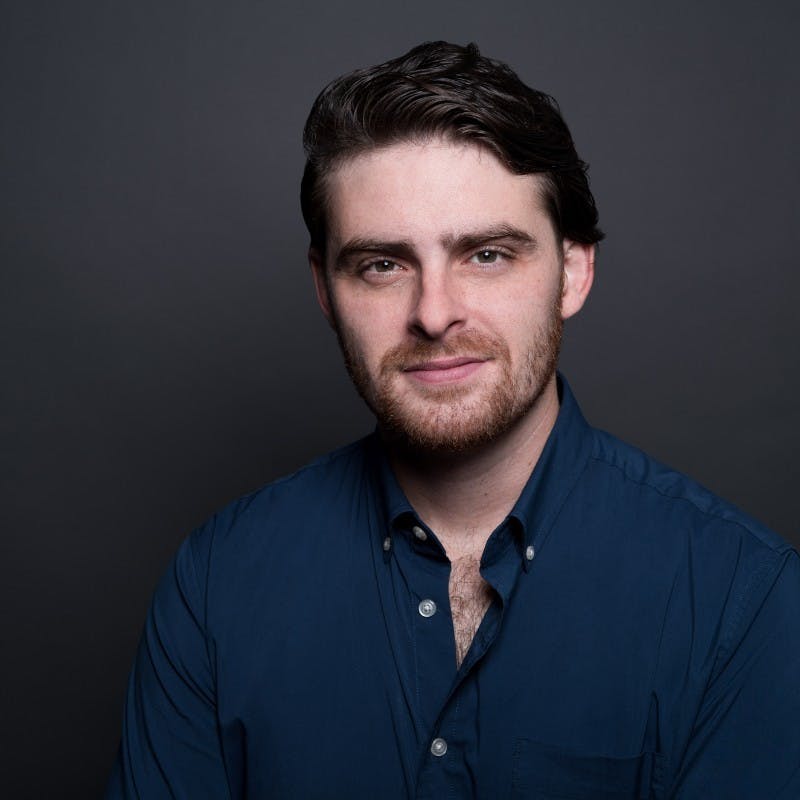 Conor Gleeson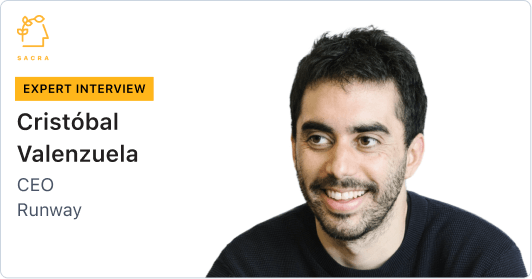 Background
Cristóbal Valenzuela is the CEO and co-founder of Runway. We talked to Cristóbal because Runway sits at the intersection of a few important trends: (1) the shift of creative productivity tools to the web browser, ala Canva and Figma; (2) the democratization of machine learning; and (3) the rise of business video.
Questions
Interview
Can you talk about Runway and the problem that you're solving, the customer profile, and core use cases that drive adoption?
Today, every company is a media company. Companies of all sizes are in need of constant streams of content to build narratives, reach out to their audiences and markets. Yet creating content, and video more specifically, is extremely hard, complicated, expensive, and time-consuming. What we are solving is how to allow more companies and more creators to easily make videos. Help anyone tell the stories they want to tell, using simple but powerful tools. We are building the fastest video editing solution so you can make videos in the shortest amount of time possible.
Allowing people and companies to use video as a medium of communication is at the core of Runway. Make video editing an expressive medium anyone can reach. We're lowering the barriers to entry for content creation and making sure that the path of transforming an idea to a video is the shortest possible; without any kind of intermediate process, and if there are any processes, we can automate them with machine learning.
Our online video editing software is used by a diverse collection of companies and individuals, from independent creators, marketers, professional editors, students, teachers, and newcomers to the video space. Our users make all kinds of videos. From music videos, ads, TV shows, game reels, demos, VFX shots, and tutorials to interviews, webinars, and real estate clips. If everyone is becoming a media company you need content and our vision is to allow anyone who is in need of a professional video to effortlessly make it.
Is there a specific buyer for Runway?
More and more companies are realizing the need to make and produce video.  An area of recent special interest for us has been small businesses. Being able to build consistent narratives is extremely important for a lot of businesses to reach their audiences and clients. Their business depends on it. The truth is that video converts much better than any other format when it comes to customer engagement.
The obvious question then, is how do you create good content? How do you create professional video without necessarily having to engage with an agency or a professional studio to make it? Most importantly, how can you keep making new content on a daily basis. Hiring a production house or an agency might yield a video a month with a high cost. And that's not only true for ads and creative videos. If you need to edit a webinar or an interview to post on social media, the process of engaging with an editor might be too expensive and lengthy to even consider it in the first place. You need video and you need it fast. Which explains why video continues to see strong tailwinds as a large number of customers across segments consistently rank video among the most important creative mediums to invest in and work in the future.
Can you talk about how you reached initial product market fit and give us any measurables or milestones on where you are on that front?
Runway started as a research and experiment-centric company. Our first product was a machine learning model directory, an app store of ML models, where you could play with hundreds of machine learning models. We started here because we knew that there was a fundamental shift happening around a nascent technology that needed to be experimented with and tested. Deep learning and computer vision techniques are forever changing the creative landscape and the media ecosystem. In other words, ML is transforming how we think about images, how we create video, and how we understand creativity. We needed the space to incubate its impact.
As the model directory and user base kept growing, we started seeing interesting usage patterns. One common thread was video. Video editors and filmmakers were coming to Runway because they saw huge potential in leveraging models to help them reduce the burden of the repetitive and manual aspects of video editing. Some estimates say that around 80% of the time spent on video editing involves uncreative operations such as tedious frame-by-frame editing. And so, a regular request we started to get was around workflow optimizations: "Hey guys I saw you have a model to do X can you also do Y and Z? I hate having to do this by hand.". This pattern began with object segmentation models, a process known as rotoscoping in the video domain, and then expanded to things like context-aware infilling (video inpainting), video depth estimation, transcription, background noise removal, and audio generation among many other things. We tapped into that potential, spent time understanding that vertical, and went full into transforming the video editing process. Automating all the time-consuming, expensive, and hard parts of video editing using machine intelligence. The goal is to leave time to the core creative process of telling a story, whatever that story is. It doesn't matter if it's an ad, a product demo, a tutorial, or a webinar. 
As we started to build the first prototypes of this new approach to video editing using all the learning from the model directory phase, we quickly realized the more expansive impact of this approach. By simplifying the editing process, besides cutting the time and cost of making video, we are democratizing video editing and filmmaking at large, opening the door to a whole new generation of creators to use software in a more intuitive, collaborative, and powerful way.
Can you give us any measurables or milestones on where you are?
We recently turned three years old. Historically, we have been a very lean team working on a product that was still in beta. 
Today, we are 21 people full-time while this time last year we were only 7. In that time we tripled our revenue year over year as well as our headcount. We are on track to triple our revenue again this year and double the team by the end of 2022. 
Since releasing our first product, we have gained hundreds of thousands of users. Our growth has been entirely organic and bottom-up, driven by enthusiastic users of our product. We know that our best sales strategy is having a great product.
How are you thinking about Runway as rebuilding Adobe Creative Suite, but powered by ML, and why does that company start with video editing Green Screen and Painting?
The Creative Suite is built on an old media paradigm. It was designed for a legacy way of thinking about content, distribution, and media. It used to be the case that the organizations who were looking to create video content had to hire ad agencies to help them with creative, media planning, media buying, and production. Some agencies have their own production studios, others work with production companies and the content made went into television, into newspapers, into radio. Development cycles took months and the software used to create that content speaks that language. If you open Premiere the first thing you see are settings to configure your projects to NTSC or PAL Widescreen, standards for broadcast television. 
Today, the entire video-making process can happen from your browser and with just one person in charge of everything. From creating the video content to buying ad space. And most importantly, development cycles can be shortened to a single day. The tools that serve the previous media paradigms are not well suited to solve the current needs of consumers and businesses anymore. That old way of thinking about content is becoming obsolete. Today, you need more content, you need it faster, in different formats, and adaptable to different markets. You need to collaborate in real-time with people in multiple locations. Organizations have their own in-house production teams. Companies need to create video on a daily basis, both internally and externally, and tools should be able to adapt to those new demands rather than forcing a previous and rigid way of working. It makes no sense to have to know about NTSC or PAL Widescreen if you are making an ad for TikTok. Some ad agencies have already realized that this tectonic shift is happening and there's a bit of crisis inside the ad world, the business model is just not making sense anymore. It's highly inefficient and costly. It's now cheaper to build your own content in-house and publish yourself.
This change already happened in the design world. Legacy software like Illustrator and Photoshop failed to adapt to the growing digital needs of design. Designers were building digital interfaces using software intended to design physical prints, working on CMYK. Sketch was the first company to truly realize that opportunity and built a tool specifically designed for interface design and digital products. The impact was massive. Figma took that insight to the next level with real-time collaboration and expanded the scope of who uses design software in an organization. The industry changed and new tools emerged to solve new problems for a new type of customer.
Something very similar is happening in the video space. When we think about rebuilding that Creative Suite, we are not thinking about incremental improvements to maintain the standard of the industry and be marginally better. At Runway, we think constantly about how to optimize that process and create tools for that new generation of creators and companies. We're not trying to patch one thing at a time. We're rethinking what those primitives of video are and continue to build a new class of creative suite.
The fact is that things are changing. And they are changing very fast. It's become evident that with the rise of new distribution platforms, the consolidation of ML, the growth of TikTok and YouTube, among other things, the content and media ecosystem is and will continue to change.
One of the people we talked to about video said that editing was a feature and not a standalone product. Can you talk about how you make editing into a standalone product with Runway?
I think video editing is a commodity. It used to be the case that you could be a differentiated product just by having a general video editing solution. That was because it was very novel at one point, like ten years ago, where there were just a couple of software solutions to do real-time NLE. Today, video editing tools are everywhere. You have hundreds of apps and options on your phone. There are multiple online solutions to make quick cuts. Anyone can package FFMPEG and sell it as a service and many companies are and will continue to.
When we think about video editing in Runway, we think about it as a feature inside a general-purpose tool and not as a core differentiator. The core moat of Runway is speed. Making professional videos should be fast and easy. That's where research in neural rendering, machine learning, and video automation comes in. Making cuts is only part of that process, making video also involves reviews, sharing assets, collaboration, versioning, animations, templates, etc. The entire process should be as streamlined and fast as possible.
You mentioned Figma. There's a wave of companies like Figma, Canva, Runway, Spline, f.lux, Pounce that are building design tools for the browser. Can you help us understand why there's this growing interest in building for the browser?
The browser has become the new platform for tool making. Today, you need to build on the web. It is hard for me to imagine a new creative tool that doesn't speak the language of the web. The browser unlocks functions like multiplayer which increases the speed and expands the scope of collaboration, a game-changer feature. From a technical standpoint, a couple of very relevant factors have contributed to the consolidation of the browser as a sandbox on which you can build almost any kind of application. WebAssembly has matured remarkably, enabling tools like Figma to feel native. Talent also matters. It's easier to hire and find talent to build on the web than any other stack. The browser is becoming a full-featured OS. We are able to do things on the web that just weren't possible a couple of years ago. 
The idea of opening a browser tab and immediately having access to countless creative tools is very powerful. For Runway, making video should feel similar to how you collaborate on a Google Doc. There's no need to update versions, share assets among your collaborators, or come up with a complicated version control system. The web fixes all of those problems. This transformation is also happening in many other creative industries, including CAD/CAM design software, 3D rendering, sound editing, and PCB design among many others. 
One interesting effect of the browser consolidating as a standard for tool making is the emergence of infrastructure tools to facilitate the development of new browser-based products. New dev tools and frameworks have appeared very recently with the sole purpose of helping you avoid the pain of having to build everything from scratch. Avoid having to invent the wheel every single time. Do you need real-time collaboration for a tool? There's an off-the-shelf Websockets solution for that. Do you need a performant rendering system? There's a framework in Rust that will help you streamline your renders. The great thing is that with these new solutions, more companies and teams can focus on building on top of that infrastructure, creating great products, and avoiding the redundancy of developing the same underlying technical architectures every time. We are seeing the beginning of microservices solutions for the front-end.
With B2B video, you have Wistia for hosting. With B2C, there's Vimeo on web, on TikTok, on mobile. Where are you seeing your videos hosted to or shared to? Does tighter integration with the places these are hosted to matter?
We see the videos our customers make with Runway everywhere: internally in their organizations and externally across multiple platforms at the same time. Today, content gets shared across multiple platforms - YouTube, Vimeo, TikTok, Instagram, and Facebook - at the same time, in multiple formats, and Runway makes that process easier.
Integrations are not only needed with distribution platforms but also with recording solutions. If the goal is to facilitate and simplify the process of making a video, it's important to consider how to build tight integrations with cameras, phones, and recording solutions to make the process as smooth as possible. Additionally, besides publishing and distributing a video, it's important to consider the collaboration and review process that happens before publishing. Right now that process is highly inefficient and involves disparate tools and systems for comments, versioning, sharing assets, and permissions. Everything from Frame.io, Dropbox, WeTransfer, and a long list of add-ons for tools like Premiere, After Effects, or Final Cut. In that case, we don't seek to integrate with those legacy solutions but leapfrog the process with our own verticalized/integrated solutions.
Can you help us get a better understanding of Vimeo and the creative video space, more generally? Vimeo seems to be predicated on short creative film. And they've seen growth dramatically decelerate. Can you talk about to what extent you've bet on that same genre?
The Vimeo story is a really interesting one. Vimeo started as an indie video hosting platform focusing on long-form content. A lot of documentaries, indie films, and independent movies were hosted on Vimeo really early on. But then YouTube appeared and built a better hosting platform, with more engaged users. Vimeo then switched, really quickly, to original content. They started creating and producing original films and series. Shows like High Maintenance were made and filmmakers like John Wilson started making content for Vimeo. This was pre-Netflix, pre-Disney Plus, pre- all the major streaming players. Vimeo was super ahead of its time. But, just because you're the first to do something doesn't mean that it will always work. Timing really matters. Vimeo was too early on the bet for original content, and as a result, they had to pivot. Instead of a content studio, they became a B2B services provider leveraging their infrastructure to help a wide range of businesses store and distribute video content which is what they are working on today as a public company.
The big takeaway from that story is that video as a medium is moving extremely fast. Change is constant at every level. From production to distribution. Audiences and platforms. Everything is changing fast. Mostly due to shifts in how we consume content. At Runway, we reflect on the learnings of other companies in our industry and try to be in tune with market dynamics. The insights we glean have been really important in our company's own product-building phase.  Especially as we continue to develop a new type of video editing software. You need to be part of that conversation and truly understand what organizations and customers want and how video is consumed today. It directly influences the product you build.
For creators who are on a platform like TikTok, to what extent are they using power tools from Adobe or Apple to create content? And to what extent do they just use in-app tools from TikTok, like filters and stuff like that? And where does a tool like Runway fit in there?
Every platform has a unique voice and style that's important to follow. TikTok attracts a perceptive audience and the content published should always feel authentic and real, not polished. YouTube has the ability to convey a language specific to every niche community. Most importantly, video tools should allow you to be flexible and follow any type of language and format to match the channel. As an advertiser, you need to be able to tell a coherent story easily adaptable to different formats if needed. As a creator, the type of tool you use depends also on the type of content you are creating. If you are making 10-12 videos every day, like some of our clients, you need a robust tool that lets you edit quickly while delivering professional results.
We know marketers use Canva to make quick videos, and they might have an in-house person using Final Cut or Premiere. In what context would they use a tool like Runway for, or a larger company that has marketing support?
If you are creating videos on a regular basis, you'll need Runway. It doesn't matter if you are a marketer, part of the sales team, or an in-house video editor. Video in Canva only solves a small percentage of use cases inside an organization. Mostly for quick and simple templating needs. The moment you want to build a more personalized video with subtitles, sound effects, music, effects, transitions, or collaboration capability you graduate to the complicated world of video editing. But we don't think video editing needs to be complicated. 
For marketers, in particular, I think a similar transformation recently happened when it came to building websites. This is an analogy I use often to help explain the changes we are seeing today in video and how they will impact organizations.  Before tools like Webflow, Squarespace, and Shopify became mainstream, the most common way to build a professional site was either hiring a developer, learning how to code yourself, or using a generic WordPress template. It was a bit of a stark landscape. You had a set of highly specialized developer-centric tools or solutions that were far too basic to build anything customizable and professional. By leveraging crafted templates, a frictionless user experience, and nailing the fundamentals of what makes a website stand out, Webflow, Squarespace, Shopify, and other players unlocked a new category of professional websites and marketers to emerge. Marketing teams no longer were beholden to developers and could save budget and time. Building an e-commerce site didn't involve connecting to a FTP server and having to pay to maintain your site alive. Low code tools to make professional websites opened the doors for new types of experiences, markets, and business opportunities. In that same vein, Runway is a low code tool for professional video editing.
To what extent is Runway riding the growth of YouTube, ByteDance and Instagram as video platforms?
The growth of those platforms is just a manifestation of the power of video as a language. Video content is more present than ever before because it helps tell a much richer story than text or images. It converts really well for businesses. Runway's success to date can be attributed to the growth of video platforms, we don't want to just ride this current trend. Runway wants to be a catalyst that pushes video to become the de facto language on the internet by allowing anyone to create video in the fastest and most effective way possible.
Can you talk about using machine learning to programmatically generate content versus edit content?
This is a fascinating topic, so much is happening at the intersection of machine learning and video and we are only scratching the surface of what's going to be possible. I think we're not far from being able to completely generate a film. When I say generate I mean generating every actor, every score, b-rolls, every sound effect, every voice, every visual effect, and every scene in a full-length film. The rise of neural rendering, among other techniques, will enable a new class of filmmaking and video-making possibilities. In a similar way to what happened with the CGI revolution in the early 90s. 
Every once in a while there's a new technology that transforms a field in ways that were unthinkable or hard to predict. I believe we are in the early stages of a transformation in storytelling driven by neural methods for video and image synthesis. In addition to generative content, machine learning techniques are helping automate every part of the editing process. Quick wins like editing video using text, removing objects from videos, and rotoscoping in seconds are now possible. The mix of automation and generative content is truly fascinating and will equip the next generation of creators with a unique toolbox of expressive tools. Something previously unavailable to past generations of artists and filmmakers.
At the end of the day, a lot of machine learning is based on having really large data sets. Can you help us understand how Runway's models are going to be better than those of, say, TikTok, Google when they have so much data to work with?
I think data is just a part of the challenge. Building great products powered by machine learning models involves a lot of research and investment in the algorithms and techniques, a rich dataset, and the deployment of those models at scale. Figuring out the right approaches to solving a problem in a research-only environment is very different from actually trying to solve those problems in production with real customers. Data alone will not help you answer those questions. So it all depends on what you are measuring and what your definition of success is. It's always easier to think about what's possible when you have unlimited research capacity and a few constraints. Building a model to push the definition of what is state-of-the-art in a domain involves a different mindset than when you think about trying to solve a production problem for your customer. A company might have a model that performs better on a specific research metric, but that doesn't necessarily correlate to product value. What's most important is how a model helps solve a real problem. At Runway, our incentive is to make sure that any model we develop can be used in production as efficiently as possible for our customers.
Speed of execution is incredibly important as well, especially in a field that's moving at light speed. I was speaking with a FAANG researcher the other day and they were telling me it took them two and a half years to get a video model to production. That's insane. The moment you figure out a way of moving models to production faster, you are able to deliver value faster, and sometimes that's really hard for big companies to do.
A lot of startups purport to use machine learning and don't really do anything proprietary in-house. How should investors look at companies, looking at companies to understand whether a company has its own proprietary machine learning.
The first aspect is definitely figuring out and looking at the composition and the core competencies of the team. AI and ML are very buzzy concepts right now that get thrown into a lot of marketing materials. It's easy to get a Colab notebook, run an open-source model, and call it a day. A very different approach that fewer companies are doing is to build solutions that leverage the potential of ML to drive real value. There's a lot of iteration in that process. 
At Runway besides publishing at CVPR, and NeurIPS among other conferences, we constantly engage with the research community. We give lectures and tutorials, and we go deeper into the systems behind our work. Building in public and contributing to the community is as important as building models. We also share our work and partner with other organizations and institutions to push the boundaries of research in our domain.
There are a few companies that I believe have figured out a way to productionalize machine learning models at scale. But the consolidation and growth of the ML Ops community and the variety of solutions in that ML Ops space has enabled more companies to focus on value creation rather than infrastructure. At Runway, we have iterated a lot on making sure that the research approach that we have gets finalized into the product in the shortest amount of time possible. And that's proven by our tools, like Green Screen and Inpainting, removing background noise, and a few other things that we're releasing very soon.
Can you talk about Runway's infrastructure stack for video? How do you think about what parts you're willing to outsource first and what is a core competency you must build?
Video is hard. Even more so when it involves running real-time inference over video frames. The Runway video stack is very unique. We think a lot about what needs to be outsourced versus what our core competencies are. The build versus buy discussion happens regularly. We tend to focus on what's mission-critical for the business. There's a lot of time spent on things like UX, making sure our product is intuitive, and that users have a smooth onboarding. But a big core differentiator is our backend – the rendering system we've built. Our backend and models allow our customers to transform and change their videos in unique ways. A system that understands the pixel-level composition of your content and helps you edit those clips faster. Even if we wanted to buy this system, we couldn't because it doesn't exist outside of Runway. No one has ever built it before. Everything that's adjacent to that is something you might find as a service. A great product can combine different services and technologies to create value. We don't have to invent how Kubernetes or Docker containers work. We tend to focus on core infrastructure that's critical to the business.
You charge users by the seat, but many of your infrastructure providers will charge you by usage or storage. How important is it to be consistently cutting costs on infrastructure?
Making our tools accessible is a priority as much as making it part of a collaboration cycle. In an organization video is never made alone and so, making sure you can involve every relevant stakeholder is a must. A traditional SaaS offering is better suited for our customers and users. Charging per usage is hard when you have a constant feedback loop in your product. Editing a video involves a lot of moving pieces and iterations that need to be tested and the product should be able to support those fundamentals creative loops. That means working hard to optimize everything on the infra to keep compute costs down, especially when running models in production. At the end of the day, customers don't really care if you're running a model on one or a hundred GPUs if you're running A100s or 3090s. They care about the value provided and the cost to get that value. And if that's the case, everything else should serve that mission. From a pricing perspective, we are not looking to charge per computational usage but rather for value created.
What features do vendors give you that add genuine differentiation to the customer experience and give Runway a competitive advantage?
People fall in love with Runway because it gives them an edge on how they work and how fast they can work. I was recently speaking with a customer who told me that when he first heard about Runway and he understood the potential of the tool, how fast, and how radical it was in comparison to what he was using, which was a combination of After Effects and Premiere, he wanted to keep it a secret. He felt Runway was a secret superpower he had discovered that would allow him to do things faster and smarter than anyone else, acquiring an edge in his company and looking cooler with his peers. Happily for us, he realized that it was better to evangelize about the product instead of keeping it a secret. – What I find fascinating about that story is how a product can make you feel. Making someone feel like they have superpowers and that they want to share those superpowers with more people is an incredible feeling to be able to create.
A core experience we design is that we want you to have a magical experience with the product, that feeling of superpower in everything you do in Runway. For some people who have been editing videos for a long time, the moment they see instant rotoscoping or automatic subtitle generation they get that feeling. Never again the pain of hours of frame-by-frame editing. It's a magical moment. There's a before and after that's very unique. For newcomers to the video space, some of our tools make them feel like they are getting access to something they shouldn't, that should be restricted to the pros. It's special to be able to make someone feel like a pro by creating pro content.
How do you think about choosing video vendors?
It's a similar question to the build versus buy conversations we had earlier. For us, it really comes down to what the core competencies of the product are and what's business-critical versus what's something we can buy off the shelf? When we choose video vendors, we think about how much control we need? If this is something that's unique to our product versus something we can buy and just use. Is it adjacent to our core competencies? Thinking about streaming, for example, if you just want to playback video, you can use something like Mux. In that case, we're looking for reliability as well as speed, and cost as variables to make sure we can make an informed partnership decision.
Can you talk about your margin profile for doing both machine learning and video? And how does that affect the kinds of customers you're going after in your pricing?
One thing to really keep in mind is the long-term goal and vision of the company. Compute costs are decreasing dramatically and that will continue to be a trend for the foreseeable future. Storage costs are almost irrelevant. Hardware is getting better. Software is getting better. With better deployment on edge and improved inference infrastructure, compute costs will continue to decrease. We are investing in that future.
The second thing is spending time making sure you optimize for real-time feedback loops. We don't want to alienate our users and charge them for the infrastructure cost. I think that goes beyond our mission. We want to continue to have a strong position to make video editing accessible. It doesn't matter if you're going to create one video or if you are going to create 1,000 videos; it should be accessible and as easy as opening a Google Doc. Everything else comes after that. And so, that drives the conversations around pricing and infrastructure and cost for us.
Adobe has Creative Cloud. Canva has Design Suite. Can you talk about the go-to-market where companies are already building and getting into video editing tools like Premiere as part of the bundle?
The Creative Cloud serves a very different audience and customer base from the one Canva is serving. I think Adobe has been trying to get more into that market with products like Rush and their recent release of Creative Cloud Express. But considering video editing as a commodity, it's just not enough to build a video engine. It's a very saturated market. So you're going to win either by investing a lot in marketing, SEO, and or sales or by developing a significantly better product to leapfrog the incumbents. – I'm a believer that developing a consistent strategy to always build great products is at the core of what makes a company's long-term success consistent. Everything else follows that. The thing is that building a great product is hard. Continuously building great products is harder. But we like to solve hard problems. 
Runway helps professional video editors make their videos faster. CBS uses Runway to dramatically improve their editing times and YouTubers use Runway to edit their videos. Our go-to-market is heavily focused on keeping that product motion and product focus as a central part of the growth of the business and continue helping that wide spectrum of customers make better videos.
Can you talk about your upsell motion into bigger enterprise deals and what that looks like?
Product comes first. Product is the best motivator for folks to really understand how to get the most out of what we're offering. Our upsell motion has been very bottom-up, allowing a few folks inside the companies to use the product, get familiarized, and spread the word, and then we basically build from there. Our sales mechanism is to land into those and then expand as soon as possible, rather like a top-down decision-making process, which is more tied to the old media paradigm. With Runway, anyone can sign up for an account and start using the product. And so, you have all these creators inside the companies, creating videos for themselves and figuring out the solution on their own. You don't have to go through a lengthy sales process. 
How do you think about the upside case for Runway?
The upside case is rooted in the premise that we can succeed at transforming an entire industry. We are a company committed to creativity. Machine learning is a tool and technique that we are taking and translating in a way that helps our users tell better stories. The more empowered our users are to share their stories across distribution channels and across the web, that's what success looks like to us. Allowing anyone to become a storyteller using Runway. 
We are witnessing a significant transformation in the way we produce content. Fueled by machine learning, new distribution channels, and the rise of the web as a standard for tool making, the future of creative tools looks very different from the legacy tools we are still using today. At the end, creativity and storytelling come first, everything else follows.
Disclaimers
This transcript is for information purposes only and does not constitute advice of any type or trade recommendation and should not form the basis of any investment decision. Sacra accepts no liability for the transcript or for any errors, omissions or inaccuracies in respect of it. The views of the experts expressed in the transcript are those of the experts and they are not endorsed by, nor do they represent the opinion of Sacra. Sacra reserves all copyright, intellectual property rights in the transcript. Any modification, copying, displaying, distributing, transmitting, publishing, licensing, creating derivative works from, or selling any transcript is strictly prohibited.
Read more from
Read more from