Eoghan McCabe & Des Traynor, CEO and CSO of Intercom, on the AI transformation of customer service
Featuring
Intercom is a conversational marketing, sales, and support platform for businesses.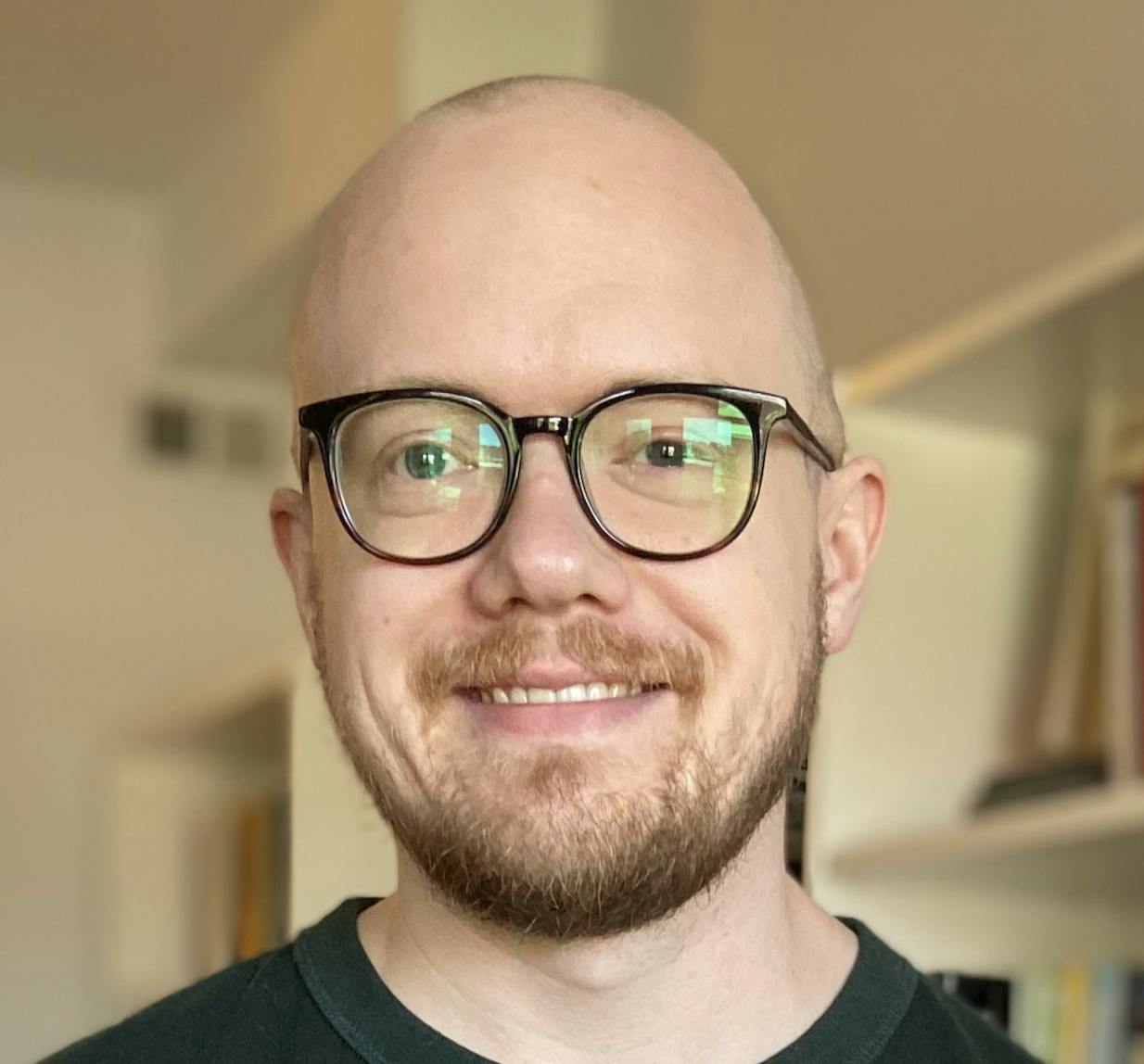 Jan-Erik Asplund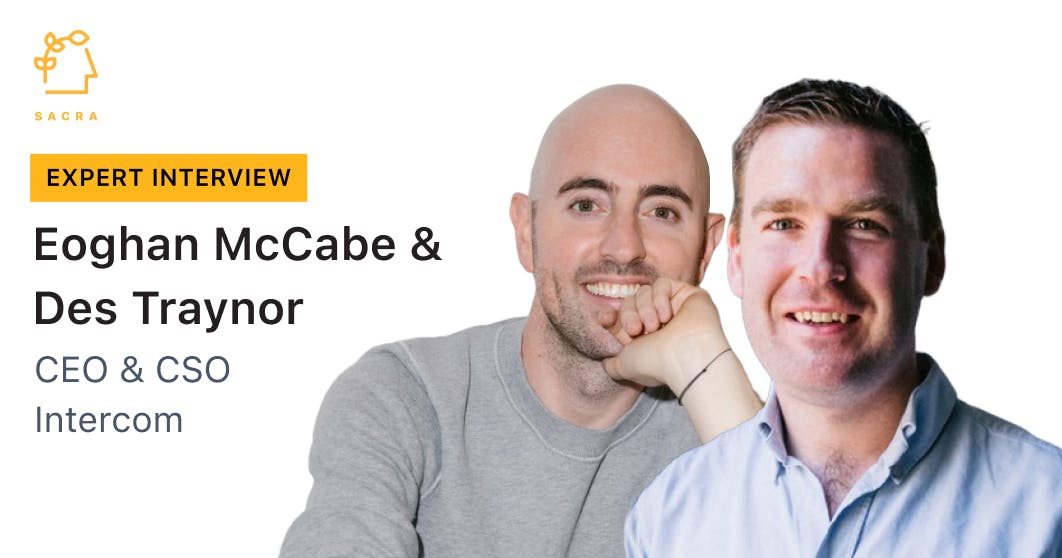 Background
Eoghan McCabe and Des Traynor are co-founders and today, the CEO and CSO of Intercom. We talked to Eoghan and Des about the three generations of customer service chatbots, how AI is transforming customer service, and what the future of the customer support/success function looks like in a world of support-trained LLMs.
Questions
Interview
Intercom has been positioning pretty hard on AI, and it's interesting to see that high-level conviction around it. How important is it that Intercom became founder-led again to make this big push around AI? Eoghan, we'd love to hear about your return to the CEO role over the last 8 months and how the AI focus came about.
Eoghan McCabe: I don't want to oversell my own individual importance beyond what's appropriate. 
The reality is that Intercom has had an ML team for six years and we have some really outstanding leaders in our R&D organization, and what we're doing in AI started from the bottom-up. The way Fin went down specifically was that Des excitedly texted me on the weekend to say, "Hey, the team have built this AI bot that's actually amazing."
That said, between the amount of capital we're putting towards this bet and the trade-offs we're making, it's a very big decision, and it's been a founder-oriented decision. 
We have spent a lot of time and attention trying to tease apart the strategic implications of AI for customer service, which led us to believe that not only was betting on it like this a giant opportunity, but not betting on it was a serious risk.
So, to answer your actual question, it takes risk-taking energy. What is the thing that propels the founder? Is it their excitement to do new, cool, sexy stuff, or is it their willingness to take a risk that typical operators might not? Those things actually are beautifully joined and that's what creates great technology companies as far as I'm concerned.
Des Traynor: You have to move with the uncertainty. AI is just evolving too fast. 
There's no opportunity to wait and see. There's no opportunity to run tests, to play it slow, to be cautious. You need to be willing to move on intuition. You need to be willing to make, as Eoghan said, a large bet based on belief, based on backing yourself, based on backing your intuition. That, to me, is what I experience from Eoghan.
Let's dive into Fin, your AI bot for customer service. Can you go deep into what the core problem is for customers and how AI is the solution to that?
Eoghan: Fundamentally here's our perception of the customer service market, which is 100% our focus.
The standards for customer service online—and all businesses are going online, so let's just say the standard for customer service—is terrible.
Imagine if you were in a coffee shop or a car dealership and you asked a question and they said, "We're going to get back to you on Wednesday." That's the standard for customer service online today, and we're all so used to it that we don't question it.
Similarly, there were very few people in 2011 saying, "I should be able to see when the taxi is coming on my phone, order the taxi without ever talking to anyone, and be able to choose the quality level of my car," No one was making these complaints—before Uber arrived.
That's our belief about the market today and the problem that we're solving. Intercom set out 12 years ago to "make internet business personal".
We certainly made a dent vis-a-vis our introduction of messengers and more personal ways to chat, which made it more personal, but we never really delivered great personal customer service because heretofore it has been not quite possible. You're limited by the physics of time and human energy and by the economics involved in being able to afford enough people to respond to everyone immediately.
The problem that great AI solves for customer service is that it can actually give great instant answers. It can actually dramatically reduce these down times. It can actually give the customer the thing they want. What we're going to see is consumers actually wanting to talk to AI bots.
We're going to see people go from, "Goddammit, just get me to a human," to "Give me your chatbot so I can ask all my little questions whenever I want, I don't want to have to do any niceties with a human."
It's hilarious to see people writing messages of thanks to Fin, but that is the basic problem it solves, and it's a total game changer for businesses, because long response times create huge drop-offs in funnels—people just don't come back.
Des: I would say the single biggest contribution I expect AI-generated customer support to make here is to the physics of support. Today, you take your number of inbound conversations times the average handling time on each one divided by your number of reps, and that equals roughly how quickly you can get back to people.
That's a formula that it's hard to get away from, and it means that when your customers are not really high LTV, it becomes hard to staff a massive support team.
One part of the problem is that there's so much repetitive and transactional undifferentiated heavy lifting that happens in the world of customer support. That weighs down the effectiveness and the value add of the customer support team quite a bit.
If you can imagine some sort of Maslow's hierarchy of great support, the bare minimum is to get back to your customers. A lot of businesses struggle to do that.
After that, it's to get back to your customers fast. Then it's to get back to them with the right answer fast. Somewhere up at the top it's about getting ahead of the problems and being proactive.
What I believe Fin will do is let people climb that hierarchy pretty fast. People will get fast, accurate, tailored answers, and that'll be like with zero human involvement. That's going to be a game changer.
Do you intend to really, really focus on automated responses that improve the speed of response, or do you intend to also offer an option with a human in the loop? And how do you win the trust of customers so that they feel confident having Fin responding automatically on the site directly to customers?
Des: We are going to do both. One of the things we do is called agent assist, which is where Fin will suggest an answer to the agent that's basically good to go. The agent can tailor it, or if it's wrong, they can retrain Fin to better understand what should have been said.
I think this will speed up the productivity of agents. We had a release in January of an inbox GPT feature—summarization of conversations or expansion of replies, and that kind of thing. That's the beginning of a new type of AI-powered help desk built on agent assist, augmenting the agent, co-pilot for support, and all of that sort of stuff—so it's definitely coming.
There are two other things I'd say.
One is that we have a product in the market which lets you do customized answers. The product is called Resolution Bot. If there are specific answers you deeply care about, you can splice questions matching that out and say, "Don't use generative AI for questions like this—here's the right answer."
The last point I'd make is that if you think about this formula of support—the number of inbound volume times the average handling time and so on—you can speed up the agent, which I consider to be tending to the beast, or you can remove the question entirely, and I consider that to be taming the beast.
It's a much bigger prize when you can get Intercom to actually remove the conversation from the inbox entirely. Even if you can speed up the agent by 10x, you're still locked into the proportion of inbound volume. If you can remove the conversation entirely, it takes it from 10 seconds per answer to zero. That is a step change in terms of support team productivity.
Fin was built on GPT-4. Can you tell us about the process of building Fin—key learnings around hallucinations and the shortcomings of GPT-3.5?
Des: We've had a great relationship and been partners with OpenAI for quite a while. In fact, we've been building against these large language models for a while.
We built a chatbot with GPT-3, and we observed it, and what we saw was that it had hallucinations. The danger of a hallucination in customer support is that the bot spits out a reply, the reply is wrong, but the user doesn't know the reply is wrong—and the business never even knows the conversation happened. It's dark matter, and it's dangerous, and that's why we care so much about it from a trust, safety and accuracy perspective.
With GPT-3.5 Turbo, the Chat GPT release, we saw a step change. We crossed a perceptual cliff where it was like, "Hey, it looks like we can really contain this," but there were still leaks. You could still get it to speak to things that it didn't actually have expertise in. We have, obviously, a torture test of queries where we can try to force a model to hallucinate or go off script—because even outside of hallucination there are things you don't want your support bot expressing, like political opinions or even just talking about the weather.
Controlling chatbots, how they engage and when they choose to not engage all became a lot more possible, and ultimately crossed a threshold where we know we can do it.
Disclaimers
Read more from
Read more from
Read more from