Home

&nbsp>&nbsp

Companies

&nbsp>&nbsp

Attentive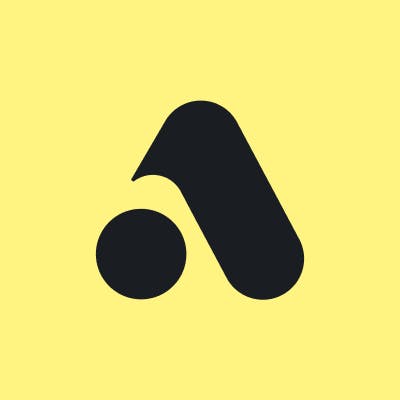 Attentive is a marketing tool for mobile messaging.
Growth Rate (y/y)
60%
2022
Revenue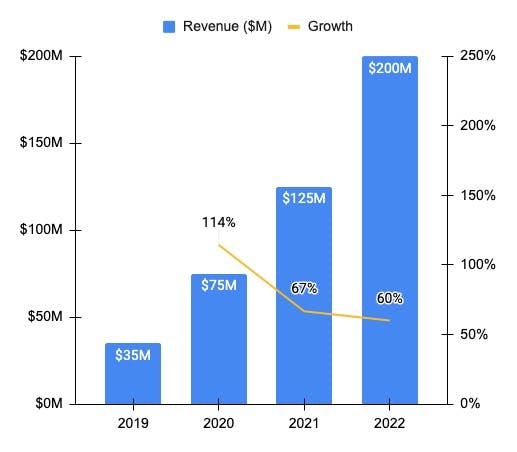 Sacra estimates that Attentive hit about $200M annual recurring revenue (ARR) at the end of 2022, up 60% from $125M at the end of 2021.
Valuation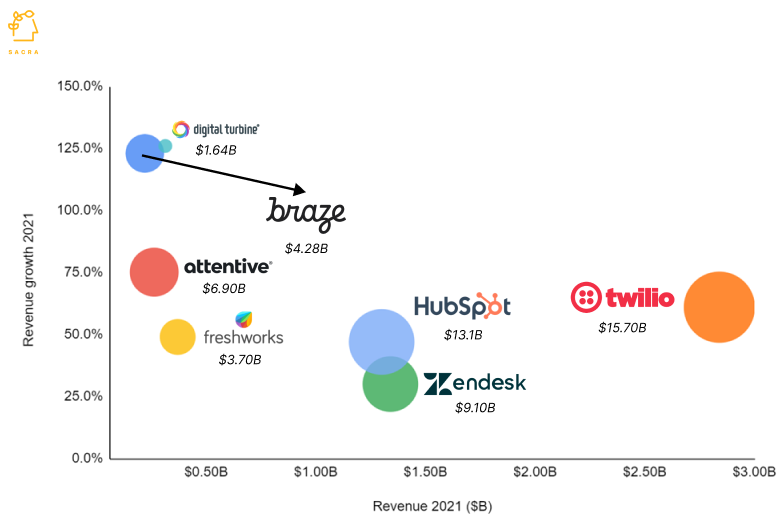 Attentive has raised $863M from notable investors such as Bain Capital Ventures, Sequoia, Coatue, Tiger Global, and Wellington Management Company. The company was last valued at $6.9B, putting its valuation/revenue multiple at 8.0.     
The median multiple for adtech companies in Q4 2021 was 6.9, but the volatility is quite high. For instance, Braze, a customer engagement platform for multichannel marketing has a multiple of 13.05, while Twilio, which enables users to build messaging flows into their application, has a multiple of 3.64.
Business Model
Attentive's business model scales around a function of usage. Its value metric is per month, per SMS. This differs from companies, like Cartloop, which charge clients based on the revenue they garner using their SMS marketing. Customers can book a demo with Attentive to get a quote for the project requirements. 
Attentive heavily depends on partnerships to drive growth. It teamed up with BigCommerce last year, which provided access to 60,000+ customers. New partner customers can also use the Attentive tag through the BigCommerce extension. To avoid being pigeonholed, the company branched out from ecommerce to new industries, including retail, food & beverage, and entertainment.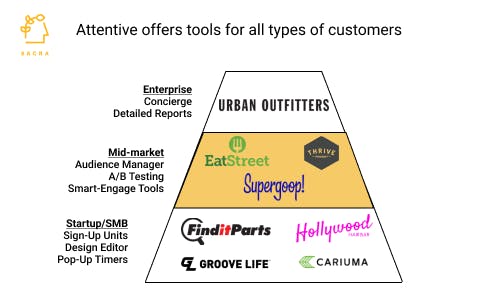 Attentive serves both small businesses and corporates like Coach, Urban Outfitters, and Jack in the Box. The platform drives an average of 18.5% of total online revenue for its customers. In terms of pricing, Attentive offers only custom plans; however, based on reviews, it appears to be cheaper than other options, such as Klaviyo and SMSBump.
Product
Attentive is a SMS platform that creates personalized messages by leveraging consumer behavior data. Its main feature is "two-tap" sign-up, which lets brands minimize the path between catching a user's interest and convincing them to agree to a regular flow of marketing texts. First, the user notices something on a brand's website that causes them to click on a call to action to opt in. Via Attentive's tech, the user's text message app automatically displays a pre-written sign-up request, which gets sent to the brand's designated phone number.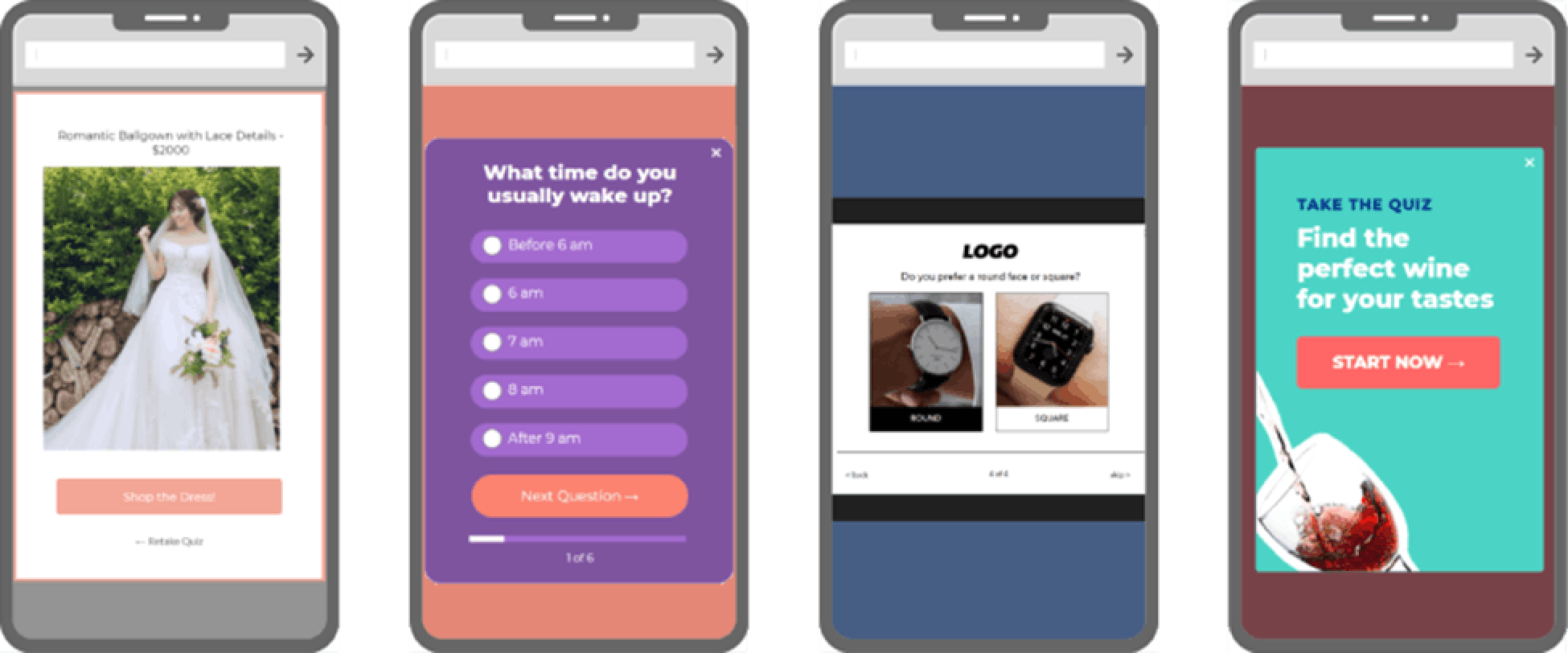 Attentive's marketing and analytics software also helps users craft messaging campaigns with video, audio, and GIFs based on consumer behavior or demographics. Automatic text responses are sent according to customers' shopping habits, and the platform delivers targeted messages about products or promotions. It provides real-time metrics on which campaign fared better with whom, so changes can be made on the fly.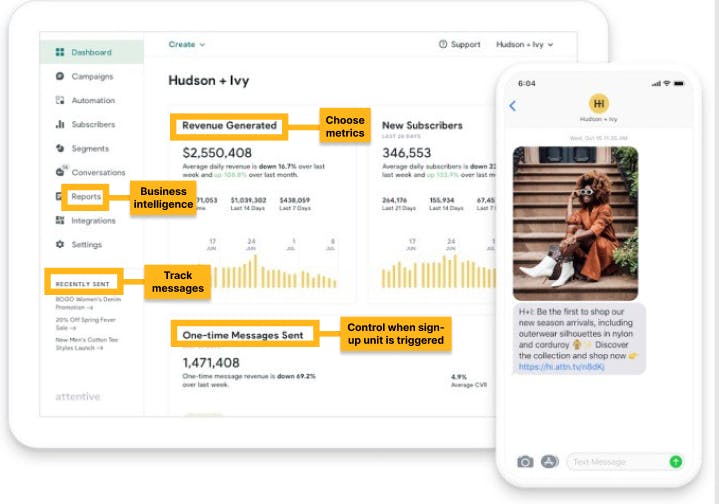 Attentive offers a wide range of integrations, including Mailchimp, Shopify, Zendesk, and HubSpot. It takes all data collected from subscription sign-ups and transfers them to the relevant CRM, resulting in a comprehensive overview of contacts. So far, the results have been positive: 90% open rate, 30% click-through rate, and 25% increase in ROI.
Competition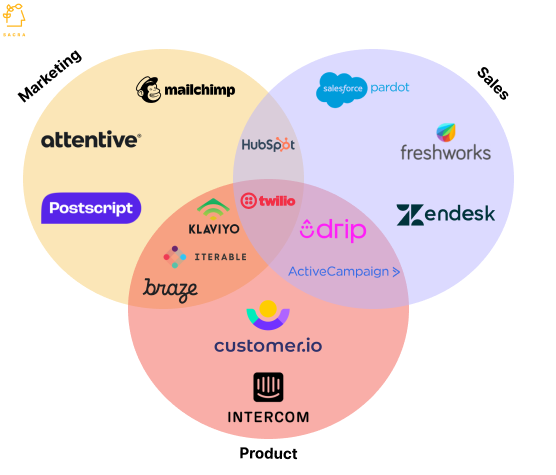 Attentive is competing in a space that's quickly becoming saturated. Large customer communication management platforms that do a little bit of everything and niche startups are all fighting for market share. 
Marketing-centric organizations 
These companies, including Attentive and Mailchimp, deliver marketing solutions, some of which are automated, through different kinds of digital channels, from email to mobile. They primarily sell to businesses seeking to personalize and scale outreach. Mailchimp is easy to use and its analytics are detailed, the ideal combination for non-technical members. 
Product-centric organizations  
These platforms focus on the user lifecycle and tend to be more user-friendly and flexible. For example, Customer.io allows customers to set up and automate promotional emails, while running transactional emails at the same time. This is beneficial because customers can trigger a promotional email without interfering with system emails. 
Sales-centric organizations  
These tools are designed for sales management. They help customers close more deals and streamline the sales process. Zendesk Sell is a CRM that requires minimal onboarding and is a unified place for salespeople to organize their contacts, deals, and calendar. 
Some companies are hybrids with Iterable and Braze being two examples. The former has a software that gathers consumer data and automatically sorts consumers into segments. It then sends customized messages based on the relevant information via email or text. The latter is similar in that it captures customers across the digital media spectrum and uses different sources to interact with users and send them targeted messages. Both companies give users broader utility than Attentive, which solely concentrates on SMS marketing.  
TAM Expansion
Steadily growing market
New features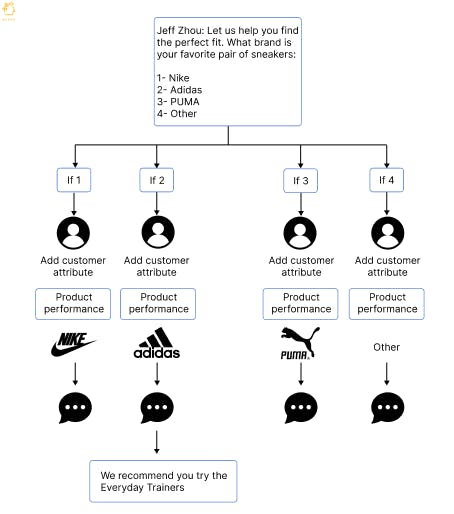 International expansion
Fundraising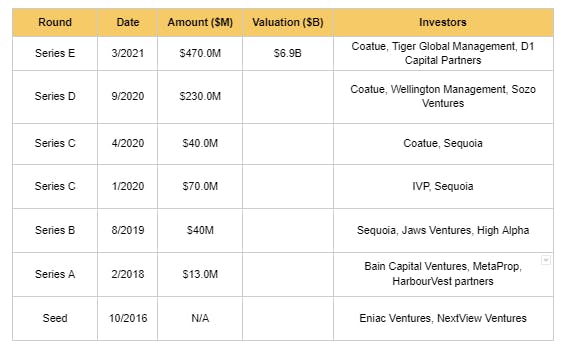 Risks
Lack of integration and segmentation 
Attentive's lack of integration with other tech stack, such as Mailchimp and Recharge, makes it hard for users to fully customize messages. Another difficulty users face is segmenting SMS and emails separately, causing the same message to be sent to prospects in waves. Attentive is actively working on resolving these issues. 
Strict regulations  
SMS marketing is highly regulated. Businesses must get permission from customers before sending messages. Failure to do so can cost owners up to $1,500 per message. Thus, a lot of brands, in particular major ones, are hesitant to rely on this strategy, making it challenging for Attentive to move upmarket.
Team

Brian Long
Co-founder & CEO

Andrew Jones
Co-founder & Chief Product Officer

Ethan Lo
Co-founder & Head of Special Projects

Harry Heymann
Chief Technology Officer

Brandon Simins
Chief Financial Officer

John Trani
General Counsel
Disclaimers
This report is for information purposes only and is not to be used or considered as an offer or the solicitation of an offer to sell or to buy or subscribe for securities or other financial instruments. Nothing in this report constitutes investment, legal, accounting or tax advice or a representation that any investment or strategy is suitable or appropriate to your individual circumstances or otherwise constitutes a personal trade recommendation to you.
Information and opinions presented in the sections of the report were obtained or derived from sources Sacra believes are reliable, but Sacra makes no representation as to their accuracy or completeness. Past performance should not be taken as an indication or guarantee of future performance, and no representation or warranty, express or implied, is made regarding future performance. Information, opinions and estimates contained in this report reflect a determination at its original date of publication by Sacra and are subject to change without notice.
Sacra accepts no liability for loss arising from the use of the material presented in this report, except that this exclusion of liability does not apply to the extent that liability arises under specific statutes or regulations applicable to Sacra. Sacra may have issued, and may in the future issue, other reports that are inconsistent with, and reach different conclusions from, the information presented in this report. Those reports reflect different assumptions, views and analytical methods of the analysts who prepared them and Sacra is under no obligation to ensure that such other reports are brought to the attention of any recipient of this report.
All rights reserved. All material presented in this report, unless specifically indicated otherwise is under copyright to Sacra. Sacra reserves any and all intellectual property rights in the report. All trademarks, service marks and logos used in this report are trademarks or service marks or registered trademarks or service marks of Sacra. Any modification, copying, displaying, distributing, transmitting, publishing, licensing, creating derivative works from, or selling any report is strictly prohibited. None of the material, nor its content, nor any copy of it, may be altered in any way, transmitted to, copied or distributed to any other party, without the prior express written permission of Sacra. Any unauthorized duplication, redistribution or disclosure of this report will result in prosecution.