Klaviyo: the $665M/year HubSpot for ecommerce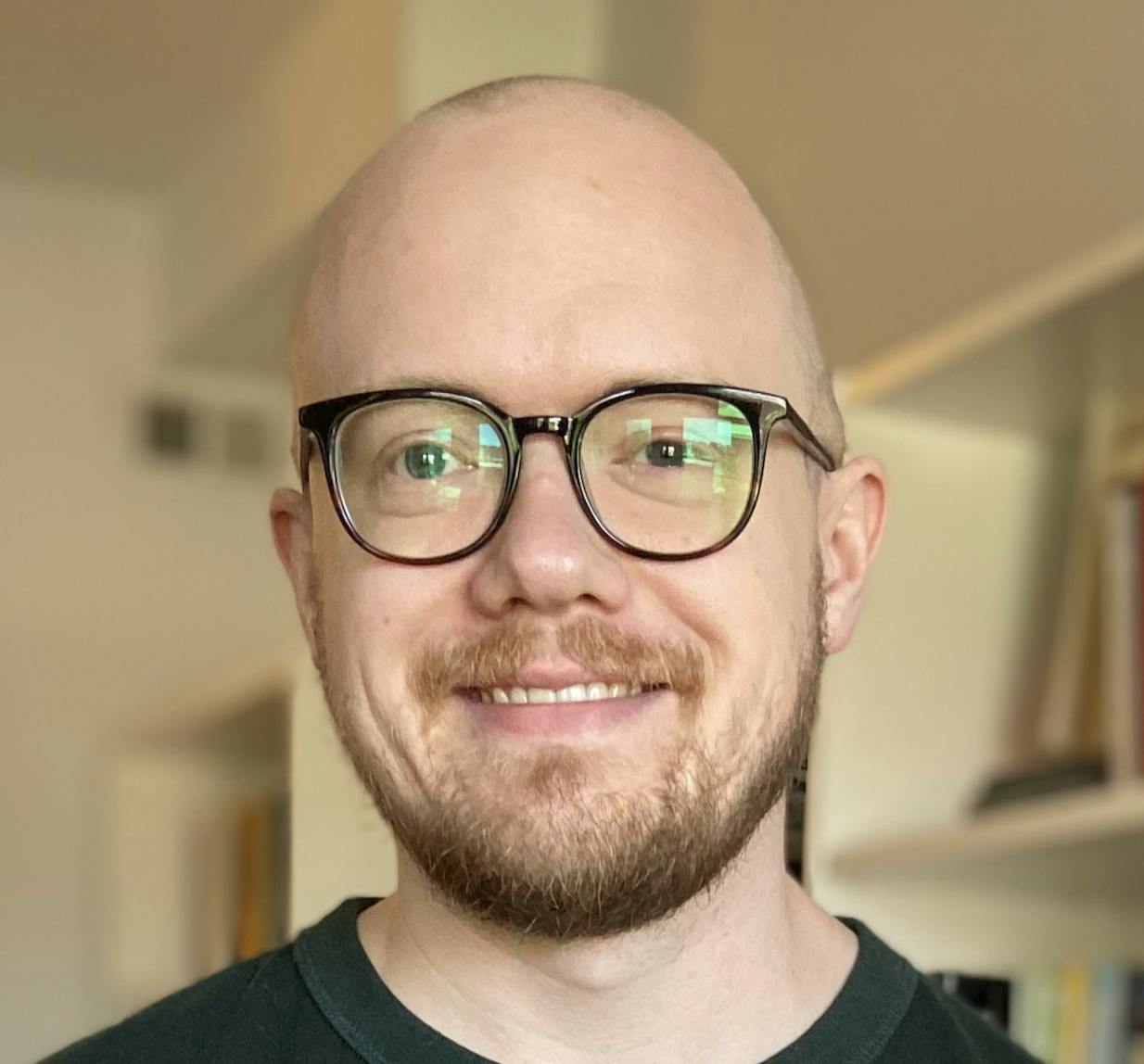 Jan-Erik Asplund
TL;DR: IPO is on the horizon for Klaviyo—a company that rode the wave of Shopify's growth to $665M in annually recurring revenue as the preferred 3rd-party email provider in their app store. Now, with Shopify's growth slowing down, Klaviyo is going multi-product—text, email, in-app, CDP—to diversify and fend off Twilio, Intercom, Mailchimp, Customer.io, and others. Check out our Klaviyo one-pager and dataset for more, as well as our interview with early Klaviyo employee Brian Whalley.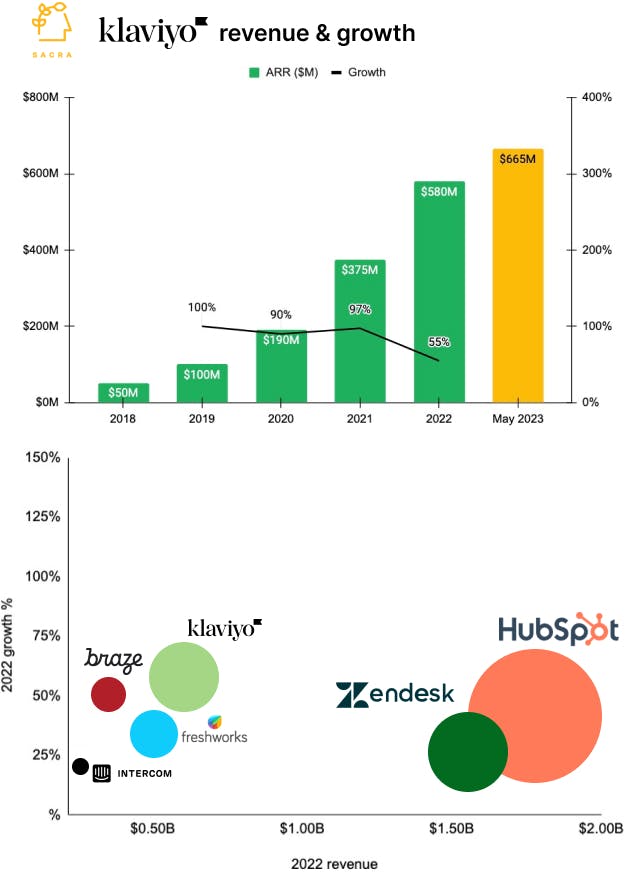 Key points from our research:
Circa the 2000s, personalized marketing in ecommerce relied on skilled spreadsheet jockeys VLOOKUPing customers into different CSV buckets, then uploading those CSVs into Mailchimp and sending out a different campaign for each relevant demographic group—a time-consuming and fragile process that created a non-optimal experience for customers. The majority of companies that weren't sophisticated enough to send custom campaigns like this would "batch and blast", sending the same email to their entire marketing list.
In 2012, Klaviyo launched as a vertically integrated analytics and events tracking product for ecommerce with a CRM and marketing automation, with rich user profiles automatically populated via a Javascript snippet ("klaviyo.js") embedded on the site. The embedded JS snippet enabled a whole generation of products like Intercom (2011), Braze (2011) Customer.io (2012), and Iterable (2013) to help companies drive increased retention and conversion based on what people actually did in their site or app.
Amid the rise of D2C ecommerce, Klaviyo provided the essential tooling for Shopify merchants to build owned audiences and drive distribution as they faced off against Amazon—as an early app store partner, they benefitted as Shopify grew nearly 10x between 2012 and 2015, from $23M to $205M in revenue. As subscription-based ecommerce grew, it created the need for a behavior-aware marketing platform that could help merchants prevent churn, upsell, and reactivate customers.
Sacra estimates that Klaivyo hit $580M in annual recurring revenue (ARR) at the end of 2022, up 55% from $375M at the end of 2021, last valued at $9.5B for a 16x multiple on forward revenue with about 100,000 corporate customers. Compare to Braze at $394M NTM revenue, valued at $3B or a 7.7x multiple, or HubSpot, at $2B in NTM revenue, valued at $23.9B or a 11.9x multiple.
SMS emerged as the new inbox of choice for marketers—with a 45% response rate vs. email's 6%—and companies like Attentive ($200M ARR in 2022) and Postscript ($39M ARR in 2022) built big businesses helping merchants manage the new flood of texts and write automated, contextual responses to customer queries. To go multichannel, merchants ripped and replaced their Klaviyo snippets with 3rd-party CDPs like Segment that would send and receive data from many source/destination apps.
As CDPs like Segment (acquired by Twilio for $3.2B) became the core routers of customer data in the stack, it dramatically decreased the switching costs between tools like Klaviyo, Iterable, Braze, Intercom, Customer.io and incumbents like HubSpot (NYSE: HUBS, $1.7B) and Mailchimp (acquired by Intuit for $12B) that added custom fields, rich user profiles, and conditional workflows. Within 2 years of its public launch, Segment was at $10M ARR growing at 300% year-over-year—in 2021, Segment hit $200M in revenue as the default CDP for 290,000+ Twilio customers and Twilio launched Engage on top of it, transitioning Segment from a neutral 3rd-party router to a directly competitive play to eat up end user destination apps.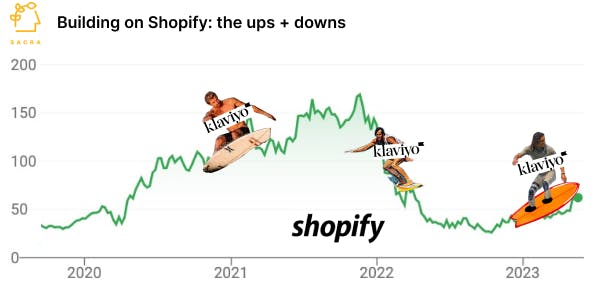 Klaviyo, Intercom, Customer.io, and other SaaS products like Amplitude (NASDAQ: AMPL, $238M) are fighting back against Twilio Segment by launching their own CDPs to both commoditize the CDP and make a play at recapturing customers' canonical user profile. With their own CDPs, SaaS products can provide their customers an end-to-end experience (generating expansion revenue) and keep all that customer data in their ecosystem (retention).
Klaviyo's strategy is to win by going multi-product with a vertically-integrated platform that brings together their Klaviyo One CDP for the enterprise, texting (currently 10% of revenue), in-app chat, and email so that their customers have an all-in-one marketing solution and data integrations with virtually every other SaaS tool they need. Klaviyo's growth slowed down from nearly 100% to 55% year-over-year in 2022, in line with Shopify's slowdown—going multiproduct lets them capture revenue from adjacent use cases and better retain customers.
The upside case for Klaviyo lies in owning the customer data layer and being a HubSpot for ecommerce where they leverage ownership over the CRM to build products to colonize adjacent products across sales, support, and operations. At $1T+ in sales, ecommerce still represents just 15% of the total commerce market in the United States, meaning Klaviyo's market has plenty of upside left.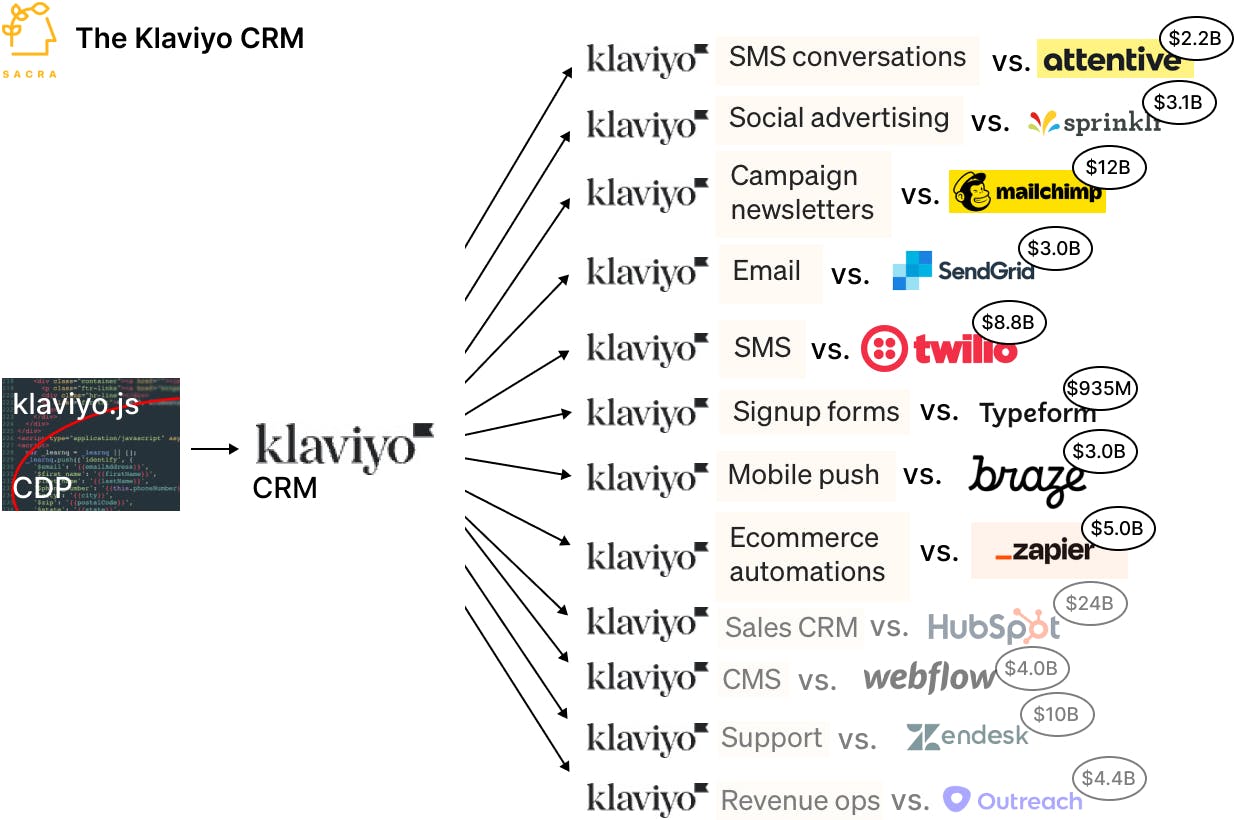 For more, check out this research from our platform:
Read more from
Read more from
Read more from