Justin Intal, CEO of Forage, on helping online grocery platforms process EBT
Featuring
Forage helps online grocers and platforms with setting up EBT payment processing.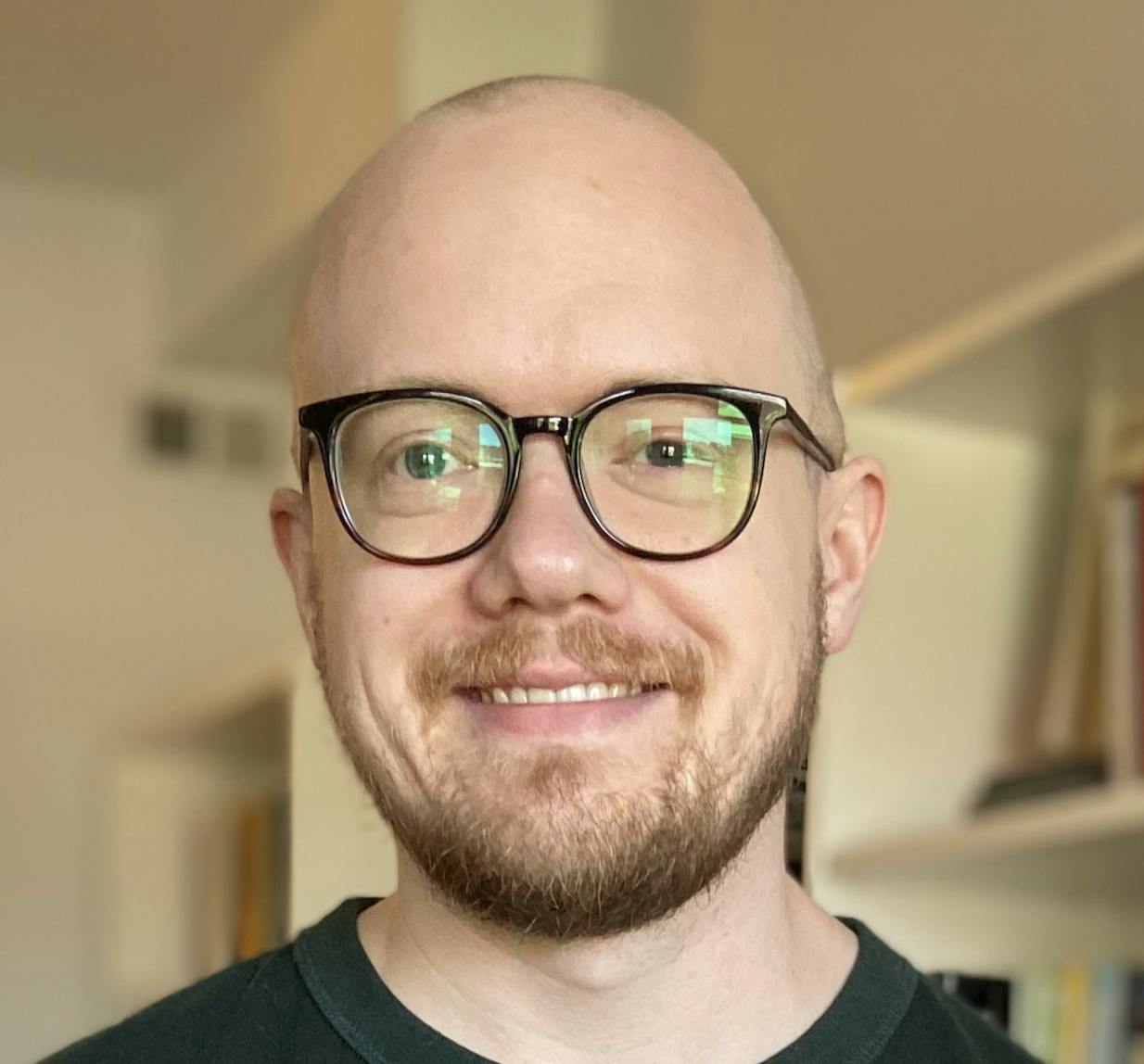 Jan-Erik Asplund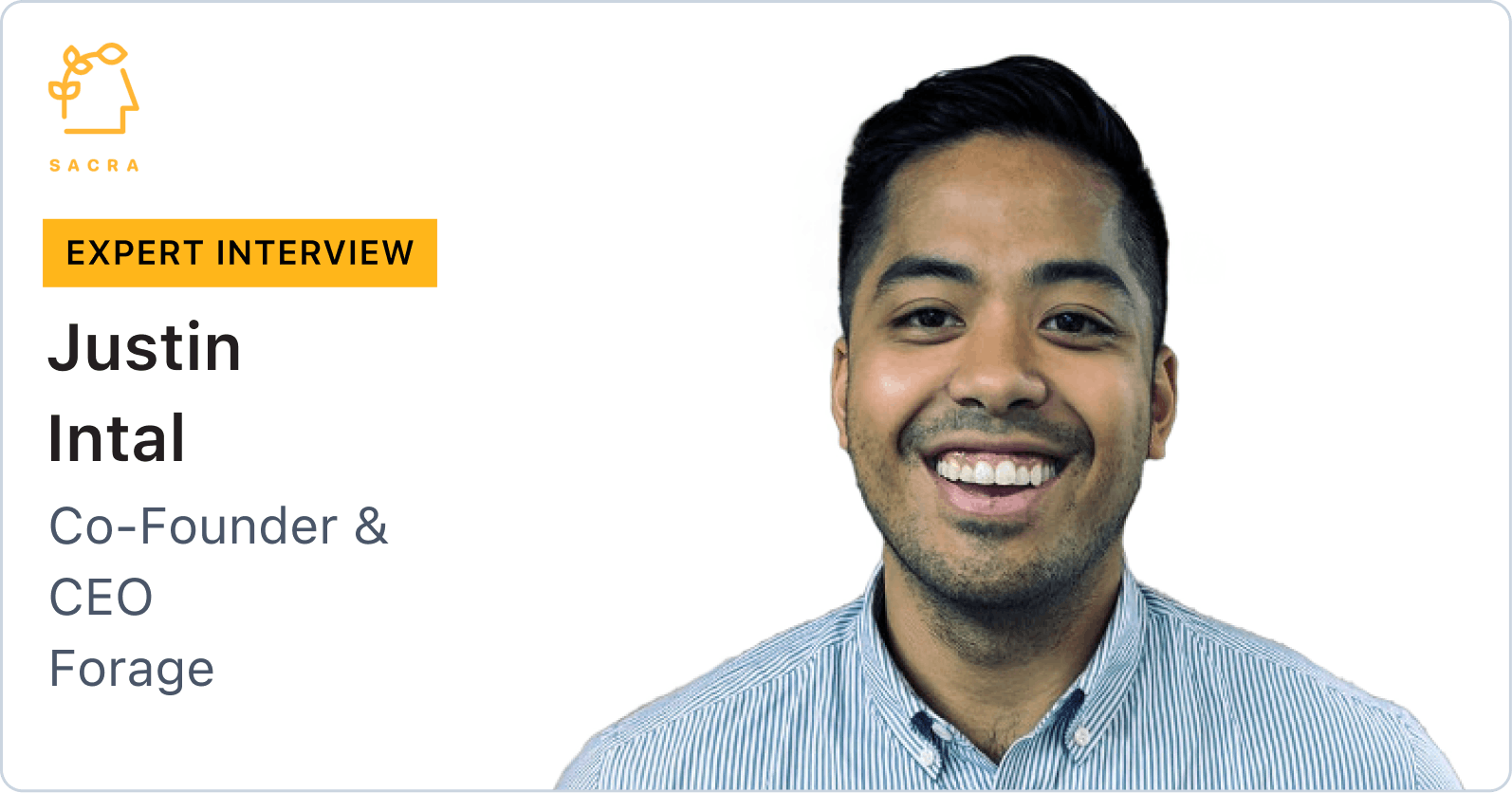 Background
Justin Intal is the CEO and co-founder of Forage. We talked to Justin to learn more about the process of getting government approval to process EBT transactions and how online grocers and ultra-fast delivery platforms are thinking about using EBT to grow transaction volume.
Questions
Interview
Tell me about Forage. What's the problem you're solving? What are some of your key customer profiles?
Forage is making it easier for merchants and platforms to accept SNAP EBT - more commonly known as food stamps - online. Currently, there are less than a hundred merchants that accept SNAP benefits online—but about 250,000 stores accept them in person. Accepting this payment online is a technically complex process, and there's a heavy compliance load as well. Also, existing providers don't offer a strong reliability for online payment processors.
There's less than a hundred online providers who accept EBT—around 89 merchants according to the 2021 report. Are those merchants building out homebrew solutions?
A significant number of them got online via Instacart. Our COO, Ofek Lavian, is the former head of product for payments at Instacart, and he and his team facilitated more than 50% of those stores. He made Instacart fully compliant in terms of being able to process these benefits. Many of these merchants actually don't have EBT on their own website—for example, Ralphs and Safeway don't offer this capability outside Instacart today. Amazon and Walmart were some of the first to actually execute on this. They were one of six or so companies who were accepted into the initial USDA pilot program to accept SNAP EBT online. 
Right now, Forage is more for merchants who don't have the bandwidth to enact it. Instacart had an army of people working on this and it took them about nine months to execute—Walmart and Amazon took about 18 months. The resources to execute on this include engineering, compliance, and a full-stack team to ensure merchants can accept these benefits and also get government approval. Most grocers don't have the resources, and that's where Forage comes in, to assist on the process.
Is the compliance aspect for accepting EBT similar to a GDPR (General Data Protection Regulation) check that requires periodic recertification? Or is it a one-time thing?
Based on the current USDA model, it's a one-time thing, but they do sanity checks from time to time. An example of compliance is ensuring that inventory matches SKU level data and that items are SNAP (Supplemental Nutrition Assistance Program) eligible. Some examples that aren't SNAP or EBT eligible include cleaning supplies, service fees, and taxes. Within Shopify Forage built a split tender feature, so users can access a secondary form of payment to cover those non-eligible items and basically process two payments at once. In terms of compliance, Forage created a checkout flow—that's fully government approved—that includes a four-digit pin. The pin verifies both the consumer and how much funds are in their account. It's a way to de-risk fraud, which is one of the biggest concerns for the USDA.
The 2021 report notes that one hundred and twelve convenience stores are approved to accept EBT, while the number of online retailers is under one hundred. What explains that discrepancy? Is it that much easier for a convenience store to get approved? Is it a franchising question?
It's a heavy load on the compliance aspect. The guide to help merchants understand the rules of getting government approval is 133 pages. We broke it down into a three-step process: operations, compliance and technology. The operations step involves sending a letter of intent that a merchant wants to accept EBT. Then, creating a business requirement document (BRD) that lays out a framework of how the website or mobile app will work. Those are then submitted to the government for approval, and then they can implement Forage as a third-party payment processor, or TPP. 
The system is complex: for instance, that BRD is about fifty pages long, it's essentially a manifesto on how each company works for consumers. But we're breaking it down for users as much as we can. Forage's API is as easy as implementing Stripe, it's just a few lines of code. The only other existing provider is an old legacy provider that just does not do the process justice.
How much of the compliance element for setting up EBT payment processing is a manual service that Forage offers hand-to-hand, and how much does the software automate?
Forage has automated the process. A BRD can be done in five to seven days. For context, Instacart took about three months just to finish their BRD. In that case, they had a lot of back and forth with the USDA checking their work. Now, Forage has internal experts who launched the first store that accepted online EBT. And our COO, Ofek, joined us from Instacart, and went through this for them. Another member on our team came from the USDA's Food and Nutrition Services, their past role was accepting merchants and platforms. We built a software that creates the BRD for merchants if they input their business and company information. That really streamlined this whole approach. Most grocers are initially rejected, and have to go back and forth with the USDA a few times before they are accepted. Forage's goal is to get vendors approved the first time.
What are some of the challenges Forage has faced while dealing with the government to help merchants get set up to accept EBT as payment?
Forage frames itself as the government as-a-service partner. We know what the government is looking for when it comes to the business requirement document. Forage is able to help new merchants navigate through that 133-page guideline to accept SNAP online. We work closely with the USDA and have weekly meetings with them to review all our pending clients. We get updates and we provide updates on what needs to be changed or fixed, and give new merchants the advice they need to get up and running to accept the EBT payments.
There's a very large transaction volume via SNAP every year, what's held vendors back from getting involved in this area in the past? Is it a bias? Did the market not seem big enough? Or was it the government compliance and technical challenges?
Propel has done a great job of highlighting the need to build around this ecosystem and community. It's a two fold answer: It's a compliance issue and it's a software issue. On the compliance side, if anyone could do it, they would've done it. If it was just software, then Stripe, PayPal, and Adyen would've done it already. The navigation of the compliance aspect is the reason it hasn't been done before. The USDA is really concerned about fraud. Their entire 133-page guideline, they want to go line item by line item to ensure accuracy. That's why our relationship with the USDA is important, along with the four-digit pin we created to authenticate consumers and reduce fraud.
Covid-19 led to a big push for online grocery shopping. In the past year alone, EBT grew by 60%. Biden increased it by 26% effectively back in October 2021. EBT, over the past twenty years, has grown 12.8% year over year, regardless of administration. It's a huge market opportunity and grocers want to earn that business.
Does Forage feel any extra support or tailwinds from the government? It seems like it's in their best interest to help increase the number of online grocers that accept EBT.
Yes, the investment of money and several grants the USDA has established illustrate how heavily they support this. They've made it more accessible, and really highlighted the need and importance of this, especially during the pandemic. The government is in the process of approving online-only merchants like our client Farmstead to accept online EBT for the first time, and focusing on other products like Women, Infants, and Children (WIC). In terms of the spend online, it's growing month over month.
Is online EBT spending an effective vector for addressing concerns like food deserts? In some places, a convenience store might be the best option, and maybe that's why those vendors have historically had such uptake?
Forage is definitely making it more equitable. Product-market fit is more important for a SNAP EBT online customer than it is for other customers. Many benefit recipients have disabilities, many have children, many don't have a car or live in food deserts. Within online grocery shopping, for the most part, prices are normalizing to what they are in-store. So that's a huge game changer for these consumers.
In terms of delivery and making it more efficient and equitable, companies like Farmstead, Misfits, etc. are a huge value add, because they can reach more zip codes. For the most part, 42 million Americans - all those SNAP recipients - weren't able to transact online. That means merchants were missing a huge subset of people, and it's actually 50% of all groceries. Fundamentally, we're becoming a TAM (Total Addressable Market) expander for these merchants and platforms.
Forage adds increments of revenue and more customers for merchants like Farmsteads and Misfits, have you considered what kinds of businesses Forage might enable that don't exist now?
To this day, DoorDash and Uber don't accept EBT payments—that's a greenfield opportunity. Forage is strictly staying focused on groceries for the time being, but that's a huge opportunity. We're staying laser focused on that 50% of the grocery spend. If anyone sells groceries, we'd love to power them. Obviously, there's other opportunities that we're looking at down the line, but for now, that's our main focus at Forage.
When someone orders groceries off DoorDash or Uber, they're paying for lots of fees that aren't the food itself. I'm guessing you can't apply SNAP toward Uber surcharges and delivery fees, so would that be a problem?
You can't use EBT for the service fees, so that's a big thing. That's where users would need the split tender feature.
How has Covid-19 had an impact on Forage's business of enabling EBT for online grocery shopping?
For the most part, Forage has been operating during the pandemic. We started this company at the beginning of the pandemic, so what we've seen is massive tailwinds from the government. They've consistently been adding more grants and more dollars into the overall spend. For merchants and platforms, they're prioritizing this as not just a revenue generator, or a way to get new customers, but as a social impact lens as well. One of the best highlights for us is knowing that these merchants and platforms are reaching Americans in need. The tailwinds are there in terms of online grocery shopping, government, and in terms of tech—this is a really important problem to solve.
How do you see payment processors being positioned for the future? Stripe and PayPal never took this on, is this a different class of problem that's more compliance-heavy so they won't get involved? Do you see the future of payment processors as tackling a specific, technical problem?
As far as Stripe or PayPal taking it on, the entrepreneur inside of me is always concerned. Our focus is on doing a great job providing the service we do. Many of them have reached out to partner with us, and we do anticipate partnering with some of them. Their focus is on being international companies, and there's a few subsets of merchants that they're very focused on. Forage is very focused on the U.S. market. For instance, we hired away the head of payments at Instacart to come to Forage. He'd been asking Stripe or Adyen to build this, for the past two or three years—even with Instacart being one of their largest customers out there—and they wouldn't do it. That says a lot more about where their efforts are at.
And that's ok! This is a very complex and technical problem, and that's why Forage is here. Like I said, we do envision ourselves partnering up with them sooner or later. Right now, we're focused on some of the largest merchants and platforms while looking at the tail end of many of those merchants. At the end of the day, many of these merchants and platforms work with those partners as well. We don't take credit card or debit card fees, we strictly stick to EBT, so that split tender feature will more than likely include working with one of those partners.
How do you monetize at Forage?
Just like Stripe, Forage takes a transaction fee. We don't make money until merchants or platforms are live. We do a lot of the grunt work on the front end, but for us, everything else comes afterwards.
Forage is undertaking a formidable technical challenge, what was the experience of integrating with the government's technology capacities? Have there been big challenges with using the government as a digital partner?
Forage works with the government. We have to 100% follow the rules. We value their feedback and meet with them on a weekly cadence to get it. They gave us the guidelines to build this thing out, and we followed through with it. In terms of the user experience, it's not common to input a four digit pin for every single purchase. But that's the nature of what we needed to do in order to ensure the government approves our payment processing. So there's that component in terms of technology.
Existing providers are really faulty. There are two state processors that together, for the most part, cover most of the states. One is Conduent and the other is FIS. We're directly connected to FIS, which helps us in terms of reliability. Our reliability is a derivative of AWS's reliability. Fiserv, our competitor, relies on First Data's on-premise infrastructure, actual physical infrastructure. And we're in the cloud.
Forage is very US focused, whereas the payment processors are not. Does Forage have plans to expand internationally and address food stamps-like adiminstations in other countries?
Yes, but there's about $120 billion EBT spend and $200 billion EBT total, which adds in other spends that are on the exact same payment rail that we've created. It's a greenfield opportunity because no one is tapping into this. We think Forage can easily earn 50-80% of the online EBT market. That's our main focus now.
Forage has great partners with Shopify, Uber, and Farmstead. We want to continue to provide value for them, and one of the biggest value-adds we can do is to build compliant payment systems for them. In terms of international, there's a huge opportunity with social benefits elsewhere. But as a startup, and a company early on, we want to do one thing great. So that's what we're focusing on today.
Since Fiserv is the incumbent in the space, have you experienced customers moving over from Fiserv to Forage? If so, what have they communicated about why they left?
I'll keep the specific partner names anonymous, but yes. From the partners we've talked to, the main reason they've switched over is to get better reliability. A payment processor is only as good as how long it's up. If it's not up, the company and their users are losing millions of dollars. That's the major reason why many are switching over from Fiserv to Forage—the team that we have and the reliability. That's our game plan. In terms of a payment processor, anybody that comes in and says 'I'm down a significant part of my time, and losing revenue.' That's a huge, huge hit for anyone. Imagine if Stripe was down for like, an hour a day?
Are there challenges in getting merchants to switch off Fiserv? Is it relatively easy to replace their systems with Forage?
It does take some time, around four to six weeks. Luckily, for the most part, assuming merchants accept online EBT, they're already fully compliant. So it's just changing out the payment processor to Forage.
Disclaimers
This transcript is for information purposes only and does not constitute advice of any type or trade recommendation and should not form the basis of any investment decision. Sacra accepts no liability for the transcript or for any errors, omissions or inaccuracies in respect of it. The views of the experts expressed in the transcript are those of the experts and they are not endorsed by, nor do they represent the opinion of Sacra. Sacra reserves all copyright, intellectual property rights in the transcript. Any modification, copying, displaying, distributing, transmitting, publishing, licensing, creating derivative works from, or selling any transcript is strictly prohibited.
Read more from
Read more from