Zapier: The $7B Netflix of Productivity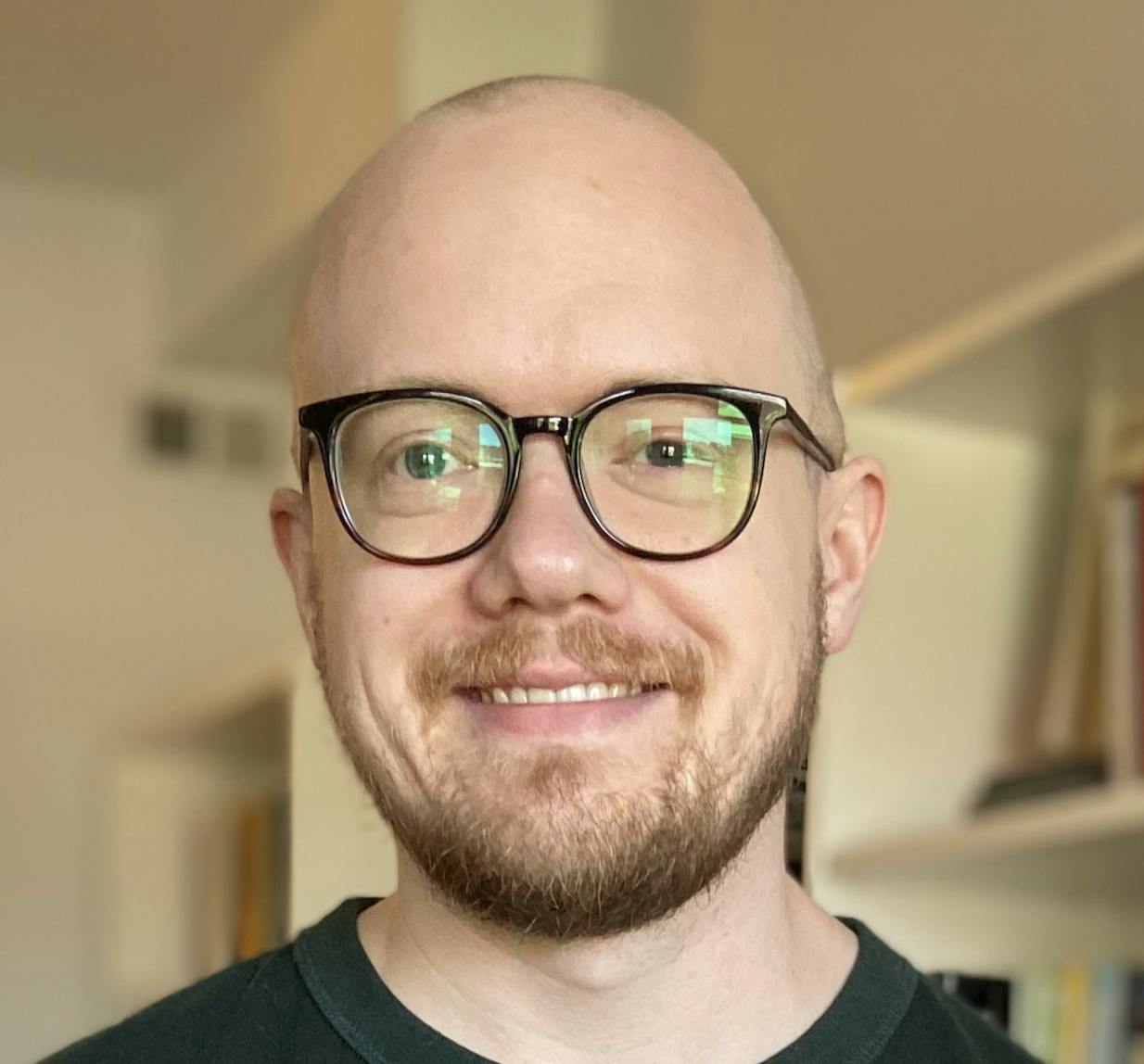 Jan-Erik Asplund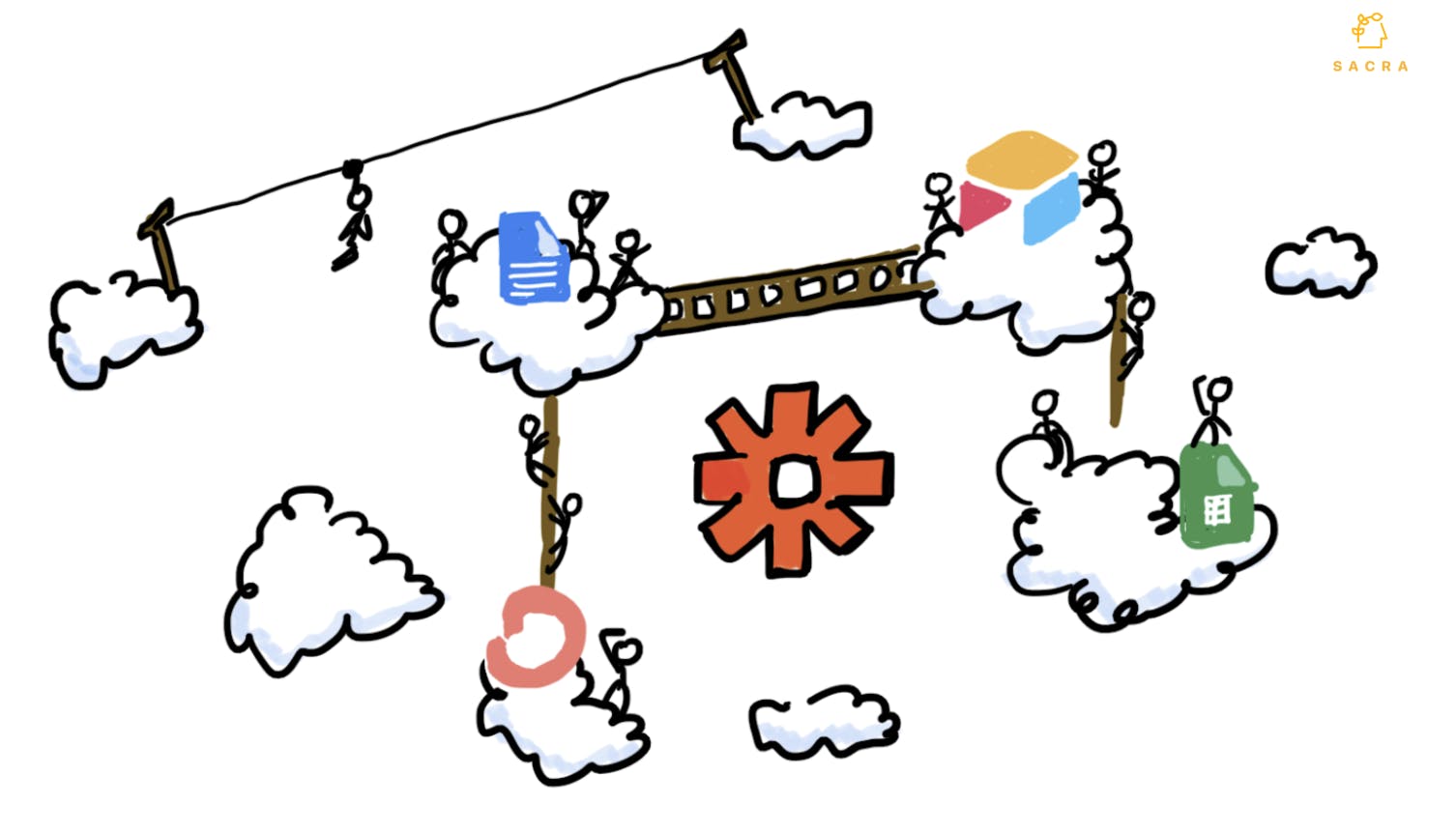 Building the no-code super aggregator
The disintermediation threat posed by native integration API products like Tray.io and Paragon 
The ability of verticalized, drag-and-drop automation solutions like Parabola and Alloy Automation to peel off Zapier's market share in specific markets
Other horizontal tools like Airtable building out their own integration tools to keep users on their own platforms
Key points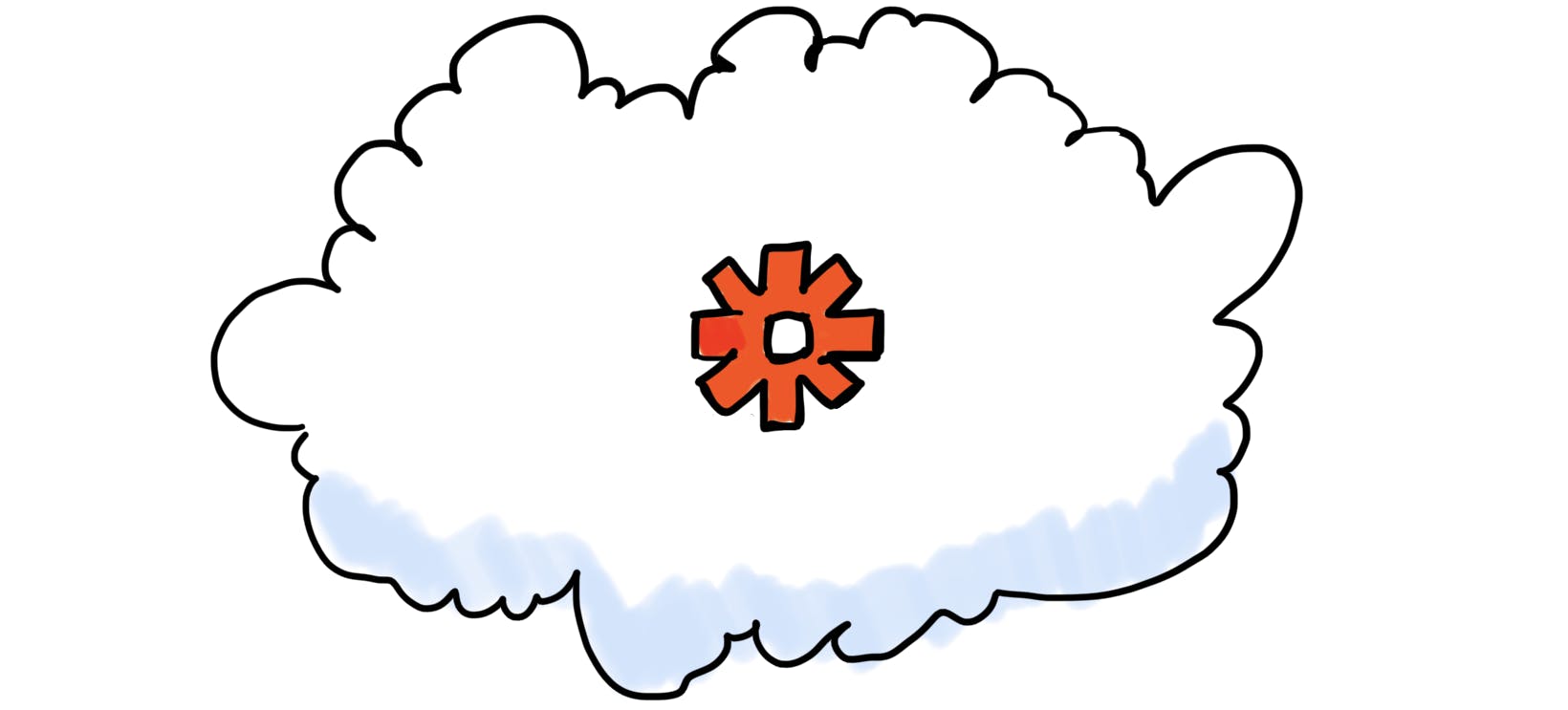 Zapier is an integration platform and marketplace that gives non-technical end-users the ability to use "triggers" and "actions" to connect SaaS applications that aren't natively integrated.
Our model values Zapier at $7B in the company's base case, about 40% higher than the $5B price at which early investors recently sold stock to Sequoia and Steadfast Financial in a secondary sale.
In March of 2021, Zapier hit $140M in ARR, growing at about 50% from the year before and maintaining a 50% CAGR3, comparable to Shopify and CrowdStrike and faster than Datadog (40%), DocuSign (40%), and Twilio (35%).
Despite only raising $1.4M in venture capital, Zapier hit $100M ARR in just under 10 years—compare to Shopify at 6 years and Carta at 6.5 years. Their tiny amount of capital raised gives them a 100x ratio of ARR/funding that puts them in elite territory alongside other largely-bootstrapped companies like Atlassian (128x) and Cloudinary (80x). 
Zapier has a virtual monopoly in the no-code integrations space. By 2020, Zapier had 125,000 paying customers: about 25x as many as competitor Integromat. Zapier's 3,000+ integrations give them pricing power.
By programmatically generating SEO-optimized landing pages for each new tool and integration on the platform, Zapier has built a growth machine that has scaled up to 6,000,000 unique pageviews every month, more than sites like Deadspin, Teen Vogue, Gothamist, Seventeen, Saveur or Cook's Illustrated.
But Zapier risks being disintermediated with the rise of native integration APIs like Tray.io and Paragon, verticalized automation solutions like Alloy Automation and Parabola, and Airtable building its own integrations platform, all of which aim to offer a better user experience around integrations.
Zapier's strength is that like Netflix, it has commoditized its suppliers and gotten closer to their customers—now, it has the opportunity to leverage its distribution and mindshare to eat Airtable, create its own Zapier-native data store, and build the no-code super aggregator.
In our base case, Zapier remains the logic layer of no-code and continues to grow at 37% CAGR to $800M+ in ARR by 2026. In our bear case, growth slows to 20%~ amidst competition from other no-code platforms and native integrations. 
In our bull case, Zapier builds the no-code super aggregator and is able to grow at 50% CAGR for the next five years, growing into a nearly $30B valuation. 
Valuation: Zapier is worth $7B on $1.4M raised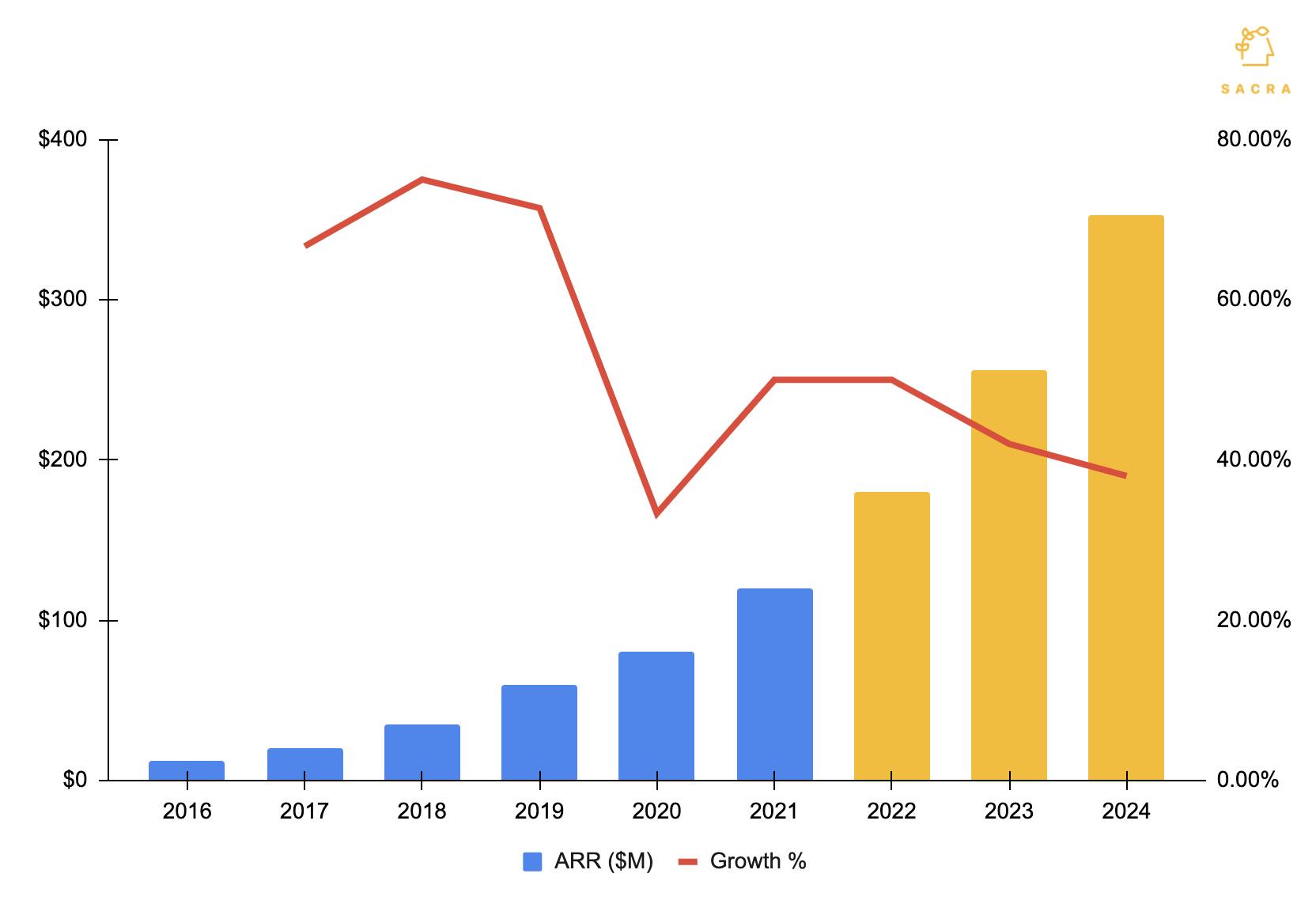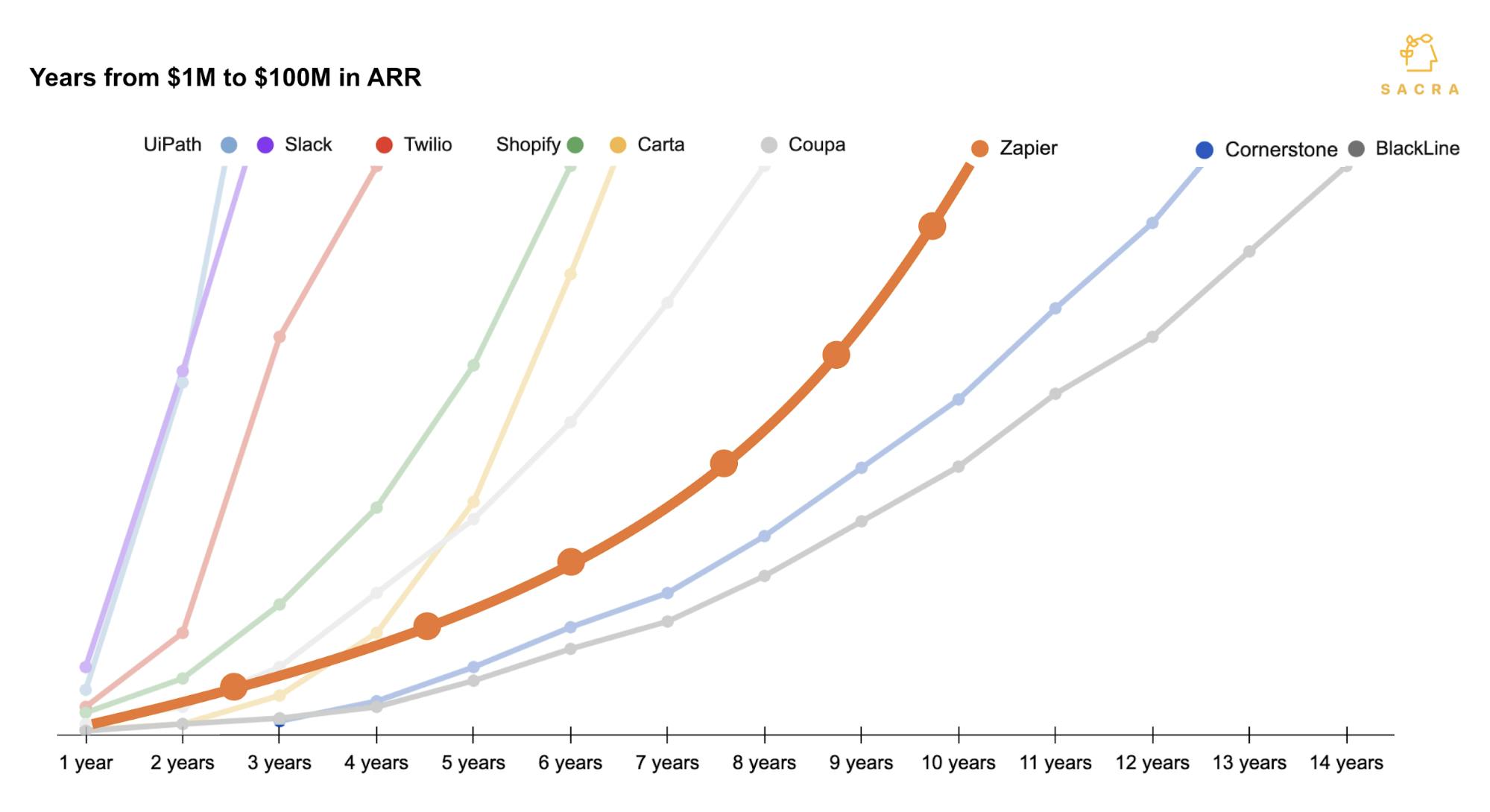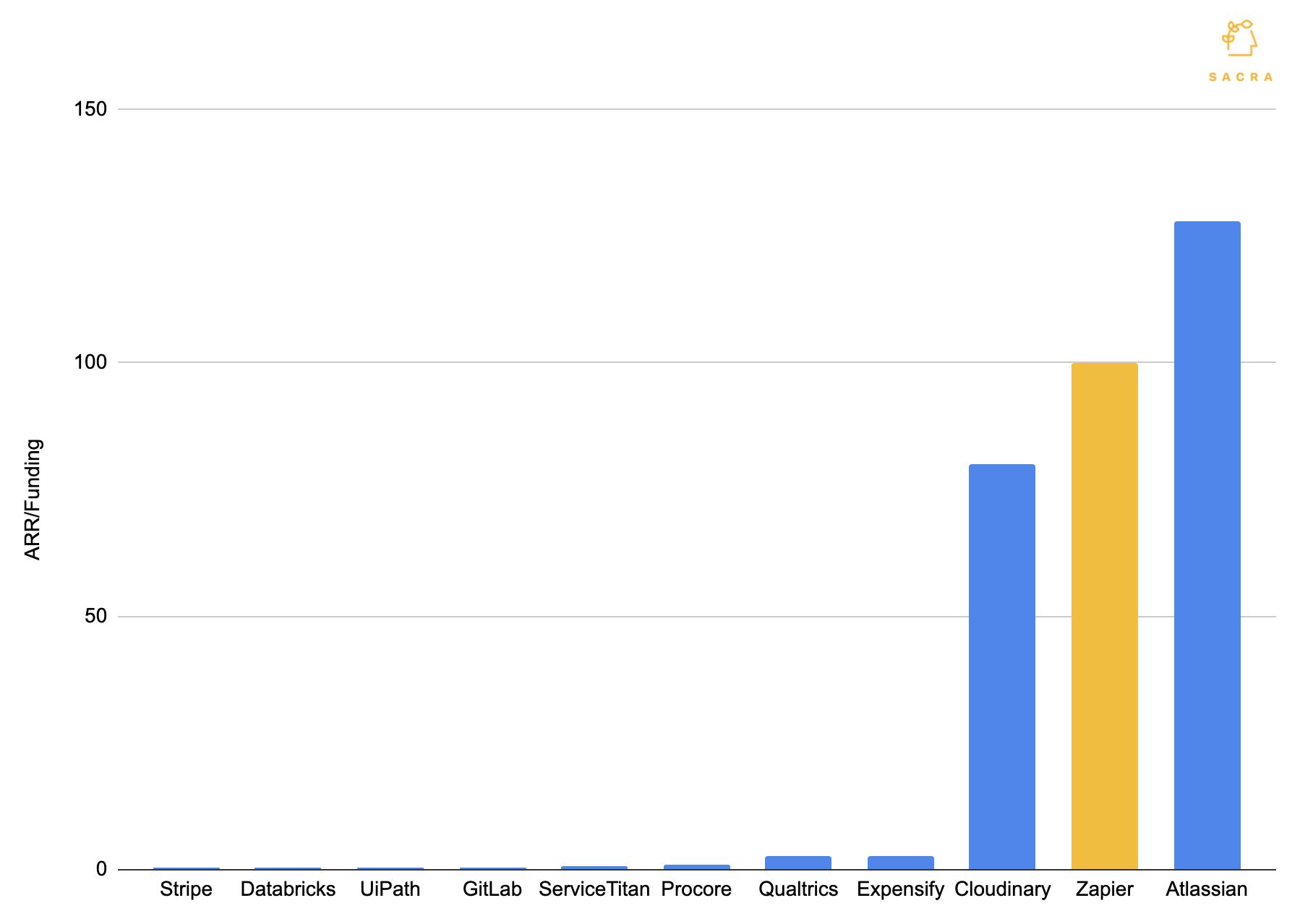 In our base case, Zapier continues to serve as the logic layer of the no-code ecosystem for SMBs and startups. ARR hits $800M and growth slows to 35% year-over-year by 2026.
In our bear case, Zapier is relegated to the long-tail of SaaS integrations, with most SaaS products building their most popular integrations in-house in order to provide a better customer experience. 
In our bull case, Zapier leverages its proximity to end-users and its visibility into millions of SaaS workflows and builds a no-code super aggregator.
Product: The no-code integration marketplace driving $140M ARR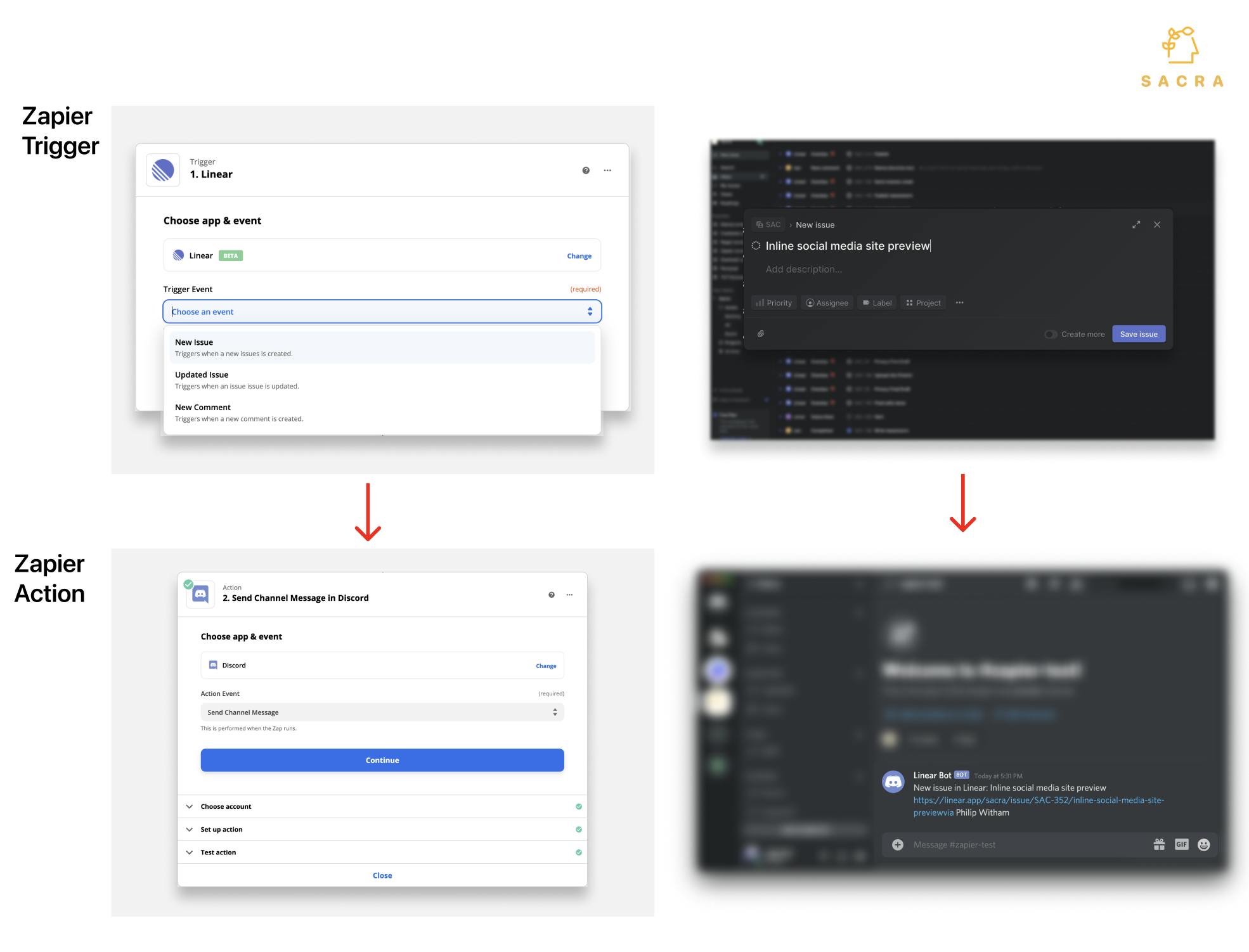 User chooses an action in one of their apps they would like to serve as a "trigger"
Whenever that trigger event takes place, it sets into motion a "zap"
The zap performs one or more "actions" which can create, read, update or delete information in that same app or another app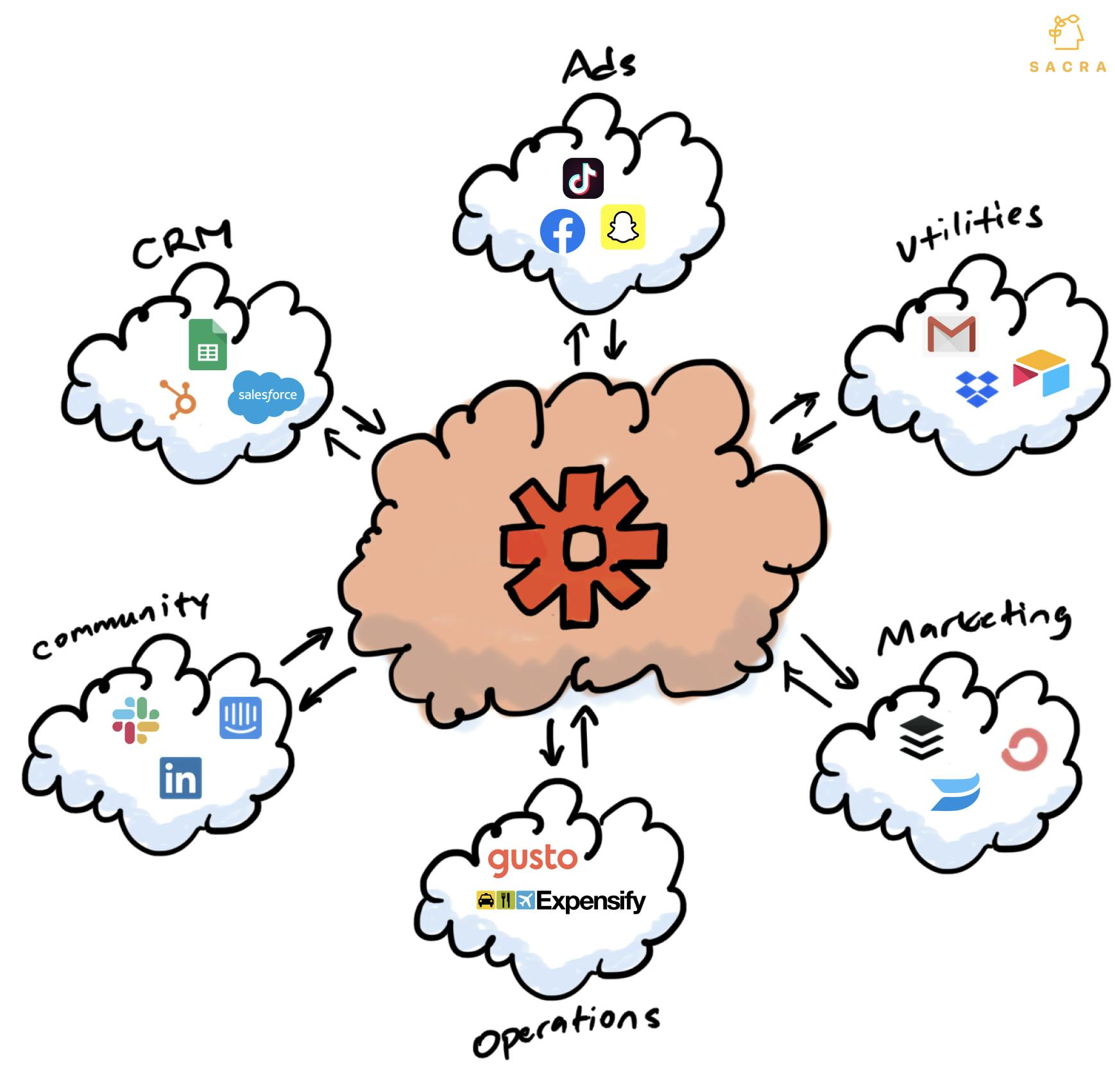 Discoverability: Zapier's SEO dominance means that they're often the first result for any Google search involving app integrations, and this can be a powerful acquisition tool for SaaS tools. 
Extensibility: With a Zapier integration, a SaaS tool can advertise hundreds of integrations with other tools and ensure that their users won't churn simply because they can't connect their data to some other tool in their stack.
Analysis: From API of APIs to the no-code Netflix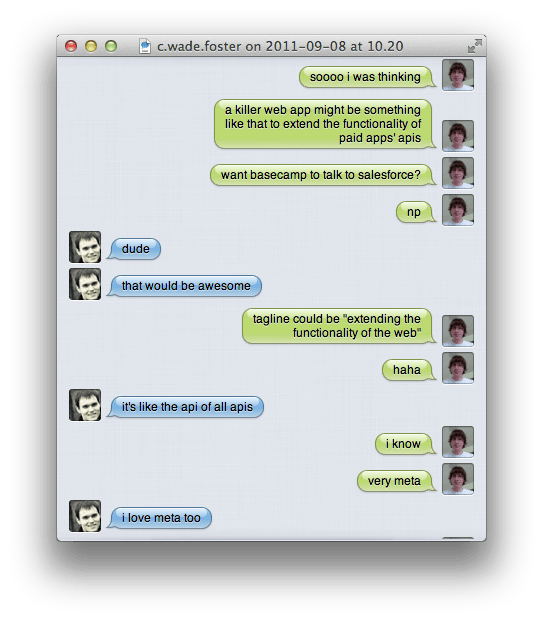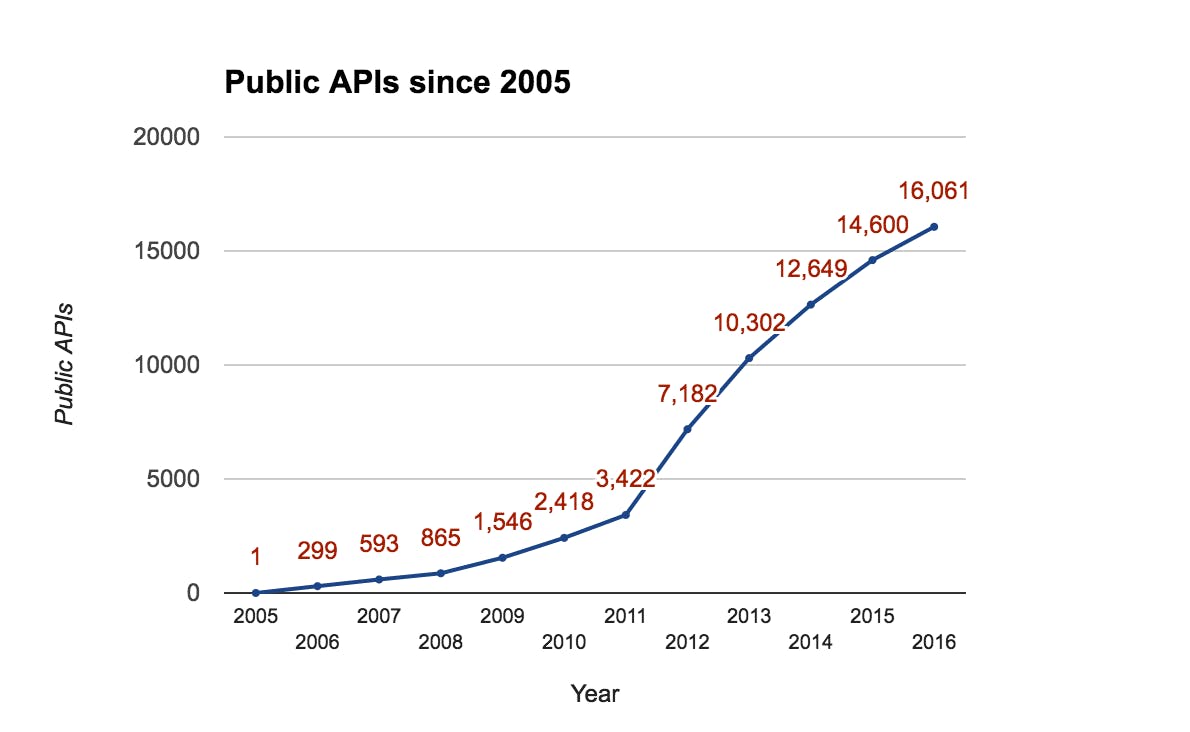 1. The 6,000,000-view-per-month SEO growth engine that got Zapier to $140M ARR
"discord twitter integration" (#1 ranking)
"shopify square integration"  (#1 ranking)
"basecamp slack integration"  (#2 ranking)
"discord steam integration"  (#1 ranking)
"slack facebook integration"  (#1 ranking)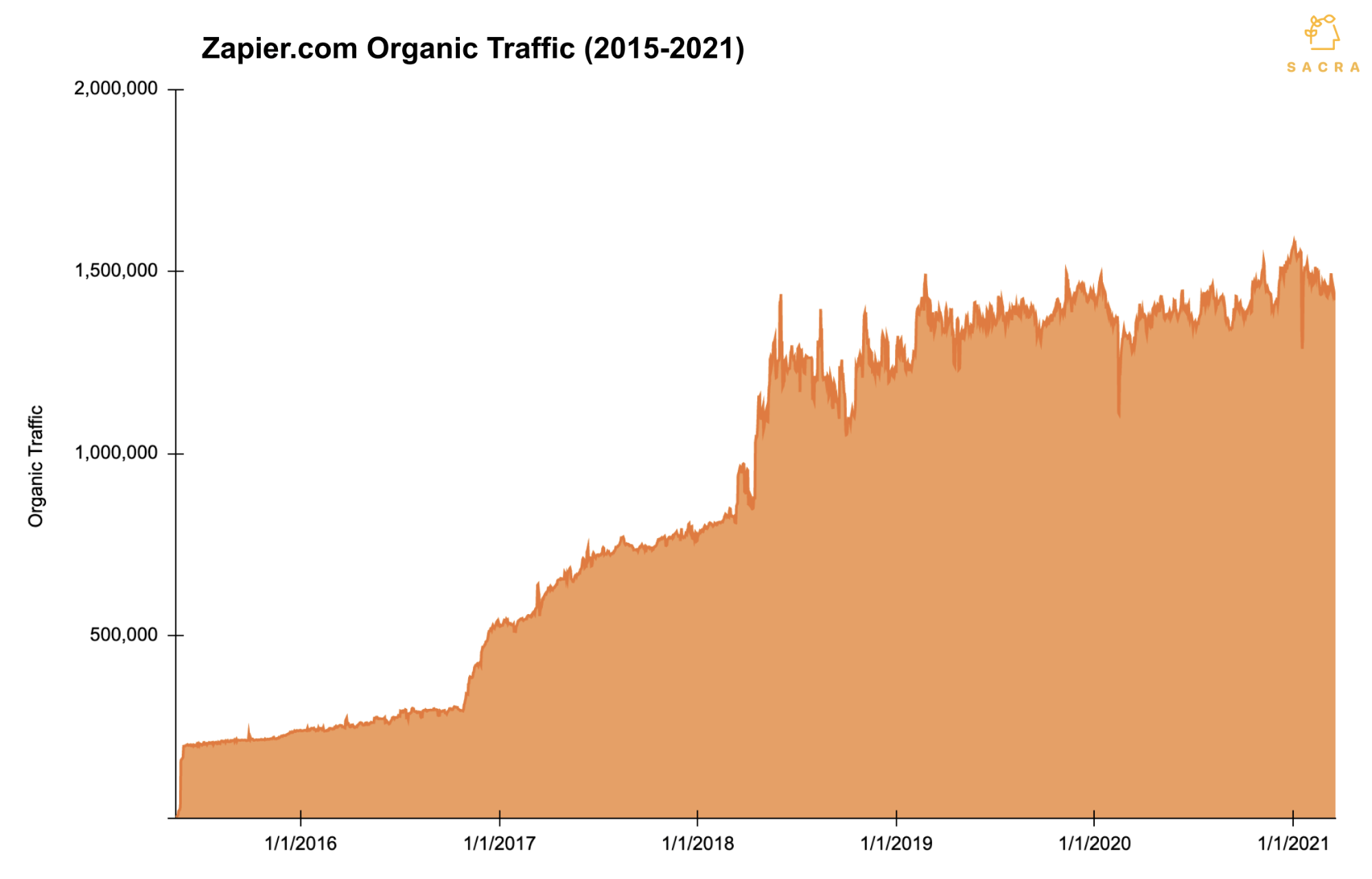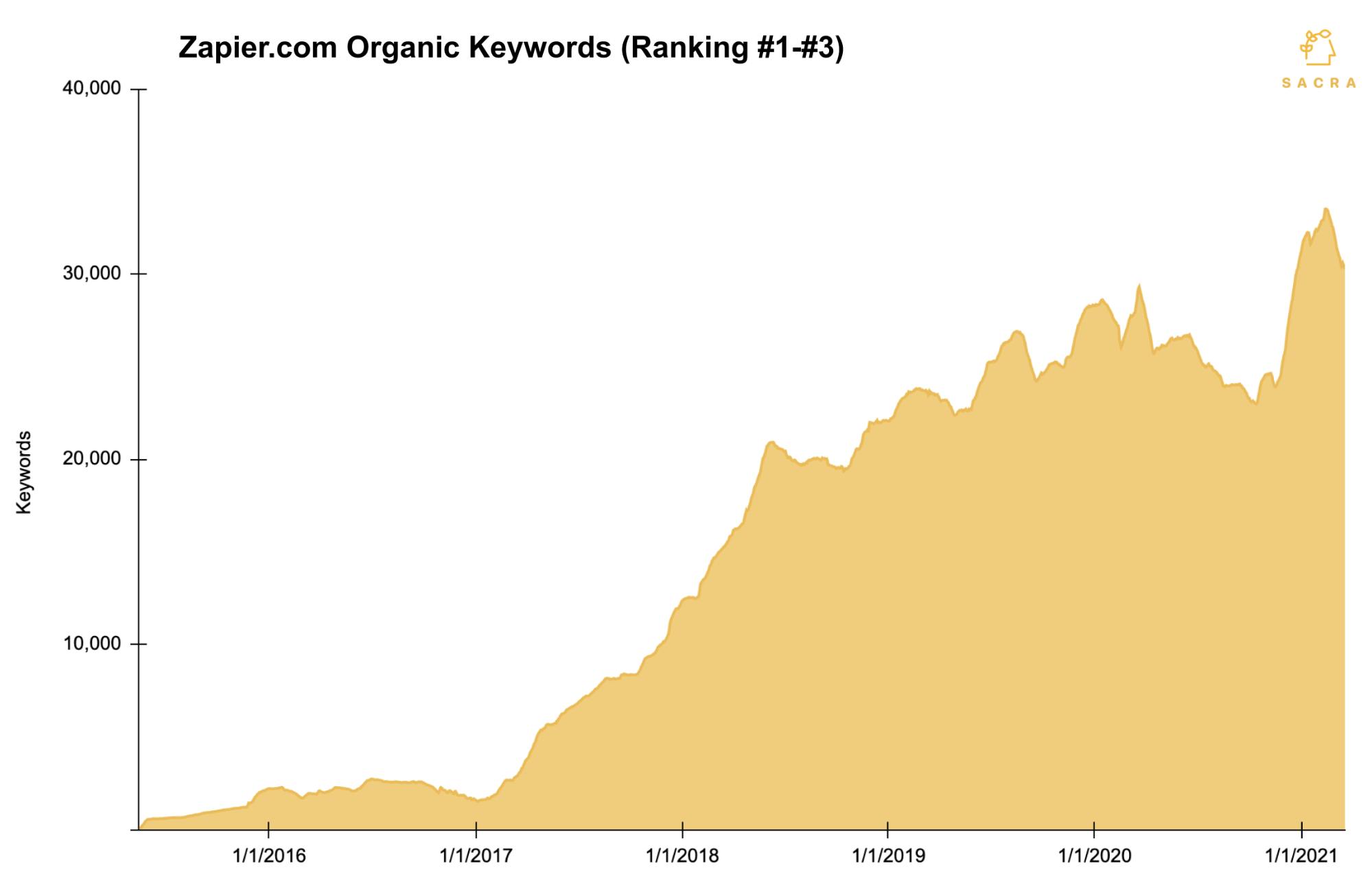 It costs nothing to have a #1 search result, and can drive thousands of qualified leads every month, especially if you sell to individuals, startups or SMBs and your pages are as well-tailored to satisfying the searcher's intent as Zapier's were. 
Over time, unlike the traffic you get from temporary social media spikes, organic traffic compounds. You get traffic into perpetuity despite only having to spend time building that page once. 
Also, it would only get easier for Zapier to execute on this strategy as their site grew and their domain became more highly ranked by Google itself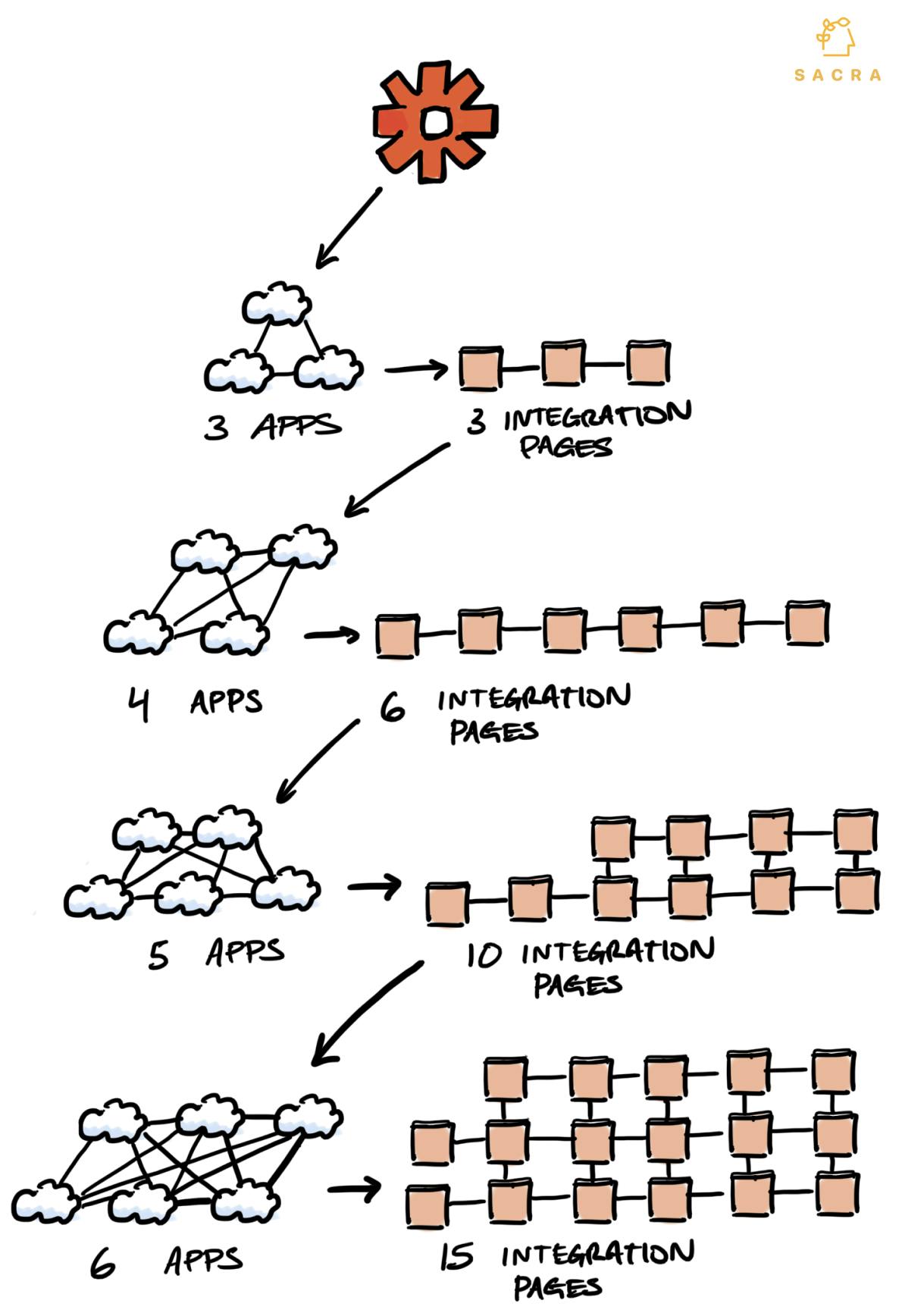 More landing pages means more traffic and users
More traffic and users attracts more Zapier partners and the creation of more integrations
More integrations means more users and more landing pages advertising those integrations.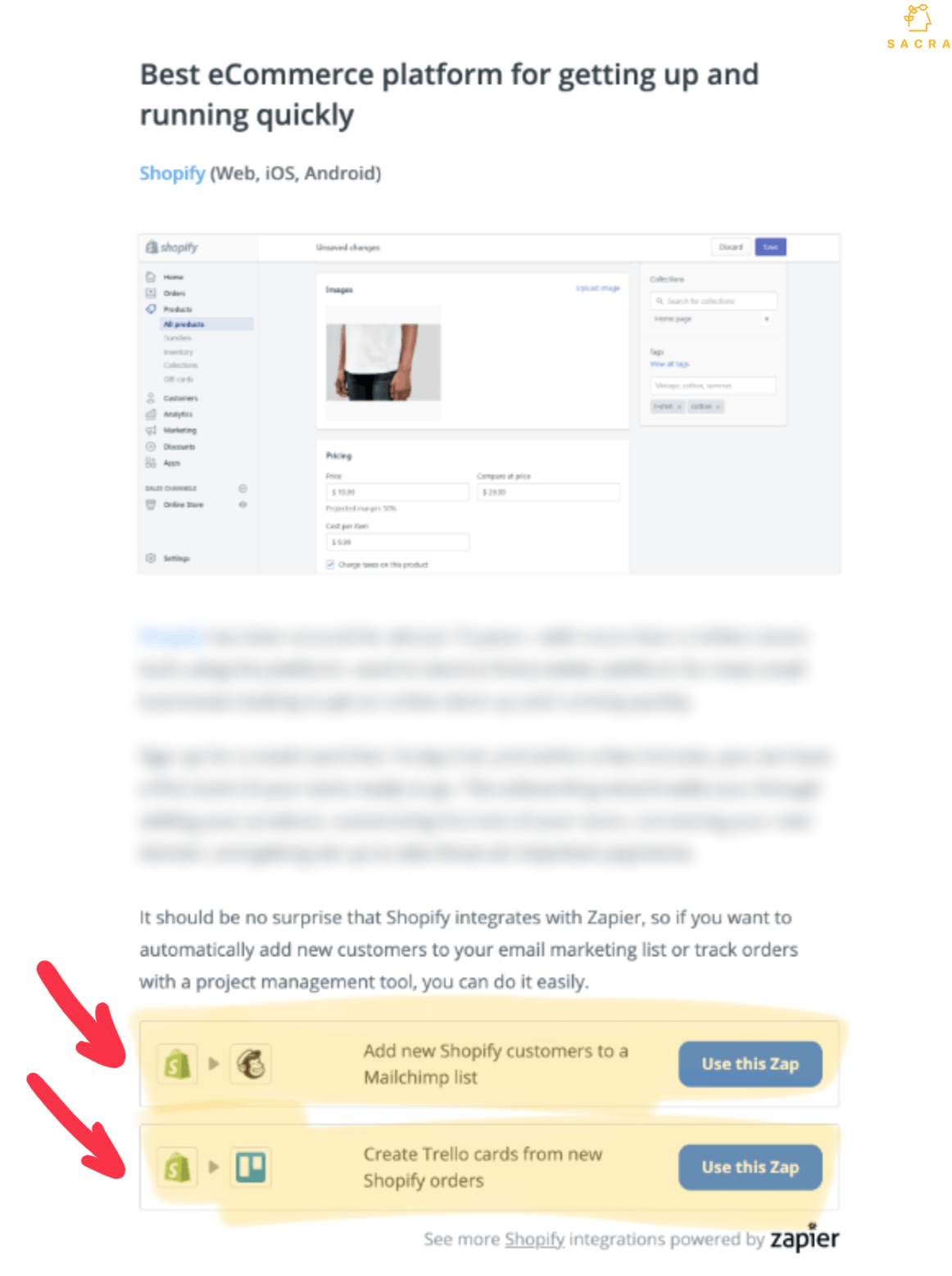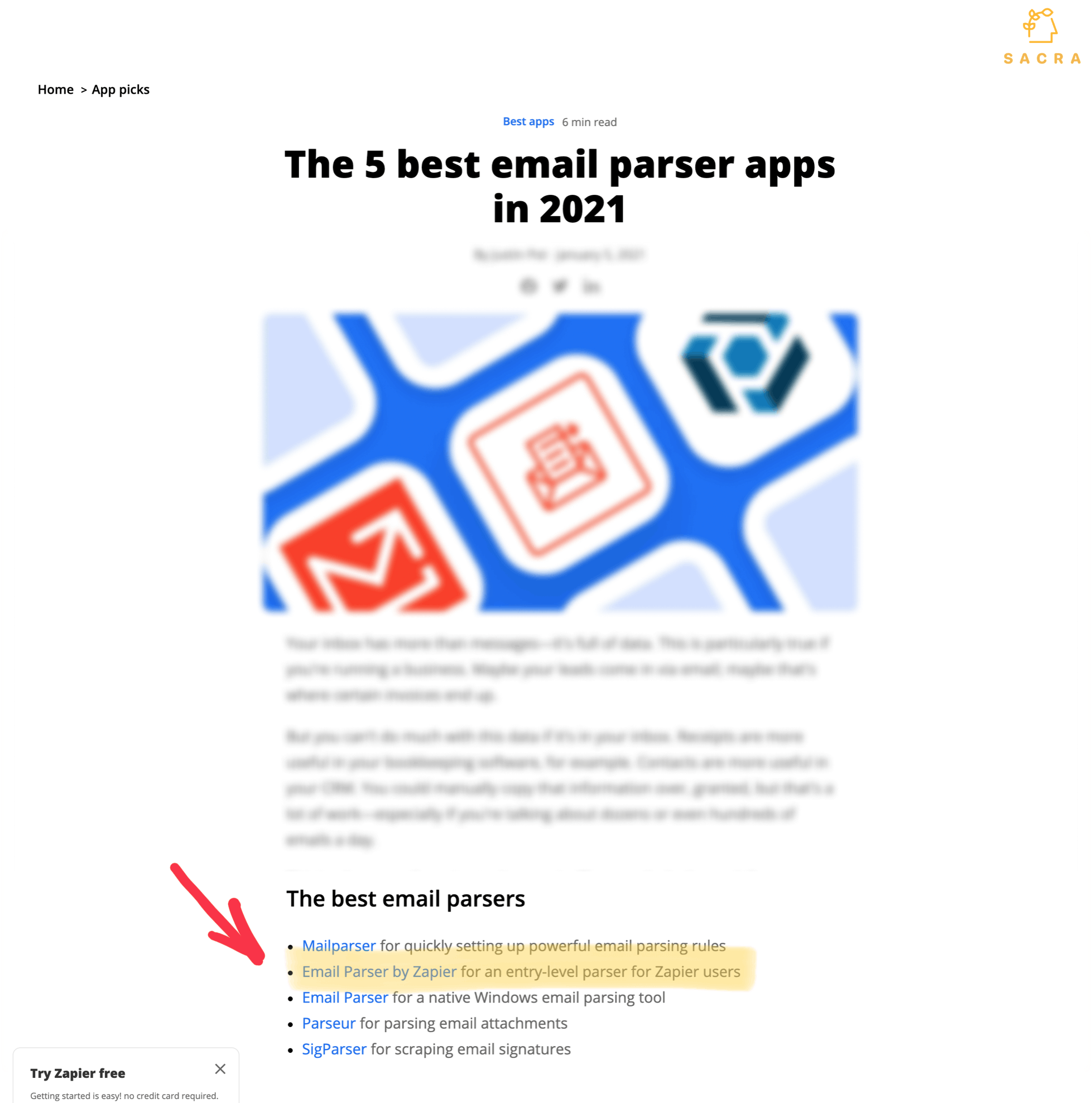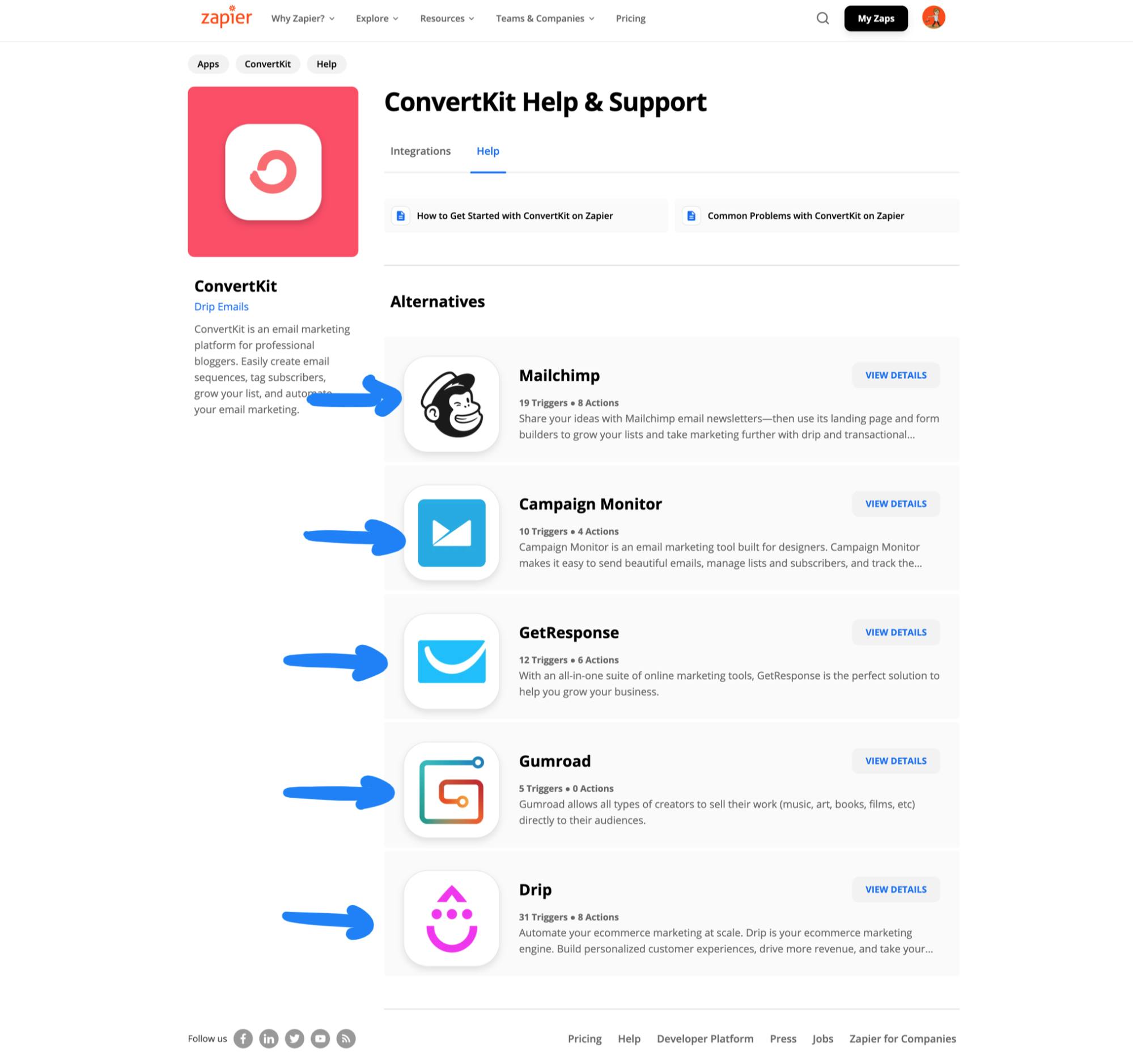 2. How the drive towards better user experiences could force Zapier to the margins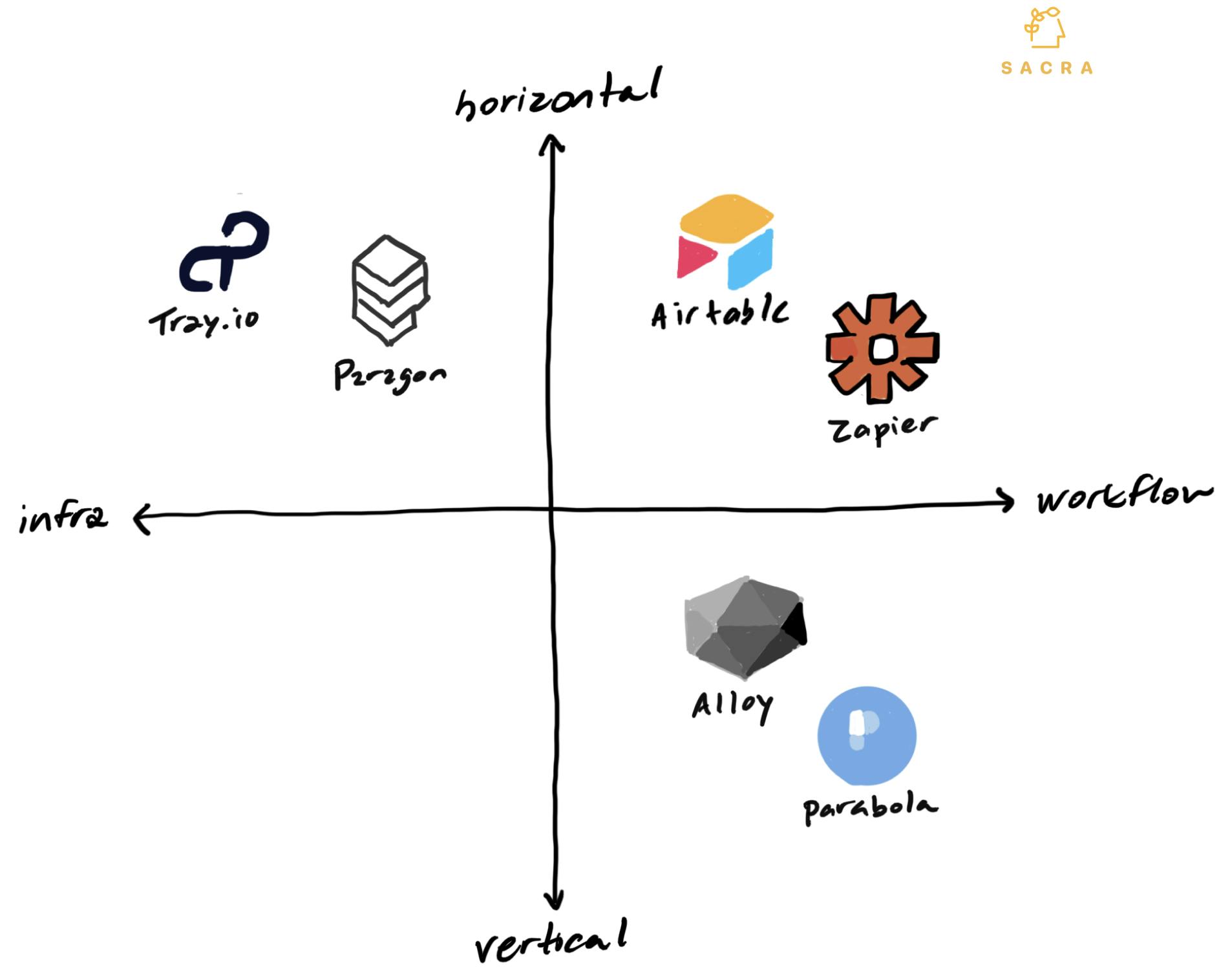 Native integrations offer end users a smoother, more robust experience, because users don't have to go off-platform to configure the connection and because app developers have more control over the environment 
Vertical-specific platforms like Alloy Automation and Parabola allow end users to build automations just like the ones they would in Zapier, but with a more modern, drag-and-drop editor made possible because they're serving a much more limited range of use cases.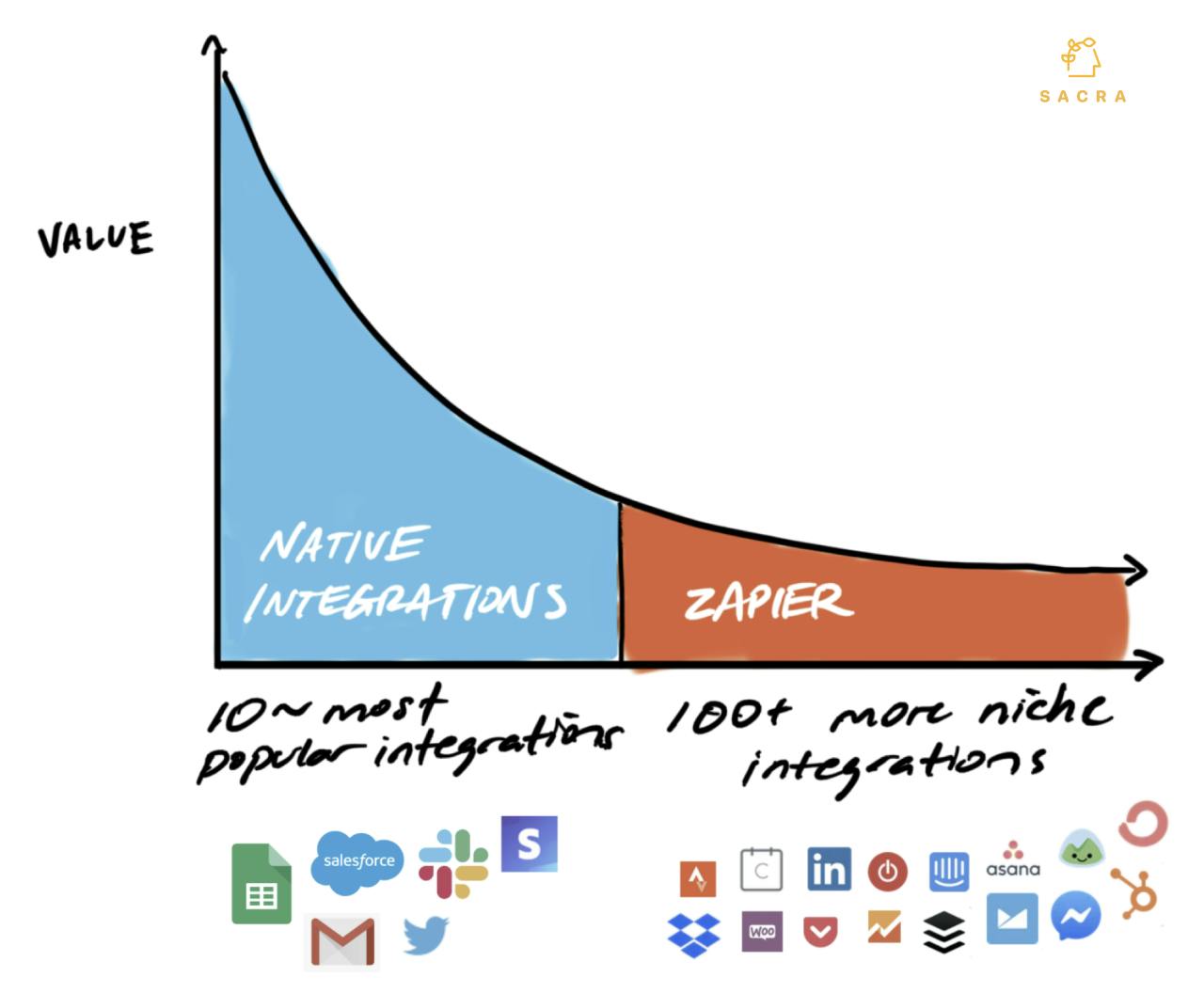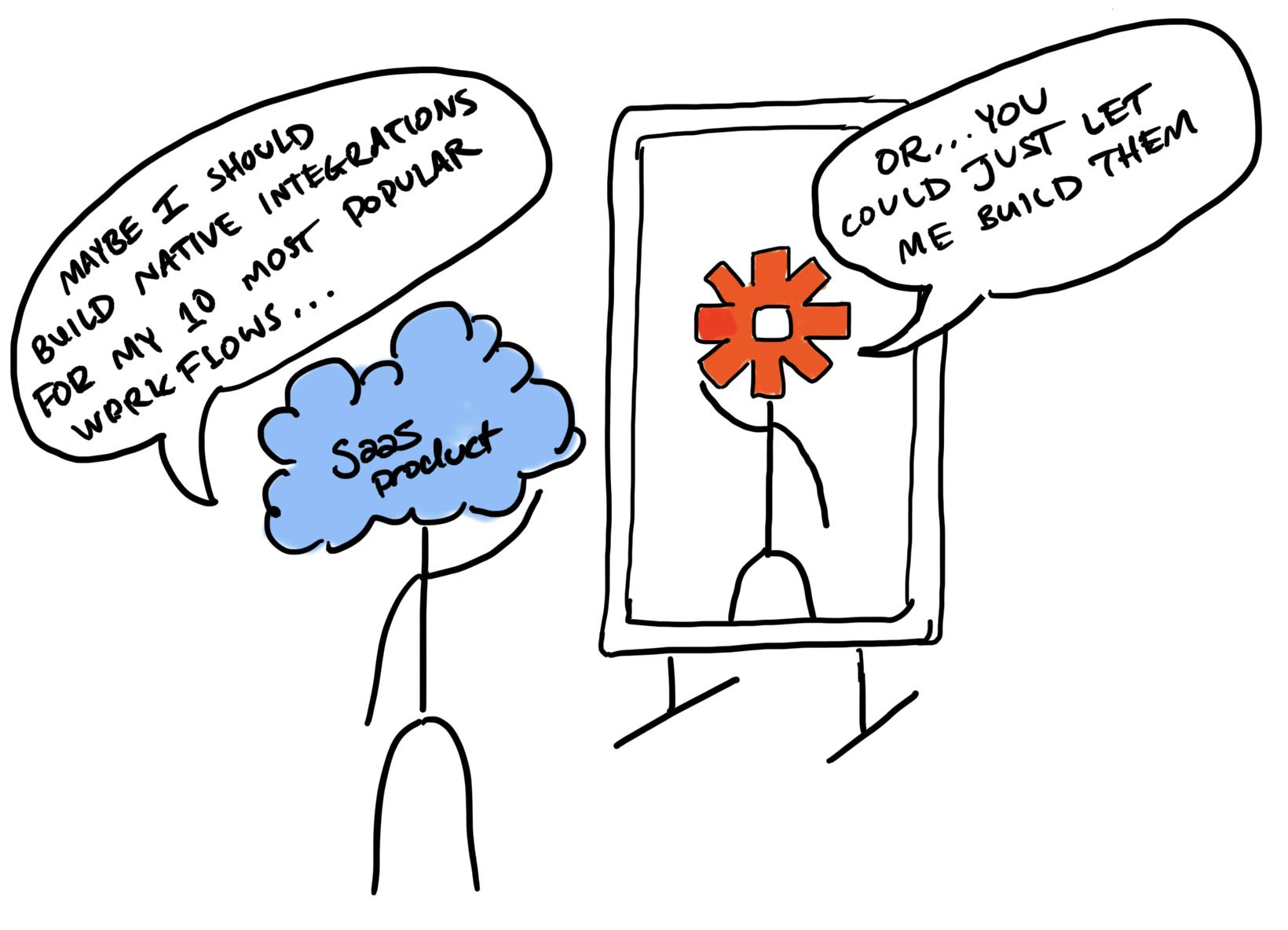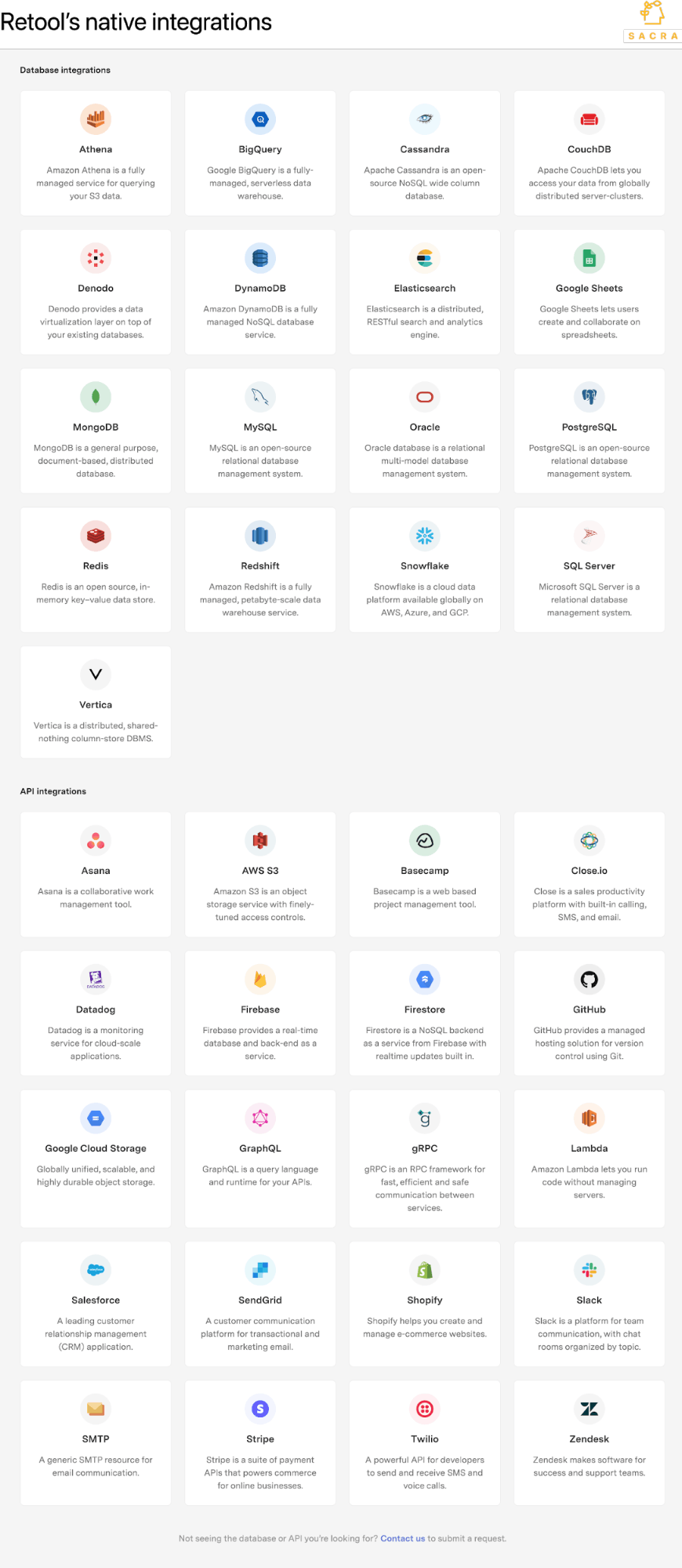 3. Zapier's path out of the unstable triad of the AWZ stack
End-users interact with an app's logic through Zapier
Zapier listens to and updates the database stored in Airtable
Webflow exposes and visualizes the contents of the database to the public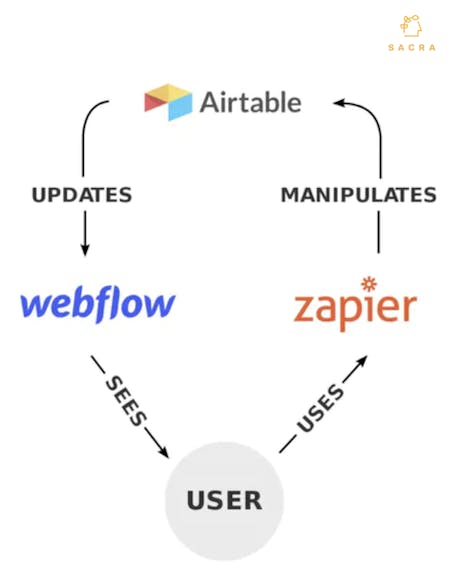 Airtable is building its own integration platform to erase the need for Zapier and a marketplace so users can share their automations with the community. 
Webflow is moving backwards into data management via CMS so their users can spend less time going back and forth between Webflow and Airtable.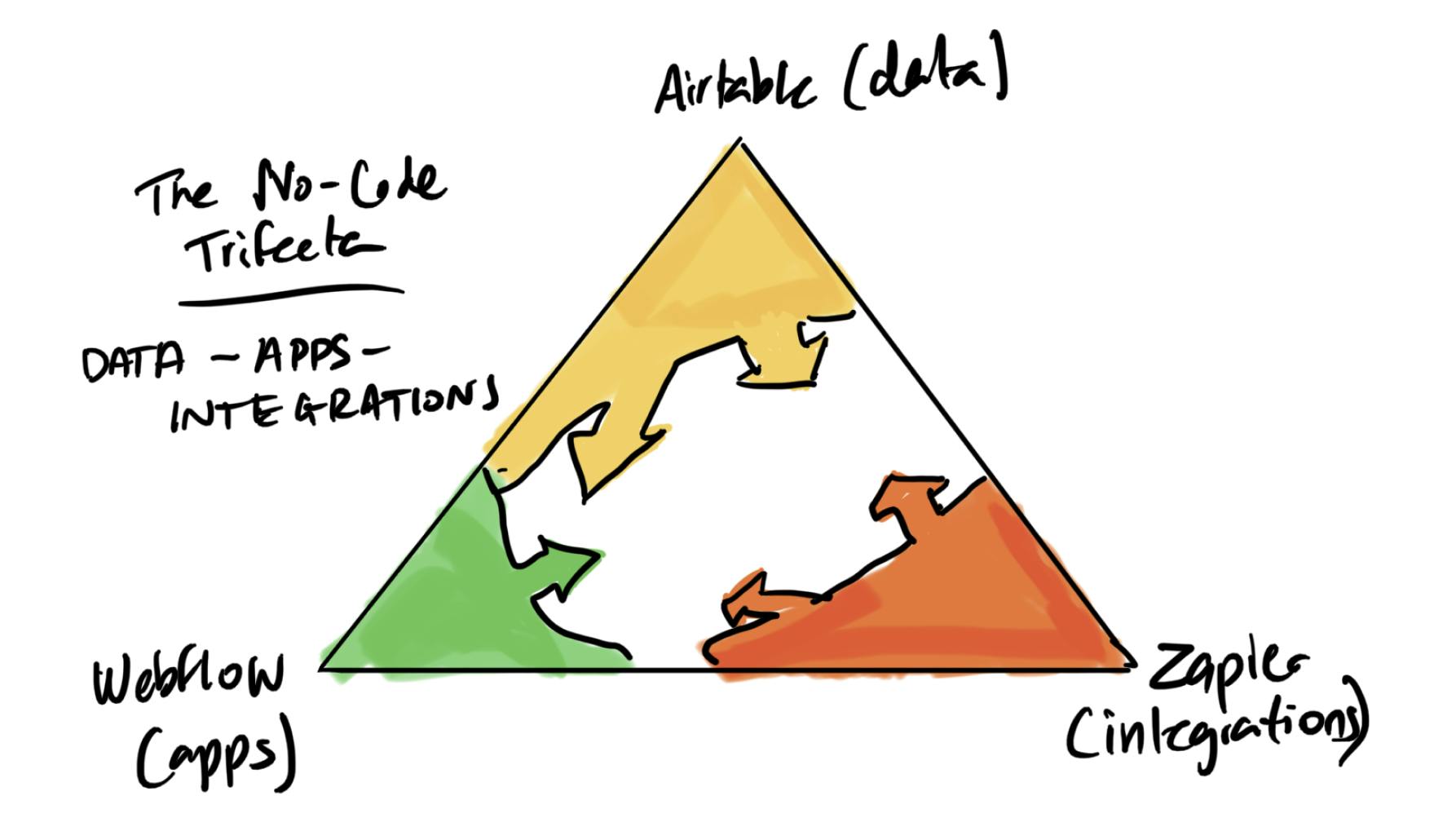 Before Netflix was a hub for original movies and television, studios saw it as just another distribution channel—more or less another HBO or Showtime. 
Gradually, they realized that Netflix was commoditizing them by making all of their content available at all times, and was building a huge subscriber base and an incredibly sticky user experience in the process.
Companies saw it as a way to reach many more potential customers by writing a few basic integrations. 
As they've scaled to 3,000+ integrations, Zapier has effectively commoditized the apps on its platform, any one of which can be switched out at will with a range of similarly compatible competitors. 
Studios would try to fight back against Netflix by withholding their top content from the platform, rethinking their licensing deals, and launching their own streaming apps. 
On the Zapier side, apps like Airtable and Hubspot have started restricting Zapier's access to certain API endpoints while they build out native integrations that they think will provide a better customer experience.
"zapier crm integrations"  (#1 ranking)
"zapier email parser" (#1 ranking)
"zapier webhooks" (#1 ranking)
"zapier email" (#1 ranking)
"zapier forms" (#1 ranking)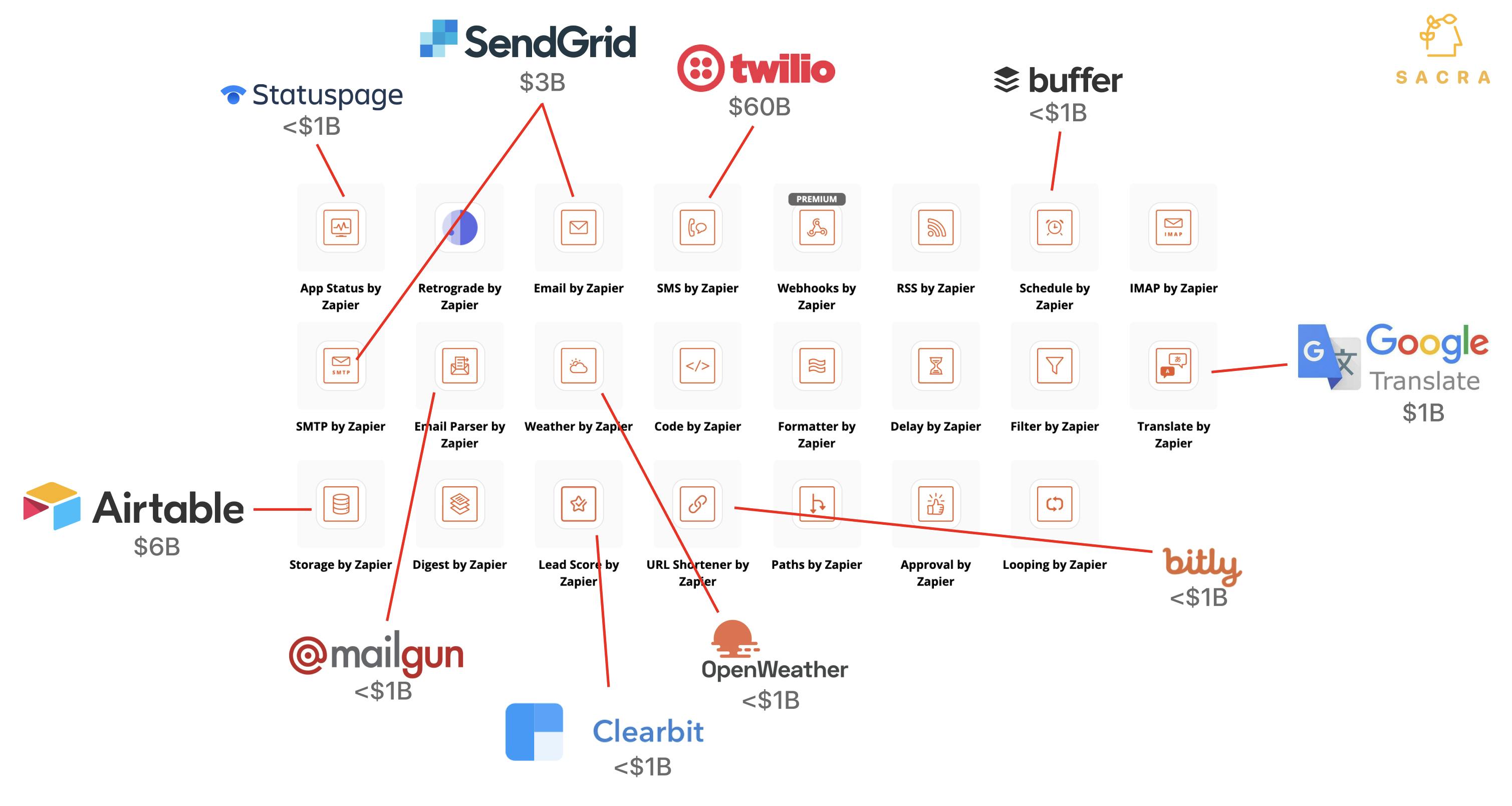 Zapier's blog gets a magnitude more traffic than direct competitors like Automate.io or Integromat. 
It also gets 2x the organic traffic of Webflow and nearly 3x that of Airtable—the two companies that are Zapier's closest competitors here.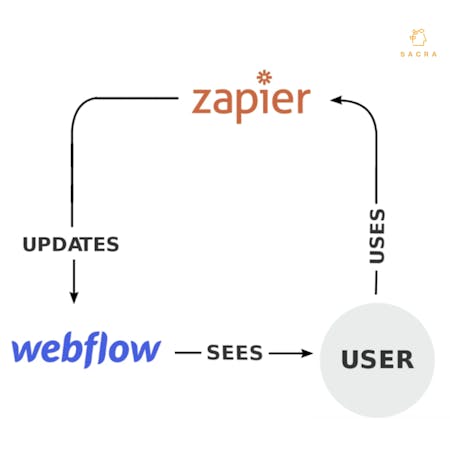 All of Zapier's integrations would become native integrations. Zapier would go from being a back-up plan if an app doesn't have native integrations to being a platform that provides near-native integration with 3,000+ apps and a bevy of generic actions. 
Zapier would solve the no-code data problem. Without a centralized database (like Airtable), your data ends up scattered across the dozens of different tools you use to run your business: all of the ConvertKits and Ghosts and Todoists and Wordpresses and Substacks.
Unlike Airtable, Zapier wouldn't have the challenge of convincing people to store their data in a new tool. They're already hooked into all the SaaS tools that you know and use on a daily basis—they already have your login information and your authorization to pull data out of them. All they'd have to do is pull it all into one place.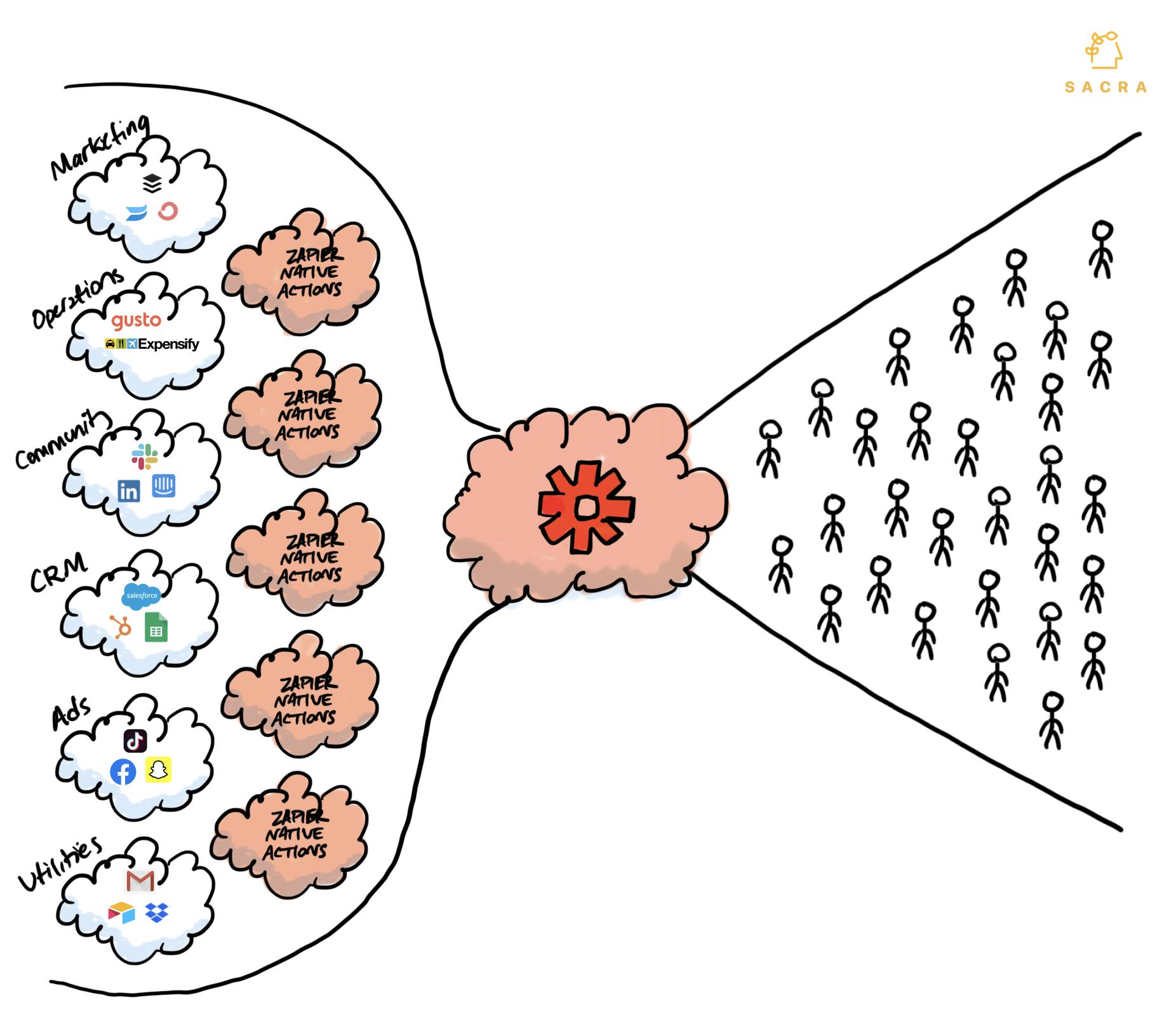 The future of Zapier
Appendix
Disclaimers
Sacra has not received compensation from the company that is the subject of the research report.
Sacra generally does not take steps to independently verify the accuracy or completeness of this information, other than by speaking with representatives of the company when possible.
This report contains forward-looking statements regarding the companies reviewed as part of this report that are based on beliefs and assumptions and on information currently available to us during the preparation of this report. In some cases, you can identify forward-looking statements by the following words: "will," "expect," "would," "intend," "believe," or other comparable terminology. Forward-looking statements in this document include, but are not limited to, statements about future financial performance, business plans, market opportunities and beliefs and company objectives for future operations. These statements involve risks, uncertainties, assumptions and other factors that may cause actual results or performance to be materially different. We cannot assure you that any forward-looking statements contained in this report will prove to be accurate. These forward-looking statements speak only as of the date hereof. We disclaim any obligation to update these forward-looking statements.
This report contains revenue and valuation models regarding the companies reviewed as part of this report that are based on beliefs and assumptions on information currently available to us during the preparation of this report. These models may take into account a number of factors including, but not limited to, any one or more of the following: (i) general interest rate and market conditions; (ii) macroeconomic and/or deal-specific credit fundamentals; (iii) valuations of other financial instruments which may be comparable in terms of rating, structure, maturity and/or covenant protection; (iv) investor opinions about the respective deal parties; (v) size of the transaction; (vi) cash flow projections, which in turn are based on assumptions about certain parameters that include, but are not limited to, default, recovery, prepayment and reinvestment rates; (vii) administrator reports, asset manager estimates, broker quotations and/or trustee reports, and (viii) comparable trades, where observable. Sacra's view of these factors and assumptions may differ from other parties, and part of the valuation process may include the use of proprietary models. To the extent permitted by law, Sacra expressly disclaims any responsibility for or liability (including, without limitation liability for any direct, punitive, incidental or consequential loss or damage, any act of negligence or breach of any warranty) relating to (i) the accuracy of any models, market data input into such models or estimates used in deriving the report, (ii) any errors or omissions in computing or disseminating the report, (iii) any changes in market factors or conditions or any circumstances beyond Sacra's control and (iv) any uses to which the report is put.
This research report is not investment advice, and is not a recommendation or suggestion that any person or entity should buy the securities of the company that is the subject of the research report.  Sacra does not provide investment, legal, tax or accounting advice, Sacra is not acting as your investment adviser, and does not express any opinion or recommendation whatsoever as to whether you should buy the securities that are the subject of the report. This research report reflects the views of Sacra, and the report is not tailored to the investment situation or needs of any particular investor or group of investors.  Each investor considering an investment in the company that is the subject of this research report must make its own investment decision.  Sacra is not an investment adviser, and has no fiduciary or other duty to any recipient of the report.  Sacra's sole business is to prepare and sell its research reports. 
Sacra is not registered as an investment adviser, as a broker-dealer, or in any similar capacity with any federal or state regulator.

Read more from
Read more from