Ultrafast Delivery: The $28B Market to Build the On-Demand Bodega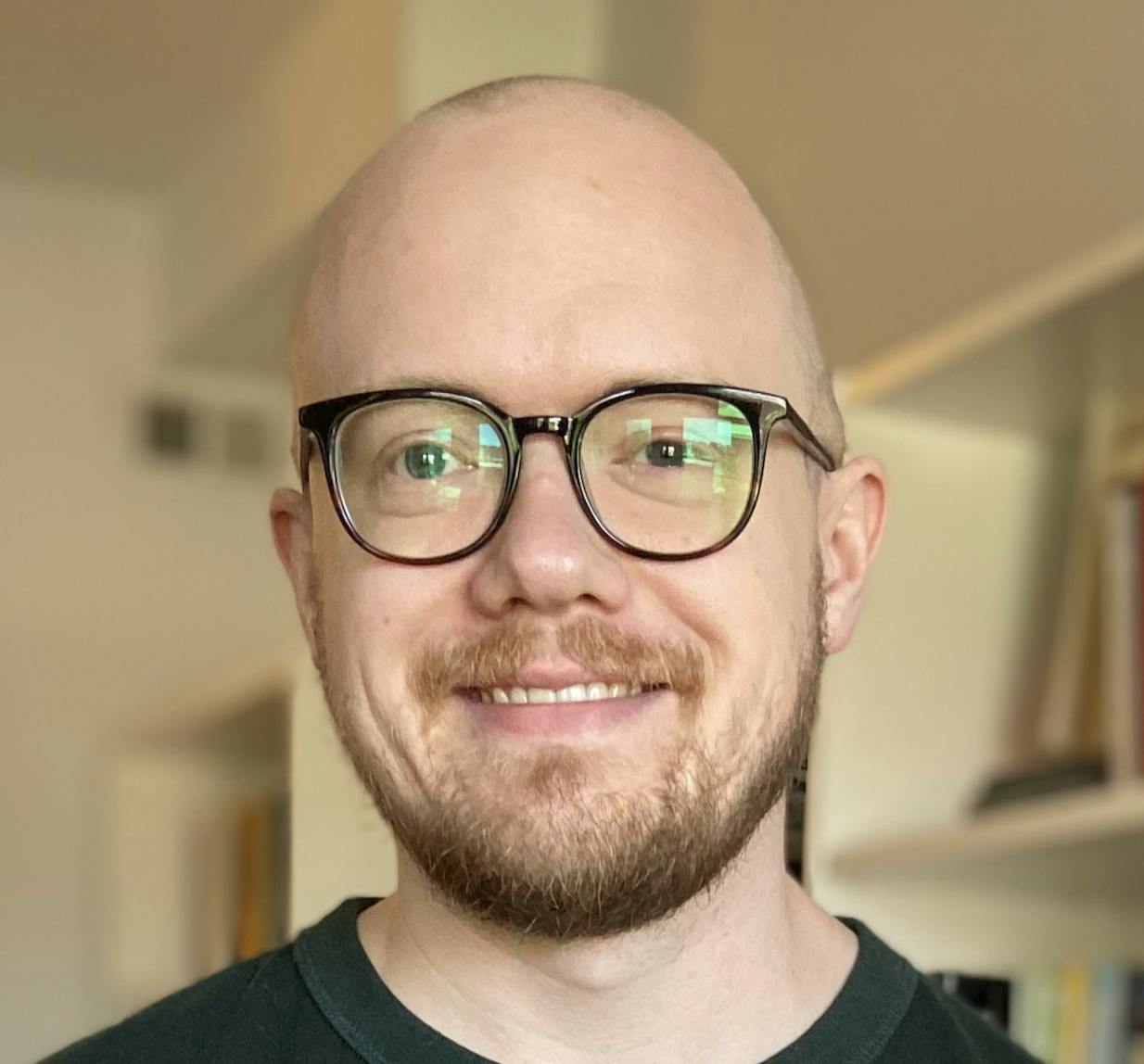 Jan-Erik Asplund

Shifting the demand curve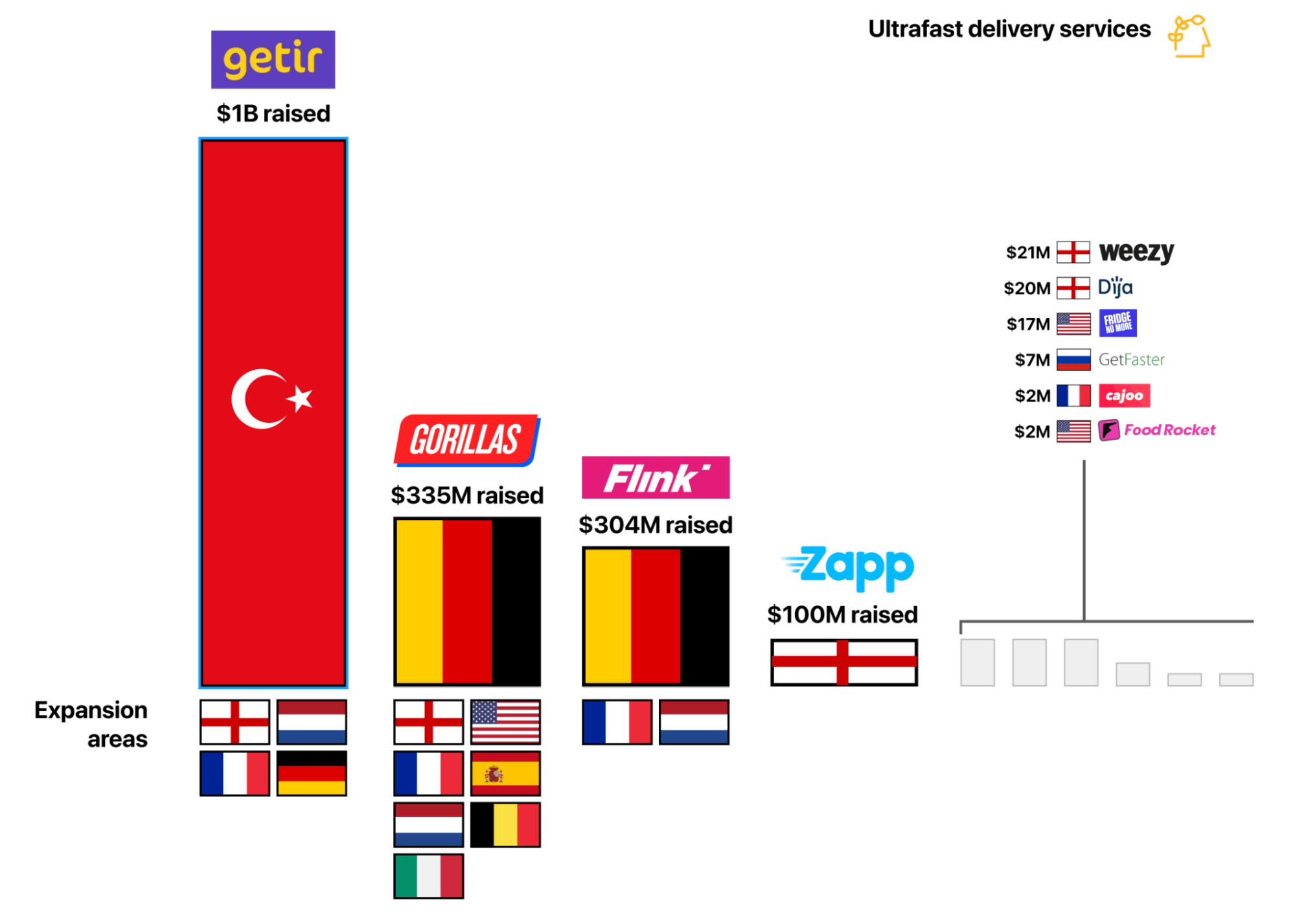 Key points
Ultrafast delivery services operate out of 3,000~ square foot dark stores in urban core areas. That enables 10-15 minute delivery within their .75-1 mile service radius, as well as reducing supply chain costs and minimizing spoilage.
Dark store profitability is measured with contribution margin, which excludes fixed costs. With $25 average order value in a mature ultrafast dark store with 500 orders per day, we project about 13% contribution margin.
In 2020, the growth of the online grocery market rapidly accelerated in the United States. The share of all grocery spending that took place online grew from 5% to 7%, with $96B in total online sales for the year up from $62B the previous year.
We expect the total volume of online grocery sales in the U.S. to continue to grow, hitting $192B by 2025. 60% of people bought more groceries online during COVID and said they plan to buy groceries online at the same frequency or more often in the future
The ultrafast vision is to replace the local grocery store the way Uber disrupted car ownership. By turning groceries into something summoned at the touch of a button rather than something planned and scheduled, ultrafast services want to change how we shop entirely.
But the economics of ultrafast are hard, and micromobility is a cautionary tale. Both are capital-intensive industries with no customer loyalty, low switching costs, and limited network effects.
Non-perishables with a high premium on fast delivery are where the ultrafast model makes most sense. Convenience store-type products like detergents, tobacco, phone chargers and grocery staples have low spoilage and consumers want to get them quickly, which fits the dark store model.
Ultimately, CVS ($110B) and 7-Eleven ($42B) should be ultrafast's real targets, not Kroger ($28B) or Albertsons ($9B). Online grocery is a massive challenge both in logistics and demand generation, and ultrafast services are better off building a better convenience store than challenging for the whole of the online grocery market.
Business model: The internet-native online store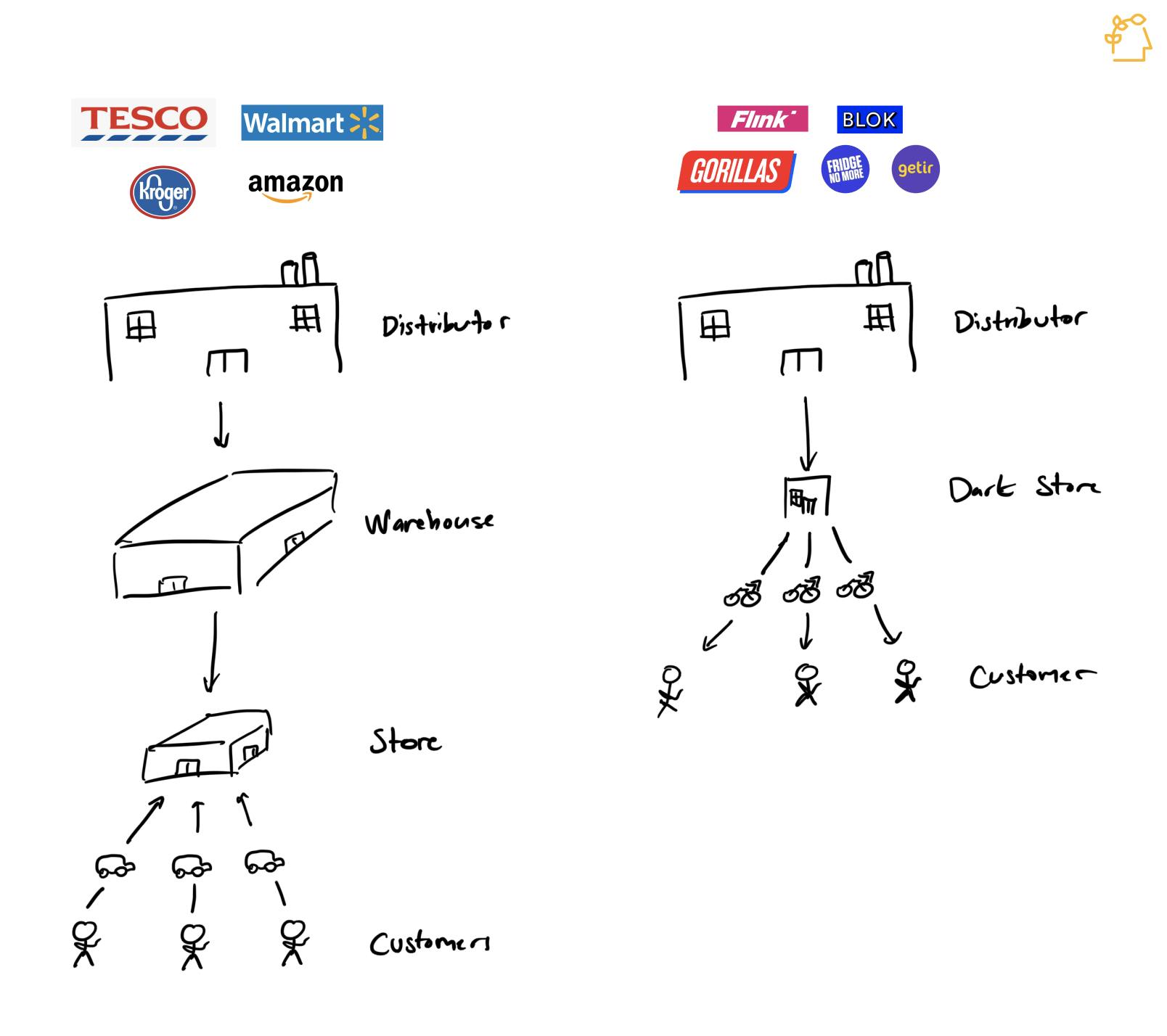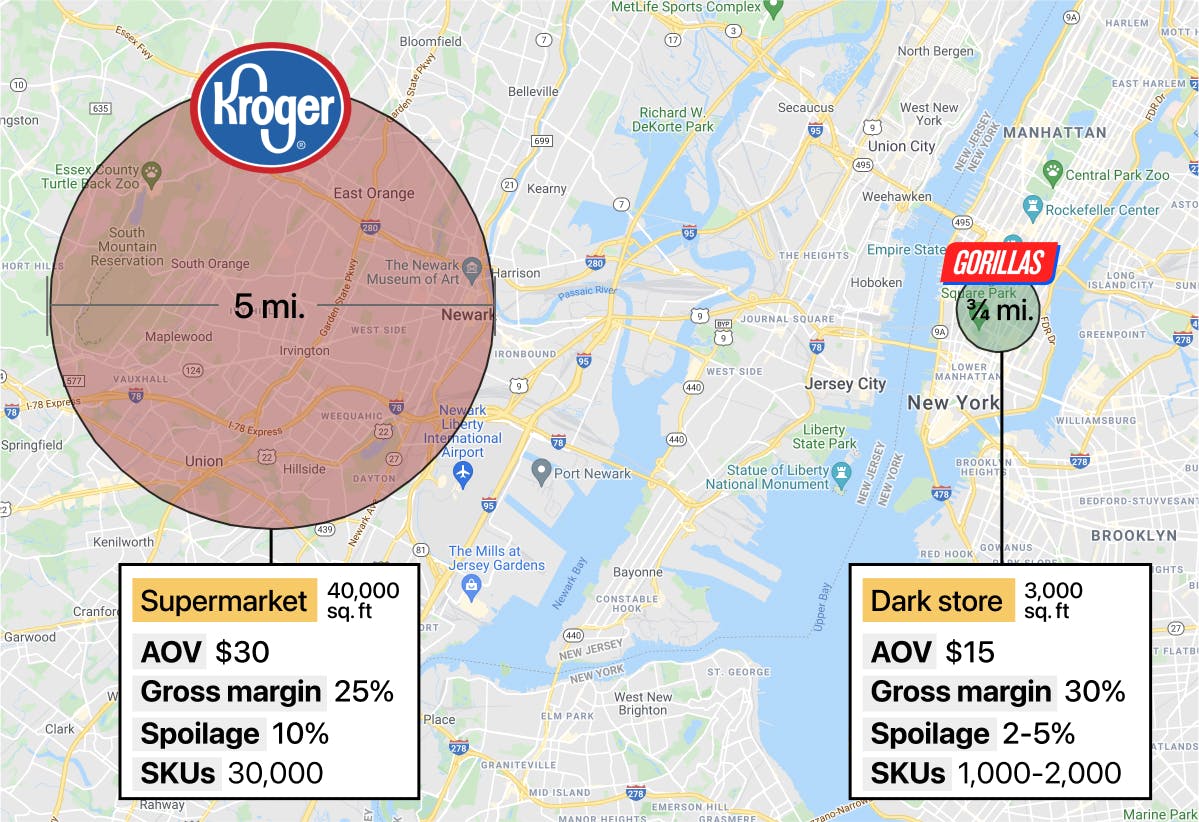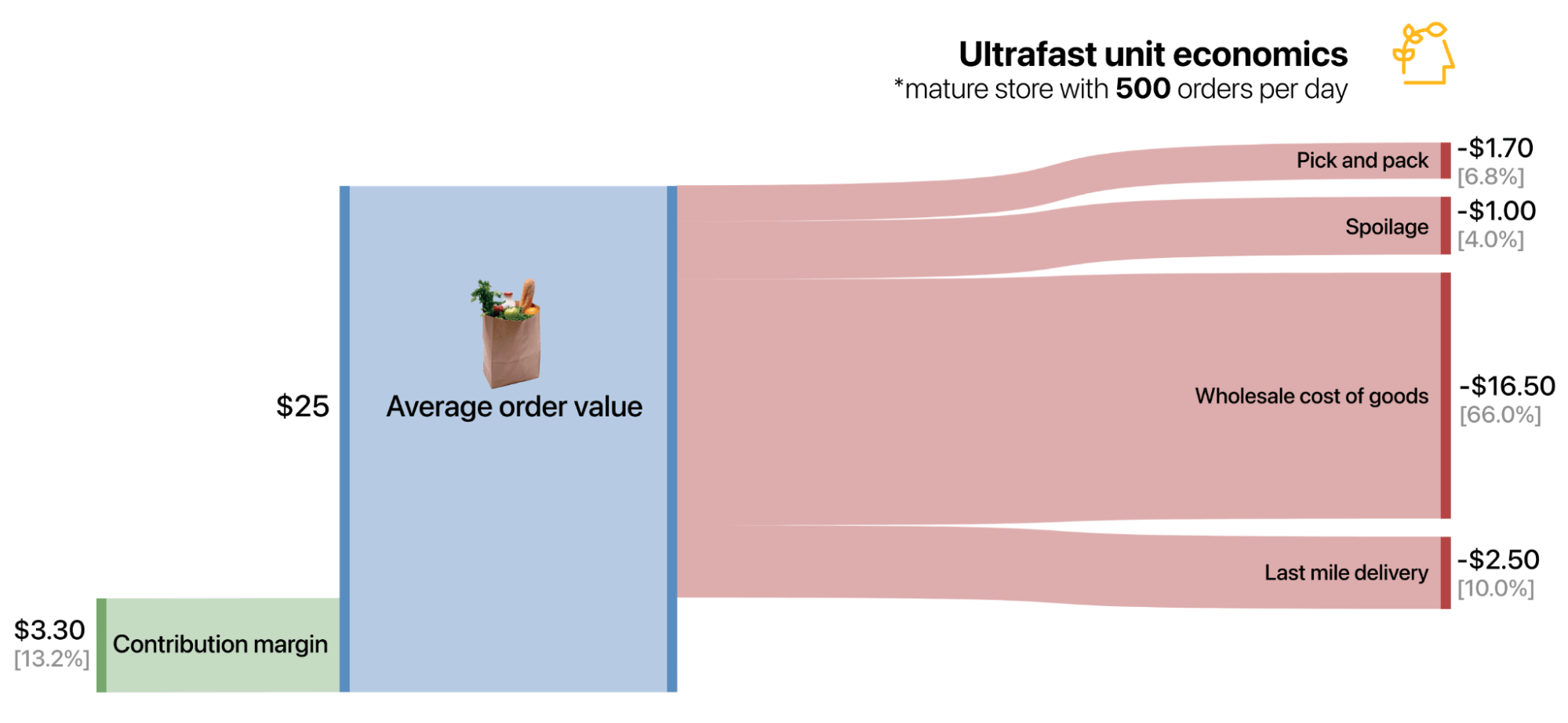 Cost of customer acquisition: Brick-and-mortar grocers have built in geographical demand, but online grocers must pay "rent" to Google, Facebook and other top-of-funnel acquisition tools—and that rent tends to rise over time 
Rent: Rent is traditionally a fixed cost but could be a variable cost in online grocery, if scaling up your volume and growing geographically means you might need more packing and storage space per store, so it could be deducted if looking at store-by-store contribution margin
Growing AOV: By aggregating more demand and selling more SKUs, services increase the value of the average customer basket and get closer to a sustainable business
Improving gross margin: Through things like moving towards direct procurement, using data to reduce spoilage and optimizing product mix, services can cut down distribution costs and improve their economics
TAM: On-demand grocery is growing 25%+ CAGR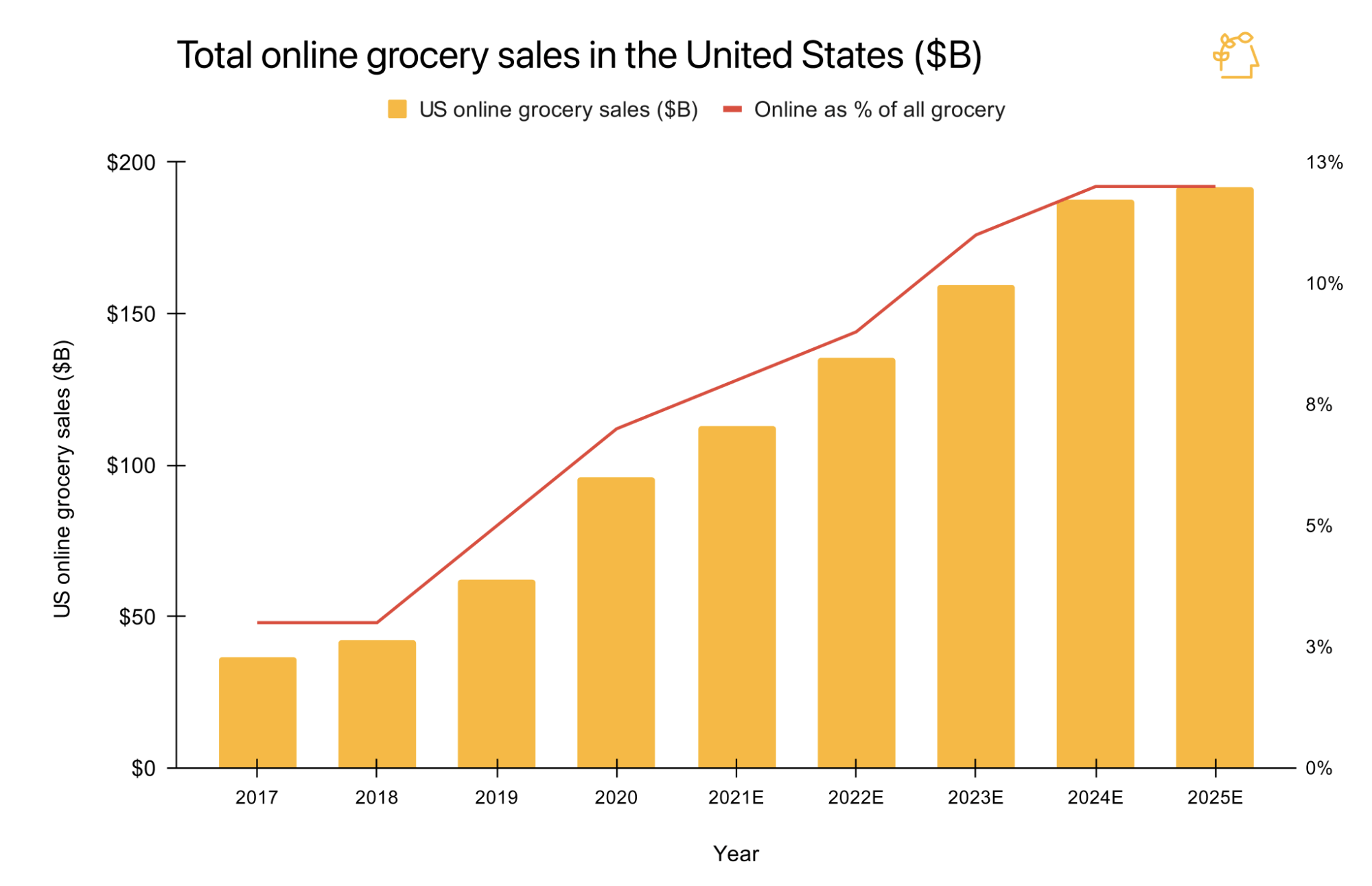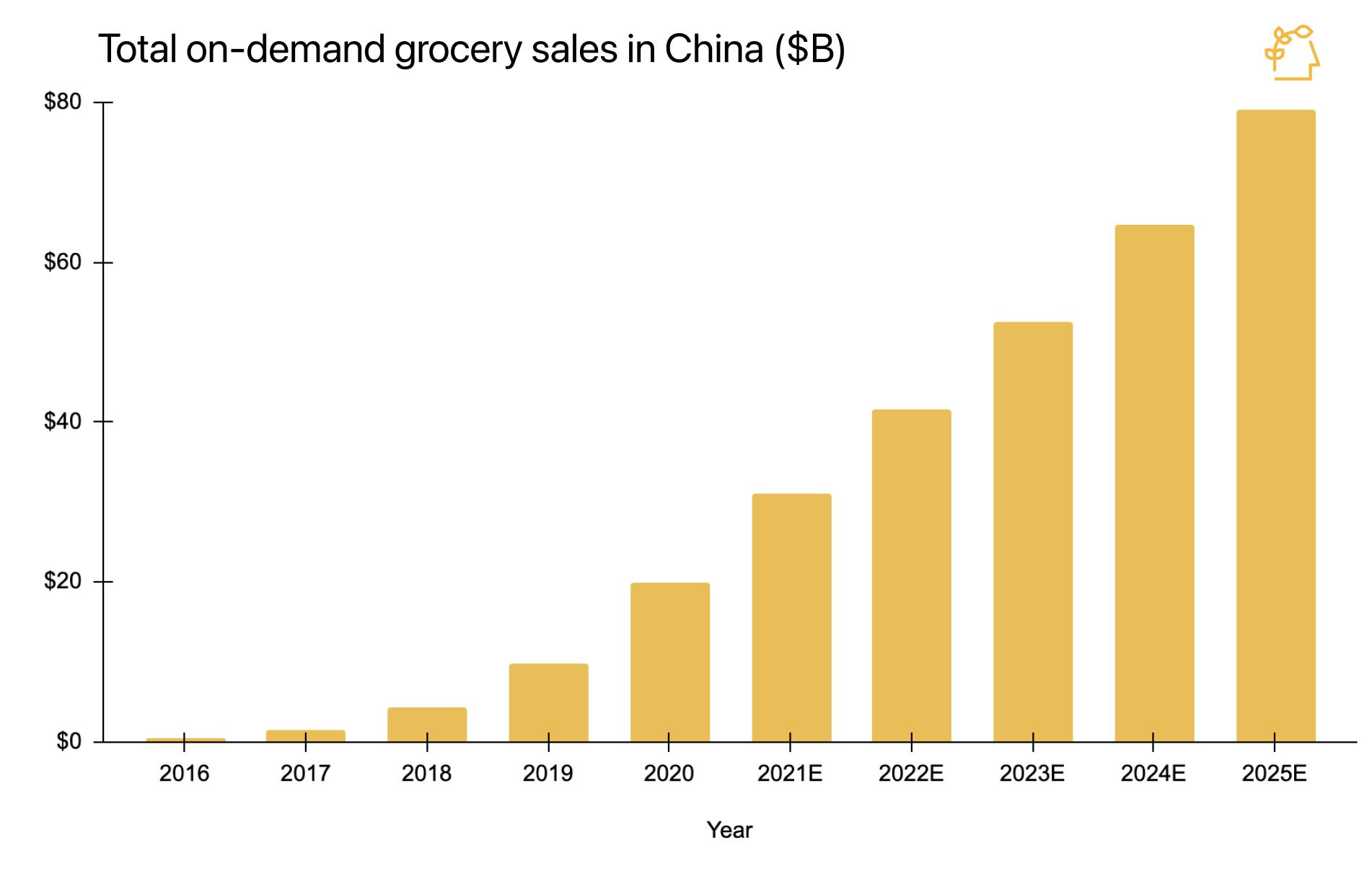 In China: We project that on-demand grocery and daily necessity spend will hit $80B by 2025, about 10% of online grocery spend and 3.5% of all grocery spend
In the United States: With online grocery sales hitting $192B by 2025, we expect on-demand online grocery spend to hit a 15% share of that total, or about $28B in total
Analysis: How ultrafast services are building the convenience stores of on-demand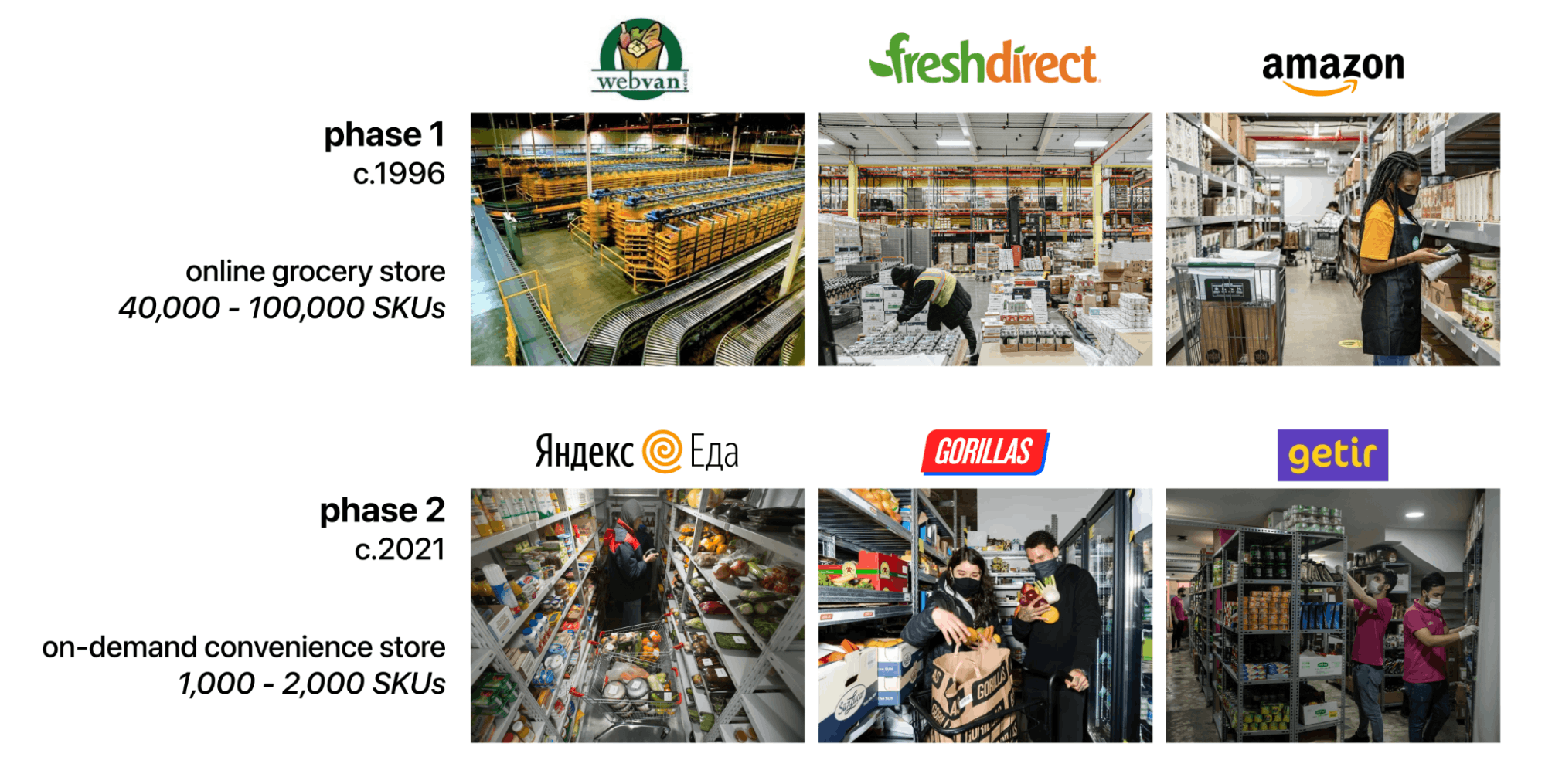 1. The COVID-fueled rise of everything on-demand
60% of people bought groceries online between April 2020 and April 2021—up from 52% a year before
60% of those people said they plan to buy groceries online at the same frequency or more often in the future
Brick-and-mortar (Kroger, Albertsons): Plan out what meals you want to eat and what ingredients you need, schedule a time to go to the store, take a car or train/bus, shop, and then load up your groceries and haul them home
Online (Instacart, Amazon Prime): Plan out what meals you want to eat and what ingredients you need, schedule a window for your delivery, shop, and then respond to substitution requests from your packer while waiting at home for your delivery person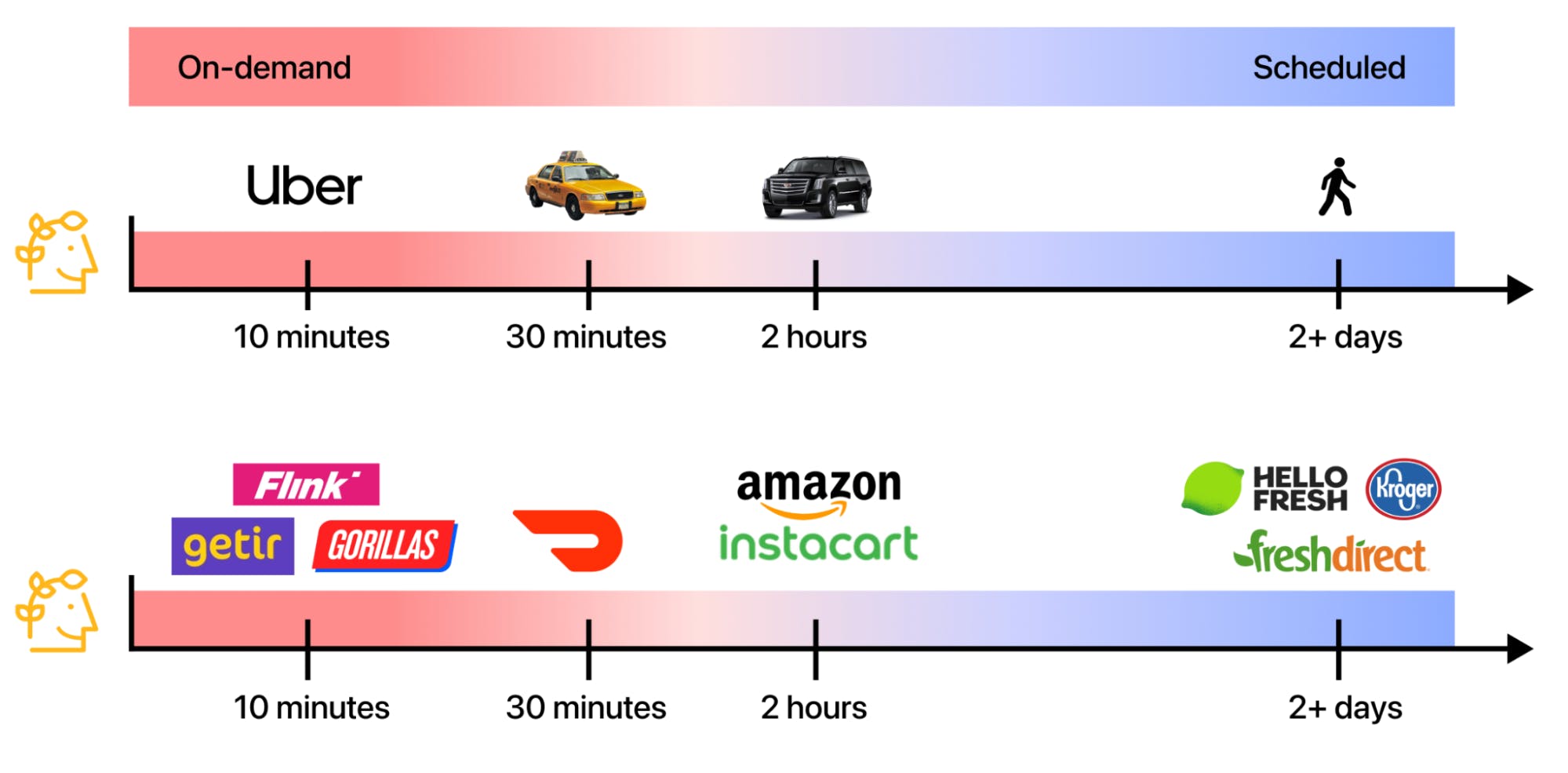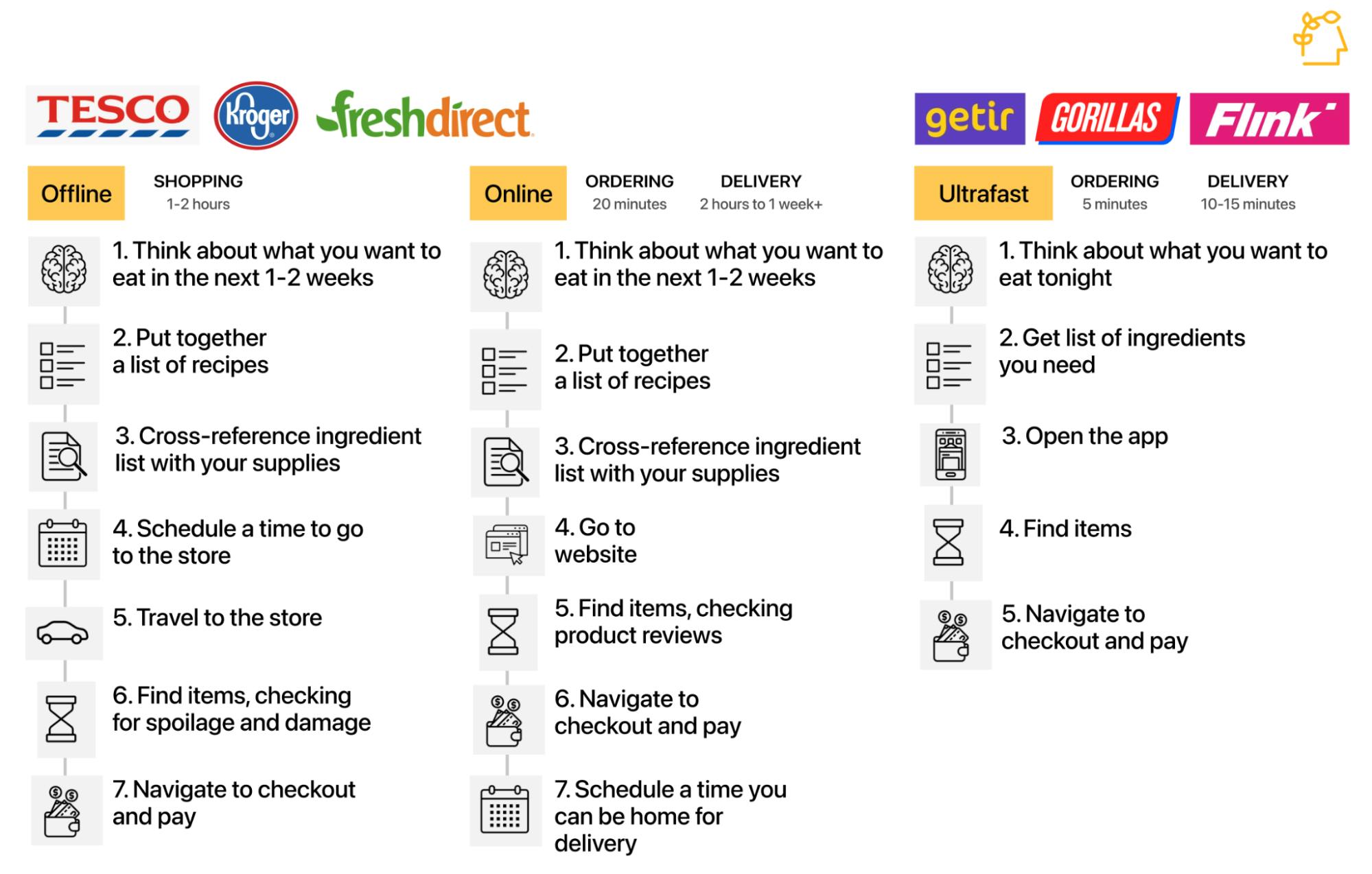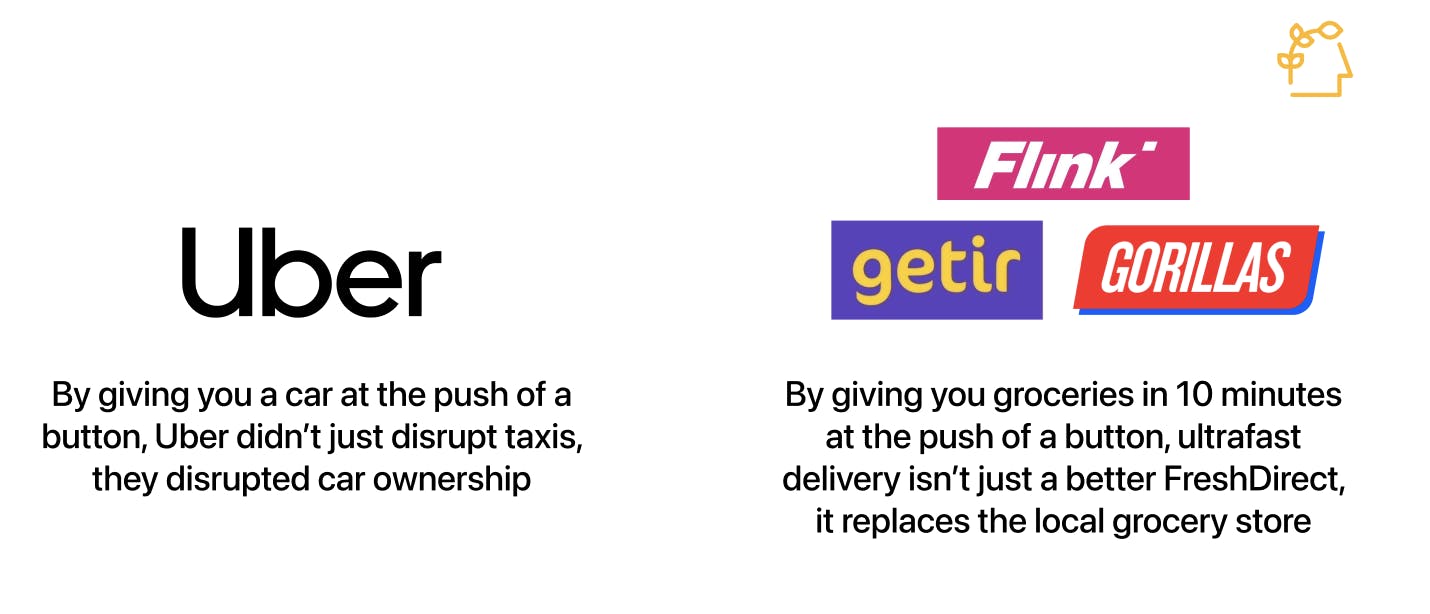 2. How ultrafast delivery services could end up the electric scooters of 2021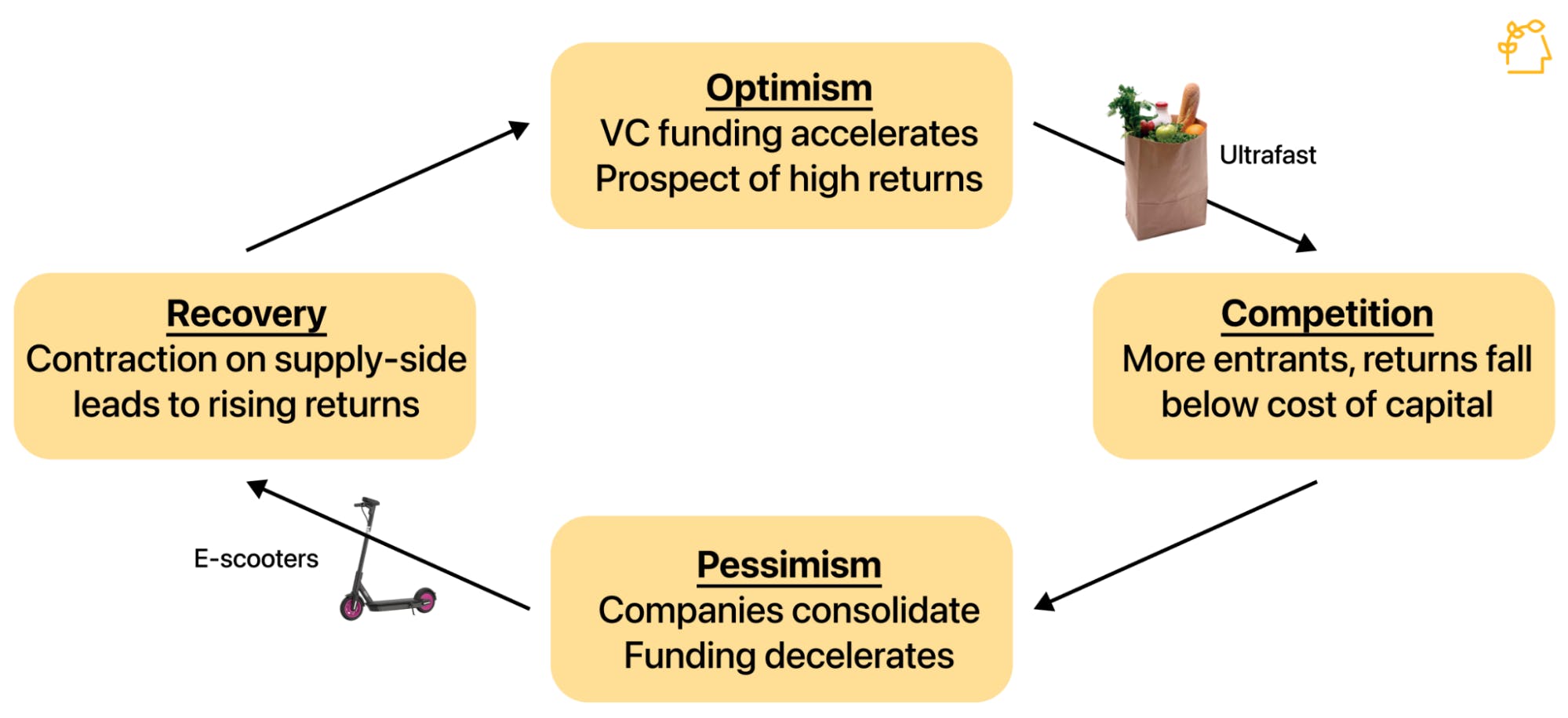 Optimism: First, there is a period of exuberant financing, expansion, and investor optimism
Competition: Then, there is rising competition, new companies, and the tightening of returns
Pessimism: Consolidation of the industry occurs, with most players folding or getting acquired for cheap
Recovery: Finally, recovery and strengthening of economics as supply-side improves
Optimism: Bird became the fastest-ever startup to unicorn status, getting to $1B in 6 months and $2B in a year. 10M Bird rides were taken in its first year after launch. 
Competition: The popularity of micro-mobility caused the floodgates to open, and 30+ e-scooter startups would go on to be founded in the year after Lime and Bird became unicorns. 
Pessimism: In 2019, Lyft turned off its scooter business in 6 cities, and last year, Uber offloaded its bike and scooter business to Lime in a deal that cut Lime's valuation by 80%.
Recovery: COVID brought some signs of a recovery, with Bird planning to go public via SPAC at a $2.3B valuation and Ford mulling a spin-off of Spin.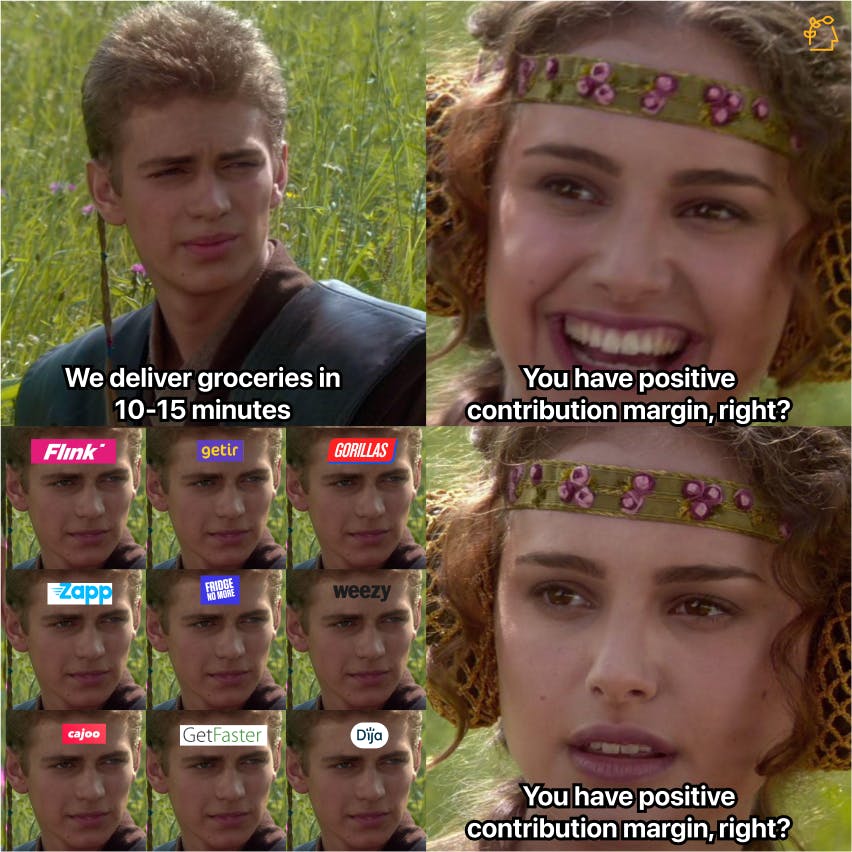 Managing the supply chain and negotiating with suppliers: To improve their unit economics at scale, ultrafast delivery operators will need the understanding of the supply side and how to bring down their cost basis
Potentially high fresh food spoilage rates: As they increase scale, ultrafast operators will grow their waste, hurting their unit economics unless they can optimize inventory
Varied inventory requirements: Due to differences in consumers in each area, differences in category demand can increase operational complexity.
In New York, users can select a 30-minute pickup option for groceries being picked up from Whole Foods 
By 2022, Amazon plans to have eleven new micro-fulfillment centers launched that will deliver a range of 100,000+ SKUs within 45 minutes in Seattle, DC, Baltimore, Dallas, Nashville, Detroit, Chicago, San Diego, and Phoenix
3. Why ultrafast's biggest targets may be CVS ($110B) and 7-Eleven ($42B), not Kroger ($28B) and Albertsons ($9B)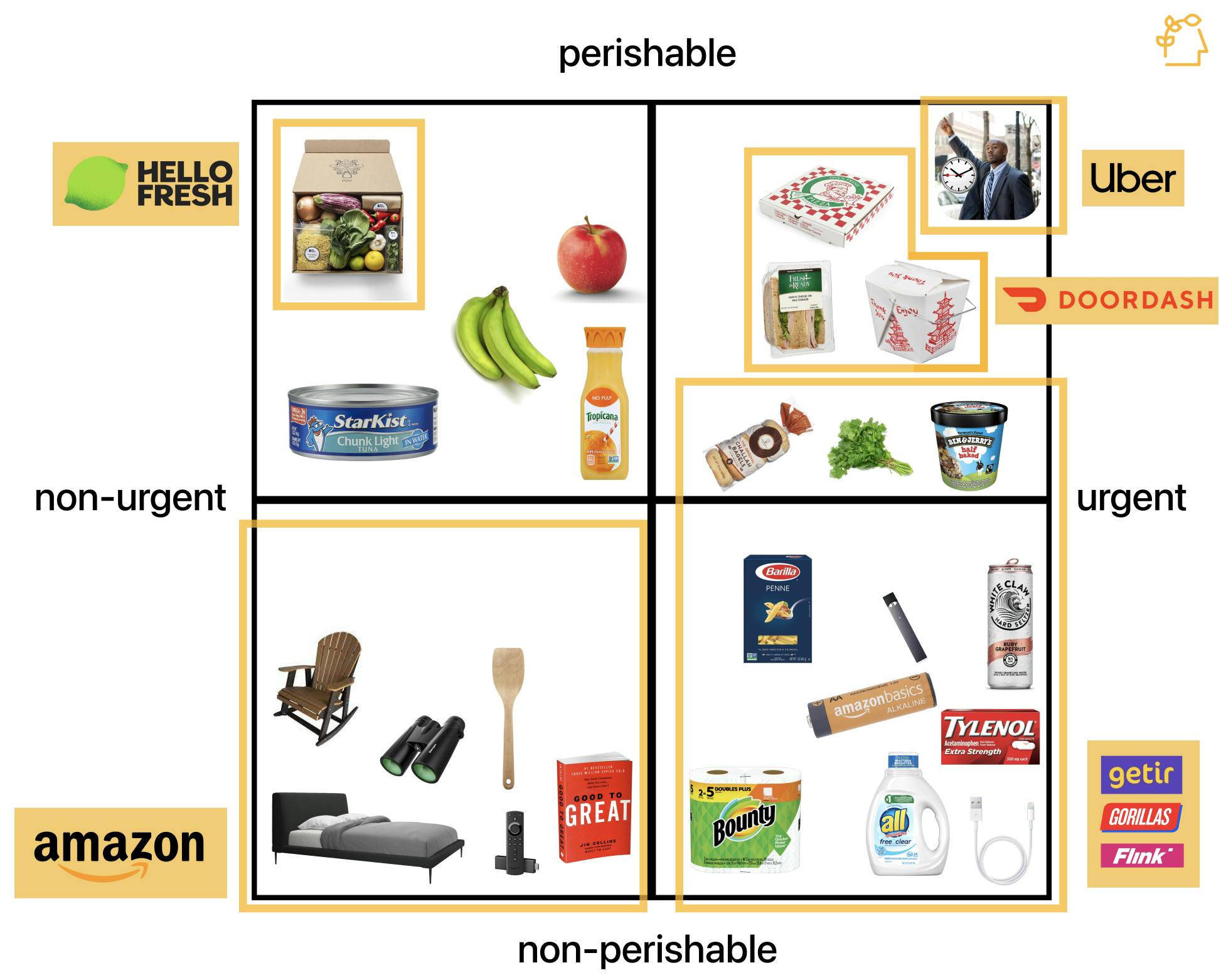 The dark store model: Their dark store-based model and emphasis on micro-mobility for delivery allows them to be faster and more consistent than marketplace platforms like Drizly or Uber Eats
Specificity on job-to-be-done: Running apps that are just for 10-15 minute delivery of non-perishables means that ultrafast services can become top of mind for consumers, carving out a wedge they can own against other services
No or minimal spoilage: Stocking like a grocery store, as the early online grocery warehouses discovered, means experiencing waste and spoilage like a grocery store
Potential to driver higher AOV: Non-perishable electronics, cosmetics, alcohol, and others can have a high dollar value, and cross-selling between these kinds of categories can create a viable product mix for maximizing AOV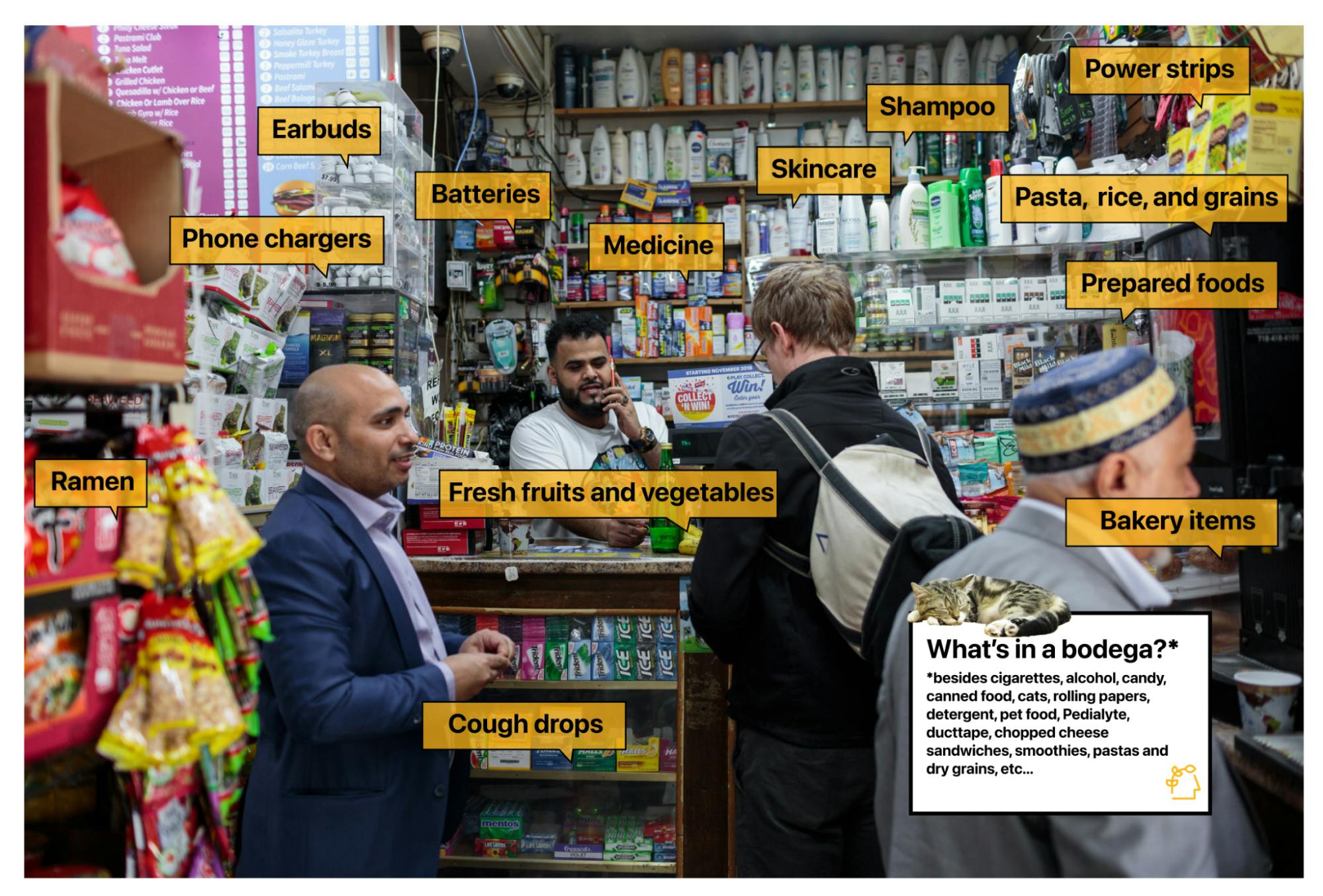 Staples: Chips, candy, sodas, coffee, cigarettes, gum, vapes, lottery tickets, etc.
Household: Shampoo, razors, body wash, soap, laundry detergent, dryer sheets, lip balm, etc.
Tech: Earbuds, iPhone and Android phone chargers, HDMI cables, etc.
Fresh: Bananas, apples, lettuce, limes, lemons, avocados, etc.
Prepared: Muffins, bagels, sandwiches made to order, juices, smoothies, etc.
Miscellaneous: Frisbees, staplers, leashes, candles, etc.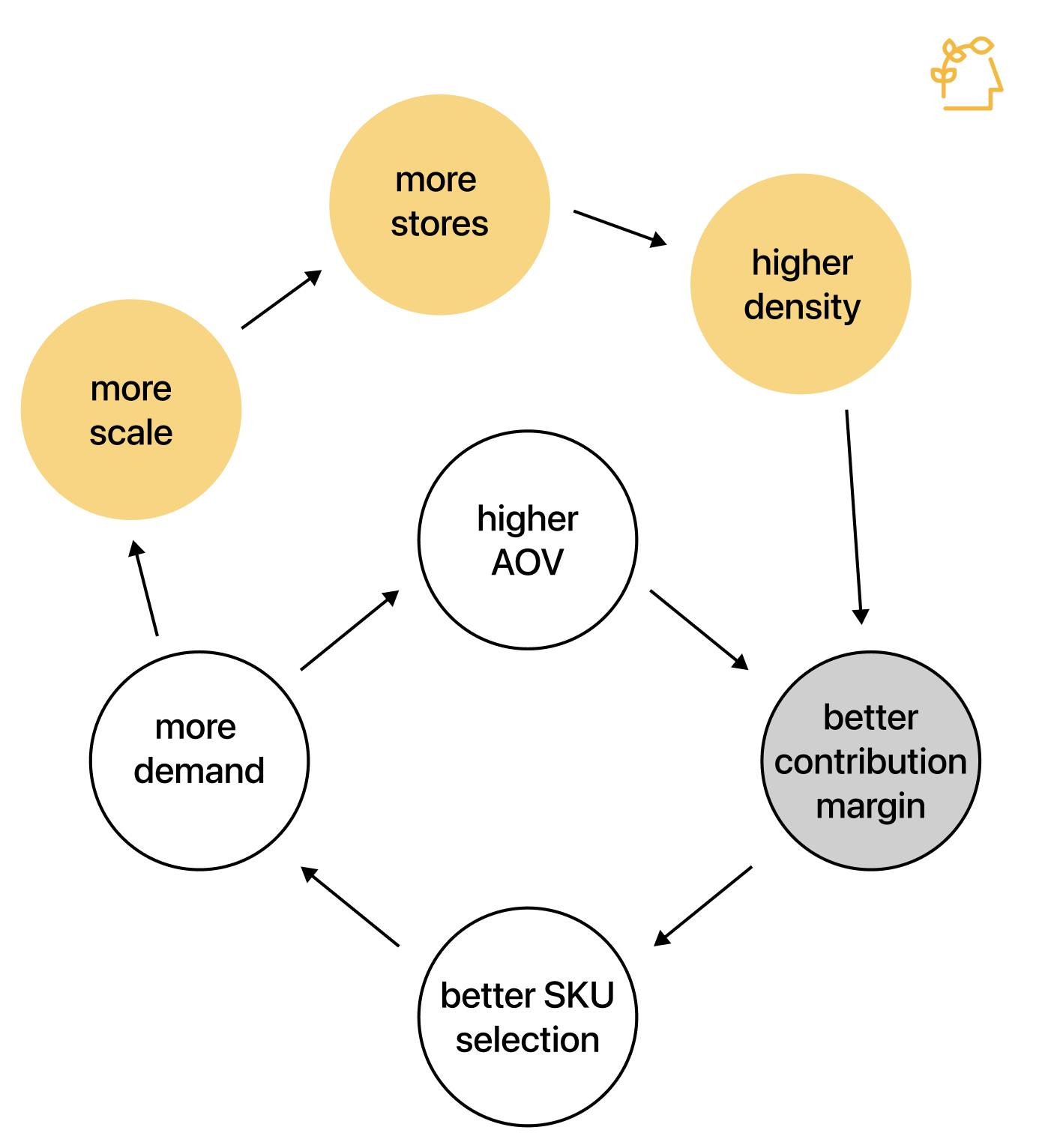 Opening up more dark stores grows their geographical service area, increasing their density and volume of purchasing
More volume means more SKUs and larger scale to directly procure items from suppliers, creating a better contribution margin
Better contribution margin means services are more profitable, which enables them to grow and open up new stores faster
Appendix
Disclaimers
Sacra has not received compensation from any companies that are subjects of the research report.
Sacra generally does not take steps to independently verify the accuracy or completeness of this information, other than by speaking with representatives of the companies when possible.
This report contains forward-looking statements regarding the companies reviewed as part of this report that are based on beliefs and assumptions and on information currently available to us during the preparation of this report. In some cases, you can identify forward-looking statements by the following words: "will," "expect," "would," "intend," "believe," or other comparable terminology. Forward-looking statements in this document include, but are not limited to, statements about future financial performance, business plans, market opportunities and beliefs and company objectives for future operations. These statements involve risks, uncertainties, assumptions and other factors that may cause actual results or performance to be materially different. We cannot assure you that any forward-looking statements contained in this report will prove to be accurate. These forward-looking statements speak only as of the date hereof. We disclaim any obligation to update these forward-looking statements.
This report contains revenue and valuation models regarding the companies reviewed as part of this report that are based on beliefs and assumptions on information currently available to us during the preparation of this report. These models may take into account a number of factors including, but not limited to, any one or more of the following: (i) general interest rate and market conditions; (ii) macroeconomic and/or deal-specific credit fundamentals; (iii) valuations of other financial instruments which may be comparable in terms of rating, structure, maturity and/or covenant protection; (iv) investor opinions about the respective deal parties; (v) size of the transaction; (vi) cash flow projections, which in turn are based on assumptions about certain parameters that include, but are not limited to, default, recovery, prepayment and reinvestment rates; (vii) administrator reports, asset manager estimates, broker quotations and/or trustee reports, and (viii) comparable trades, where observable. Sacra's view of these factors and assumptions may differ from other parties, and part of the valuation process may include the use of proprietary models. To the extent permitted by law, Sacra expressly disclaims any responsibility for or liability (including, without limitation liability for any direct, punitive, incidental or consequential loss or damage, any act of negligence or breach of any warranty) relating to (i) the accuracy of any models, market data input into such models or estimates used in deriving the report, (ii) any errors or omissions in computing or disseminating the report, (iii) any changes in market factors or conditions or any circumstances beyond Sacra's control and (iv) any uses to which the report is put.
This research report is not investment advice, and is not a recommendation or suggestion that any person or entity should buy the securities of the company that is the subject of the research report.  Sacra does not provide investment, legal, tax or accounting advice, Sacra is not acting as your investment adviser, and does not express any opinion or recommendation whatsoever as to whether you should buy the securities that are the subject of the report. This research report reflects the views of Sacra, and the report is not tailored to the investment situation or needs of any particular investor or group of investors.  Each investor considering an investment in the company that is the subject of this research report must make its own investment decision.  Sacra is not an investment adviser, and has no fiduciary or other duty to any recipient of the report.  Sacra's sole business is to prepare and sell its research reports. 
Sacra is not registered as an investment adviser, as a broker-dealer, or in any similar capacity with any federal or state regulator.
Read more from
Read more from
Read more from
Read more from
Read more from