Rappi: The $7B Meituan of Latin America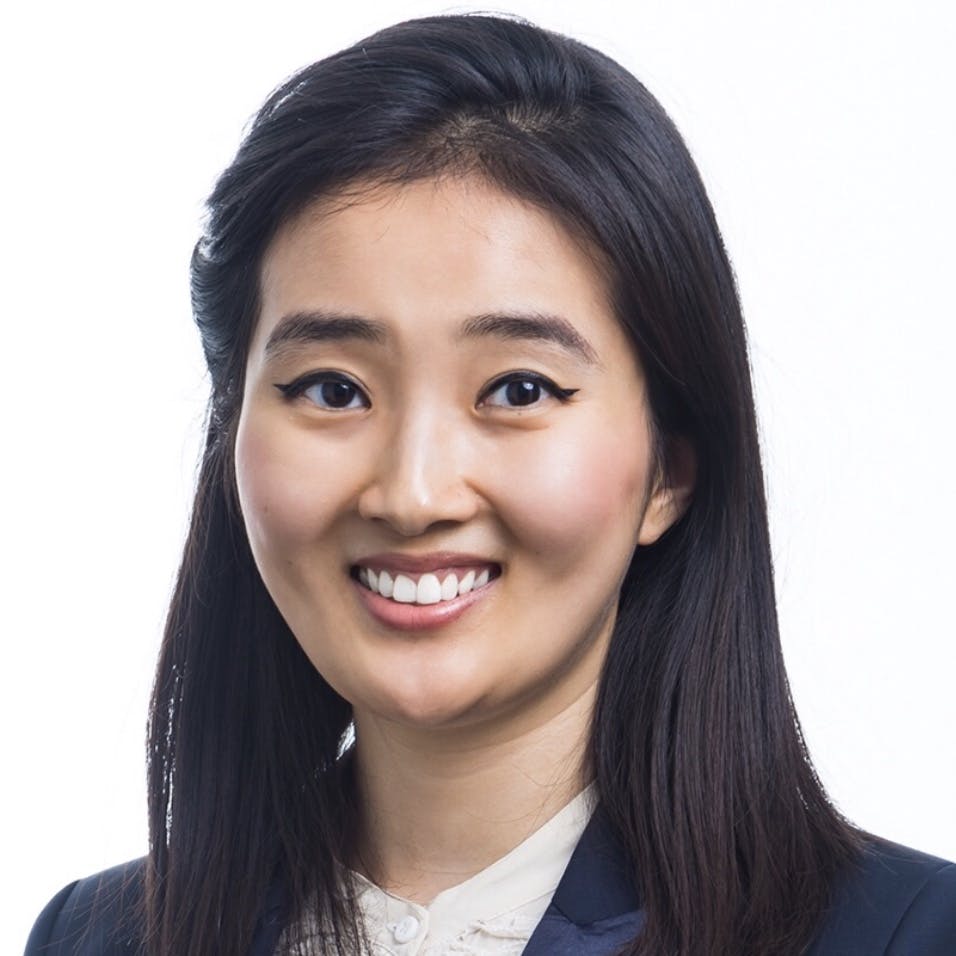 Nan Wang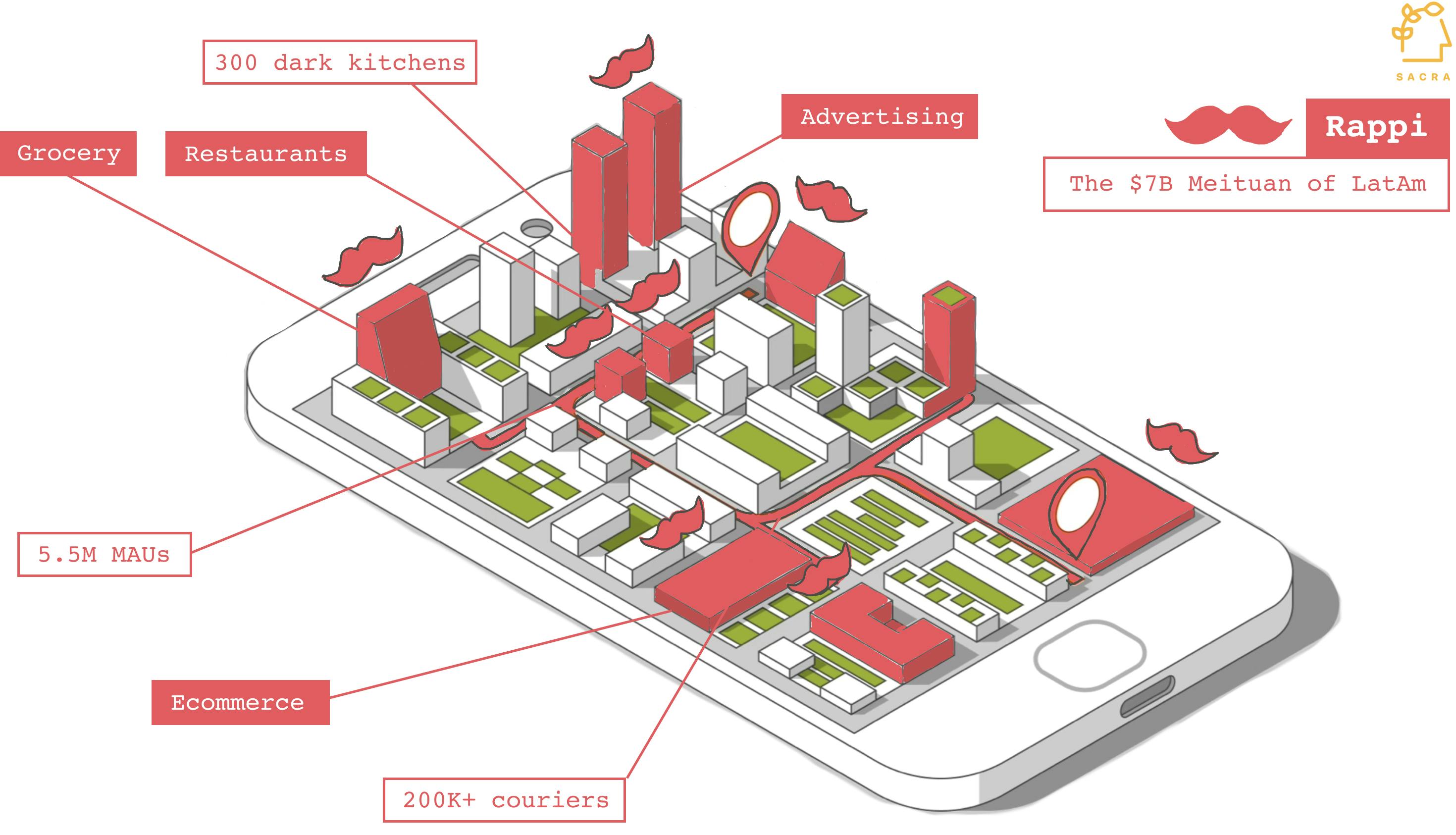 The on-demand playbook
the greatest route density in the world
lower labor costs than in the West
a long growth runway driven by low rates of online adoption.
Key points
Rappi is a Latin American on-demand delivery app with two main businesses: a marketplace and a logistics platform. It provides online traffic and last-mile delivery services to merchants. The company is also expanding into adjacent verticals such as e-commerce and travel. 
75% of Rappi's revenue comes from the commissions collected from merchants and delivery fees paid by customers. Additional sources of revenue include advertising (about 13%) and subscriptions (10%), while ecommerce represents about 2%. 
Rappi has footprints in 9 Latin American countries and 100+ cities, and we believe Rappi is the top 1 or 2 player in the majority of those countries.
We value Rappi at $7B, 7x EV/2022 revenue. This is up 75% from the last round price of $4B, which valued the company at 10x EV/2020 revenue. 
We expect a long growth runway ahead, with a 3-year GMV CAGR of 50%. Online adoption in Latin America is still at a low single-digit percentage, compared with 10%, 12% and 18% in India, the U.S. and China respectively. Sources of growth are offline to online migration, category expansion and higher frequency of purchase.
Rappi has 5.5M MAU and a DAU/MAU ratio of 33%, which is significantly higher than the industry benchmark of 8%. Compared to its western peers, Rappi also benefits from a far-higher drop density and access to cheaper labor. We estimate that Rappi has one of the lowest delivery expenses as a percentage of GMV at 10%, compared to 14% from Zomato (India), 16% from Meituan (China) and 32% from Uber Eats (U.S.).
On-demand markets tend towards consolidation as the need for scale forces smaller players out of the market and brings larger players together. In China, Meituan merged with Dianping and E'le me merged with Baidu Waimai. In Indian and the U.S., the markets are also stabilizing into a duopoly or an oligopoly market structure.
There are early signs of this kind of competitive rationalization in Latin America. Glovo exited Chile and Brazil in 2019. Uber Eats exited Argentina and Colombia in 2020. Given the hyper-local network effect and high initial capital requirement, we expect the market structure to further consolidate in the next two years. 
Rappi's future success rests on its ability to increase purchase frequency and cross-sell into more categories. In this, there is a strong parallel with Meituan's winning playbook. Both companies are using high frequency, low margin verticals to gain mindshare and cross-sell into low frequency but high margin verticals. 
In recent years, Rappi has been expanding beyond food and CPG delivery into e-commerce, travel and merchant advertising. These verticals are complementary to Rappi's existing services and can expand Rappi's TAM in the long run through more user scenarios, larger cohorts and higher AOV.
More than 90% of customers purchase from at least two categories using Rappi. By cohort, purchase frequency increases over time, with an average of 2 purchases per month in year 1, 6 purchases per month in year 3, and 11 purchases per month in year 5.
Beyond the food and CPG categories, Rappi has significant opportunities in broader logistics and last-mile fulfillment as more consumers adopt the on-demand model and expand into adjacent verticals. 
Rappi's investors include SoftBank and SoftBank Vision Fund, Sequoia, Andreessen Horowitz, DST Global, TRP and Y Combinator.
Product: The LatAm super app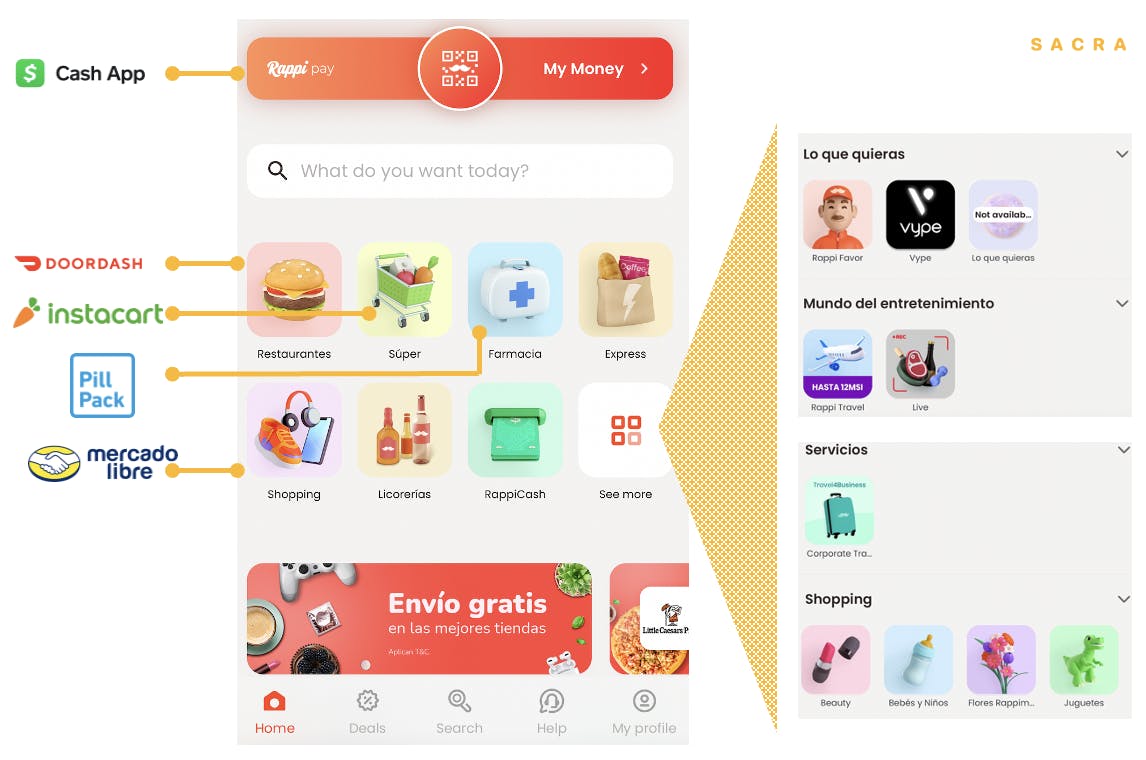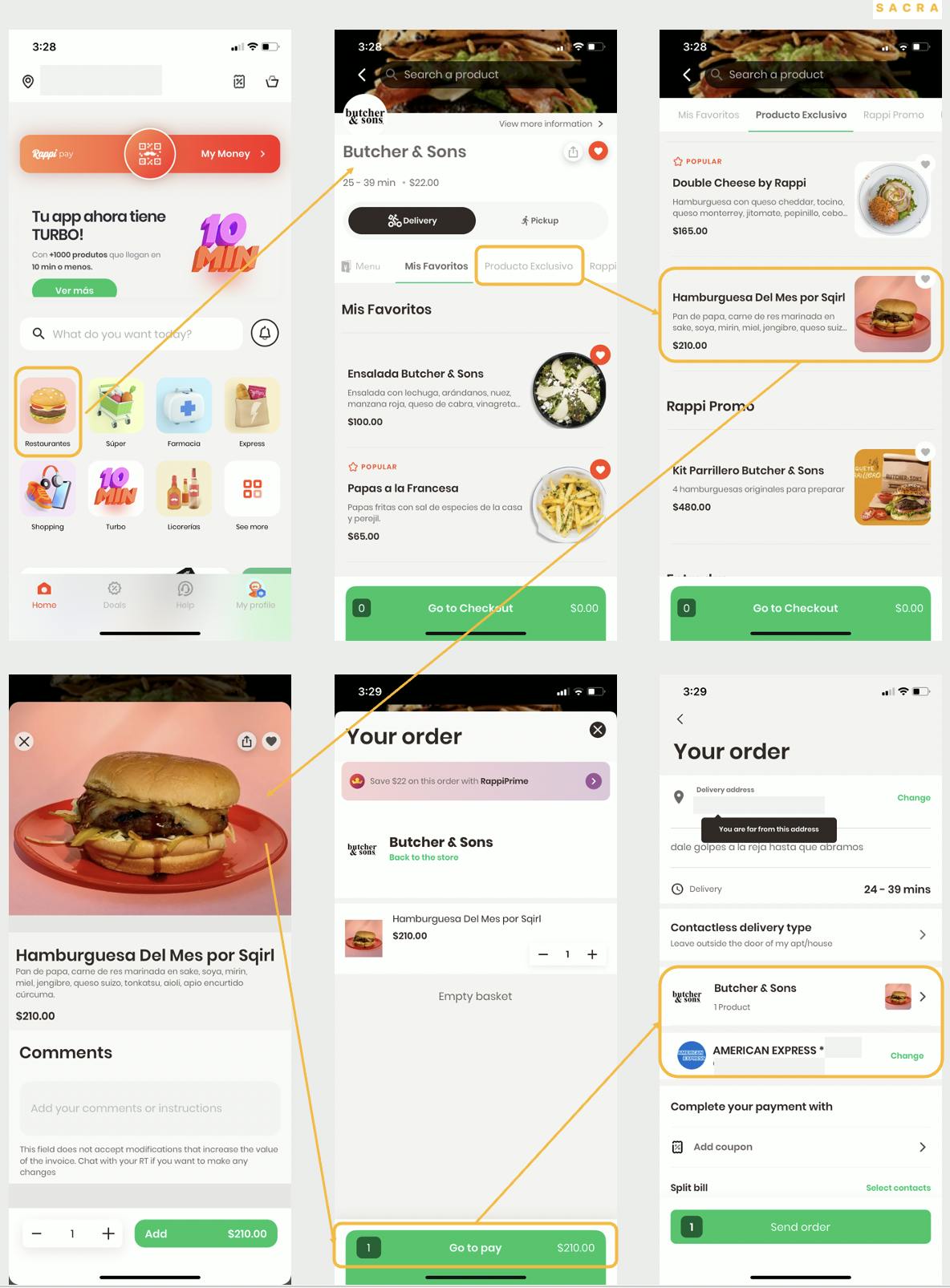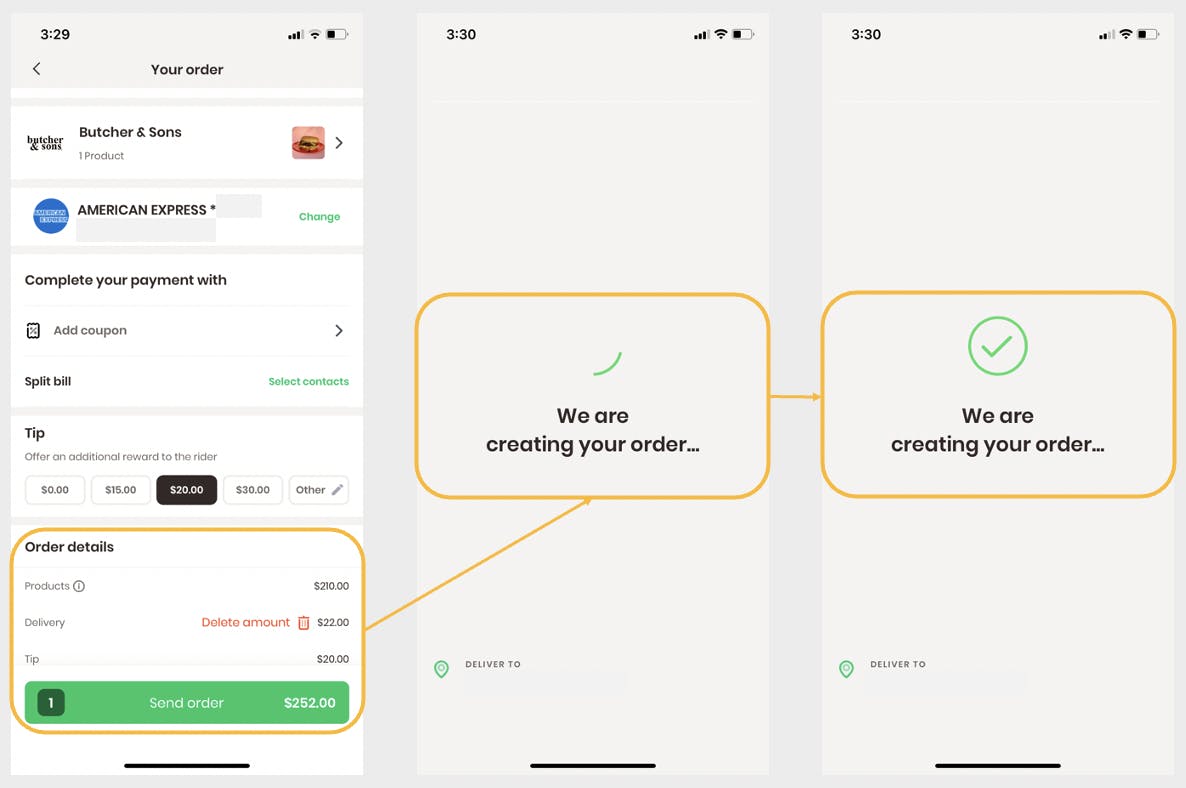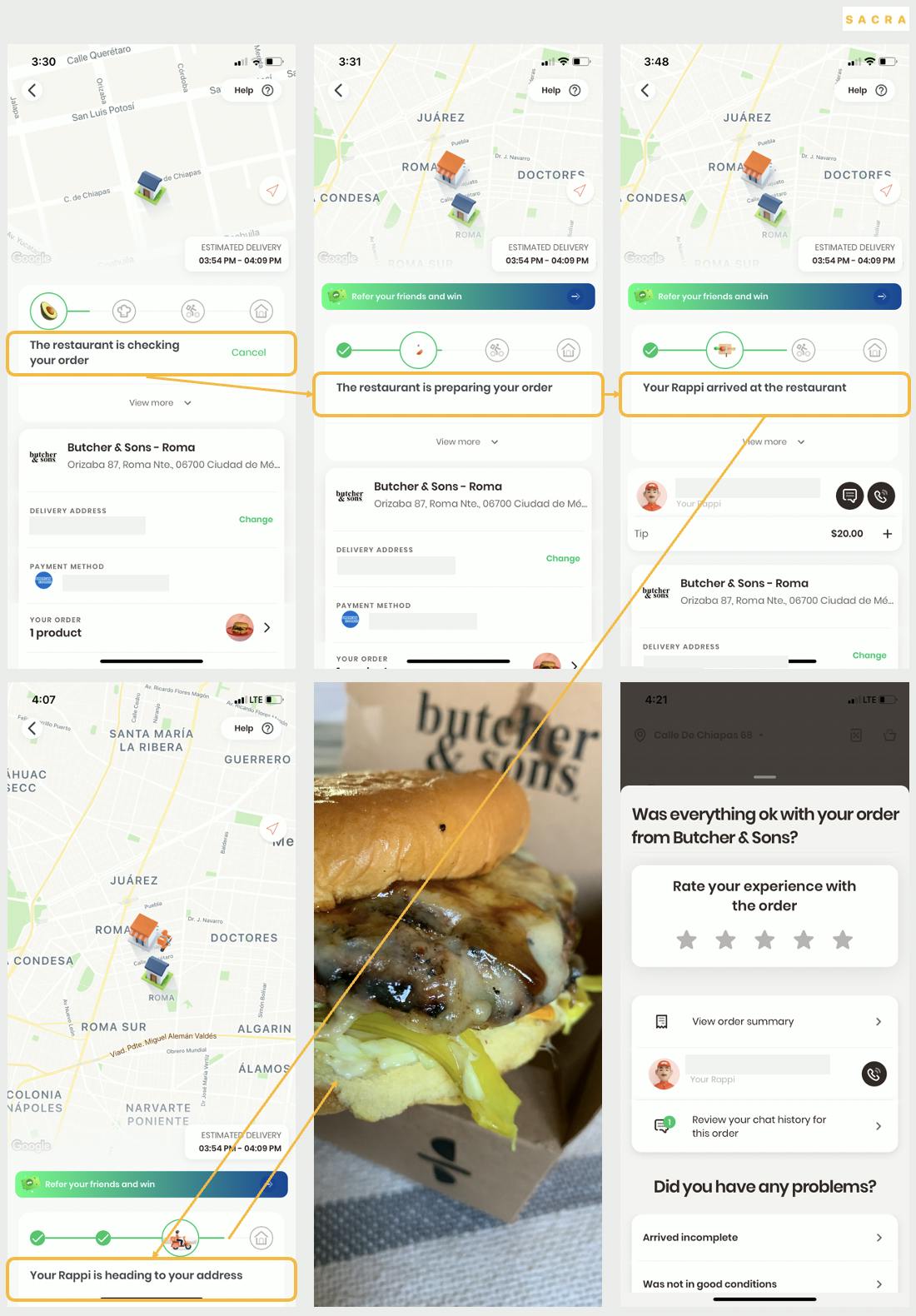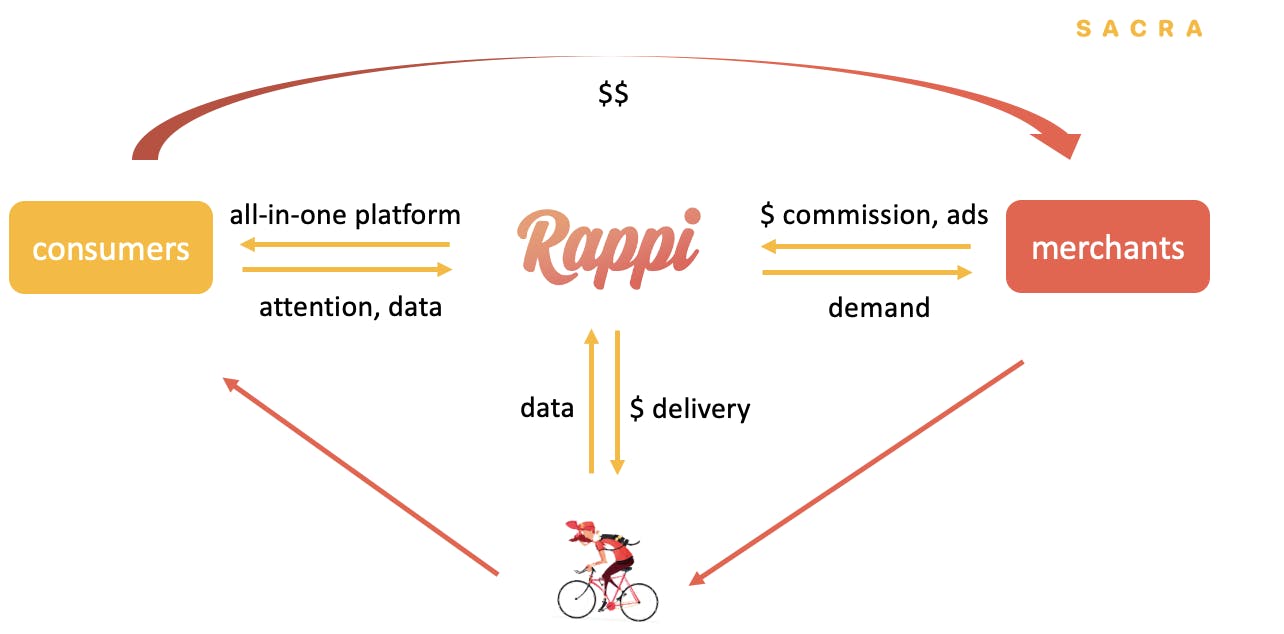 Commissions: Rappi charges the merchants commissions to sell via the marketplace. 
Delivery fees: For each order, consumers pay a fixed delivery fee to Rappi. Then, Rappi pays the couriers. 
Advertising revenue: Restaurants and FMCG companies pay advertising fees to the platform for priority listings.
Subscriber revenue: Rappi has a subscription membership called Rappi Prime, which provides customers free delivery on orders.
75% from restaurants and grocers' commission and delivery services
13% from merchant advertising
10% from Rappi Prime 
2% from e-commerce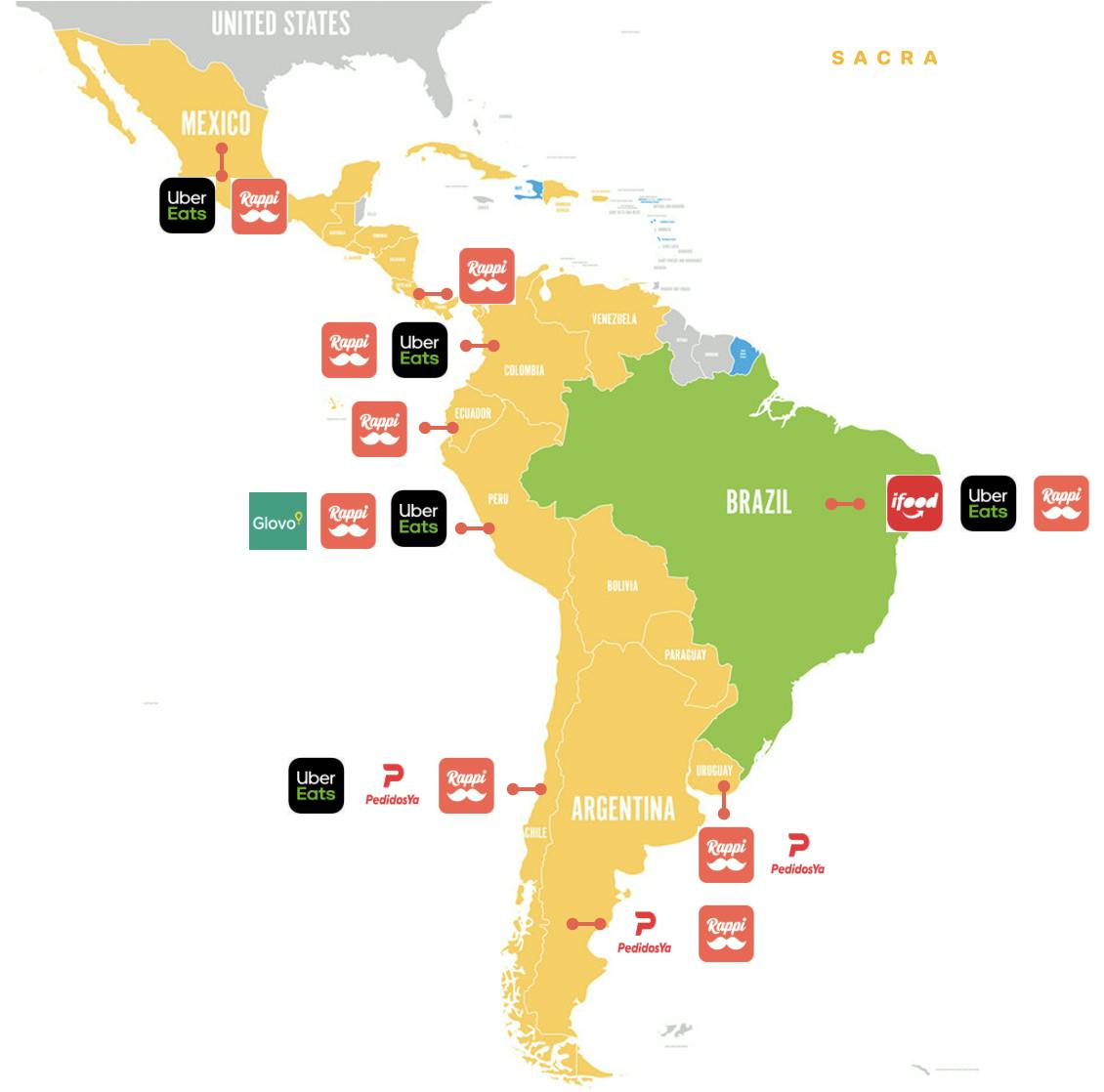 Valuation: Rappi is worth $7B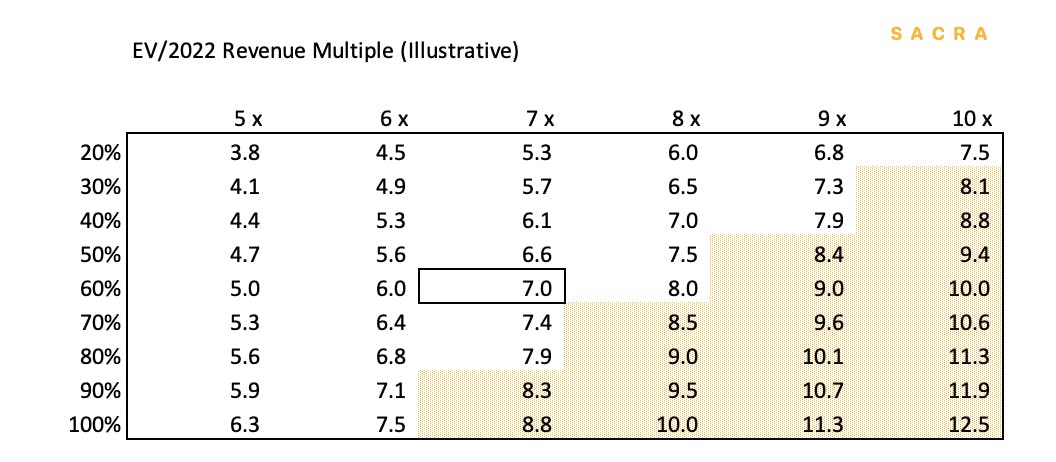 In our base case: Rappi remains as a top 2 player in Colombia, Mexico, Argentina and Peru, while actively defending its market share in other countries. We assume revenue to grow at 60% CAGR next year through category expansion and higher online adoption, and we also assume mild take rate compression as Rappi shares some of its scale benefits with its merchant partners. 
In our bear case: Rappi struggles to reduce its customer acquisition costs amidst tough competition and ultimately is acquired by a larger player.
In our bull case: Rappi becomes the leading logistics platform and super app for all of LatAm, renting out its infrastructure to third parties while vertically integrating and cross-selling on its marketplace. 

Order size: An increase in AOV has a positive impact on revenue per order. 
Order frequency: As the platform includes more merchants and more categories of services, customers will transact more frequently on Rappi.
Promotions/discounts: We assume promotions and discounts would reduce over time as customers form more purchasing habits and have more trust in the platform.
Delivery costs: We assume rider cost remains roughly flat and delivery efficiency improvement would offset labor inflation.
Operating leverage: Category expansion, scale advantage and higher-order density would lower operating expense on a per order basis so incremental revenue would drop to the bottom line.  
Analysis: How Rappi can build the first LatAm super app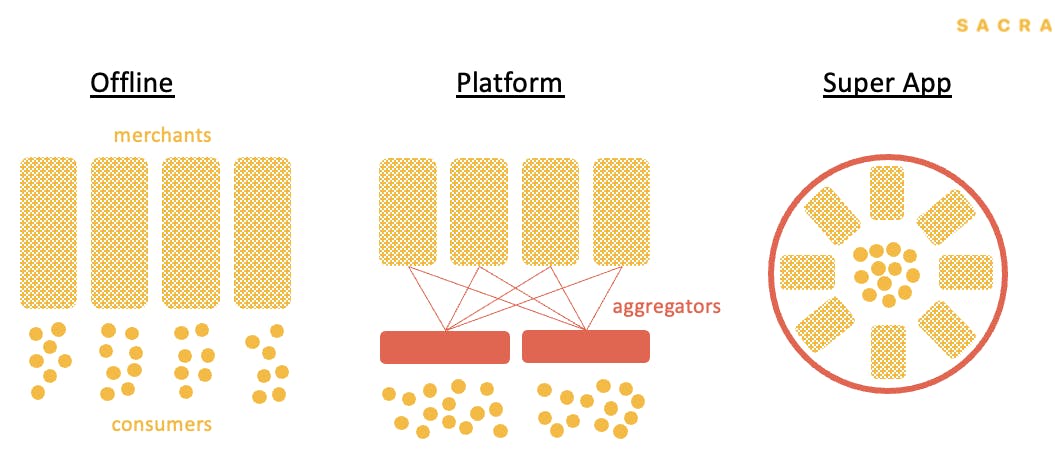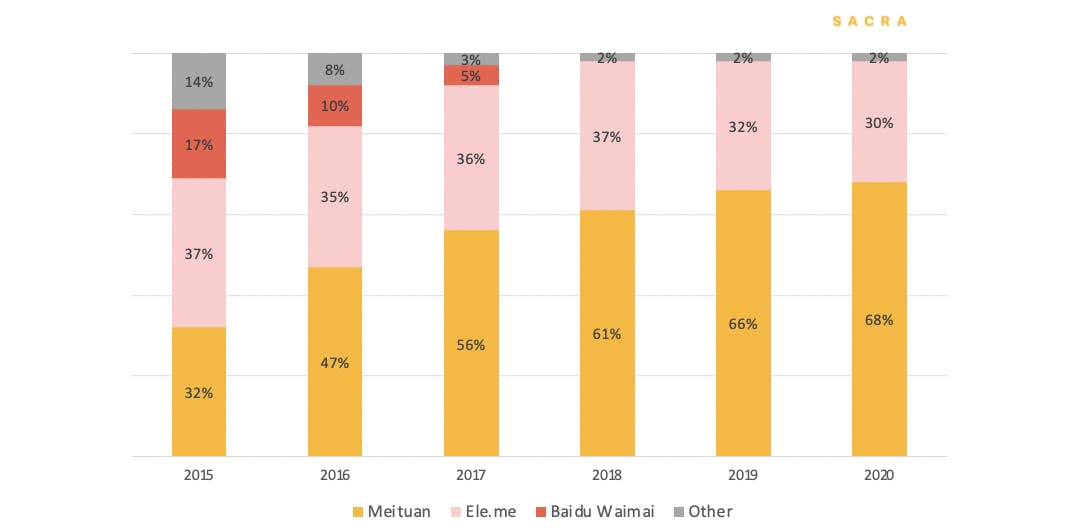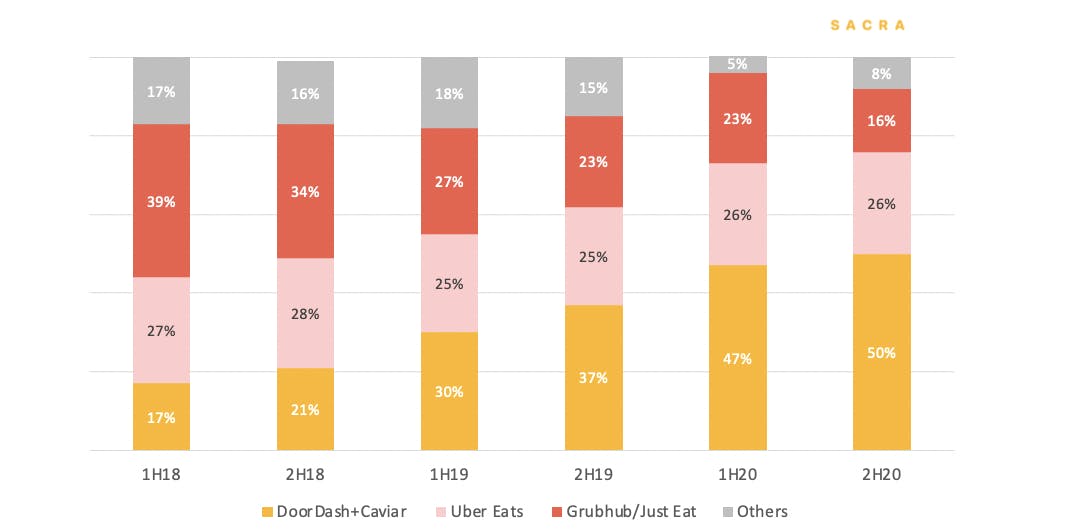 1. The unfair unit economic advantage behind Rappi's 120% year-over-year growth


Incredibly dense markets: The LatAm markets where Rappi is active are 30% more dense than Asia and 3x the density of the USA.
Cost advantage: We estimate Rappi's delivery expense at 10% of GMV, compared to 14-16% in Asia and 30% in the USA. 
Low levels of online adoption: Food delivery is at 2% online adoption in LatAm, compared with 10% in India, 12% in the USA and 18% in China. CPG penetration is at 1% in LatAm, creating a long runway for Rappi.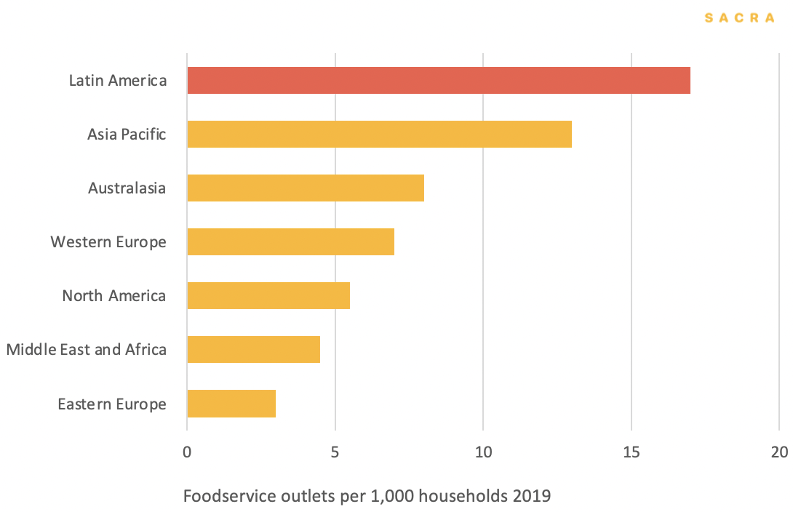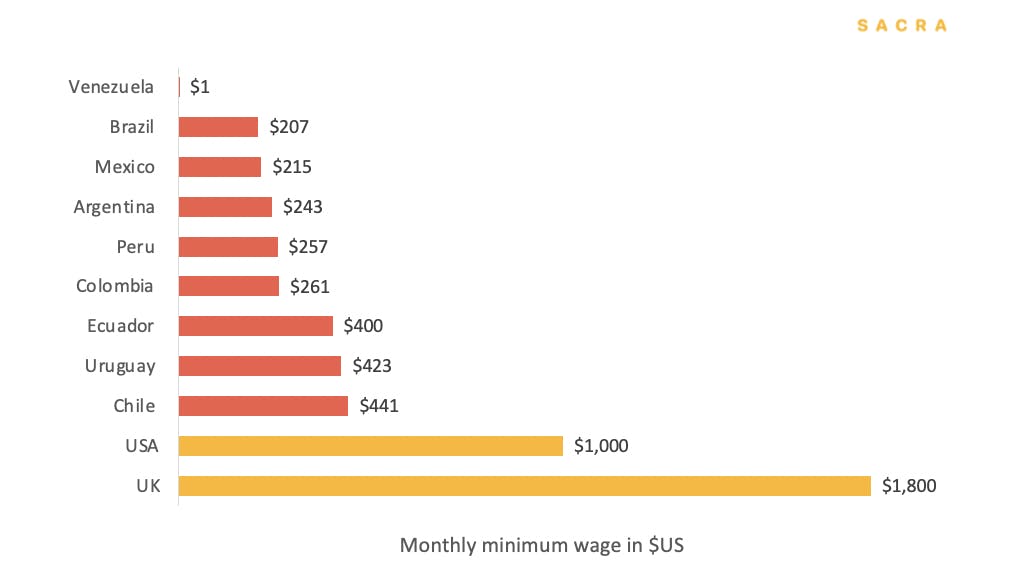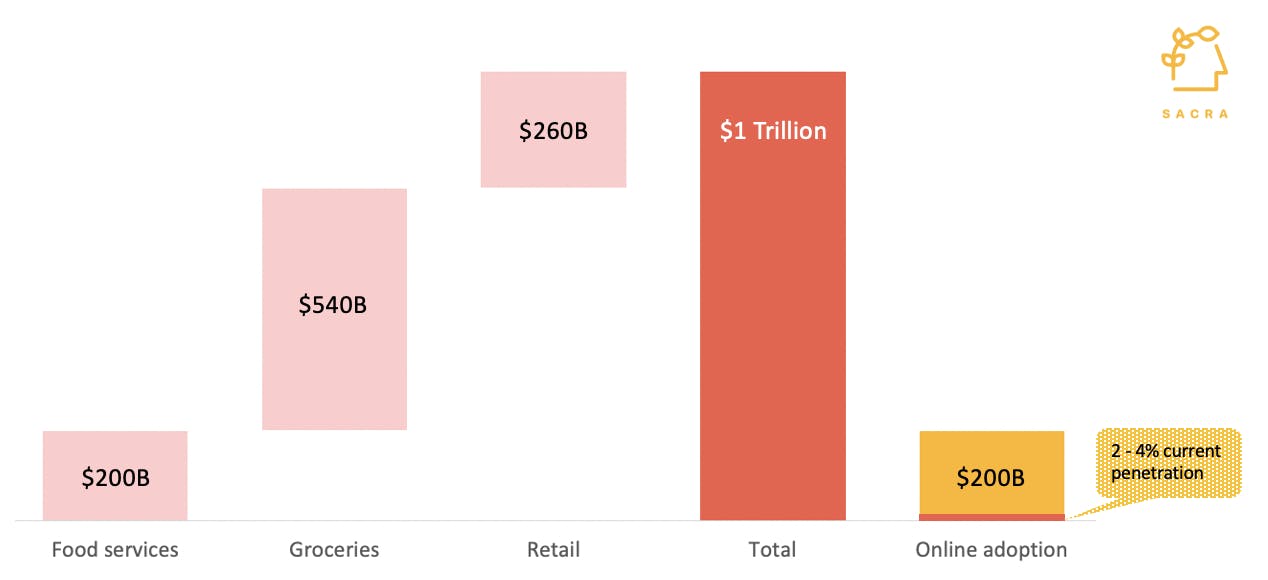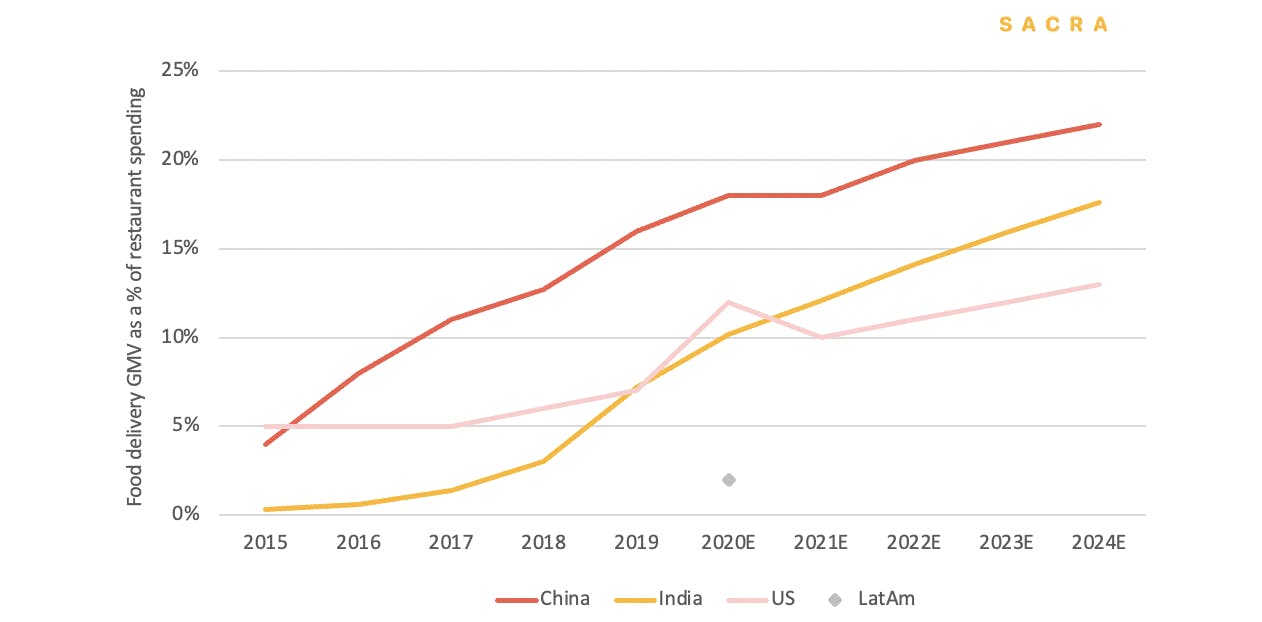 2. The 3 types of on-demand competition Rappi must overcome to win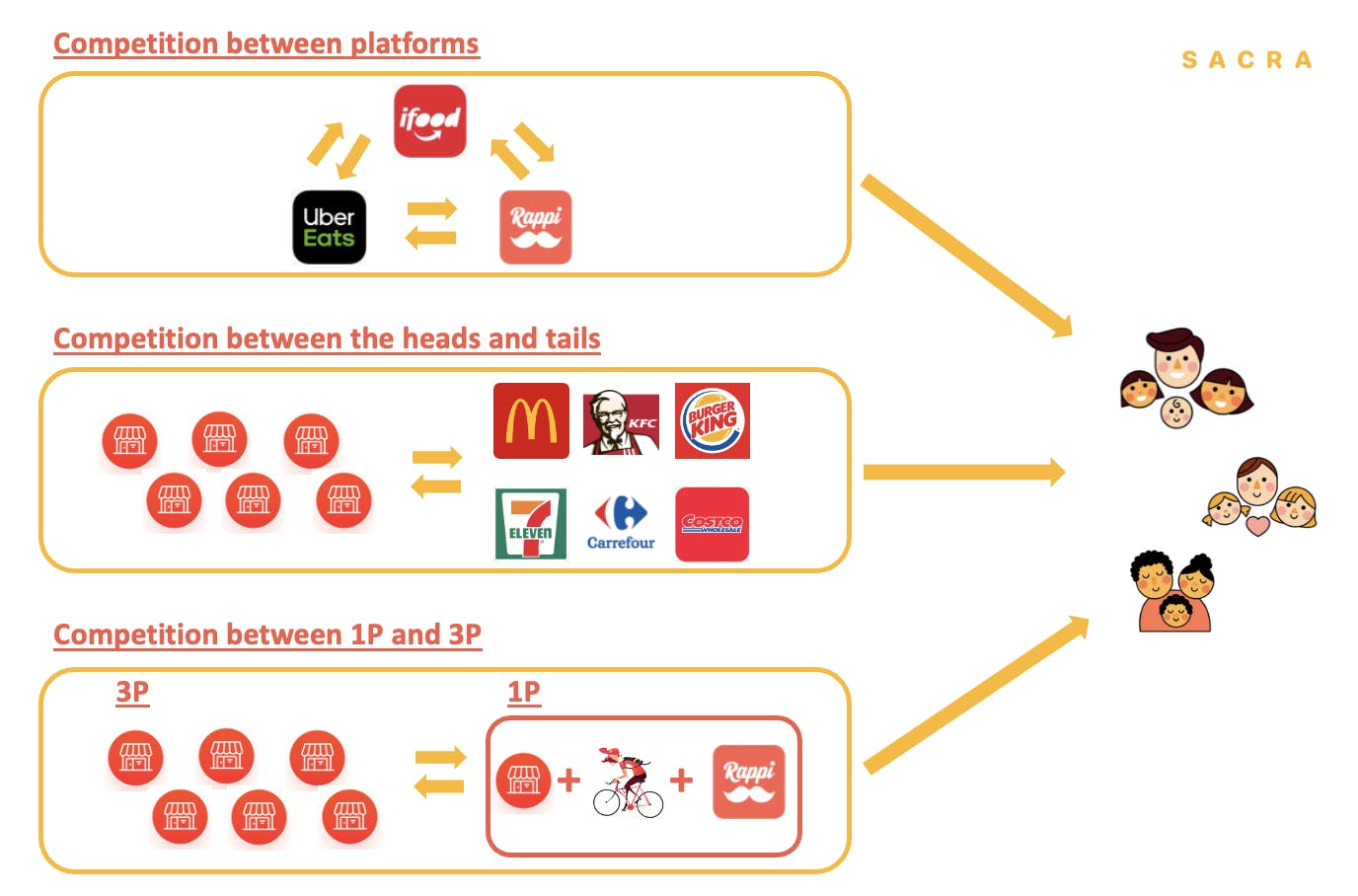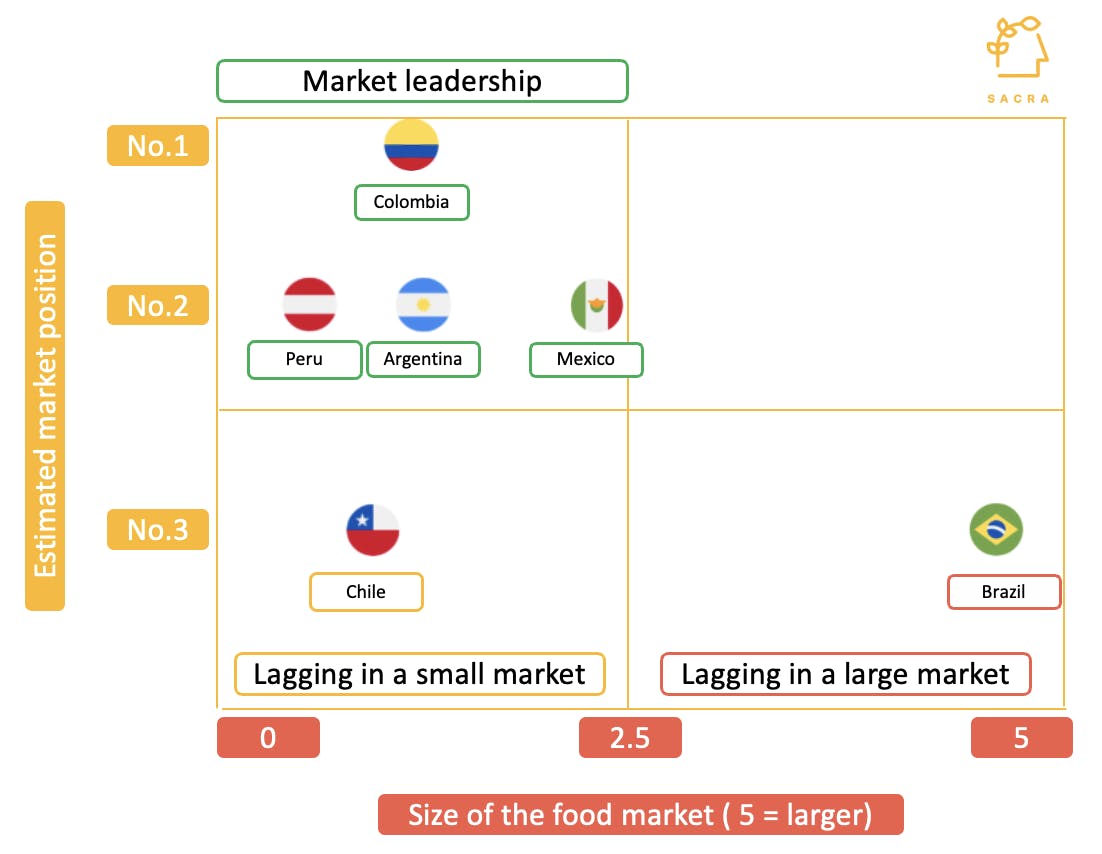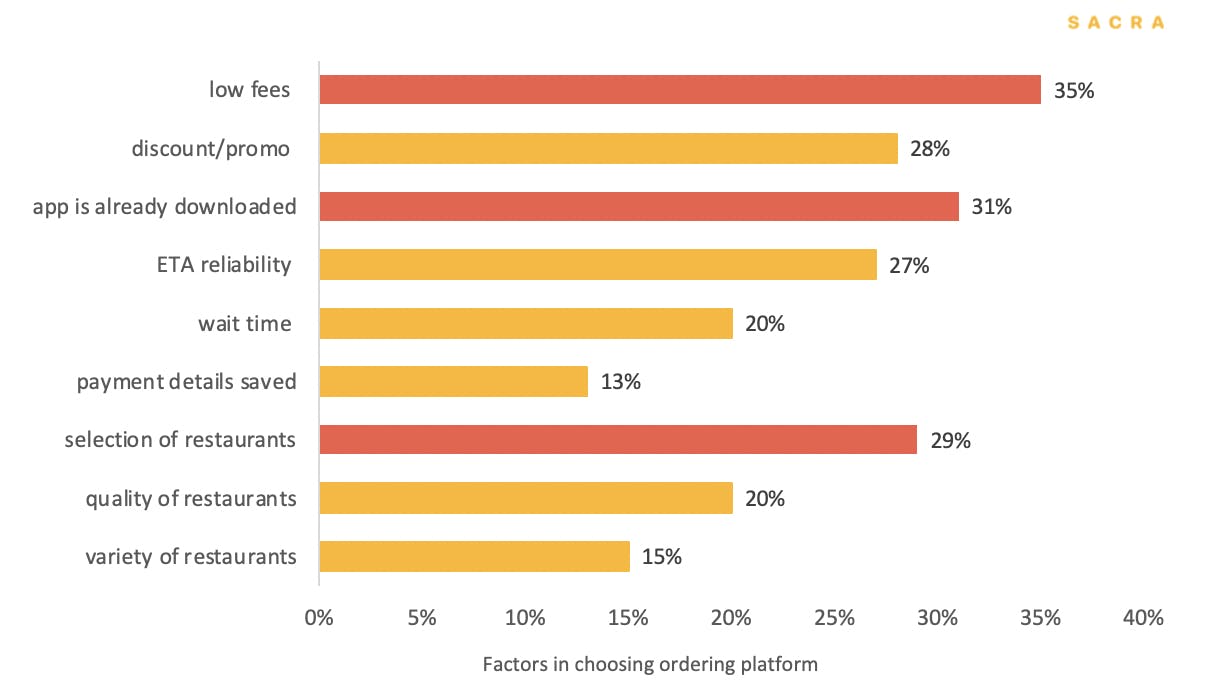 3. How Rappi can use multi-verticality to open new runways and accelerate ARPU growth
Expanded their customer base and transaction frequencies by introducing more services with strong cross-selling capabilities.
Unlocking value for merchants through online marketing, payment systems and supply chain finance
Investing in its intra-city on-demand delivery network and algorithm to improve operating efficiency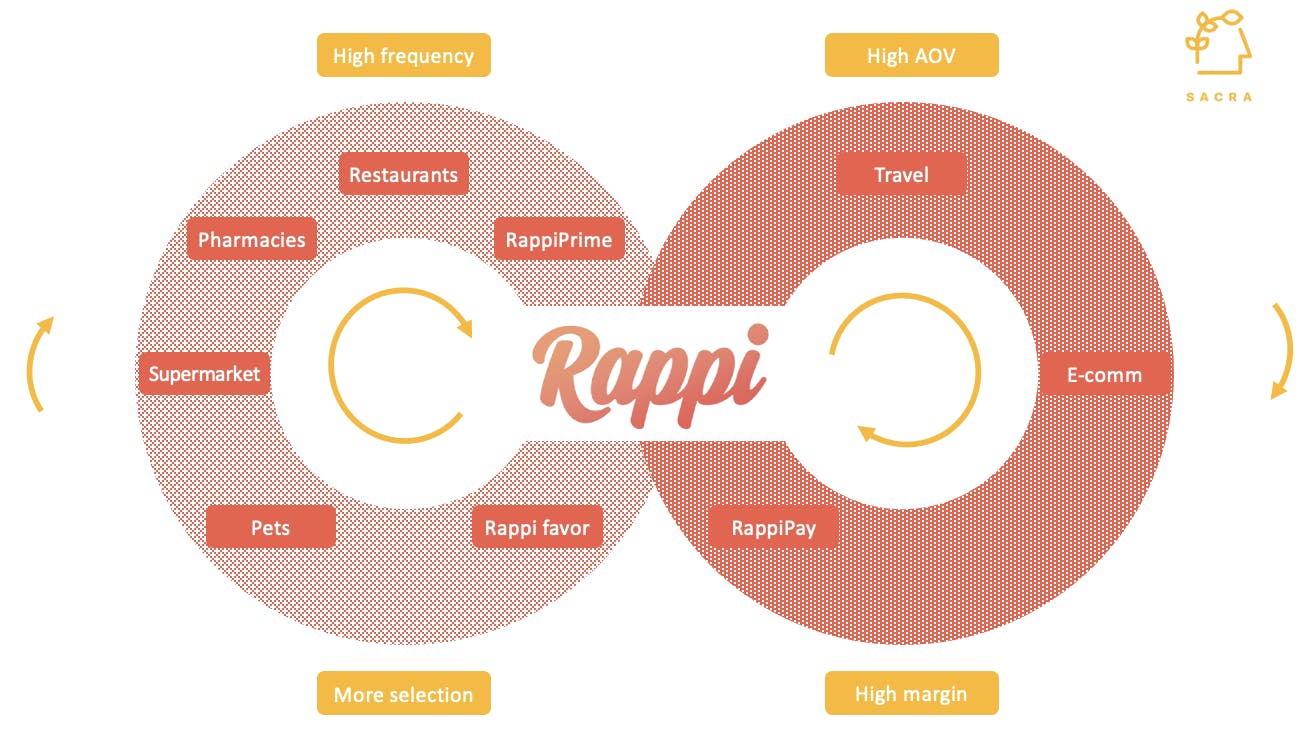 Super-apps are harder to build in countries with established internet economies, partly because super-apps are mobile-native experiences and most Western countries are not mobile-first.
Super-apps need to own the user's wallet to facilitate a high volume of transactions.
In many cases, super-apps need to have strong positive relations with governments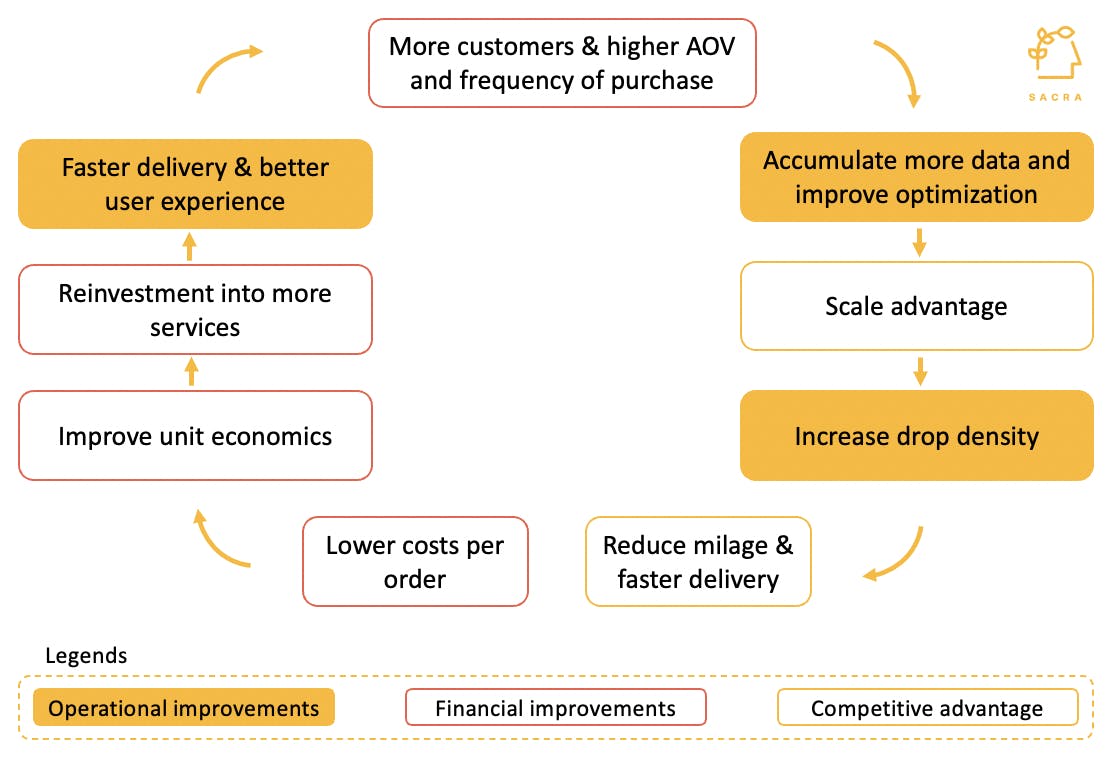 Collection: ensuring high liquidity of merchants and riders on the platform to reduce friction and time. 
Riders wait at pick-up stores: use a better algorithm to predict when orders will be ready to reduce waiting time. 
Delivery from store to customers: the distance between stores and customers impacts delivery time and cost. Rappi can determine which stores to display during a customer's initial search. 
Increasing drop density: in a dense network, Rappi can increase the average number of orders per delivery and per hour.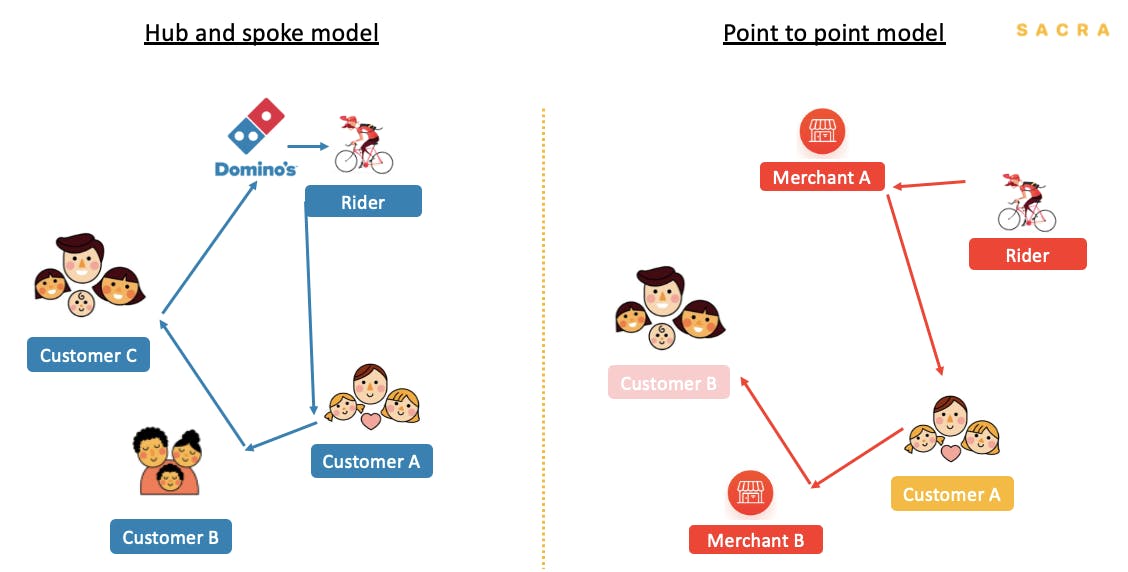 The upshot
Appendix
Disclaimers
Sacra has not received compensation from the company that is the subject of the research report.
Sacra generally does not take steps to independently verify the accuracy or completeness of this information, other than by speaking with representatives of the company when possible.
This report contains forward-looking statements regarding the companies reviewed as part of this report that are based on beliefs and assumptions and on information currently available to us during the preparation of this report. In some cases, you can identify forward-looking statements by the following words: "will," "expect," "would," "intend," "believe," or other comparable terminology. Forward-looking statements in this document include, but are not limited to, statements about future financial performance, business plans, market opportunities and beliefs and company objectives for future operations. These statements involve risks, uncertainties, assumptions and other factors that may cause actual results or performance to be materially different. We cannot assure you that any forward-looking statements contained in this report will prove to be accurate. These forward-looking statements speak only as of the date hereof. We disclaim any obligation to update these forward-looking statements.
This report contains revenue and valuation models regarding the companies reviewed as part of this report that are based on beliefs and assumptions on information currently available to us during the preparation of this report. These models may take into account a number of factors including, but not limited to, any one or more of the following: (i) general interest rate and market conditions; (ii) macroeconomic and/or deal-specific credit fundamentals; (iii) valuations of other financial instruments which may be comparable in terms of rating, structure, maturity and/or covenant protection; (iv) investor opinions about the respective deal parties; (v) size of the transaction; (vi) cash flow projections, which in turn are based on assumptions about certain parameters that include, but are not limited to, default, recovery, prepayment and reinvestment rates; (vii) administrator reports, asset manager estimates, broker quotations and/or trustee reports, and (viii) comparable trades, where observable. Sacra's view of these factors and assumptions may differ from other parties, and part of the valuation process may include the use of proprietary models. To the extent permitted by law, Sacra expressly disclaims any responsibility for or liability (including, without limitation liability for any direct, punitive, incidental or consequential loss or damage, any act of negligence or breach of any warranty) relating to (i) the accuracy of any models, market data input into such models or estimates used in deriving the report, (ii) any errors or omissions in computing or disseminating the report, (iii) any changes in market factors or conditions or any circumstances beyond Sacra's control and (iv) any uses to which the report is put.
This research report is not investment advice, and is not a recommendation or suggestion that any person or entity should buy the securities of the company that is the subject of the research report.  Sacra does not provide investment, legal, tax or accounting advice, Sacra is not acting as your investment adviser, and does not express any opinion or recommendation whatsoever as to whether you should buy the securities that are the subject of the report. This research report reflects the views of Sacra, and the report is not tailored to the investment situation or needs of any particular investor or group of investors.  Each investor considering an investment in the company that is the subject of this research report must make its own investment decision.  Sacra is not an investment adviser, and has no fiduciary or other duty to any recipient of the report.  Sacra's sole business is to prepare and sell its research reports. 
Sacra is not registered as an investment adviser, as a broker-dealer, or in any similar capacity with any federal or state regulator.
Read more from
Read more from