Sebastian Mejia, co-founder of Rappi, on building for multi-verticality in on-demand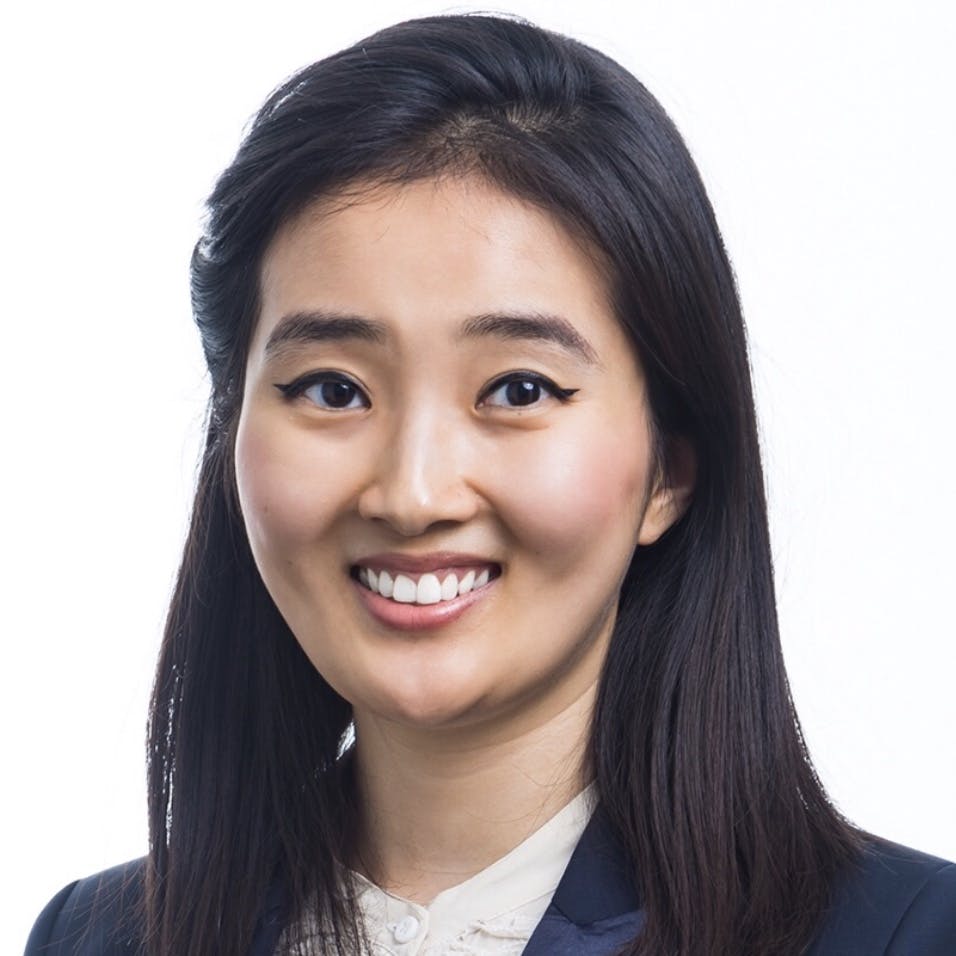 Nan Wang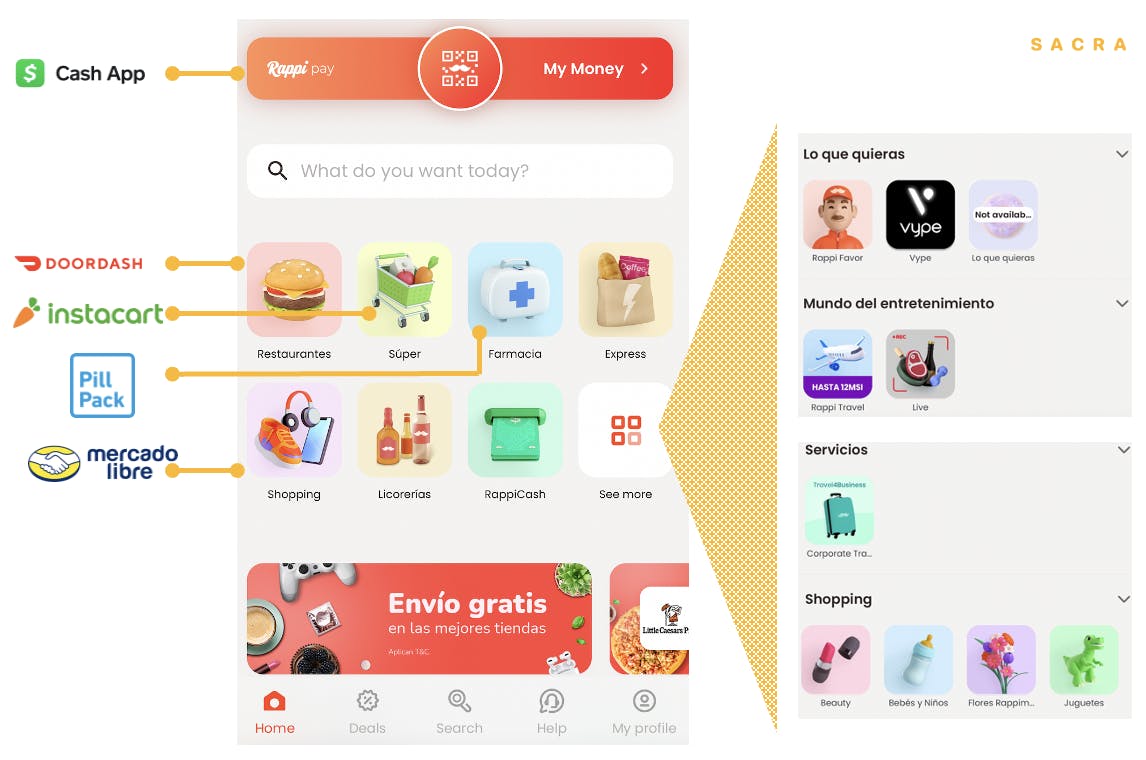 Winning the on-demand ground war
Using new verticals to drive frequency of use: Rappi cohort data shows that purchase frequency increases from an average of 2x/month in year 1 to 6x/month in year 3 and 11x/month in year 5.
Vertical integration to optimize costs and improve unit economics: With 300+ dark kitchens and micro-fulfillment centers, Rappi begins to diversify its logistic model from point to point to hub and spoke
Building a fintech business to facilitate scale: Owning payments improves Rappi's unit economics, helps their banking partners underwrite more risk, and creates another driver for higher frequency of use for consumers.
Key points
Cross-selling drives a higher frequency of purchase. "The beauty of the model is that we get to see that the spending by cohort over time is better than many of the companies out there. It's driven by the behavior of customers that start using Rappi in one category and then they expand their usage. They become multi-category. They stay in Rappi."
Cloud kitchen and micro fulfillment centers strengthen merchant partnerships and improve delivery efficiency. "We already have customers, a very large convenience category and we have a highly engaged courier base. So for us scaling the micro fulfillment center business and allowing customers to get product delivery in 10 minutes, it's a great way to improve the experience of the customers and it's operationally way better as well, not to mention the margins are very healthy."
Payments and fintech are key complementary businesses to Rappi. Firstly, payments are another driver of frequency of use. Secondly, Rappi helps its banking partners to underwrite risk with more data. Thirdly, owning parts of the payment value chain allows Rappi to reduce its transaction fees, thereby, improve unit economics because savings would drop directly to the bottom line.
Driving the core business vs. experimenting is about balance. "We focus 95% of our resources on driving the flywheel of our business… and there's another 5% of things that are more experimental... . things we think can be an enhancement of the frequency of use and how they use Rappi."
How COVID has affected Rappi's near-term plans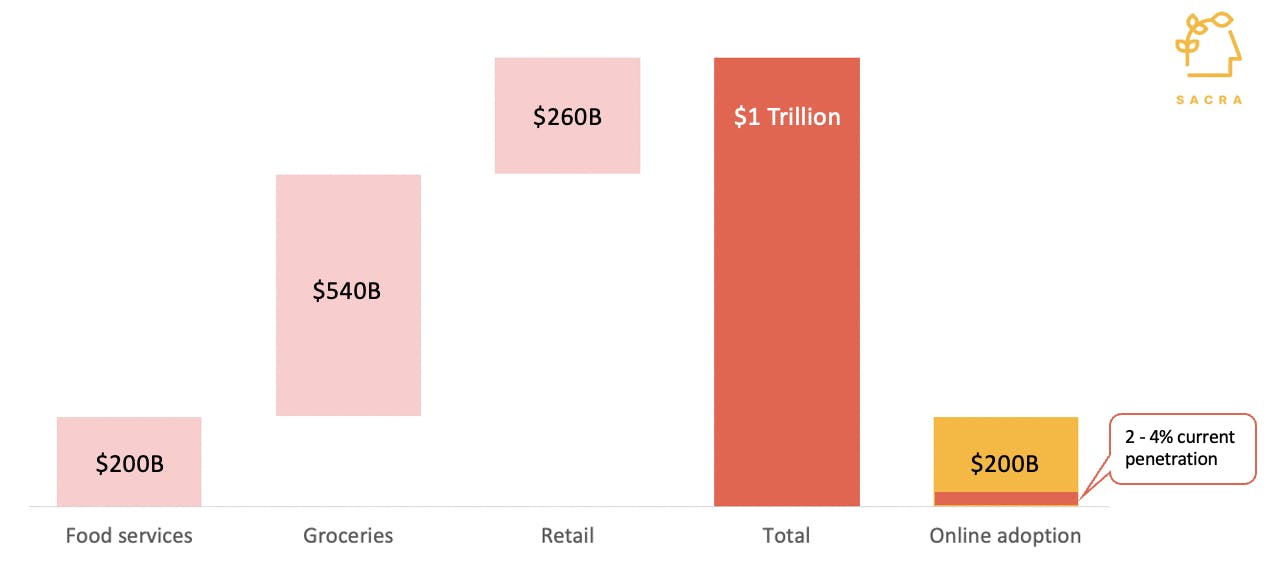 Why frequency of usage is a key metric for Rappi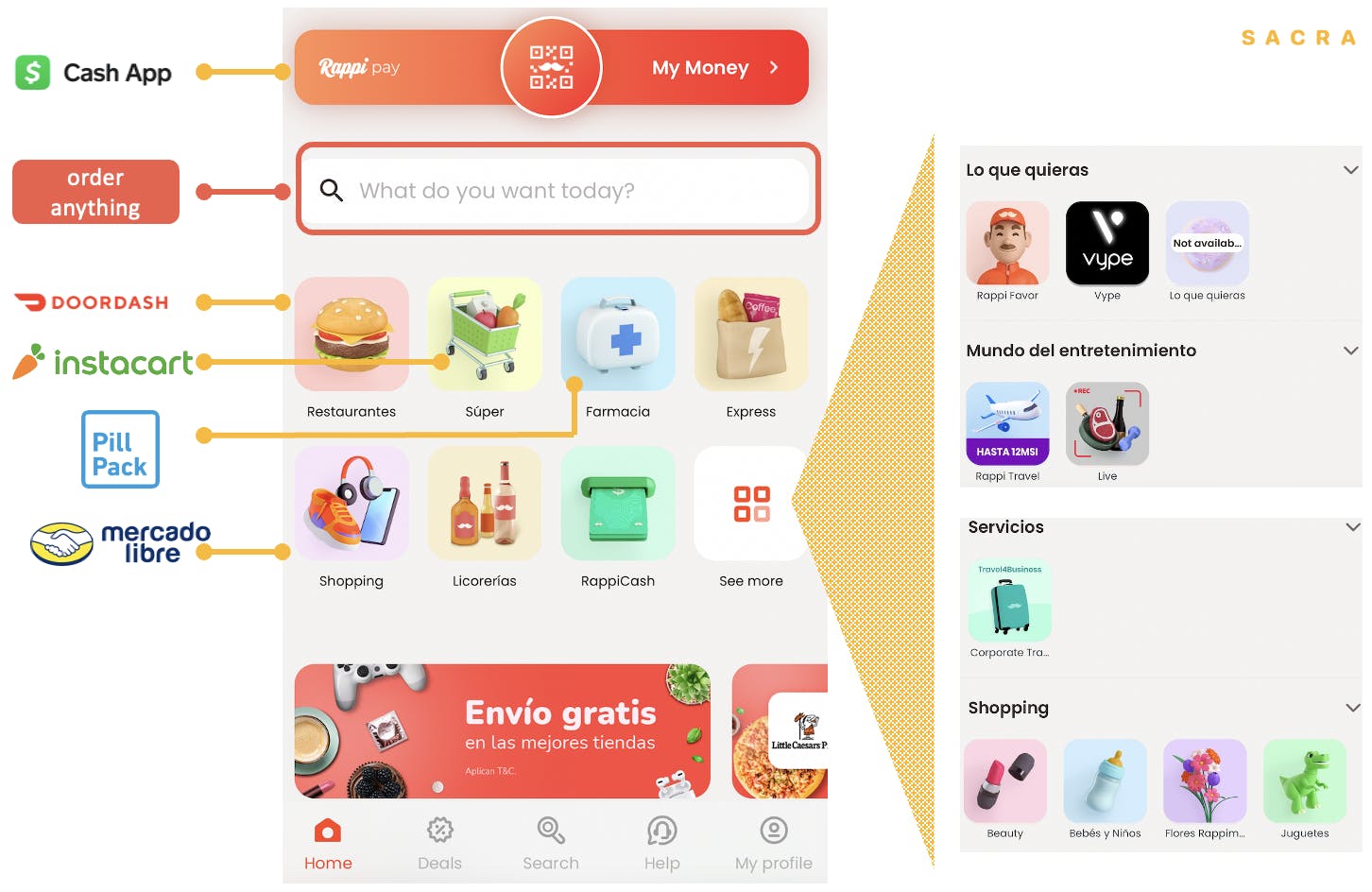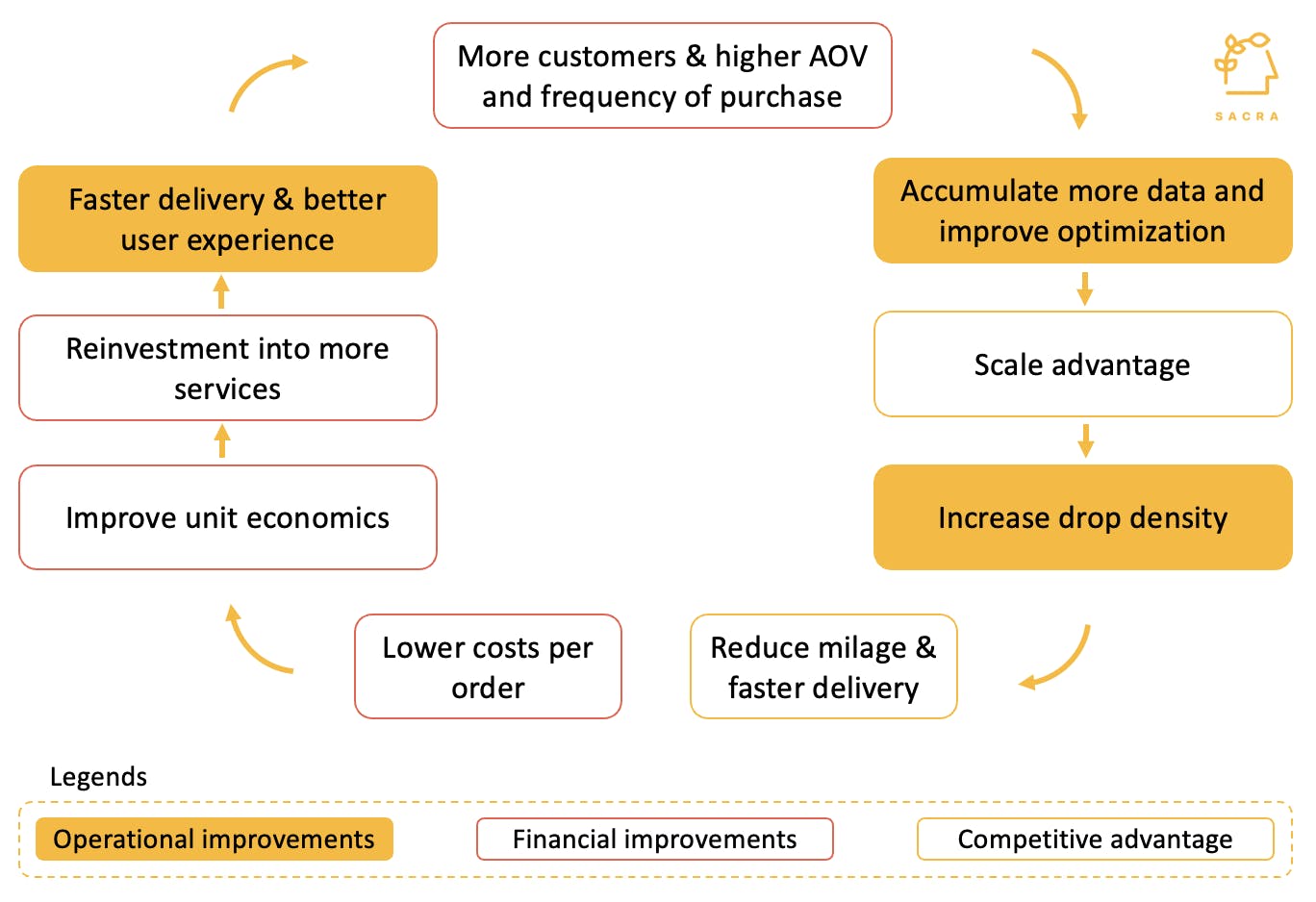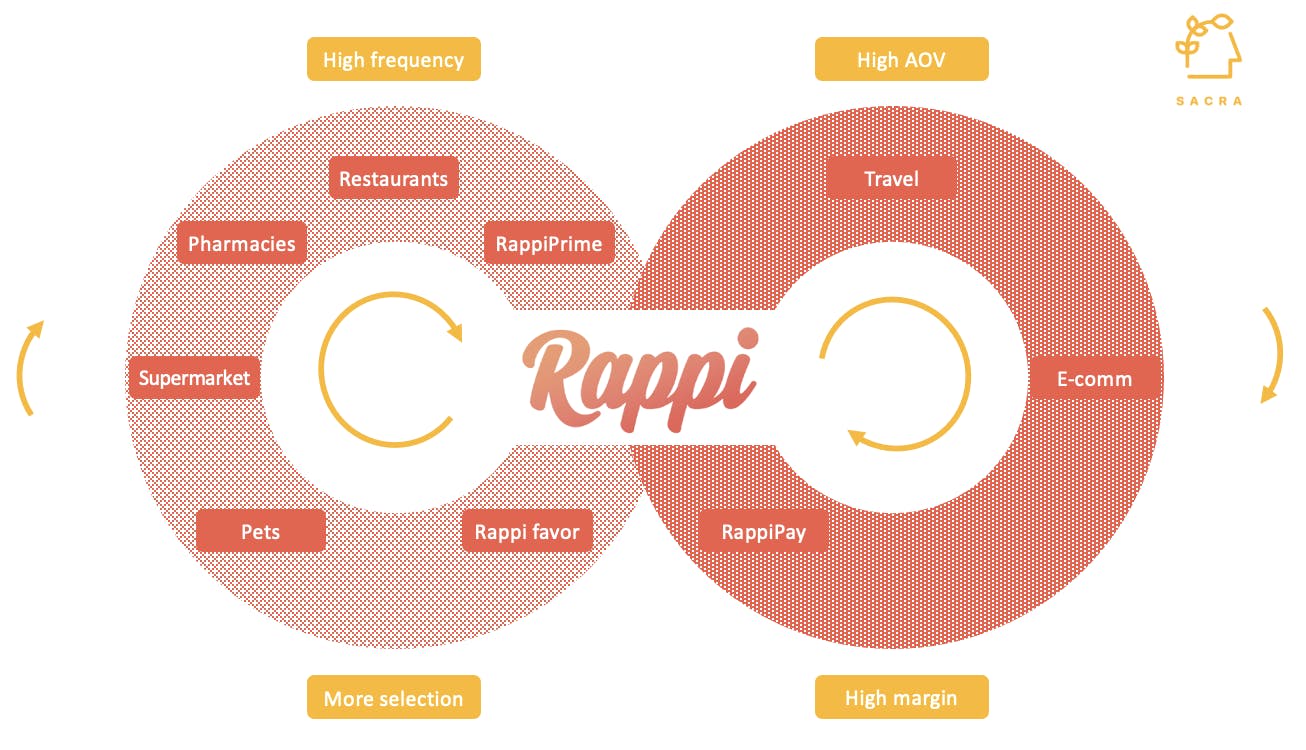 The most important levers for improving Rappi's margins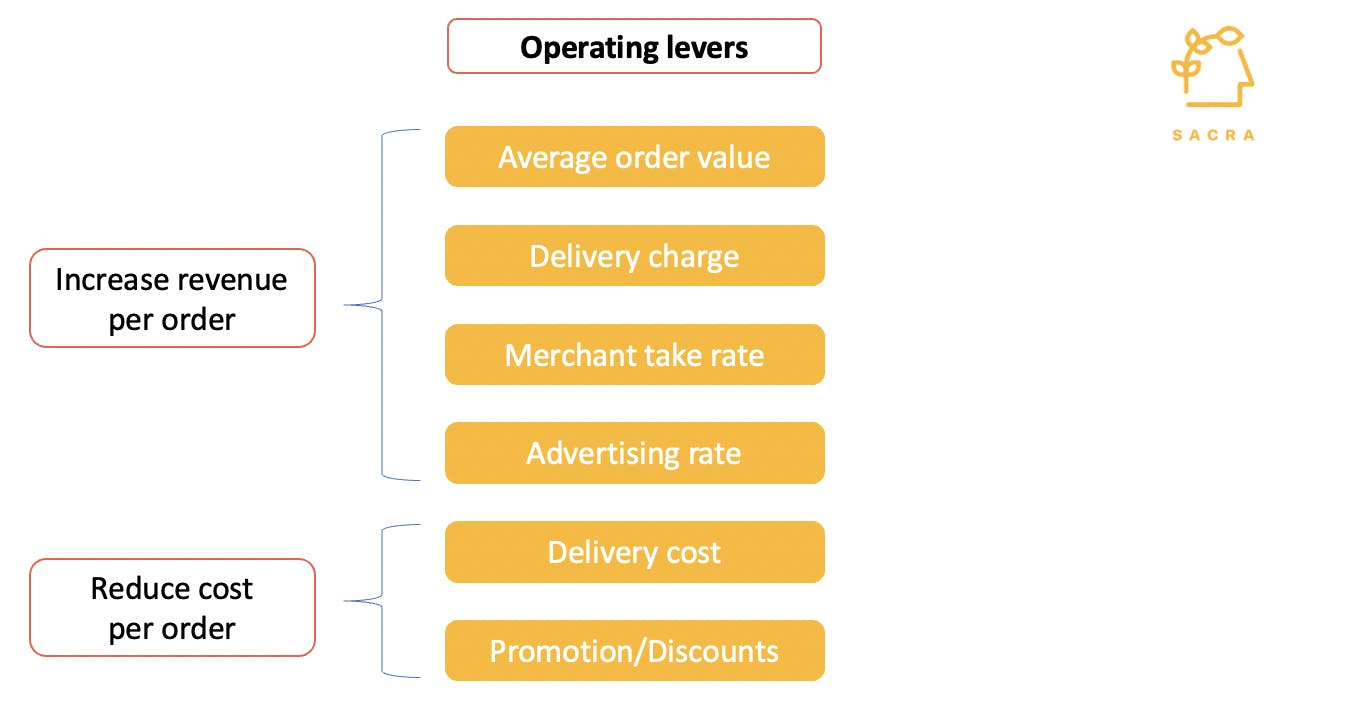 Why Rappi is building out 300+ dark kitchens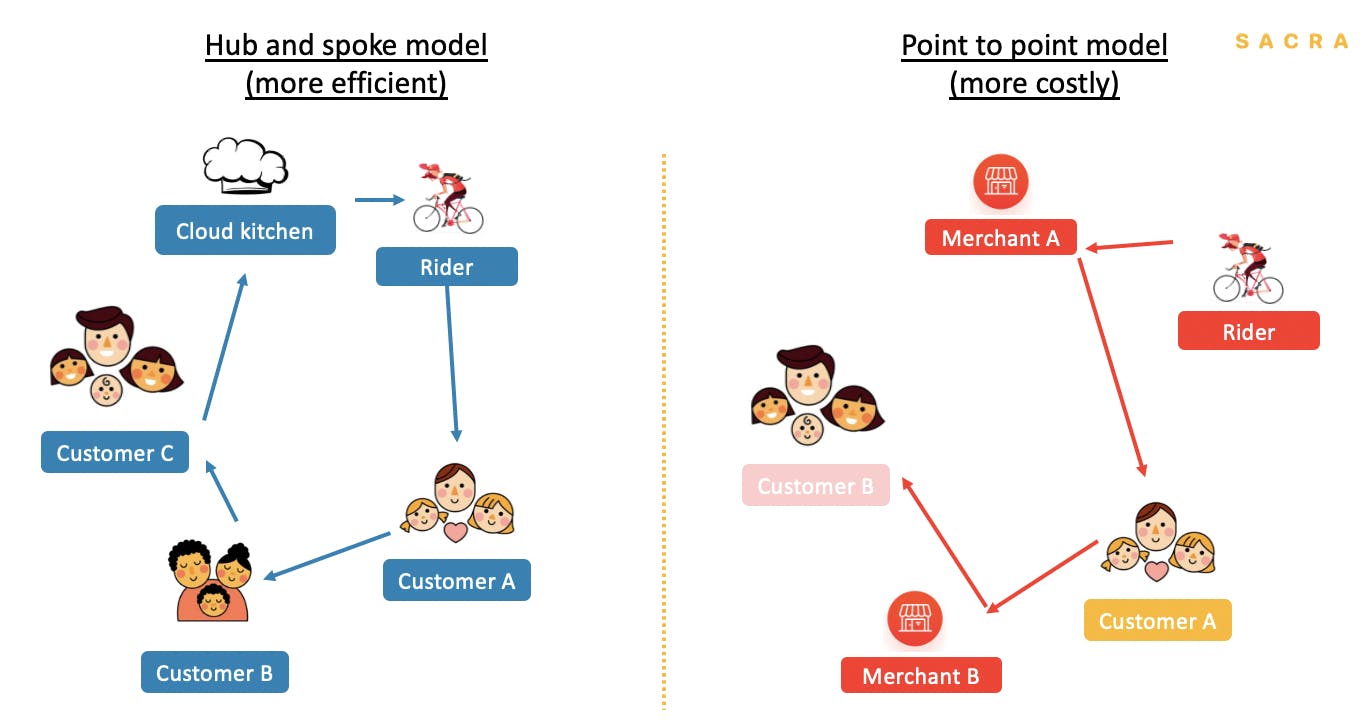 How being hyper-local is Rappi's edge
Why fintech is a key business for Rappi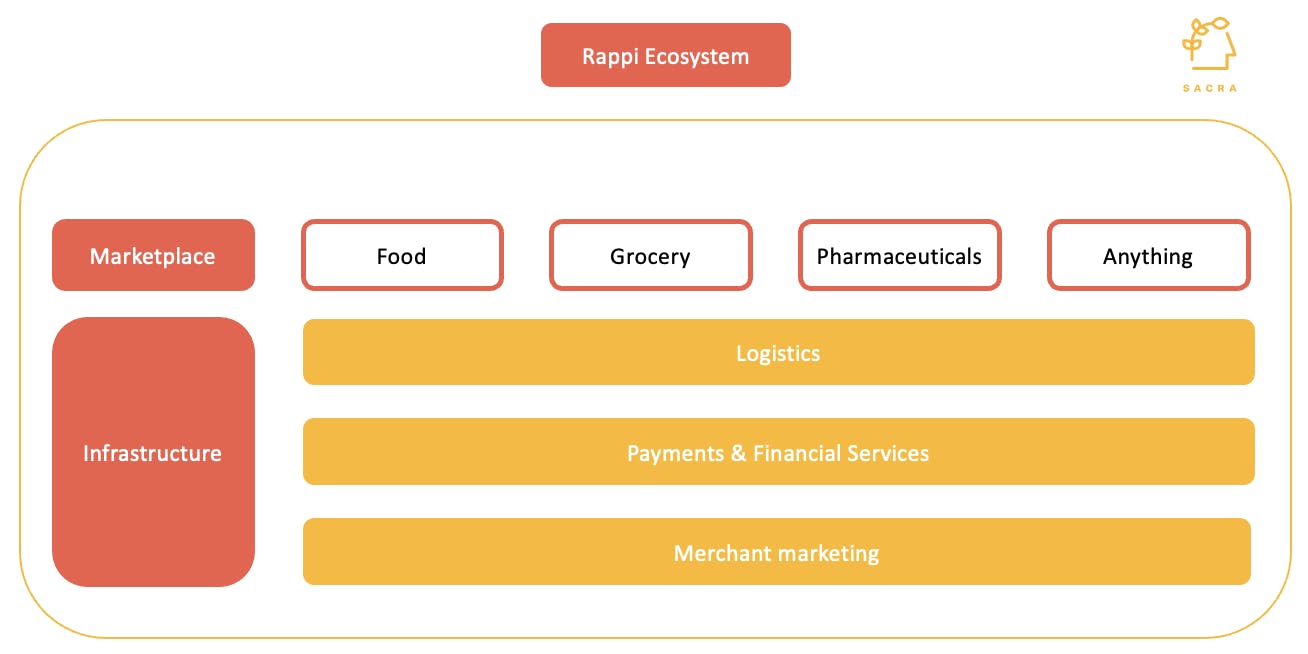 Empowering hyper-local teams 

Disclaimers
Sacra has not received compensation from the company that is the subject of the research report.
Sacra generally does not take steps to independently verify the accuracy or completeness of this information, other than by speaking with representatives of the company when possible.
This report contains forward-looking statements regarding the companies reviewed as part of this report that are based on beliefs and assumptions and on information currently available to us during the preparation of this report. In some cases, you can identify forward-looking statements by the following words: "will," "expect," "would," "intend," "believe," or other comparable terminology. Forward-looking statements in this document include, but are not limited to, statements about future financial performance, business plans, market opportunities and beliefs and company objectives for future operations. These statements involve risks, uncertainties, assumptions and other factors that may cause actual results or performance to be materially different. We cannot assure you that any forward-looking statements contained in this report will prove to be accurate. These forward-looking statements speak only as of the date hereof. We disclaim any obligation to update these forward-looking statements.
This report contains revenue and valuation models regarding the companies reviewed as part of this report that are based on beliefs and assumptions on information currently available to us during the preparation of this report. These models may take into account a number of factors including, but not limited to, any one or more of the following: (i) general interest rate and market conditions; (ii) macroeconomic and/or deal-specific credit fundamentals; (iii) valuations of other financial instruments which may be comparable in terms of rating, structure, maturity and/or covenant protection; (iv) investor opinions about the respective deal parties; (v) size of the transaction; (vi) cash flow projections, which in turn are based on assumptions about certain parameters that include, but are not limited to, default, recovery, prepayment and reinvestment rates; (vii) administrator reports, asset manager estimates, broker quotations and/or trustee reports, and (viii) comparable trades, where observable. Sacra's view of these factors and assumptions may differ from other parties, and part of the valuation process may include the use of proprietary models. To the extent permitted by law, Sacra expressly disclaims any responsibility for or liability (including, without limitation liability for any direct, punitive, incidental or consequential loss or damage, any act of negligence or breach of any warranty) relating to (i) the accuracy of any models, market data input into such models or estimates used in deriving the report, (ii) any errors or omissions in computing or disseminating the report, (iii) any changes in market factors or conditions or any circumstances beyond Sacra's control and (iv) any uses to which the report is put.
This research report is not investment advice, and is not a recommendation or suggestion that any person or entity should buy the securities of the company that is the subject of the research report.  Sacra does not provide investment, legal, tax or accounting advice, Sacra is not acting as your investment adviser, and does not express any opinion or recommendation whatsoever as to whether you should buy the securities that are the subject of the report. This research report reflects the views of Sacra, and the report is not tailored to the investment situation or needs of any particular investor or group of investors.  Each investor considering an investment in the company that is the subject of this research report must make its own investment decision.  Sacra is not an investment adviser, and has no fiduciary or other duty to any recipient of the report.  Sacra's sole business is to prepare and sell its research reports. 
Sacra is not registered as an investment adviser, as a broker-dealer, or in any similar capacity with any federal or state regulator.

Read more from
Read more from