Sebastian Mejia, co-founder of Rappi, on building for multi-verticality in on-demand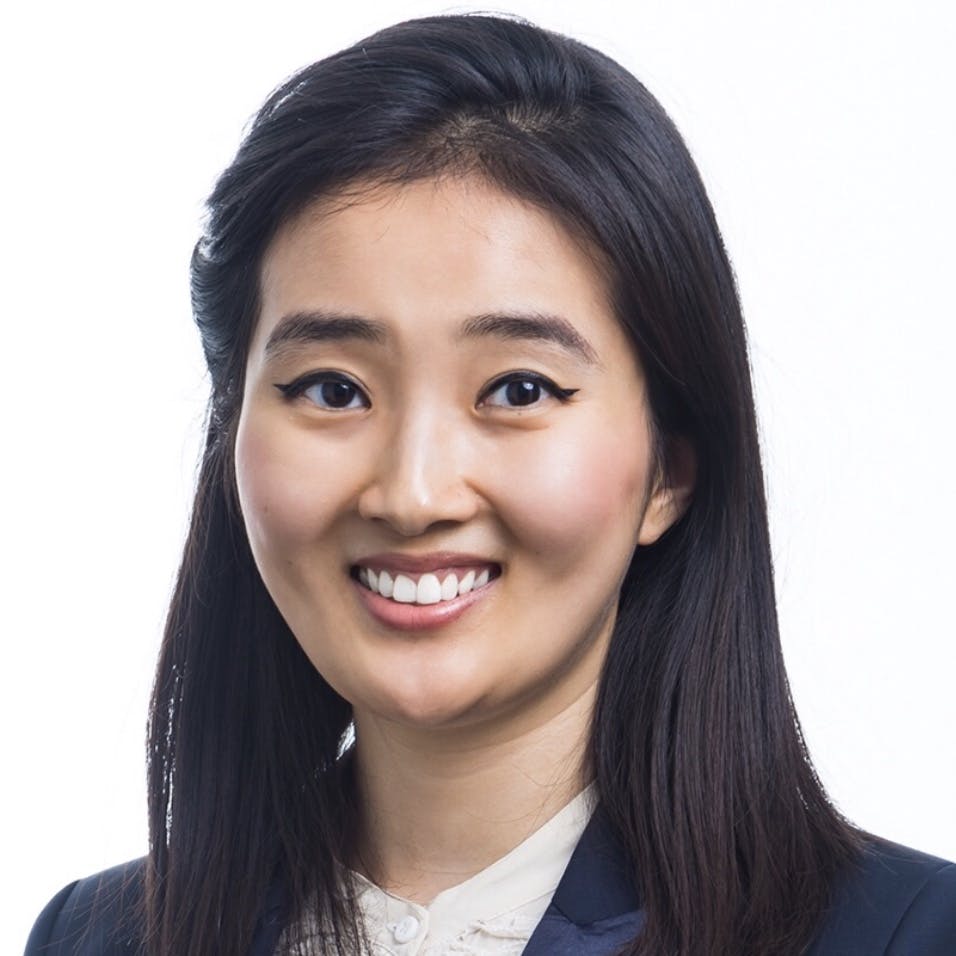 Nan Wang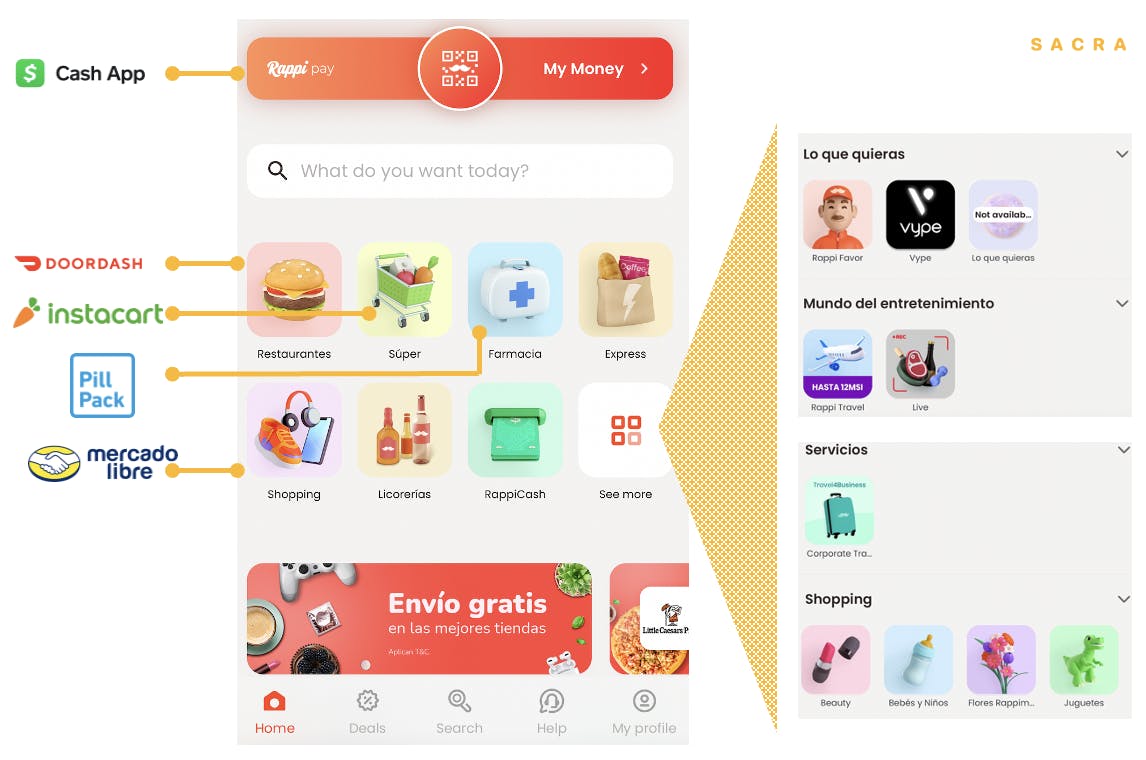 This report contains company financials based on publicly available information and data acquired by Sacra during the preparation of the report. Sacra did not receive any compensation from Rappi for the report. This report is not investment advice or an endorsement of any securities. Read our full disclaimers here.
Winning the on-demand ground war
Join our list for more of our exclusive private markets research and company coverage.
Success!
Something went wrong...
"I think Rappi is the only truly multi-vertical, only truly local company that it's run by founders and a local executive team, which I think, it's a very important aspect in a hyperlocal business like ours." —Sebastian Mejia
Last week, we hosted a call with Sebastian Mejia,  the co-founder and president of Latin American on-demand app Rappi. This follows our report on Rappi from April.
Latin America is a highly competitive space for on-demand, with Uber Eats, Rappi, iFoods and Delivery Hero all battling to win market share. In chatting with Sebastian, we wanted to drill deeper into some of the core questions around Rappi's future in the region and understand the strategies they believe can help them escape this competitive dynamic:
Using new verticals to drive frequency of use: Rappi cohort data shows that purchase frequency increases from an average of 2x/month in year 1 to 6x/month in year 3 and 11x/month in year 5.
Vertical integration to optimize costs and improve unit economics: With 300+ dark kitchens and micro-fulfillment centers, Rappi begins to diversify its logistic model from point to point to hub and spoke
Building a fintech business to facilitate scale: Owning payments improves Rappi's unit economics, helps their banking partners underwrite more risk, and creates another driver for higher frequency of use for consumers.
The fierce competition of on-demand tends to force consolidation and results in the ascendance of 1-2 dominant players per geography. In this chat, Sebastian explains why he believes Rappi will be one of those dominant players in the LatAm region.
Key points
Cross-selling drives a higher frequency of purchase. "The beauty of the model is that we get to see that the spending by cohort over time is better than many of the companies out there. It's driven by the behavior of customers that start using Rappi in one category and then they expand their usage. They become multi-category. They stay in Rappi."
Cloud kitchen and micro fulfillment centers strengthen merchant partnerships and improve delivery efficiency. "We already have customers, a very large convenience category and we have a highly engaged courier base. So for us scaling the micro fulfillment center business and allowing customers to get product delivery in 10 minutes, it's a great way to improve the experience of the customers and it's operationally way better as well, not to mention the margins are very healthy."
Payments and fintech are key complementary businesses to Rappi. Firstly, payments are another driver of frequency of use. Secondly, Rappi helps its banking partners to underwrite risk with more data. Thirdly, owning parts of the payment value chain allows Rappi to reduce its transaction fees, thereby, improve unit economics because savings would drop directly to the bottom line.
Driving the core business vs. experimenting is about balance. "We focus 95% of our resources on driving the flywheel of our business… and there's another 5% of things that are more experimental... . things we think can be an enhancement of the frequency of use and how they use Rappi."
How COVID has affected Rappi's near-term plans 
This transcript is for information purposes only and does not constitute advice of any type or trade recommendation and should not form the basis of any investment decision. Sacra accepts no liability for the transcript or for any errors, omissions or inaccuracies in respect of it. Views expressed in the transcript are those of the experts and they are not endorsed by, nor do they represent the opinion of Sacra. Sacra reserves all copyright, intellectual property rights in the transcript. Any modification, copying, displaying, distributing, transmitting, publishing, licensing, creating derivative works from, or selling any transcript is strictly prohibited.
Sacra: We are going through an incredibly unusual circumstance because of the pandemic, whether it's for Rappi or his peers. Market share gain is colored by this tremendous environment that has accelerated demand.
Would love to hear how Rappi would make decisions in the next 12 to 18 months. We can't extrapolate from the last 12 months, because things are going to change. Which part of Rappi's model can persist and which needs to be adjusted?
Sebastian: COVID really puts stress on the system, stress on people's lives and stress on people's businesses. Rappi was a vehicle that allowed customers to be able to go through the pandemic. It allowed couriers to be able to generate flexible income. It also allowed our business partners to stay in business. It's something that made us proud and something that is very close to our hearts.
The secular trends of the digitalization of commerce were very clear five years ago when we started. It just happened faster.
But I like to think that we're talking about a market that is incredibly under-penetrated from the broader e-commerce perspective, with categories like consumer packaged goods with low single-digit penetration.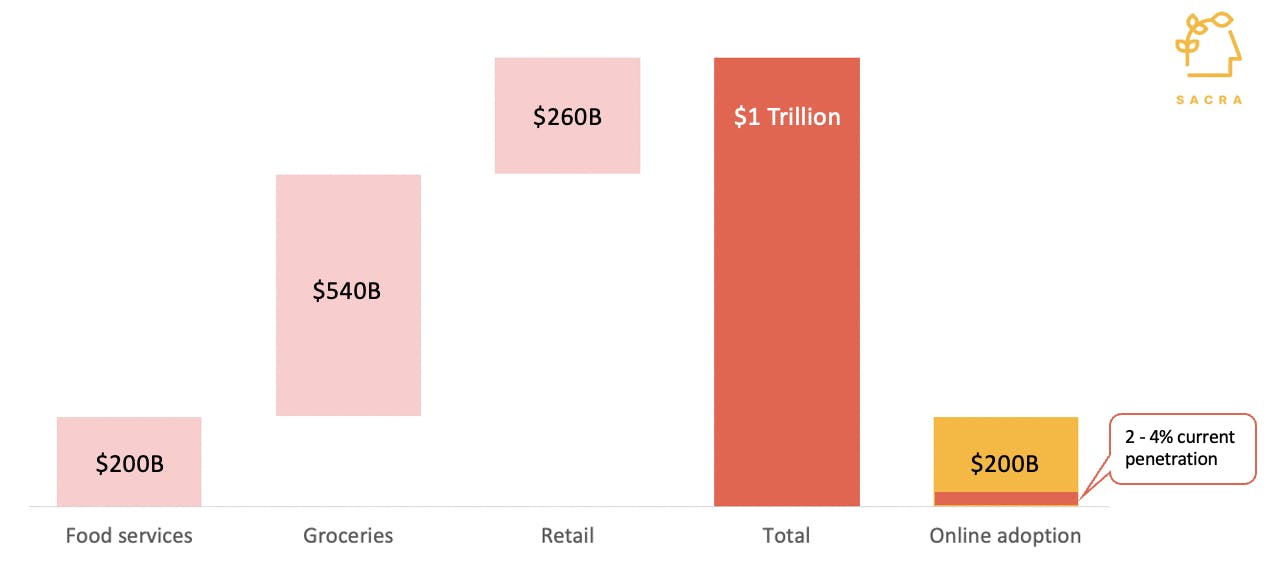 In 2019, CPG, food services and grocery amount to over $1 trillion markets in LatAm. (Source: Euromonitor 2019)
So even though the movie played itself a little bit faster than what would happen if we didn't have the pandemic, I still think we're in the very early days of what's going to happen. 
As we think about the next 12 months, we are very focused on investing, very focused on continuing to grow the business. It probably has given us even more confidence and clarity on what we need to do. But we're not planning to step down or take it slower. 
Why frequency of usage is a key metric for Rappi
There is no secret that on-demand is one of the most competitive markets with thin margins and low loyalty. However, Rappi, being the only multi-vertical, local Latin American company that is run by founders, has seen engagement and frequency of use on its app improving. For example, cohort data shows that monthly purchase frequency increases from an average of 2 times in year 1 to 6 times in year 3, and 11 times in year 5. 
This highlights that once an app has grown to a certain scale, download data no longer reflects its potential. The frequency of use becomes a stronger indicator of the quality of growth. During the call, the word "frequency" came up 16 times. It is apparent that driving frequency and engagement is the north star for Rappi's strategic decisions. 
Sacra: Rappi provides a wide variety of services, would love to hear how you think about new products and categories to add to the platform? What was the sequence? And how did you make those decisions, to move from grocery, food to now e-commerce, pharmacy and travel?
Rappi's evolution is a true representation of the culture of customers in Latin America. We iterate the product by listening to our customers, and we always have a customer-first approach to building the product.
Rappi was initially born as a convenience store on demand. And we had this button that allowed customers to order anything they wanted in a free text form. It still exists.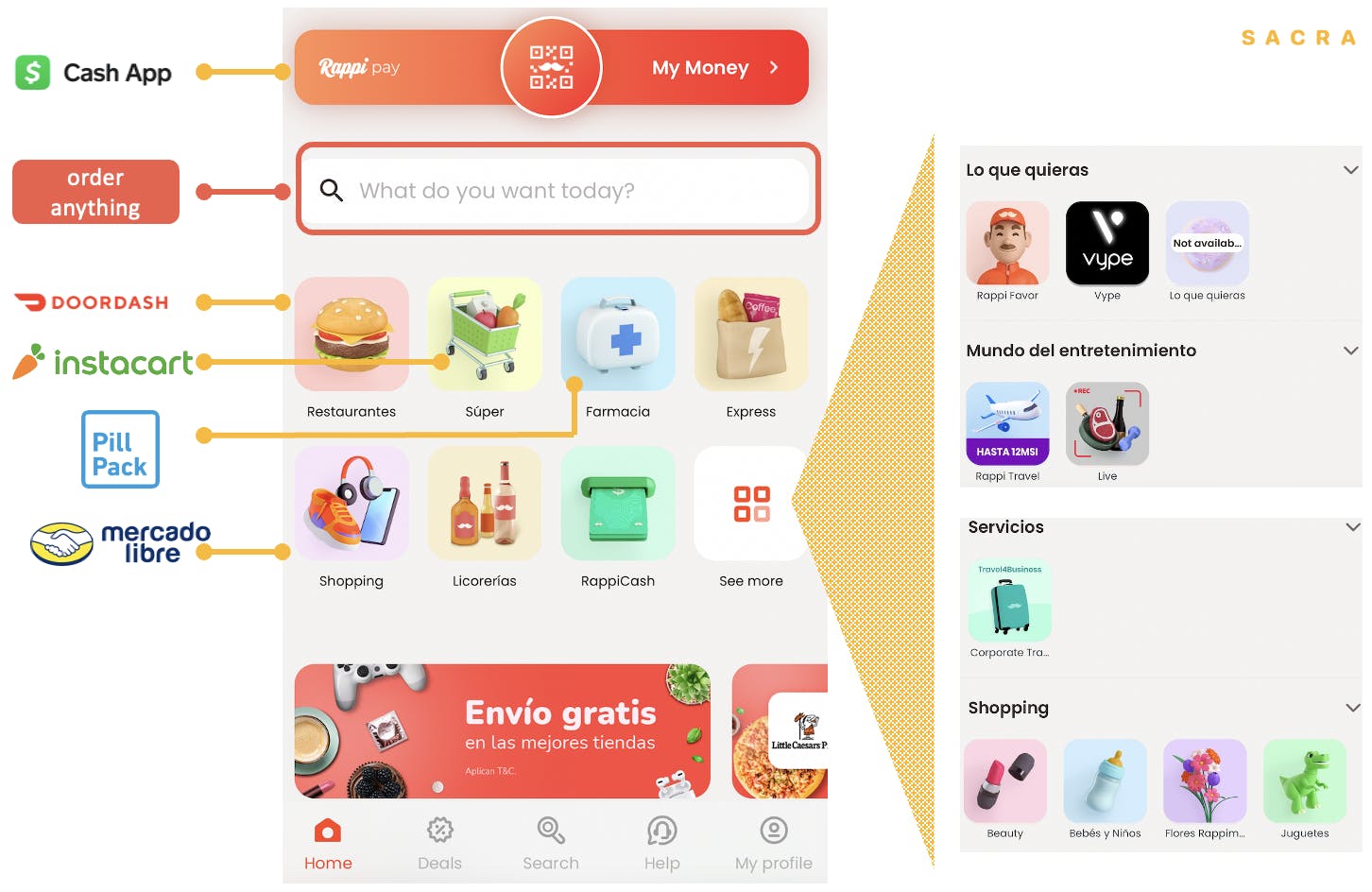 Rappi app home screen with multi-vertical on-demand services, including the original order anything button. 
That button is very important for us because it's a great way of understanding customers' needs. And that's why we started going into multi-categories and giving customers our broader assortment of categories from which they could buy. This happened very early in our life as a company. 
I would say that the tech stack and the operational stack, everything that we build early on is thinking about how to expand the lifetime value of the customers, how to bring a customer, increase their frequency and basically allow them to stay in our ecosystem. 
It was us listening to customers and taking our first-principles approach of designing a product based on customer needs. We learned that is a superior business model because you can have this expansion of perpetual lifetime value, you can have a really interesting value proposition for years and make them more productive. It's complex. But I think it's clear that when we look at the numbers, it's a superior model.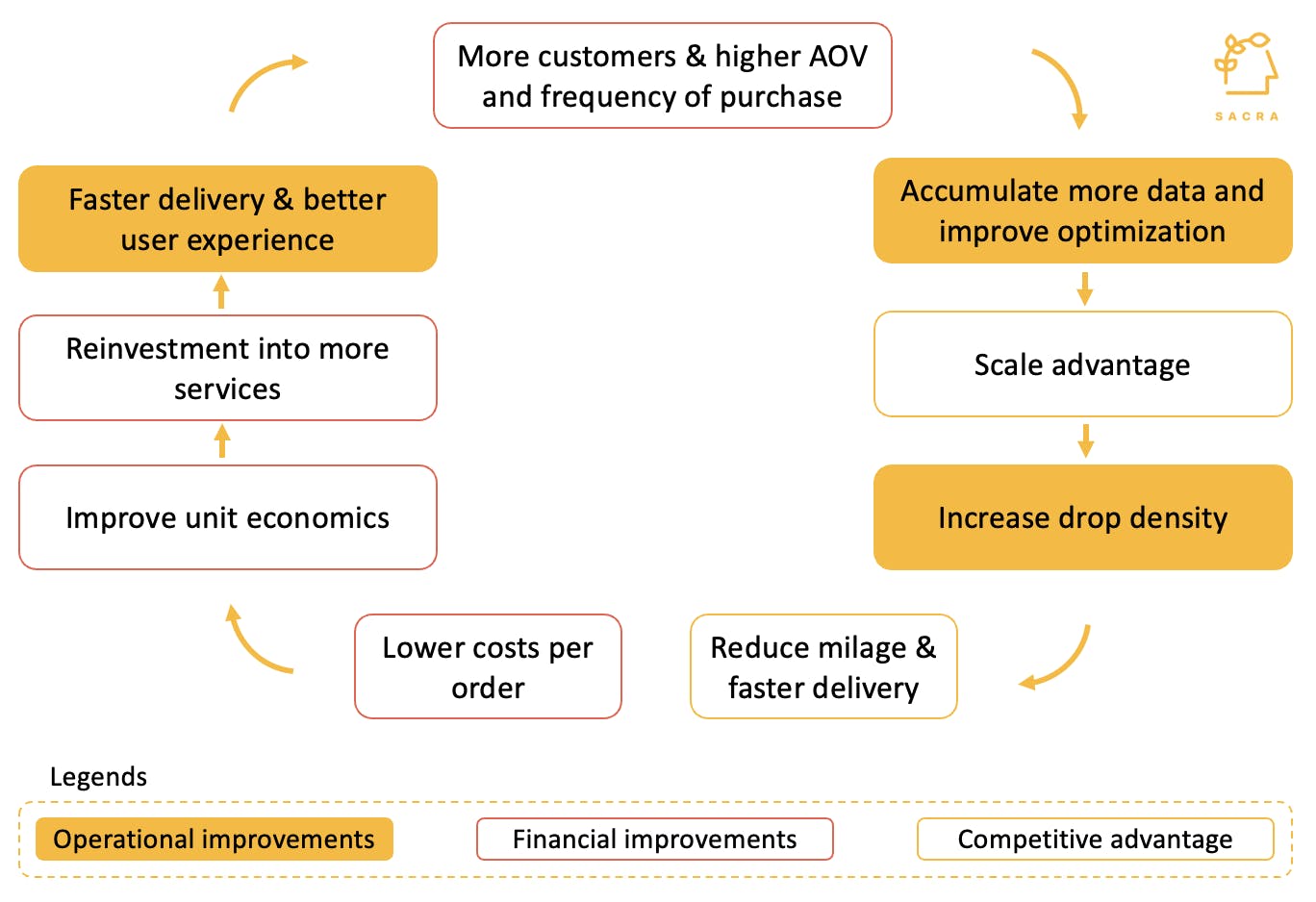 By establishing an ecosystem strategy, Rappi cultivates a positive feedback loop of more customers, more use cases, more verticals, more frequency of use and a more efficient delivery network.
So every time we think about new things, we focus 95% of our resources on driving that flywheel of our business, that's where we put our energy and resources. And there's another 5% of things that are more experimental, there are things that we like to launch, to experiment things we think that can be an enhancement of the frequency of use. We're going to start going into those categories but only if we can first test them and try them in a very efficient and cost-effective way.
The beauty of the model is that we get to see that the spending by cohort over time is better than many of the companies out there. It's driven by the behavior of customers that start using Rappi in one category and then they expand their usage. They become multi-categories. They stay in Rappi.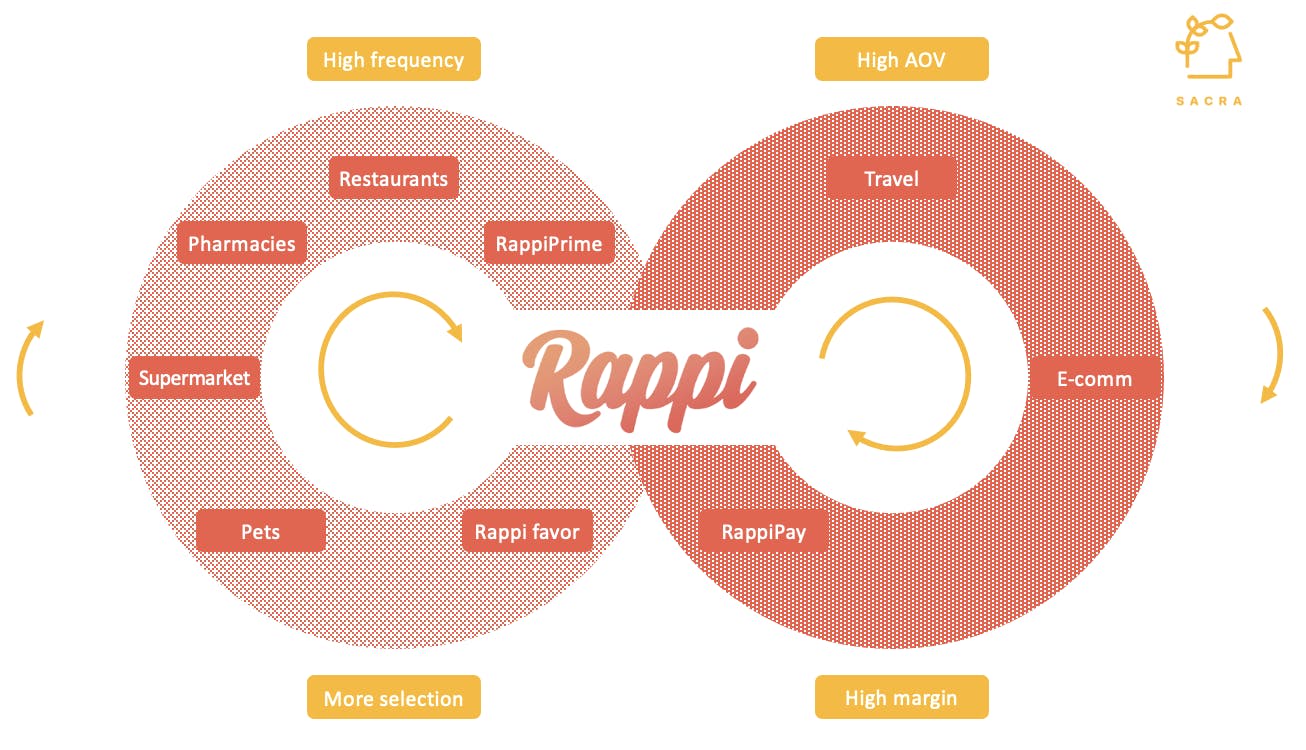 An ecosystem strategy enables a higher frequency of usage and higher lifetime value. 
And I think that opportunities are pretty much unique to the emerging world. Probably a longer conversation but I think it's connected with the fact that you're attracting customers from the offline world to mobile instead of the browser. I think that's why you get to see these models in Latin America. Perhaps not in Europe or the US. Another conversation, but that's how we think about it.
The most important levers for improving Rappi's margins
Sacra: There are many operating levers in Rappi's business. For better margins, what factors do you think are most important?
We've always been a hyper-growth company. In the last three years, Rappi has grown 2,300%. We've also been able to scale while maintaining healthy unit economics and a very good contribution margin.
That gets better as Rappi becomes more mature, with more scale in the cities we operate. It's very clear to us that these are scale effect businesses.
But in order to get to that scale, you need to be able to do it with good healthy unit economics underlying the business.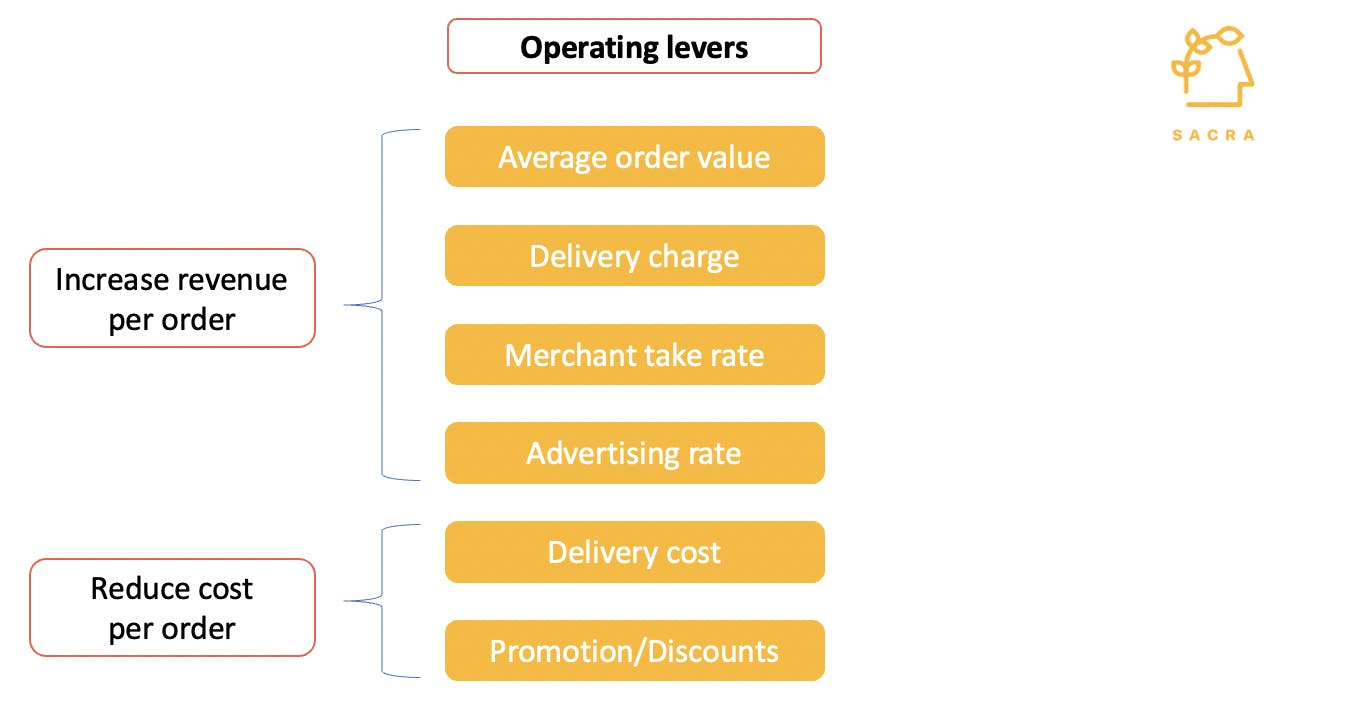 Multiple operating levers Rappi can pull to improve unit economics.
It is a low-margin business, so you gotta act like a low-margin business. There's a lot of levers that we move constantly. We do that by having a great team using data science to make better decisions. At its core, it is this idea of being a multi-category product that has healthy average order values and healthy delivery costs, while making the core engine more productive. We also have other high margin revenues, like financial services and advertising. 
That's really where you can build long-term and achieve margins that are probably similar to where Amazon is than traditional food delivery companies. And that's how we think about it in the long term. 
Why Rappi is building out 300+ dark kitchens
Sacra: Rappi is building out first-party cloud kitchens. Do you see this as a key initiative going forward, i.e. to be more vertically integrated?
We started building our kitchens as a way not for us to build our own digital brands. But we wanted to give tools for the entrepreneurs and the restaurant owners to use to expand their businesses.
We get to see very clearly which brands have the most traction and what would happen if they had access to more infrastructure and capital to expand in a capital-light way. All of our 300 dark kitchens are operated and run by our existing restaurant partners that use them as a part of their partnership with Rappi.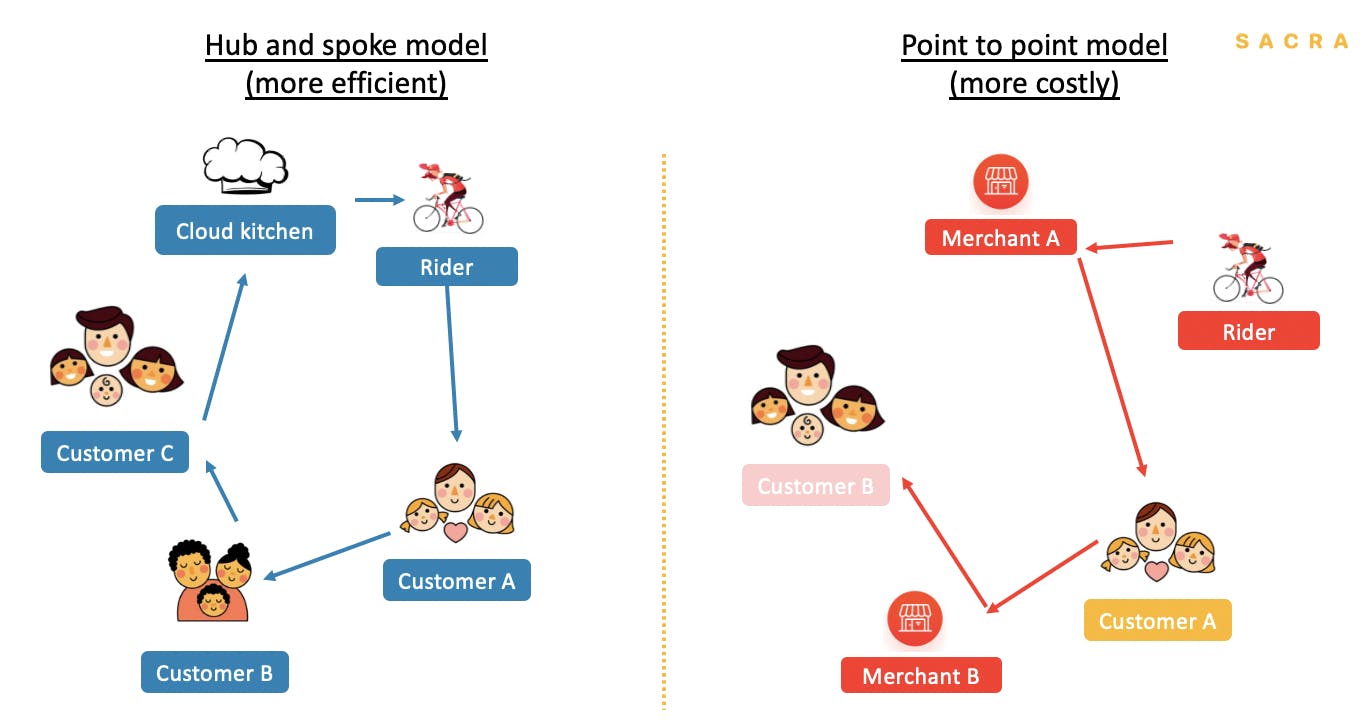 Cloud kitchen changes the underlying logistics operation from a point-to-point model to a more efficient hub-and-spoke model. Couriers would be able to stack orders and deliver them in the same routes. 
We like them because they help our partners. We also like them because operationally is quite interesting in the ways you can prepare, package and deliver food.
There are a lot of improvements when you think about integrating vertically. For example, if you look at the consumer-packaged goods category, we are offering customers a 10-minute delivery model, that in our view, is not only a great experience, but Rappi is in a position to do it better than many.
The reason is that we already have customers, a very large convenience category and we have a highly engaged courier base. So for us scaling the micro fulfillment center business and allowing customers to get product delivery in 10 minutes, it's a great way to improve the experience of the customers and it's operationally way better as well, not to mention the margins are very healthy. 
How being hyper-local is Rappi's edge
Sacra: Shifting gears to the overall market, the on-demand market is one of the most competitive sectors in the world. Can you share with us any changes in the competitive landscape recently?
There are many companies that have left Latin America over the last couple of years. And Rappi is going to maintain its scores. We're going to continue to invest very aggressively and focused on the long term.
I think Rappi is the only truly multi-vertical, only truly local company that it's run by founders and a local executive team, which I think, it's a very important aspect in a hyperlocal business like ours.
And we also think that the multi-category behavior of the customers is a better product, and it's a better business model. So we are competitively aware but very, very focused on our customers and our own strategy. 
We think that the market is still extremely early. With those ingredients, which are the team, the product, ambition and the right amount of capital to be deployed, there's space here to build a very, very large business. 
If we understand that Latin America has the same GDP per capita and half of the population of China, then why not try to build I like the title of your published report, which is Meituan, a company that we admire a lot in this part of the world. That's the approach that we take and we keep on scaling in spite of what other companies do. 
Why fintech is a key business for Rappi
Audience: Which financial services is Rappi entering into and what are the main challenges and opportunities? 
We already launched credit and debit card services to our customers. And I think every commerce company needs to understand the fintech component of its business.
In our case, the idea was to have a financial product for customers to increase the frequency of use. So when you use a Rappi card, the product sits inside Rappi. So you have more frequency of use, you can transact, but you can also check your statements and have more of a banking experience.
We also thought it was really important to push even more the flywheel by giving incentives, cash backs and loyalty points that are very generous if you spend them inside Rappi. So that is an additional glue to drive the multi-category behavior and the retention, engagement of the customers.
We did it in partnership with Visa. We did a partnership with local banking institutions too. The product is scaling extremely well. We should see a significant number of users that bank with us. The margins are very interesting.
For us, we are a low-margin business. But you should also think about having other higher-margin categories. And I think that's where this business is really thriving at scale. That's the other rationale of why we went in this direction.
Audience: So I understand that you're dealing with banks locally in Mexico, Peru, Colombia and Chile. Do you expect to start doing credit? If so, how are you going to do your own credit analysis? 
The underwriting is done by a partner bank. But the real magic here is in the fact that we are highly multi-category. So for us, understanding the customers and build credit models based on that high frequency of use, is proven to be a very good tool. 
It allows our partnered banks to give credit to customers in a much more efficient way. So we're already doing credit, and we're already deploying credit cards as we speak. So the product is already out in the market, and we're getting to see that the way they use employment and customer behavior data to provide credit scoring is superior to what the traditional banks were doing.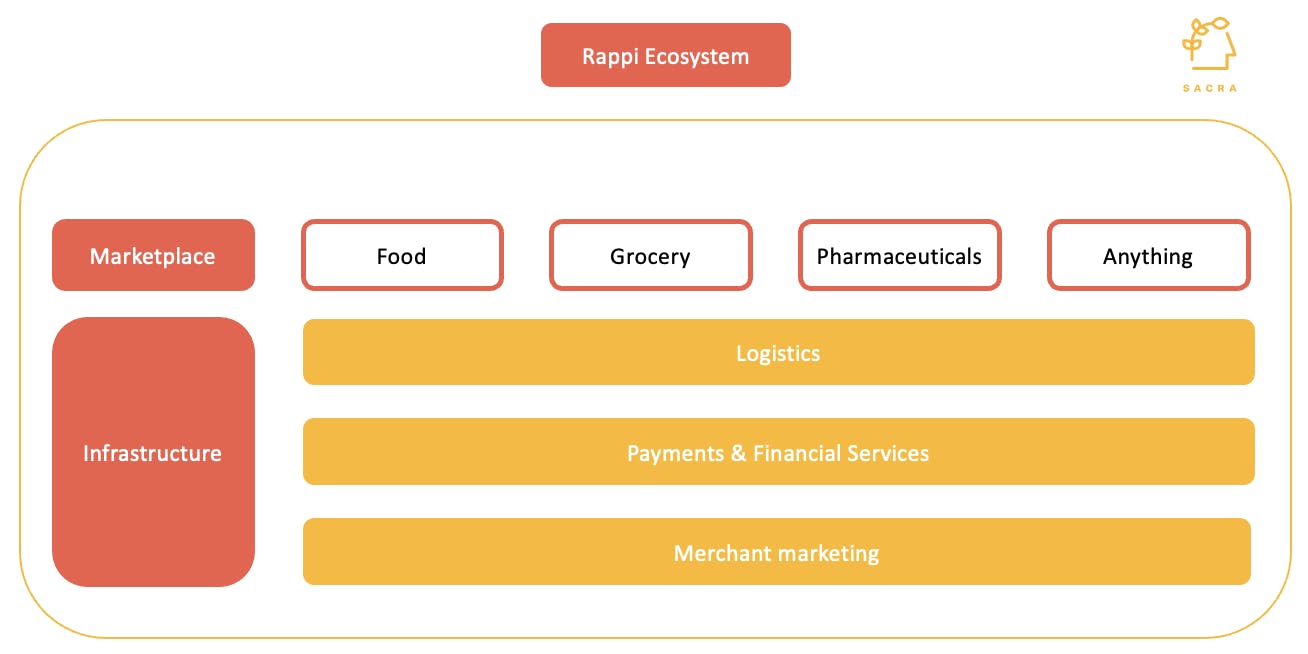 Rappi adopts an ecosystem strategy of marketplace, logistics and payments infrastructure.
We think the financial division is a core business to us. It's an additional driver of frequency and engagement. Both products (in Rappi Pay and on-demand) are very connected, and they both live inside the same app. So we think of them as a key part of improving the lifetime value of the customers over time. That's how we think about running those two businesses. 
I'll give you another example of credit cards when they're using inside Rappi, we are also able to get better transaction fees. We can improve a part of our unit economics. And that goes directly to our bottom line. 
So that's why I was saying at the beginning that commerce companies need to understand what's happening in fintech and should have a leg there in fintech and payments. So that's the rationale. And we see them as something very close to both of our businesses and core to our main strategy. 
Empowering hyper-local teams 
Audience: You mentioned the concept of hyper-local teams. I wonder how you integrate or enable them to execute together with the overall Rappi vision? And how does the decision-making process work in this regard?
We've spent quite some time thinking about it. In a nutshell, how do you drive empowerment to the local teams, with as much autonomy as possible for them to move fast and make decisions fast? How do you blend that with a highly entrepreneurial culture?
Rappi is a company where people move really fast, people have the ability to try things, make mistakes and make decisions. The way we ship products is also always optimized for velocity. 

Rappi empowers hyper-local teams to move fast and execute with technology, data, capital and support from the executive team.
What we also give those local teams is more central resources that are focused on building capabilities, building technology, building data science, building products for the local teams to use and operate in a better way. You're always balancing both sides of the table, the central brain and the local teams who are not only intrapreneurs but are also actually local.  
You can think about Latin America as a unified market, but each city has its own nuances. It's very important to understand and to be able to go deep to ensure that we have the right strategy for that region. 
The executive team also thinks a lot about the allocation of resources and allocation of capital. What are the returns of certain initiatives? For all of this to work, you need an incredible team and a team that is mission-driven, understands the purpose and is willing to work long hours, by operating very hard week after week hitting targets. That's also how we optimize for the people who come to Rappi, that's a must. 
Audience: In terms of deploying your strategy and making sure that it reaches these corners, how do you accomplish getting your vision out to all these teams? 
I remember, a mentor of mine used to tell me that in order to scale you need to simplify. I think there's a lot of wisdom there because you need to be able to give a lot of clarity on what the company is doing. What is the vision? What is the strategy? What are the priorities? What are we not going to do?
With that strategy, we make sure that it's complemented with bottoms-up plans, both for the central teams and the local teams. So that's really how you get the more strategic view with an attention to detail and going deep. 
This business is operationally intensive. It's just a lot of follow-throughs and consistency in tracking the same numbers and hit the same metrics week after week. So that's how you make it happen.
Disclaimers
Sacra has not received compensation from the company that is the subject of the research report.
Sacra generally does not take steps to independently verify the accuracy or completeness of this information, other than by speaking with representatives of the company when possible.
This report contains forward-looking statements regarding the companies reviewed as part of this report that are based on beliefs and assumptions and on information currently available to us during the preparation of this report. In some cases, you can identify forward-looking statements by the following words: "will," "expect," "would," "intend," "believe," or other comparable terminology. Forward-looking statements in this document include, but are not limited to, statements about future financial performance, business plans, market opportunities and beliefs and company objectives for future operations. These statements involve risks, uncertainties, assumptions and other factors that may cause actual results or performance to be materially different. We cannot assure you that any forward-looking statements contained in this report will prove to be accurate. These forward-looking statements speak only as of the date hereof. We disclaim any obligation to update these forward-looking statements.
This report contains revenue and valuation models regarding the companies reviewed as part of this report that are based on beliefs and assumptions on information currently available to us during the preparation of this report. These models may take into account a number of factors including, but not limited to, any one or more of the following: (i) general interest rate and market conditions; (ii) macroeconomic and/or deal-specific credit fundamentals; (iii) valuations of other financial instruments which may be comparable in terms of rating, structure, maturity and/or covenant protection; (iv) investor opinions about the respective deal parties; (v) size of the transaction; (vi) cash flow projections, which in turn are based on assumptions about certain parameters that include, but are not limited to, default, recovery, prepayment and reinvestment rates; (vii) administrator reports, asset manager estimates, broker quotations and/or trustee reports, and (viii) comparable trades, where observable. Sacra's view of these factors and assumptions may differ from other parties, and part of the valuation process may include the use of proprietary models. To the extent permitted by law, Sacra expressly disclaims any responsibility for or liability (including, without limitation liability for any direct, punitive, incidental or consequential loss or damage, any act of negligence or breach of any warranty) relating to (i) the accuracy of any models, market data input into such models or estimates used in deriving the report, (ii) any errors or omissions in computing or disseminating the report, (iii) any changes in market factors or conditions or any circumstances beyond Sacra's control and (iv) any uses to which the report is put.
This research report is not investment advice, and is not a recommendation or suggestion that any person or entity should buy the securities of the company that is the subject of the research report.  Sacra does not provide investment, legal, tax or accounting advice, Sacra is not acting as your investment adviser, and does not express any opinion or recommendation whatsoever as to whether you should buy the securities that are the subject of the report. This research report reflects the views of Sacra, and the report is not tailored to the investment situation or needs of any particular investor or group of investors.  Each investor considering an investment in the company that is the subject of this research report must make its own investment decision.  Sacra is not an investment adviser, and has no fiduciary or other duty to any recipient of the report.  Sacra's sole business is to prepare and sell its research reports. 
Sacra is not registered as an investment adviser, as a broker-dealer, or in any similar capacity with any federal or state regulator.

Read more from
Read more from