Neal Jean, CEO of Beacons, on building vertical SaaS for creators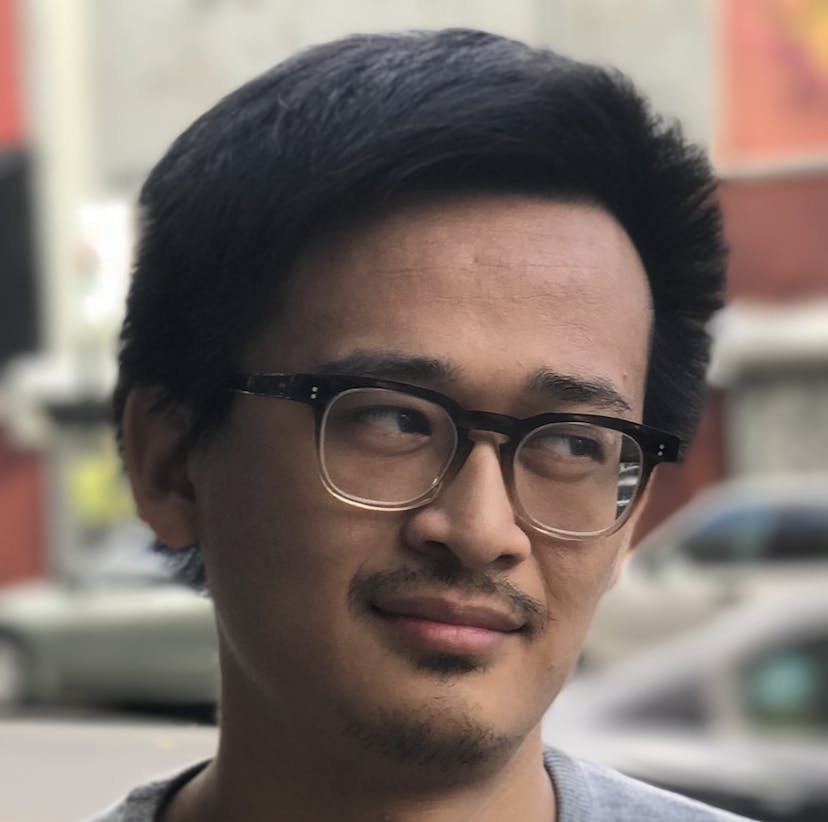 Walter Chen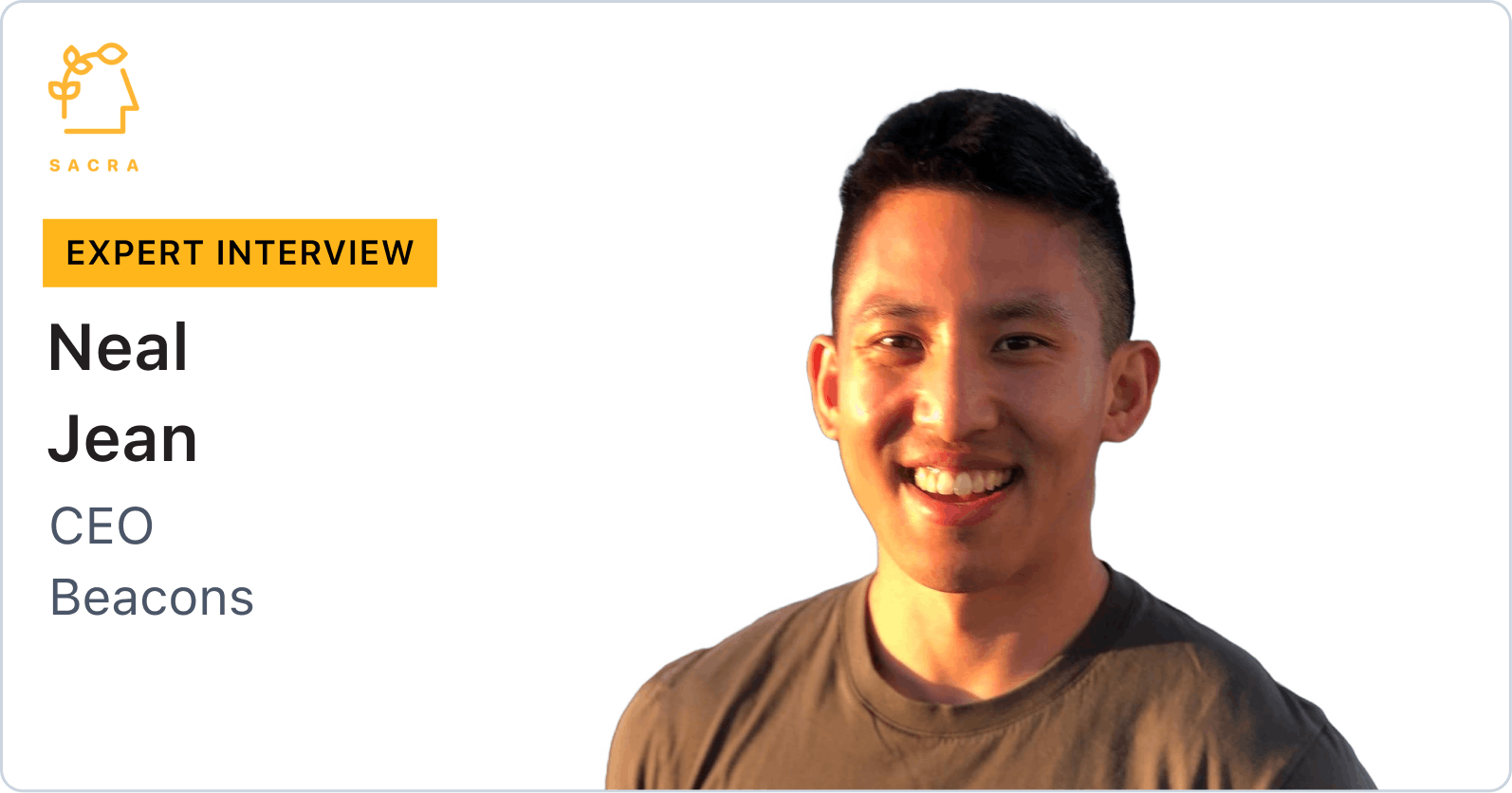 Background
Neal Jean is the CEO and co-founder of Beacons. We talked to Neal because link-in-bio companies like Beacons are at the center of two big trends: 1) the growing need for creators to not just grow but monetize their traffic, and 2) the increased desire for creators to own their audience instead of rent it from Instagram/TikTok/YouTube.
Questions
Interview
When we first covered Beacons in early 2021, link-in-bio focused on routing traffic. Now the focus seems to have shifted to helping creators monetize traffic. Is that accurate and how have you seen the space evolve over the last 2 years?
If we're just talking about traffic, the next step after routing is probably monetization. Many link-in-bio companies do seem to be going in this direction, which is definitely more valuable for creators than just routing traffic.
We've expanded our aperture to be a little wider — not just routing and monetizing traffic, but helping creators build their business in general, where traffic is just one of the components. We're building a suite of tools to help creators run every part of their business from invoicing brands after a brand deal to emailing their fans to managing their taxes.
Can you talk about link-in-bio as critical marketing infrastructure for OnlyFans creators? What can link-in-bio companies do to help OnlyFans creators do to monetize better without crossing the line and getting blocked?
We aren't focused on OF creators but of course OF creators are a part of the creator economy, and some are Beacons users.
In general, we have found that working collaboratively with the content platforms is helpful (with regards to monetizing better without crossing the line). Additionally, OF creators can consider being intentional around who they market to and how they market, gating certain pieces of content, and providing sensitive content labels. 
Can you talk about what SKUs creators make money on besides OnlyFans—e.g. swag, ads, paid newsletters, courses, downloadable resources, affiliate—and give us a sense of the relative sizing of each one? How does link-in-bio help monetize these other SKUs better?
Creators monetize in very different ways depending on what kind of content they make and on what platform, so it varies a lot. In addition to those direct monetization options, many creators monetize primarily through brand deals.
With link-in-bio, we make it easy for creators to generate awareness for what they're selling, and give them the tools to set up their stores and start selling quickly and easily.
Indexing on the upside of successful brands to grow ARPU is a big part of why Shopify's been successful. Beacons's top paid plan is $10/mo vs. Linktree's $24/mo premium plan. How's your progress been on driving ARPU, and are you able to index on the upside of successful creator businesses?
Eventually we definitely want to drive ARPU and be able to grow with our most successful creators, but we're still very early. We're mostly focused on creating additional value for our users today, and are building new products to help creators get more out of both our free and paid offerings.
When we first covered Beacons, revenue churn was relatively high at 16-18% monthly. High churn is OK for a company like Shopify if you also have a high velocity of signups and also reactivations—to what degree have you seen that kind of dynamic play out for Beacons?
Users in each cohort generally churn at higher rates in the first couple months, so we've naturally seen our overall churn come down over time as expected. Implementing annual plans also helped to reduce churn, but we mostly focus on providing more value through our product since helping creators succeed is what will really determine long-term retention.
What do the most successful creator businesses look like? Are you seeing them start to transition onto more "SMB" tool stacks or are they still on the creator tool stack? What are other breakpoints you're seeing, if any, in terms of the tooling that creators use?
Creator businesses are incredibly diverse so it's difficult to generalize what success looks like. The main challenges creators experience with creator tools are: a) finding it hard to stitch many different tools together to get their business to work and b) doing everything manually (which is quite frustrating). 
Creators are largely still on the creator tool stack. Existing SMB software stacks are often too hard to adopt and too heavy duty for creator needs. However, as creators grow and typically when they get to a point of needing a small team to support their business, they resemble traditional SMBs more and then have the resources and team to set up and use those SMB tool stacks.
Providing folks with a CRM so they can see and act on their audience is a big part of building vertical SaaS. If the traffic to a link-in-bio page is anonymous, how does that turn into an identity living in a user's CRM that they can then use to own their own audience?
We are already de-anonymizing traffic for creators through helping them collect data on their audience with our link-in-bio product, and we'll continue to invest in this area. We're working on an email marketing tool that will help creators engage with and monetize the portion of their traffic that they've turned into known fans.
OnlyFans creators can add multiple links to their bio but they can't see their fans' real names or email addresses. How do you think about helping creators with OnlyFans as their primary method of monetization build an audience they can own?
I actually didn't know that about OnlyFans—we're not building for that specific use case, but the tools that we're building should be helpful for creators in any vertical who want to build and own more of a direct relationship with their audience. 
There's a lot of "link-in-bio" companies now— Linktree, Beacons, Linkfire, Linkin.bio, Smart.bio, Koji, Snipfeed, LTX.bio, Taplink—how do these companies think about differentiation and winning a slice of the market?
Companies primarily differentiate and win different slices of the market based on the features within link-in-bio they offer their creators and the types of creators they target.
As mentioned, creators are all quite different, so there's room to focus on a particular type of user and serve their needs in a differentiated way. For example, Linkfire is focused on music creators and has built tons of features specific to them, such as detailed Apple Music attribution, the ability to pre-save music to fan libraries, and country specific tour promotions.
Linktree is likely the biggest company in the link-in-bio space. How do you think about differentiating from Linktree at Beacons?
Linktree's goal is to build the best link-in-bio, while we're focused on solving problems for creators, and helping them build smarter businesses — for us, link-in-bio more of a wedge into a broader suite of products that we want to build for creators.
What is the strategic value of living at the link-in-bio point?
Creators are increasingly multi-platform and multi-SKU, so link-in-bio is a relatively universal need and allows us to address a pretty large part of the market from the beginning. Link-in-bio also lends itself to natural viral growth loops — many creators sign up for a link-in-bio product after seeing another creator using it in their bio. This organic growth benefits our users downstream too, since we're able to keep investing in improving our product instead of spending that money to acquire users.
Earlier this year, HubSpot launched HubSpot Creators, specifically courting podcasters and helping them get distribution and monetize their content. How do you think about CRM companies getting into the creator economy?
Understanding your customers is pretty important for any business, and some version of a CRM should be valuable to creators too. A CRM can help creators truly own their audience independently of the big platforms, and it can help creators identify their most engaged fans and their preferences.
HubSpot has traditionally served SMBs, and while we do see creators as a new class of SMB, they're pretty different in many ways. Creators are operating at the smallest end of the spectrum (often with a team of 1), and unlike a traditional business which usually has a product or service that they're selling, creators are often just beginning to figure out how to monetize. Most creators today know that they should be doing things like collecting emails, but don't really know what to do after that — I think there's going to be a pretty big educational component needed here to help creators adopt more sophisticated tools.
We're seeing platforms offer their own embedded monetization options like Instagram with Instagram Checkout. Can you talk a bit about the monetization potential and relative advantages/disadvantages of these kinds of embedded options vs. monetizing via link-in-bio?
Embedded options definitely offer convenience, but ultimately aren't owned by the creator both in terms of the data they can keep and the nature of the interaction with fans. Moreover, creators are often multi-platform so the embedded options can start to feel like you're setting up and running multiple businesses in parallel.
With link-in-bio, creators can fully customize the experience, own the data and relationships, and see it as an opportunity to get closer to their fans through a channel that they own and control.
Squarespace has recently started rolling out more features, tools and templates designed specifically for creators. What do you think about Squarespace and other full-on website creators getting into the creator economy?
In some ways, link-in-bio is a kind of low-end disruption to traditional website builders like Squarespace. Squarespace is a great website builder, but ultimately it's more complex than what most creators need — this complexity ends up being a bigger barrier for creators than for more traditional users who want to build websites. Many creators are also mobile-first, while Squarespace and other traditional website builders are generally desktop-first experiences.
How do you think about the competitive dynamics between Beacons and companies like Stir building vertical SaaS for creators with a focus on finance and sponsor management?
Up to this point, we haven't thought much about competing with other early stage startups like Stir — the creator economy is still very new, and lots of opportunities are being explored in parallel, and all for the first time. I don't know enough about Stir to know if they're trying to build a vertical SaaS platform for creators, but they're definitely starting from a pretty different initial pain point than we are.
Where do you see link-in-bio companies going from here? Is it more about building simple website creators that can compete with companies like Wix and Squarespace, or about building "vertical SaaS for creators" that can be Shopify-like platforms serving creators?
We're betting on the latter — building vertical SaaS for creators. We think it makes more sense to continue focusing on creators and trying to build more products for them. In doing so, we can provide a better and more convenient product experience through a tightly integrated platform. 
How do you think about the potential competitive dynamics that can emerge as you build more native monetization methods that might compete with companies that you might also partner with—for instance, offering a native, embedded means to take tips when some Beacons users might be using a service like Buy Me A Coffee?
Now that there's lots of companies building for creators, it definitely gets complicated especially as companies expand into new functionality that starts to overlap. One guiding principle for us is that we try to optimize for long-term value creation for the user. Sometimes this means that we'll choose to build functionality ourselves if we think it's important, even if it's costly, and sometimes we choose to partner because we decide not to compete in those areas. And sometimes we do both because we think it's better to give users options (e.g., with donations).
Beacons has an invoicing feature as well as an EWA-like "early pay" feature so creators can get paid earlier for the work they do for brands. What are some of the other big use cases for creators that you see will be important for link-in-bio products to address?
I think it really depends on the company and where they want to focus and try to differentiate, as we talked about earlier. For us, some areas that we think are important include helping creators manage their brand deals and helping them own their audiences through email. With the recent progress in generative AI, it'll also be interesting to keep an eye out for opportunities to help creators with new tools around content creation!
Disclaimers
This transcript is for information purposes only and does not constitute advice of any type or trade recommendation and should not form the basis of any investment decision. Sacra accepts no liability for the transcript or for any errors, omissions or inaccuracies in respect of it. The views of the experts expressed in the transcript are those of the experts and they are not endorsed by, nor do they represent the opinion of Sacra. Sacra reserves all copyright, intellectual property rights in the transcript. Any modification, copying, displaying, distributing, transmitting, publishing, licensing, creating derivative works from, or selling any transcript is strictly prohibited.