Maju Kuruvilla, CEO of Bolt, on the NASCARification of checkout
Featuring
Bolt is a checkout-as-a-service provider for medium to large ecommerce merchants.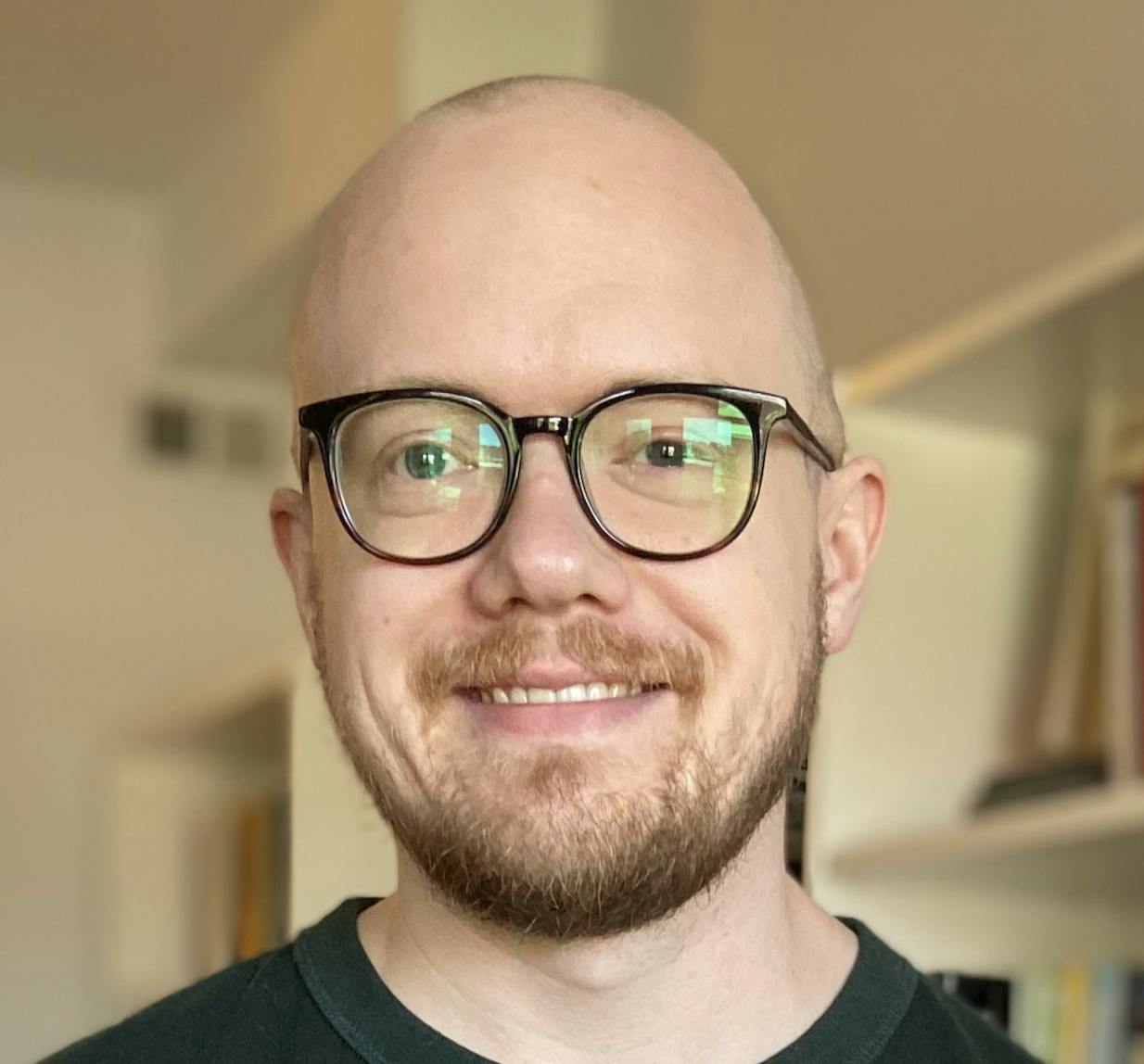 Jan-Erik Asplund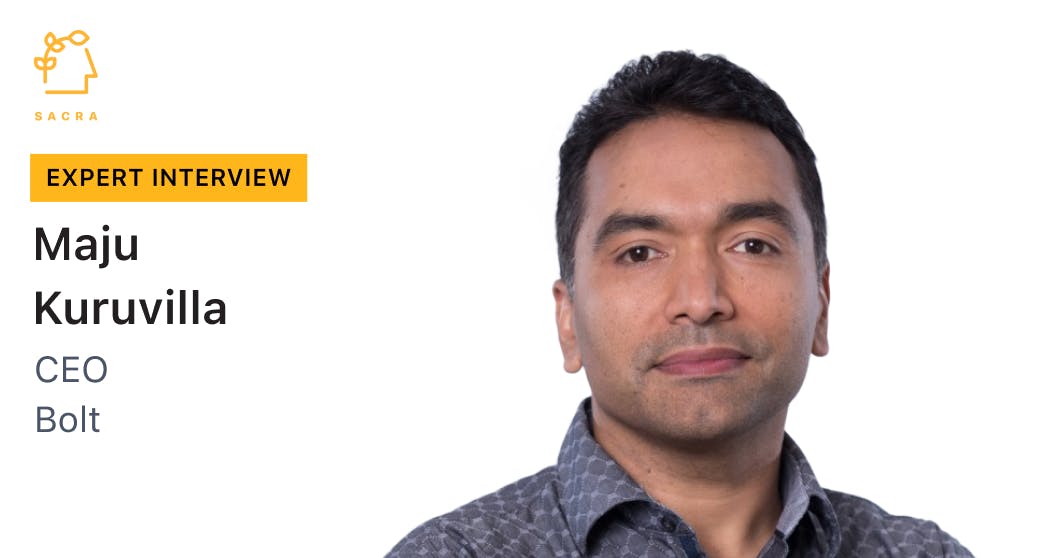 Background
Maju Kuruvilla is the CEO of Bolt. We talked to Maju to learn more about the economics of one-click checkout, other opportunities for building unified identity for shoppers, and Bolt's 5-year vision.
Questions
Interview
Can you map out the ecommerce landscape as you see it, including Amazon, Shopify, headless ecommerce and otherwise, relative sizing, and where Bolt fits?
Ecommerce is an exciting and growing space. It's come a long way. We saw this last year—ecommerce broke more than a trillion dollars in sales for the first time.
If you look at the space, Amazon clearly had a big role. I was there, and I was happy to be part of some of that initial growth and share in that journey with them. Amazon is a very centralized way of driving ecommerce growth that I call "ecommerce 1.0". It's about having one site people can trust—you come in, there's lots of selection, there are good prices, and there's convenience.
Then came Shopify. With Shopify, it's not just one site. Every merchant can create their own site, create their own experience, and have consumers come directly to them—but again, it's all within the ecosystem of Shopify. You can have your own site, but you're limited to the ecosystem of Shopify. I call that "commerce 2.0".
What I'm excited about and what we're driving here at Bolt is "commerce 3.0", which is really a completely decentralized version of commerce where merchants can have their own unique experiences, engage with consumers directly, and build greater lifetime value. What we see in commerce 3.0 is that there are a lot more choices in the market and a lot more competition which will drive innovation. Ultimately, consumers win in this process.
For this 'third wave' of headless ecommerce, with Bolt as the checkout layer, do you see that supplanting and replacing Shopify and Amazon—or do you see it growing in parallel?
I don't see Bolt as a replacement—more as an additional layer. Ecommerce still only represents 15% of overall commerce, indicating that it is still in its early stages. There is a lot of room for growth, and that growth will come from new innovations and new players. 
Buying physically at a store is still a better experience than buying online, which is why during the pandemic, everyone shifted to ecommerce, but once the situation improved, people returned to physical stores. 
The question is: how can we leverage technology and infrastructure to make the online buying experience even better than in-store, or how can we bring both together to create an even better overall experience?
Getting ecommerce from 15% to 50% of overall commerce will require significant innovation, and it would be unfair to assume that all of the necessary retail innovation will come solely from Amazon and Shopify. While they are undoubtedly important and will continue to innovate, there is room for many more players to come in and innovate, as long as they can collaborate and work together.
We are focused on solving one of the most important pieces in ecommerce, which is recognizing and understanding shoppers and providing them with a better buying experience, regardless of where they shop. Our scope is limited, and we aim to excel in that area. I anticipate that many others will work on solving different aspects, and if we can all collaborate, we will see a much brighter future and faster growth for ecommerce.
One-click checkout makes it easier to shop, especially on mobile. What other opportunities are there to build a unified identity for shoppers that they can take across all the merchants that they shop with?
We still have not fully utilized the power of the internet and technology when it comes to shopping.
In a physical store, until you reach the cashier, the store has no real way of knowing who you are. It may be possible with expensive cameras and advanced technologies, but it's not easy. By the time you reach checkout, it's too late for the store to truly know you. It would be great if they could identify you when you enter a store rather than only at the time of checkout.
In ecommerce, there is no excuse for not identifying the shopper when they visit your site because it's not a complex task. You should be able to recognize the shopper when they enter your site, and with that knowledge, you can provide a highly personalized experience that cannot be achieved in a physical store. You should be able to dynamically customize the entire store layout based on the shopper's preferences. 
The power of this lies in having the shopper's identity, which is what Bolt is working on. By recognizing the shopper, we enable the industry, players, and merchants to offer experiences that were previously unavailable. But we can go even further. 
Let's consider one of the biggest challenges in online shopping: returns. If you have a deep understanding of the shopper and know about their preferences, you can proactively limit the number of returns by finding better-fitting items or making recommendations based on their previous purchases, or even provide accurate 3D models.
With the rise of omnichannel, another question arises: how can you extend that personalized experience from online to the physical store? 
For example, if you browse items in a physical store and then go online, you should see those items in your cart, and you can continue your shopping experience online. Similarly, if you explore products online, you should be able to seamlessly transition to the physical store and continue your experience. 
The goal is to bridge the gap between these two channels, making ecommerce a seamless extension of the physical store and vice versa.
What are the key incentives for merchants to integrate with something like Bolt?
At a transaction level, there's a clear benefit in terms of improved conversion rate. With our network effects, Bolt can recognize approximately 17% of traffic on almost any US site from Day One. For those recognized shoppers, we provide a seamless one-click purchasing experience, resulting in a 10-15% increase in conversion. But this is just the first step.
We also enable shoppers to create accounts with merchants in a seamless manner, which is crucial, because merchants all want to establish direct connections with their customers, particularly as customer acquisition becomes increasingly expensive and customers seek out more personalized experiences. Some of our clients, such as Badgley Mischka, have seen a 100% increase in the number of people signing up for the retailer's store accounts when using Bolt.
We address the issue of login friction by offering a passwordless way for shoppers to log in. Many people struggle with remembering passwords, and the process of resetting or retrieving them can be cumbersome. Our aim is to simplify this.
So, while there is a clear conversion benefit at a basic level, our focus extends to creating direct connections with consumers and fostering long-term engagement by eliminating friction throughout the process.
What does a typical integration of Bolt look like? What prompts the customer to look for a one-click checkout solution? What key factors go into their buying decision? How long does the integration take?
When it comes to accelerated payment options, there are an overwhelming number of buttons at checkout, leading to what we call the "NASCARization of checkout." 
This creates a paradox of choice and, personally, I don't believe it provides the right consumer experience. If you look at Amazon, for example, they have one buy button—their own—and that simplicity is what we aim for. 
Bolt is not another button; we don't want to add to the clutter. Instead, we empower the merchant's native experience by integrating seamlessly with their main checkout button. This allows merchants or brands to offer an accelerated buying experience on their own terms, building consumer trust, brand loyalty, and lifetime value.
Our key differentiation lies in staying behind the scenes and enabling merchants to maintain their brand identity and experience at the forefront. We are the only ones doing this, which sets us apart significantly. We also connect with various payment options, enabling merchants to use the ones that suit their needs, so it's not an either-or situation. Our core value proposition, however, is about empowering merchants to provide value themselves while keeping their brand and experience front and center.
In terms of implementation speed, we have focused extensively on making the process fast.
Initially, implementing Bolt required more effort, but we have engineered and simplified it to the point where merchants can now turn on Bolt in as little as three weeks with just one engineer. It's a quick and seamless integration that aligns naturally with the merchant's site. 
It's not solely about accelerated payments; it's about facilitating account creation, enabling passwordless logins, and building lasting connections. We have a truly unique approach in this regard.
What does the typical headless ecommerce customer's tech stack look like?
Many merchants, especially enterprise-level ones, have custom-built websites or use enterprise products that provide them with extensive customization options. They prefer open systems that enable experimentation rather than being confined to a cookie-cutter approach. Access to a platform that empowers them and offers a wide range of choices is crucial for true enterprise success.
Currently, merchants are primarily focused on two key aspects: increasing top-line revenue and exploring monetization options. This is where Bolt comes into the picture. 
By improving conversion rates, we provide a simple and straightforward solution that doesn't require extensive platform migrations or long waiting periods. In a rapidly changing market, merchants seek quick wins that can be implemented within weeks and have a positive impact on their top-line revenue. This is particularly attractive to major players in the industry.
The second focus area is customer engagement. As customer acquisition costs continue to rise and privacy changes like the cookie apocalypse take effect, first-party data becomes increasingly critical. Many large enterprises are now considering how to accelerate their accounts and enhance customer engagement. If there are products available that help them achieve these goals, it becomes essential for their strategies.
The last part is cost reduction for merchants. Everyone is looking for ways to reduce expenses, and if there are products that facilitate cost reduction, they are highly valued. However, at the core of all these considerations is the need for speed. Merchants want to be able to select and choose the solutions that suit them best, test them, and quickly see tangible results that can make a meaningful impact.
Checkout has gotten crowded, with merchants potentially offering checkout via Bolt, PayPal, Amazon Pay, Klarna, Apple Pay and Stripe Link all on 1 screen. Many of these options appear to compete with Bolt, but at the same time, Bolt enables merchants to display multiple alternative payment methods. How do you think about the evolution of the checkout page and where all this is headed?
I think it'll all come back to the merchant. Everyone will follow the Amazon model. The reason no other brands or merchants have been able to do it thus far is because they don't have the network—and even large players find it extremely hard to build one.
This is where the power of a decentralized network of shoppers comes into the picture. With Bolt, a shopper who comes to a site for the first time can get a one-click buying experience because they've shopped at another site using Bolt. That's our network effect—we can recognize and give that one-click checkout experience to around 17% of all the traffic on a site using Bolt. We've also seen more than a 100% increase in that network effect from last year to this year.
I believe the future of checkout will largely be shaped by merchants providing many options themselves, thanks to access to networks like Bolt, which is highly decentralized. Bolt is a gray-label product that supports merchants, and this approach will increasingly define the customer experience, reducing reliance on other providers. Of course, some of those 'buttons' will still be necessary—those that are extremely popular or serve a particular purpose. However, there won't be a need for as many as 10 or 15 providers—just a select few. That's the future of the checkout process as I see it.
However, I also believe that the future of checkout is actually check-in, as checkout is too late to identify a shopper. Recognizing the shopper at checkout means you've missed many opportunities, especially in ecommerce. As I've mentioned before, there's so much you can do to enhance the shopping experience in ecommerce, more so than in a physical store, if you know who the shopper is. So why not do that? It would be much more efficient to recognize the shopper upon their arrival. By the time they reach checkout, you don't need to ask anything because you already know who they are and have their information. They can literally buy with one click without answering a single question. This is the evolution I increasingly see happening in ecommerce.
What core opportunities do you see Shop Pay not able to capture and how do you position Bolt with respect to Shop Pay for merchants?
Yes, there are a few examples to consider. First of all, Amazon Prime offers a fantastic experience on Amazon. If you're on Amazon, you can just buy. Similarly, Shop Pay provides a good experience on Shopify sites. If you're on a Shopify site, Shop Pay indeed offers a positive experience. However, it comes with some constraints, particularly around payment options. But, if we set aside these constraints, it's a beneficial experience on a Shopify site. Outside of Shopify, though, Shop Pay operates as just another button. Most larger enterprises operate outside of Shopify, so it's just one more button for them. 
How I view Bolt and our positioning is that we're natively integrated into the existing brand experience, which isn't something others can offer. But we work for everyone else the way Amazon Prime works on Amazon and Shop Pay works on Shopify. We're enterprise-grade, meaning we're merchant-friendly and value choice. We allow integration with any payment providers and offer many options because we understand the implications of being an enterprise-grade company. Our priority is always the merchant. Our approach of not being branded and empowering the merchants is unique to our DNA, and large enterprises appreciate working with us.
Ecommerce fraud and chargeback prevention itself is a multi-billion dollar industry with companies like Signifyd ($1.3B), Forter ($3B) and Riskified (NYSE: RSKD, $800M). When does a company need a specific solution vs using Bolt for both checkout and fraud/chargeback prevention? Do some companies use both, if so, why? On what dimensions does Bolt win as a vertically integrated solution?
As I mentioned earlier, we're an enterprise-grade company that puts the merchant first. We understand that for enterprises, having options is crucial. We allow merchants to make suitable choices without any restrictions. For instance, if they have an existing payment provider, we can readily connect with them because we've already built those connections. If they have a preferred fraud system, we can integrate with that, too. All these possibilities exist because we're flexible and accommodating.
Additionally, we have our own payment system and fraud system that compete on their own merits. For instance, our fraud system tends to outperform most others on the market because we own the checkout process. We understand what's happening in real time: we capture behavioral data from the site, such as how quickly people type or whether they're copying and pasting.
We gather this behavioral data because we control the real estate on the site, and we power checkout. Plus, we have access to a network of shoppers, so we know not just what's happening on one site, but also what that shopper is doing elsewhere. This gives us a distinct advantage. Furthermore, our system is built on AI, not a rule-based system like some others. We've been using AI long before it became trendy. Due to these factors, we tend to provide better performance than almost anyone else in the market, which is why many merchants choose us. However, my perspective is always to let the merchant choose what's best for them, and we'll integrate accordingly.
The core offering that Bolt brings is faster buying, shopper identity recognition, and the ability to log them in. Our network is powerful, and that's the essence of our service. Everything else around that, we're happy to partner and integrate. We also understand that these are important products where we'll continue to provide a great experience ourselves.
When it comes to market segments, small- and medium-sized businesses often prefer a one-stop-shop. They appreciate it if Bolt provides payments and fraud prevention because it simplifies things—there's one vendor, one pricing structure, one package. On the other hand, large enterprises have many different aspects to consider. They might have a payment processor that they use for both their physical stores and ecommerce sites, or different contracts for fraud prevention. So, it depends on the merchant. Our primary goal is to do what's right by the merchant and provide the capabilities so they can select the best product for their needs.
To drive in-network purchases, an obvious move is to build a shopping app. How do you think about building a differentiated shopping app experience? What have you learned from your time at Amazon and seeing Shop and Klarna launch in this space?
As I've mentioned, we're a merchant-first company, so our primary focus is on empowering merchants, not becoming a shopping destination ourselves. That being said, I am very excited about the evolution of the shopping experience. Many things are changing and will continue to change. We see a lot of live-streaming, social commerce is evolving, and omnichannel, physical commerce is changing. In all these spaces, the identity and buying experience matter equally. I often talk about the ability to buy at the point of inspiration.
Our goal, which we're currently achieving, is to ensure that wherever people see a product, they can buy it with just one click right there. We don't want to redirect them back to a site where potential conversion could be lost. We aim to enable purchases at the point of inspiration. We've developed products to facilitate this, allowing purchases from influencer content, blogs, emails, and more. Commerce will increasingly happen on these surfaces.
Another area we're exploring is QR-code buying experiences in physical spaces. For instance, we powered Revolve's pop-up store at New York Fashion Week. Visitors could scan a QR code, buy a product with one click, and simply walk out. And there's much more to come.
We're focused on building capabilities that enable a smooth buying experience at different places where people find inspiration. Whether it's a physical location, a social media site, a video, a blog, or an app, we provide the infrastructure, capabilities, and shopper information so brands can excel in meeting their customers wherever they are.
Klarna launched an AI-powered shopping assistant. You mentioned that you use AI in your fraud prevention but What other opportunities does Bolt have with integrating AI into its product?
As I mentioned earlier, we've been utilizing AI for a long time, particularly in fraud detection. If we look further back, during my tenure at Amazon, I built and deployed one of the largest closed-loop AI systems. This solution was developed to ensure the inventory quality of all products across Amazon's automated warehouses. It's a system that's still in use today. I'm very familiar with the power of AI and I'm excited about its potential. The emergence of new capabilities opens a whole new chapter for us.
We're always exploring opportunities and currently dabbling with a few things to see how we can empower our merchants to provide a better experience for shoppers.
Because Bolt raised at such a high valuation and revenue multiple, one of Bolt's biggest risk factors is its high valuation in terms of attracting follow on capital and hiring. How do you think about building over the next 5 years given those constraints?
Looking forward, the primary question boils down to whether we have a product that customers want. Are we solving a problem that's important to the world? Have we positioned ourselves in a way where we can survive and thrive? The answer to all these questions is yes. As you mentioned, we've raised a substantial amount of money and acted early enough to secure a long and robust runway, more than many other companies. We're grateful for that.
Our product continues to make headway with larger enterprises, and our network effects have increased over 100% year-over-year. This core metric shows that our product is gaining traction and working effectively.
When it comes to hiring, we're fortunate to have some of the industry's best people on our team. In a startup, especially when you're in it for the long term, you understand that market dynamics always involve ups and downs. The key is to stay focused, maintain a long-term vision, and keep executing. Monitor your metrics, watch your numbers, and continually strive for improvement. Keep your customers close and continue to innovate. Everything else is secondary.
Our team understands this. They're inspired by our vision and the work we're doing. They see the importance of our mission.
If everything goes right for Bolt over the next 5 years, what does Bolt look like and how is the world changed?
I believe the share of ecommerce should be significantly more than the current 15%. We're excited to play a role in driving and accelerating that growth. Secondly, the concept of guest shopping on the internet should be a thing of the past. Every transaction should be a known transaction, with the burden of identifying the consumer resting on the brand, not the consumer. The internet should recognize you, regardless of whether you're on a social media site or an ecommerce site. Everyone should be recognized, respected, and receive a personalized service.
The combination of these two concepts is particularly thrilling. I'm excited about the latter because I believe it lays the foundation for abundant innovation. When you don't know who the customer is, it curtails the potential for innovation. In contrast, knowing your shoppers opens up a wealth of opportunities for innovation. This, in turn, will help to increase the overall share of ecommerce, which is the impact we aim to have.
Disclaimers
This transcript is for information purposes only and does not constitute advice of any type or trade recommendation and should not form the basis of any investment decision. Sacra accepts no liability for the transcript or for any errors, omissions or inaccuracies in respect of it. The views of the experts expressed in the transcript are those of the experts and they are not endorsed by, nor do they represent the opinion of Sacra. Sacra reserves all copyright, intellectual property rights in the transcript. Any modification, copying, displaying, distributing, transmitting, publishing, licensing, creating derivative works from, or selling any transcript is strictly prohibited.