Gaurav Baheti, CEO of Procol, on bringing procurement online in India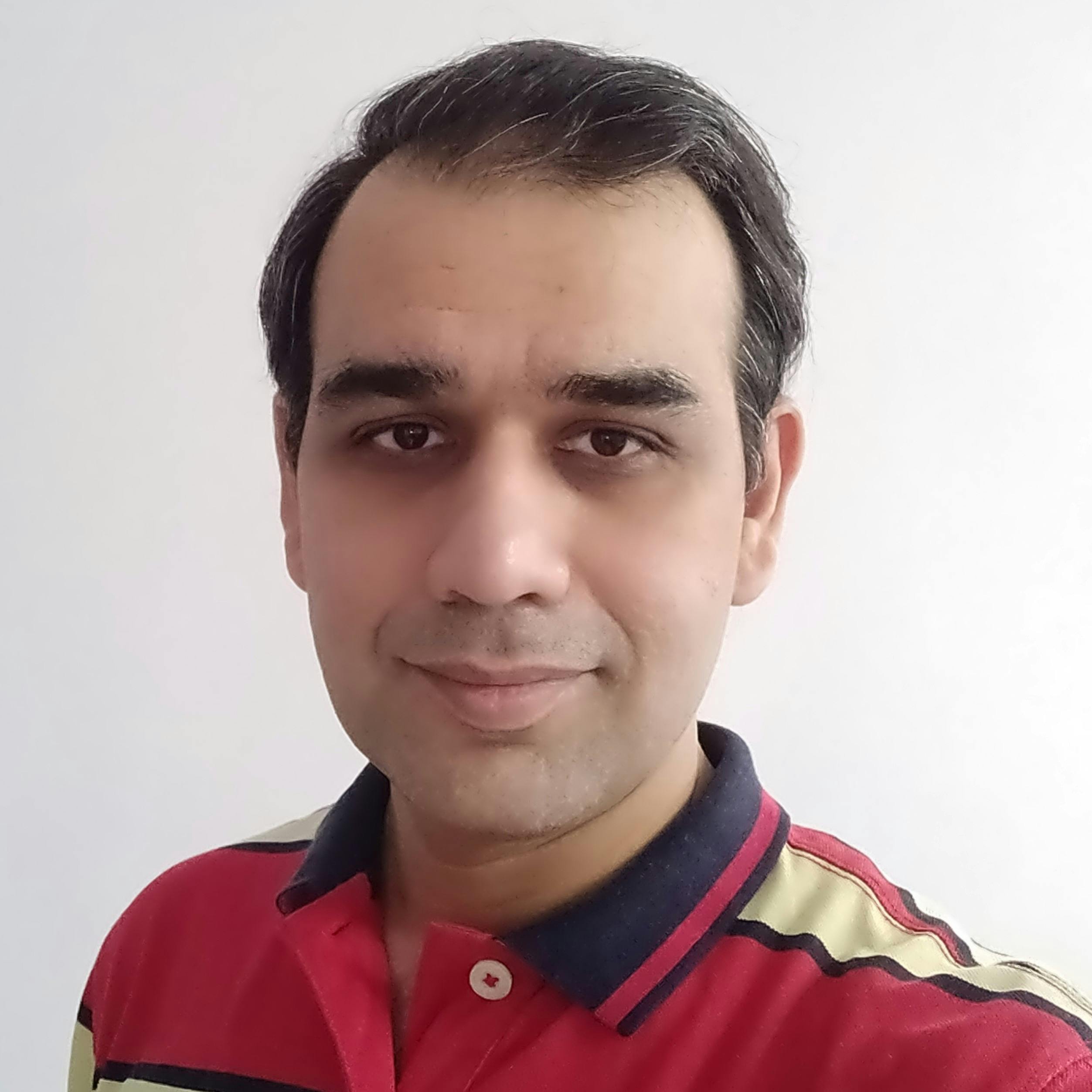 Rohit Kaul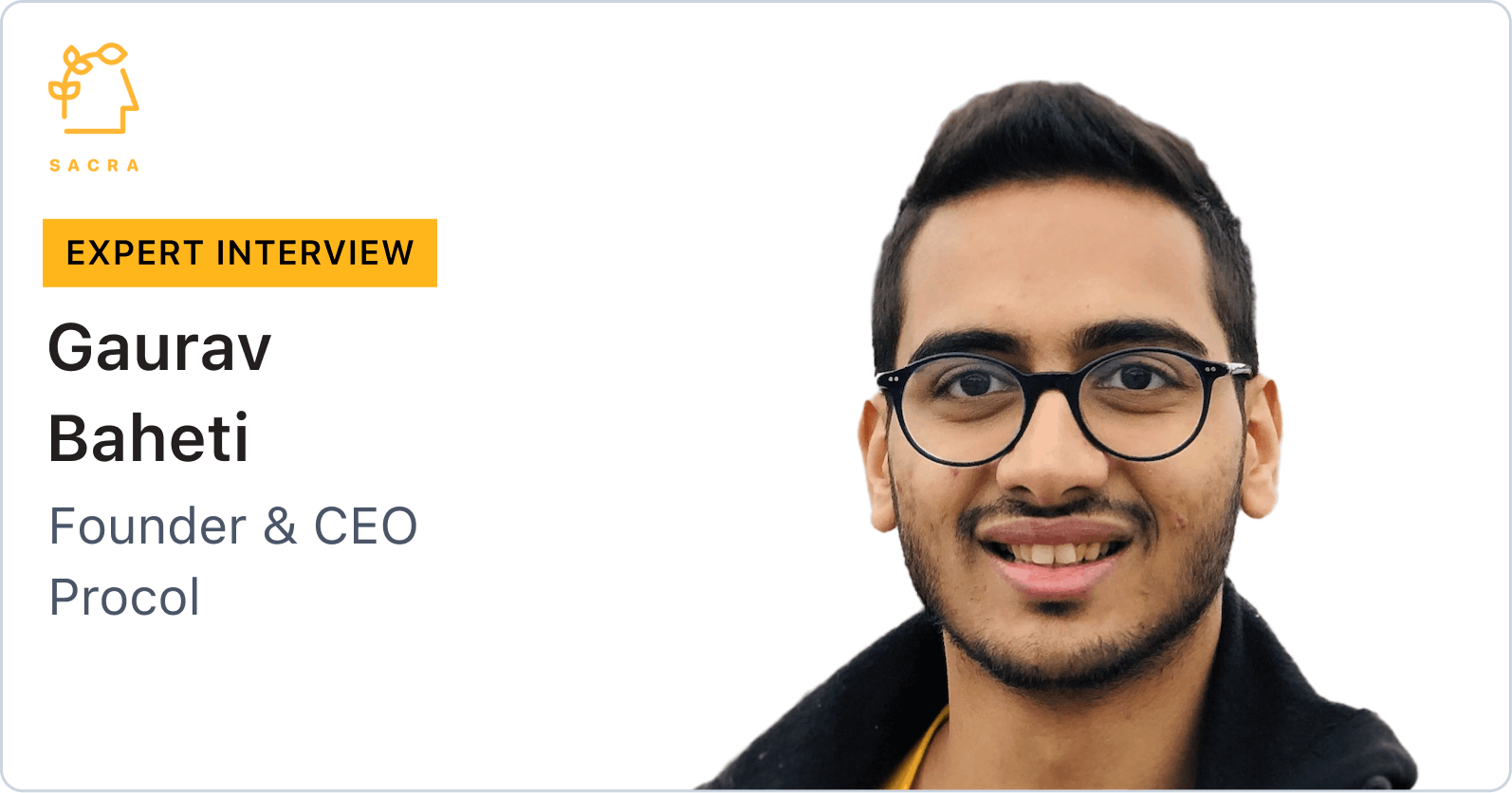 Background
Gaurav is the founder and CEO of Procol, a sourcing tech startup. We spoke to Gaurav about the sourcing tech market, what it takes to take a pen & paper industry and bring it online, and GTM strategies for early-stage SaaS companies.
Questions
Interview
You started as an agri commodity e-auction platform. And now, Procol is a horizontal end-to-end procurement solution. Help me understand when you started, what was the insight, and when you shifted your product to a different direction, what was insight there?
That's a very good question, and I repeatedly get that. When we started, we had one large enterprise customer, which was buying around Rs 7 billion of agri commodities in about 40 different locations. And they were fragmented, with no transparency. All the transactions were happening on phone calls, or emails, or WhatsApp. So we identified one common problem statement that, if the company wants to buy, it wants to buy most efficiently. The initial app that we built was a very basic reverse auction app that enabled buyers and sellers to collaborate faster and negotiate on prices on mobile. And that led to a lot of efficiencies in the supply chain itself. We realized that there are many middlemen in the agri commodity supply chain, which overall, you can either include in your supply chain or get rid of. But the strategy overall became that removing middlemen will not work for now.
It's a long-term play where you can build a digital ecosystem for all the participants to come on a single platform to start transacting. The idea was that if you have to bring cost efficiencies in this market, you have to continue building for different value chains in the same vertical. Whilst this was our initial thesis, we realized early one common thing in all vertical marketplaces. We realized that there are little to no long-term moats for vertical B2B market business. Largely all of them run because of the lower cost of capital and continuous needs of working capital. And so we realized early on in 2020 that we don't want to just build a business for a short-term period. It has to sustain a few decades at least. So we thought what are the moats we can build in this B2B marketplace ecosystem.
The first and foremost that we could see for every procurement or every commerce, the moat came from demand. People who own the demand could basically go back and clean up the supply chain later on, add on multiple solutions on top. So we said, let's own the demand on one side. And what I mean by owning is getting embedded into the demand systems. That's what Procol then became, which meant that we go to enterprises, we start taking over their spend category by category, and start bringing efficiencies and cost savings within their existing processes and systems.
We now deliver 5% to 6% average cost saving for every enterprise we get into. Customers are increasingly using Procol for the raw material spend, logistics spend, packaging spend, MRO spend, and multiple categories because we became the embedded system of these companies. And now, after two years, Procol has become a brand in this segment, where enterprises consider Procol as the go-to partner for consolidating their spend and optimizing their spend management. We believed we would go into SMB, but SMB is always only a working capital or an operations player. That's what led to the shift.
When you go to enterprises, what are you replacing? Are you replacing pen and paper, or phone call based procurement, or do they have existing ERP solutions? And you are like a bolt-on on that.
90% of customers that we target are not using any digital solution. So that's the majority market in India as of now. That's the reality. Every procurement team still works offline, which means on phone calls. They'll collect proposals on emails, then compare them in Excel, and award a purchase order on email. That's how the workflow works. So that's the 90% market. 10% uses efficient systems, but still decade-old systems, which were built in the early 2000s. And so they were using those, and we have been able to replace 20% of those customers now also to Procol. And so, as better solutions start coming in, eventually, I think it's a solvable problem at scale.
When you say the 10% have legacy systems, are we talking about systems like SAP and Coupa? What kind of systems are they using?
SAP and Oracle are largely used. They have procurement cloud products. That's what they're using. There are very small regional players in these markets. They have also been existing for the past 15 years, and we also find them in very few cases. But if you go to any enterprise, they're largely using SAP or Oracle products.
What are the tools in Procol that help the companies in achieving cost reductions and time efficiencies? How does it happen?
Digital systems is number one, for example. But different features in these digital systems enable these types of efficiencies. In terms of time savings, if you look at the time from getting a request for purchasing something to finally sending out a purchase order, it would take somewhere around two to four weeks on average, if it's a small order. If it is a large capex purchase, the cycle could be as long as six months for procuring the capex item. A digital solution makes it faster because the person who is requesting it is now part of the platform. All your vendors are streamlined in one single place at a click of a button, send your RFP to everyone. Now you negotiate with everyone on a digital platform, which further reduces your time by two weeks because negotiating involves a lot of back and forth on phones, a lot of context switching, switching to different vendors, different geographies, and so on.
And then finally, selecting the best scenario for which you should award the contract is also a tedious process. So take this entire process, and put it in a digital system. You have taken away time from purchase requisition to purchase orders in one single swing. That's where Procol helps companies. 
And on the cost savings, we deliver smart negotiations. Procol has built over 45 different types of negotiation strategies in place, which enables 1XN (one into N) different types of negotiations happening over the digital system. So while Procol has a buyer app, it also has vendor apps where vendors will log in and negotiate with the buyers digitally through different types of negotiation strategies. That's how we bring the price down, and 5% to 6% cost savings come from these negotiation strategies.
What are the early indicators of PMF that you have in the market? And if you can talk a bit more about some metrics or milestones around PMF that you have been tracking?
Last year was a changing moment for Procol because we built all the ground fundamentals on what we consider PMF. One of our investors Sajith had posted something about this, what we consider PMF. PMF is when you have a product that has repeatable GTM and positive unit economics, and all three things worked out for Procol very well, which is where we considered. And then on top of this, the growth rate that you can control and continuously improve on became the North star for us at Procol. So the product was built, GTM was set up, and unit economics made sense. That's when we said all good to scale.
If you can, give us some sense of what kind of growth you have seen, especially during COVID. Did you see any spurt in growth like other digital platforms?
Once our GTM started kicking in, we looked at 100% quarter-on-quarter growth for the last three to four quarters. And it's been going pretty well for us. And we continue to do that at scale also, and I'm positive that we should continue doing this at least until 2022. And it should make us hit all our objectives this year.
What are the fundamental building blocks of Procol that help customers achieve their objectives in a buyer-seller situation?
All of this will boil down to a better customer experience, right? So let me start with Procol delivering a better customer experience. The first and foremost thing that we differentiated on when we started was mobile apps for vendors. Now, this is a decade-old industry, procurement solutions, right? It's not new, but still, 90% of the market is uncovered. The very simple reason was when we first started in this market and signed up our first customer, we realized that they couldn't use any other solution. The reason was very simple. All the suppliers were sitting in different local, regional markets of India, and they did not have access to desktops. And all the companies built out in the West were only offering desktop solutions, and nobody had simple apps for suppliers to participate and collaborate with their enterprises.Procol's first and early advantage was this mobile application for suppliers that we launched.
It takes five to ten minutes to onboard a supplier, rather than four to eight weeks, which would take a legacy platform to onboard a supplier. Second, we introduced flexibility as a core DNA. When I talked to all the customers who were using Ariba, the main problem with Ariba was it was not designed to fit in the day-to-day workflows. And the reason was most of these companies were built on just best practices. They will not offer any changes, but procurement as a function is a very flexible business or organization. There are different types of category requirements. So you need inherent flexibility in the software, which means you can customize your templates. You can customize how you want to negotiate. You want to customize how you want to compare. So things have to be flexible for the buyer.
Procol built in that flexibility for buyers to select what type of system and workflow fit in their process best. And that became the second most important thing as a product feature for Procol. And third, all our customers tell us the simplicity of Procol. They don't need any training programs. And typically traditionally, it would take three to six months of training for different types of solutions from these companies. They don't have to do that with Procol, it's very intuitive. I think these were the main differentiators on top of unique negotiation strategies that enabled more cost savings.
What kind of features would Procol offer to a prospective procurement department person? Where does it start, and where does it end? For instance, ERP systems have the entire procure to pay cycle.
Procol focuses only on one thing right now, which is sourcing. We believe the highest ROI for procurement comes in sourcing efficiencies. You can derive cost savings, and you can derive time efficiencies largely through the sourcing function. Now, the sourcing function comprises five parts. The first is requirement gathering -- what do you want to buy? Which means you have to collect all the purchase requests. The second is identifying the right suppliers for what you want to buy. The third is collecting proposals and quotations from all these different vendors and shortlist them on the basis of your initial criteria. The fourth step is negotiating with them based on your price or time to value or different criteria you can negotiate on. And finally, the fifth is awarding and managing a contract for what you have awarded, a PO, and then that goes up. And so this is the entire process that Procol covers today.
That is the highest value that we can deliver to all our customers through optimizing sourcing. We are building downstream solutions of procure to pay, but procure to pay inherently has not been as successful in India because of longer integration time efforts for Indian organizations because of their legacy systems in place. While they obviously have much more efficient needs as in turnaround time from purchase order to payment, all of that can also be optimal. The bottom-line savings that sourcing gets, no other solution in the market can get. That's why we have focused on and built the best solution for sourcing as of now.
What's the time to value for Procol? How does it compare with a legacy procurement-tech supplier?
Time to value for Procol, in many cases, has been under 45 days, and time to value on average for a legacy company would be at least nine to 12 months. And that's the range that we're looking at because of how we work.
Do you offer it as a full package, zero customization, or as you were saying, it's a flexible product, so there are customizations which can bolt-on on top of the product?
Customizations are very fast and seamless to make. You don't have to create a request which then goes to your international partner for evaluation and customization. So the turnaround time of them is very fast because our product is built in such a way that it's flexible to make those very fast.
What kind of customers have shown early traction for Procol. Are there certain sectors or certain segments within enterprise?
Retail and food FMCG were our primary targets when we had started. Because we were focused on agri commodities, we know we can deliver savings in agri commodities because our initial network of suppliers was building for agri commodities. So we also launched discovery as a clean-slate solution out of the box back then, but we realized that we wanted to do discovery at scale, so we stopped that solution for a bit and started building a digital solution presence first. So, retail and FMCG were our key customers where, in retail, we now have about 60% of India's largest retailers using Procol. In FMCG, we have a long way to go, but we now have a decent client list, some of the great logos also on our website, and case studies also. But these were the main segments that we were tackling when we started. Today, we are also present in manufacturing. We are scaling in not just these but many others also.
What's your go-to market strategy? Do you have an enterprise sales team or you rely on inbound marketing?
We are all inside sales led, and that is something that no other company in our segment has been able to crack. And we have a team of only five sales guys now doing about 120 SQLs a month, meetings a month, and we are scaling aggressively. So our sales calendars are booked, and we are hiring for more sales guys to come in and close these accounts. But as of now, it's all inside sales. Next quarter, I think we are starting outbound as well. That's on the roadmap.
When you're selling your product how does the adoption work? Do they usually start with a certain feature they like, and then they expand the number of features they're using? Or do they go in all in, in terms of the entire suite of offerings that you have?
When we started, they started with one core feature that we had, which was negotiations. They saw direct bottom-line impact and continued using Procol for that feature largely. And now, because we are selling the entire thing, in sourcing, they look at changing their entire process from procure to pay. Now, it's not just about "Hey, why don't you start here?" Because we know that we can build a multi-month roadmap for them to deliver maximum value out of Procol. So we have taken that approach now, and that delivers faster turnarounds, higher tickets, and many, many higher value for customers and so on. And more honestly, our product has been evolving since then. As our product evolves more, I think we should be able to deliver much more value to our customers right out of the box, which pain point we're looking to solve for them.
When your customers come to you, what kind of pain points do they come to you with?
So different segments of different pain points, but largely, everyone focuses on cost savings. The reason is if you don't have an ROI for such a solution on cost, you are not going to continue with that solution. And that's the reality of any solution, which is why most of the companies who are selling entire digitization have not been so successful in this market. I think that's the most important thing, to be honest.
In terms of your revenue growth, is it driven by net new acquisition or are there any upsell opportunities that you are able to get from existing customers? So if you can give us some breakup of that.
Revenue has grown because of largely new customer acquisitions, but not because of the number of customers but the new ticket sizes. The ticket sizes have gone 3X for us in the past two to three quarters. The reason is that we have a brand presence in every industry largely now that claims that Procol is able to deliver savings. That brings in more trust, increased ticket sizes, gets more customers. So I think customer references and the brand that Procol is able to create in the enterprise procurement segment is something that we are very proud of now and is driving revenue growth for us.
What's your monetization strategy? Is it subscription, usage-based, seat-based?
We started with a transaction-led model where, for every event, we would charge certain fees. And we'd sell a bundle of a number of events per annum, and we experimented with this a lot. We also tried a spend under management model, then we tried the transaction linked model, but we found a sweet spot in the seat subscription linked model. And now also a profit-sharing model, because we are delivering direct cost savings for our customers. So I think that creates a win-win situation for both customers and Procol.
What's been the churn percentage for you and the reasons for churn/retention?
We have seen one customer churn so far overall across our history. I'm talking about our pivot to SaaS after that. We only had one customer churning. The reason for that was that we did not support a specific industry for which they needed this use case. And we realized that we don't want to go deeper into that industry solution for now. And that's the only reason why we did not prioritize that feature. And that's the main reason for churn. But other than that, we have not had any churns since we built it. And I think largely it would be good to continue upselling our solutions so that customers can keep questioning Procol's value and keep asking because our ticket sizes have now gone 3X also. So we may consider, hey, this is how much we are charging now, if they're comfortable, they should move to the newer plans, better service, better value, and so on and so forth.
What are the measures that you have put in place post selling the solution to ensure customers are seeing value, they're using the product, and you are setting them up for success?
While like any SaaS company, we have a customer success and onboarding and implementation process team, we have now built category expertise internally, which means for every category, we can benchmark prices, understand how much the company was buying at, and how much would they be buying at if the savings are genuine. And these category leads ensure they're getting realized savings rather than just budgeted savings or any random savings. We focus on realized savings for our customers. That's what keeps Procol alive and continues to grow with that.
For Procol, what are the drivers of stickiness that retain customers, and do you see these changing as you evolve in the next few years?
Two things are the main drivers for stickiness. One, the solution the company starts with and then implements, onboards multiple functions in the same company on the Procol platform. Which means if you are integrated PR to PO, you are getting intakes from different internal functions of what they want to buy and send out purchase orders. That's internal functionality. 
The second one is the number of vendors that you have onboarded on Procol. Once you have onboarded your vendors on Procol, it's very hard to switch to a different network to consider your B2B procurements on. And so that is the major switching costs that companies face, even with the likes of Ariba and Coupa that have won the market share in the U.S. market. It's very hard to replace these companies because of these reasons.
While a front-end solution, like a marketing tech or sales tech, is easier to replace as you grow, a procurement tech is not replaced as you grow. It is adopted more as you grow because you make the decision once, and you scale with it. This is what we have seen as the trend of the west currently.
What are the top two or three feature requests or demands which you are seeing from your customers that they want to be added?
The first one would be discovery at any time. The customers want access to the market faster. Given the uncertain times, the current supply sources may dry up very fast or become unreliable very fast. Customers are definitely looking for more opportunities to source from; that's number one. The second would definitely be more supply chain intelligence, like "Hey, take my data, and tell me how can I be better," is on the intelligence front. And third is largely on digitization on the front end; this still runs manually. "Can you please make it more efficient for me to do it?" I think this is how we bucket our solution internally as well. There has been a fundamental need for cash management and financing solutions, obviously, which we have also now started offering. But overall, the market remains cost savings as the benchmark. If you can deliver value to the customer, nothing else, the solution can be anything.
Procurement looks like a prime function to solve through digitization as it is highly manual/effort-intensive. However, it seems apart from Procol, there hasn't been a very serious effort in India in this direction. Any thoughts, like what are the obstacles?
We got in the market in late 2018, and the market was not ready then. The reason was nobody was looking at digitizing their procurement because the rest of the functions were also not digitized yet. And procurement is probably the last priority for digitization for them. The reason why it has changed is post-COVID digital adoption of solutions accelerated for us.
The second is structuring, or the way to conduct organized business is on the rise. And the reason for that is more investments from outside coming in, or India is generally growing. Companies are outgrowing their incumbents very fast. So they need systems and processes in place to control their spending is another reason why it has happened now. And largely now solutions, which are easy to use, faster to reply, which deliver value to customers are in existence, which were not yet in the market. That made a difference as well.
But overall, companies did not have a demand, and we had to create that demand. And in 2021, we were able to successfully establish our demand gen, which is what led to this growth. Procol, until 2020 end, was able to deliver value to its core five customers. And we have seen significant growth since then and never looked back. And the reason is we can deliver value to five customers. Now we can deliver it to 10X of that.
One last question. Apart from what we have discussed so far, anything else that you believe that we have not spoken about, or you've not touched upon, which will help the readers understand Procol better?
B2B procurement is very complex. Every segment, every size, every category in those segments are very different value chains. Always understand -- is it a demand-side problem or supply-side problem? But if you're looking at enterprise, you are always solving for demand because suppliers are unlimited at that requirement. They will consider changing their facility-- they will do anything to make sure they want to sell it to a large enterprise. So, understanding where the networks are building, networks are forming, and how they will scale to a large company is something I see a lot of players in B2B procurement missing. Many people told us about it early on, and I'm glad many of our investors bagged us on our strategy because it's more of a long-term approach that just started building vertical marketplaces on random places to scale to a large mode, network effects, and high free cash flow flow business. That's what Procol is trying to be and looking positively successful there. So overall, focus on building a great business I think that's what it is.
Disclaimers
This transcript is for information purposes only and does not constitute advice of any type or trade recommendation and should not form the basis of any investment decision. Sacra accepts no liability for the transcript or for any errors, omissions or inaccuracies in respect of it. The views of the experts expressed in the transcript are those of the experts and they are not endorsed by, nor do they represent the opinion of Sacra. Sacra reserves all copyright, intellectual property rights in the transcript. Any modification, copying, displaying, distributing, transmitting, publishing, licensing, creating derivative works from, or selling any transcript is strictly prohibited.