Customer.io: The $400M HubSpot of Product-Led Growth
Featuring
Customer.io is a marketing automation and customer communication platform.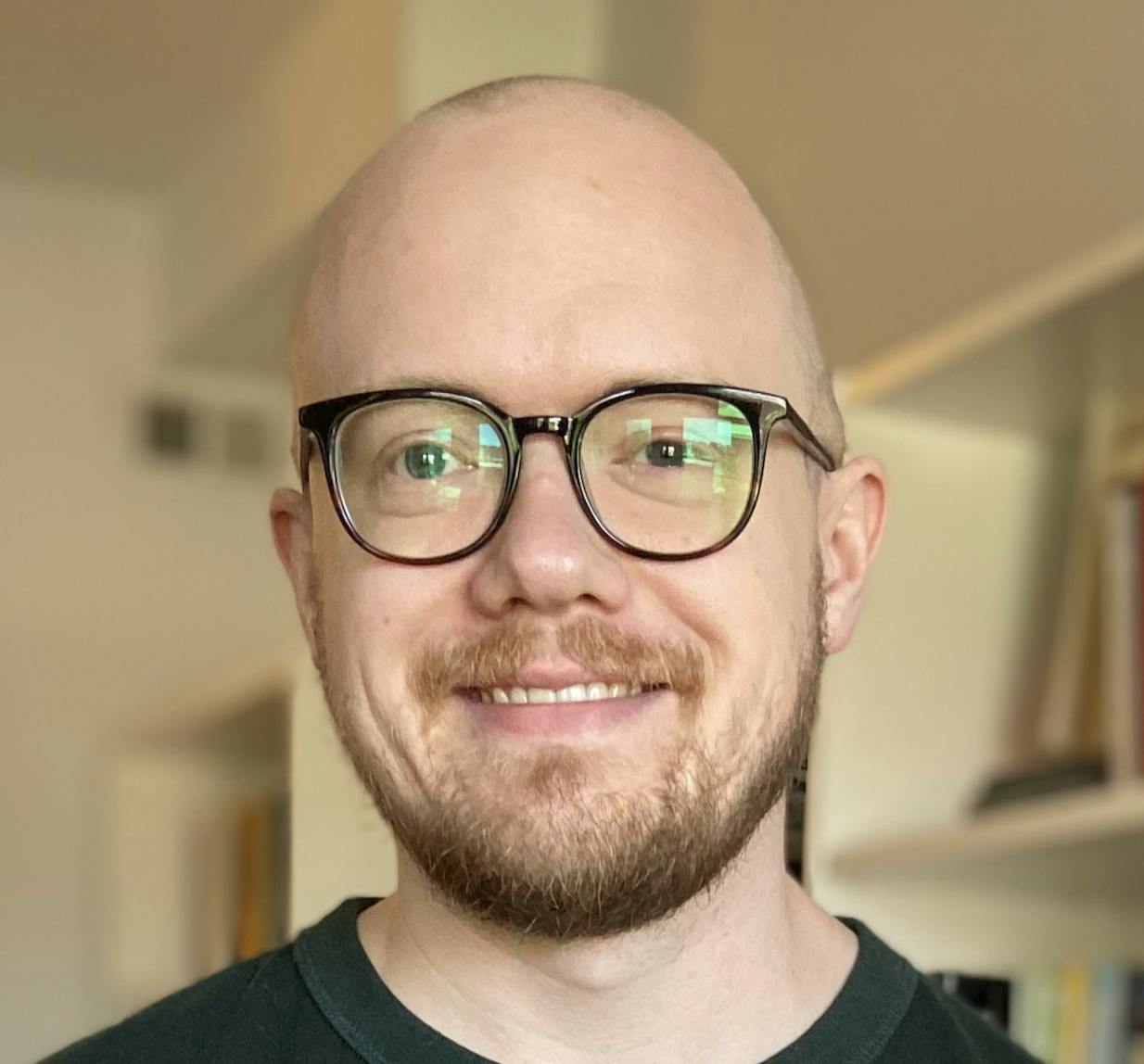 Jan-Erik Asplund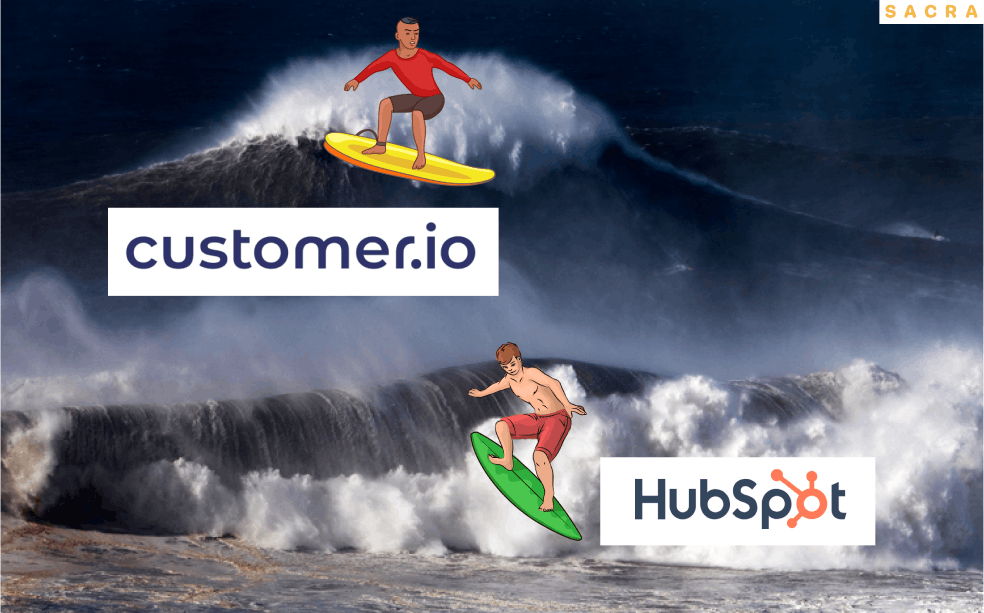 We created this research report on Customer.io's business alongside the company's equity crowdfunding campaign on Republic. Sacra has not received compensation from Customer.io for the report. However, Sacra relies in part on the willingness of the companies that are the subject of research to discuss information relevant to the reports with Sacra, and this may give Sacra an incentive to write favorable reports. Click here to read our complete disclaimers.
A marketing platform for developers
Join our list for more of our exclusive private markets research and company coverage.
Success!
Something went wrong...
Customer.io is not as well-known as marketing tools like ActiveCampaign and Pardot or well-funded customer messaging tools like Iterable or Braze. 
One expert we spoke with for this report referred to Customer.io—which advertises itself as being for "tech-savvy marketers"—as what you get when you "send your developer to go choose an email platform."
Since launching in 2012, however, Customer.io has shown that selling a marketing tool to engineers can be the foundation of a steady SaaS business.
Customer.io is at $1.67M in MRR, growing at 6% month-over-month. Net churn sits at -3.23%, and net dollar retention (yearly) is at 131%—a top quartile figure for software companies at IPO. And like Zapier and Calendly, Customer.io has been highly efficient with the capital it raised—Customer.io has raised just $4M in total en route to $20M in ARR.
By targeting technical product and marketing teams, Customer.io has found a wedge into organizations savvy to the concept of product-led growth. Now, they have the opportunity to serve even more of their customers' needs and build an all-in-one solution for both engineers and marketers: the HubSpot of product-led growth.
To achieve that goal, they'll have to expand their team, build out new products, and fend off a large and fragmented landscape of competitors—some of which are becoming wise to the power of personalized, behaviorally-targeted customer messaging themselves and beginning to build in that same direction.
Key points
Customer.io was at $1.67M of MRR from 2,100 monthly paying customers as of March. They're growing at 6% CMGR1/5% CMGR6.
Growth is accelerating due to COVID tailwinds and increased Premium plan adoption. Customer.io grew 32% between March 2017 and March 2018 and 70% between March 2020 and March 2021.
It took Customer.io 10 months to get from $50K to $100K MRR. That's slower than Front (7 months), Intercom (5 months) and Greenhouse (3 months).
With less than $4M raised and $20M ARR, Customer.io has a 5x ARR/funding ratio. That's better than companies like Front (.27x) and Expensify (2.63x) but not on the level of Zapier (80x) or Calendly (100x).
Gross MRR churn is at 0.66% while net MRR churn is negative at -3.23%. Net MRR churn has steadily improved since hitting 1% in January 2020.
Customer.io's 131% net dollar retention is comparable to Front (137%) and in the top quartile of IPO'ing companies. It's better than Sendgrid (111%), HubSpot (93%), SmartSheet (130%), Qualtrics (125%), Asana (120%), and DocuSign (115%).
Customer.io is mainly focused on serving SMBs and startups. 80% of all Customer.io customers spend less than $1K per month.
Setting up Customer.io requires significant upfront and ongoing investments of developer time. This increases switching costs as tearing Customer.io out requires rewriting more code, but it can also hamper adoption by limiting it to teams with engineering resources to spare.
A growth challenge for the company is that marketing and growth teams can become less technical with growth. The risk is that those companies will have to look for alternatives as new team members come on and want to have ownership over their own tools versus waiting for developer help.
After launching an upgraded pricing tier in early 2018, Premium now brings in 44% of revenue. Premium customers pay on average 5x as much as Basic customers and Premium plan MRR is growing 4x as fast as Basic plan MRR.
Customer.io's alignment with the concepts behind product-led growth aligns them with a fast-growing sector of SaaS. Since 2012, the number of public product-led companies has grown to 20+ companies worth a combined $250B+. 
Customer.io's dev focus makes Twilio both a potential competitor and acquirer. The $52B company acquired Segment ($3.2B) and SendGrid ($2B) to advance its customer engagement platform, and Customer.io could fit well into that portfolio.
Valuation: Customer.io is worth $400M
We valued Customer.io at $400M (20x their current ARR of $20M) after benchmarking their current growth rate, gross margin, and capital efficiency against SaaS companies of a similar size. Across these metrics, Customer.io is close to the industry average.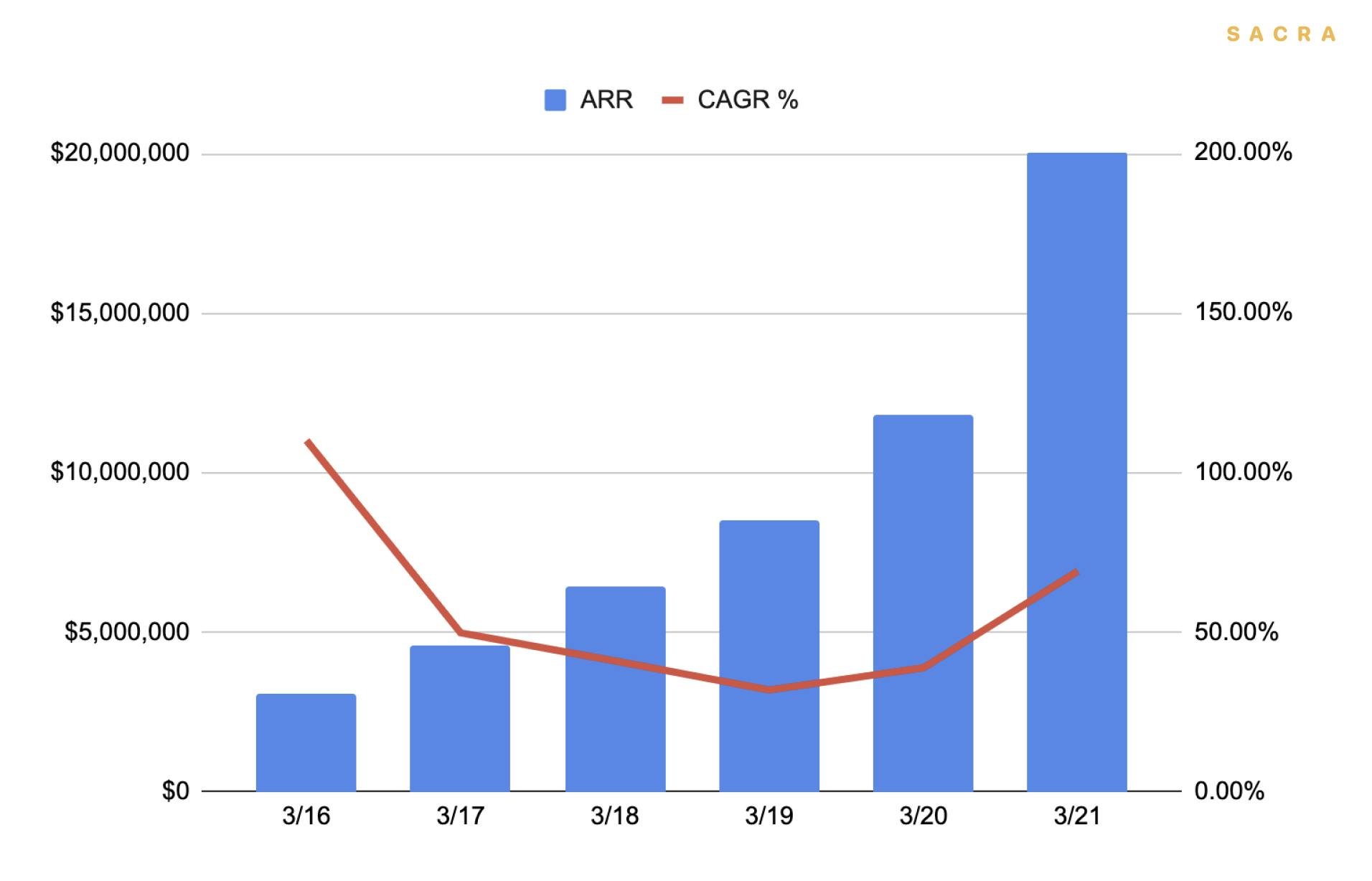 Customer.io's YoY growth has increased from 32% in 2019 to 70% this year.
Customer.io's growth, unusual for a SaaS company at their size, has been accelerating over the last few years, from about 32% in 2019 to 39% in 2020 to 70% this year. Their Premium plan, just launched in 2018, is now responsible for 44% of all revenue, with further optimization still possible.
Customer.io's TAM, interpreted as companies that utilize behaviorally-triggered customer messaging for onboarding, activation, retention and growth, expands every year. There were two public product-led growth companies in 2013: today, there are more than 20, including Slack, Fastly, Zoom, Datadog, and Cloudflare.
On the downside, Customer.io's positioning as a developer-centric email marketing tool makes them vulnerable to churn from companies as they get bigger and see their growth center of gravity shift more towards non-technical marketing and sales roles, and this is reflected in top-end logo churn data.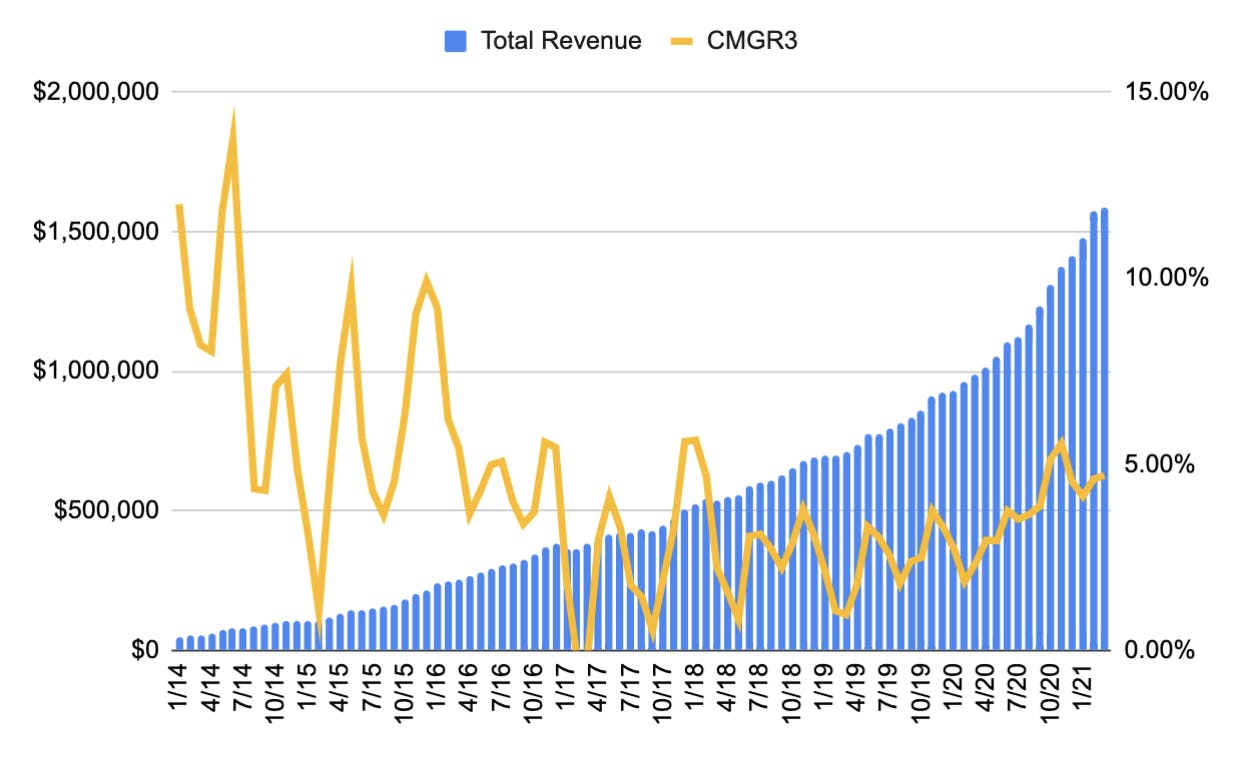 Since 2019, Customer.io's revenue growth (CMGR3) has gone from about 2.5% to 5%.
Between March 2020 and March 2021, Customer.io's MRR grew by 64% from $987,189 to $1,620,200.
MRR growth at Customer.io, unlike at many SaaS companies that are about seven years post-revenue, is accelerating. After seeing growth slow to 1% to 3% monthly in 2018, Customer.io today is growing revenue at 5% CMGR and about 6% month-over-month.
Alongside COVID tailwinds, Customer.io's Premium plan, launched in 2018, is a big part of that growth. Total customer growth is up 45%, from 1,471 companies to 2,143 companies, but Premium customer growth is up 144%.
This growth in premium memberships is driving a large amount of upgrade MRR, ultimately offsetting Customer.io's logo churn and generating negative net churn.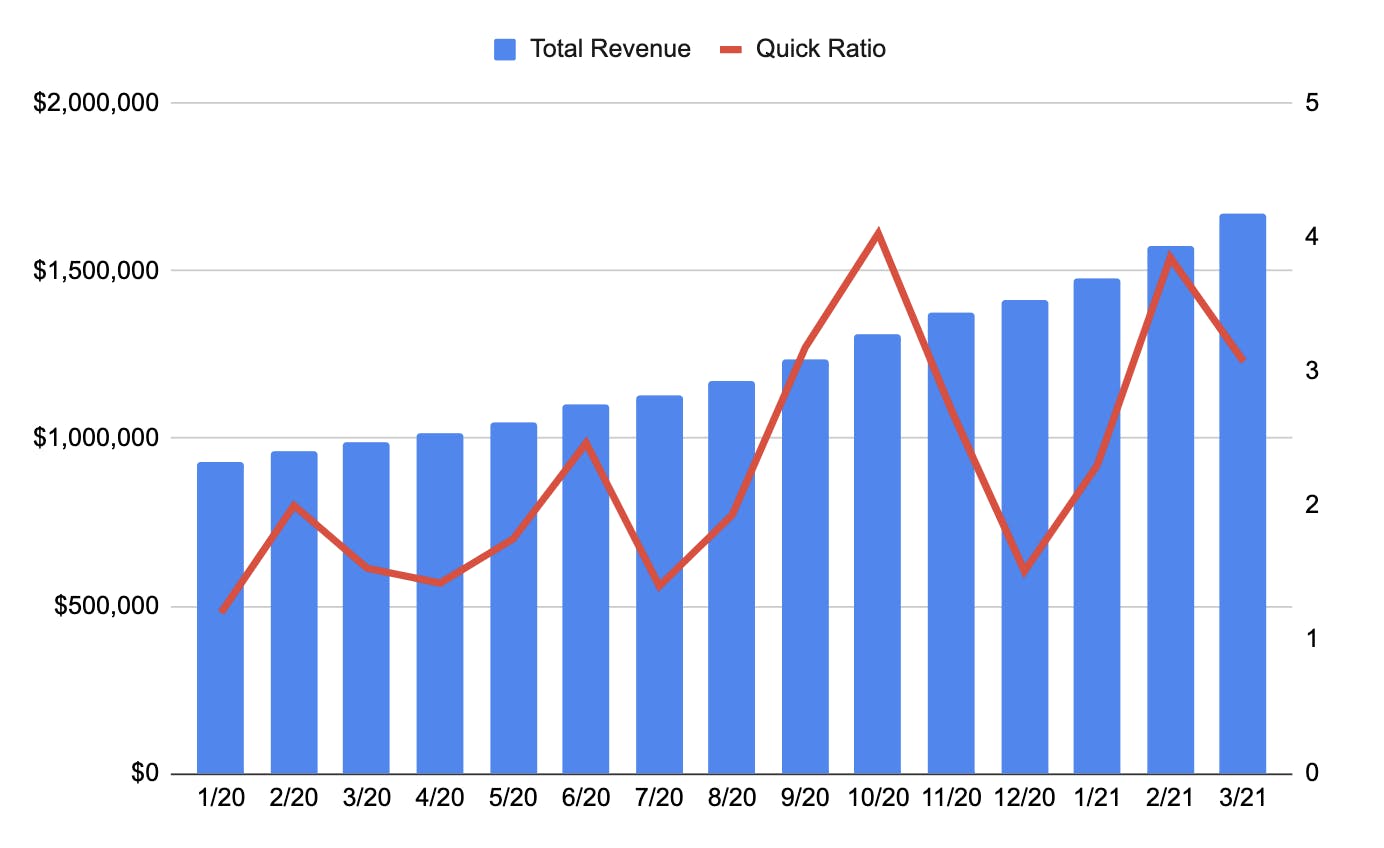 Customer.io's quick ratio has grown from about 1-2x in the early part of 2020 to 3x as of 3/2020.
Customer.io's 3-month average quick ratio has doubled since March 2020, from 1.5x to 3x. This means Customer.io is generating (via upsells, reactivations and new MRR) 3x the revenue that it's losing from churn and downgrades—and that its economics have improved dramatically from just a year ago when MRR gains were just barely outpacing losses.
Our base, bear, and bull cases for the company depend on how well Customer.io can continue to differentiate itself in a crowded marketplace and whether they expand their value proposition beyond email:
In our base case: Customer.io reaches $70M ARR, growing 30% per year, over the next 5 years. They're able to continue cutting down logo churn and growing revenue as they further build out their Premium plan for enterprise, ultimately becoming the customer messaging platform of choice for companies small and large with a preference for technical growth marketing.
In our bear case: Behavioral messaging becomes a commodity that, for most companies, is handled "well enough" by one of Customer.io's well-funded competitors. Churn ticks up as a result, and new MRR growth slows to the point that the overall economics of the business no longer work.
In our bull case: Customer.io becomes the $650M HubSpot of product-led growth, with substantial ARPU expansion, 40% year-over-over revenue growth and a 30% M&A premium driving the business to $100M ARR over the next five years.
In marketing automation and in SaaS in general there is an endless push-and-pull between end-to-end suites like HubSpot and point solutions like Customer.io. 
It's possible that Customer.io will continue to build a steadily growing business around customer messaging. But in our view, Customer.io has wedged into a unique niche around flexible, behaviorally-targeted customer interaction that has the potential—though not inevitable by any means—to be the foundation of a new kind of modern end-to-end marketing suite. 
Product: The behavioral messaging platform at $20M ARR
Customer.io is a marketing automation platform for customer messaging personalized to behavior and in-app events.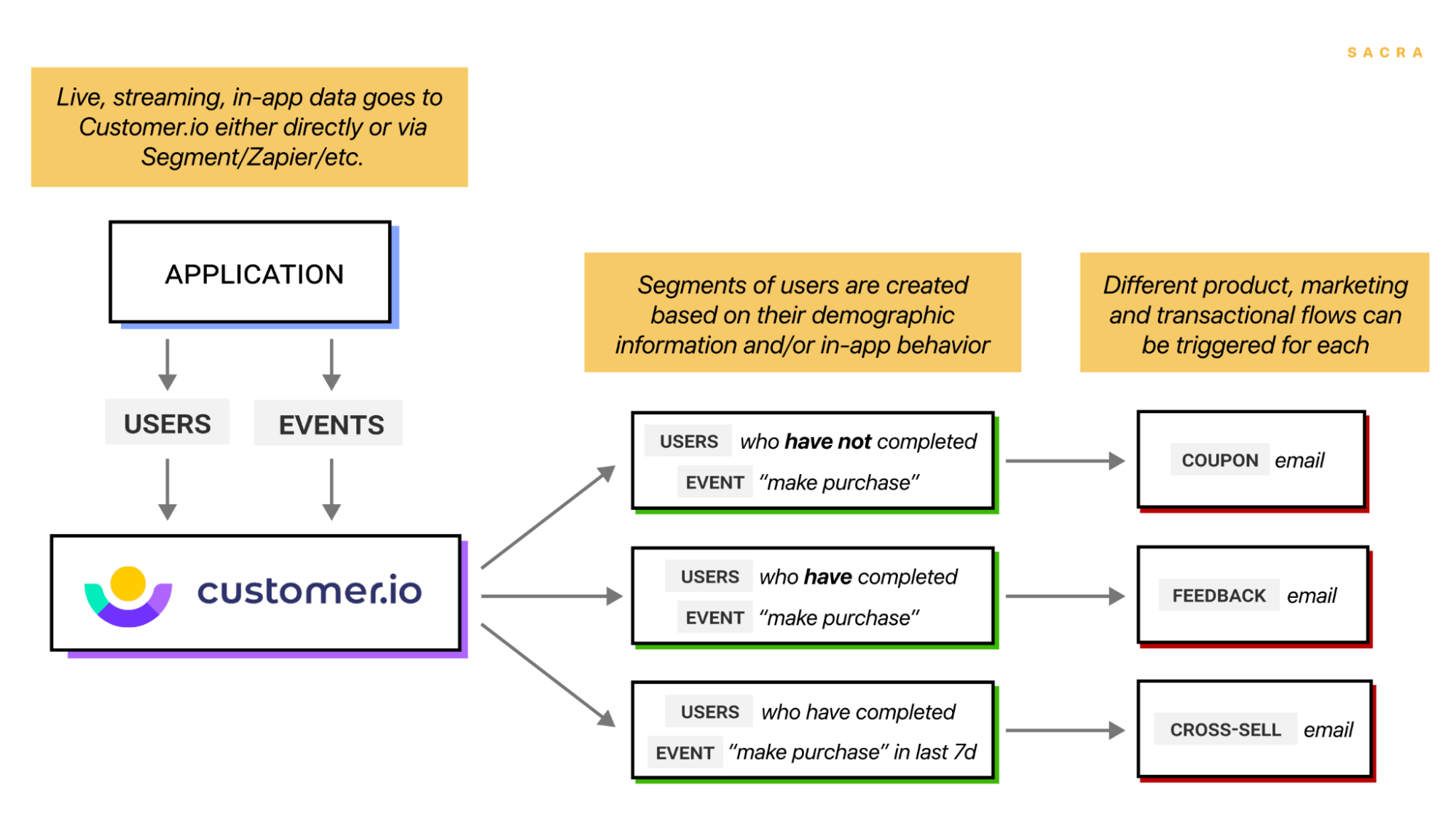 Customer.io's platform pulls data from your apps directly or via a CDP like Segment, and then turns that data into variables you can use to segment your messaging.
Customer.io allows teams to send transactional and marketing email campaigns, SMS, and push notifications based on user demographics—like geographical region or primary device—as well as in-app events, like visiting a product page and adding an item to their cart without checking out.
To use it, a real-time feed data is set up to feed into Customer.io. This can include of attribute, event, page view, and device data, among others, and this can be done via Customer.io's API or via a third-party service like Segment or Hull.
Customer.io then builds a profile of each user of your product, which teams can use to see and edit their key information—name, email, location, subscription status—as well as see their recent activity and recent correspondence.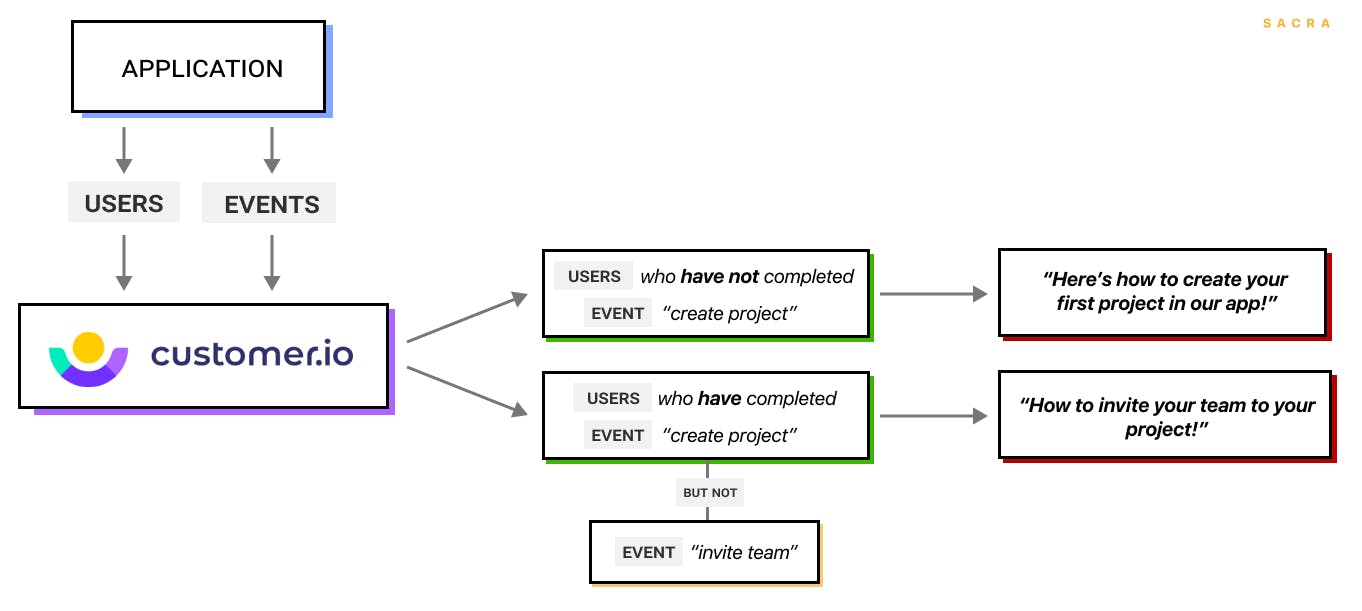 Segments can be built off conditional logic and used to send branching messages to two different groups.
Using those profiles, teams can build segments, or groups of users based on some behavior in their app. Segments can be defined by when someone last logged in, or how often they use a particular feature, or whether they added a product to their wish list but haven't looked at in a certain period of time.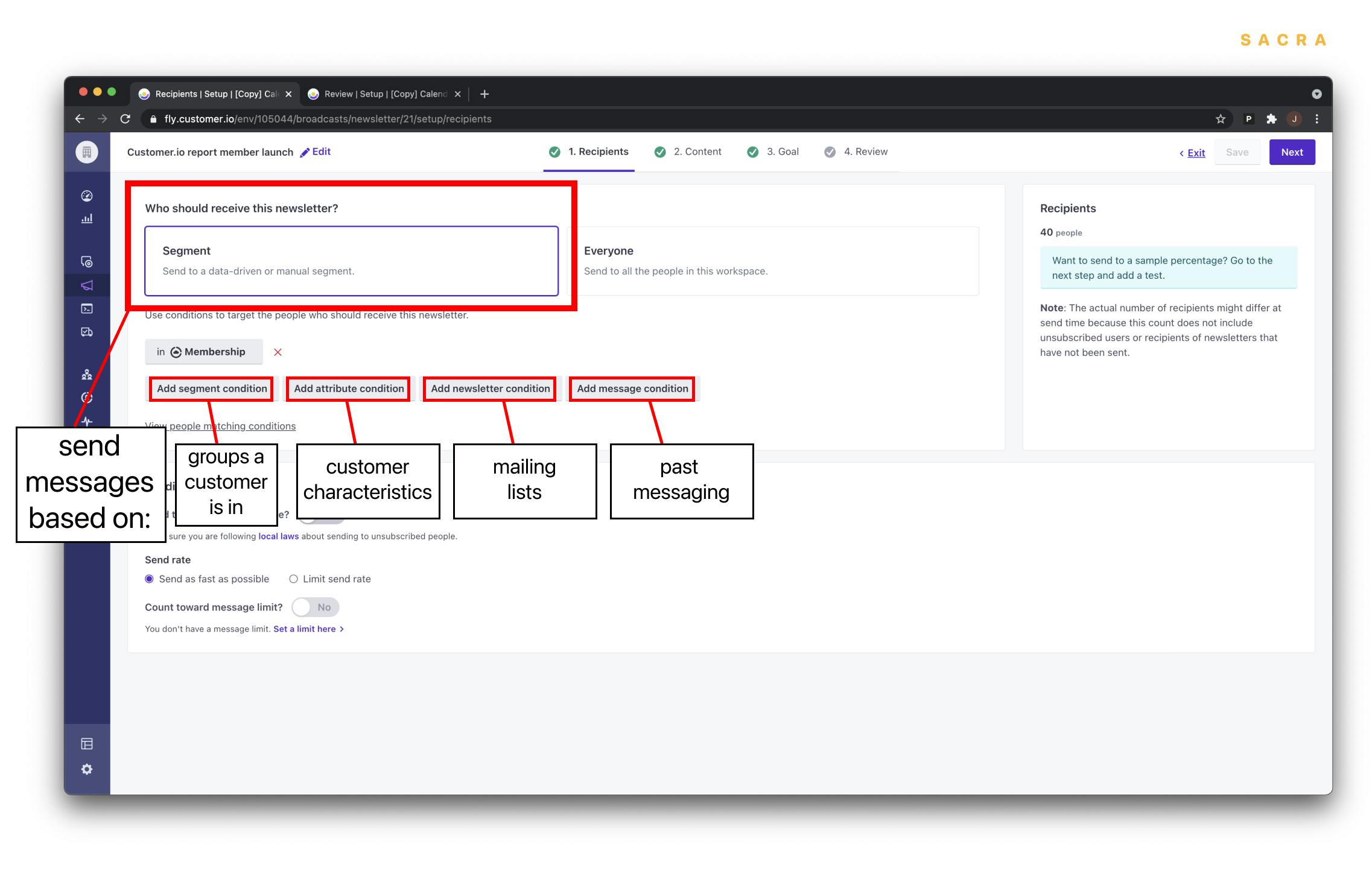 Finally, teams can send messages to different segments. These can be transactional emails, like reminders to go back for an item that's been abandoned in a cart. These can be marketing emails, like newsletters tailored for a particular audience. And these can also be more product-driven emails, like nudges to "create a first project" in a project management app for users who haven't done that yet.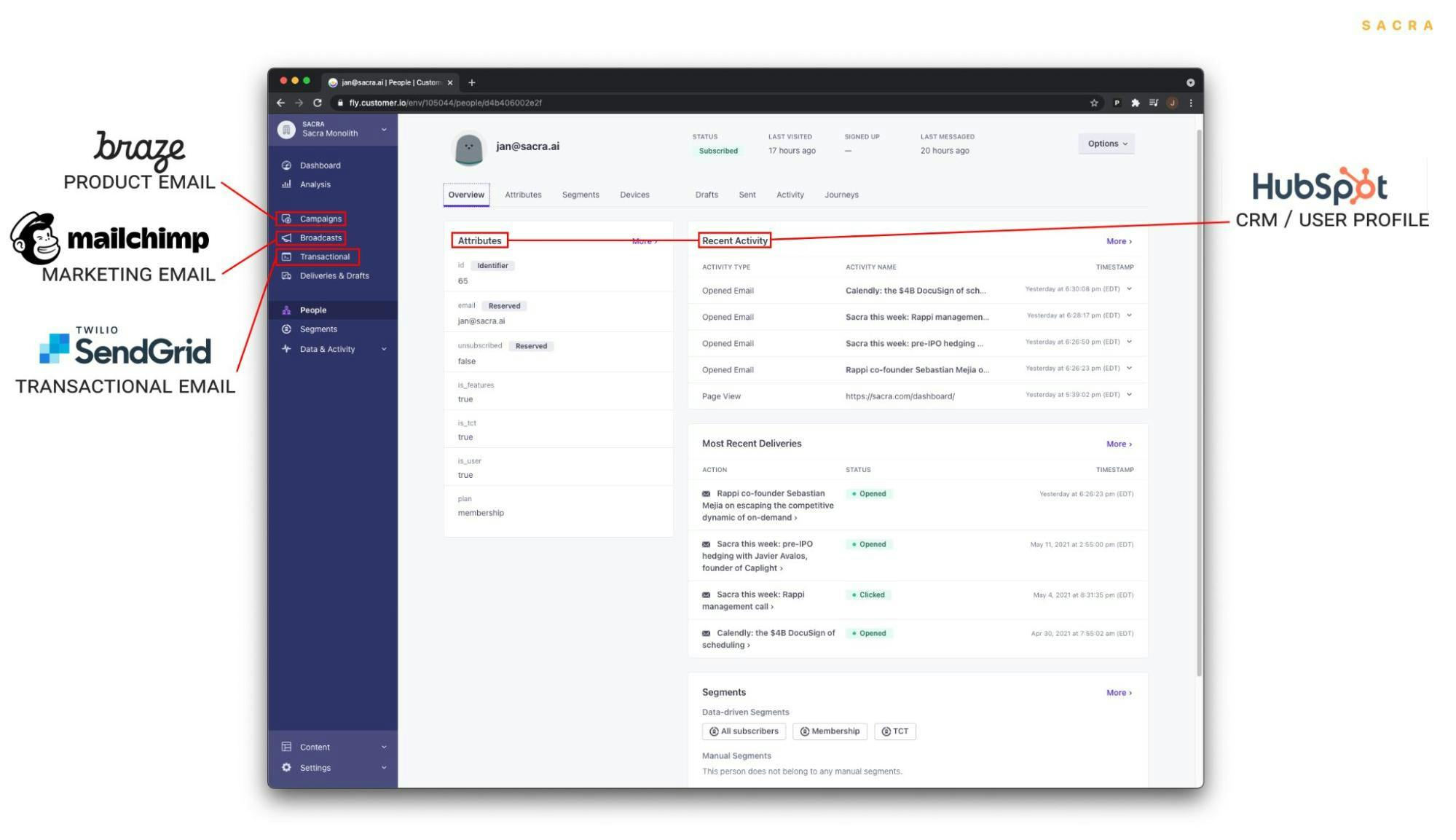 Customer.io's platform combines the functionality of various other marketing platforms, with marketing, product, and transactional email in the same place as a CRM-like user data store.
Branched workflows with split testing, time delays and others allow marketers to set up more complex workflows with their messaging.
Customer.io's main value proposition when it first launched was bringing these more complex segmenting functionalities—once rare outside of enterprise-level products—to SMBs and startups. Today, it is Customer.io's flexibility and extensibility, which allows teams with the technical resources to spare the ability to achieve a high level of customization over their email campaigns. 
Since 2018, Customer.io has had two pricing plans. Basic starts at $150 per month and rises with your number of email subscribers, while Premium starts at $995 per month. Most features—like SSO—are available on the Basic package, but Premium plan users do receive the ability to send HIPAA compliant emails, a quarterly check-in with a dedicated customer success manager, SLAs, annual contracts, and access to professional services. 
Analysis
We believe Customer.io's big opportunity lies in its alignment with the rising trend of product-led growth.
Product-led growth is the idea that instead of pumping money into sales or marketing in order to attract, activate, and retain new customers, you build organic marketing loops into the product itself: think Calendly using its invite page as its primary funnel for new user acquisition or Zapier auto-generating landing pages for every new integration on the platform.
This kind of growth is powerful because it allows companies to carve out a unique form of repeatable, free distribution rather than spending increasing sums of money renting out eyeballs on increasingly-saturated acquisition platforms like Facebook and Amazon. 
However, because product led growth effectively means building marketing into your product versus simply marketing your product, it has two key requirements: 
A more technical set of approaches and skills. A marketer at Zapier could have come up with the idea to auto-generate a set of landing pages for each new integration, but it would require someone with the ability to code—maybe a "technical growth marketer" in today's parlance—to implement it.
An experimental, iterative approach to growth: Whereas the traditional sales and marketing approach hinges on a few replicable paradigms—email newsletters, landing pages, webinars, and so on—product led growth is more unique to the individual product
Most email marketing tools on the market today are solidly in the old paradigm, permitting some degree of customization and personalization but basically designed to manage companies' inbound and outbound campaigns.
Customer.io, on the other hand, is a marketing product that positions itself—counter-intuitively—as being for developers and marketers with technical skills.
It is designed for teams that want more flexibility in how they create segments, trigger messages, and manage their understanding of their users.
While that may have constrained their ability to grow in their early years, that focus on technical end-users has become more and more relevant as the locus of growth in startups has moved from the external (sales and marketing) to the internal (product). 
Today, that gives them an opportunity to go from being the logic layer of how product-led startups message their customers to being the true customer-facing center of the product-led growth company. The same way HubSpot brought the tools of enterprise marketing teams to SMBs and startups, Customer.io brought advanced behavioral messaging to SMBs and startups: now, just as HubSpot did, Customer.io has the potential to go from a useful tool to an end-to-end solution.
1. The go-upmarket strategy driving 131% net dollar retention
Customer.io's core customer base is startups and SMBs, and they've focused most of their product efforts on serving those customers.
That SMB focus is clear from the cumulative distribution function of Customer.io's monthly revenue.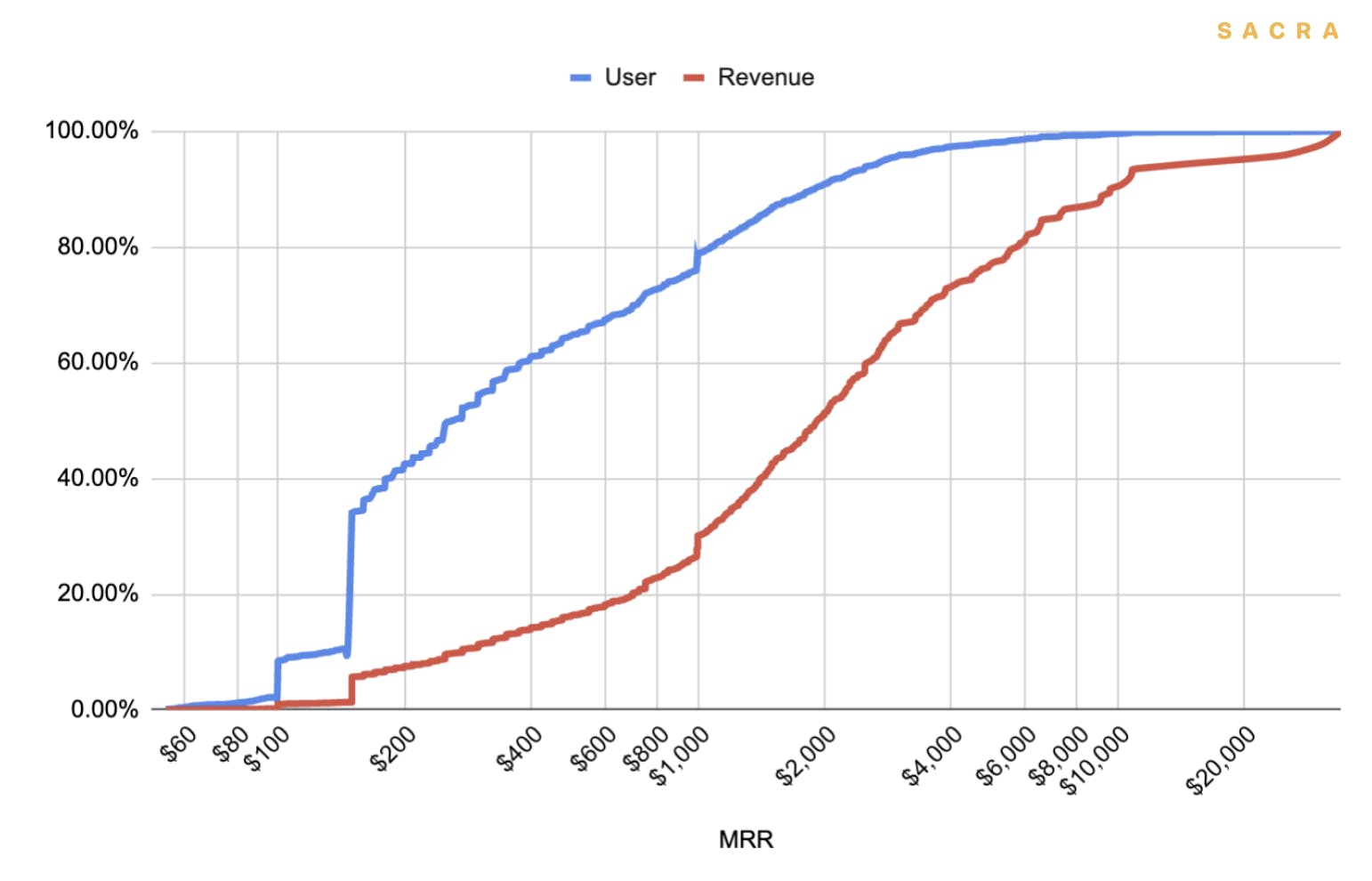 Customer.io's cumulative percentage of customers and revenue
The CDF shows us what the average Customer.io customer looks like and how they contribute to the company's monthly revenue. The point where the red line crosses $1K on the x-axis tells us that 30% of all monthly revenue comes from customers who spend less than $1K. The spot where the blue line crosses that point, directly above it, tells us that about 80% of Customer.io customers spend less than $1K per month. 
Customer.io's product strategy has been to primarily focus on building for that 80% of customers and allow the product to naturally edge upmarket as its customers grow and it matures.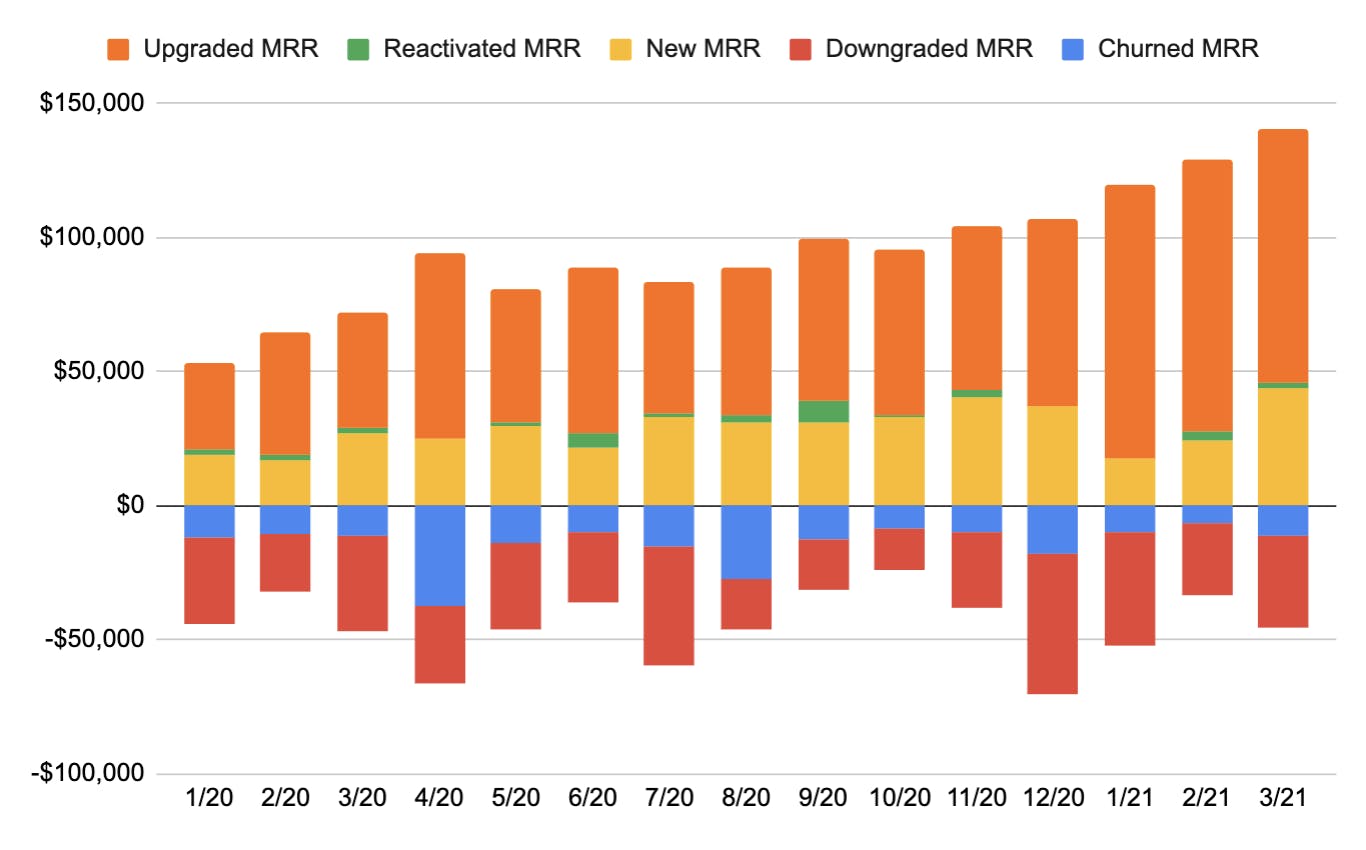 Customer.io's growth accounting shows rapidly expanding upgrade MRR offsetting churn.
In 2018, they took their biggest step towards monetizing bigger, enterprise customers with the launch of their Premium plan. 
The main difference between Customer.io's Premium plan and Customer.io's Basic plan is that the Premium plan is designed to better fit an enterprise go-to-market, with SLAs, annual contracts, quarterly check-ins with a customer success manager, and HIPAA compliance. Not much is truly feature-gated behind the Premium plan: features like roles and SSO that other SaaS products might reserve for an enterprise-level package are all available on a Basic subscription. 
Customer.io's Premium plan, despite some potential revenue under-optimization, has shown efficacy both in driving growth and reducing logo churn at the higher-end of their customer base.
Today, Premium represents 44% of all MRR and is growing 4x as fast as MRR from the Basic plan.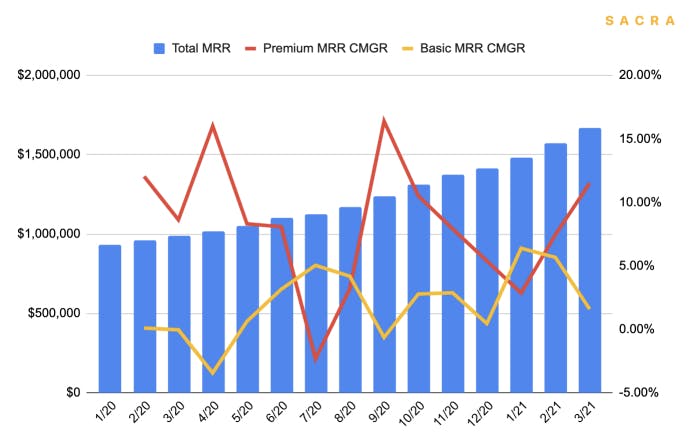 Premium MRR doubled between 1/20 and 3/21 and grew to 44% of revenue.
Customer upgrades from Basic to Premium accounted for $155K of MRR in 1/20, up to $344K as of 3/21. 
Total revenue growth has increased from 2.75% per month to 4.70% per month over that period as a result—the difference between 38% CAGR and 76% CAGR.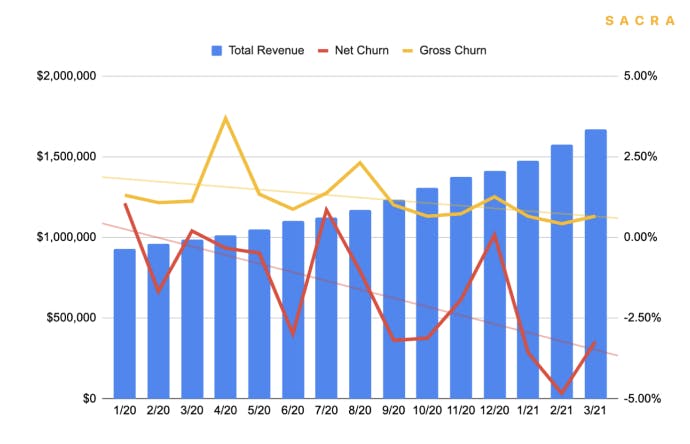 Net negative churn of -3.23% means Customer.io grows without adding new customers
Net dollar retention over just the last three months has improved from 121% to 131% as a result of these Basic-to-Premium upgrades and resulting growth in the value of each cohort.
Along with Customer.io's net negative churn (-3.88% average over the last three months), this creates a powerful dynamic where the company does not need to add new customers in order to continue growing. Instead, each cohort becomes more valuable over time just from the compounding value of upsells and upgrades.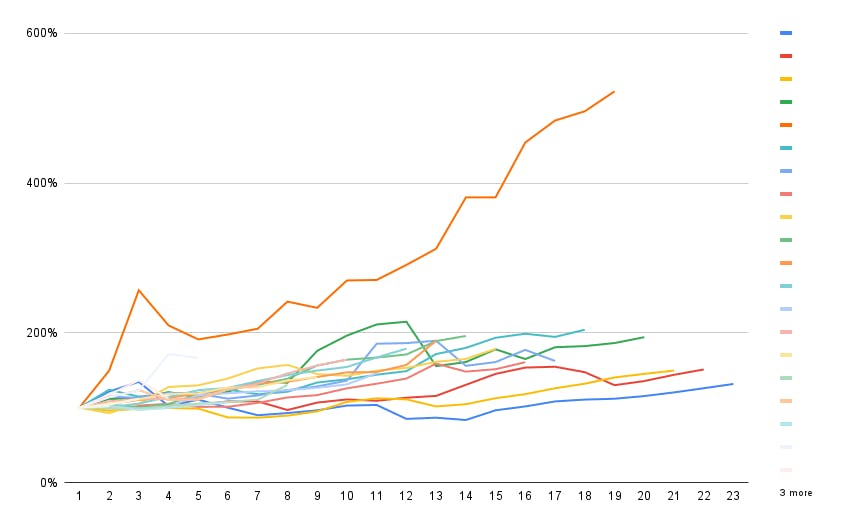 A measure of the value of Customer.io's cohorts from the last 23 months—upward lines indicate becoming more valuable over time.

Customer.io cohort analysis in heatmap table form.
An analysis of the last 23 months of revenue retention by cohort illustrates this durability in Customer.io's revenue—their cohorts become more valuable over time, despite dips that are a result of large customers churning, leading to the oldest cohorts being the most valuable.
Customer.io's ability to retain customers and drive ever-greater revenue from them over time is a characteristic of the best SaaS companies, the top quartile of which exhibit similar amounts of net dollar retention at IPO: compare Customer.io (131%) to Sendgrid (111%), HubSpot (93%), SmartSheet (130%), Qualtrics (125%), Asana (120%), and DocuSign (115%).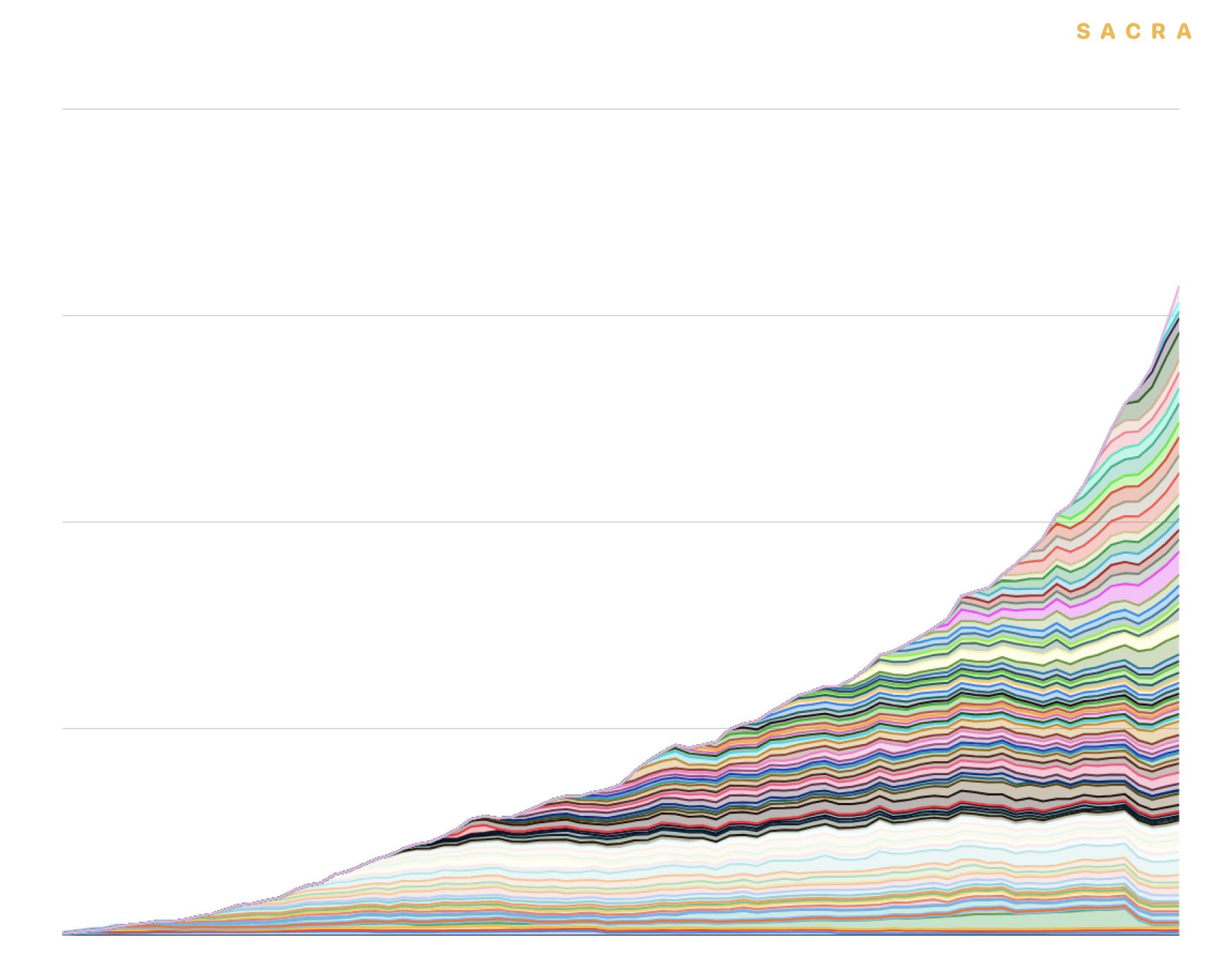 High net dollar retention is powerful because, as the chart above shows, stacking the value of increasingly valuable cohorts generates huge returns as you get to scale.
The more that Customer.io can mitigate churn by getting its bigger customers to the Premium plan versus allowing them to leave for an all-in-one platform like HubSpot, the greater their ability to retain more of their revenue from customers over time will become, which will further bend those cohort curves up and generate even larger upside at scale.
2. Customer.io's place in the marketing-sales-product email prism
The email industry is large and fragmented, with enterprise-focused suites (HubSpot, Salesforce) and SMB-centric marketing tools (MailChimp, ActiveCampaign, Constant Contact) offering messaging products roughly comparable to those of B2C and mobile-focused players (Braze, Iterable) and technical, product-driven companies (Customer.io).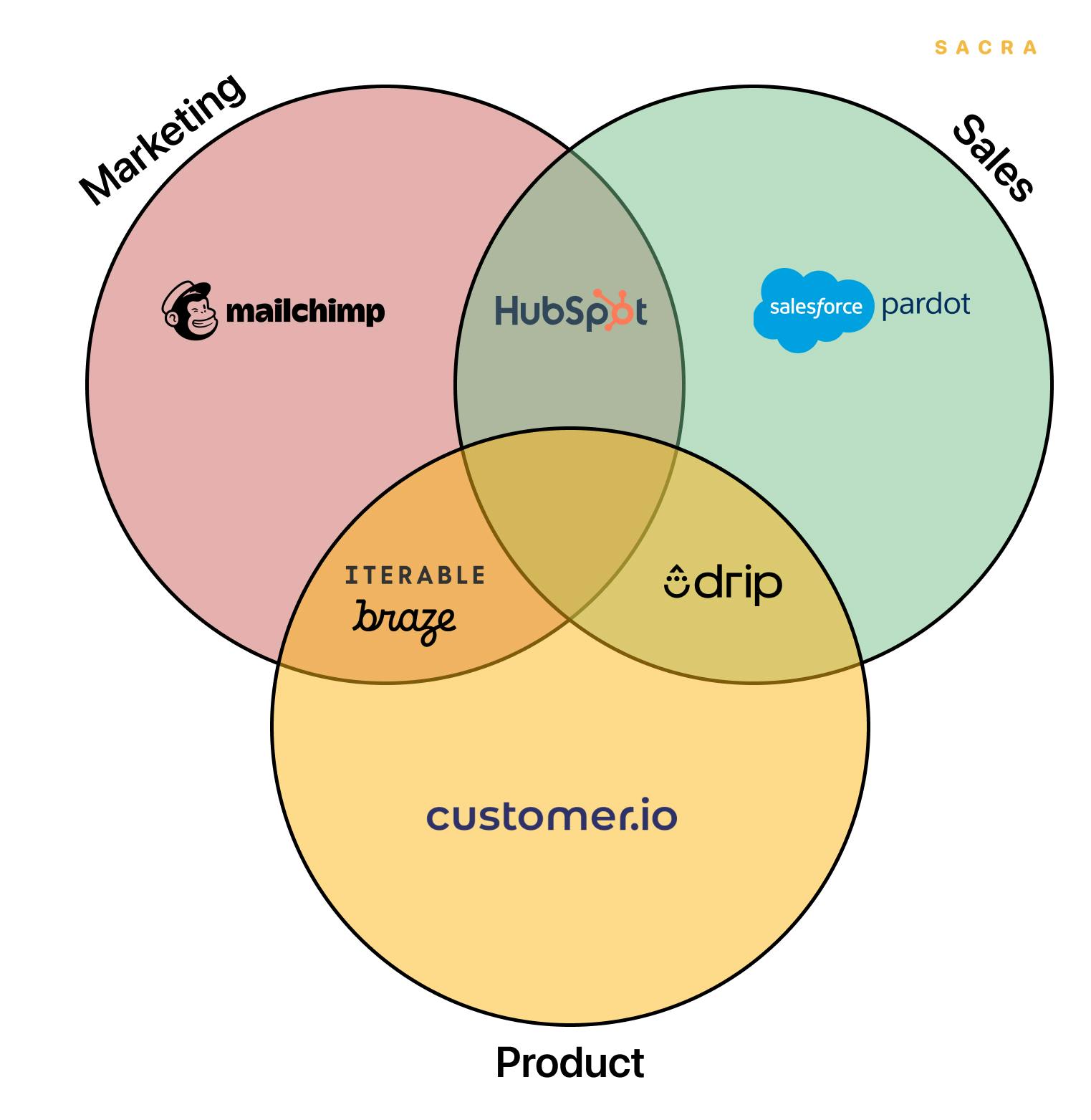 Different products make the most sense for companies with different centers of gravity.
One of the reasons it's unlikely that we'll see a single winner in this space is that different products tend to make sense for different kinds of companies. There are messaging products designed primarily for B2B and B2C companies, for SMBs and startups and enterprises. The most resilient distinction, however, will be between companies with different organizational cultures around growth:
Organizations with a marketing center of gravity: With many non-technical team members involved in key inbound campaign workflows, tools like ActiveCampaign or MailChimp will be the best fit
Organizations with a sales center of gravity: With many non-technical team members involved in prospect nurturing and conversion, a tool built around a CRM like HubSpot or Salesforce will be the best fit
Organizations with a product center of gravity: With many technical team members involved in the user/customer lifecycle, a more extensible, flexible tool like Customer.io or Iterable will be the best fit
Further fragmentation is created by the fact that companies will, as they grow, transition from one type of center of gravity to another, or to a hybrid of two types.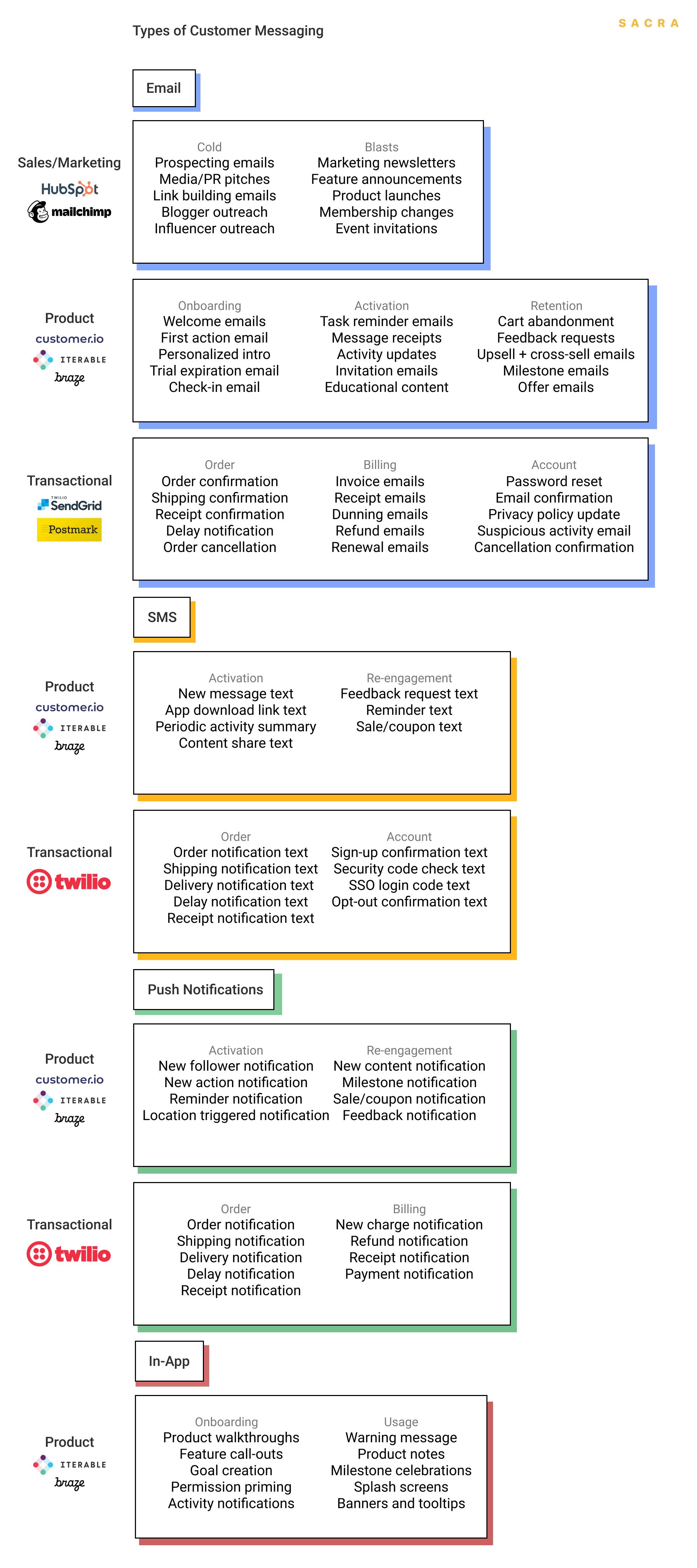 The types of messages companies send to customers range from the purely transactional to product-driven to more sales-and-marketing-focused.
As they get bigger, more people necessarily must be involved in working on the customer from different perspectives. More non-technical team members involved in marketing, onboarding, and other customer-facing tasks means a need for tools that are friendly for non-technical team members to use.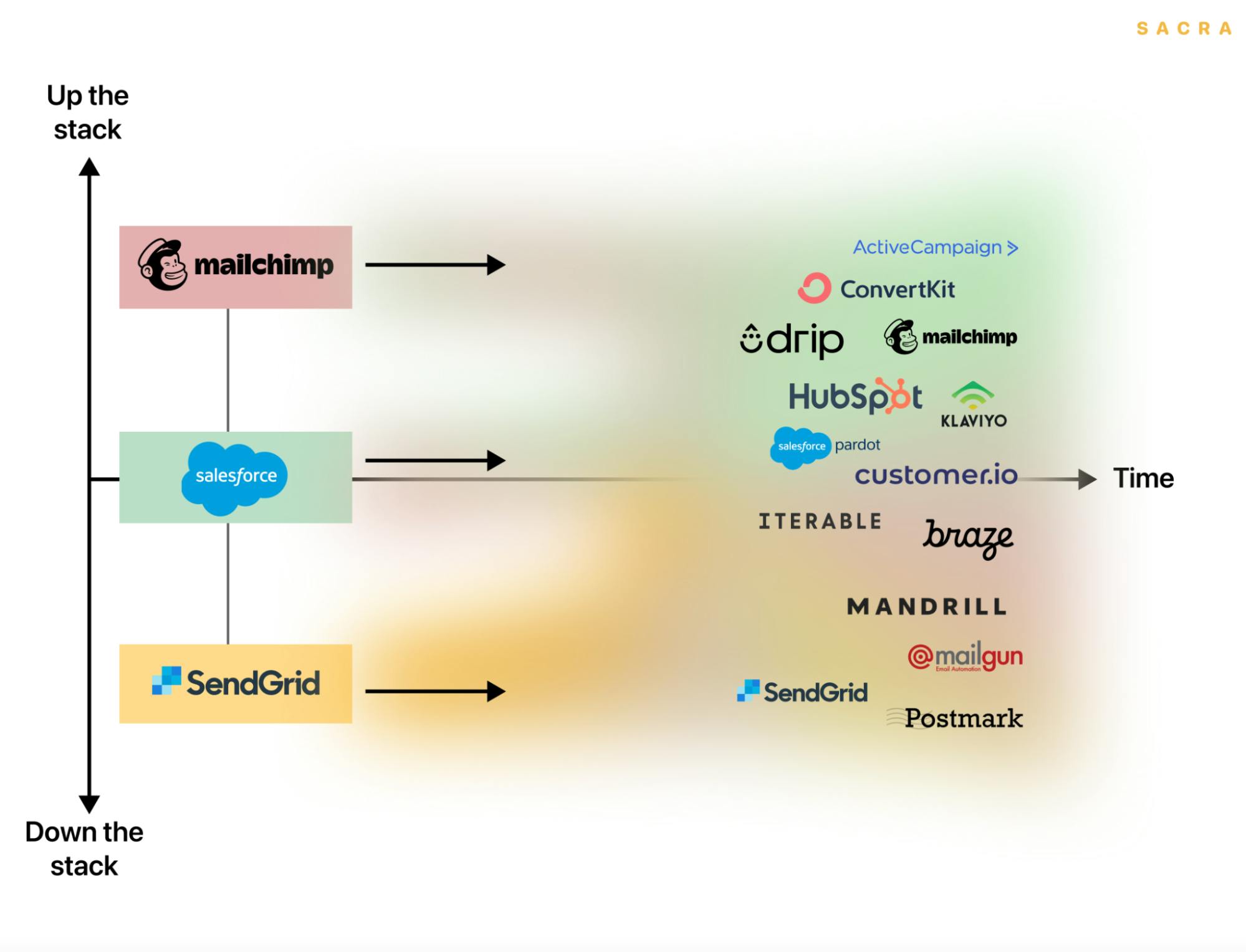 Over time, marketing stacks become more complex, with different companies striking different balances between marketing, sales, and product focused tools.
The messaging platforms, in order to expand their TAM and keep their customers around as they mature, have to transition as well. HubSpot did it by building out a CRM on top of their suite of inbound marketing tools, and Salesforce did the same in acquiring marketing automation tool Pardot. 
Today, Customer.io has carved out a niche with engineering-centric companies or companies that have engineering resources to dedicate to marketing. 
The risk is that as companies grow and their teams grow to include more and more non-technical members, they will have to look for alternatives as those new team members find Customer.io challenging to use or can't have ownership over their own projects. 
If they're a marketing-centric organization, like the company mentioned in our first expert interview, they might find that ActiveCampaign is a suitable alternative. Instead of siloing the work of email in their technical resources, the whole team can use the tool, without losing too much functionality.
If they're an e-commerce company, they might find that Klaviyo is a suitable alternative—providing enough personalization with the benefit of making it easy for non-technical marketers to gracefully merge customer profiles with uploaded CSVs.
If their focus is mobile, they might find that Braze is a suitable alternative—offering the non-technical users on their team a way to build simple mobile push campaigns with a drag-and-drop editor.
The advantage of Customer.io's orientation is the switching costs that it creates. Integrating Customer.io with your product requires an upfront investment of developer time as well as ongoing maintenance. Ripping it out and replacing it with something else requires rewriting that code.
The switching cost of Customer.io is higher the more teams customize it for their app's events, users, and attributes, while companies that use it more for purely marketing and transactional emails will see less barriers to switching. 
Piping data into Customer.io via a tool like Segment or Hull, while it can help customers get started with the product sooner, can reduce the barriers to switching by creating greater data portability.
And some competitive products, like ActiveCampaign, will also offer prospective customers a manual migration of their Customer.io segments—a better fit, again, the more that companies primarily use Customer.io to send simpler marketing email versus writing custom, behavior-triggered campaigns.
3. How Customer.io can build the HubSpot for the PLG era
More than most marketing automation platforms, Customer.io is designed for technical end-users—marketers who can code, growth teams, and product teams. 
Customer.io's emphasis on this particular user case, along with the developer-friendly flexibility of their product, aligns it well with the rising doctrine of product-led growth. But it also limits their ability to grow because the centers of gravity around email in many organizations—even those that are product-led—inevitably drift towards non-technical marketing and sales teams. 
We believe this sets up Customer.io's big opportunity, which is to build the "HubSpot" of product-led growth: a platform that brings together an organization's technical and non-technical users behind one core user profile model and one core paradigm around user messaging.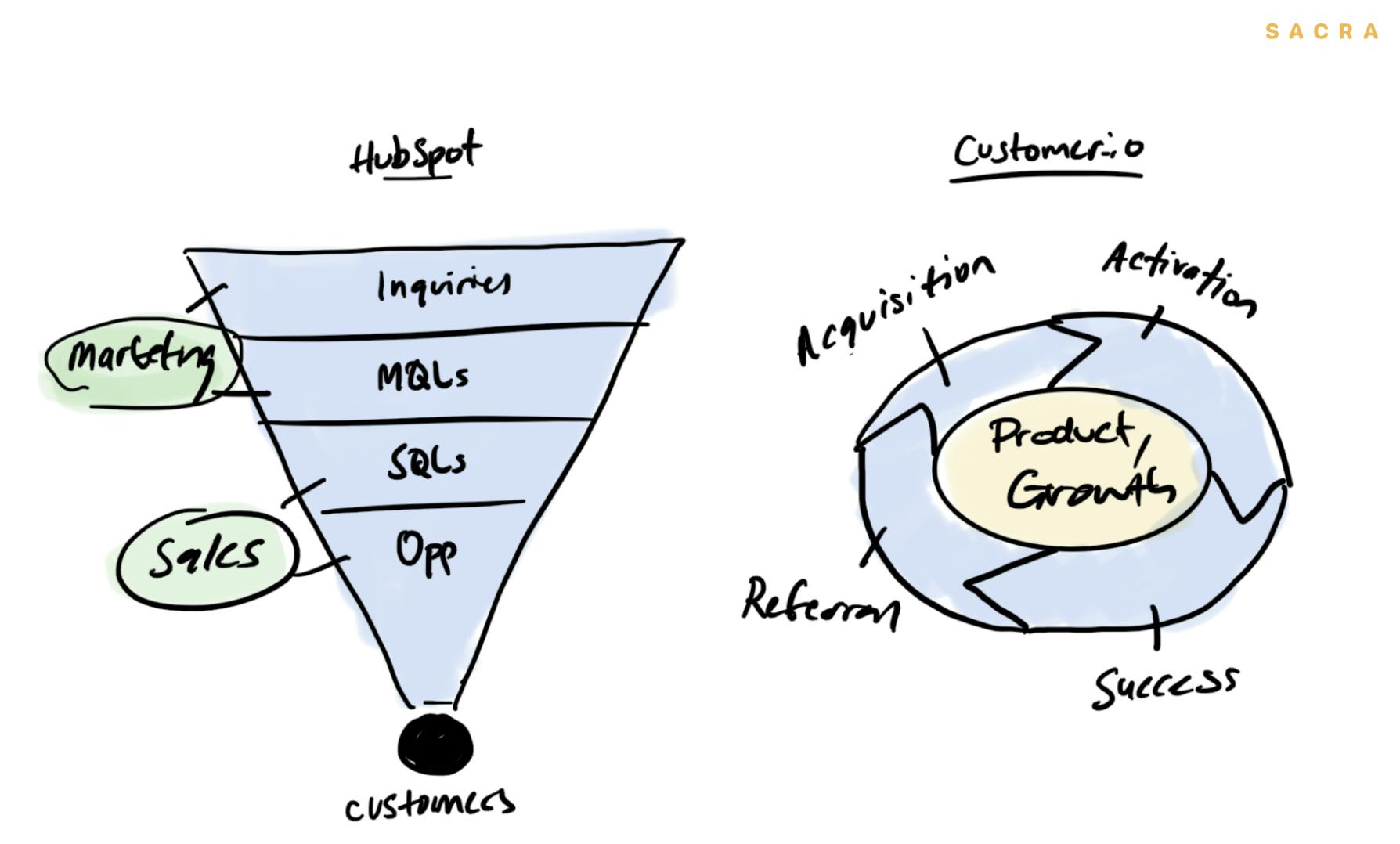 Behavioral messaging is a wedge for Customer.io to get into organizations and prove value—next comes the opportunity to expand out into other related PLG markets (onboarding, acquisition, referral, customer success, etc.)
For the old world of sales and marketing-led growth, the key paradigm was the funnel. Prospects entered the funnel at the top, they were qualified, and they were sold.
In PLG, the key paradigm is the user lifecycle. A user comes into your product, is activated, experiences success, and then goes on to refer others to the product, whether that's their friends or colleagues.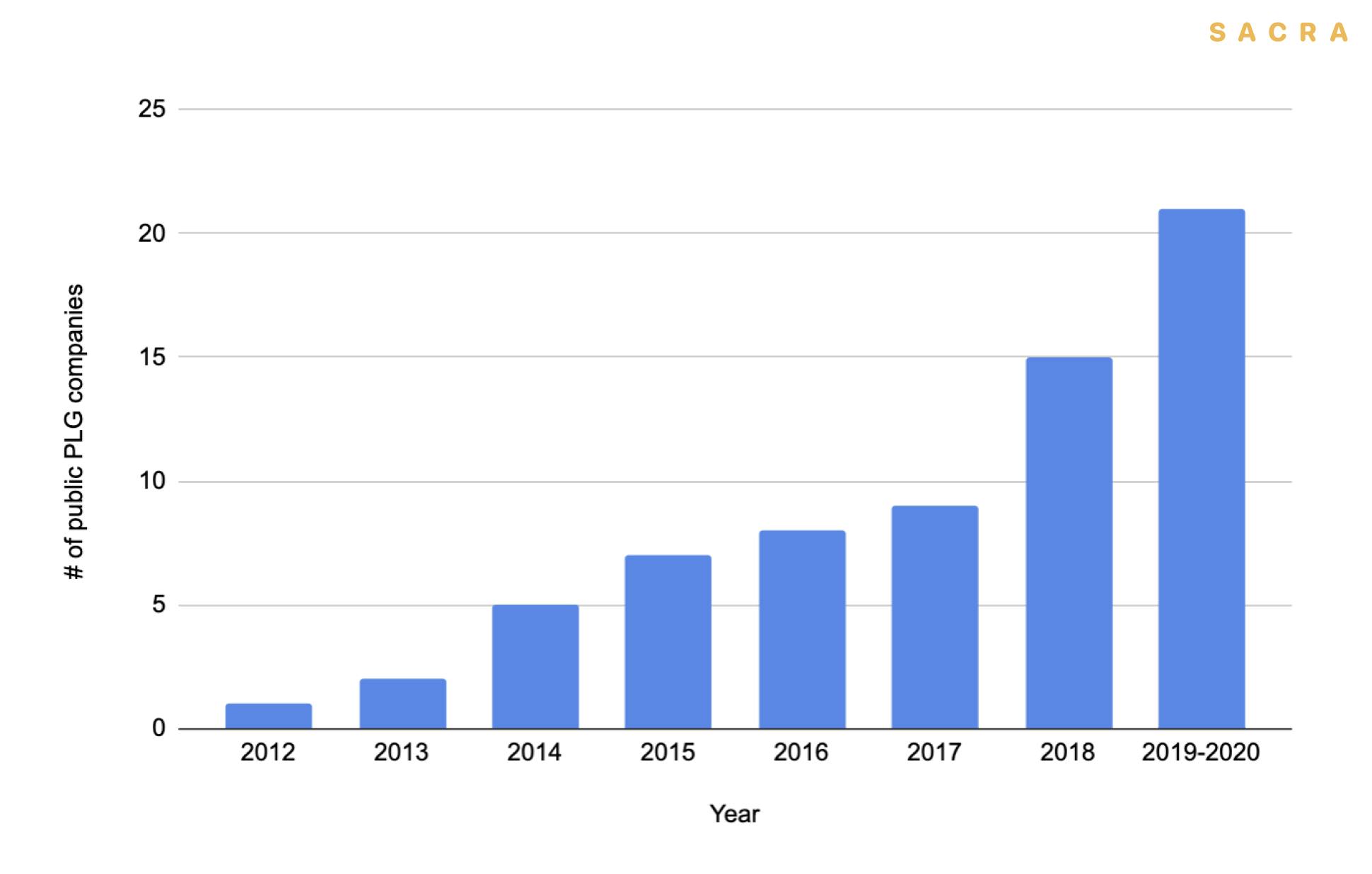 The number of publicly-listed PLG companies has grown more than 10x since 2013. (Source: OpenView Venture Partners)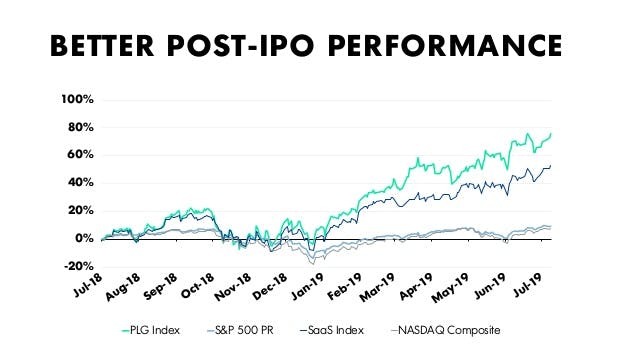 PLG companies that went public between July 2018 and 2019 outperformed both the S&P 500 and an index of publicly-listed SaaS companies. (Source: OpenView Venture Partners)
HubSpot gave marketers a CRM so they could measure and track the performance of their inbound and outbound campaigns. Once a customer was sold, they ceased to matter.
The "HubSpot of product led growth," on the other hand, must give product focused organizations a CRM that helps them build and iterate on their product's organic growth loops—that means constantly interacting with their customers before and while they are using the product, testing out new nudges and forms of activation, and experimenting with new forms of incentivizing sharing and referral.
Today, Customer.io is a platform for email, SMS, and chat messaging. But by making flexibility the cornerstone of their approach, they found a wedge into a certain kind of company that approaches growth from this viewpoint of product rather than marketing. Now, they have the opportunity to go a step further and help solve more of the kinds of problems that these organizations have when it comes to understanding their customers and building these kinds of growth loops.
On their crowdfunding announcement page, Customer.io hinted that something like this might be the plan, explaining that they were raising money via Reg CF to "do more" for their customers and "play an even larger role in fostering a good relationship between their business and every single customer."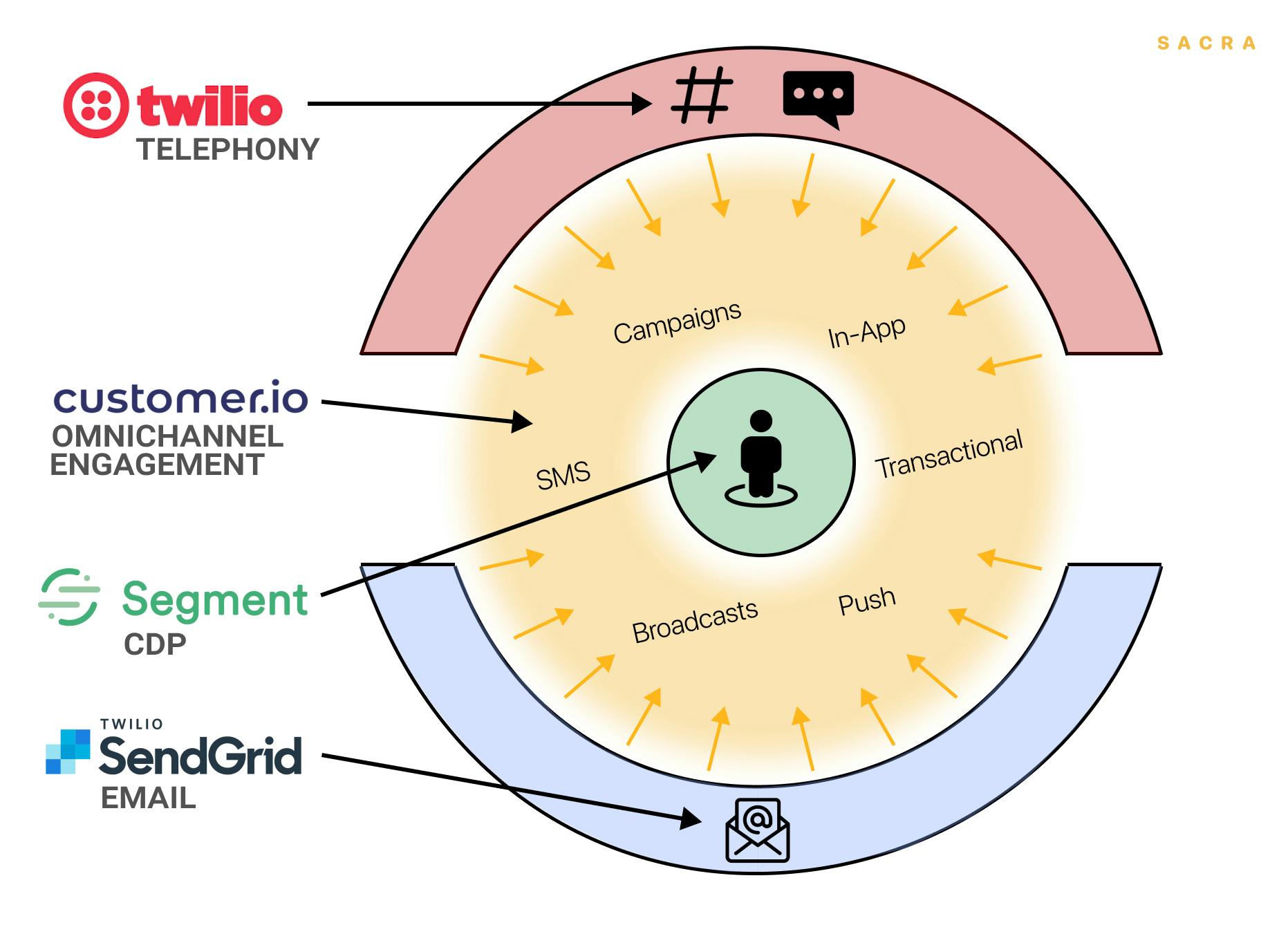 With their omnichannel marketing platform, Customer.io completes the loop created by Twilio, SendGrid and Segment.
From an acquisition perspective, Customer.io building the "HubSpot of PLG" means building the platform that completes the loop between Twilio and two of its major acquisitions: SendGrid and Segment.
Segment provides Twilio with access to user profiles, SendGrid provides deliverability for millions of transactional emails, and Twilio provides telephony for SMS and chat. What's missing—and what Segment helps Twilio edge their way into—is the actual engagement tools at the top of the stack. Customer.io fits into the engagement layer that Twilio is building out, and has the developer-first DNA that most Twilio acquisitions have had.
Appendix
Disclaimers
Sacra has not received compensation from the company that is the subject of the research report.
Sacra generally does not take steps to independently verify the accuracy or completeness of this information, other than by speaking with representatives of the company when possible.
This report contains forward-looking statements regarding the companies reviewed as part of this report that are based on beliefs and assumptions and on information currently available to us during the preparation of this report. In some cases, you can identify forward-looking statements by the following words: "will," "expect," "would," "intend," "believe," or other comparable terminology. Forward-looking statements in this document include, but are not limited to, statements about future financial performance, business plans, market opportunities and beliefs and company objectives for future operations. These statements involve risks, uncertainties, assumptions and other factors that may cause actual results or performance to be materially different. We cannot assure you that any forward-looking statements contained in this report will prove to be accurate. These forward-looking statements speak only as of the date hereof. We disclaim any obligation to update these forward-looking statements.
This report contains revenue and valuation models regarding the companies reviewed as part of this report that are based on beliefs and assumptions on information currently available to us during the preparation of this report. These models may take into account a number of factors including, but not limited to, any one or more of the following: (i) general interest rate and market conditions; (ii) macroeconomic and/or deal-specific credit fundamentals; (iii) valuations of other financial instruments which may be comparable in terms of rating, structure, maturity and/or covenant protection; (iv) investor opinions about the respective deal parties; (v) size of the transaction; (vi) cash flow projections, which in turn are based on assumptions about certain parameters that include, but are not limited to, default, recovery, prepayment and reinvestment rates; (vii) administrator reports, asset manager estimates, broker quotations and/or trustee reports, and (viii) comparable trades, where observable. Sacra's view of these factors and assumptions may differ from other parties, and part of the valuation process may include the use of proprietary models. To the extent permitted by law, Sacra expressly disclaims any responsibility for or liability (including, without limitation liability for any direct, punitive, incidental or consequential loss or damage, any act of negligence or breach of any warranty) relating to (i) the accuracy of any models, market data input into such models or estimates used in deriving the report, (ii) any errors or omissions in computing or disseminating the report, (iii) any changes in market factors or conditions or any circumstances beyond Sacra's control and (iv) any uses to which the report is put.
This research report is not investment advice, and is not a recommendation or suggestion that any person or entity should buy the securities of the company that is the subject of the research report.  Sacra does not provide investment, legal, tax or accounting advice, Sacra is not acting as your investment adviser, and does not express any opinion or recommendation whatsoever as to whether you should buy the securities that are the subject of the report. This research report reflects the views of Sacra, and the report is not tailored to the investment situation or needs of any particular investor or group of investors.  Each investor considering an investment in the company that is the subject of this research report must make its own investment decision.  Sacra is not an investment adviser, and has no fiduciary or other duty to any recipient of the report.  Sacra's sole business is to prepare and sell its research reports. 
Sacra is not registered as an investment adviser, as a broker-dealer, or in any similar capacity with any federal or state regulator.

Read more from
Read more from