Customer.io's path to $100M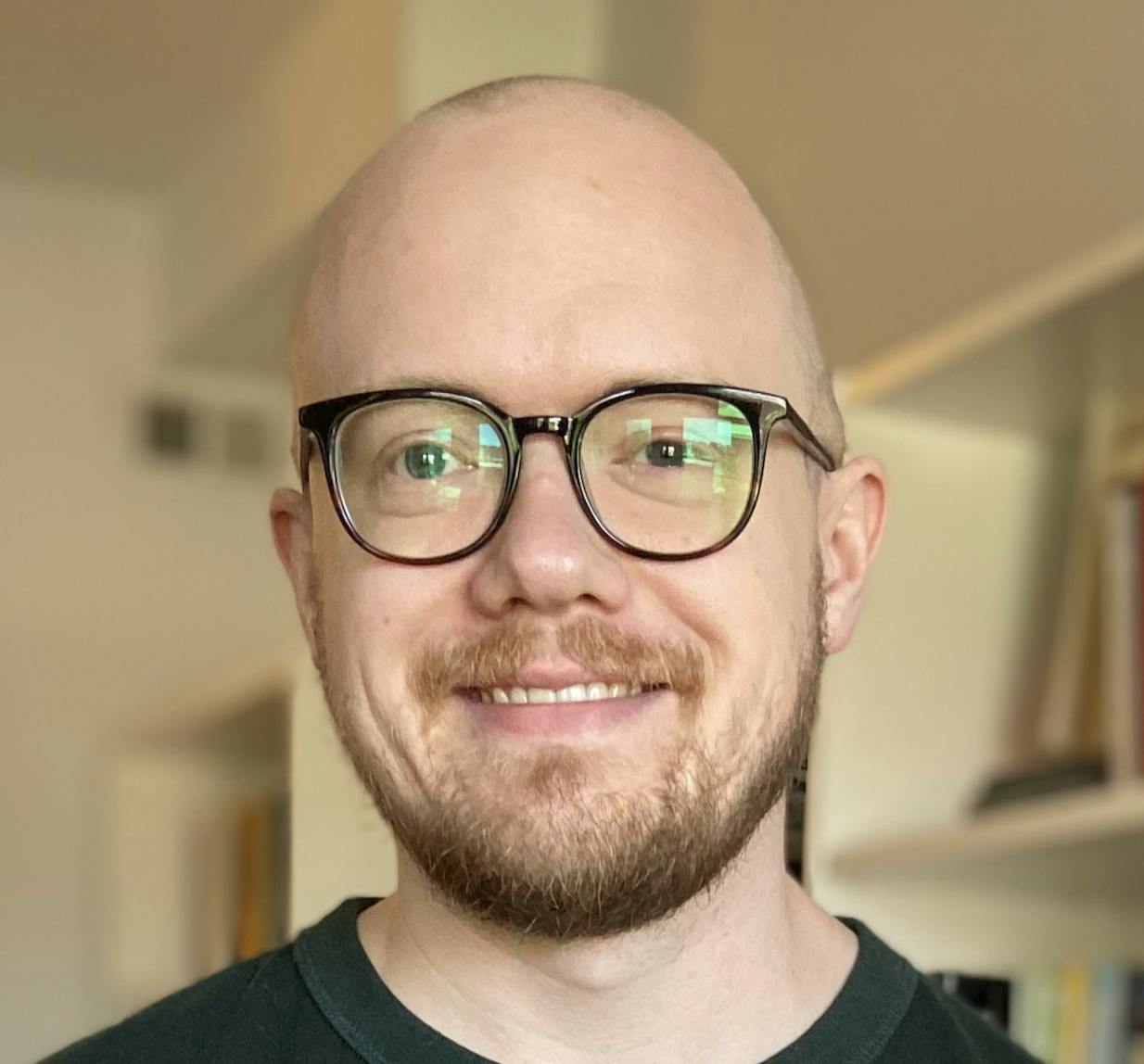 Jan-Erik Asplund
TL;DR: Customer.io has grown annual recurring revenue (ARR) to $50M, up 35% year-over-year, riding the rise of product-led growth. Now, they're using this recession in tech to lay the foundation for a multi-product company, expanding into email coding and customer data platforms (CDPs). For more, check out our interview with Customer.io CEO Colin Nederkoorn, as well as our Customer.io report and dataset.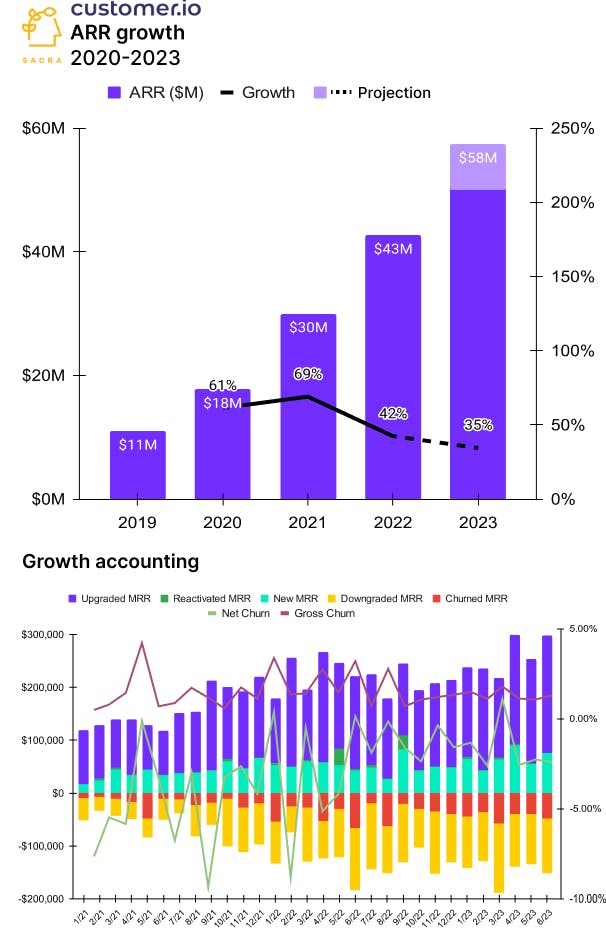 Key points from our update: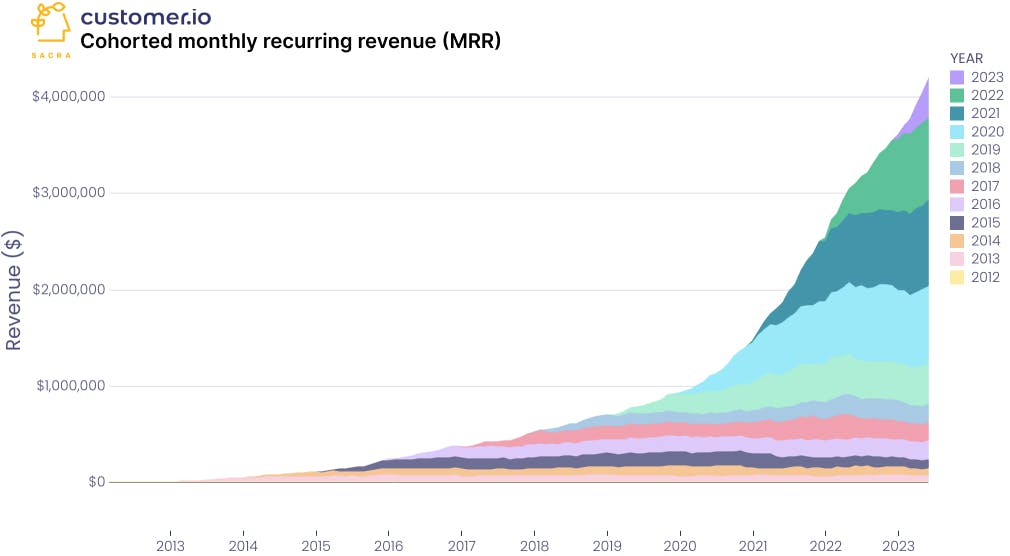 While other SaaS companies have contracted and cut non-essential lines of business, Customer.io has gone multi-product and used bundle pricing offensively to undercut Segment's increasingly expensive customer data platform. Launching a new low-end "Essentials" plan at $100/month lets Customer.io expand horizontally without leaving behind the land-and-expand SMB business that has been a hallmark of their growth to date.
Customer.io's strong balance sheet with $29M in the bank has enabled it to make strategic acquisitions of companies like Gist (in-app messaging) and Parcel (email coding)—products with strong brands run by small teams that solve specific problems around email. Folding Gist and Parcel into Customer.io consolidates the marketer/developer workflow and allows for the consolidation of spend from tools like Litmus and Dreamweaver.
With its 2x quick ratio and highly efficient sales motion, Customer.io is growing by creating a platform that's both interoperable with any 3rd-party product and is stand-alone, so a prospective customer can get started with any tool.Using Data Pipelines, a SaaS company can use Customer.io as their customer data platform while using any other tool—Braze, Iterable, etc.—to send messages to their customers.
If Customer.io succeeds, it will look like a very different company on the other side of this downcycle—a multi-product platform company that is both infra for transactional email ($3B market) and eats up marketing automation ($10B), CDP ($5B) and in-app ($5B), bringing developers and marketers together from across the organization. By bringing marketers into the core product experience, Customer.io addresses the risk that companies "grow out" of Customer.io and move their customer data into tools like Klaviyo, ActiveCampaign, or Braze.
Customer.io is on track to cross $100M in the next 2 years and challenge Twilio (NYSE: TWLO) across all these adjacent segments from the vantage point of building rich orchestration layers vs. Twilio's approach built on API middleware. Building a revenue motion with strong retention and expansion dynamics like Twilio rests on capturing startups when they're small and usage is low and scaling with them to IPO and beyond.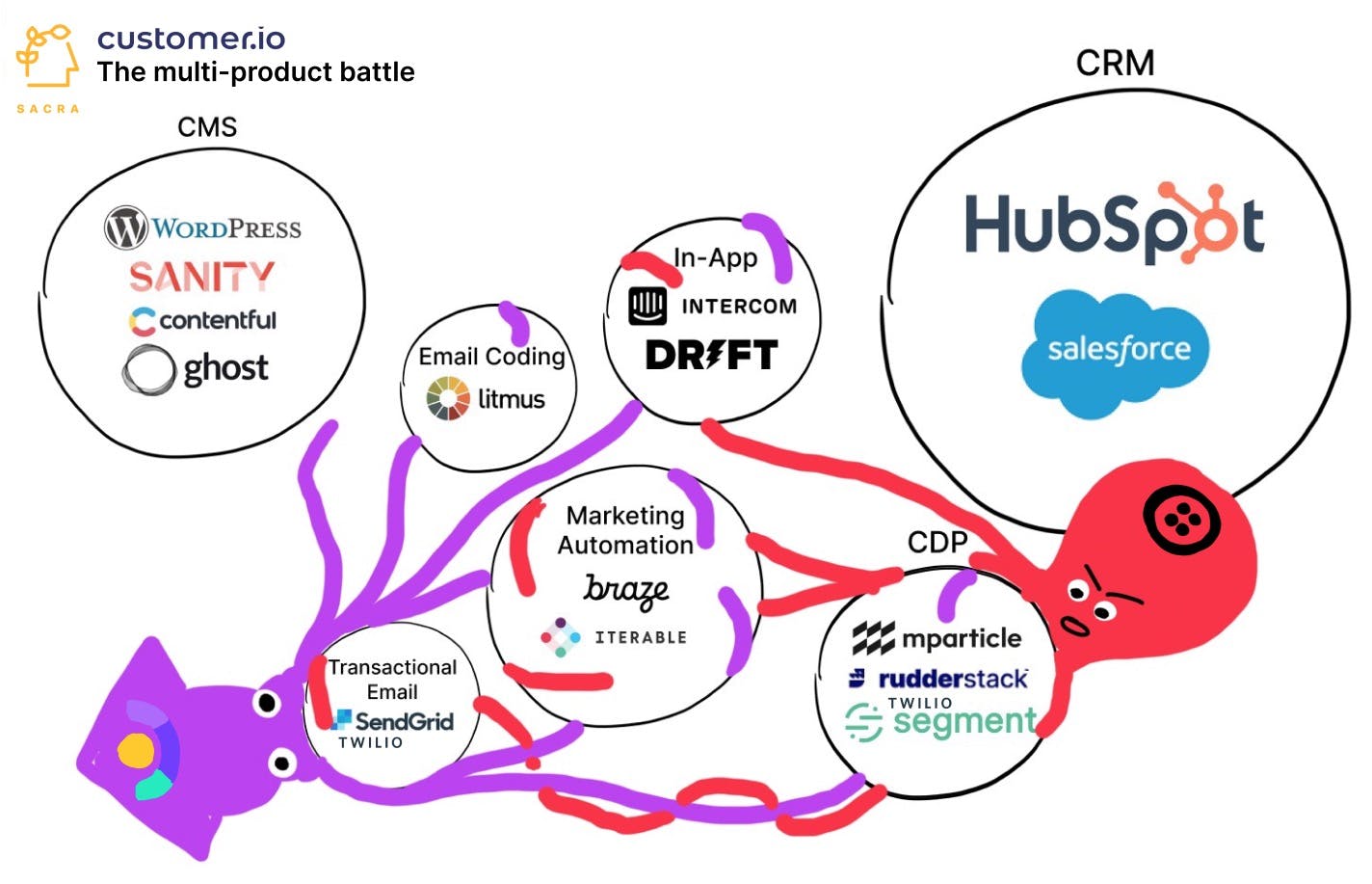 For more, check out this other research from our platform:
Read more from
Read more from