Marc Atiyeh, CEO of Pawp, on building telehealth for pets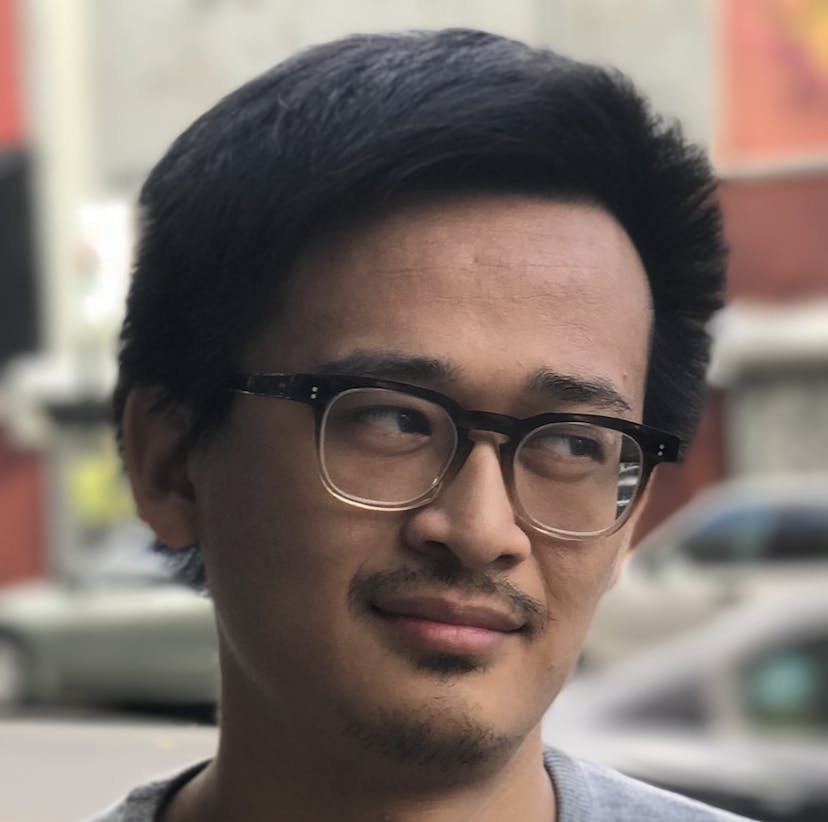 Walter Chen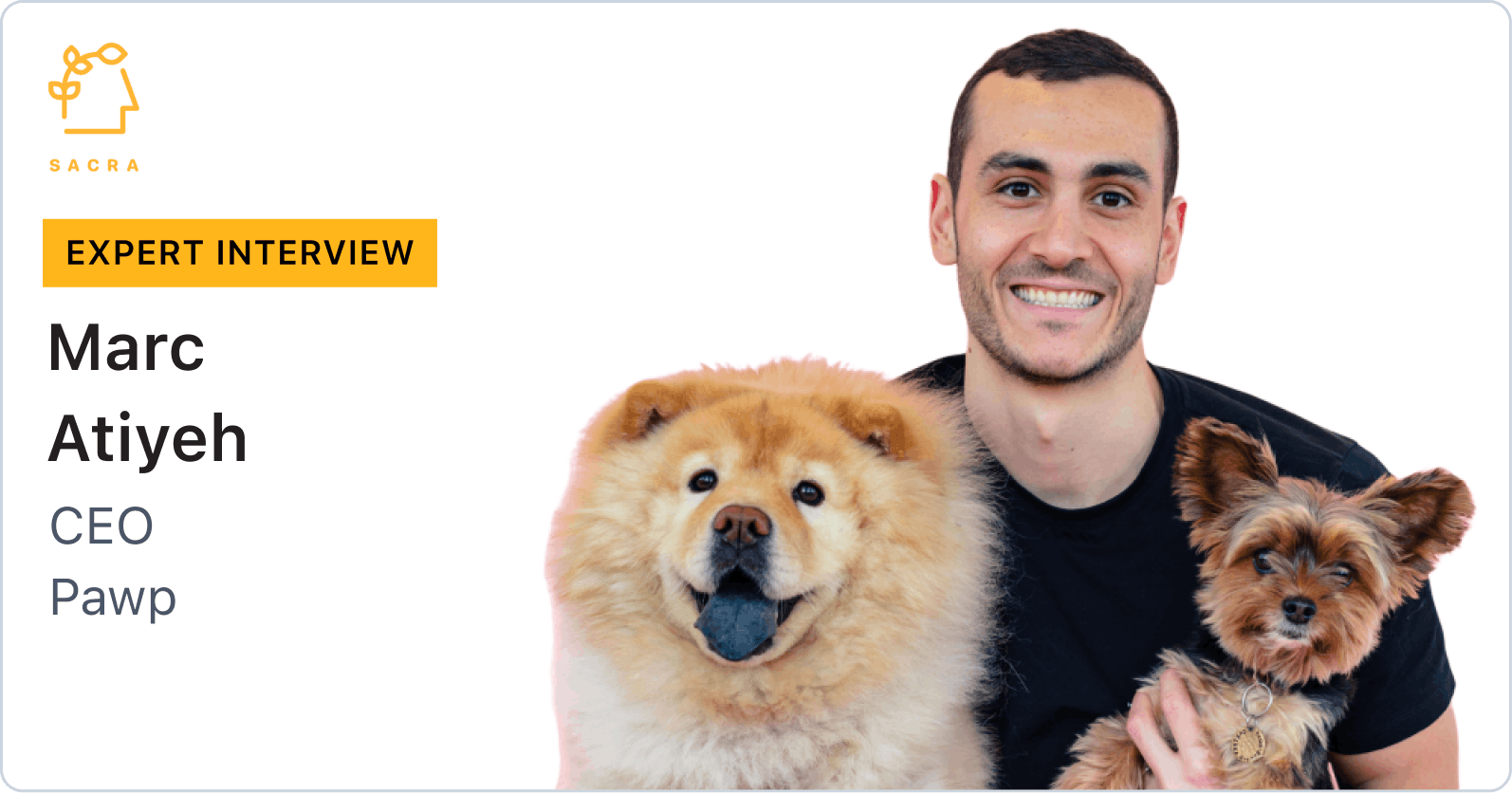 Background
Marc Atiyeh is the CEO of Pawp. We talked with Marc about the economics of human and pet telehealth, why Chewy's push into pharmacy is doomed, and building a hybrid physical-digital business in a time when capital efficiency is key.
Questions
Interview
What is Pawp? What inspired you to build it?
Pawp is the first digital-first pet care company. 
We started by building a digital clinic and introducing Americans to what telehealth could mean for pets. 
Where we see Pawp evolving over the next few years is in really owning what we define as pet care—which not only encompasses vet care and the medical aspects of your pet's health, but also their overall wellbeing.
As far as why we built it, I'm a two-time dog parent so—first and foremost—there's my personal passion for pets and animals. Fun fact: Chelsea, my Yorkie, is TikTok famous with over 250,000 followers. 
COVID also helped us make the decision that this was the time. Pet adoptions going through the roof, coupled with vet clinics closing down, made us believe that the pet space would welcome innovation in telehealth right now.
Can you share a few key milestones? What are you looking to accomplish over the next year?
So far, we've facilitated more than 100,000 consultations online in a year and a half, and deflected roughly $10 million worth of unnecessary vet visits.
One of the biggest problems in this space is lack of triaging. Everybody goes to the vet when the smallest things happen, which creates a lot of downstream issues with the industry. Going forward, we're really excited to keep launching products and features that challenge legacy constraints. 
Last but not the least, is building a brand in the pet care space that educates, innovates, and creates transparency in the community. Today, there's obviously a lack of that transparency when it comes to the consumers. You go into a clinic thinking you're going to spend $100, you end up spending $500.
Can you talk about the consumer-facing subscription product? Who uses this and why?
Historically, we've been perceived as a complement to the vet—"We're here when your vet is not."
As we look at the future of Pawp, we think the edge is in really getting to a point where we position ourselves as your go-to vet. 
In reality, you go to the physical vet once a year, but for the other 364 days, there is a gap in care. For many pet parents, the annual visit is the only time they can discuss their pet's health with an expert they can trust. Folks who come to us either have a vet but don't feel like they can access them easily, or don't have one and need an expert in their lives. Right now there are very few people who consider us the go-to vet per se, but that's changing.
Can you talk a little about how you're approaching bridging the physical and digital?
We believe physical care is a means to an end. Better care is performed when you can get access to your doctor 365 days, 24/7.
Virtual care also allows you to have many specialists under one roof, something you cannot do in the physical world. You cannot have a "cancer specialist", an obesity specialist, and a psychiatrist under one roof, especially in the vet space, because there's such a shortage of them. There's very few nutritionists and behaviorists in the country and they're very high in demand.
We also understand that you need the physical aspect of it for people to perceive you as a vet. People want to know that they can see and "touch" you, or basically, that a vet can touch your pet when in need.
In building a more comprehensive care philosophy, we need to acknowledge that in-person and virtual care aren't mutually exclusive. They are both tools that help to provide 360º ongoing pet care that treats the whole pet (not just some parts).
The explosion of D2C telehealth has been exemplified by Ro. Can you talk about the D2C telehealth model for humans and position it against what you're trying to do with Pawp? How do you think about it?
For one, unlike in human telehealth, there's no silver bullet for pet telehealth—no ED condition that fits the bill of being embarrassing, expensive, and having a "generic" license or patent that expired. There isn't one of those things where you just go replicate the model. 
The other part of it has to do with diagnoses. In human care, there's a lot of self-diagnosis that actually works. For example, I could look at myself in the mirror and see clearly I'm losing hair. I could get on Ro and fill out a self-assessment and have medication delivered within a few days.
It's different for us. We can do a lot of treatment virtually, but we can't diagnose virtually. Pets can't talk, and that makes things more difficult to figure out what's going on with them. As it currently stands, we can diagnose you through a combination of physical tests, probably a lab test—blood test, fecal test, urine test etc.—and once I establish what you have, I can treat you virtually with no issue. I fundamentally believe that we can offer better treatment virtually. Not only is it cheaper and more accessible, but it allows for unlimited follow-ups and significantly for facetime with an expert. In-person clinics are suffering from massive shortages and sometimes vets get just a few minutes with their patients.  We're building a better relationship between your pet's care and the person providing it.
What does Pawp's business model look like? What is the revenue mix, today? What are the main growth drivers behind that?
We modeled Pawp on real-live vet clinics. Our idea was to provide a complementary (and eventually better) experience to your in-person care. As a result, we've offered a ton of different features, products, and incentives to provide an all-encompassing healthcare experience. The main growth driver, then, is our end user and their specific needs. For us, the end user of our product is a consumer, an adult, and a pet parent. 
Our day-to-day clinic operations drive the most traffic and growth to the platform, but we're always looking at new ways to attract new subsets of consumers. We're leveraging partnerships to help distribute Pawp en masse—essentially providing pet parents everywhere access to affordable pet care.
On the other end, you have the products and values that we're offering when it comes to pharmacy and financial protection. 
The initial premise when we got into pharmacy was it's not easy to prescribe medication via telemedicine for pets. In human healthcare, you can prescribe someone 100 pills of Prozac, no questions asked. But for some reason, providing harmless, preventative, anti-flea medication for pets in the State of California is a huge no-no. 
We wanted to be the first people to work with regulators and be able to provide that kind of value, which is to write the prescription via telemedicine.
We don't make money off the pharmacy. This is not our business model. We're not trying to make money. We believe that the better model is basically to leverage the money that we make off the membership and really pass on the discounts that we get from the distributor or from the manufacturer to start with. 
On the insurance side, what's happening today is that because of the lack of access to primary and preventative care, folks wait until it's too late to see the vet and a lot of things that could have been prevented end up being emergencies. Part of our thinking is that we can avoid and deflect a lot of those emergencies. 
If we are the people paying for those emergencies in some way, shape, or form, then it makes sense for us to give you easy and unlimited access to vets so you don't wait until it's too late before acting.
On the supply side, how do you incentivize vets to work with Pawp customers? How do you work the matching dynamics to get great providers on board?
We have an in-house team of vets and vet technicians. You also can't just sign up to be a veterinarian with us. Our medical director and our head of vet ops—who together have 40 years of vet experience—fundamentally believe in bringing on board the best of the best. 
The difference between this and human healthcare startups is that usually, and I'm not generalizing, they have a hard time attracting the best of the best when it comes to doctors. Those doctors are the brands—they don't need a Kindbody or Sword Health. 
The point is, it's really about building and understanding that we are in the best position to attract the best of the best. We're pioneering a new and evolved standard of pet care that makes vet talent excited to make a difference in the world. We're also addressing key issues of how badly they're treated in their day-to-day jobs, which is why we're able to seek out and hire top-tier vet talent.
How do you think about unit economics? Where does value creation happen?
I believe using technology to automate processes leads to both better outcomes and fewer inefficiencies.
Today, vets spend their money "on telecom bills", which makes absolutely no sense. Money is also being spent on server costs. This might blow your mind, but if you're a Banfield customer on the East Coast, and you move to the West Coast, they won't have your data because they still don't use cloud computing. 
As a vet technician, there's no reason why you should be sitting with a client and their dog for 40 minutes asking questions that could be answered literally on your phone or the day before on a computer. There's no reason why three days down the line you should come in and answer all the same questions over again.
It's really about  understanding that the right level of technology will alleviate a lot of current vet care issues and help to make everything better.
Are there any SaaS providers that you use, maybe specific to telehealth or the pet space that give you a ton of leverage?
We do use Twilio. All of our telehealth is built on top of that. 
Same thing for e-commerce, it's Shopify that we use. 
We believe in using existing SaaS and all those providers that many startups use. We use Mixpanel and the same tools, whether user-facing or external that most tech-enabled or high growth companies are using whether they're in the pet space or not. 
There are also certain things that we built in-house. 
One of the things that we believe we needed to do in-house is dispatch logic. Believe it or not, it's extremely different in the vet space compared to others. Dispatching an Uber driver or an Uber car is very different. You're looking at different sets of things.
There are things we need to prioritize, like connecting a member to a vet they've already spoken to in the past. We need to offer the ability to escalate that to a DVM via a text, in app, or even a phone call. When it comes to automating or introducing technology to vet care, the bar is so low. If I tell you that vet clinics up until today don't have scheduling tools because they don't believe in them and for payment, sometimes they take your credit card number via phone, that's crazy to me. The bar is so low that anything we do is considered innovation.
Can you talk a little about CAC and the dynamics with respect to the pet space?
We're no different than all the various tech companies you've been interacting with over the past few months. We read the same news. We adapted. We made some changes internally in terms of how we operate things—a lot more focus on profitability and making sure we don't trade "future revenue" for current burn, etc. 
One of the things that we did over the past couple of months is quickly transition to CAC-less growth. Today, most of our growth, if not all of it, is happening organically—95%. 
We believe in spending a lot more time and resources building a brand—a purpose-driven and mission-driven brand.
Our target demographic and where we've been doing extremely well are millennials, and for the most part, they care about what we stand for and what we want to do. 
A lot of our distribution is also happening via partners. More people are open to partnering than they were probably earlier this year or end of last year. We're going to start announcing more of these partnerships in the next few weeks.
The last piece is SEO. Right now (as of publishing time) we're number one for "My dog ate weed". We were very proud of it until my mom called me and told me to use a different example. Jokes aside, "dog ate weed" was one of the things where we did extremely well, especially around April. Similarly in July, our article on fireworks and dogs also did extremely well. 
We really believe in the power of educating the customer and being the voice of the trusted advisor, all within the realm of a consumer-facing brand. Especially when it means we're catching a reader in the middle of something that may require a telehealth call. It's a great segue into our product.
Telehealth and pets were two of the biggest segments that made headlines during COVID. Can you talk about the demand dynamics you saw during COVID and how that has changed today?
There's been a shortage of vets and vet techs since way before COVID. What COVID did was simply exacerbate the problem. And there's no sign of it being any better anytime soon.
We are trying to build a company that has a very sound and sustainable business model that allows vets to do less admin work—which they will tell you a million times they don't want to do—and more medical work—which they'll tell you a million times, that's what they went to school for. We're giving vets more time with pets and people more time with the expert tools they need to provide their pets with long, healthy lives.
You talked about the lack of innovation and lack of tech and its application to pets. While there are Chewy, BarkBox, Rover, and Facebook for Dogs, what's been happening in the pets and tech space? What's worked or not? What are your learnings from seeing how the space has evolved?
Pet DNA tests are amazing. I've done it for both of my dogs (Chelsea came out 100% annoying) but where they failed to innovate is the "so what?".
I want someone to analyze my DNA and talk to me for 30 minutes. What are some things I can do today that can address the high likelihood that my Yorkie develops arthritis down the line? 
It's similar with all those collars that measure your dog's vitals. They do a phenomenal job at showing you what's happening—"Your dog ran" or "took 60 steps", etc.—but they fail to tell you how they could improve or what you can do better.
Lastly, insurance companies don't work. What hasn't worked in the past is companies that just try to take a page from the human healthcare book. The core of the problem here is that most people don't pay for all of their health insurance. Their employer subsidizes it for them. 
It's not the same when it comes to the pet space. You're paying for it. This is where we can get better financial services, especially for a share of wallet that's somewhere around $3,000 a year.
Can you talk in detail and more specifically about Chewy and going from ecommerce to pharmacy and then, maybe doing telehealth on the side? How do you see that competition coming from that perspective?
The innovation that Chewy brought to the space at the time was the feeling that Chewy knows you. At the time where Amazon didn't really have this as a focus, Chewy's customer support crafted this amazing story around how they care for pets and how they're really responsive, and they're still doing that. 
Over the past five years, Chewy has done a good job at harnessing their own user base and building that loyalty. They're not doing a very good job at growing. They're growing their top line, but they're not doing such a good job of attracting newer pet parents or millennial pet parents. I think this is being eaten by some other company. 
Here's another problem: vets absolutely hate Chewy. They hate their guts. What Chewy doesn't understand is that you can go against vets and sell dog food, but you can't go against vets and then get into telemed and telehealth or even pharmacy.
If you get deep into the industry, you'll realize a lot of people see it as "all of us against Chewy"—all of us against that behemoth.
I'll finish with saying that they're amazing at operations, at supply chain, and at owning the customer relationship so that they can set the price and the tone. They sell items for lower than MSRP. If you're a brand, you can't go against them or lower than that because you need the distribution. But they can't build digital products. 
If you look at our vet leads and some of those onboard, many worked at Chewy before coming to us, and they will tell you that just DNA-wise this is not a digital product company. This is customer support, meets operational efficiency, meets deep relationships with customers. It's not quite digital, and people don't see them as a vet. That's never going to change.
How do you think about building brands for younger people or newer dog owners and healthcare positioning which is important and essential but at times takes a backseat to buying toys and treats?
What we know is that millennials really want convenience. COVID has spoiled folks in expecting things to come to them, and we feel that that will not change. 
The people we're going after are people who believe in technology and appreciate an app that provides seven things better than your brick and mortar alternative. 
It's people who are willing to potentially pay a buck or two as long as you're very, very transparent about it and you explain to them why they're paying a buck or two for the convenience of X, Y, and Z.
How do you plan to bridge the physical and digital? Setting up Blank Street-esque kiosks or vans in the current climate seems capital-intensive. How do you think about financing the trajectory to build out the vision? Where do you see Pawp in five years?
You're right about the capital-intensive part of it. Today, it wouldn't be wise to just deploy millions of dollars on opening and expanding your footprint. Here's what I would say. 
One, we live in the post-COVID era, where we can get and do so much with small, efficient, and well-built physical locations. We inherently think of physical as a means to an end. This is something we will always be and have, and this will never change. If you look at the pedigree of people in the company, everybody can build consumer products. Everybody can build digital. There's very little experience in the physical world. 
What that means is we're going to allocate the relative or the proportional amount of dollars towards this side of the business. It's not a big piece. If you think of a trailer, you're talking about tens of thousands of dollars, maybe a hundred to really get one going. For us, we're really trying to prove a concept or prove how, if you verticalize our experience end-to-end, this will lead to better, less expensive outcomes, etc. 
In five years, and I may shock you on this one, I don't think the dream is for us to personally go, open, and operate 100 clinics. I think the dream is for us to create the concept of phygital, when it comes to the pet space, and for that to transition into the human space. The dream is for someone like, I'm not going to name names, but some vet chain, some massive retail presence in the U.S., whether it's pet or not pet, to pick up the phone and say, "Look, we want to replicate this and we can get you all the scale that you want." This is where we want to be. 
For us, we think of scale. We think that the digital aspect of the care is what we're going to lead with. It's really just like, "Hey, how can we prove the concept with as little cost as possible?"
The second thesis is I don't believe the innovation is in big tier-one cities. I think that New York has enough vets. I don't think it's statistics. Miami has enough vets, L.A. has enough vets, but if you look at the rest of the United States, there's a huge shortage. We're really banking on the fact that the demand is going to come right away, but more importantly, the cost is not going to be as high as it is somewhere else in the U.S. 
I'll say it a million times, it's like I love Blank Street. But I don't know if they came up with too much technology that renders their operation better. I think they're the best operators I've seen, by the way. I know them personally, but in general, where is it for us? There's so many ways that we're going to do extremely differently—from the intake form to the scheduling, to the actual diagnostics, to how you get your data, to the treatment, the four-weeks-down-the-line, which is the combination of the medication, check-ins, videos, content, and pinging you to remind you of certain things. That's just where all the innovation happens. 
To summarize the means to an end, the focus is always going to be innovating via digital products and capabilities, but also realizing and just making peace with the fact that better care is when both physical and digital work extremely well together. Really leading with digital and, by default, it's digital. It's not by default physical, and because we're not available, we're going to do a virtual session. No, it's because we can do it virtually that we're going to have to do physically. It's a completely different way of thinking about it. I think we're the only ones in the space who think like that.
The dream for us, as I said, would be for human healthcare to look at how we've done it, and honestly, learn from it, and potentially adapt and apply some of it to what we're seeing in the human healthcare space.
Disclaimers
This transcript is for information purposes only and does not constitute advice of any type or trade recommendation and should not form the basis of any investment decision. Sacra accepts no liability for the transcript or for any errors, omissions or inaccuracies in respect of it. The views of the experts expressed in the transcript are those of the experts and they are not endorsed by, nor do they represent the opinion of Sacra. Sacra reserves all copyright, intellectual property rights in the transcript. Any modification, copying, displaying, distributing, transmitting, publishing, licensing, creating derivative works from, or selling any transcript is strictly prohibited.