Front: Inside the $1.3B Startup Slackifying Email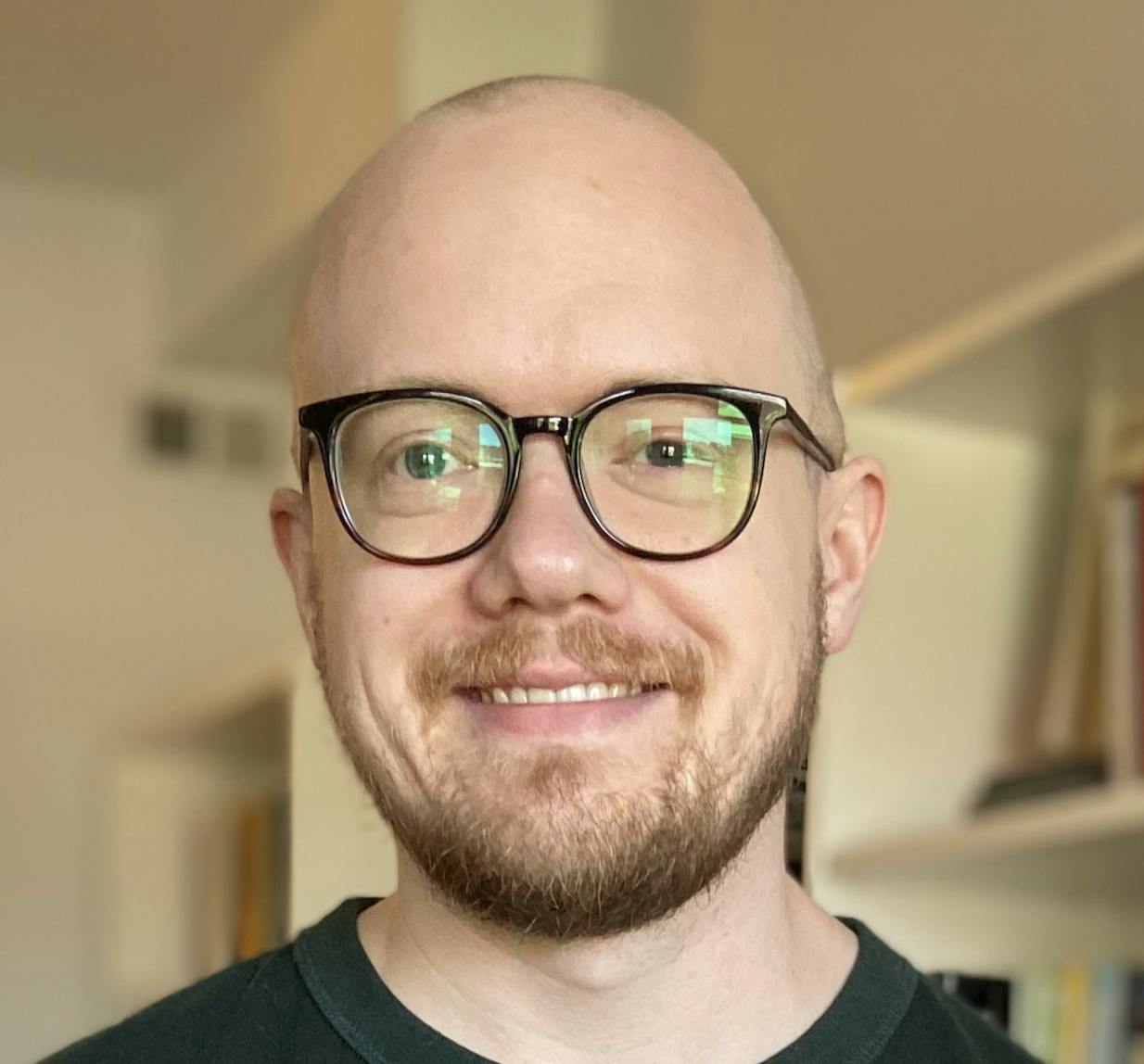 Jan-Erik Asplund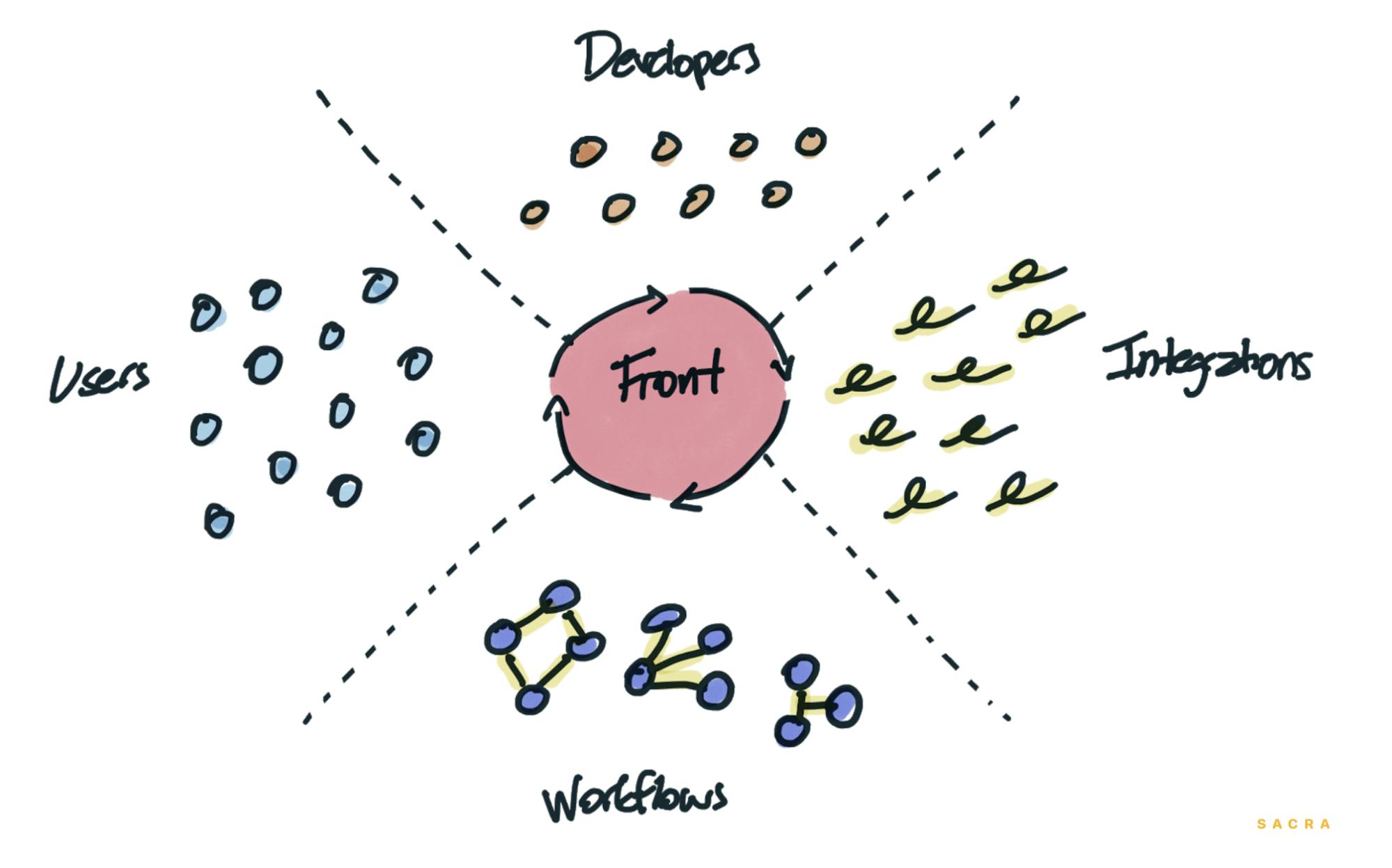 This report contains company financials based on publicly available information and data acquired by Sacra during the preparation of the report. Sacra did not communicate with Front or receive any compensation from Front for the report. This report is not investment advice or an endorsement of any securities. Click here to read our complete disclaimers.
Email is just a wedge
Join our list for access to more of our exclusive private markets research and company coverage.
Success!
Something went wrong...
Slack's meteoric growth won the headlines, generated case studies, and drew the admiration of venture capitalists and Wall Street investors alike.
But there's another company that—albeit growing more slowly—may have a much higher ceiling than the intra-team chat app.
Front is like Slack for your email, except instead of creating another distracting, noisy, always-on tool, Front allows users to spin up ephemeral chats within email threads themselves.
Instead of forwarding an email to a colleague or going into Slack to ask them a question that relates to a customer question or request, you can tag them into the thread and have a quick chat right in the context that's most useful.
At first, this sounds like a localized version of Slack—a niche tool. And Front was, at first, popular mostly with support teams and other teams that deal with a high volume of customer inquiries. But over time, Front has grown from being a product for a specific kind of workflow to being a tool that people use across organizations.
The fact is that most companies are still stuck in time from twenty years ago when it comes to managing how they triage, assign, and respond to all those emails. That's a big pain point, because as it turns out, a lot of the critical work that companies do takes place over email.
What Front has realized is that owning the orchestration and collaboration around email puts them in a position to "back into" $66B worth of vertical markets—CRM, project management, knowledge management, conversational marketing, and others.
To show the size of that opportunity and demonstrate the progress that Front has made towards its goal in this report, we aggregated all the public data out there on Front, then extrapolating and interpolating to fill in the gaps using backchannels to confirm our numbers. 
We learned that Front, like Slack, has consumer-grade engagement, elite compounding revenue from their land and expand strategy, and increasingly broad adoption inside teams.
By focusing on external vs. internal communication, however, Front may also have a TAM that is several times as large as Slack's.
Front's roadmap to $2B/$4B/$20B
Our financial model values Front at $1.3B, with a price per share around $11. At their Series C in January, they were valued at $920M, or about $7.70~ per share.
Front is currently trading on the secondary market between $7.25 and $9.00 per share. 5-year IRR for each scenario in our model ranges from 3% to 22% in the bear case, 22% to 46% in the base case, and 84% to 118% in the bull case.
Front is like Slack for email. It is a multiplayer tool that lets teams better communicate—via chatting with other team members within the context of a personal or shared inbox—and coordinate—via tagging, rules, and 3rd-party integrations—how they respond to email.
Front's 72% DAU/MAU ratio is on par with elite, consumer-grade apps. WhatsApp was at 70% pre-Facebook acquisition. Combined with its 148 minutes of average active daily usage (compare to Slack at 90 minutes) Front effectively has the engagement of a high-grade consumer app.
Front's 137% net dollar retention demonstrates they are landing and expanding with an extremely efficient bottom-up model. Compare to 143% for Slack at IPO and 140% for Zoom at IPO.
Zendesk and Intercom pose a threat because they have much deeper access to customer data. Intercom embeds itself in their customers' websites, giving them direct insight into the behavior of their customers, while Zendesk serves as a centralized hub for all things sales, support, and/or knowledge management for hundreds of thousands of companies.
However, Front's high engagement platform makes them attractive to third-party developers. The more activity Front can promote on its platform, and the larger the variety of integrations their customers are using, the more adoption they'll have inside organizations and the wider their moat—based on the cost of switching away to another email product—will become.
Expanding across organization opens up the opportunity to "back into" $66B worth of adjacent vertical markets . While today Front is focused on facilitating third-party integrations to tools like Hubspot, Marketo, and Salesforce, building their own versions of these products would allow them to (at minimum, and per product) 2-3x their average revenue per user—today, Zendesk's Enterprise plan costs $199 a seat, while Front's most expensive plan is just $79 per seat.
Building their own vertical solutions also puts Front on a converging course with Salesforce ($226B), Microsoft ($1.63T), and Google ($1.19T). Front's endgame is essentially to recreate the Google or Office 365 suite. But Microsoft was able to overtake Slack's active user count within just two years—a company that had similar ambitions. The threat Microsoft/Google pose and their ability to freely push copycat products to a user base of millions could make it extremely challenging for Front to move upmarket and reach enterprise scale.
Front's product also makes them an attractive acquisition target. Rather than attempt to build their own team email product, Microsoft and/or Google could buy Front. That said, Salesforce is the company most likely to acquire Front—both because they don't have any email tool of their own yet and because there's no risk of cannibalization or customer confusion as there would be with a Microsoft/Google acquisition.
Ultimately, Front's consumer-grade engagement and ability to achieve org-wide adoption position them well to compete on their own in the cloud productivity space. Most deep workflow products serve specific functional units (Intercom, Zendesk, Salesforce) while products that serve whole teams (Outlook, Gmail) have only superficial access to customer data. Front, on the other hand, is a workflow product and an org-wide tool all in one: a combination that could make them a formidable competitor even to the 800 lb. gorillas of B2B SaaS.
Valuation: Front is worth $1.3B
Today, based on our model, we estimate Front is worth about $1.3B, with a fair share price of $9.5 to $11.
That's up 40% from Front's Series C, which valued the company at about $7.7 per share or $920M post-money. At the time, Front was at $26M ARR growing 5% CMGR6 for a 35x multiple. 
Today, we project Front is at about $38M ARR or $3.1M MRR, growing 3% CMGR6. 

Applying the 35x multiple from Front's last round to their current $38M revenue run rate gives us a valuation of $1.3B and an implicit per share price of $11. 
Slack, for reference, was growing at 12% CMGR6 at the same ARR. According to our model, Front hasn't grown at more than 10% CMGR6 since the summer of 2017, with growth hanging steady around 5% CMGR between April 2019 and early 2020, then declining slightly with the onset of COVID-19 in March.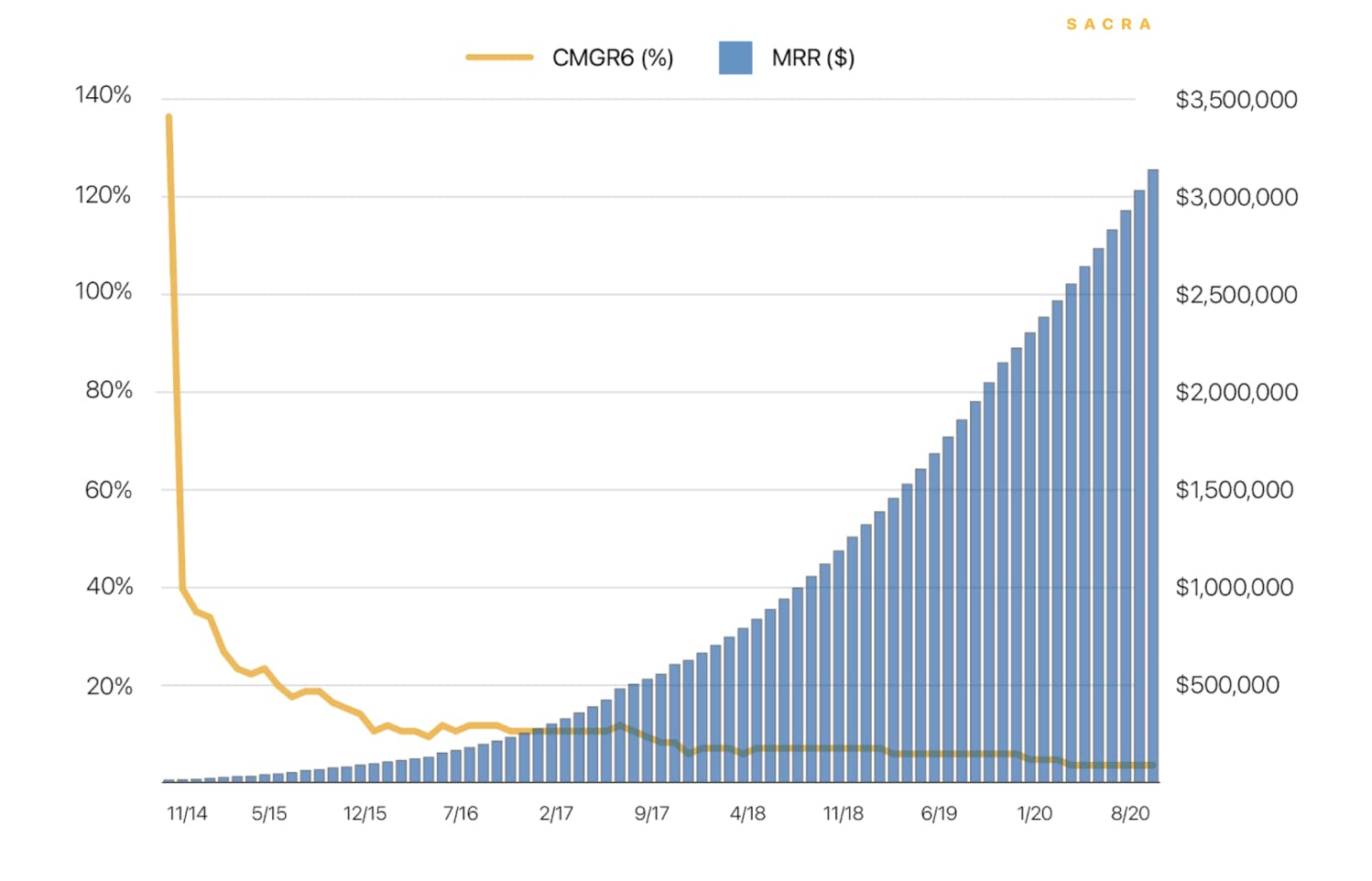 Front today is at about $3.1M MRR, growing at 3% CMGR6.
Front's relatively slow and steady growth has been buoyed by impressive net dollar retention, though: 150% by their Series B and 137% by their Series C. 
A large percentage of Front's revenue comes from expansion versus bringing on new customers—based on our model, Front could grow at 2.66% monthly without any further investment in new customer acquisition.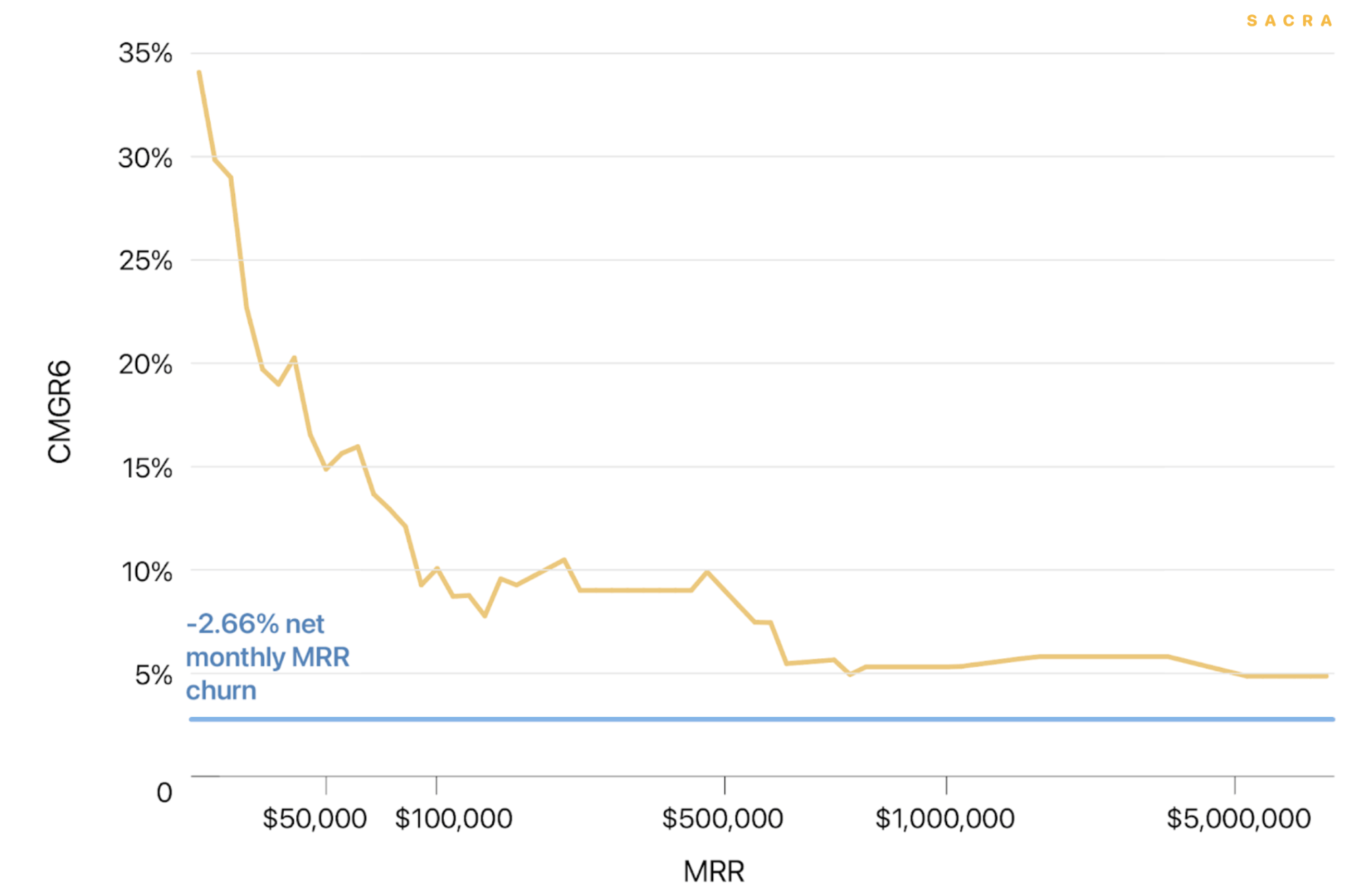 Front's -2.66% net monthly MRR churn creates a floor on growth.
Front's organic growth will be helped along by secular growth in the cloud-based productivity market. 
Long-term, the total addressable market for cloud-based productivity tools is large and mostly unpenetrated, suggesting strong industry-wide growth for the next 10 to 15 years. Gartner estimates 1 billion knowledge workers worldwide. A 20% paid conversion rate with $100 - $300 contract value per year per user suggests $20 – 60 billion TAM. 
Looking towards the future, Front's bear, base, and bull cases hinge largely on whether the company's growth will re-accelerate or whether it will continue to decline, and if so, how quickly it will do so:
Our 5-year bull case has Front growing at 70% CAGR and reaching a $19B valuation ($600M ARR at a 30x multiple).
Our base case has them slowing to a steady 30% growth rate and being valued at a more modest $3.8B ($139M ARR on a 25x multiple). 
In our bear case, Front's growth slows even further, with the company reaching a terminal valuation of $1.9B.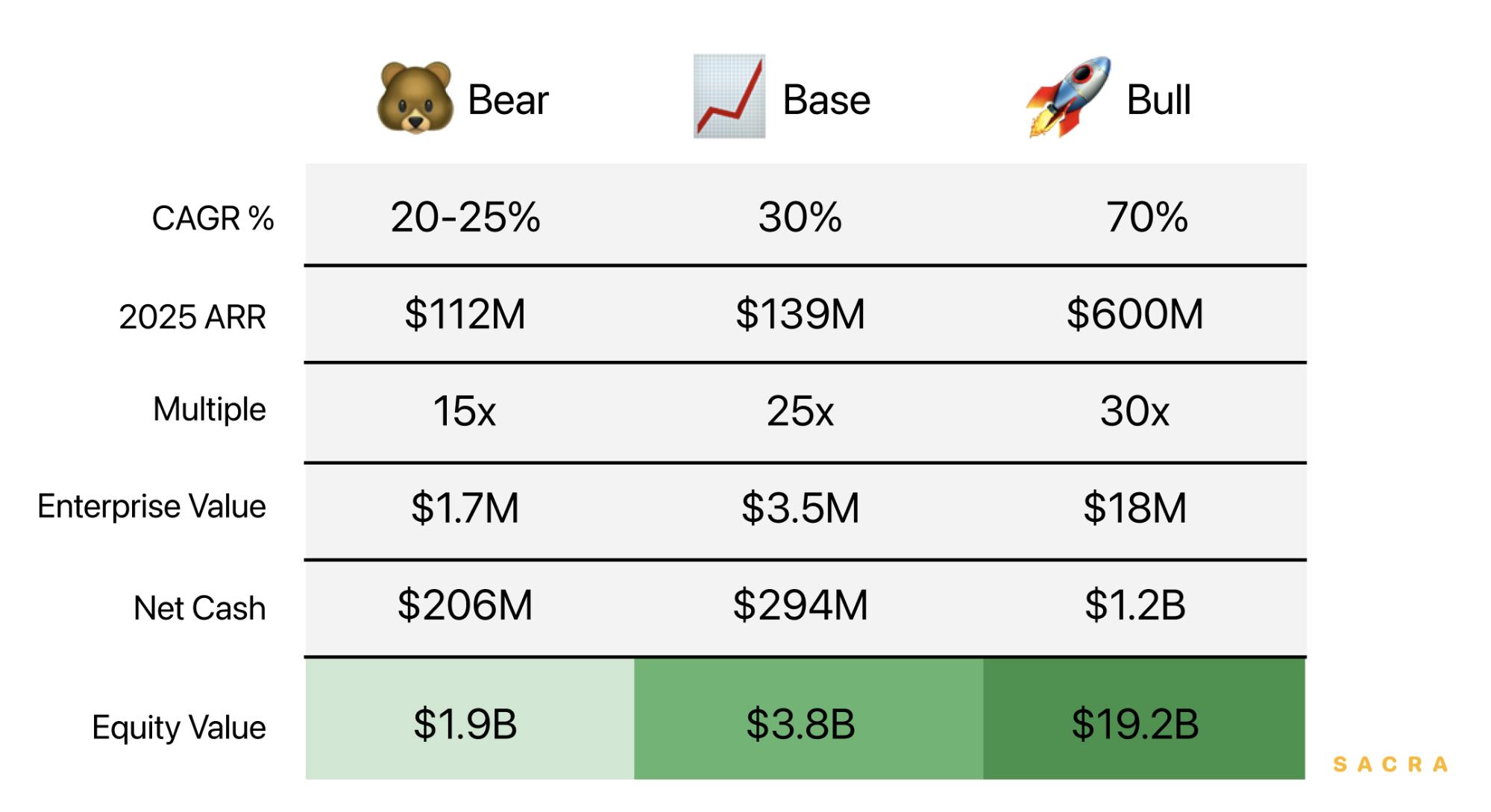 Our model's three cases for Front's next 5 years are based on three different compound annual growth rates and the revenue multiples with which they might be associated.
Much of the uncertainty around these three cases depends on how successfully Front can cultivate switching costs and network effects to build a moat and expand upmarket to acquire more enterprise customers (see Analysis for more):
In the bear case: Front is unable to meaningfully expand beyond team email and its core support/service function and finds itself highly vulnerable to competition both from email giants like Microsoft and Google and other startups. 
In the base case: Front is able to drive user-developer network effects through their integration marketplace and in doing so, compete with more sophisticated workflow solutions for support, sales, and marketing like Intercom and Zendesk.
In the bull case: Front is able to use its network effects as a moat to buy time to back into various verticalized products—CRM, project management, knowledge management, and others—that it can sell frictionlessly across their customer base.
The 5-year IRR for each scenario ranges from 3% to 22% for the bear case, 22% to 46% for the base case, and 84% to 118% for the bull case.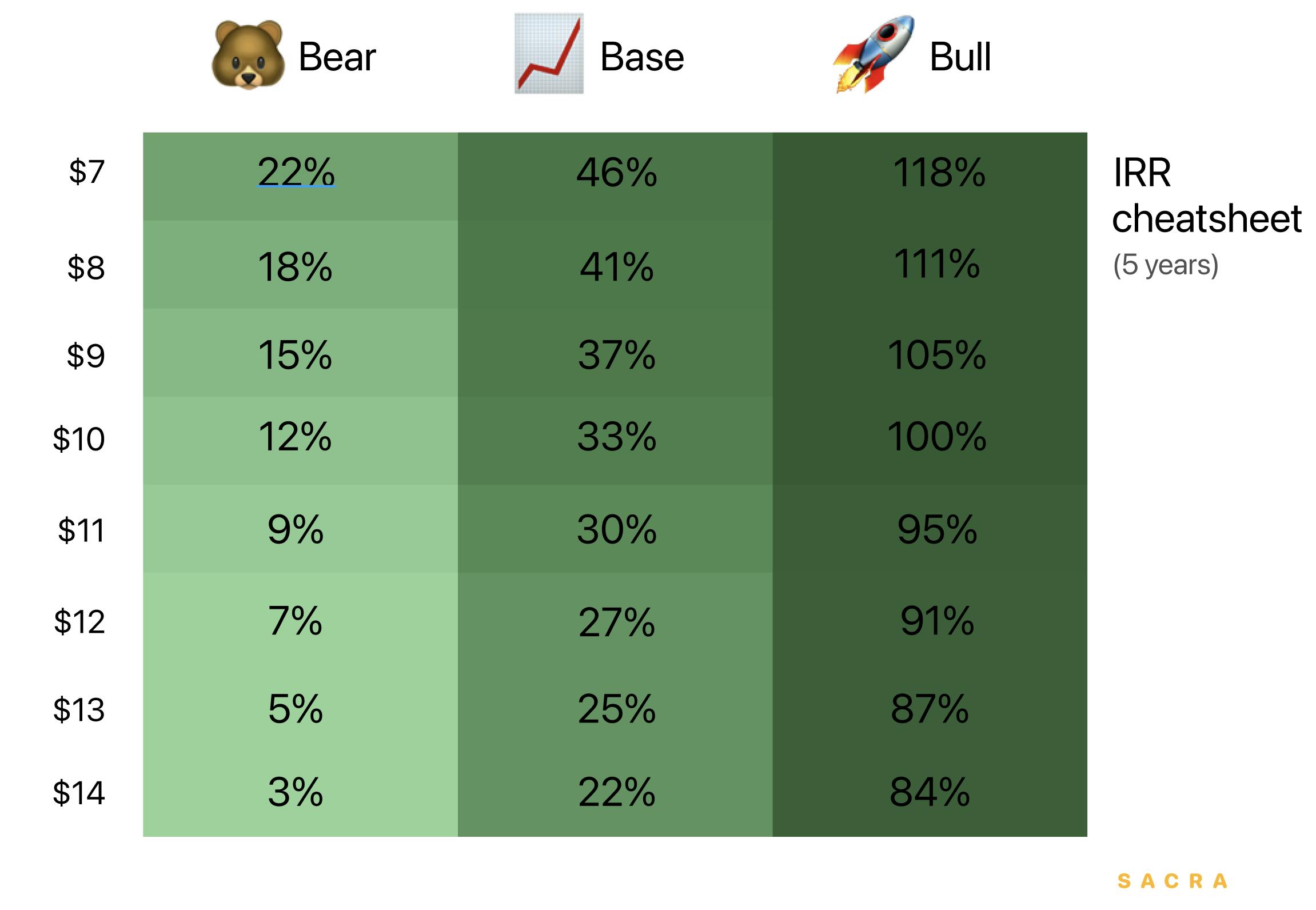 Investors buying Front shares at $7 could see an IRR between 27% and 46% in our model's base case.
Presently, on Forge, shares are trading in a range between $7.25 and $9.00 per share—up from an average price per share under $6.50 a few months ago. We believe these prices are distorted by supply constraints on Front stock. Even with an increase into the $11-$14 price per share range, however, Front would present a 20%+ IRR with relatively limited downside.
Product: Front is Slack with email for context
Front's core idea is to help teams better manage and respond to their email.
Managing inboxes is a big pain point for companies that send and receive a large volume of high-value email: agencies, professional services firms, logistics companies, travel companies, and others.
However, Front is different from tools like Zendesk and Help Scout which help teams manage high-volume workloads by abstracting email out into "tickets." 
Instead, Front gives users a traditional inbox with various collaborative features on top: the ability to chat about an email thread within the thread, tag other team members to notify them, manually or automatically have emails assigned to certain parties, as well as the ability to use various third-party integrations and access native Front applications for contact organization or calendar management.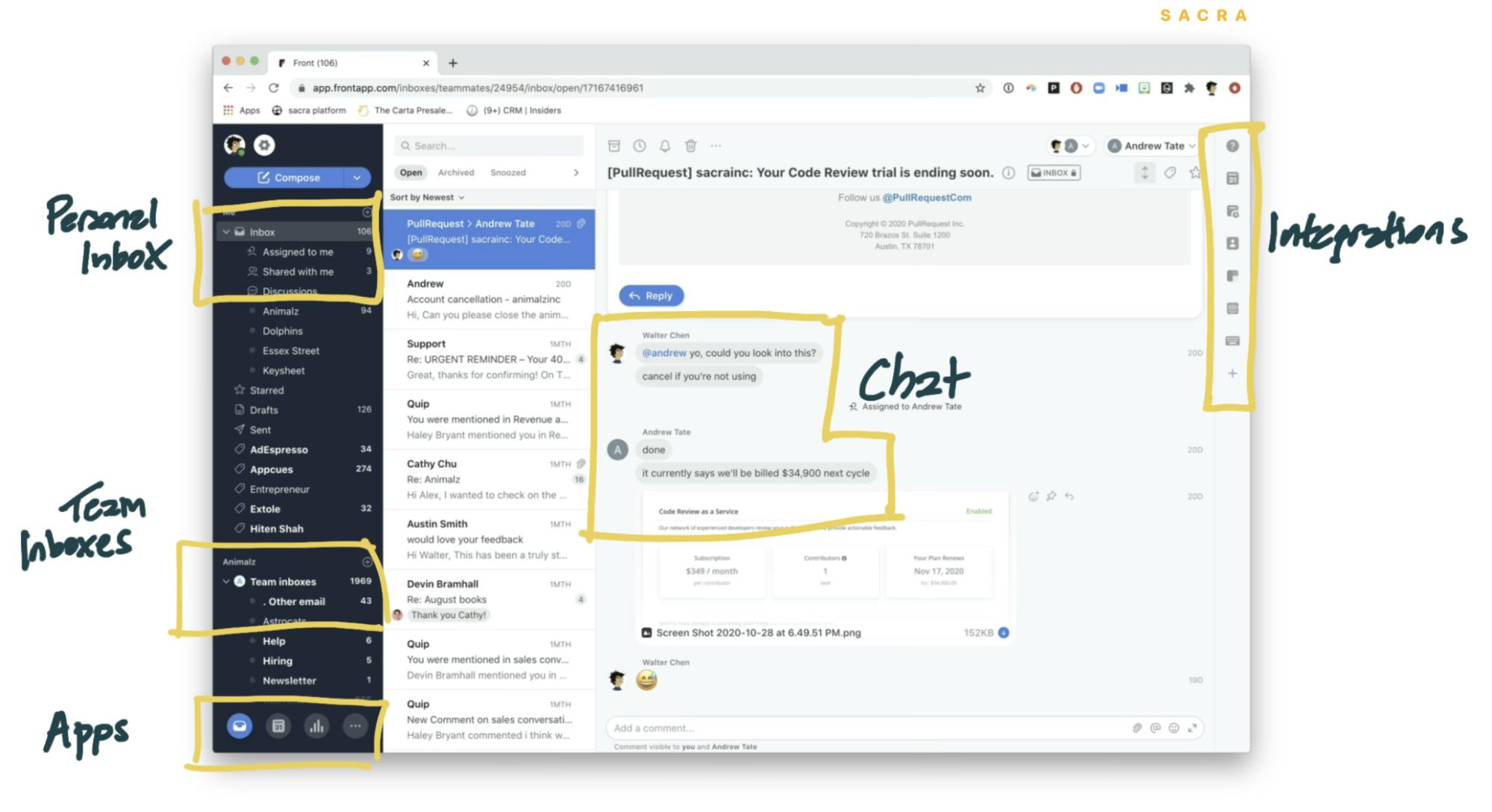 The Front product experience consists of a traditional inbox with features layered on top: chat, integrations with third-party tools, and native Front apps like a contacts tool and a calendar.
Chat is at the core of the Front experience. Within each thread in Front, users can tag in colleagues and start a mini-chat instance that runs parallel to the conversation in the email exchange. The key idea is to permit quick discussions of questions and clarifications to occur where they have the most context—not on a separate, interruptive platform like Slack. 
In the traditional workflow around email, you do the work of sending emails and the work of communicating with your colleagues in separate tools. In Front, the idea is to bring collaboration and function together, making the workflow more efficient.

In the regular workflow around email, functionality and collaboration are separate—in Front, they're together in one tool.
An account manager who gets a question from a client about a project in progress can quickly tag in their project manager to ask them for an ETA instead of forwarding the email to them or asking them about it in Slack, saving time and attention.
But there are other tasks that interrupt the flow of work in the inbox, like retrieving information from a CRM, or checking a knowledge base or project management tool—for these use cases, Front offers third-party integrations that pull info from these tools into the inbox or allow users to manipulate data in their third-party tools via Front.
Sales tools, PM tools and knowledge bases are just three of the kinds of tools that are frequently consulted as part of email workflows—and that Front can make more efficient.
With these integrations, teams using Front can see previous purchases made by a customer emailing in or quickly check their knowledge base for the right answer to a question. 
Front also gives teams two other tools they can use to better manage their flow of email: rules and tagging.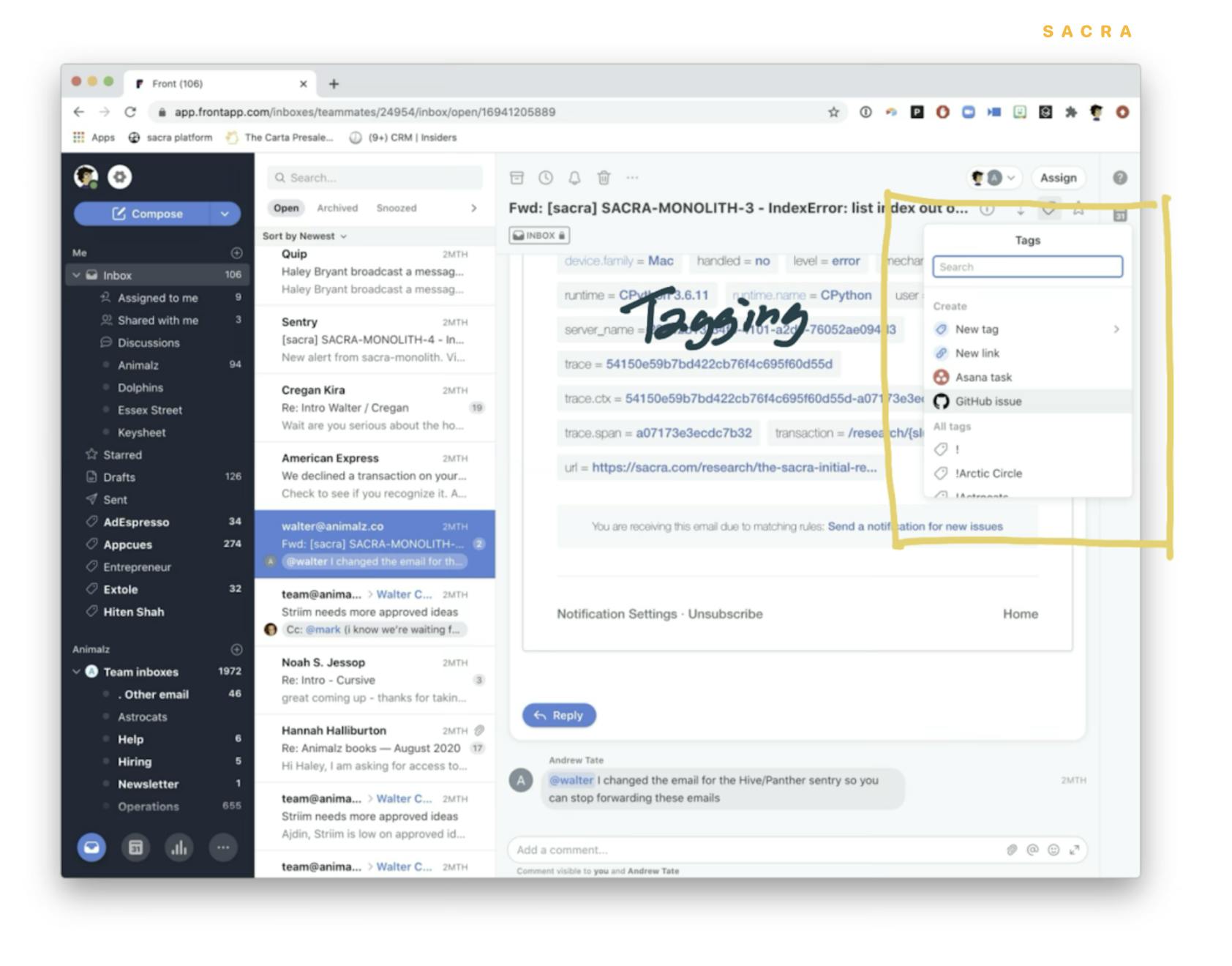 Tags allow teams to programmatically categorize email and then set up actions that can be automatically taken on emails of that type. 
Using Front's rules feature, an incoming email tagged with "Urgent" can act as a trigger that, based on some conditional or combination of conditionals, can set off an action—like moving an email into a special high-urgency inbox or sending a note to a manager.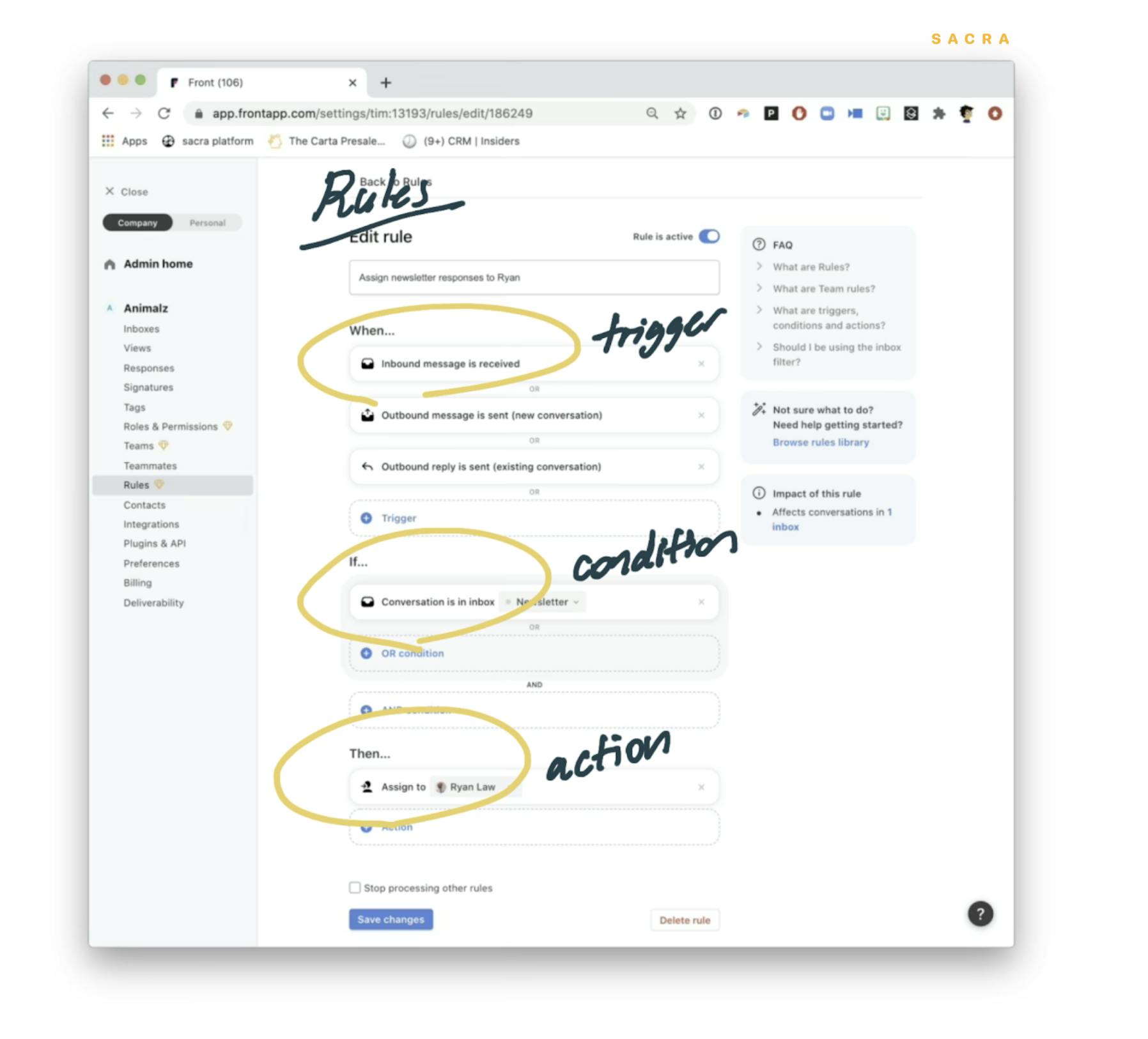 Tags and rules are building blocks that teams can use to build complex flows for both incoming and outgoing email: an agency with an SLA promising 24-hour replies, for example, can set up a rule to automatically route any unresponded-to email to a team lead if it's within an hour of that deadline.
Lastly, Front's apps give users a way to handle some of the tasks of a traditional CRM or calendar tool from within their inbox.
Apps, like integrations, serve to make Front more useful for a broader variety of users inside organizations by expanding the functionality of the product.
They also are the strongest hint from within Front's user interface that email is where Front's ambitions start, not where they end.
Analysis: How Front can build the next enterprise suite
Slack launched in 2013 with two unique characteristics for a B2B company:
it was multiplayer first: you had to invite your colleagues for it become useful
it was meant to be used by the whole organization, not a specific department 
The typical cycle was that Slack would be adopted by one team in a company and gradually spread throughout the whole business. 
That sales motion helped Slack become the hub for internal communications inside companies (in a way that a top-down sales motion never would have been able to do): a business now worth almost $17B. 
There are a range of collaboration-first products aiming to conquer other markets in similar ways: Notion and Airtable in productivity, Figma in design, and Front in external communications.
Front is like Slack but with email for context:
Chat centered around emails instead of channels
Integrations built around emails instead of messages
Like Slack, Front is multiplayer (particularly with shared inboxes) and can be used by anyone in an organization. Unlike Slack, Front has the advantage of piggybacking off a protocol used for large amounts of time for critical purposes by virtually every business in the world. 
Businesses send and receive 200 billion business emails a day. Email is the main way companies communicate with each other and with customers, and the average American spends 4~ hours in their inbox every workday handling a wide range of different kinds of tasks, from customer relationship management to marketing. 
This wide range of tasks gives Front line of sight into a correspondingly wide range of potential adjacent markets, and Front's high engagement and retention could make them a formidable competitor.
But to begin competing for those adjacent markets, Front must mitigate threats from incumbents big and small, as well as overcome challenges in their own business model.
1. Front built a B2B tool with the stickiness of a consumer app 
B2B tools aren't generally sticky. Even core products like Dropbox, Google Analytics, MailChimp, and HubSpot may only be used a few times per week.
With Front, on the other hand, customers spend an average of 2.5 hours in the product every day, compared to the 90 minutes they spend active in Slack.
70% of the company's monthly active users are daily active users—that's the same DAU/MAU ratio that WhatsApp had pre-Facebook acquisition.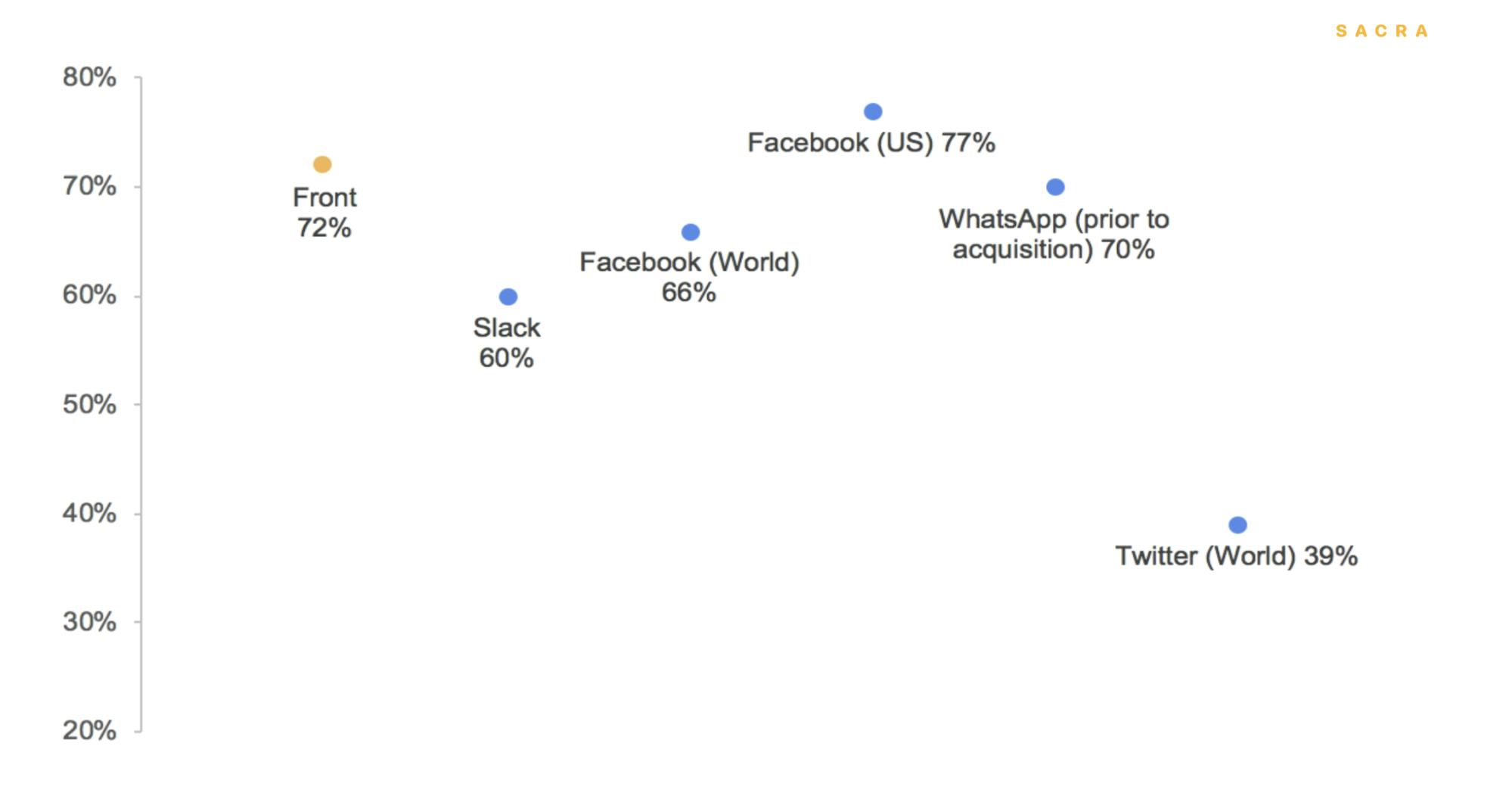 Front's 72% DAU/MAU puts it in elite company above WhatsApp pre-acquisition, above Slack, above Twitter, and just below United States usage of Facebook.
Front also has strong revenue retention. By their Series A, Front was at -5% net MRR churn, with the average customer paying 50% more after 12 months. Today, they are still elite, with 137% net dollar retention—comparable to Slack and Zoom.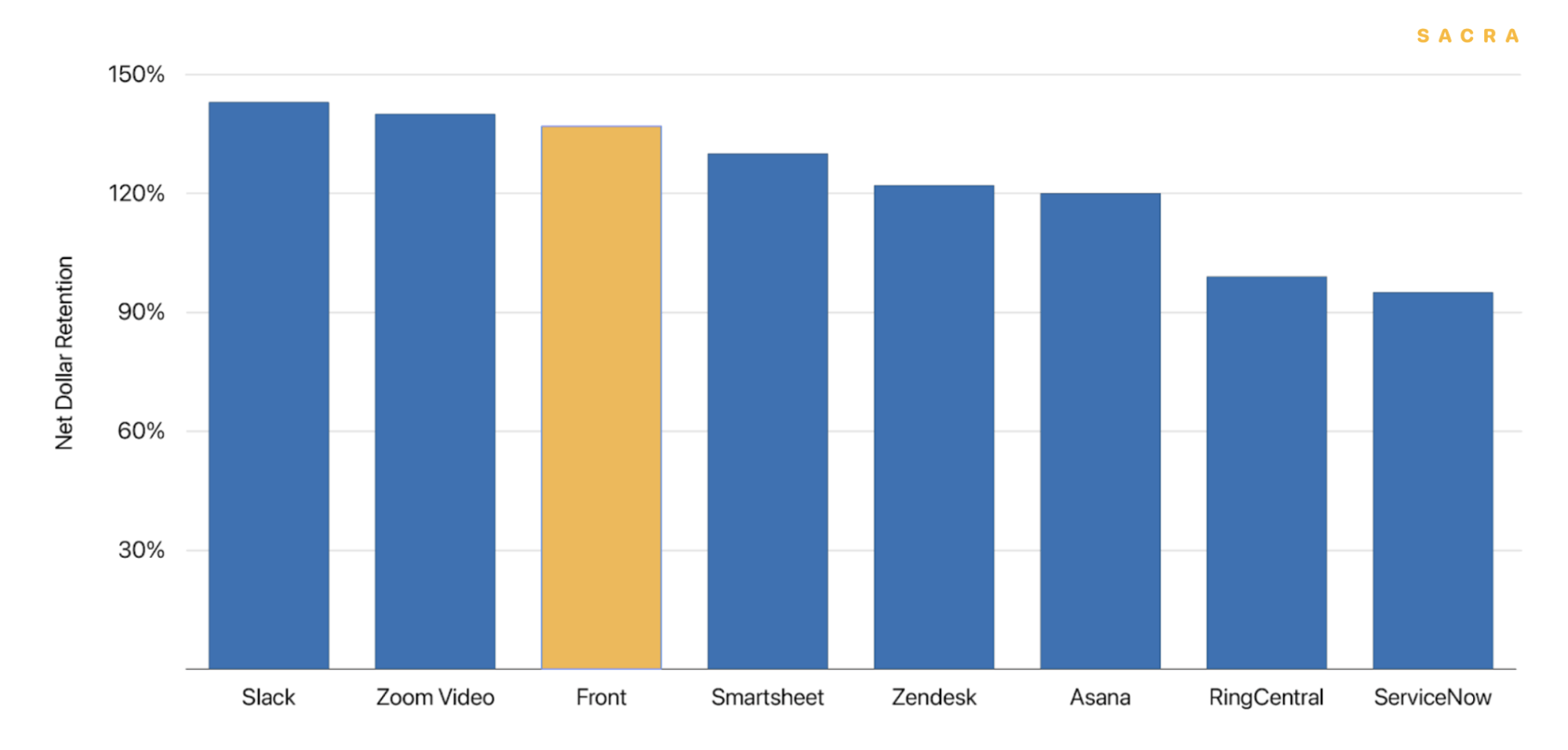 Front has 137% net dollar retention, which makes it one of the best-in-class, in comparison to public market peers at their IPO.
While not a freemium product like Slack or Zoom, Front is landing in support or operations teams that most acutely feel a need for a product to help orchestrate a high volume of email, and then expanding across the organization as adjacent teams and team members follow. 
They're expanding company-wide in many cases: 24 out of the 47 case studies on Front's customer stories page are for companies with wall-to-wall adoption of the product.
You don't see this kind of company-wide adoption with traditional help desks or conversational marketing tools, nor do you see this kind of engagement, which speaks to two of Front's powerful advantages:
Email is a tool that everyone in an organization uses—Front can be used as a help desk or conversational marketing platform or CRM, but unlike a dedicated tool, other teams can use it as well
People spend a lot of time on their email—everyone gets it, and that means email clients stand to own a large slice of people's attention 
That combination of high engagement and broad adoption within an organization sets Front up, like Slack before it, to become something rare in B2B SaaS: a powerful platform and gateway for other apps.
2. Why Zendesk and Intercom can beat Front, and how Front can fight back
Zendesk and Intercom pose two of the biggest threats to Front's ambition to become a cross-team platform for customer communication. 
Front has already shown a degree of traction outside the traditional support/service roles, but to get there, they need to keep building out adjacent use cases: sales, conversational marketing, customer messaging, live chat, and others.
Two companies loom particularly large in Front's immediate future here. One is Zendesk, which already sells a suite of products for both sales and customer service and has a market cap of $14B. The other is Intercom, which is the market leader in conversational marketing, has over 30,000+ companies onboard, and has a powerful hook into organizations via the fact that you physically embed their code into your website to enable the product.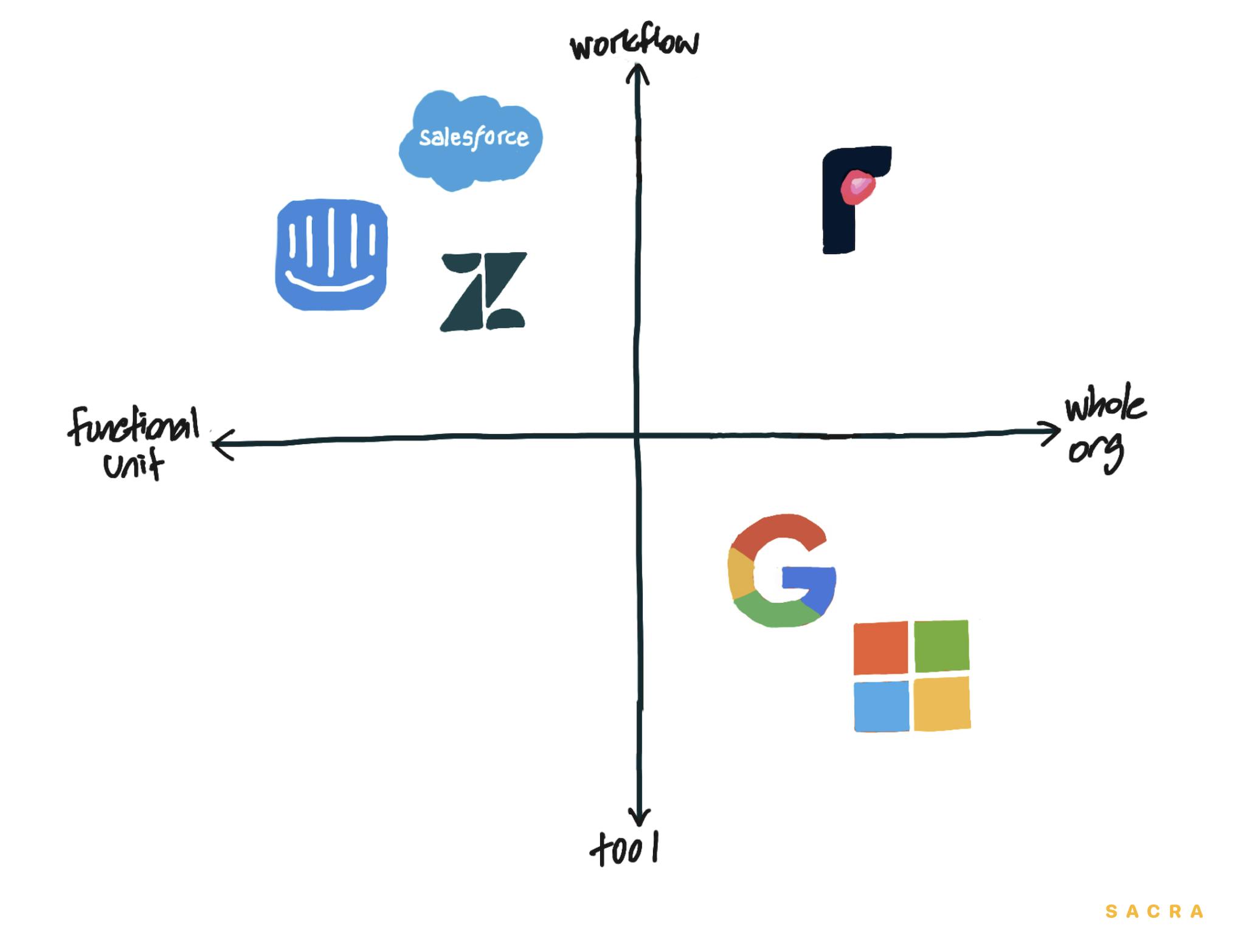 Workflow tools like Intercom, Zendesk and Front allow teams to solve recurring problems, while Gmail and Outlook are fundamentally single-player tools.
Both, as a result, have access to deep customer data:
Zendesk ingests all of a company's support data and leverages it to sell value-add products for sales, live chat, voice chat, analytics, and knowledge bases. 
Intercom has direct access to all of their customers' website traffic—a veritable database of every possible customer interaction they use to sell products to manage the resulting sales, support, and marketing touchpoints.
Front doesn't have the same level of insight into their customers because Front is a tool built for organizations, not specifically for support or marketing teams. But this is also to Front's advantage, because Front doesn't need to "cross the chasm" to sell to another functional unit inside an organization. 
Zendesk or Intercom have to sell themselves all over again to move horizontally across an organization because the fact that the customer service team uses their product doesn't matter to the sales team or the marketing team.
Another one of Front's advantages is that they don't necessarily need to build those products themselves (for now) if they can facilitate a marketplace of apps on their platform instead, and Front has a number of characteristics that third-party developers look for in platforms that they want to build for. Front has:
High usage: More engagement means more time spent using 3rd-party apps if available
Valuable information: Email contains a lot of useful signal for developers to build with
Willingness to pay: Email can be very high value for organizations that rely on it
Broad adoption: Front can be used by anyone on the team, meaning more engagement
Intercom and Zendesk, meanwhile, are used more sparingly, and they're used by specific functional departments that are already paying for sales or marketing tools.
This gives Front the right set of incentives to cultivate a virtuous circle around their customers and third-party developers:
Users spend an average of 2.5 hours a day in Front → more incentive for developers to build for the platform
More developers building for the platform → more integrations, each of which enables new workflows in Front
A wider variety of workflows → wider adoption within organizations and more time spent working in Front
A virtuous circle: more users spending more time on Front attracts more developers to the platform, which means more integrations that enable more workflows. The more new workflows available in Front, the more new users Front can attract from existing and new organizations both.
Front integrations allow users to both send inputs to other tools in their stack from Front, and pull relevant information from those tools into threads in Front: e.g. seeing past interactions with a customer or updating a ticket in Jira from the inbox. The more integrations you have, the more ways there are for your whole team to interact with and get value out of Front.
And the more value your team is getting out of Front as the coordinating layer of your entire stack, the higher the cost of leaving is going to be.
Front has 50+ integrations with project management tools (Asana, JIRA), other communications channels (Intercom, WhatsApp, Twilio SMS), marketing platforms (Hubspot), CRMs (Salesforce, Zendesk) and others. 
The most popular integrations on Front are with Asana, Gmail, Hubspot, JIRA, Salesforce, Slack, Trello, Zapier, Twilio SMS and Zoom.
55% of Front customers use one or more of these integrations, and almost 20% of those integrations directly draw on the Front API: in other words, using the Front platform to carve out unique functionality rather than merely porting information from one platform to another. 
Since using integrations costs teams more, their roll-out has resulted in higher prices and growing ARPC.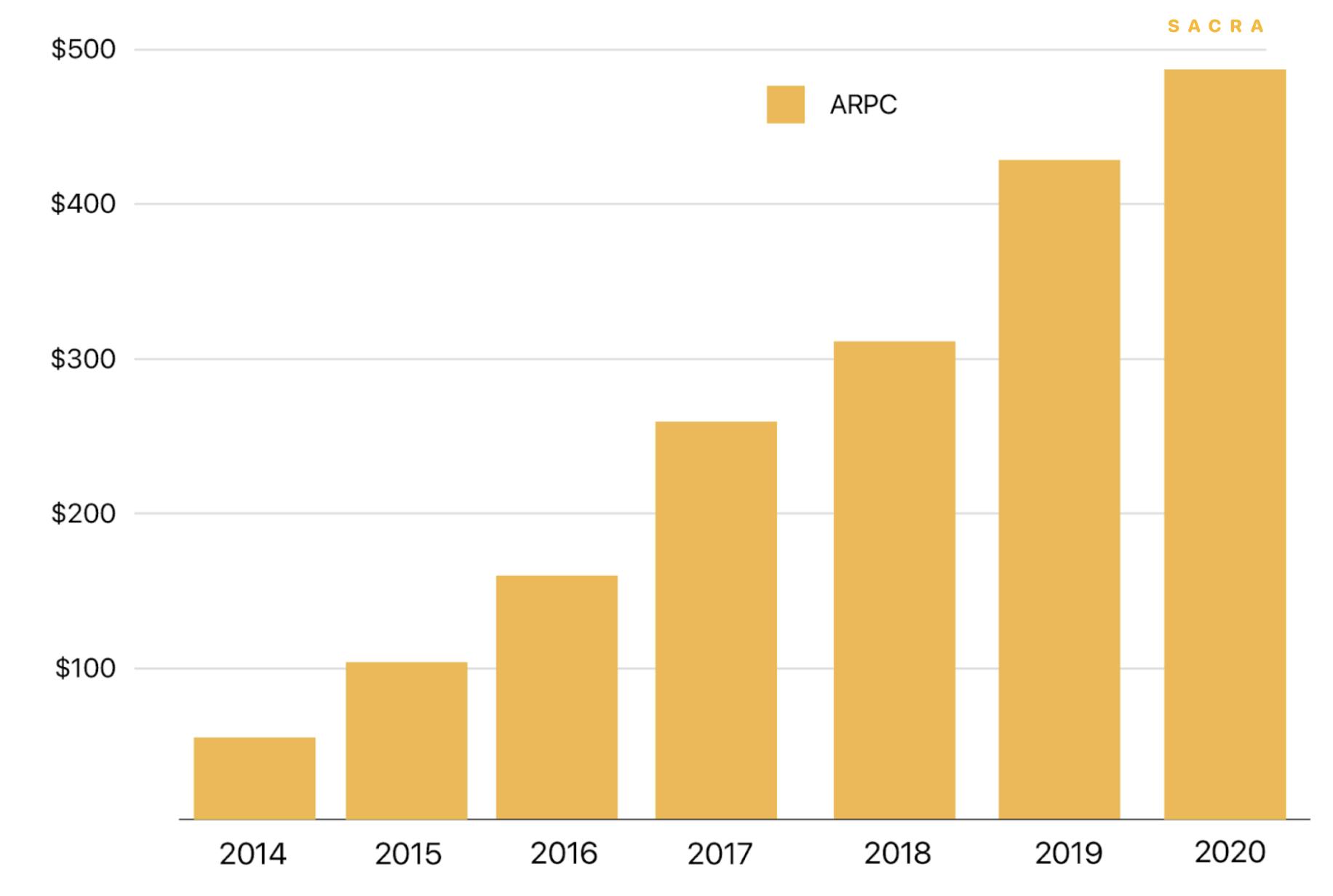 ARPC has increased by almost 10x since 2014, a sign both of Front's strong retention and ability to expand the number of seats that existing customers are paying for.
The more Front is able to push integrations, the better their economics will become: vertically integrating adjacent functions helps both expand the number of companies using Front and, by attracting other departments to the platform, the average number of seats per company, and the average price per seat.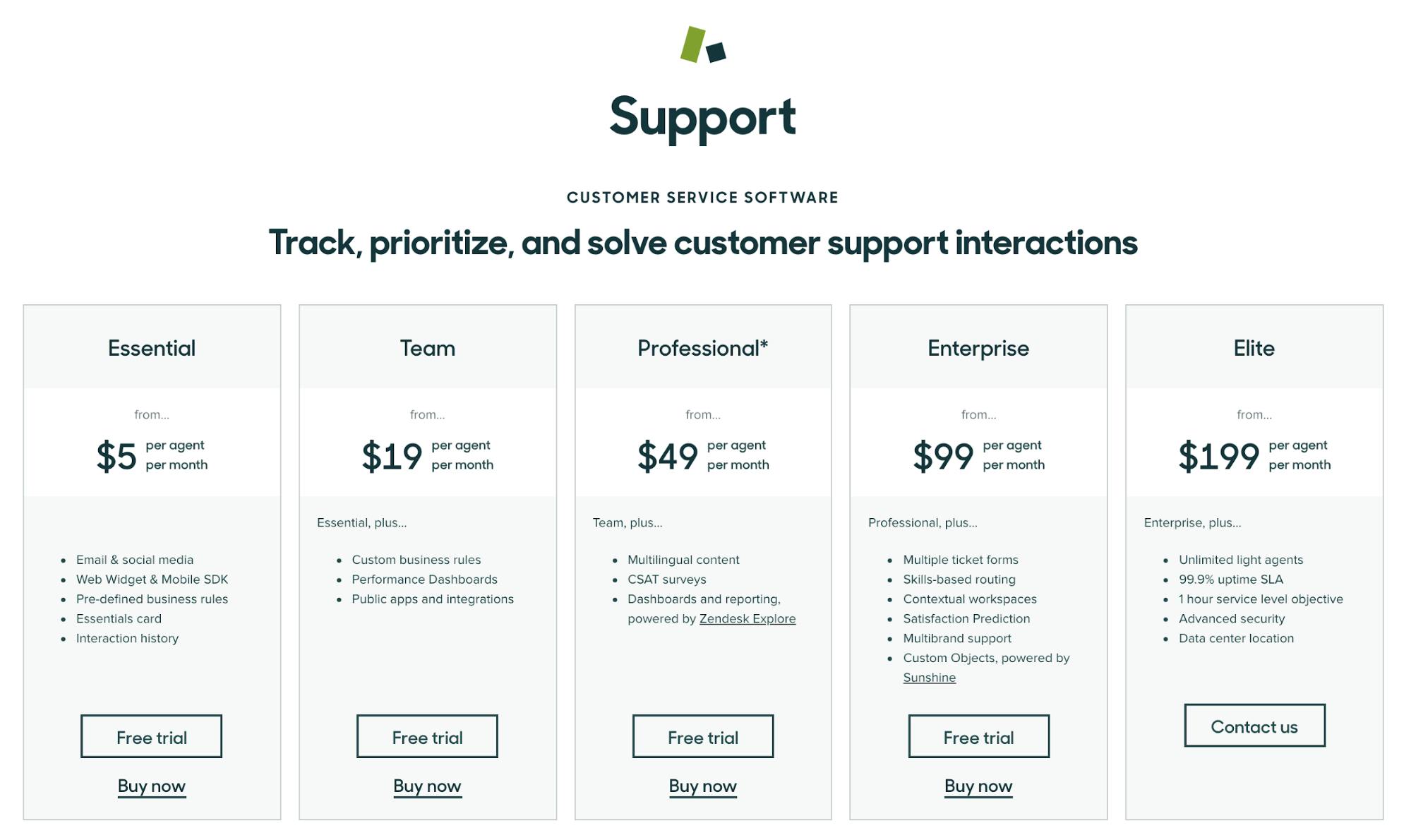 The deeper that Front goes into different adjacent use cases, the more they can benefit from the fact that vertical solutions drive higher willingness to pay, increasing price paid per seat and ARPC.
This presents a good amount of upside for Front in revenue and pricing power terms—Front is still well below Zendesk's highest per-seat price, with Front's enterprise plan costing $79 per month and Zendesk's "Elite" plan costing $199 per month.
3. Front's plan for taking on the three 800-pound gorillas of B2B SaaS
As Front expands horizontally across the organization by addressing new use cases, it also opens up new markets for Front to vertically integrate into by moving "backwards" down the stack.
Instead of Front integrating with Salesforce, they build their own CRM; instead of integrating with Asana, they build their own PM software; all of it hooked into the shared protocol of email and enriched with Front's Slack-like chat functionality, the conceit being that email-heavy tasks like support (but also sales and project management and others) are best addressed in the inbox. 
For Front, this moonshot vision would mean a massive compounding effect on the already expansion-heavy revenue growth they're getting from their core product, via both more seats within organizations and higher prices per seat.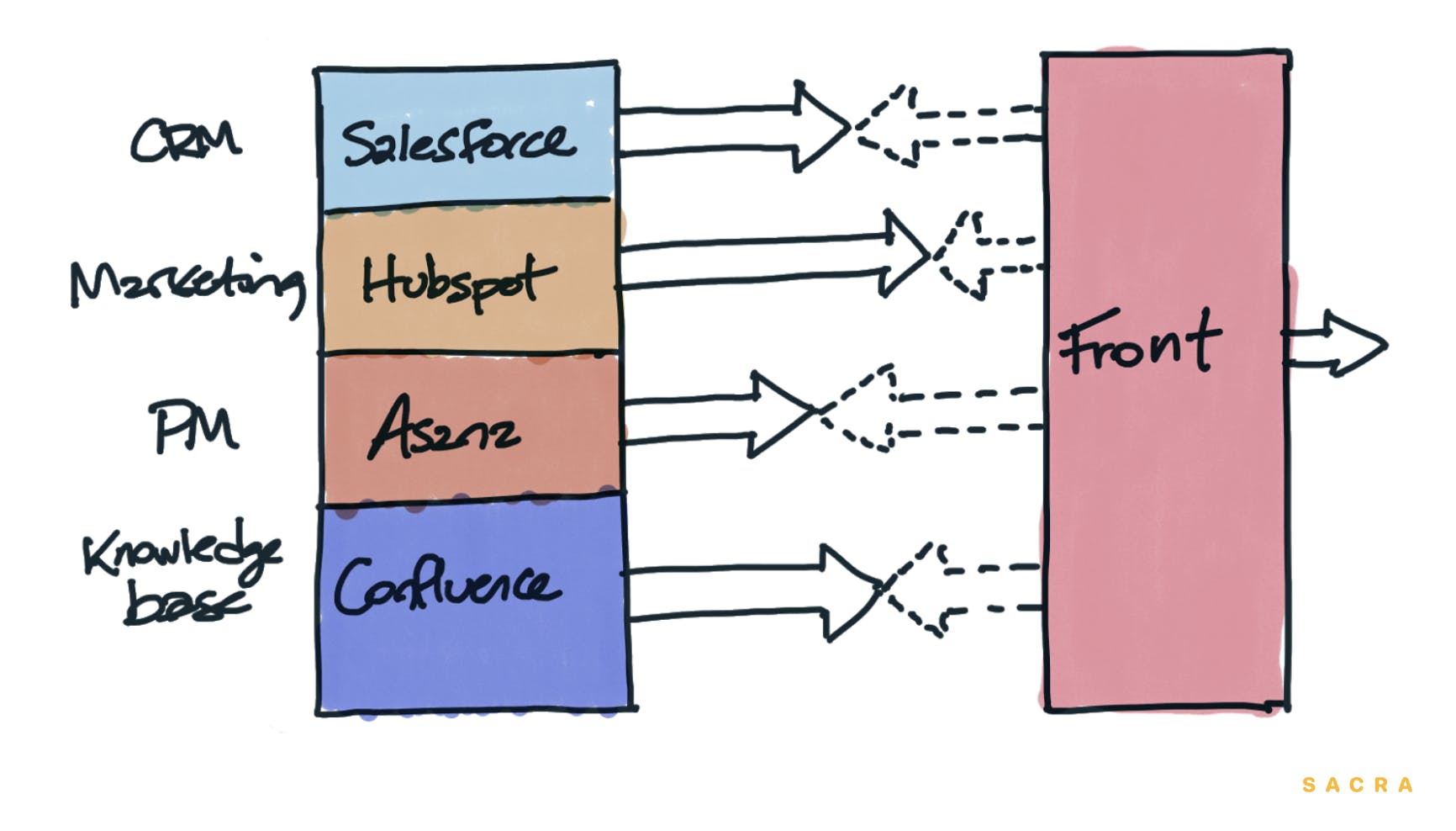 Today, companies on the left side of the stack send information into Front through integrations.
But Front faces three huge challenges on its path to achieving this vision. Moving deeper into these kinds of big markets—sales, marketing automation, knowledge management, voice chat, live chat—puts Front on a converging course with cloud productivity giants Salesforce ($226B market cap), Microsoft ($1.63T), and Google ($1.19T):
Google could roll a Front competitor out to 6 million of G Suite's business customers and 2 billion of its free users.
Microsoft could do so to 60 million commercial Office customers and 1.2 billion free users.
Salesforce could do the same with Slack's 12 million+ users if a rumored acquisition goes through—and they would also be able to expand that number.
Front, meanwhile, has a little over 6,000 customers.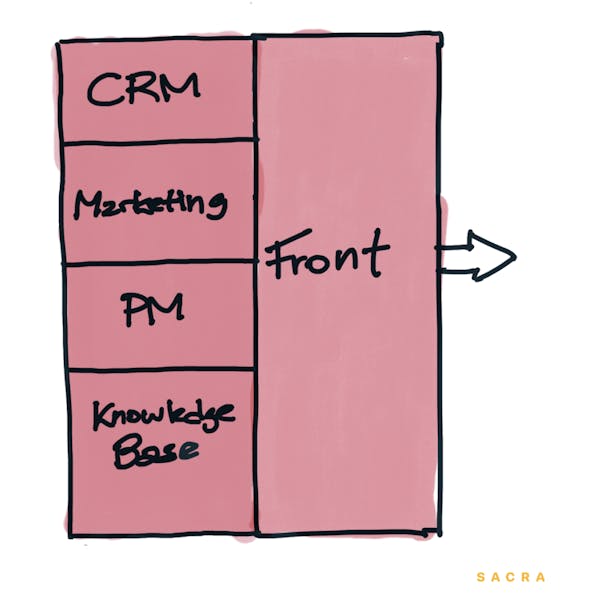 What Front learns about their customers from those integrations gives them the opportunity to vertically integrate those same functions by building them into their own product.
Google, Microsoft and Salesforce all have powerful product bundles that they can use to drive distribution. 
Microsoft used theirs to great effect when competing with Slack—by giving all existing Office users access to Teams, they were able to surpass Slack's daily active user count within just two years.
When you link up a newly registered domain with Google for the purposes of setting up your corporate identity, Google, similarly, is able to then leverage that to drive traffic to their whole suite of different collaboration tools—though Gmail, of course, remains a purely single-player product.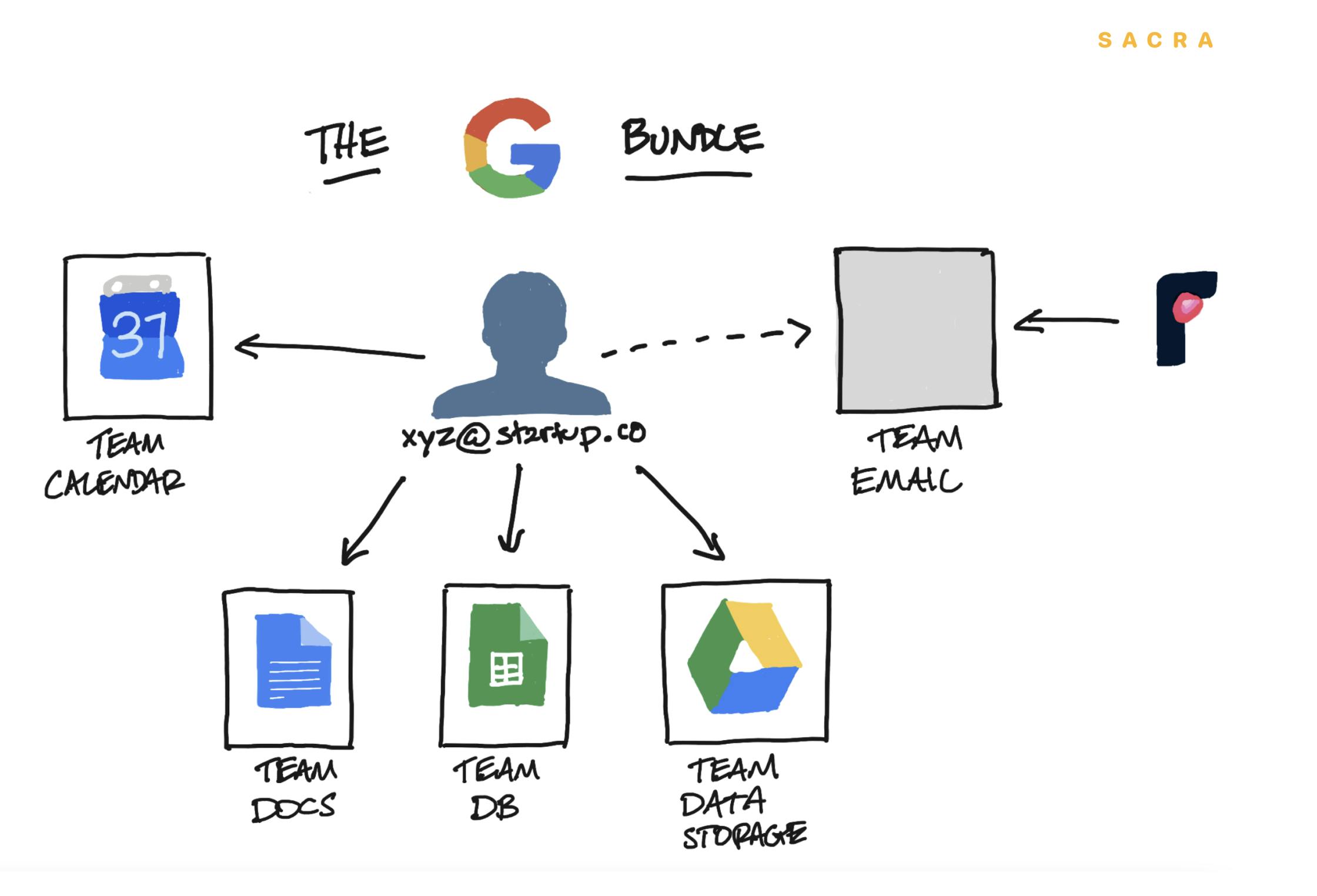 In the Google ecosystem, your identity—coordinated by your email—gives you access to all the rest of the tools in the bundle.
There's the risk, in other words, that any one of these behemoths could just build something similar to Front themselves. 
On the other hand, this same dynamic could make Front an attractive acquisition target. Companies will sometimes fall for the stack fallacy—the (mistaken) idea that controlling an underlying layer of abstraction makes it trivial to build for the layer on top:
Microsoft and Google run single-player email tools that dominate the space in large part because email (in the business world) is identity—and Microsoft and Google are two of the most popular SSO providers.
Front risks incurring a compelling challenge from Microsoft and Google because they are building a competing email tool without access to that same underlying identity layer. (They rely on users bringing their own email domain to the service).
But the idea that Microsoft or Google can easily put out a clone with the same kind of engagement and retention and adoption hinges on the mistaken idea that it's ever trivial to build deeply engaging products.
Google has a large graveyard of failed products, including Inbox, an experimental email app, and Wave, an early attempt at combining collaboration and communication in a single tool. Microsoft, while less prolific, has failed in its attempts to copycat competitors several times—with the Zune, with MSN Messenger, and with Windows Phone. Buying a battle-tested product like Front is a way to avoid spending millions in wasted R&D.
But Front is likely most attractive as an acquisition target for a company like Salesforce that doesn't have an email product already.
Rather than replacing a single player product like Gmail or Outlook, Salesforce could in a sense "start fresh" with Front—and avoid the potential for customer confusion that Microsoft or Google would be bringing on with the acquisition of a new email product.
To both get to that point and maximize their exit potential, however, Front will have to prove that they can pull off this kind of vertical integration. 
One thing Front has going for them is the competitive advantage of being small and unbeholden to any existing ecosystem or software stack. They can build integrations with any CRM, any HR platform, any marketing suite or conversational support tool—and the more they're able to get their customers using these integrations, the more lock-in they create. 
If Front can become a key, irreplaceable part of the stack for companies not fully embedded in the Google/Microsoft/Salesforce ecosystems, then they'll have more time with which they can start vertically integrating. And given enough time, they could mount a formidable challenge of their own.
The potential addressable markets ultimately available for Front here (including CRM, project management, issue tracking and invoicing) are worth $66B: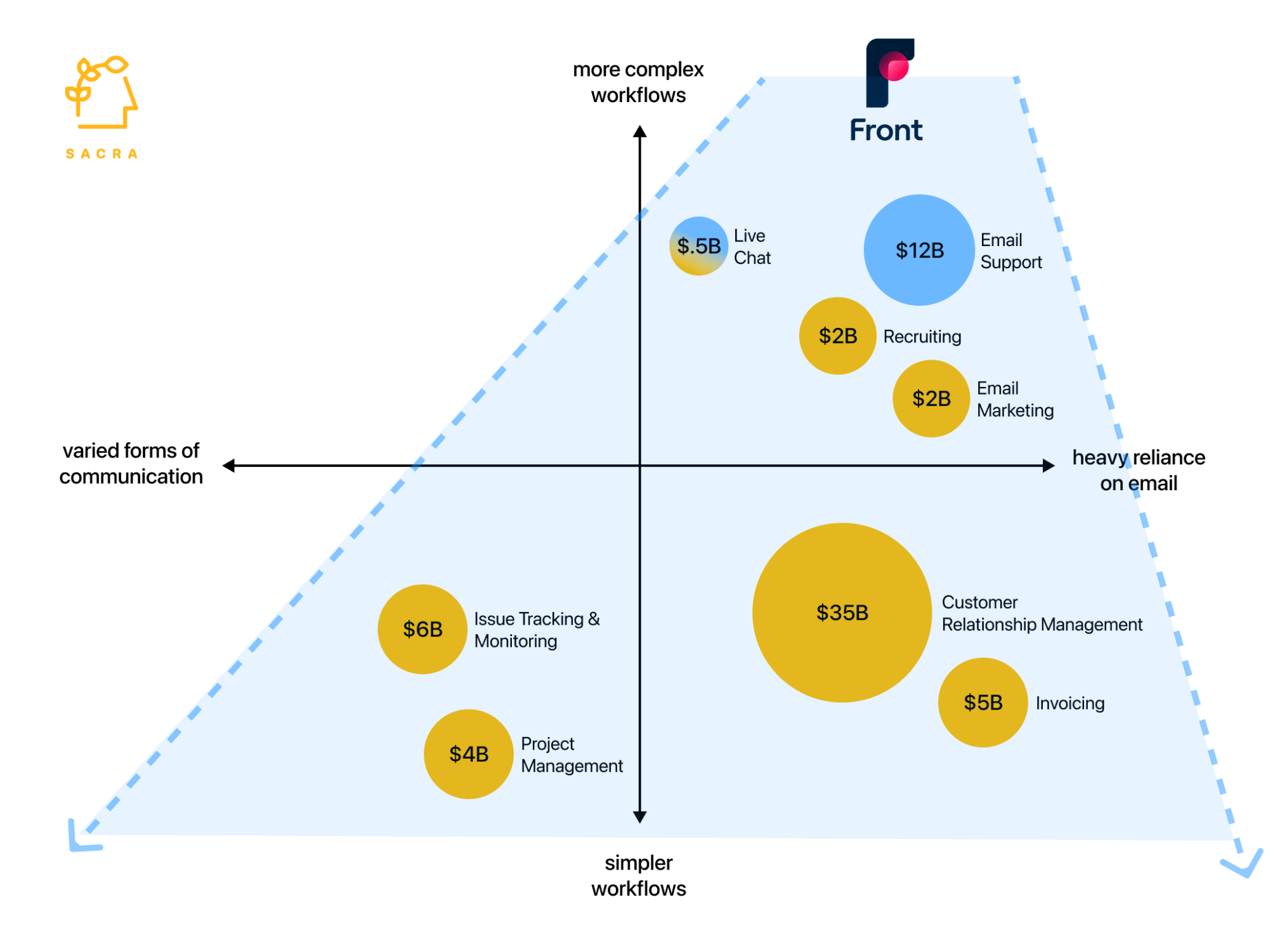 Front's wedge was into teams with highly complex, heavily email reliant workflows, but their high engagement and broad adoption simplify their path into bigger, simpler markets.
Use cases with higher levels of email reliance and more complex workflows are the most likely for Front to take on first, since there are clear pain points for Front to solve. These include functions like support (in progress), recruiting, email marketing, and live customer chat.
At the bottom are simpler workflows, which correlate with more lucrative markets and also more challenging sales—since there are more solutions out there. Customer relationship management, invoicing, project management and issue tracking will be the kinds of markets that Front can enter as it begins to truly tackle adjacent markets around email.
The future of Front
While most successful B2B products are used maybe a few times a week, Front's done the tough work of building a platform where users are happy to spend hours every day collaborating with their colleagues on their most critical tasks. 
Front has also shown a strong ability to grow within organizations, landing on support and success teams but then expanding to cover adjacent departments and whole companies.
These two facts—Front's high engagement and net dollar retention—are at the center of the Front investment thesis:
Even in the bearish scenario, Front's high usage makes it an attractive acquisition target for companies like Google, Microsoft and Salesforce who are missing a team email tool in their bundles
Front has reliable enough expansion revenue inside of the growing SMB category that even without huge acceleration in the growth of new customers, they will continue to grow at a steady rate for some time
Front's platform and penetration into teams open up $66B worth of upside built on exploiting opportunities across support, marketing, sales, and project management
Whether Front can ultimately build the next centralized hub for work hinges largely on how well they can thread a challenging problem: building a product for work that people actually want to use while simultaneously making that product more complex.
Appendix
Disclaimers
Sacra has not received compensation from the company that is the subject of the research report.
Sacra generally does not take steps to independently verify the accuracy or completeness of this information, other than by speaking with representatives of the company when possible.
This report contains forward-looking statements regarding the companies reviewed as part of this report that are based on beliefs and assumptions and on information currently available to us during the preparation of this report. In some cases, you can identify forward-looking statements by the following words: "will," "expect," "would," "intend," "believe," or other comparable terminology. Forward-looking statements in this document include, but are not limited to, statements about future financial performance, business plans, market opportunities and beliefs and company objectives for future operations. These statements involve risks, uncertainties, assumptions and other factors that may cause actual results or performance to be materially different. We cannot assure you that any forward-looking statements contained in this report will prove to be accurate. These forward-looking statements speak only as of the date hereof. We disclaim any obligation to update these forward-looking statements.
This report contains revenue and valuation models regarding the companies reviewed as part of this report that are based on beliefs and assumptions on information currently available to us during the preparation of this report. These models may take into account a number of factors including, but not limited to, any one or more of the following: (i) general interest rate and market conditions; (ii) macroeconomic and/or deal-specific credit fundamentals; (iii) valuations of other financial instruments which may be comparable in terms of rating, structure, maturity and/or covenant protection; (iv) investor opinions about the respective deal parties; (v) size of the transaction; (vi) cash flow projections, which in turn are based on assumptions about certain parameters that include, but are not limited to, default, recovery, prepayment and reinvestment rates; (vii) administrator reports, asset manager estimates, broker quotations and/or trustee reports, and (viii) comparable trades, where observable. Sacra's view of these factors and assumptions may differ from other parties, and part of the valuation process may include the use of proprietary models. To the extent permitted by law, Sacra expressly disclaims any responsibility for or liability (including, without limitation liability for any direct, punitive, incidental or consequential loss or damage, any act of negligence or breach of any warranty) relating to (i) the accuracy of any models, market data input into such models or estimates used in deriving the report, (ii) any errors or omissions in computing or disseminating the report, (iii) any changes in market factors or conditions or any circumstances beyond Sacra's control and (iv) any uses to which the report is put.
This research report is not investment advice, and is not a recommendation or suggestion that any person or entity should buy the securities of the company that is the subject of the research report.  Sacra does not provide investment, legal, tax or accounting advice, Sacra is not acting as your investment adviser, and does not express any opinion or recommendation whatsoever as to whether you should buy the securities that are the subject of the report. This research report reflects the views of Sacra, and the report is not tailored to the investment situation or needs of any particular investor or group of investors.  Each investor considering an investment in the company that is the subject of this research report must make its own investment decision.  Sacra is not an investment adviser, and has no fiduciary or other duty to any recipient of the report.  Sacra's sole business is to prepare and sell its research reports. 
Sacra is not registered as an investment adviser, as a broker-dealer, or in any similar capacity with any federal or state regulator.