Front Fundraising, Leadership, Employees and Competitors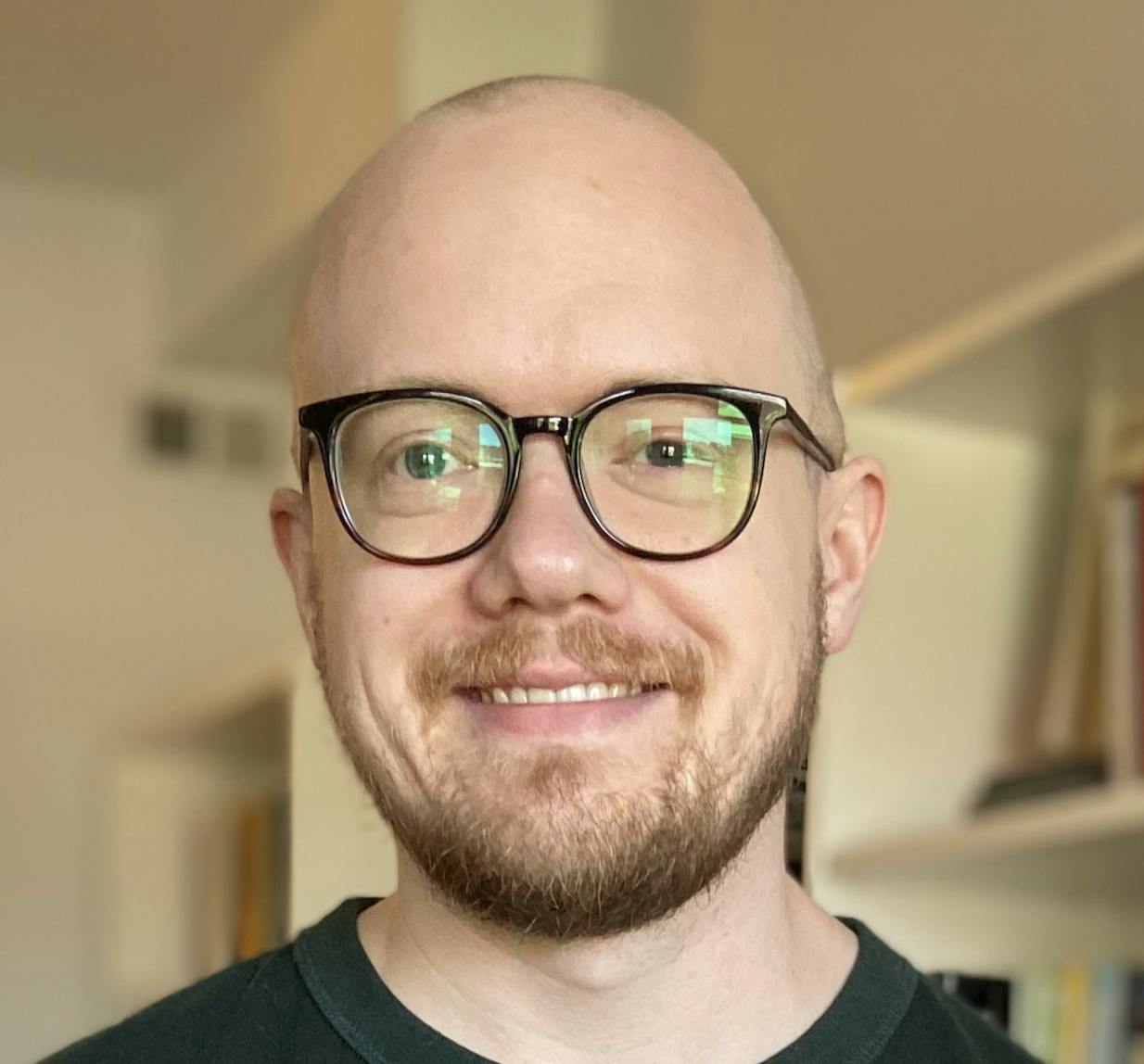 Jan-Erik Asplund
Leadership
After studying math and entrepreneurship at HEC Paris business school, Mathilde Collin joined and quit a SaaS startup before launching Front with her co-founder and future CTO Laurent Perrin.
After picking up about a dozen customers, they applied to Y Combinator, which accepted them for the summer 2014 program. Geoff Ralston and Paul Buchheit, the creators of Yahoo Mail and Gmail respectively, were both fans, and right out of YC they raised a $3M seed round from them and more than a dozen other angels.
Laurent Perrin spent 4 years as the CTO of the French online radio station Radioline before meeting Mathilde Collin at an eFounders event and deciding to start Front with her. He has a Master of Science degree in Computer Science from Ecole polytechnique as well as Telecom Paris.
Jenny Decker was an executive at Atlassian leading the company's Corporate FP&A prior to joining Front as CFO in 2019. While she was at Atlassian, the company went public, grew from $4B in market cap to $26B, increased revenue from $150M a year to $1BN+, and acquired companies like Trello and StatusPage.
After 4 years serving as SVP and later VP of Sales and Support at Intercom, Laurabeth Harvey joined Front as Chief Revenue and Success Officer in September 2020. 
In her role overseeing all customer-facing functions at Intercom, Laurabeth pushed the company towards higher quality sources of revenue and improved the product's engagement and retention. Revenue at Intercom grew from $40M a year to almost $200M a year under her leadership. Before Intercom, Laurabeth helped build out the first SDR organization at LinkedIn and served as both Director of Business Acquisition, North America and Director of SMB.
With moving upmarket a must for Front going forward, we expect Laurabeth to play a critical role in helping manage the up-leveling of Front's still relatively junior sales team.
Before joining Front as CMO in November 2019, Anthony Kennada was CMO at Gainsight for 6 years. As the first marketing leader on the team, Anthony presided over nine digits worth of ARR creation. Prior to joining Front and after leaving Gainsight, he was Battery Ventures' Executive in Residence. 
Fundraising
All together, Front has raised $138M from 39 investors, including Y Combinator (Seed), Social Capital, Tribe Capital, and Sequoia.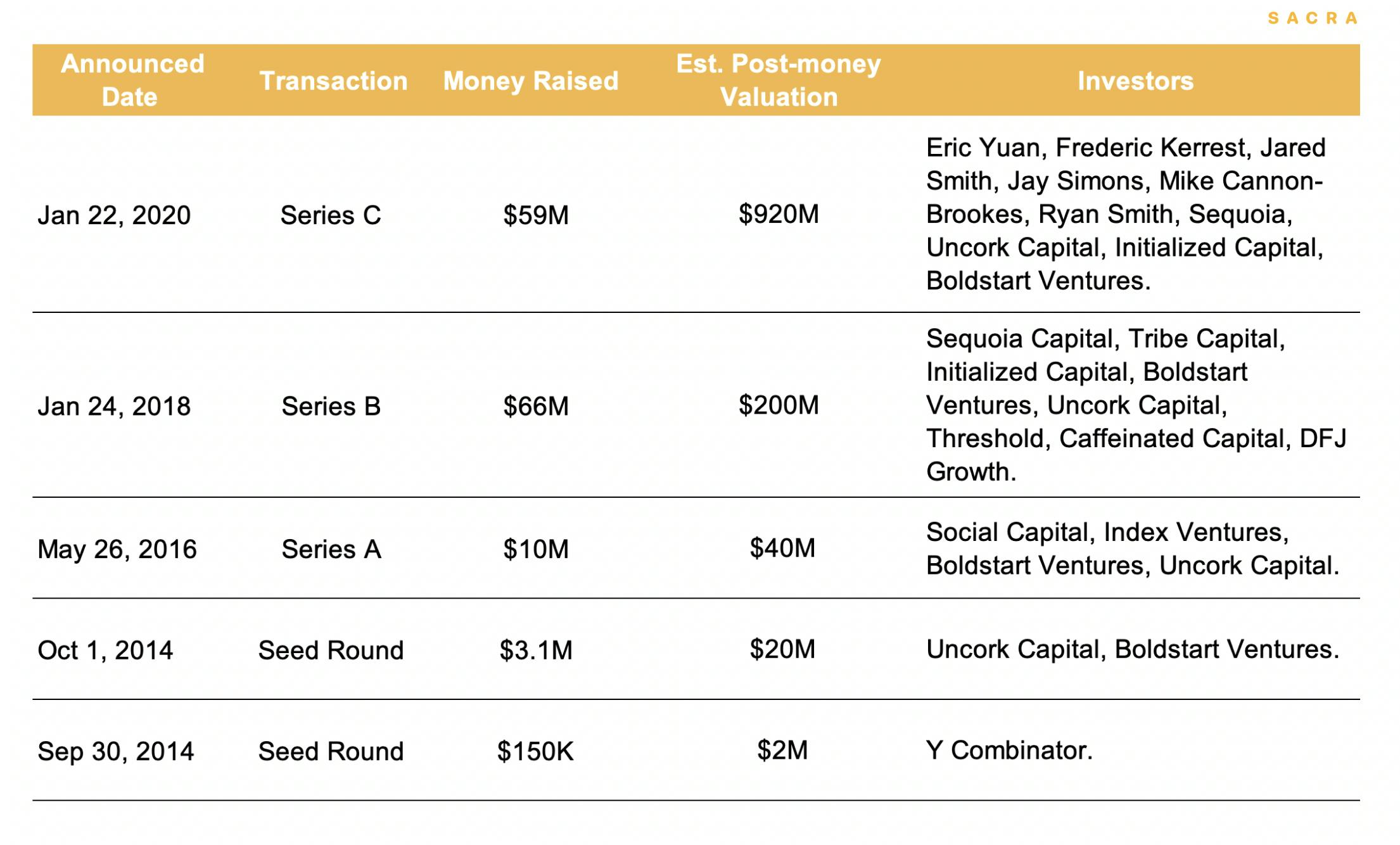 Front was valued at 27x ARR at their Series A and Series B, and 35x ARR at their Series C. Click here to download the full data set.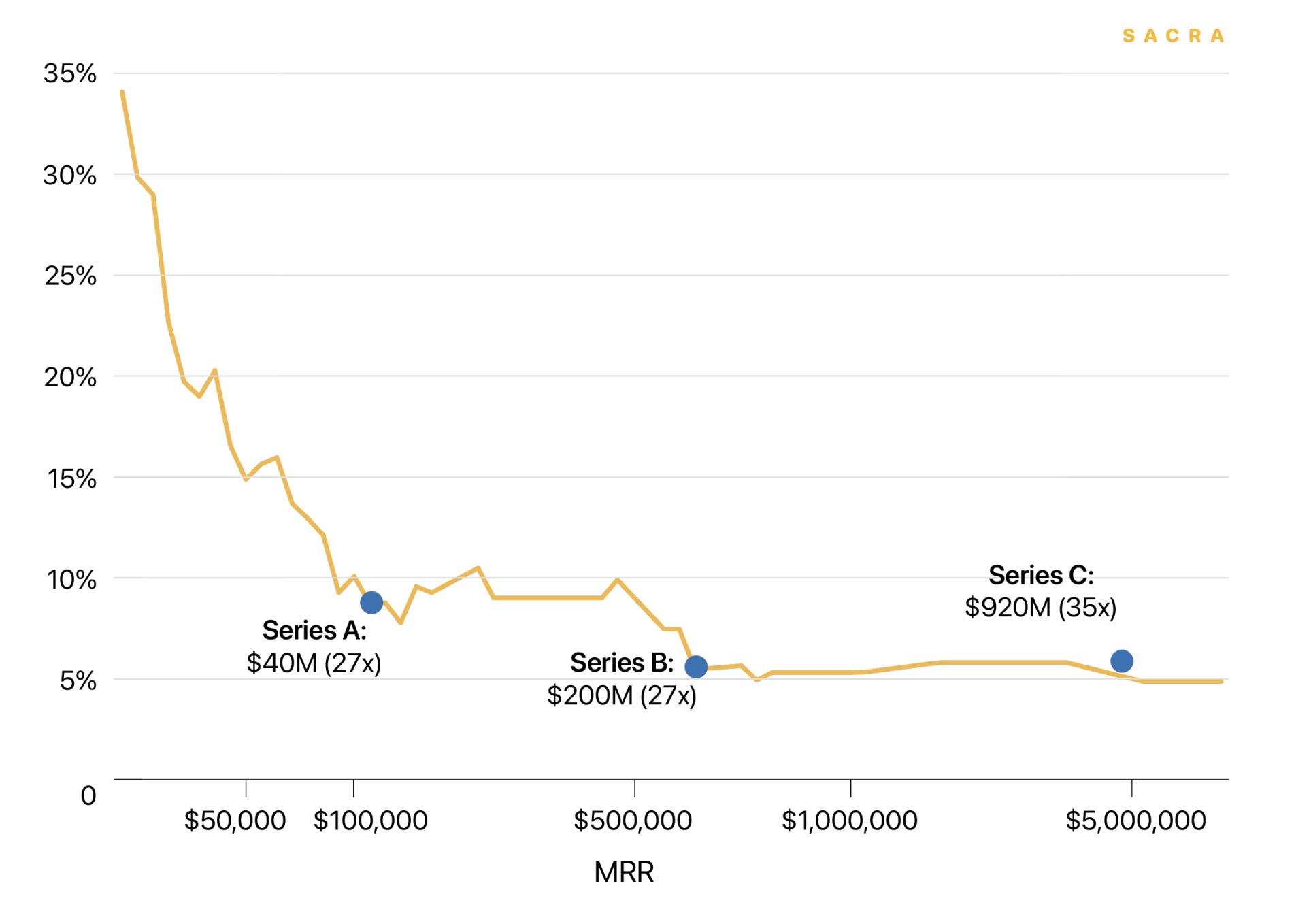 The 35x revenue multiple on which Front raised its Series C was above the average private SaaS company ARR multiple of 25x among companies in Forbes's Cloud 100.  
Employees
Front has about 185 employees across offices in San Francisco, Phoenix, and Paris.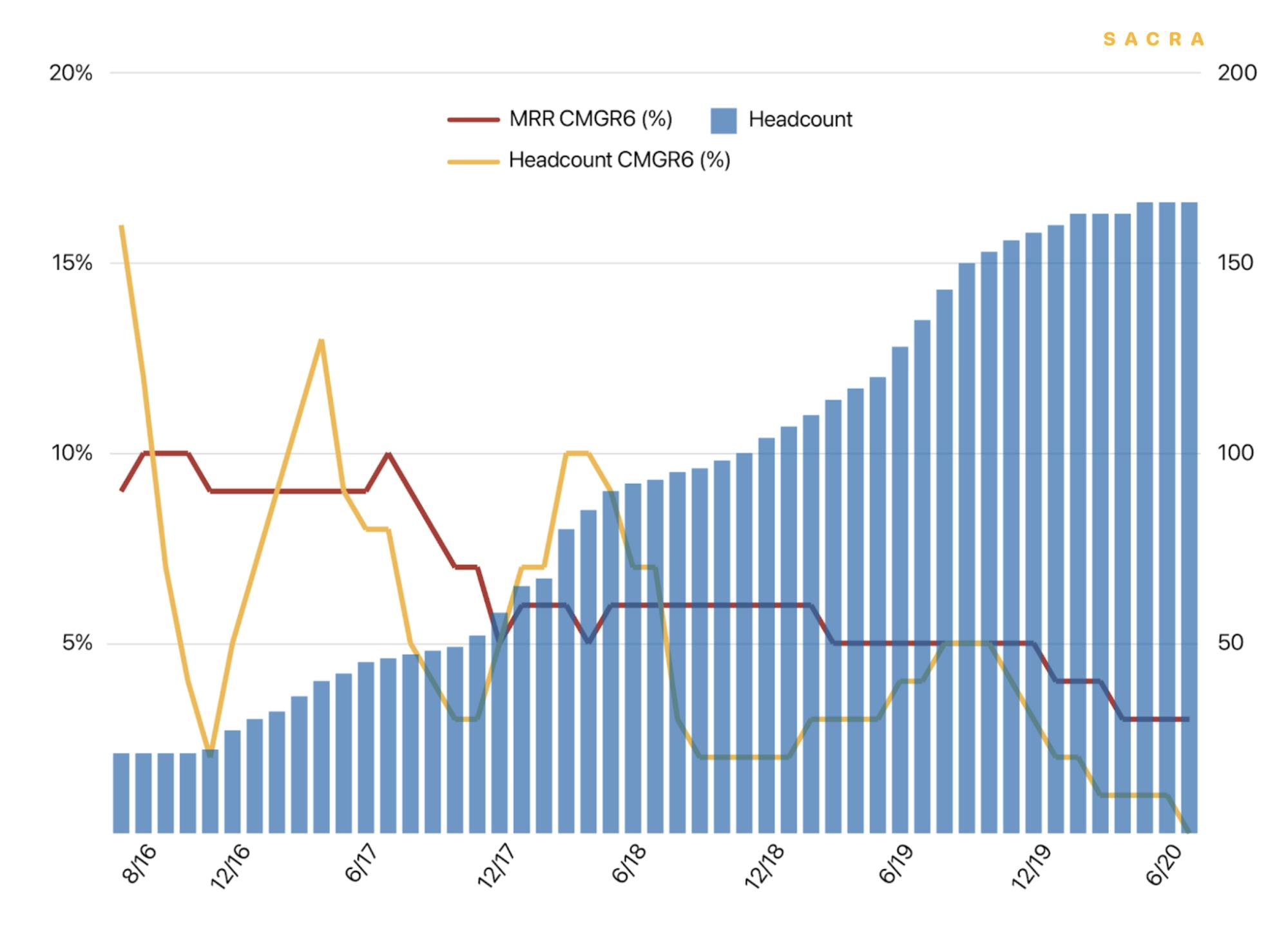 Front is able to match ARR growth with hiring, while servicing a wider customer base.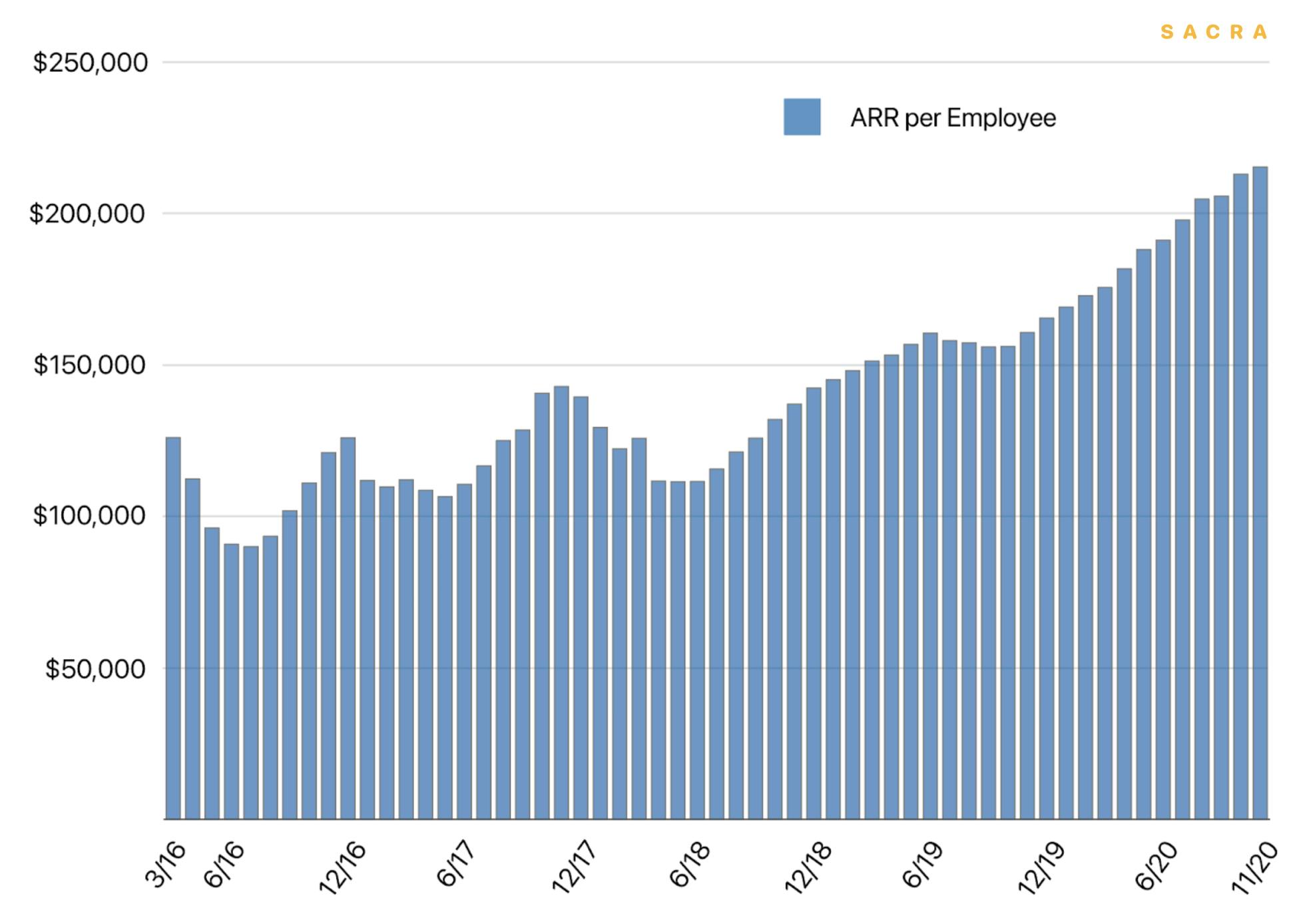 ARR per employee has approximately doubled from March 2016 to about $220,000 as of November 2020
Front is in the high-end of companies on employee efficiency: comparable to Salesforce and Wix at IPO, and trailing just behind Atlassian.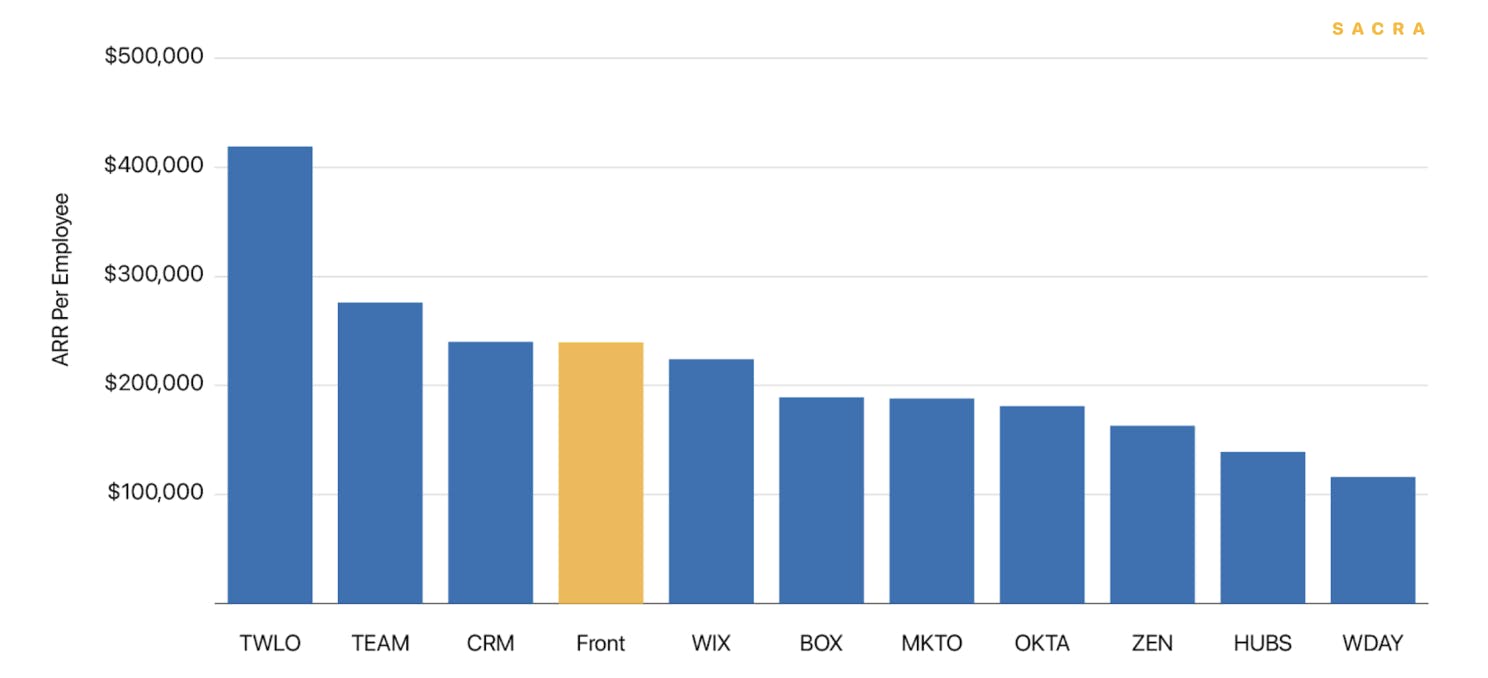 Front has high ARR per employee vs public peers at their IPO.
On Glassdoor, Front has 128 reviews with an average score of 4.8/5. 95% would recommend Front to a friend and 100% approve of the performance of the CEO. Front was featured at #43 on Glassdoor's Best Places to Work in 2020.
Competitors
Front compares favorably to other email tools and enterprise-focused collaboration competitors. According to G2 user reviews, Front has the highest rating in 4/7 and 5/7 key categories.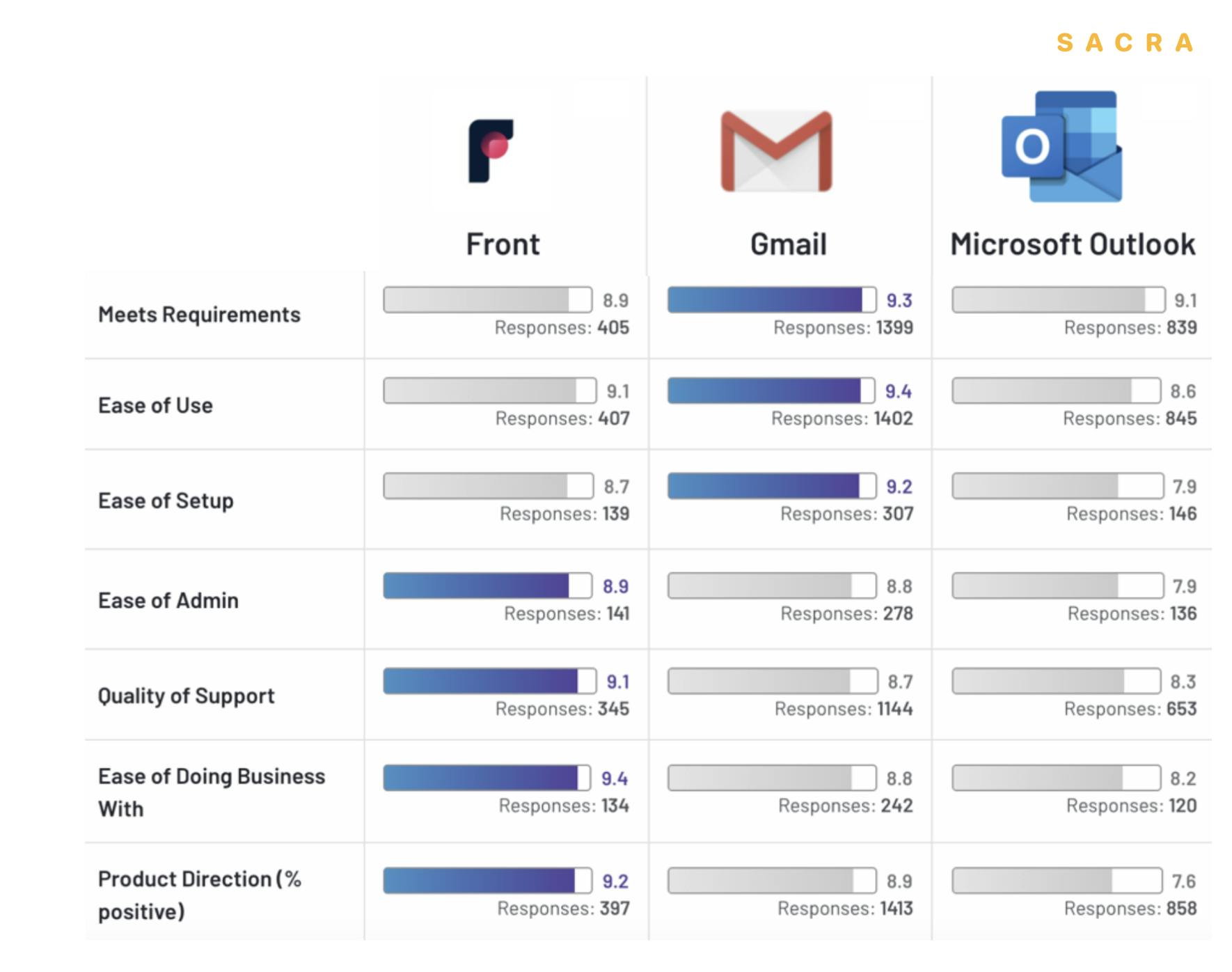 Front has the highest rating in 4/7 key categories when compared with Gmail and Outlook.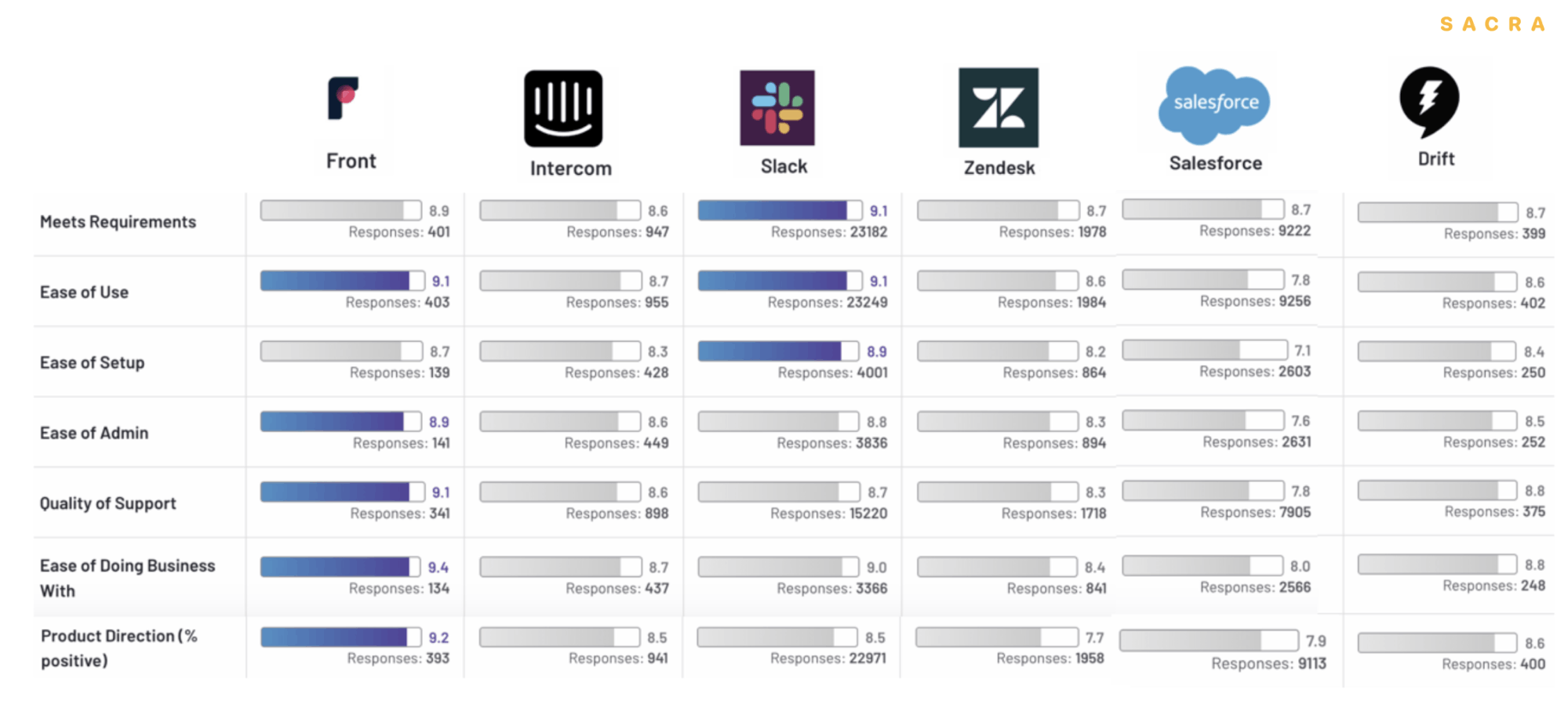 When compared with enterprise-focused collaboration competitors like Intercom and Zendesk, Front has the highest rating in 5/7 key categories.
Front's current customer base is concentrated on SMBs (65%+ of total revenue), which tend to have higher natural churn. This means that Front's end market revenue is more exposed in a downturn. In an ideal world, it would be helpful to look at how gross churn has trended over time. 
While the COVID-19 pandemic has led to a surge in usage of team-based collaboration tools, the question for Front going forward is how CAC will change as the company moves from focusing on organic growth to a more outbound marketing-driven growth phase.
Higher enterprise adoption and ARPC will support sales efficiency. As competitors of Front in the enterprise segment, both Microsoft Teams and Slack continue to focus on R&D, as collaboration increasingly sits at the center of a distributed yet connected workforce. 
Microsoft has an installed user base of 260M commercial Office 365 subscribers. This has been a key driver for Teams' more rapid acceleration vs Slack during the pandemic. Teams is bundled with Office 365, thereby, able to gain more widespread enterprise adoption. For example, Microsoft reported that 2 out of 3 of the 75M DAUs shared or collaborated with files through Teams.
Slack has recently released Shared Channels. If Shared Channels help drive increased viral adoption of Slack as usage expands from within an organization to outside of a company, e.g. partners or customers, then it is possible that its market share gains accelerate.
Comps
Comparison data and recent performance against private SaaS peers demonstrate that Front has grown at a healthy rate. Our data points also suggest that Front has not been negatively affected by the wider economic slowdown.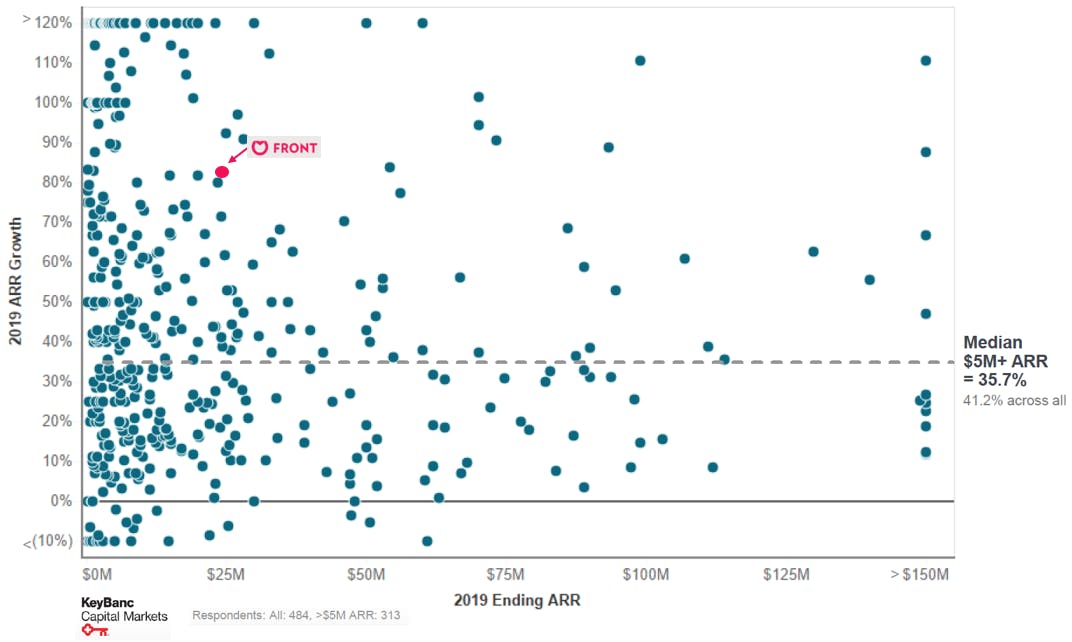 Front saw healthy ARR growth in 2019.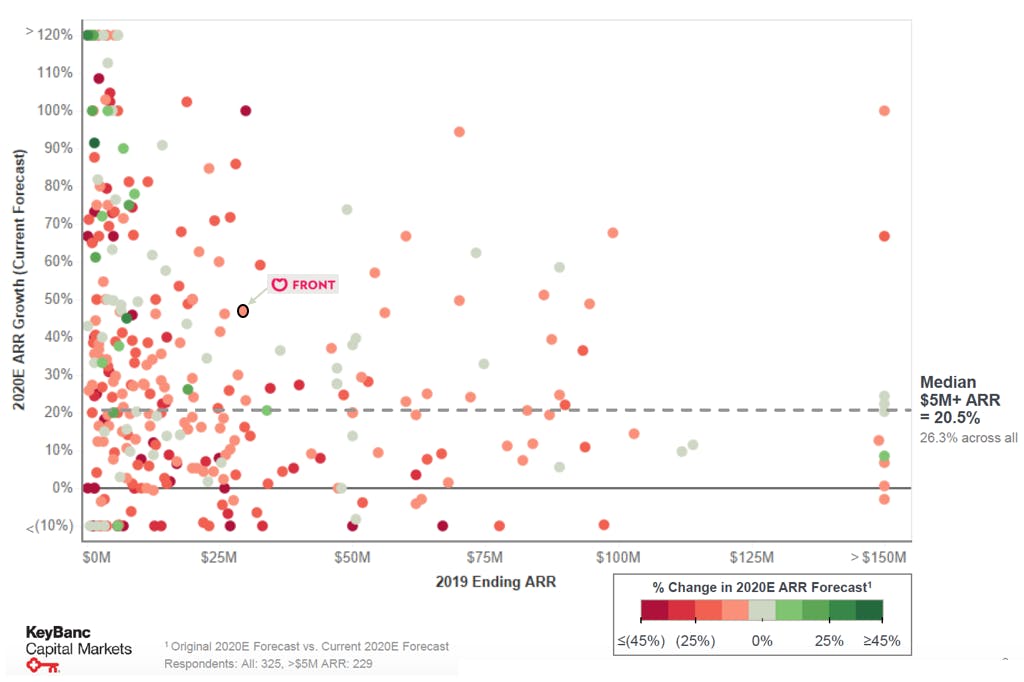 Front has seen a minor dip in ARR growth during COVID-19.
Mathilde Collin shared in a YC interview how Front's strong culture has supported the company's sustained performance. People enjoy working at Front: after four years, only two people had voluntarily left the company. This alignment and engagement is visible from its top quartile ARR per employee data.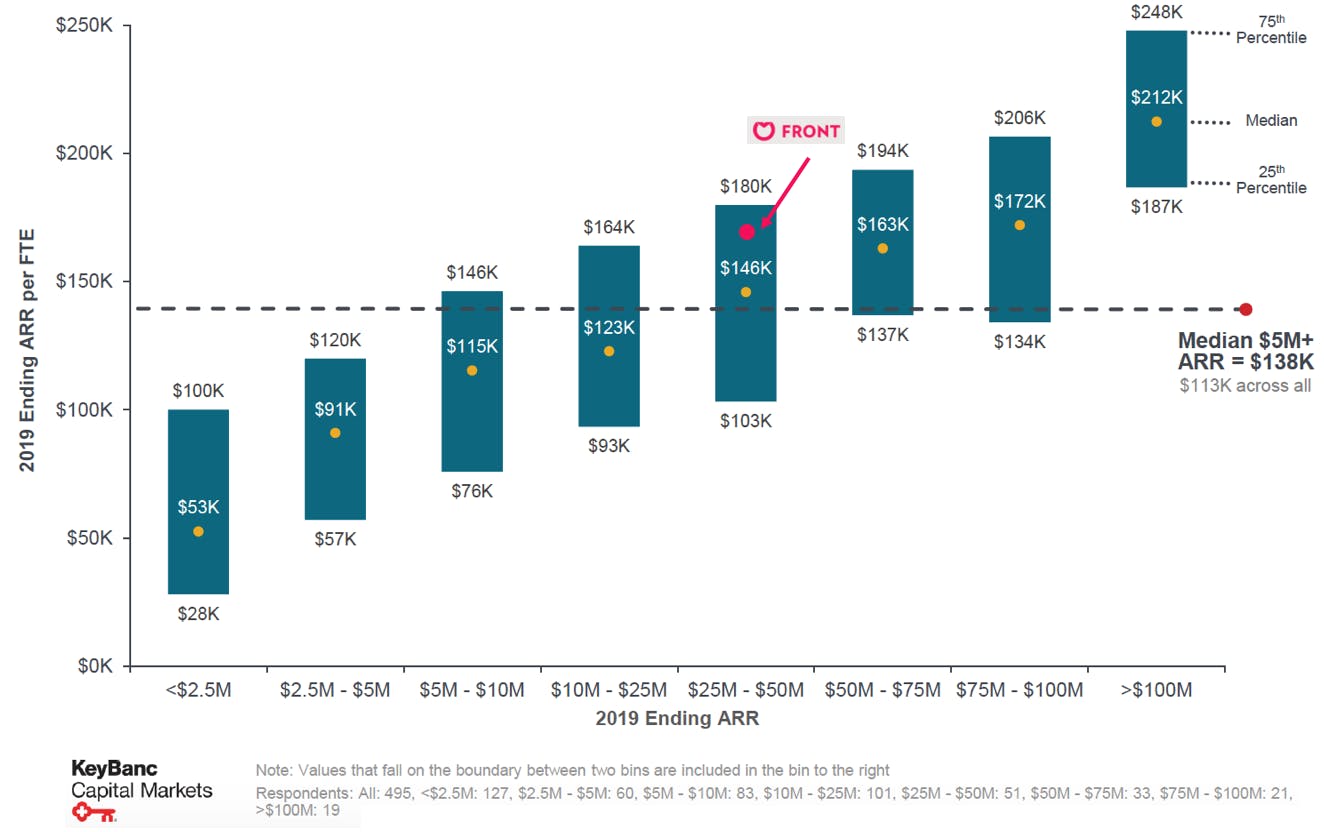 Front maintains top tier ARR per employee.
Front also has better than average growth efficiency compared with its private peers. The company grew organically and only began its outbound marketing in the last two years.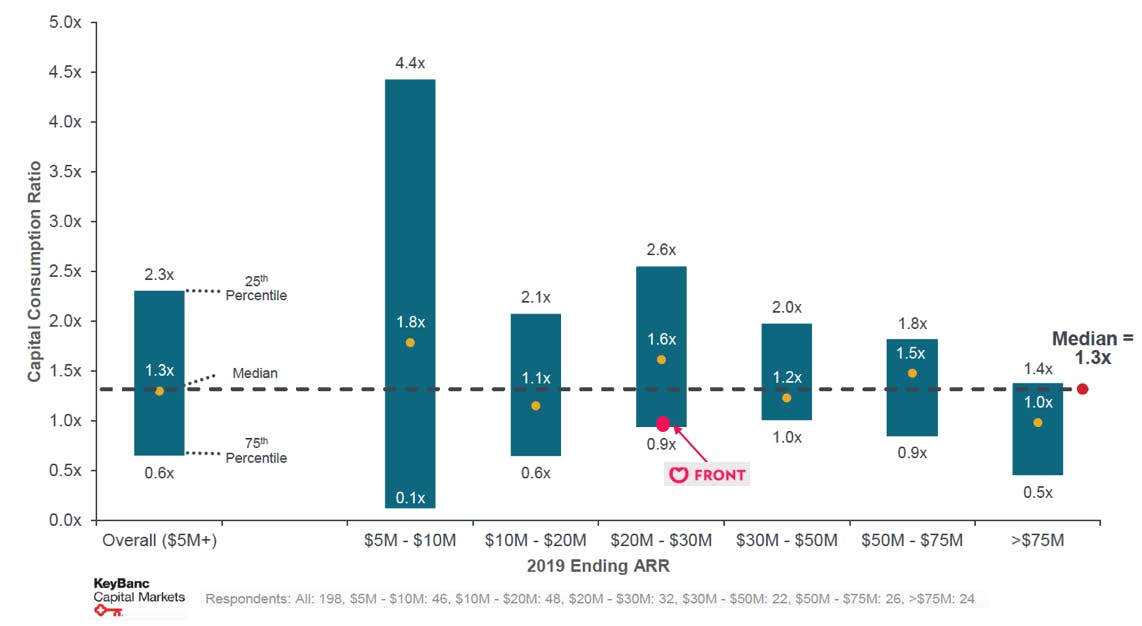 Compared with private SaaS peers, Front has an efficient lifetime-to-date capital consumption ratio.
Nevertheless, Front has been more of a steady player than some of its larger peers who have achieved viral growth (Zoom was so cash generative, it was off the chart).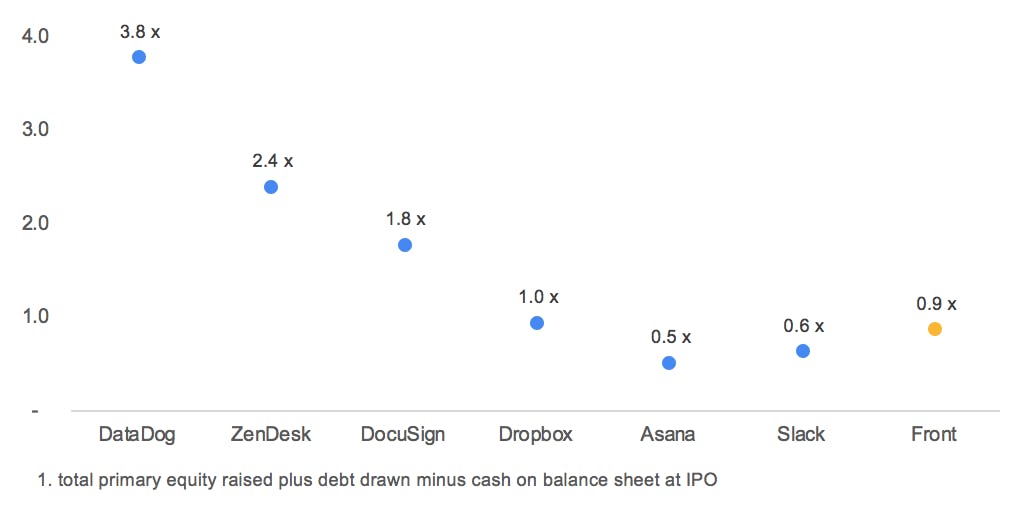 Front is more capital efficient than Slack or Asana was at IPO, but less efficient than Datadog or Zendesk.