Airtable: The $7.7B Roblox of the Enterprise
Featuring
Airtable is a no-code productivity platform for building custom applications.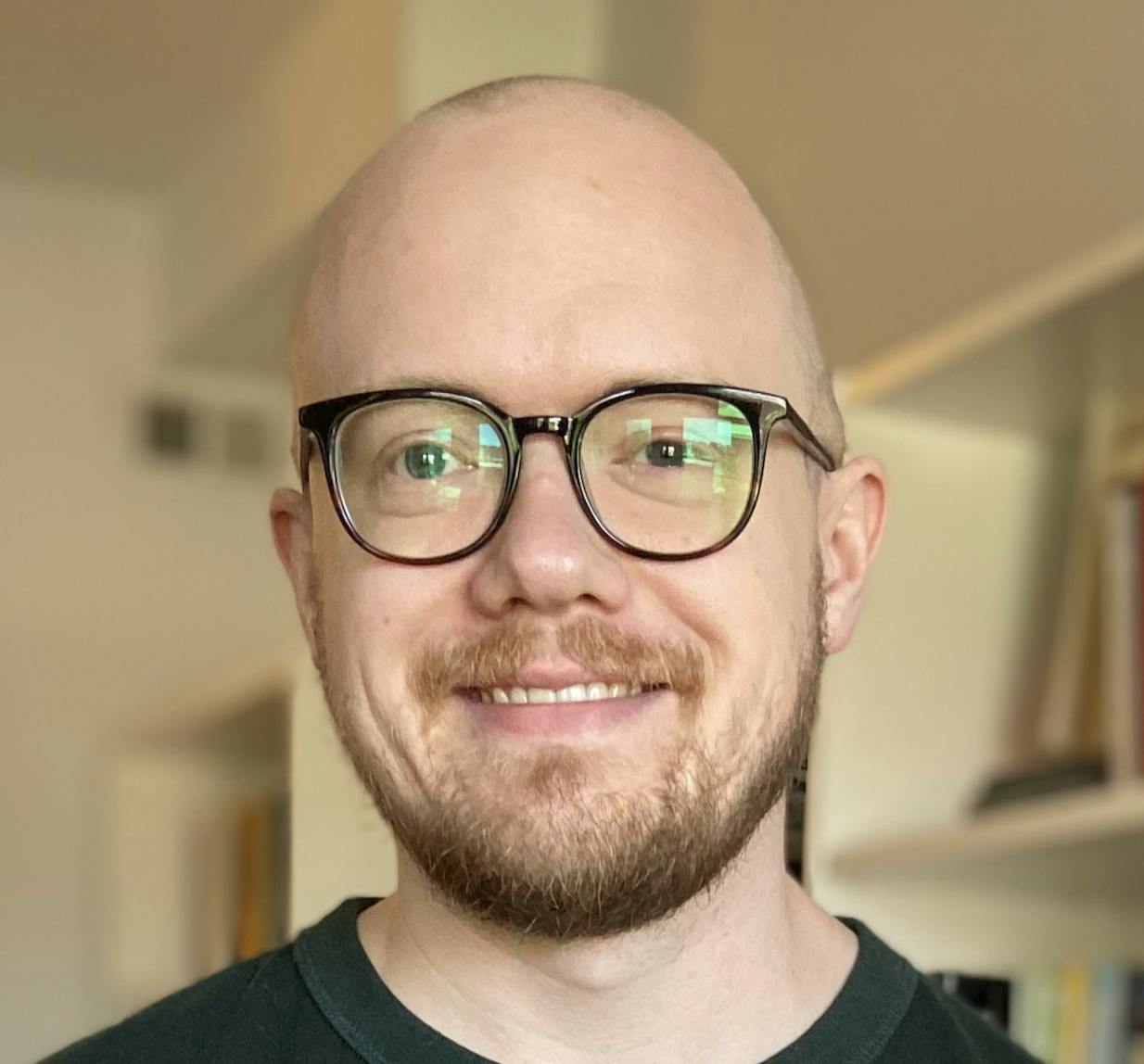 Jan-Erik Asplund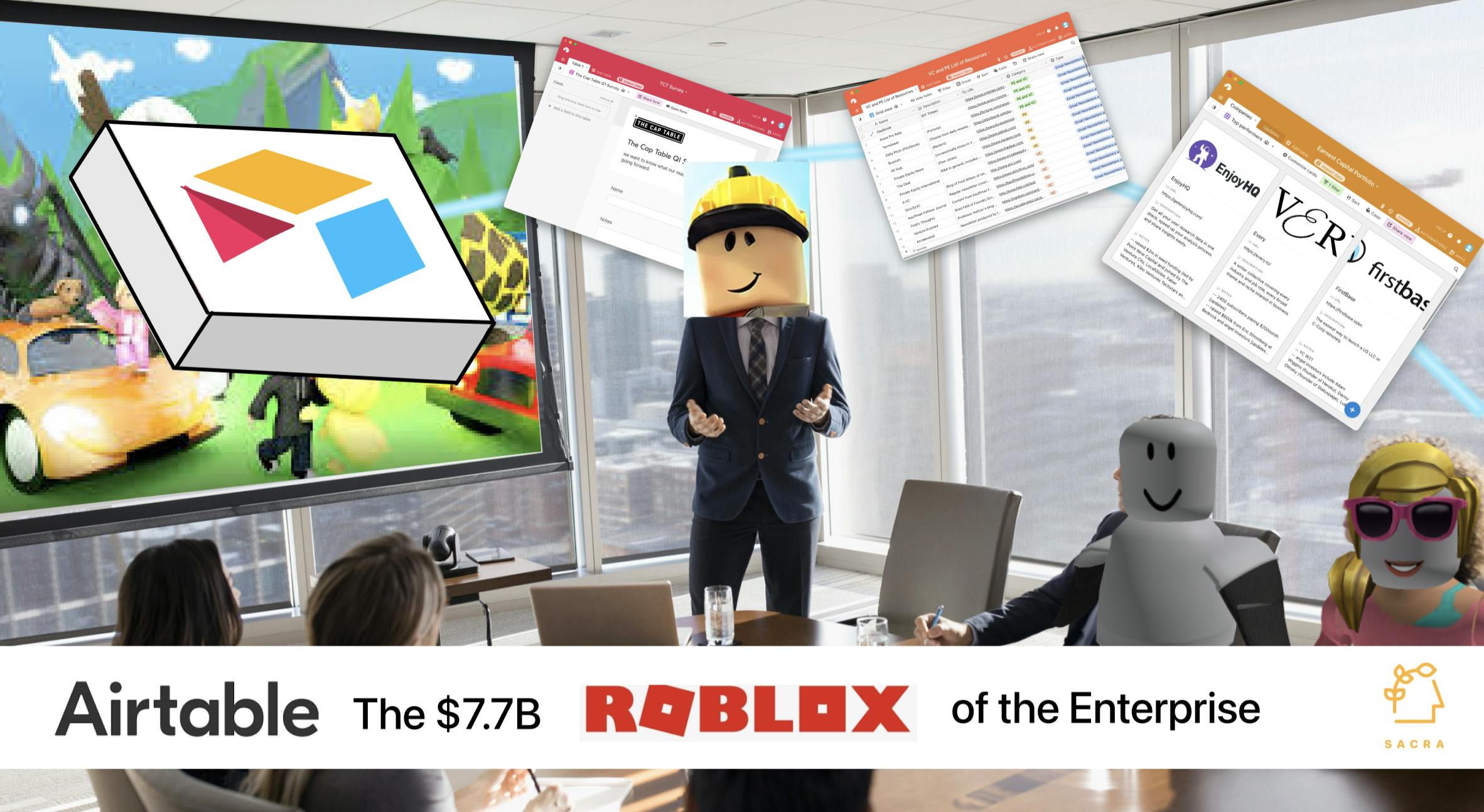 This report contains company financials based on publicly available information and data acquired by Sacra during the preparation of the report. Sacra did not receive any compensation from any of the companies mentioned in the report. This report is not investment advice or an endorsement of any securities. Find our complete disclaimers at the bottom.
Spreadsheet with database characteristics
Sign up for our email list to reserve your spot for a private expert Q&A on Airtable's future and market opportunity.
Success!
Something went wrong...
Behind Airtable's big funding rounds and valuation ($270M at a $5.77B valuation as of their last raise in March 2021), celebrity backers (Ashton Kutcher was one of the first checks in) and proximity to hip productivity tools like Notion and Figma, the thing that is most surprising is that the business Airtable is building is actually boring.
Airtable is less like Notion or Figma and more like Salesforce, where CEO Howie Liu worked (via an acquisition) before co-founding the company. It is a complex product, serving as both database and collaboration platform, with low barriers to entry but a very high ceiling.
And while Airtable started life marketing itself to consumers as a well-designed place to smartly organize hiking trips and plan grocery shops, Airtable today is nothing like the consumer-centric Airtable of 2015.

Airtable has expanded its enterprise sales, support, and services teams from a handful of people to more than 50.
Today, at more than $100M in annually recurring revenue growing 70% year-over-year, Airtable's growth is accelerating, both due to COVID tailwinds and Airtable's aggressive push upmarket.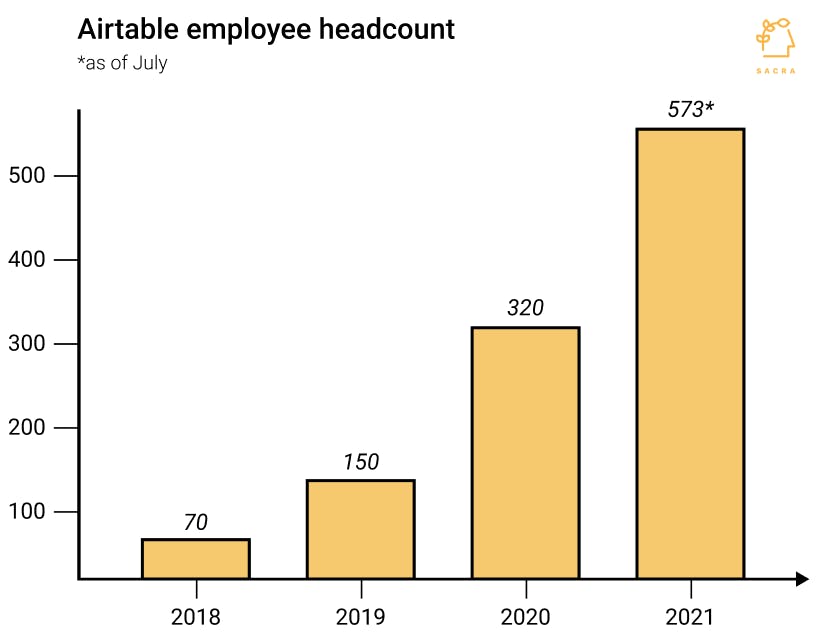 Airtable's headcount has already almost doubled in 2021 from its total at the end of 2020.
But questions still remain about Airtable's upmarket move and how well their relatively underdetermined positioning—as a no/low-code software builder tool—can be sold into the enterprise.
Airtable's ultimate ambition is to be like the enterprise version of the $46B Roblox, the game company that released its titular hit game in 2006.
What makes Roblox interesting is that instead of just playing games, players code up their own video games using the proprietary Roblox Studio engine. Player-created games span every genre and type of experience imaginable, from RPG, action, virtual pet, and dress-up to mystery, cooking, and life simulation.
Airtable has a similar "engine" that people can use to build sophisticated tools and workflows around their data. What it lacks—today—is a way for organizations to make those workflows into pieces of extensible software and make them accessible to others, whether inside the organization or outside.
Airtable does have the opportunity to be one of the biggest players in the no/low-code industry. By allowing people and teams to build their own software solutions to their problems, Airtable could do for productivity in the enterprise what Roblox did for gaming: unlock a massively valuable market by unlocking the expressivity of its users.
To help accomplish that goal, Liu, throughout 2020, set about hiring a new executive team of seasoned talent from major enterprise-centric and growth startups. 
That new C-suite brings insight and experience from companies like Atlassian, InVision, Wrike, LogMeIn, WndrCo, Quibi, Uber and Instagram—a mix of rapidly high-growth startups, upmarket SaaS products and consumer apps. That combination aligns with Airtable's ultimate vision: marrying a consumer-grade app with the potential to go upmarket and build the next big enterprise product.
Key points
We estimate Airtable's ARR at $115M for a valuation of about $7.7B. That's based on the 67x 2021 ARR multiple at which they were valued in their last round in March 2021 round ($5.77B valuation at $85M in ARR). 
Across our index of SaaS companies, Airtable was the slowest to get from $0 to $10M ARR, and one of the fastest to get from $10M to $100M. That's comparable to Twilio and Carta, which also took about 3.5 years to get from $10M to $100M ARR.
Airtable is a collaborative SaaS platform with a spreadsheet-like interface for building relational databases without code. Its core abstractions—tables, records, views, apps and automations—give it the functionality of a basic CRUD app.
Airtable has pro plans for businesses as well as an enterprise plan that includes hands-on services-based consulting work to help optimize team usage of the product. Their key levers for growth are increasing seats within an organization and increasing their price per seat (ARPU).
Since 2018, Airtable has fully shifted from a consumer/prosumer focus to B2B. Along the way, they've gone from $18M ARR to $110M ARR, grown the team from 70 to 573, and hired almost a whole new C-suite to lead the push upmarket.
In the flip of what happens with dating apps, Airtable observed an anti-dating app churn dynamic with organizations. Teams that replaced Airtable with an off-the-shelf tool didn't churn, because other use cases emerged. Peter Fenton from Benchmark said Airtable had the best retention numbers he'd ever seen.
Airtable's move upmarket is risky because Airtable's product was built for those people in an organization who build and maintain systems. The critical stakeholders in an enterprise deployment of Airtable, on the other hand, will tend to be those who consume systems and don't care how they were built.
To continue to move upmarket despite this challenge, Airtable, like Box before it, is taking a services-heavy approach. They're running trainings and certifications inside companies to help people feel more comfortable with the tool, designing base schemas for customers, and helping customers write documentation.
New verticalized packagings of Airtable—like "Airtable for Marketing"—suggest a path forward for Airtable that includes many different verticalized Airtable products. Each can generate higher ARPU and come bundled with more specialized services to make it easier to sell into the enterprise.
The ultimate vision for Airtable is to use those enterprise deployments as hooks into big companies and then cross-sell other verticalized packages to other departments. By allowing the product itself and builder personas inside companies to drive organic adoption across functional lines, Airtable can marry bottom-up and top-down growth.
Roblox, by building a low barrier, high ceiling game-builder, took aim not at one genre of video games but at the whitespace between all existing genres—a $46B and counting market. Airtable has a similar opportunity in B2B SaaS, to build software for the whitespace between sales, marketing, recruiting, and so on.
Valuation: Airtable is worth $7.7B
Airtable was most recently priced at $5.77B in their Series E, led by Greenoaks Capital and with participation from Caffeinated Capital, CRV, Thrive and WndrCo. That round brought Airtable's total funding to $617M.
At about $85M in annually recurring revenue at the time of that March 2021 fundraise, we estimate that Airtable was valued at an ARR multiple of 67x. At about $115M in annually recurring revenue, we estimate Airtable is worth about $7.7B.
At 13% quarter-on-quarter revenue growth, Airtable is growing about 4x faster than Front and 50% faster than Zapier. Airtable hasn't always been a fast-growing company: in its first 5 years between 2012 and 2017, Airtable grew relatively slowly.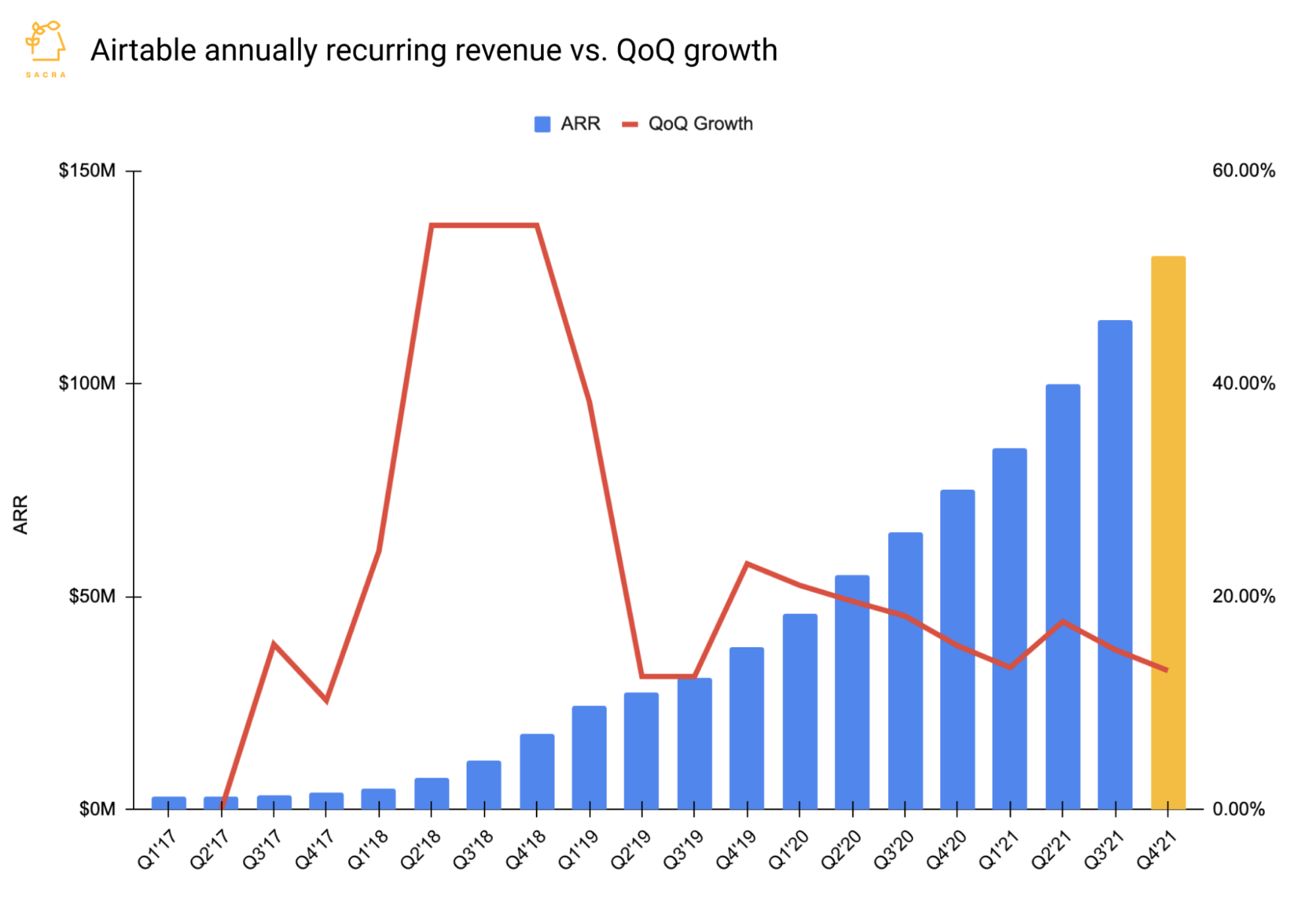 Airtable grew revenue faster during the middle of 2020, at >$50M in ARR, than they did in 2017—at less than $10M ARR.
Of the companies we looked at, Airtable was the slowest to get from $0 to $10M ARR, and one of the fastest to get from $10M to $100M: comparable to Twilio and Carta, which also took about 3.5 years to hit the $100M ARR mark.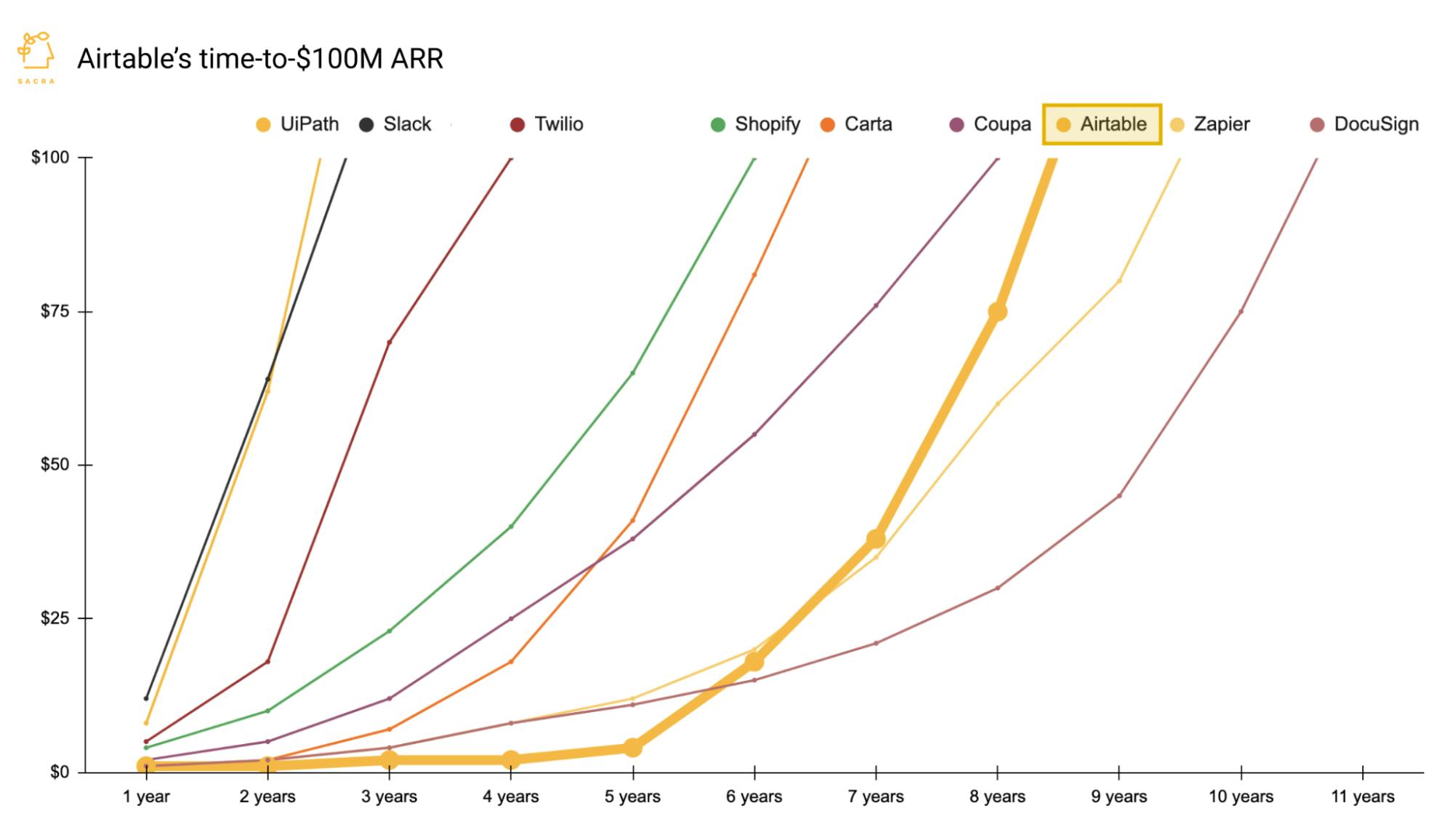 Airtable got from $1M to $100M in ARR in around eight years, faster than Zapier by about a year.
Airtable has been able to sustain that high rate of growth past the $100M ARR mark in part because of a massive burst of hiring to support their move upmarket—especially across enterprise sales and customer success—though their capital efficiency has been affected as a result of the fundraising done to support that.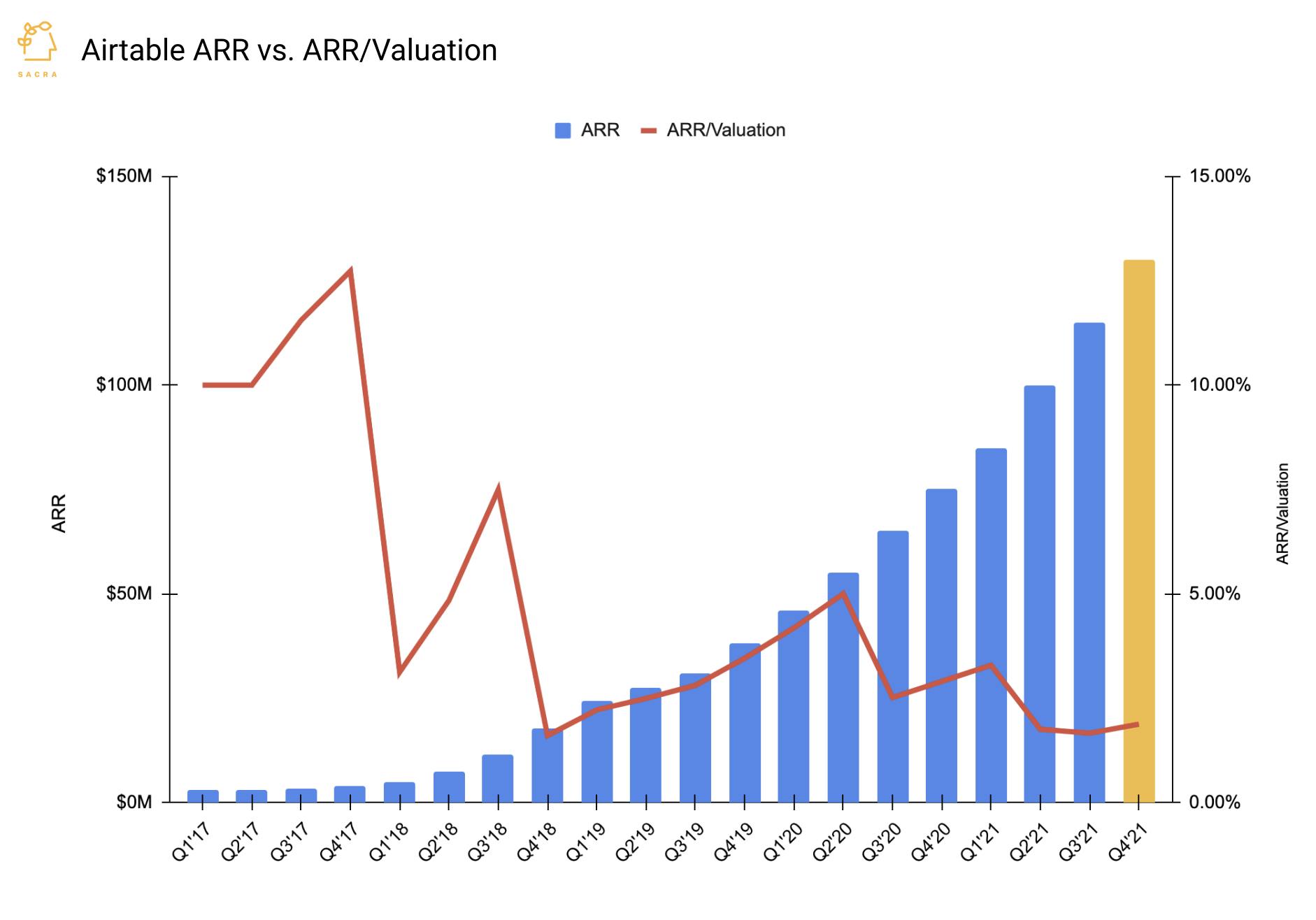 Airtable started off capital efficient but their ARR/valuation has fallen with their last few large fundraising rounds.
Airtable raised just $10M over its first 5 years. Between just September 2020 and July 2021, they raised $455M. With a total of $617M raised, Airtable is now the company with the lowest ratio of ARR to total funding that we've looked at.
Our bear, base, and bull case for the company depend on how well Airtable can expand its total addressable market and improve the two key levers of its business—price per seat and seats per organization:
Bear: Airtable struggles to meaningfully expand beyond its current core use case as an non-opinionated spreadsheet tool used in verticals like content management, product management, and operations, with growth slowing to 10-20% YoY. 
Base: Airtable grows 20-30% YoY over the next ten years, expanding its ARPU and strengthening retention through the addition of tools like a UI builder and separating apps from the core interface that help grow adoption of Airtable inside organizations
Bull: Airtable grows at 35% YoY, using vertical-specific enterprise deployments of Airtable to land inside big organizations and become the Roblox of the enterprise, massively expanding ARPU while allowing for the tool to spread across different departments and create strong retention hooks
Today, Airtable's ability to drive organic adoption into enterprises helps them keep their sales & marketing spend as a percentage of revenue lower than it is for SaaS companies like Box and Smartsheet that use a more top-down led sales process. Until last year, this was most clearly indicated by the fact that Airtable only had 3-4 full-time marketing employees.
We estimate Airtable's S&M spend at around 25%—close to that of Box, and lower than Monday.com or Asana.
Box provides a useful comparison for understanding the kinds of gross margins possible for Airtable.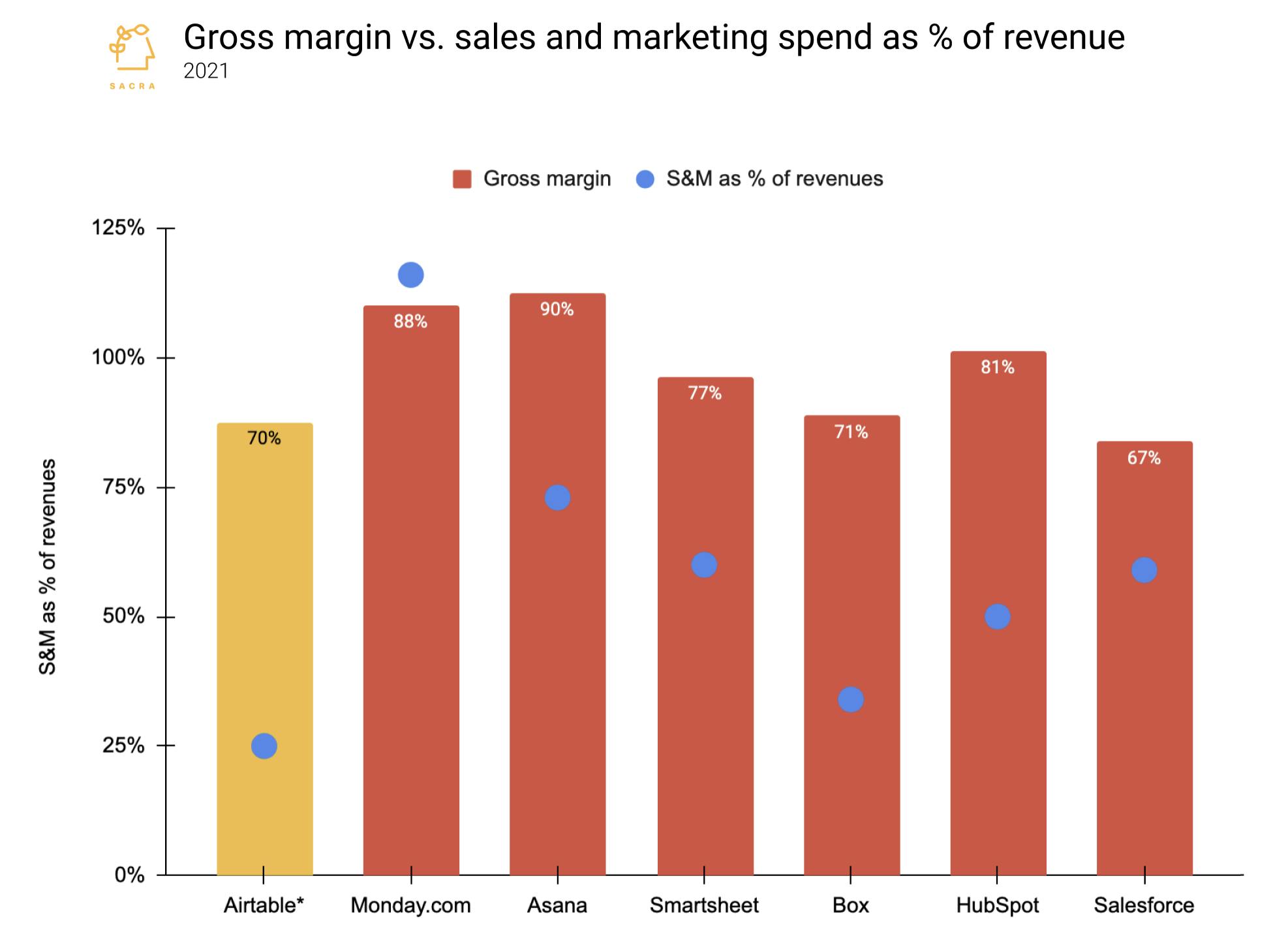 Box's gross margin helps show how Airtable can build a sustainable business despite the costs of file storage.
An early question around Box and Dropbox was how they could build a strong business given the potentially heavy cost of file storage, but Box's 71% gross margins show that as the cost of storage has lowered over the years, this has become less of a problem for the business. 
Box's gross margins are also interesting here because of Box's heavy spend on services as a part of generating customer retention—an approach that Airtable has invested more money in in the last several years.
Today, those services are largely unpaid, but they could prove to be a future lever for revenue growth. Salesforce received $427M in services revenue in Q1'21, or almost 8% of total revenue. Box derives a similarly high percentage of its revenue from services. 
Airtable's consulting services could become a meaningful driver of revenue in the future, as well as a mechanism to increase adoption and retention across the enterprise—driving their ARR per account to the levels of services-heavy companies like Smartsheet and HubSpot, which are 2-4x as high as the self-service focused Asana and Monday.com.
Product: The relational database builder driving $90M ARR
Airtable is a collaborative SaaS platform that lets non-technical end-users use a spreadsheet-like interface to construct their own relational databases. Behaving like a database rather than a spreadsheet means that Airtable is highly flexible—users can link all kinds of different pieces of data together and create useful relationships between them.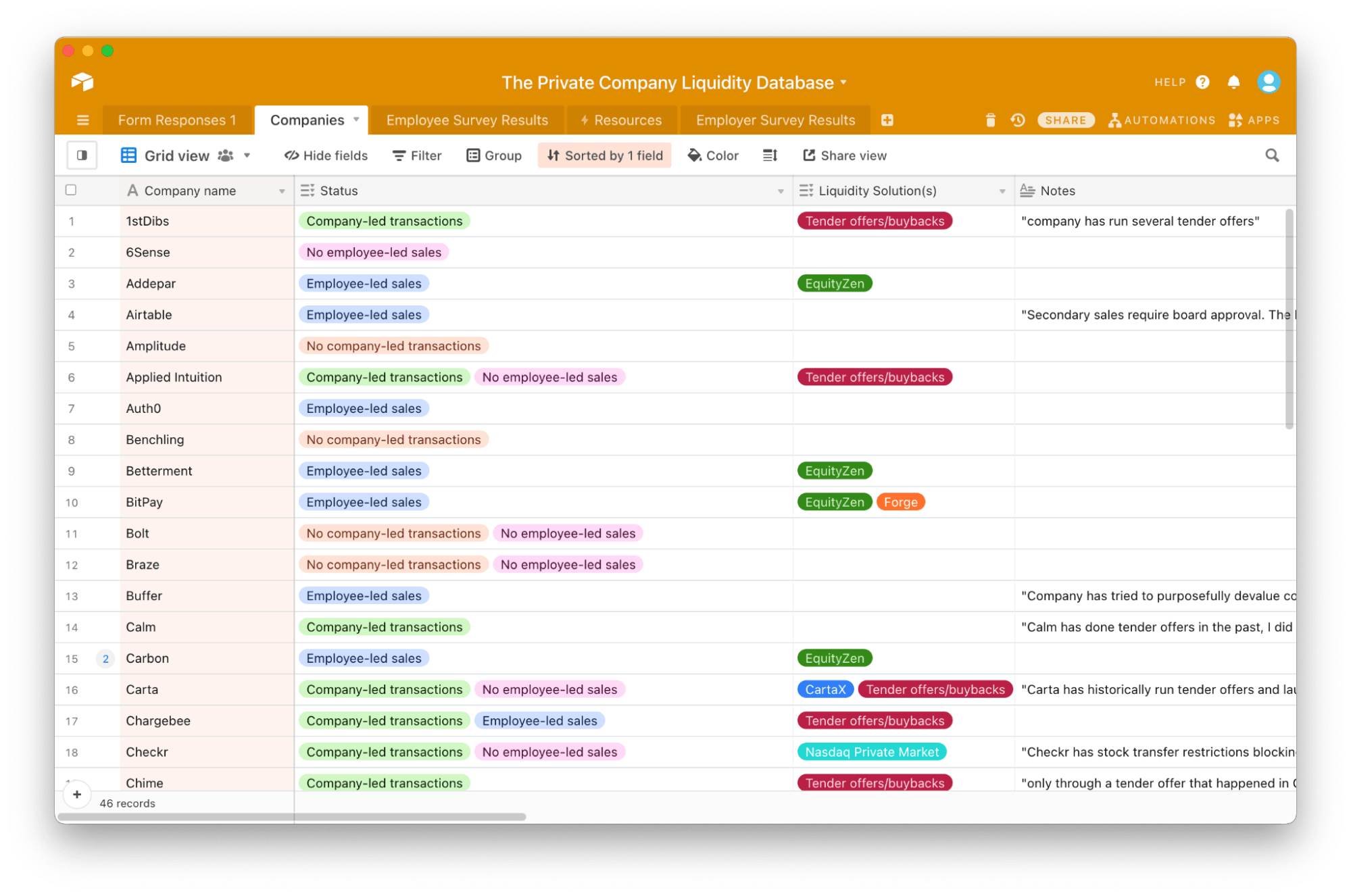 Looking at a table (comparable to a sheet) in the main, grid-based Airtable interface.
Airtable's main interface, where this kind of data (in the form of "records") can be entered, is the table, which resembles a 'sheet' in Excel or Google Sheets:
A marketer can input a list of tasks that need to be completed for a product launch, then add fields for each one's directly responsible individual, due date, status, any clarifying information, and a checkbox to mark when the task is completed.
An operations manager can input a list of workplace supplies and equipment, embed a photograph, link a serial number,  a due date, and insert the phone number of the person who has checked that piece of equipment out.
Looking at the same information as the previous image, but through a kanban or Trello card-like view.
That data and those relationships can then be visualized using views like kanban, calendar, or gallery, which act as different filters on consuming and updating the information in a given table:
The operations manager might use the gallery view for a more visual interface into their supplies, or use a form view to collect requests for particular items from end-users
The marketer might use the calendar or Gantt view to see their various tasks on a timeline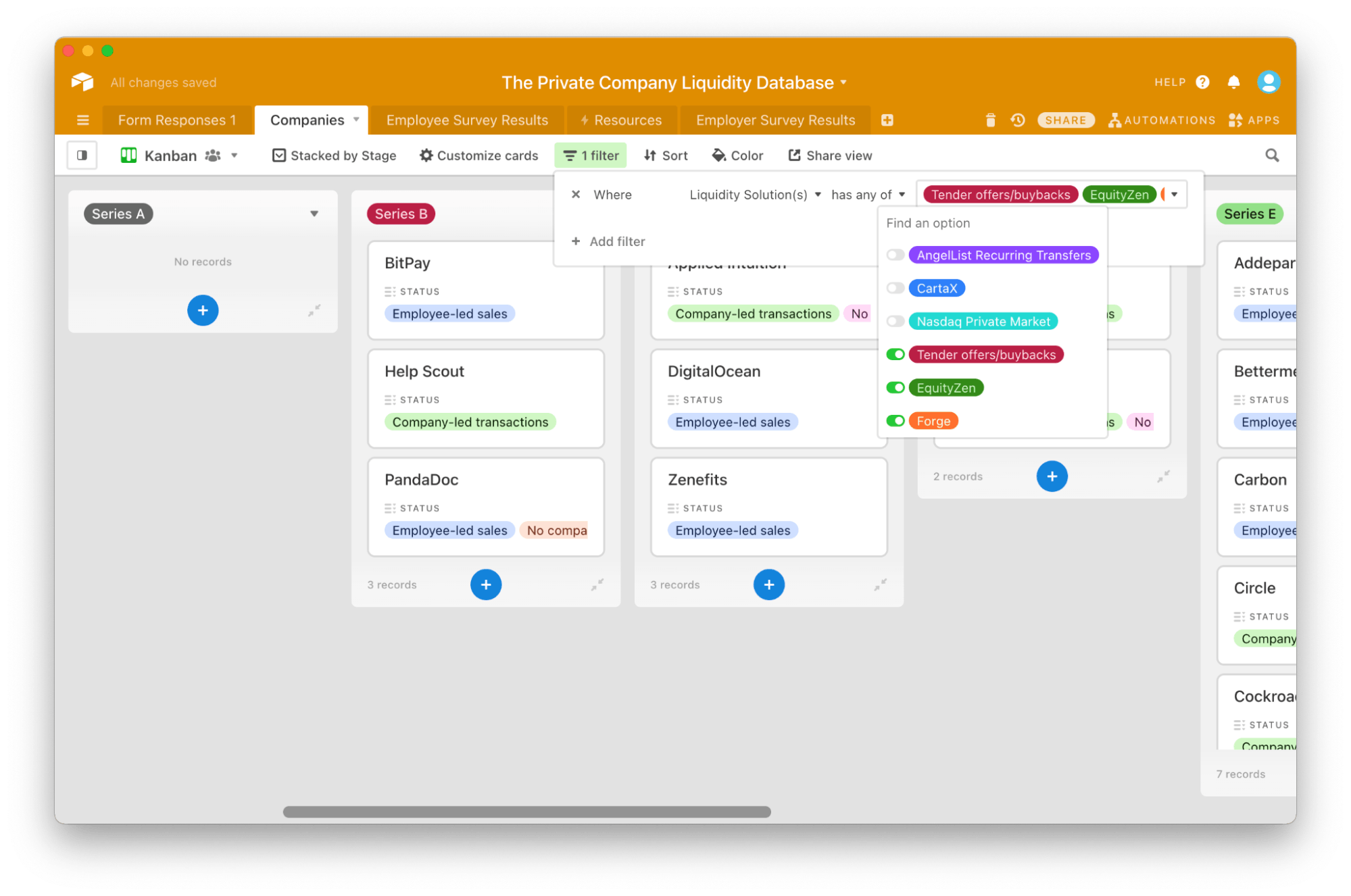 Users can filter out the records that they want to see in a particular view, enabling the creation of personalized and specialized dashboards.
Because Airtable is a database, what specific fields from the table those views show can be customized using if/then/and/or logic: 
The operations manager might want a view that shows the phone numbers of those people who have checked out tools and have not returned them if the due date is < today.
The marketer might want views that can show each member of their team just the tasks that have been assigned to them specifically as DRI and have not been checked off.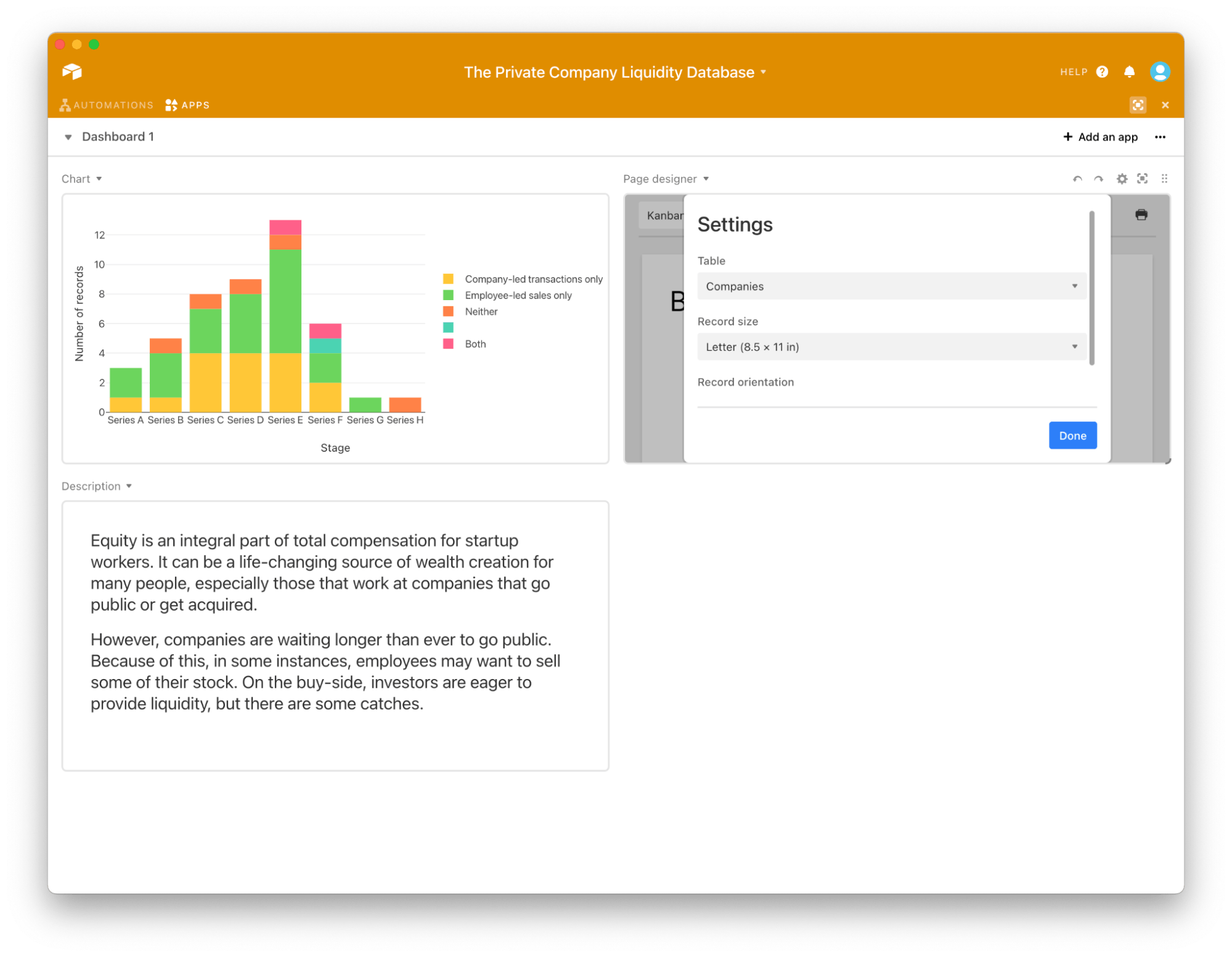 Airtable offers "apps" that live in the right sidebar of the product and enable automations to run over the fields in a base and create integrations with 3rd-party tools.
Apps and automations can be triggered manually, upon the occurrence of external events, or upon the updating of fields in a table. They plug into Airtable and provide an extra layer of functionality and a way for Airtable data to be used to create dashboards with KPI charts, send notifications, transmit data, convey messages, and more:
The operations manager might use an automation that monitors the due date of each piece of equipment in the inventory and 24 hours before that due date, emails the responsible person reminding them about their return
The marketer might use an app integration with Hootsuite to automatically send marketing copy from Airtable to their social media accounts and publish it at the right time
Through these abstractions—tables, records, views, apps and automations—Airtable contains all of the basic elements of a CRUD app: you can create new data, read it (via various views), update it (via editing the table), and delete it. And because it's not opinionated about what kind of data you put in it, it is equally applicable to marketing campaigns as it is to inventories, production schedules and lists of bugs in a piece of software.
Business model: Why more seats and more ARPU is Airtable's north star
Like various other B2B SaaS collaboration products, Airtable charges on a per seat basis: $10 for the Plus plan and $20 per month for Pro. Pro offers features like unlimited use of apps and 50,000 records (rows) per Airtable base, among some others:
Personal and locked Airtable views
Sections for organizing Airtable views in sidebar
Custom scripting capabilities
Syncing data from multiple outside sources into single table
Syncing data from Salesforce
The Pro plan is designed to support an organization that has more people using Airtable (and requires more fine-grained permissions and organization of information and views) and/or utilizes Airtable more centrally as a part of how their business runs.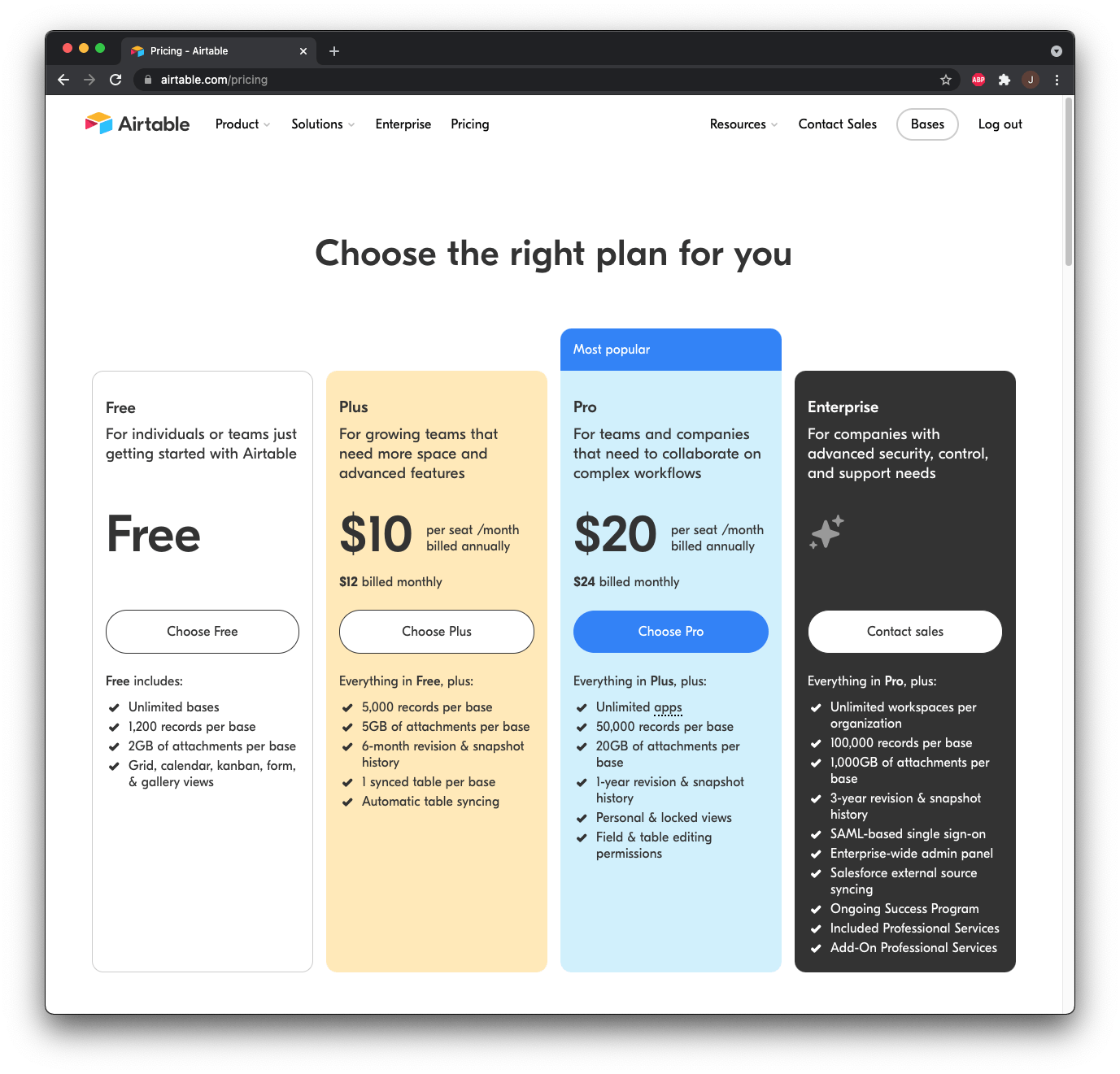 Airtable offers a free plan, two regular paid tiers, and an enterprise plan with features for big companies like SSO and identity federation.
Enterprise plans offer additional features that bigger companies need: SSO, federation, an enterprise-wide admin panel, and consultations with the Airtable team to learn how to better utilize the tool and organize your Airtable base.
These plans align with the two basic drivers of growth for Airtable, which are getting more people using Airtable inside organizations, and charging a higher price per seat.
More seats: Getting more people using Airtable inside organizations means making it more useful more broadly and building in hooks that get the product to spread from the department where it first lands to other departments across the company. 
Higher price per seat: Charging a higher price per seat means both building additional functionality so an Airtable base can solve more jobs, and educating customers about those features so that they can use them.
The key question for Airtable going forward is how they can continue to expand the number of seats they own inside and organization, and how they can raise the price of a seat from the $10-$20 range up to the $50 per seat range and above.
We believe a big component of Airtable's success so far has been its versatility—while one team using Airtable doesn't necessarily lead to other teams using it because of any kind of network effects, the right kind of team with cross-functional duties using Airtable can introduce it into other parts of the organization: an operations team building dashboards or workflows that cross the company, for example. Once inside the organization, additionally, because Airtable is a tool that allows users to build their own tools, it can take on new jobs-to-be-done. If Airtable is replaced for one use case, teams can find new use cases that Airtable can be used for.
To continue to increase their number of seats per organization and raise their price per seat, Airtable must find ways to drive more value across teams so they can sell more seats into organizations and charge higher prices.
GTM: A success-led twist on the "land and expand" strategy
Airtable's go-to-market is a services-heavy twist on the classic "land and expand" GTM used by the first PLG companies like Dropbox and Slack.
The process starts when a company's employees start using Airtable for some part of their daily workflow. Airtable acquires most of these users organically, doing so via its marketing site (233,000 visits per month), mentions of the product on social media, its template gallery, and its inclusion in the traditional "AWZ" no-code stack (Airtable-Webflow-Zapier) which allows people to build complex sites with editable front and back-ends without any code.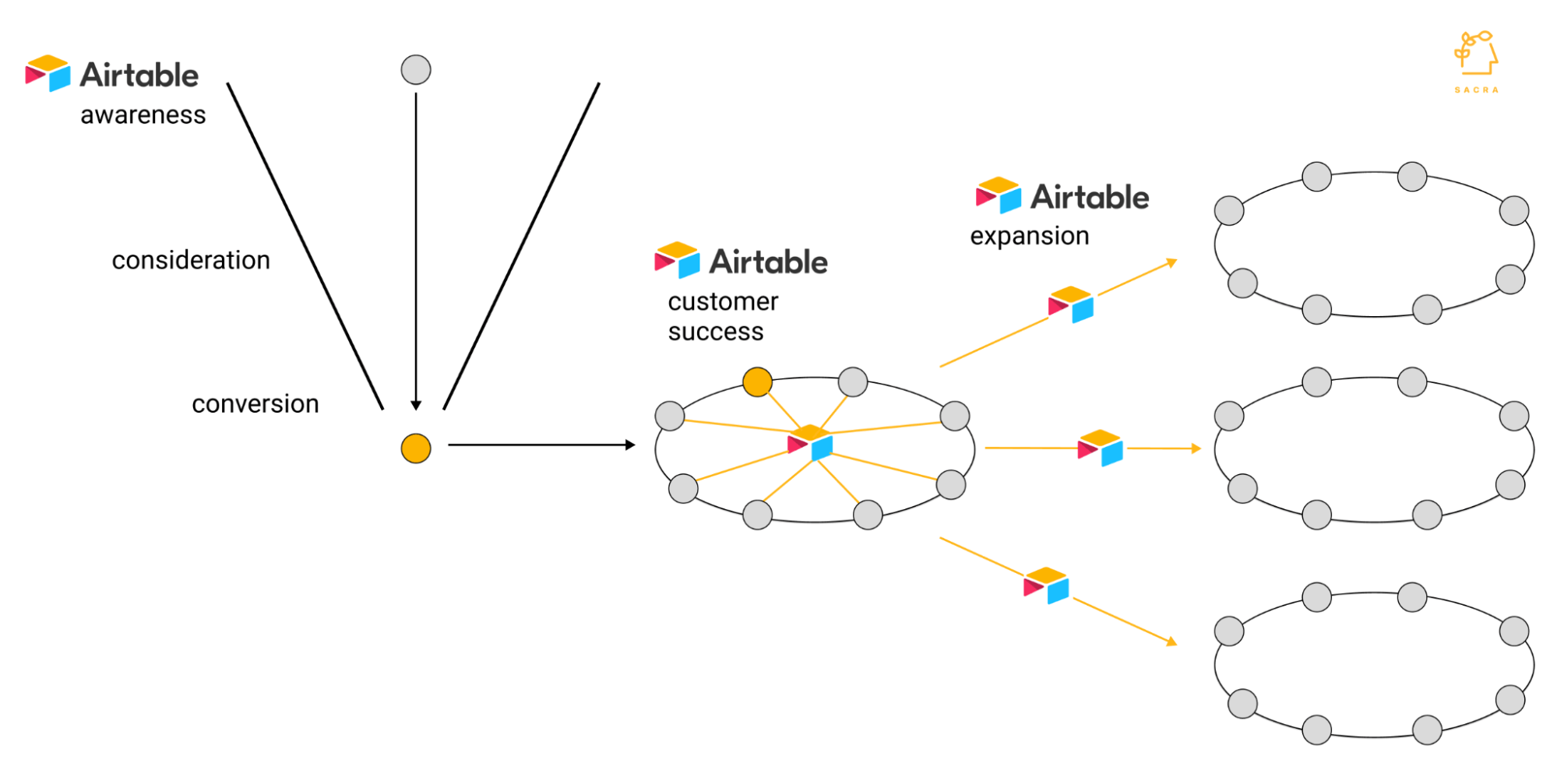 Airtable lands in organizations from the bottom-up, but their customer success and services teams are responsible for driving expansion to other teams.
After watching as companies adopt Airtable (under paid plans or free plans), Airtable allows their activity to ramp up. As they get more and more value out of it, Airtable can start stepping in to help support the teams using the tool—in an effort to ensure they don't churn and help them get even more value out of it. 
Airtable first tends to arrive in organizations through a handful of hook use cases:
Keeping track of content 
Operations management
Running a UX research process
Creating and scheduling social media posts
Organizing a product management process and timeline
Early Airtable employees told us us that imarketing teams have been a powerful distribution mechanism because marketers tend to share and evangelize tools more often than your average person. 
Operations teams are also powerful because they work across functional boundaries, spreading Airtable farther across organizations than teams that work mostly in their own silos.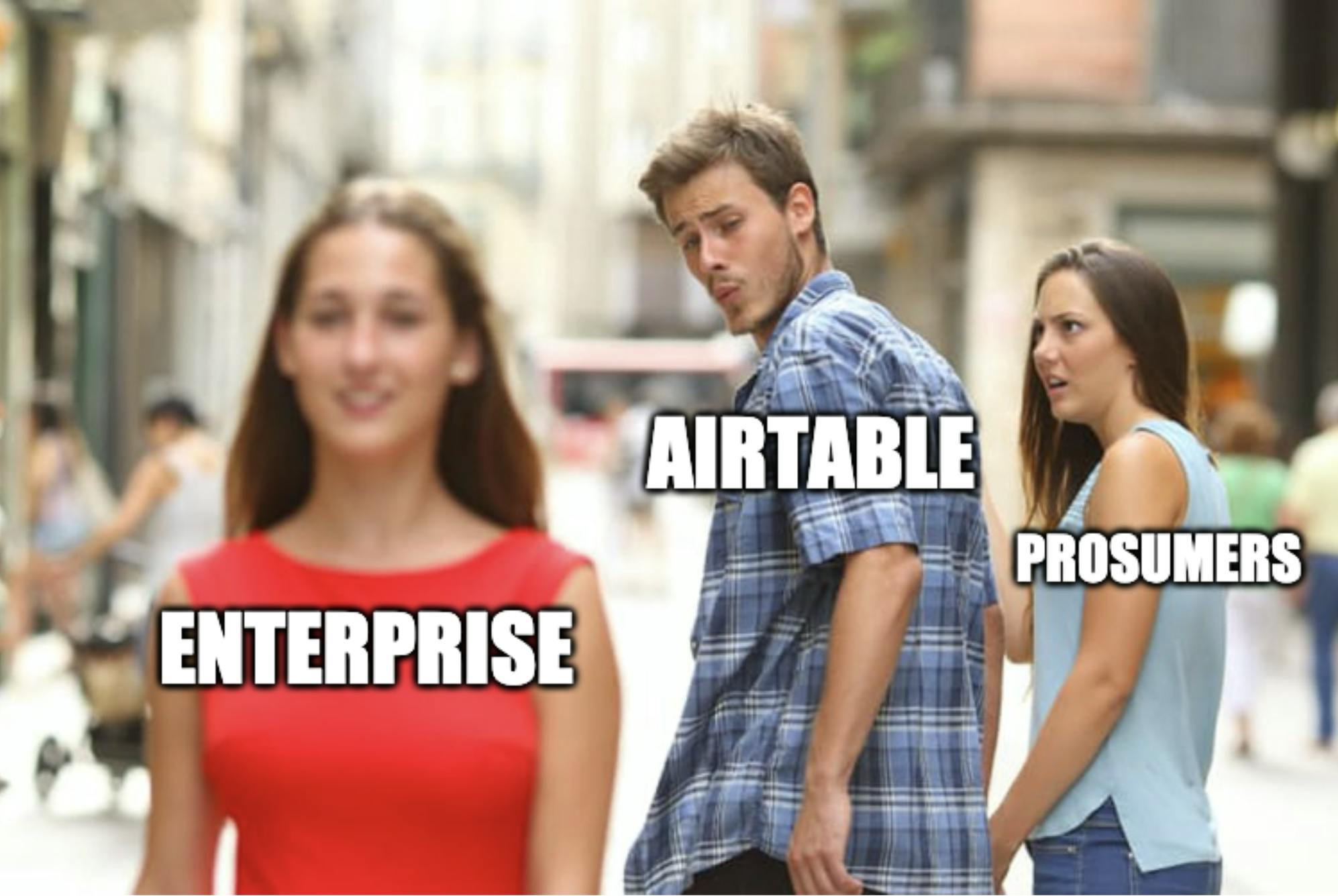 To figure out whether to upsell a team on the free plan to a paid plan, or upsell a team on the Plus/Pro plan to an Enterprise plan, Airtable looks for signals in the kind and amount of behavior they're seeing in the product:
Who the end-users are (senior level, junior, managers)
What teams they're on (marketing, operations, sales)
How much value are they getting from the product (number of rows, usage of apps/integrations)
How many end-users there are
Whether views are being shared across teams
As the signals that a company is ready to be sold accumulate, they eventually reach out to IT to begin the conversation about a sale—with the hundreds or thousands of people using Airtable as the social proof and lever for closing.
What follows the sale is a concentrated push from the customer success and services teams to ensure that that value gets delivered. That means:
making sure teams are using Airtable the way it was designed, because the more that a team puts its data and workflows into Airtable, the more useful it becomes and the harder it becomes to rip out
helping design the schema of an organization's base so that they avoid allowing their Airtable to become overly complex or difficult to understand
actively creating documentation and holding trainings and certifications for their Airtable bases so that they can be more useful inside the organization
Airtable's Implementation Specialists and Integration Engineers, responsible for these services, are similar to Palantir's "Forward Deployed Engineers": they help build out a customer's specific instantiation of Airtable so that they can get the most possible value out of the platform.
This work means that Airtable's enterprise efforts incur higher CAC, but it is critical to retention. Data in Airtable going out of date can lead to a vicious cycle of disuse where team members stop inputting data into Airtable because it can no longer be trusted to be accurate at all times.
That work leads to teams using Airtable more often and getting more people involved in the tool, and further customer success efforts can then lead to the tool spreading across functional boundaries and spreading to other teams.
Airtable's sales process is ultimately about that bottom-up adoption driven by the tool's low barriers to entry and underdetermination not just as a way to "land" inside an organization, but as a way to move horizontally onto other teams and departments once inside. And there is a big role for top-down sales and success to play in facilitating that move, as Airtable spreads its tentacles across the company and hooks itself in, with the single source of truth that is the database at its head.
Analysis: Airtable's path to becoming the Roblox of the enterprise
Airtable CEO and co-founder Howie Liu's path from starting his first company to now running a 500+ productivity company looks like a circle.
Howie's first company, founded when he was 20, was Etacts, a CRM designed to help people and companies manage all of their relationships across different online and offline platforms from one central place.
Etacts ended up getting acquired by Salesforce, and Howie joined Salesforce as the head of the company's new social CRM product. 
It was working at Salesforce that would inspire Howie to start Airtable.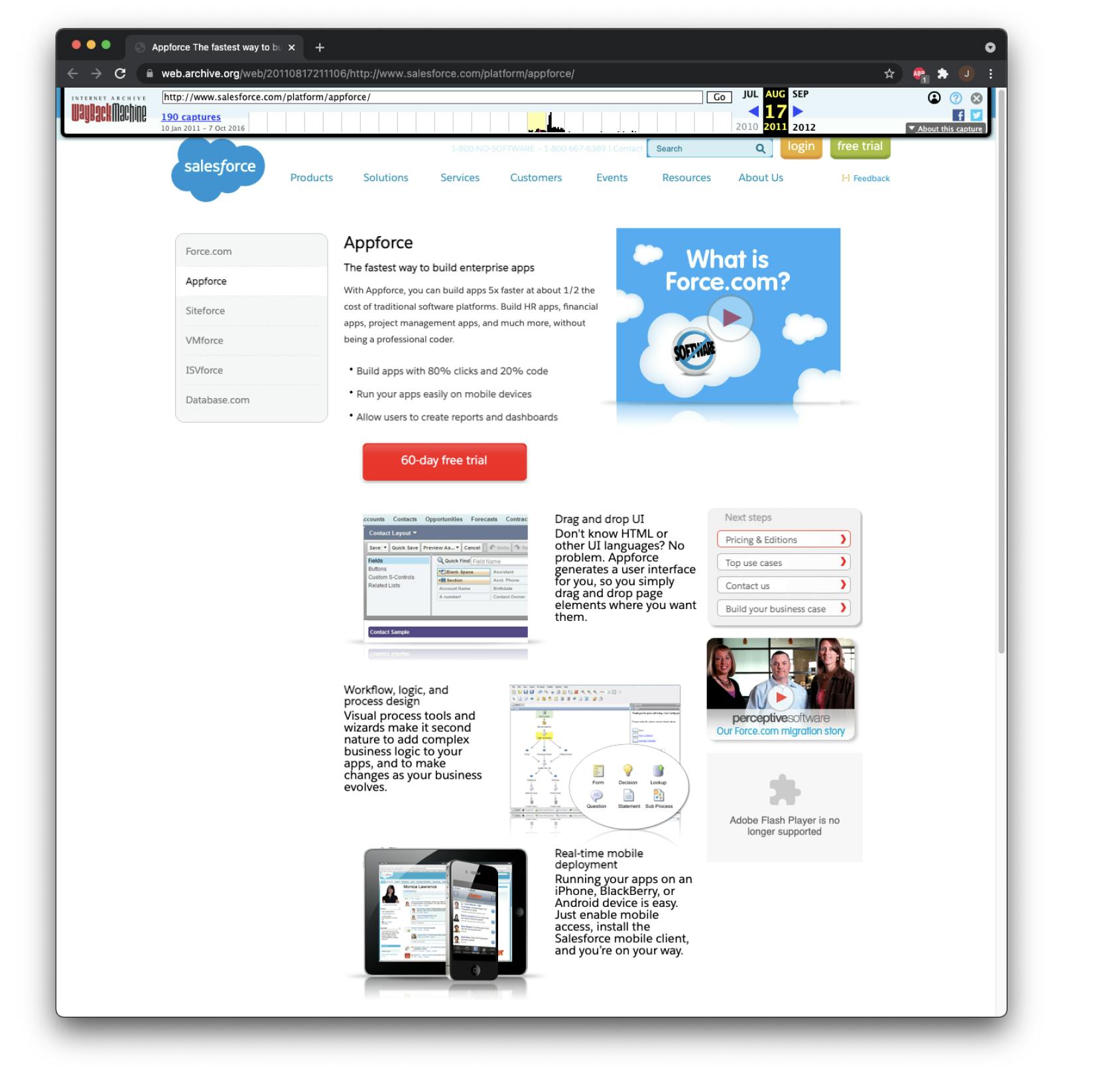 Around the time that Howie left Salesforce, the company was investing significant resources behind its efforts to become a platform for external apps.
While at Salesforce, Howie learned how enterprise companies work. He met with Fortune 500 CIOs and other executives and learned how they think. He also, critically, got a glimpse of the emerging market for no/low-code, which (while not yet coined) Salesforce was going after with their emerging platform product.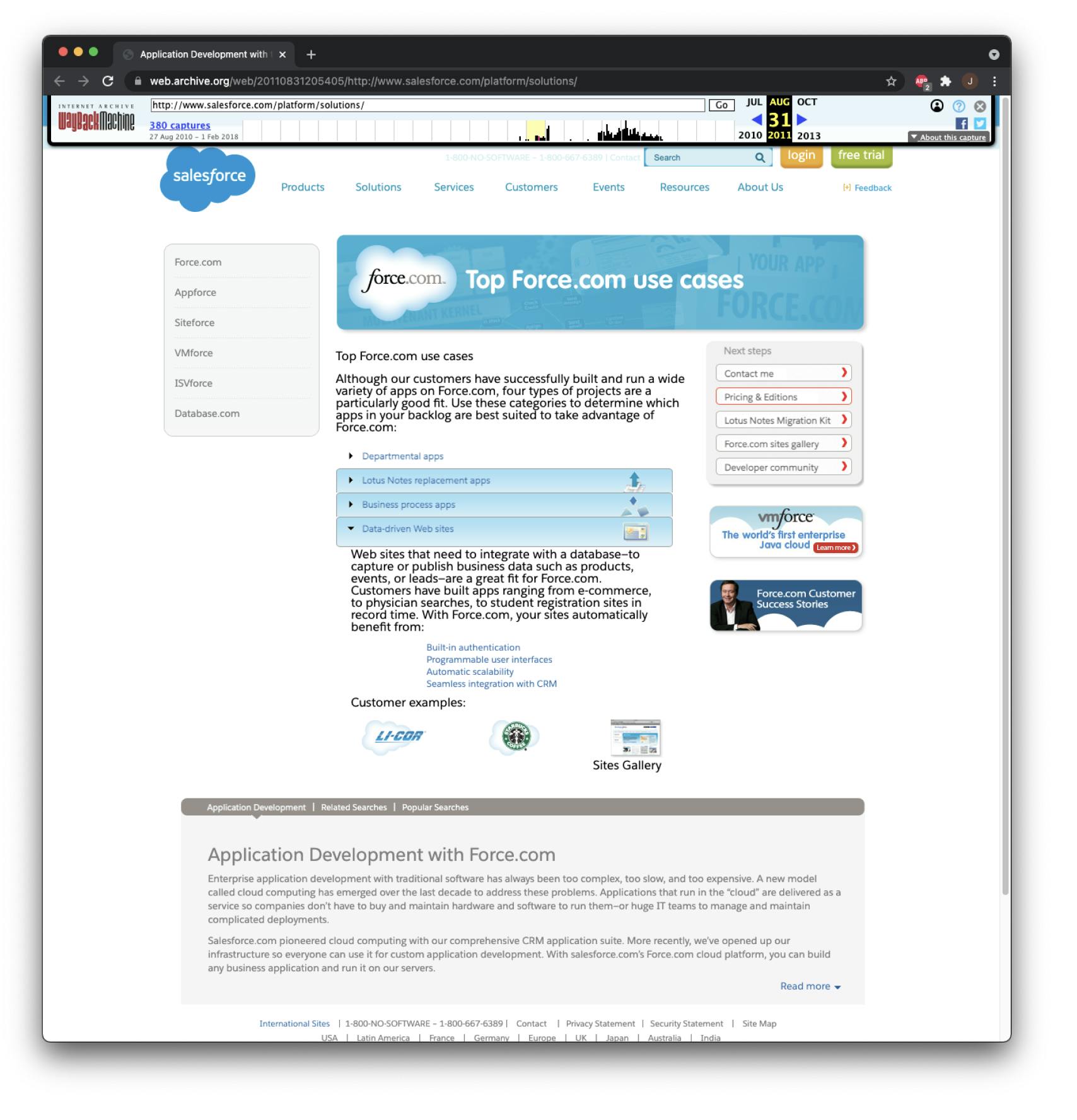 Salesforce's platform was designed to turn the information in an organization's CRM into the foundation for apps that anyone in the company might use.
Inside companies that used Salesforce, there were often employees who struggled using the product due to its complexity and the amount of manual data entry. While there was a growing ecosystem for third-party apps, Salesforce's new low-code platform was designed to further address this shortcoming by making it easy for teams to build their own "apps" using drag-and-drop logic and UI builders. 
Not long after joining Salesforce, Howie left to start Airtable—and bring the same kind of freedom and power to everyone, and not just Salesforce customers.
"After selling his first company to Salesforce, Howie recognized that many enterprise apps were providing basic workflows on top of a database. He also recognized that non-technical users were struggling to manage their data in spreadsheets, which were not designed for this purpose and had significant limitations," said Villi Iltchev, partner at Two Sigma.
Instead of sticking with the enterprise, however, Howie set out to follow in the footsteps of Dropbox and Slack and other companies typifying "product-led growth"—the goal was to attract consumers, not businesses, and let their evangelism and love for the product filter up into the business world.
1. When Airtable became Twitter's favorite unicorn productivity tool
Airtable's original growth strategy was predicated on the product being a hit with consumers and virality taking off. Like with Dropbox, the plan was to focus on those users and move upmarket to businesses later.
As our conversations with some early Airtable employees made clear, that did not happen. But what Airtable did see was some small-scale viral effects within businesses.
A marketing team would start using Airtable to manage a content calendar, or a product team would try it out for keeping track of a new product launch. Then it would gradually move to other teams, who would find their own use cases for the product.
Enabling this kind of intra-organizational spread was the fact that Airtable, despite having no real network effect, had a combination of low barriers to entry and a high ceiling. It was easy for new people to start using Airtable to build a workflow that could make their team more efficient or organized, and those workflows could be custom-built for their team's specific needs. 
The lack of network effect put a rate limiter on Airtable's growth, but this utility dove popularity among professionals in marketing, operations, user research, and other "hook" verticals.
Operations teams turned out to be a particularly powerful source of growth for Airtable because operations teams work cross-functionally and are incentivized to improve processes across organizations, Airtable was a natural fit.

Between 2015 and 2017, Airtable's ARR rose along with its public profile
That combination of low barriers to entry and high ceilings also helped fuel the free organic marketing that was Airtable's primary growth driver until around 2020.
On Twitter, public praise for Airtable got going in earnest in 2015 and grew every year, with people both extolling the power of the tool and sharing their own public bases to show off their creations. By 2018, Airtable had millions of users and was receiving thousands of new signups per day.
The use cases people blurred the lines of productivity between the personal (managing a wedding plan) to the work-related (managing a team's workload)—the effect was that of a tool that applied just as well to one as the other. But across much of the conversation about Airtable was a sense of the joy of building.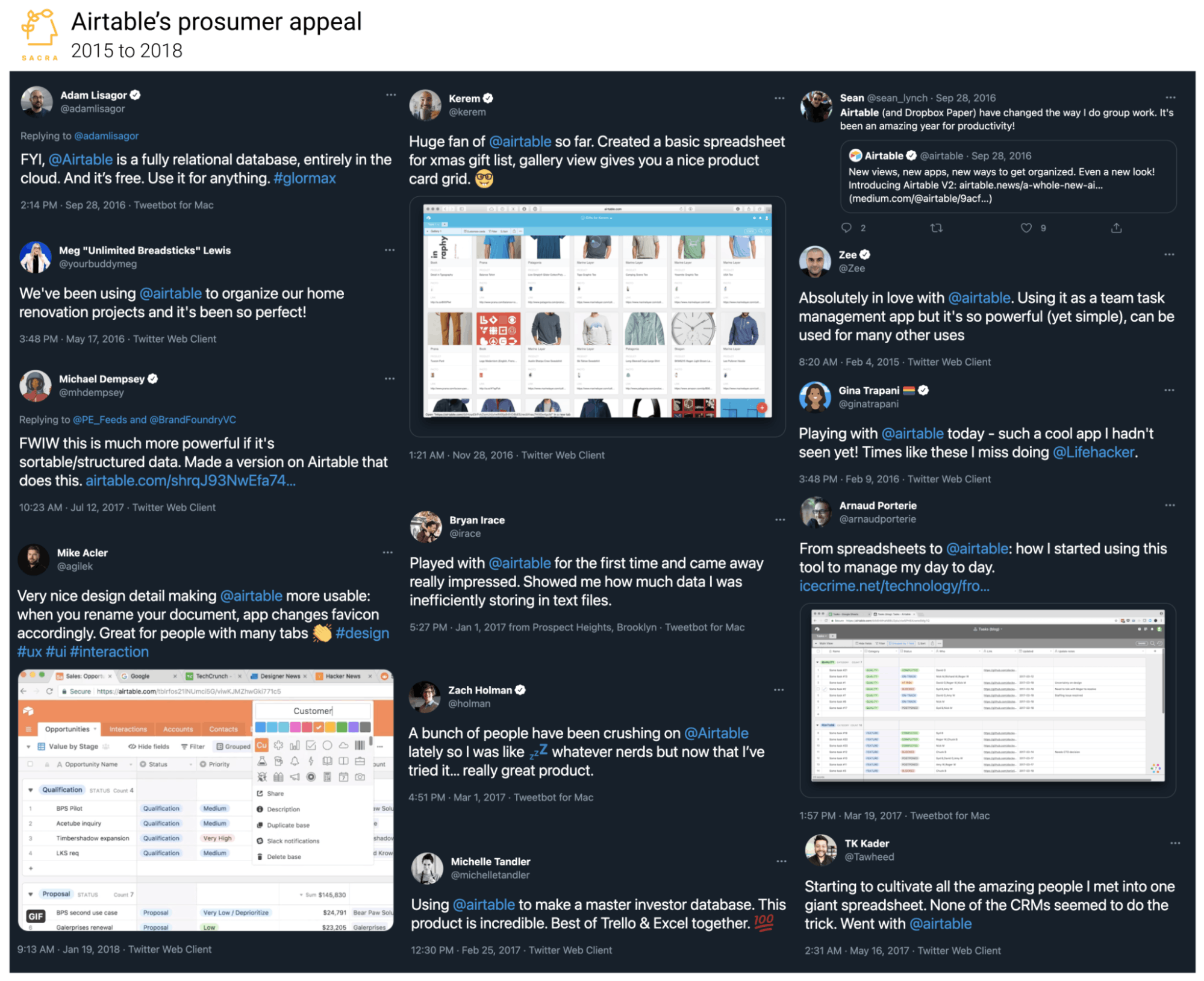 Twitter became a popular piece for Airtable's most enthusiastic users to share their creations.
"Eventually, they started using language that shows that Airtable is more than just a productivity tool, sometimes kind of emotive language around the fact that it's empowering and they've created these things that are really applications as opposed to just 'using', and so overall there is this qualitative shift that even if they don't fully understand the distinction of what is an application versus a database versus a spreadsheet, they do start to feel this sense of 'I'm creating something that's more than the sum of its parts," Liu said.
Eventually, they started using language that shows that Airtable is more than just a productivity tool, sometimes kind of emotive language around the fact that it's empowering and they've created these things that are really applications as opposed to just 'using', and so overall there is this qualitative shift that even if they don't fully understand the distinction of what is an application versus a database versus a spreadsheet, they do start to feel this sense of 'I'm creating something that's more than the sum of its parts.

Howie Liu
Even with only modest growth—Airtable hit $20M ARR at the end of 2018 and $36M ARR at the end of 2019 for 54% YoY revenue growth—Airtable's usage and retention numbers kept investors interested in the company.
On the retention front in particular, it became clear that Airtable had something powerful: a "reverse dating app"-type usage dynamic.
People who brought Airtable into their companies would start using it to manage their lifecycle marketing or manage their office inventory or keep track of their recruiting efforts. Eventually, they would reach a scale where that particular function needed a dedicated SaaS product. However, they wouldn't churn.
Unlike a dating app where its utility is moot once you meet someone, Airtable's customers were finding new use cases even after their original impetus for signing up had gone.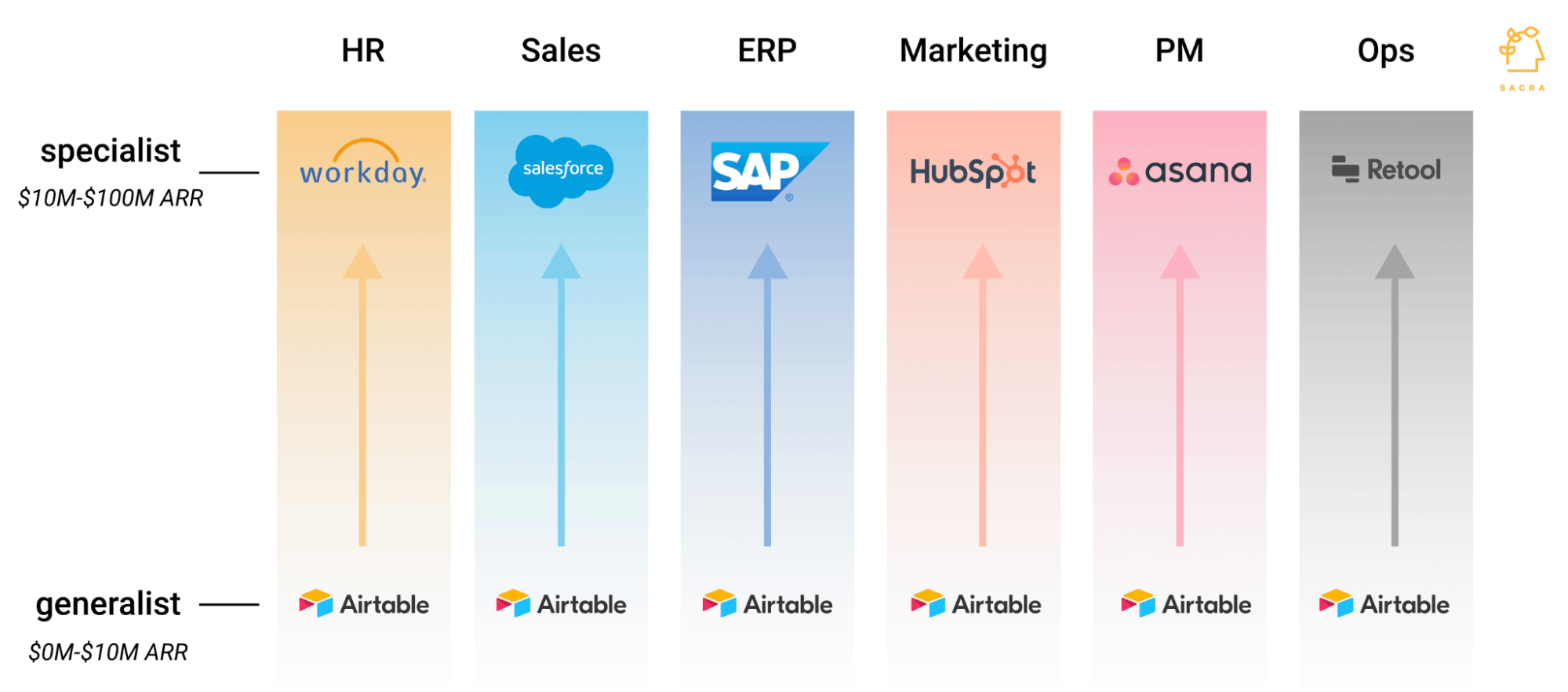 For many functions, Airtable can serve as a generalist tool that helps teams get started before they eventually upgrade to a dedicated product.
They might move from using Airtable to Salesforce to manage their sales pipeline, or go from Airtable to HubSpot to manage their customer relationships, but they'd find new use cases in recruiting or operations or project management that would take over for the old use cases.
Airtable had found a set of dynamics that allowed them to grow organically and begin landing inside the bigger organizations they wanted to start selling into. But as they travelled further and further upmarket to the enterprise, they faced new challenges.
2. Airtable's $100M move upmarket and the danger in abandoning its prosumer roots
All the things that made the original version of Airtable work—that helped them build a sandboxed "consumer-grade" builder product with bottom-up adoption and passionate social media fans—are the reasons why, in the last few years, Airtable has set out revamping their company's positioning, organizational structure, and product in an effort to move upmarket.
However, Airtable's move upmarket is risky in a way that it is not traditionally a risk for B2B SaaS companies to go upmarket.
Airtable's appeal, until now, has been to builders: to people inside organizations who want to tinker and build new tools. That persona has been key to their organic growth as well as their ability to "land" inside companies. The product requires some digging in to understand—it rewards those who invest time in it, but for others, it can be intimidating.
However, the more their product emphasizes builders, the more their ability to close upmarket deals and drive adoption across in the enterprise is limited, because the stakeholders that need to be onboard with buying Airtable inside those big organizations are people who consume systems rather than build them. 
The enterprise is a world where most of the people interacting with a given base won't know or care who created it or how. So far, Airtable has not successfully adapted the product for that world—and in trying, they could risk losing what makes the product uniquely valuable.
They've built annotations and permissions throughout the product, with the goal being to give teams more granular control over who can read and write records and enable more helpful documentation throughout bases.
Marketing-wise, Airtable's transition to a more enterprise-focused model is imprinted everywhere.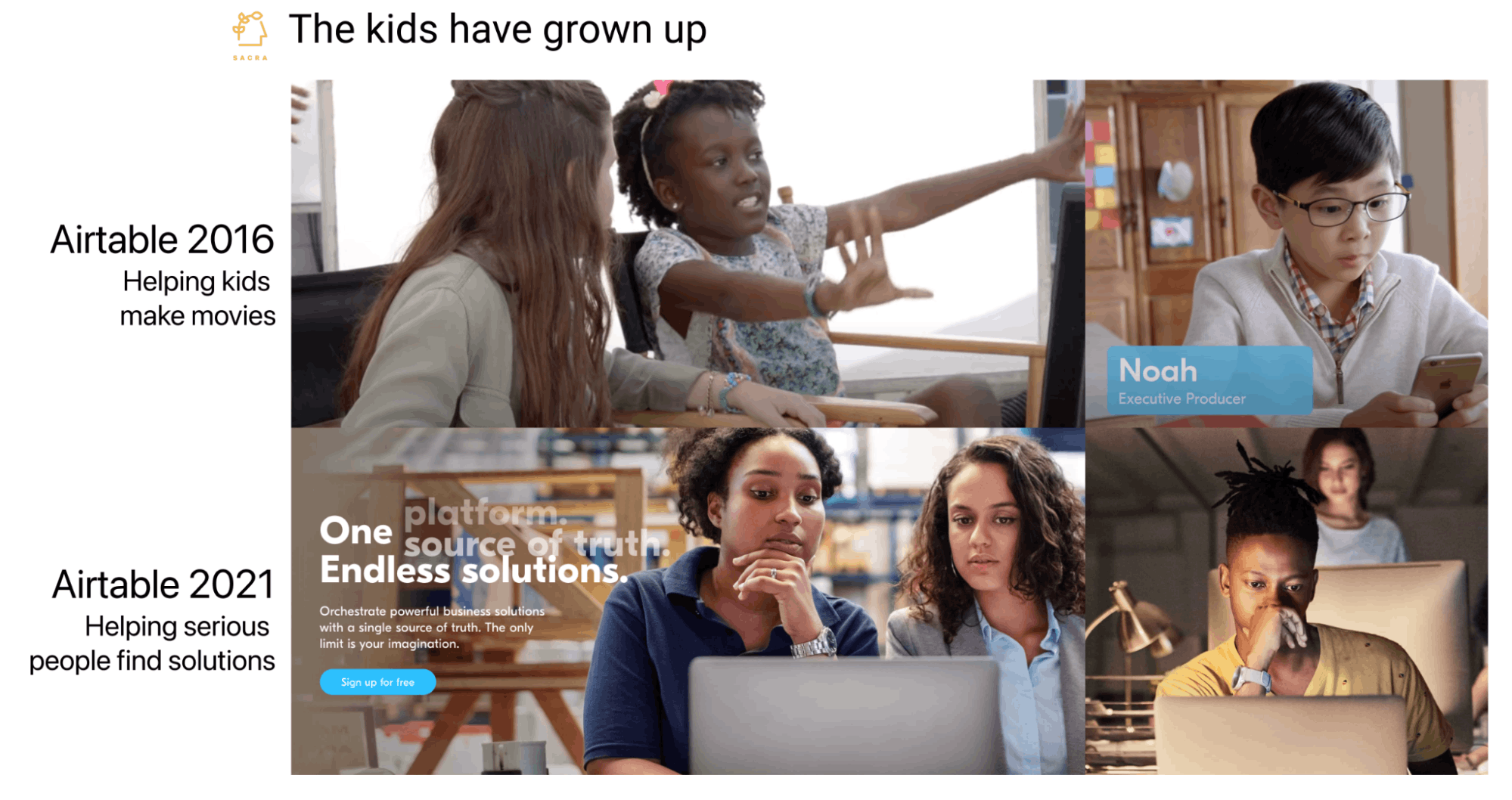 Between 2016 and 2021, Airtable's marketing shifted upmarket, from targeting consumer use cases to targeting B2B use cases.
In 2016, Airtable produced a video showing a group of adolescent kids using Airtable to plan out  a movie shoot—today, their homepage contains still images of creative, mature professionals looking thoughtfully into computers. 
Today, the template gallery introduces you to use cases like "marketing campaign tracking" and "user research". In 2016, Airtable suggested you use it to manage the travel destinations you wanted to visit or run your soccer club.
Airtable's move upmarket has come along with an expansion in the C-suite, with a new CFO, CMO, CRO and CPO joining the team in 2020 and early 2021.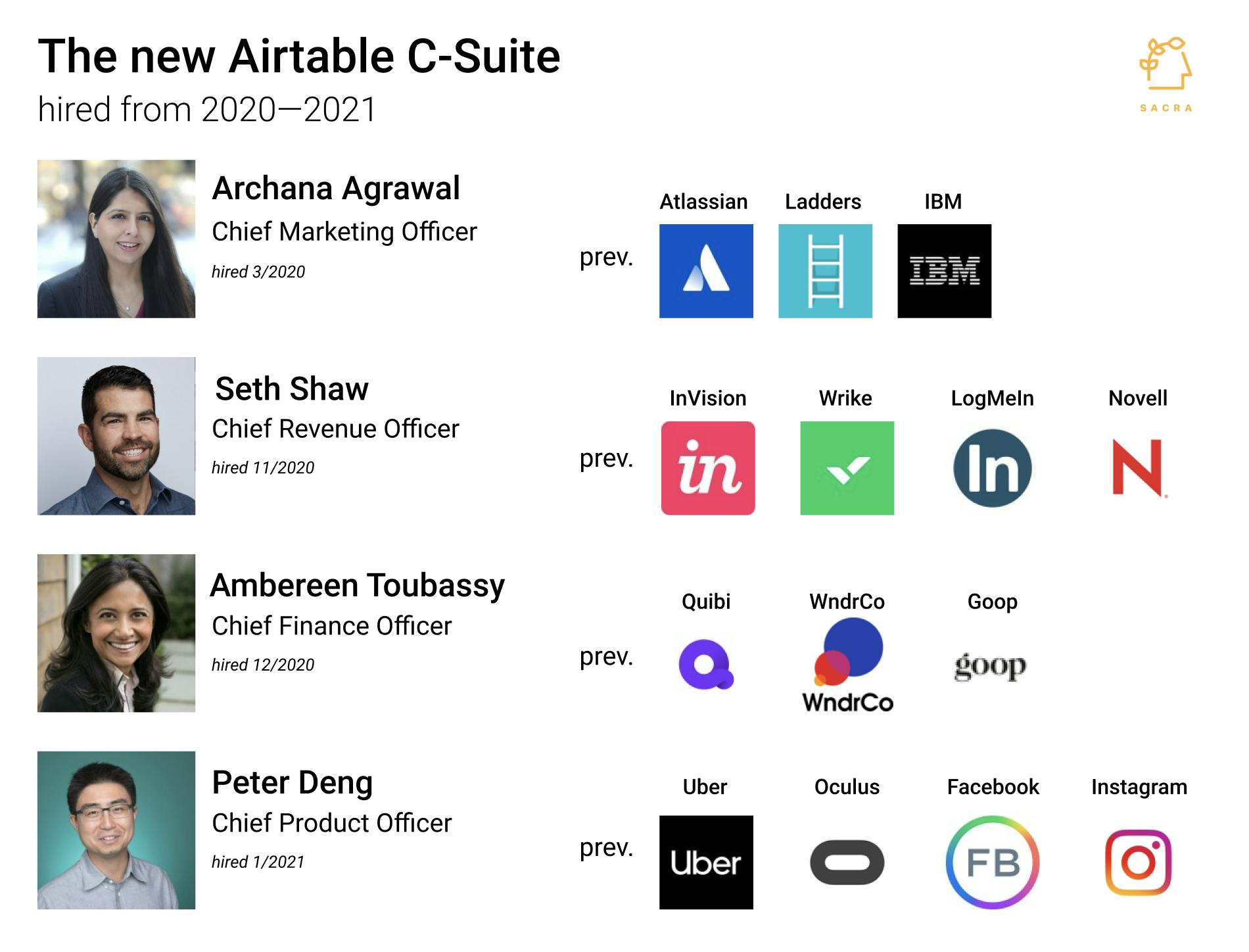 Airtable hired a new C-suite in 2020, bringing on a new CMO, CRO, CPO and CFO.
This new C-Suite has come in with the job of helping organize Airtable's transition from a product for builders to a product for the enterprise.
But Airtable has a deeper problem: while it provides low barriers to entry and a blank slate for creation if you're a builder, it does not provide good interfaces for others to interact with the tools that builders build using it.
Within Airtable, apps and automations can be used to create custom dashboards and views, but those cannot be easily shared outside the product.
You can use Airtable's apps feature to turn the data in a given table into dashboard with a series of charts, or to store photos or videos, or to set up a basic SMS feature so you can send messages to a list of contacts—but these cannot easily be shared outside the app.
This lack of external interfaces into Airtable slows down the rate at which Airtable can spread throughout an organization, especially because the more that an Airtable base is used, the more challenging it becomes for newcomers to understand it:
Schemas grow more complex: As new fields are added to a base to make it more useful, it makes the overall taxonomy and purpose of each field harder to understand at a glance
More fields slows Airtable down: Airtable's performance begins to drop as the 10,000s of rows barrier is surpassed, causing the experience to diminish for outsiders trying to get information out of the tool quickly 
Lack of validation causes fragility: The lack of field validation in Airtable means that newcomers to an organization's base can trigger errors in external automations by making common mistakes like changing records or accidentally adding a blank row, creating an additional barrier to usage
This lack of fit for the enterprise leaves Airtable vulnerable to attacks both along the core verticals where it's used, as well as in the "open world" genre of creator-tools itself.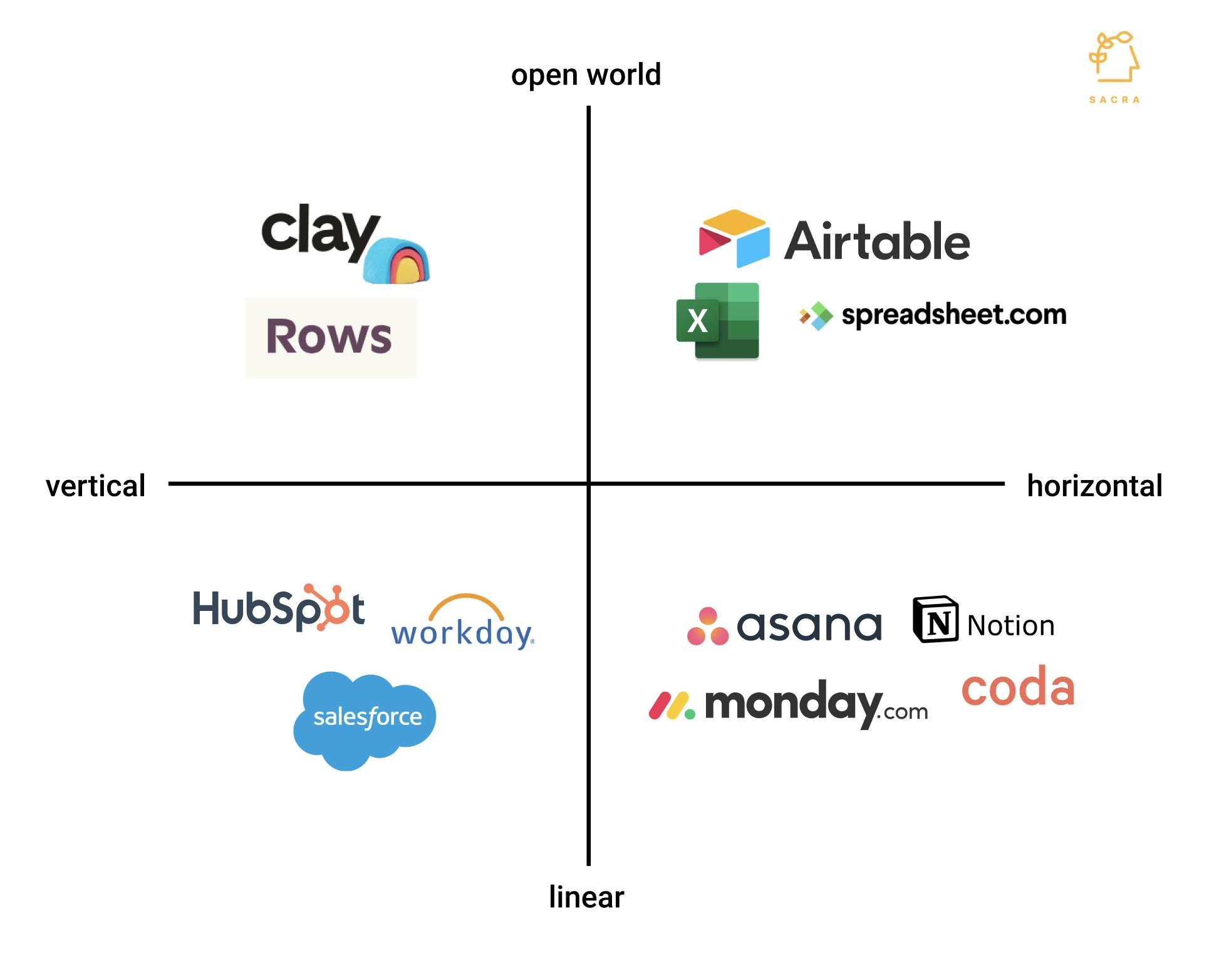 Airtable competes with other "open world" tools like Excel as well as linear, horizontal products like Notion and Coda.
Asana and Monday.com, like private competitors Notion and Coda, have less customizability and flexibility than Airtable. That said, their "linearity"—via their reliance on docs, wikis, PM templates or tasks—makes them easier to understand and adopt across an organization. Recognizable external interfaces increase the ease with which they can be used by all stakeholders in an organization.
On the startup side, there is a new wave of "hybrid spreadsheet-database" companies like Rows and Clay that threaten Airtable by bringing together the power of a database with the ease of use of a spreadsheet but targeting clear, specific verticals like sales and marketing.
Targeting specific functionalities sharpens their framing because even though their products are spreadsheet-like and customizable, they come pre-built with features like LinkedIn scraping that make them useful on day 1 to the kind of customer they're targeting.
Neither can do all the things that Airtable can do, but they do slice off different functionalities and present them to users in a more accessible, more familiar way.
Finally, tools like Spreadsheet.com compete with Airtable in the open-world, horizontal creator category itself. Spreadsheet.com specifically tries to bring together the database-like power of Airtable and the recognizability and feel of an Excel spreadsheet.
3. How Airtable can become the Roblox of the enterprise and win $56B of markets where spreadsheets reign supreme
The game Roblox, like Airtable, grew slowly over its first years. Between 2006 and 2016, Roblox went from being founded to having 9M monthly active users (MAUs). Then growth took off.
One year later, Roblox had 48M MAUs, then 70M the year after, and more than 100M by the end of 2019. Today, Roblox has more than 200M MAUs, and sees more than 3B hours of cumulative monthly playtime.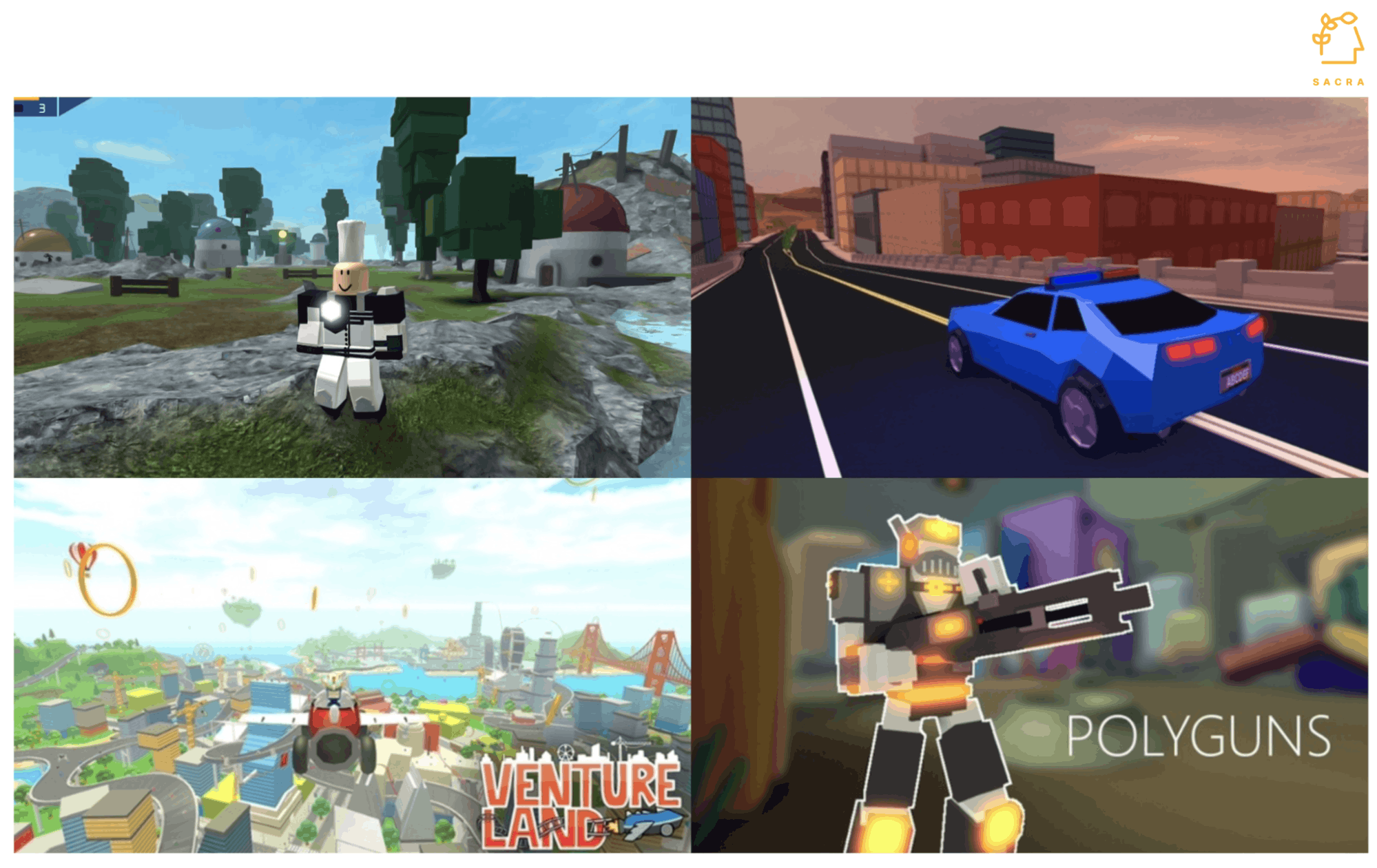 Four games built by user-developers on Roblox.
What's interesting about Roblox's success is it is neither a true "game" nor does it have many of the qualities of blockbuster, first-party videogame releases. Instead, Roblox is a sandboxed platform that allows users to build interactive experiences. 
The storylines are lacking, and like Minecraft, the graphics are crude—visually, Roblox looks like it could have been released twenty years ago. 
But Roblox succeeded with a blend of low barriers to entry and high ceilings that has turned it into a massive hit:
Low barriers to entry: Just about anyone can get started with Roblox—installing and running it requires just 20Mb of storage space, 1GB of memory, and a 1.6 Ghz or better processor. And before jumping into designing their own experiences, new users can access Roblox's app store and play games designed by others.
High ceilings: Creators can design games of virtually any style and genre on Roblox, from a theme park simulators to a twist on Overcooked! to classic run-and-gun shooters. The most popular games on Roblox attract millions of players a month and can generate significant revenue for their creators—Roblox paid out $329M to their creator community in 2020.
The joy of most video games is playing through the experience that someone else designed for you. The joy of Roblox is designing a surprisingly complex experience using lego-like building blocks, playing it with your friends, and sharing it with the world. 
It took years for Roblox to find product-market fit, but today, the success of the model is unquestionable. And Roblox isn't the only company to capitalize on an increased desire for interactive, creative, social "experiences" over mere games: Grand Theft Auto Online, Fortnite, Minecraft and others have taken similar approaches.
The bull case for Airtable is very similar to the bull case for Roblox. B2B SaaS products, like most video games, have always targeted specific jobs-to-be-done. Whether it's helping a sales team manage their customer relationships or letting users roleplay as a WWII infantryman, there's a specificity of purpose. 
Roblox, by building a game with no narrative or characters except the ones users invent, instead took aim at a different market—the whitespace in between the existing, off-the-shelf genres of video game.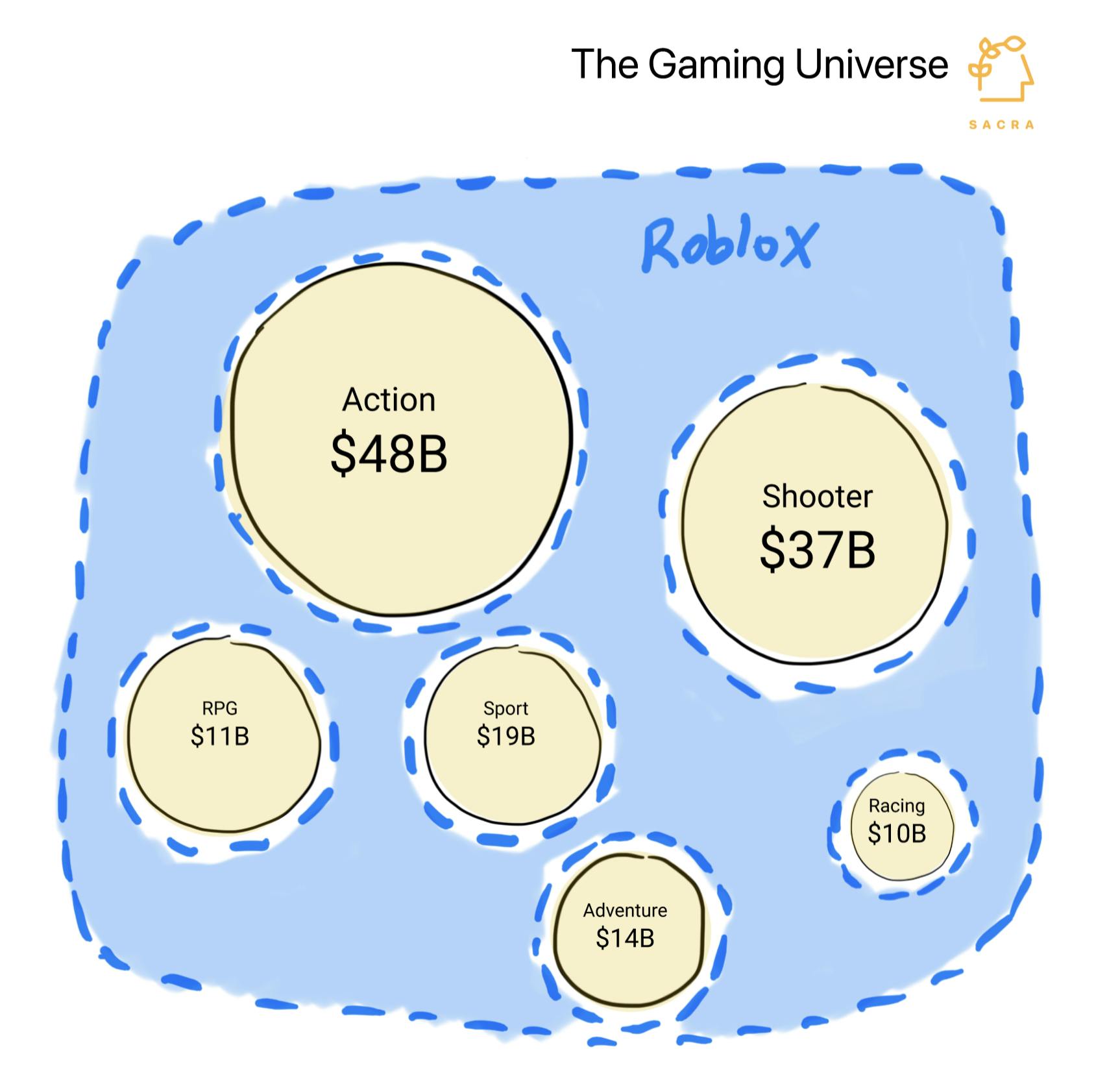 Roblox attacked the market in between existing game genres.
That market turned out to be worth $46B and counting.
Airtable, similarly, has clear use cases in certain verticals like marketing, communications, and operations, but its ambition is not necessarily to replace the existing incumbents in any one of those verticals. 
It is to own the billions in whitespace between them: all the workflows which teams hack together using documents and spreadsheets because there is no off-the-shelf tool that perfectly matches their need.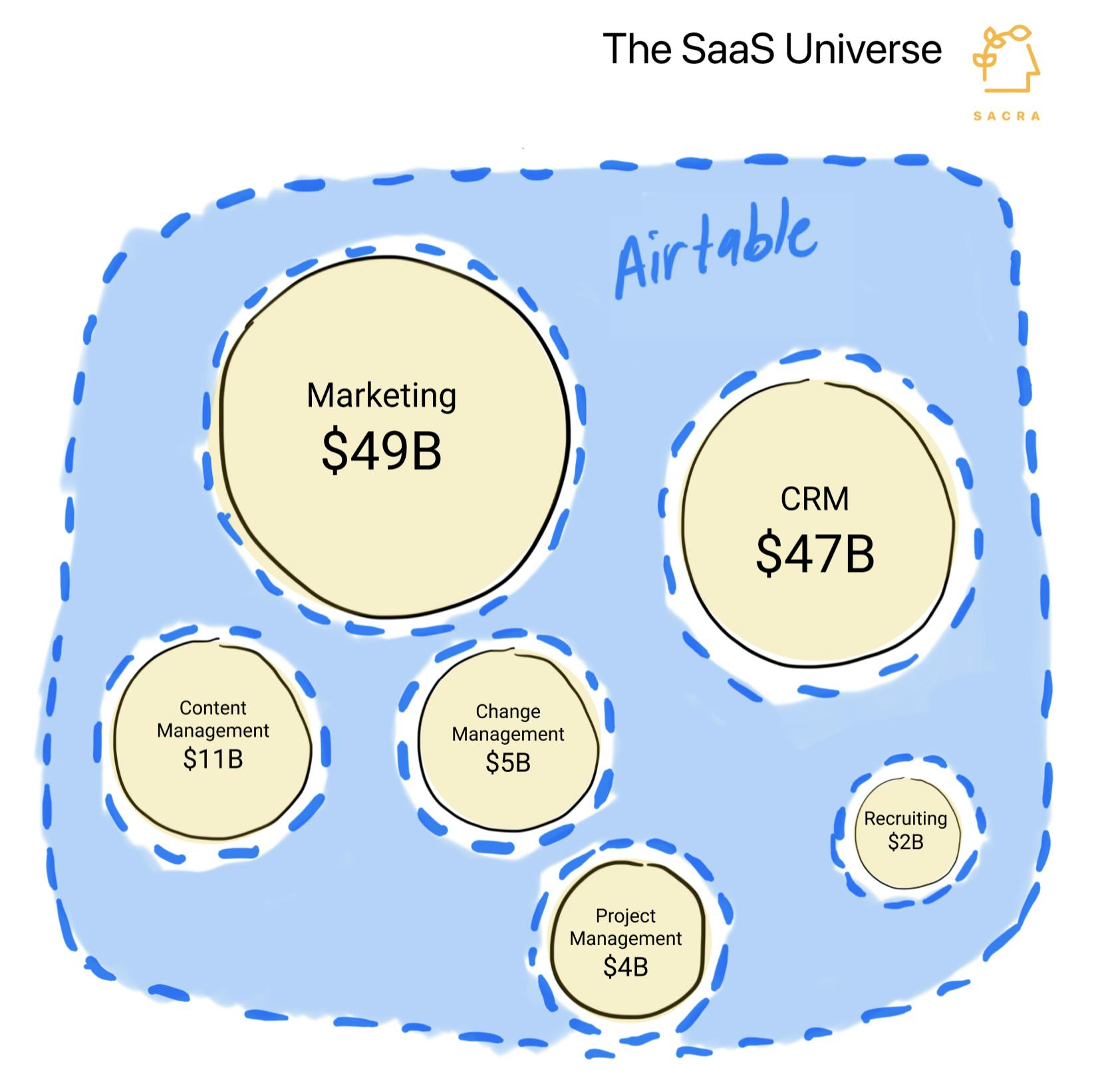 Airtable's vision is to conquer the market in between SaaS verticals, serving the knowledge worker need for "edge apps" that don't fit neatly into an existing product offering.
The same way Roblox allows its users to build their own games and play more than 40 million games made by other players, Airtable can allow its users to build their own SaaS software. Last year, Airtable introduced apps that make the product extensible and opened up their API for external apps. 150 open source apps for Airtable have so far been published by other users on Github.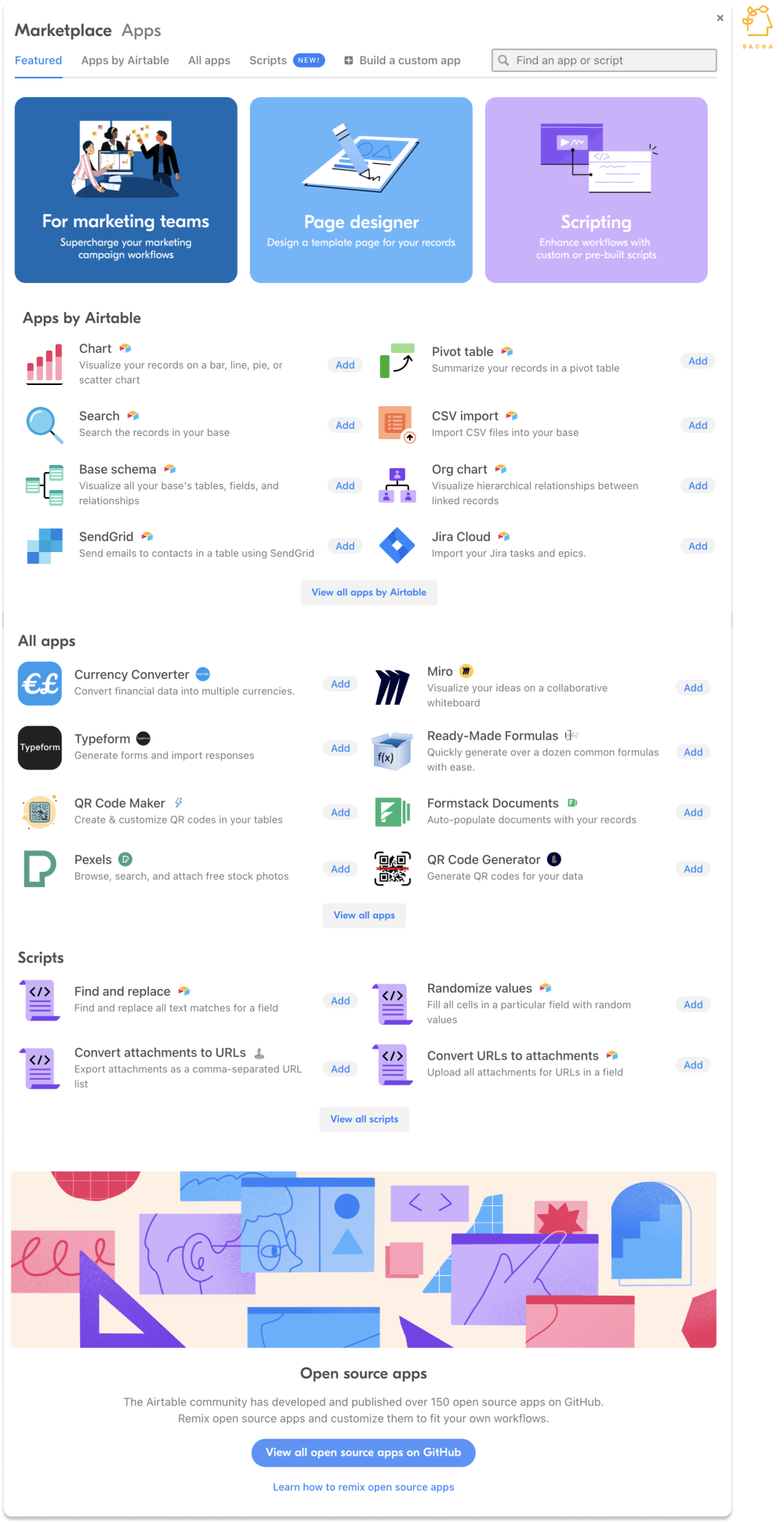 Apps available in Airtable today.
Airtable's problem is its learning curve. A mature Airtable base with dozens of tables and millions of rows can be impenetrable to someone who hasn't been walked through the schema and logic. 
That's why the key to achieving that ambition to help everyone inside companies big and small build their own software means abandoning—to an extent—their roots as a builder tool. 
Airtable the builder tool has struggled to sell top-down into enterprises because the value of what it brings is unclear to those people in the organization who are not builders.
The solution is to instead sell Airtable as a kind of point solution with "no-code benefits".
Along these lines, Airtable announced the launch in March of "Airtable for Marketing": a special verticalized packaged up of Airtable for marketing workflows.
It's advertised as a product for marketing teams—to the extent that it touches on the same kinds of features and functions as HubSpot's sales page for its own marketing product—except with the added benefit of the freedom and flexibility that Airtable can bring the builders.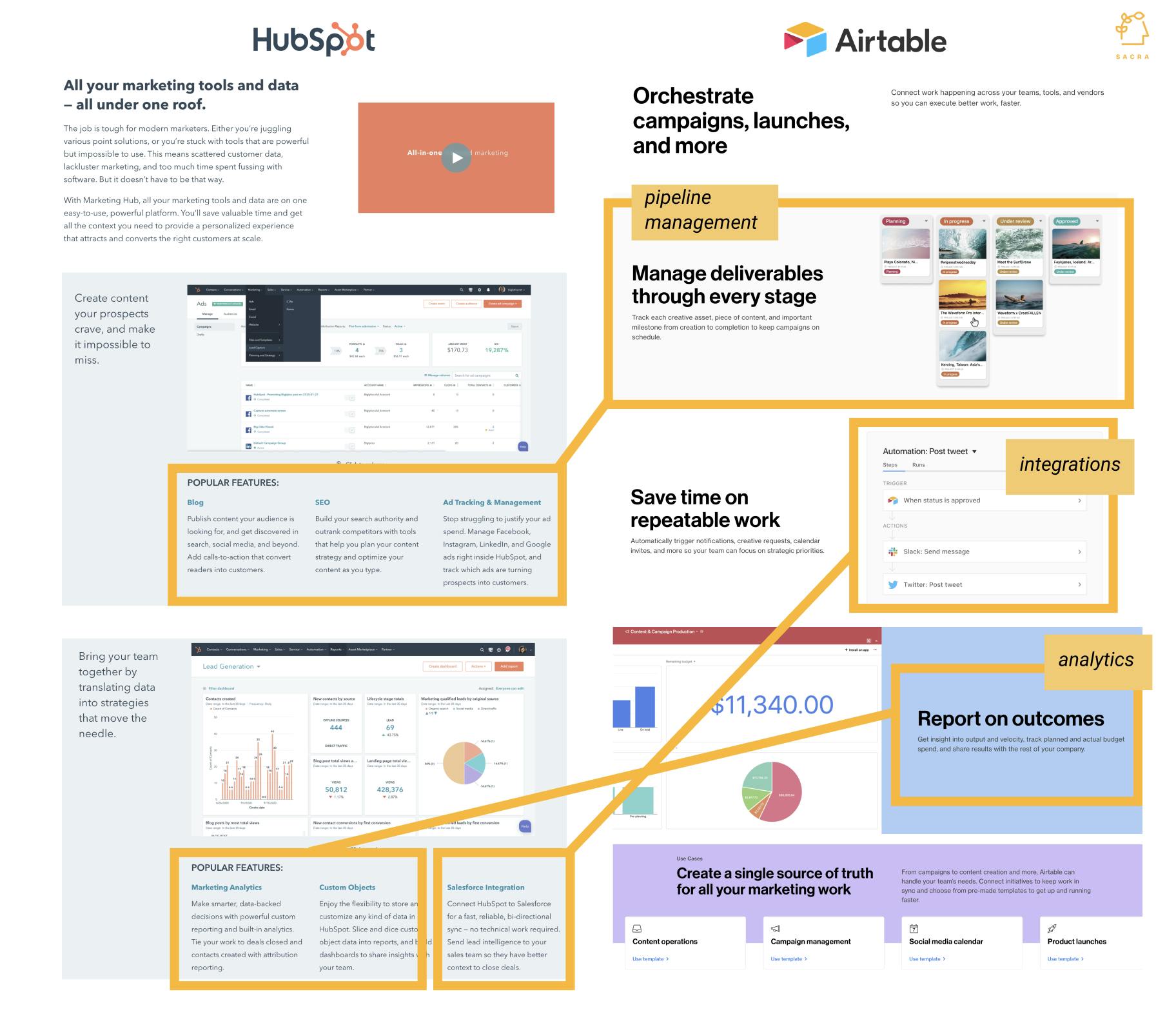 Similarities between HubSpot's marketing site for its marketing suite and Airtable's marketing product for its own verticalized marketing product.
Together with the services arm working to ensure the success of the deployment, this kind of specialization gives Airtable a chance to sell a version of their product that's a much higher price per seat with higher retention without making dramatic changes to the product itself—save creating more interfaces for outside stakeholders to understand and interact with the product.
Getting into the enterprise with a stickier version of their product then gives Airtable the opportunity (because it is still fundamentally a builder tool) to dig in, extend their tentacles, and reach like an octopus to spread its value throughout the whole organization.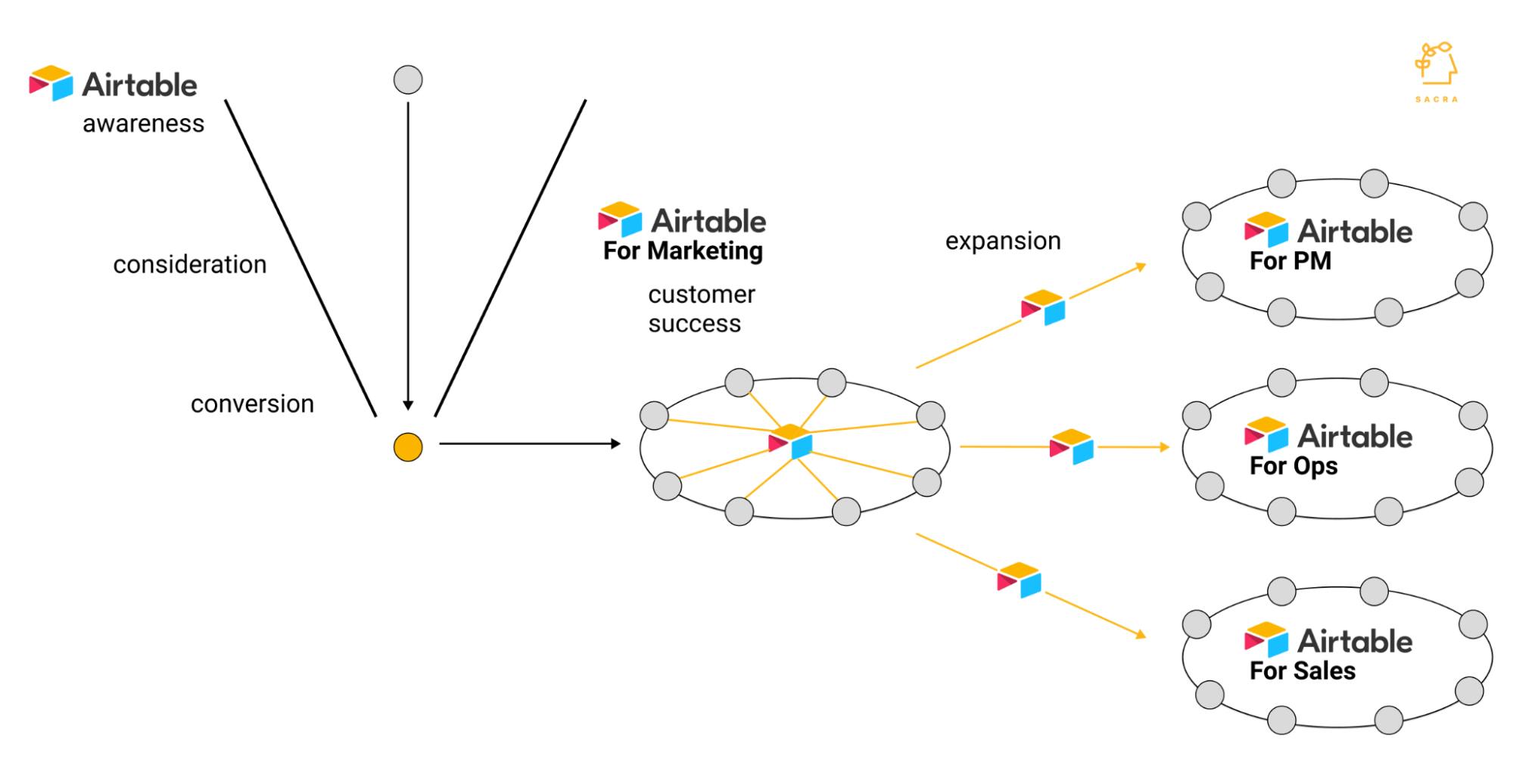 In the enterprise, Airtable's GTM is fundamentally the same as it is today—only with verticalized packages to facilitate expansion.
Airtable can land in a Fortune 100 company with their Airtable for Marketing product, but then cross-sell with their Airtable for Operations product, and their Airtable for Sales product, and their Airtable for Product Management product, and so on.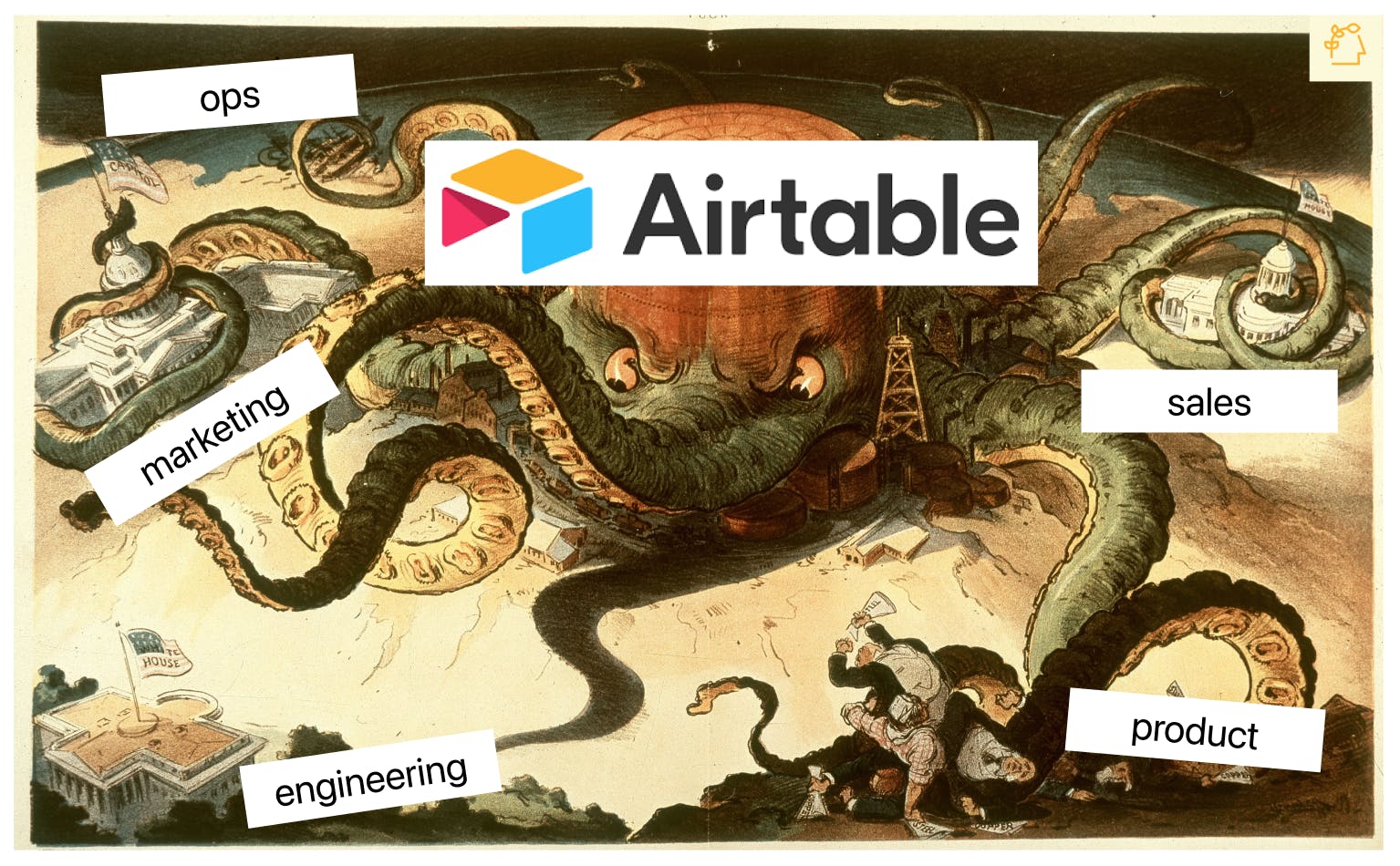 Once Airtable lands in an organization, they can increase retention by extending their reach into other teams and generating new, unique use cases that prevent churn.
The product shift that needs to happen for Airtable to pull this off is essentially what Salesforce did in order to make their product more comprehensible and accessible for the people who weren't engaging with it every day: creating another layer of abstraction on top of their main, raw spreadsheet-database interface.
Instead of Airtable apps living inside "blocks" in a base's sidebar, apps could exist above and independent of their main Airtable base: capable of being hosted externally, linked to, and used by other stakeholders to create, read, update and delete data.
Creating these custom, separate entrance points into Airtable—so that people can interact with their company's Airtable base and the data inside it without manually poking around in the database—can drive wider enterprise adoption by expanding the circle of people who can use Airtable, improve retention by ensuring that more people internally see the value in the product, and increase price per seat and ARPU by helping unlock the opportunity for far higher-revenue enterprise deployments with vertical-specific functionality.
This allows Airtable to become a single source of truth for customer and company data, while at the same time being manipulable and accessible to everyone in the organization, rather than being a database that only select people internally can manage.
More seats: More accessible, extensible apps built on Airtable means creating more usage in and between teams
Higher ARPU: More productized solutions versus sandbox-style building means the ability to charge a higher price because you're selling for a specific job-to-be-done
Better retention: As Airtable spreads, it becomes harder to rip out because more teams using Airtable means more opportunities to find use cases for it even if old ones go away
This is, in essence, the vision of an enterprise version of Roblox: a sandbox app that enables both consumers and creators equally.
Until today, Airtable has been bent in favor of creators. By opening up more interfaces into the tables and apps that those builder-types create, however, Airtable can bring the ecosystem more into balance.
Within an organization, they can serve both the people who want to tinker with databases and maintain data and construct apps and the people who want to simply consume and engage with their creations: the bottom-up adopters and optimizers as well as the top-down managers and decision-makers.
It took Roblox more than 15 years of work for its iconic mixture of consumption and creation in a single game to become a hit and a $45B public company—Airtable's underdetermination and idiosyncratic product experience means that it has the potential to reach similar heights in the enterprise, though it may turn out to be a similarly long road.
The future of Airtable
It took Roblox more than a decade for anyone outside of its core fan base to become aware of the massive opportunity it was after. Today, the "metaverse" is hot. Facebook has set for itself the ambitious 5-year goal of being known as a metaverse company instead of a social media company. Everyone accepts as true that Generation Z is more intuitively social and expressive on the internet than past generations, and more eager to build and share their own experiences versus consume pre-made ones.
Airtable, despite passing $100M ARR, is still in the "trough of sorrow" when it comes to broad acceptance of their product vision. The world Airtable is imagining is a world where knowledge workers no longer have to assess different vendors' offerings when they want to build a new functionality or experiment with some new type of workflow. Instead, Airtable argues, workers should be able to spin up their own tools using building blocks as simple, but capable of as much complexity, as a set of legos.
While that attitude has caught on in some forward-looking organizations, it is far from consensus. And in most of the enterprise, this kind of thinking is still years from being accepted.
With $600M raised and $100M+ in ARR, Airtable is betting that it can be around for the long haul and capture the massive whitespace that is no/low-code for the enterprise—once the market catches up.
Appendix
Disclaimers
Sacra has not received compensation from any companies that are subjects of the research report.
Sacra generally does not take steps to independently verify the accuracy or completeness of this information, other than by speaking with representatives of the companies when possible.
This report contains forward-looking statements regarding the companies reviewed as part of this report that are based on beliefs and assumptions and on information currently available to us during the preparation of this report. In some cases, you can identify forward-looking statements by the following words: "will," "expect," "would," "intend," "believe," or other comparable terminology. Forward-looking statements in this document include, but are not limited to, statements about future financial performance, business plans, market opportunities and beliefs and company objectives for future operations. These statements involve risks, uncertainties, assumptions and other factors that may cause actual results or performance to be materially different. We cannot assure you that any forward-looking statements contained in this report will prove to be accurate. These forward-looking statements speak only as of the date hereof. We disclaim any obligation to update these forward-looking statements.
This report contains revenue and valuation models regarding the companies reviewed as part of this report that are based on beliefs and assumptions on information currently available to us during the preparation of this report. These models may take into account a number of factors including, but not limited to, any one or more of the following: (i) general interest rate and market conditions; (ii) macroeconomic and/or deal-specific credit fundamentals; (iii) valuations of other financial instruments which may be comparable in terms of rating, structure, maturity and/or covenant protection; (iv) investor opinions about the respective deal parties; (v) size of the transaction; (vi) cash flow projections, which in turn are based on assumptions about certain parameters that include, but are not limited to, default, recovery, prepayment and reinvestment rates; (vii) administrator reports, asset manager estimates, broker quotations and/or trustee reports, and (viii) comparable trades, where observable. Sacra's view of these factors and assumptions may differ from other parties, and part of the valuation process may include the use of proprietary models. To the extent permitted by law, Sacra expressly disclaims any responsibility for or liability (including, without limitation liability for any direct, punitive, incidental or consequential loss or damage, any act of negligence or breach of any warranty) relating to (i) the accuracy of any models, market data input into such models or estimates used in deriving the report, (ii) any errors or omissions in computing or disseminating the report, (iii) any changes in market factors or conditions or any circumstances beyond Sacra's control and (iv) any uses to which the report is put.
This research report is not investment advice, and is not a recommendation or suggestion that any person or entity should buy the securities of the company that is the subject of the research report.  Sacra does not provide investment, legal, tax or accounting advice, Sacra is not acting as your investment adviser, and does not express any opinion or recommendation whatsoever as to whether you should buy the securities that are the subject of the report. This research report reflects the views of Sacra, and the report is not tailored to the investment situation or needs of any particular investor or group of investors.  Each investor considering an investment in the company that is the subject of this research report must make its own investment decision.  Sacra is not an investment adviser, and has no fiduciary or other duty to any recipient of the report.  Sacra's sole business is to prepare and sell its research reports. 
Sacra is not registered as an investment adviser, as a broker-dealer, or in any similar capacity with any federal or state regulator.
Read more from
Read more from