TAM Expansion
Voodoo's large user base gives it a strong driver for future growth. Its games have been downloaded over 6B times, and over 300M people play them every month. This lends itself to two large upside opportunities: new games and ad network.
New games
Voodoo has recently made a foray into casual games by acquiring game maker Beach Bum and investing in another casual game maker Teskin. Bubble Buster 2048, released in 2021, was its first successful casual game, with 4M+ downloads and revenue of $8M+. Casual games make money from in-app purchases (IAP) such as ad removal, buying accessories for characters, unlocking new levels, or a subscription.
One of the challenges of hyper-casual games is that the gameplay is basic, and while the users scale up very fast, it is tough to retain them. Most hyper-casual games start losing market share to casual ones once they go past the 1M DAU mark. On the other hand, casual games retain 40% of the market share at every DAU size.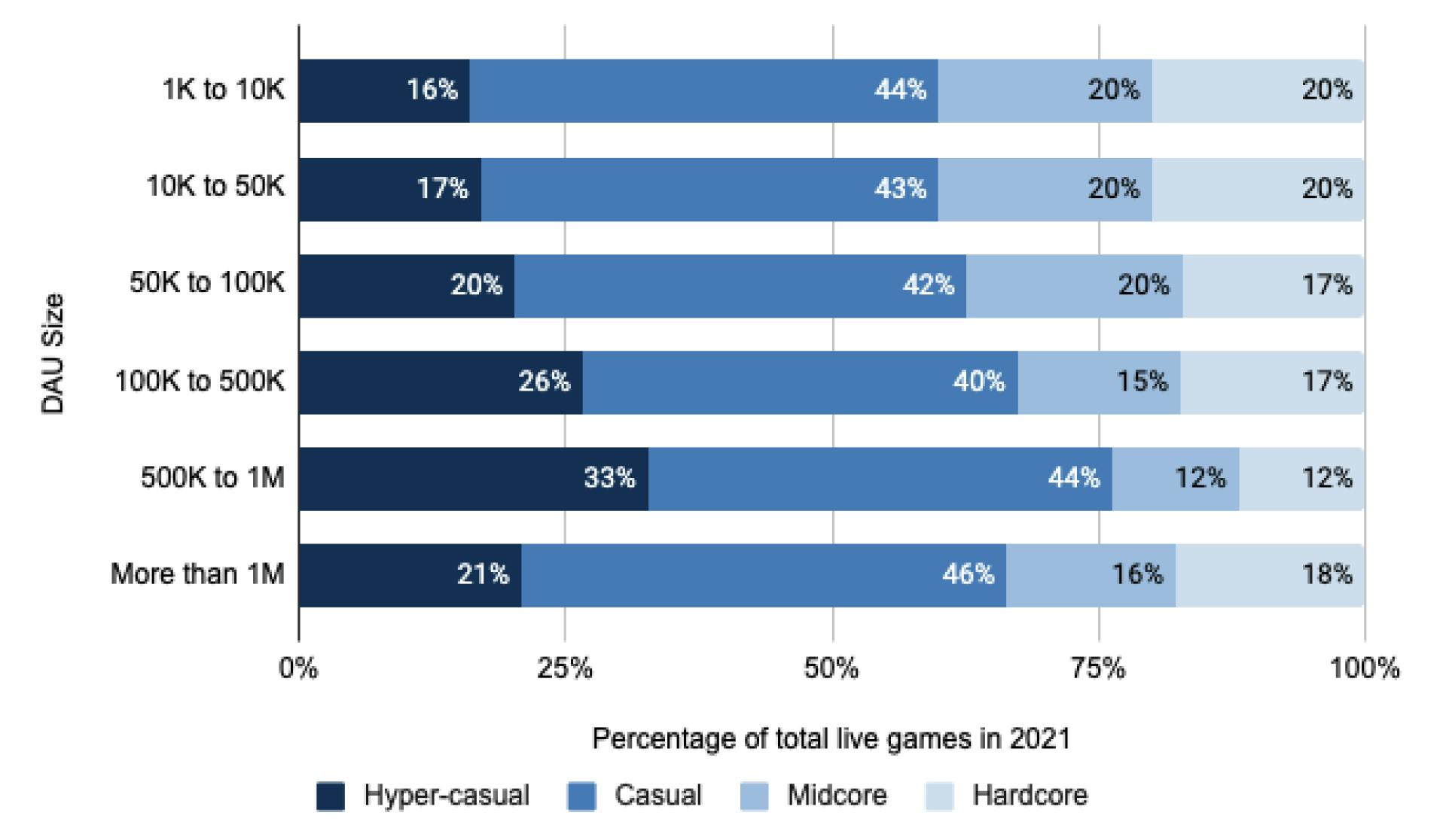 Launching casual games provides Voodoo a ladder to migrate engaged users to deeper gameplay, retaining them on its platform and monetizing through in-app purchases rather than letting them drop off. In the long run, hyper-casual games could act as a top-of-the-funnel acquisition engine that feeds users to the more profitable casual games.
Casual games have a higher revenue per user than hyper-casual games. For instance, Rovio's revenue per monthly paid user is $43.7, and for AppLovin, it is $41. Both have ~1% of their MAU as paying users. If 50% of Voodoo's 300M MAU converts to casual games, it creates net incremental revenue of $720M.
Assuming this conversion happens over 3 years, it generates $240M annually, even without an MAU increase. This is on top of Beach Bum's existing annual revenue of $70M.
Voodoo's advantage over the other casual game makers is its substantial installed base and ad inventory. This gives Voodoo more control over advertising new casual games and makes the user acquisition cost-effective. Most casual game makers rely on third-party ad networks for user acquisition.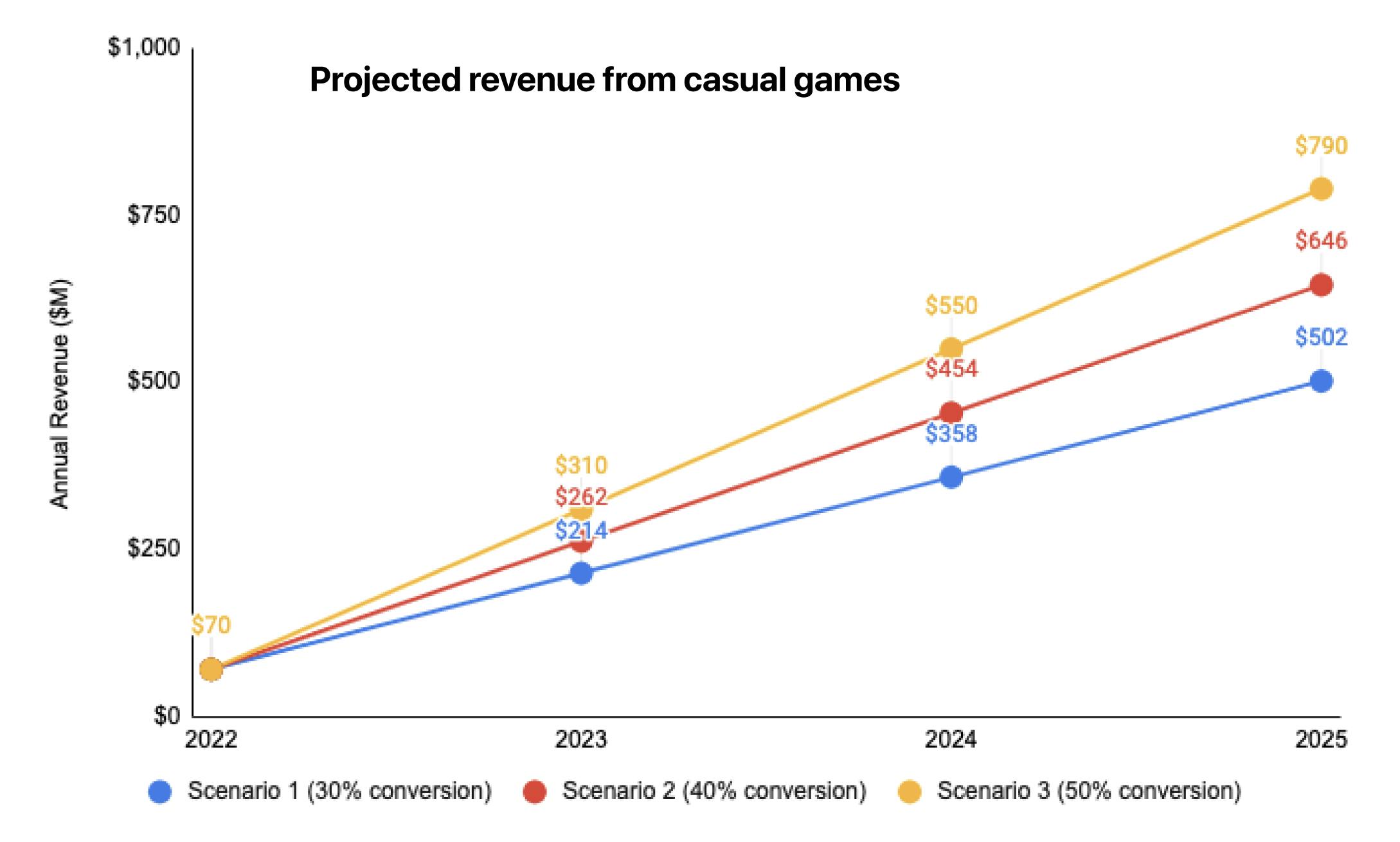 One of the key tailwinds for the gaming industry is social gaming with massively multiplayer, cross-platform games where users don't just play games but meet and socialize with their friends. Games such as Fortnite, Roblox, and Minecraft encourage social interactions. For instance, 2.5B chat messages were sent in Roblox in 2021. ~28M players attended the Travis Scott concert in Fortnite in April 2020. Voodoo only makes single-player games that can not be played with friends. Voodoo partnered with Snap Games and Facebook Gaming to launch its most popular titles as instantly playable, natively multiplayer games to overcome this.
Snap Games was launched in 2019 as a way for friends to play mini-games together without leaving Snapchat. Snap Games' users grew by 3X from 100M in 2020 to 300M in 1Q2022. During this time, Snapchat's DAU increased from 238M to 332M. Voodoo has released five mini-games on Snap Games, including Aquapark.io, Cube Surfer, and Crowd City, which have been played by 80M Snapchat users, ~40% of users playing Snap Games.
Voodoo is releasing 20 more titles on Snap Games and five titles, including Paper.io and Aquapark.io, on Facebook Gaming.
Another sizeable social gaming opportunity for Voodoo is integrating with Tencent's WeChat messenger as mini-games. WeChat integrates various apps such as e-commerce, payments, finance, and games as mini-programs into its messenger app. WeChat has over 1.2B MAU, out of which ~500M users play mini-games every month. Tencent is a strategic investor in Voodoo.
Voodoo is doubling down on blockchain games by investing $200M and inviting game studios to partner with it.
Play-to-earn blockchain games had a watershed year in 2021 with $4B invested by VCs. The DAU of the popular blockchain game Axie Infinity grew 12X in just 6 months to reach ~3M. Blockchain games' revenue is expected to grow to $40B by 2025, from $3B today.
As most blockchain games are played on desktops, Voodoo has the opportunity to bring blockchain gaming to mobiles. Voodoo can also consider bringing some of its most popular games to the blockchain. For instance, Neowiz expanded two of its titles, Golf Impact and Brave Nine, to the blockchain by making them play to earn.
Ad network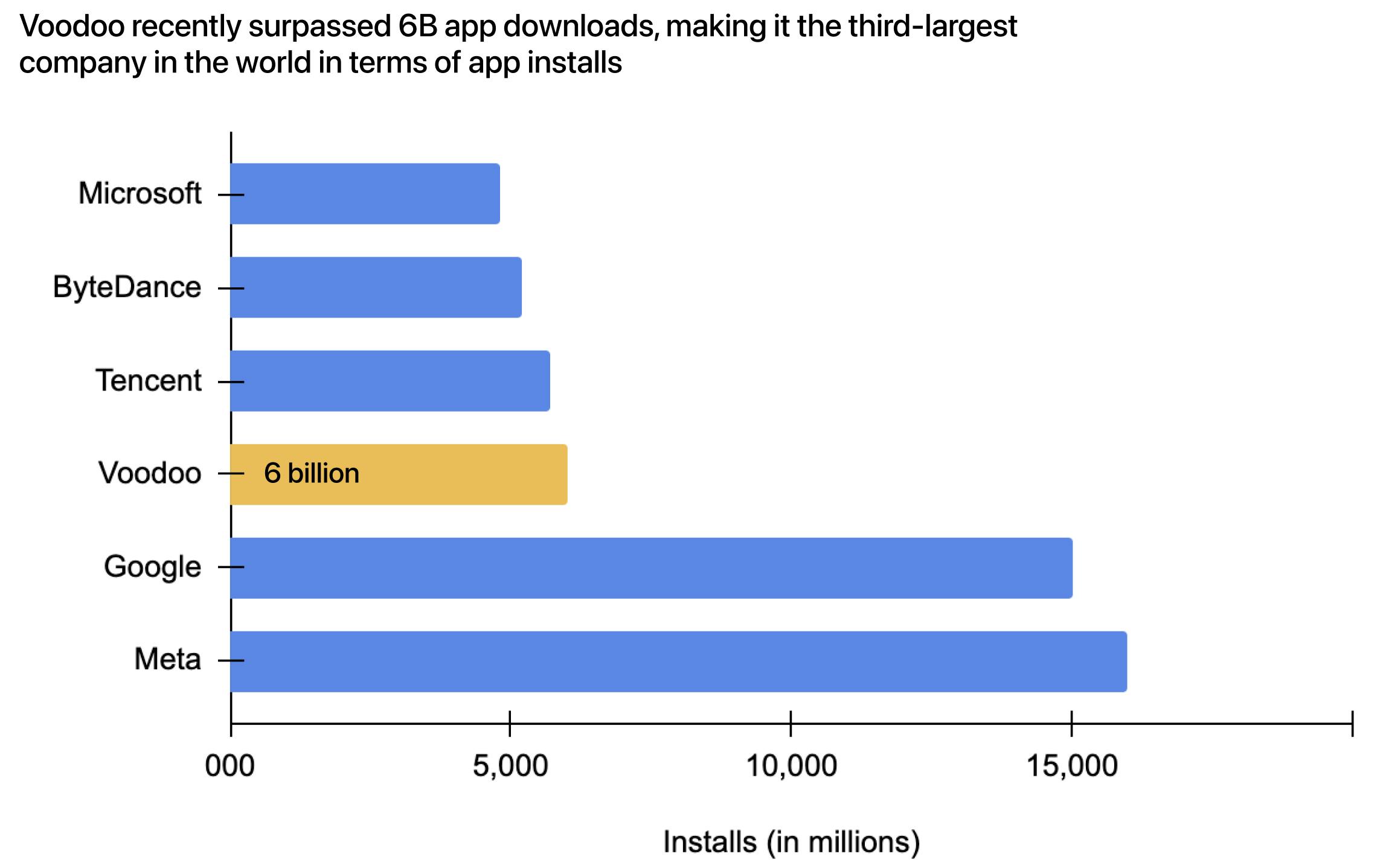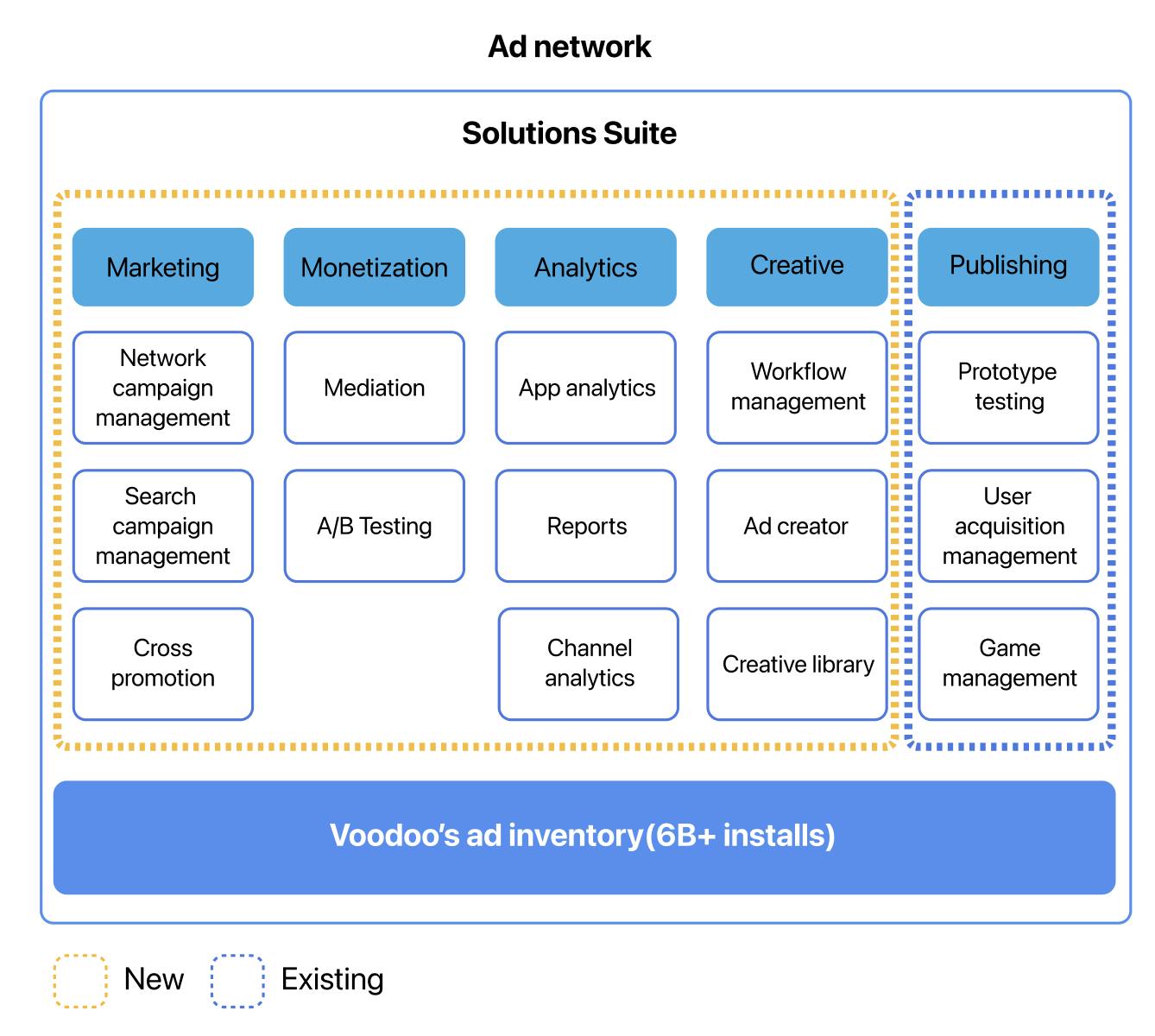 Earlier in 2022, Voodoo announced it surpassed 6B app downloads—more than Tencent, ByteDance (owner of TikTok), and Microsoft, and fewer than only Google and Meta.
In parallel, mobile ad spending has been rising rapidly, reaching $295B in 2021. It is expected to grow to $350B in 2022. As the 3rd largest mobile apps publisher, Voodoo has the opportunity to aggregate its ad inventory under its own ad network and provide app developers tools for user acquisition, marketing, monetization, analytics, and app publishing.
Two of Voodoo's largest competitors, IronSource (owner of SuperSonic Games) and AppLovin (owner of Lion Studios), started as ad networks and rapidly acquired adtech companies over the last two years. Both launched game studios to get first-party data because of the changes in iOS and Android privacy rules. AppLovin made $1.34B, and IronSource made $553M from their platforms in 2021.
Voodoo's start as a game publisher gives it access to first-party data of 6B+ game downloads, more than AppLovin and IronSource and next only to Meta and Google. It also makes economic sense for Voodoo as it can save the money it's paying to these ad networks.
One way to achieve this is through acquisitions. Zynga (casual game publisher) bought Chartboost, one of the largest mobile ad networks, in May 2021. Voodoo made some progress in this direction by acquiring Bidshake, a marketing automation platform, in June 2021.