Home

&nbsp>&nbsp

Companies

&nbsp>&nbsp

Voodoo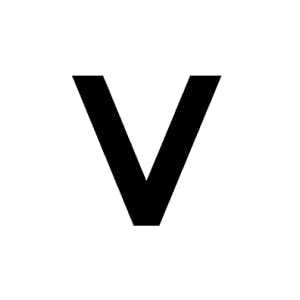 Voodoo
Voodoo is a developer & publisher of hyper-casual mobile games.
Revenue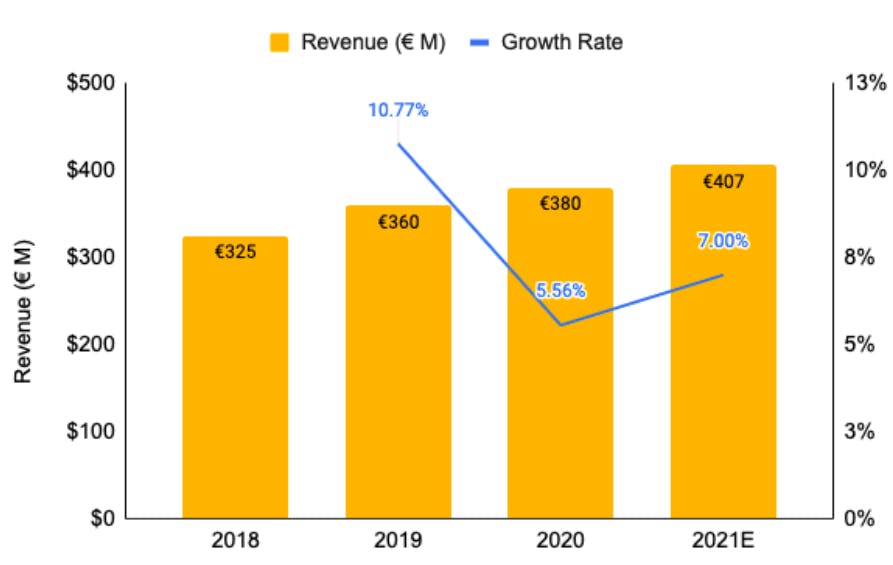 Voodoo made $430M in 2021, up 7% from the year before, while EBITDA declined from 23.4% in 2019 to 16.1% in 2020. Voodoo makes money by selling the ad inventory in its games to ad networks. 30% of Voodoo's revenue comes from in-house games and 70% from the games it publishes for other independent studios. Voodoo acquired an Israel-based game studio Beach Bum in September 2021 with pre-acquisition TTM revenue of $70 million—the full effect of that acquisition will be reflected in the company's 2022 earnings.
Valuation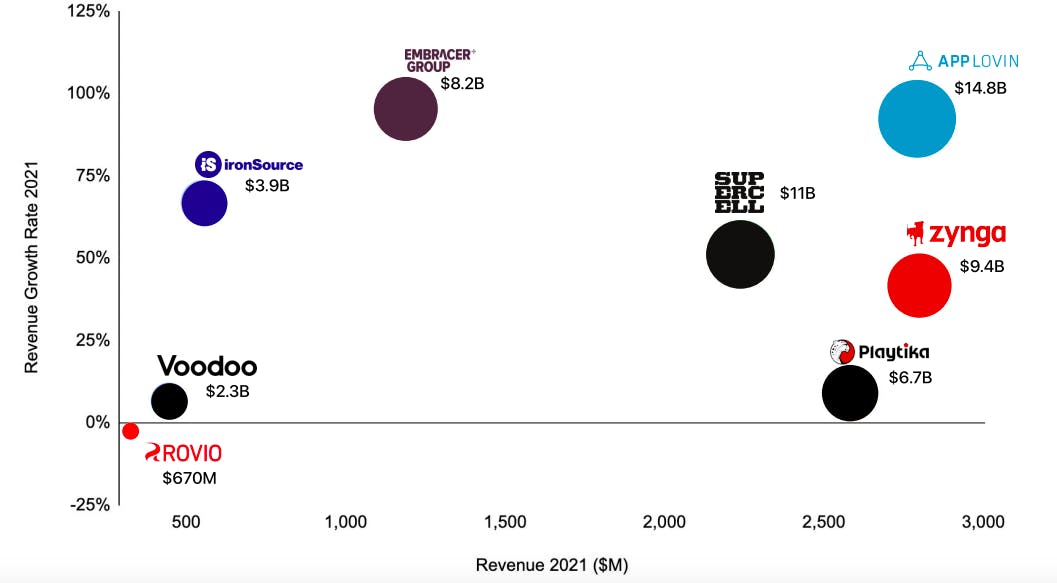 Key mobile game publishers by 2021 revenue and YoY revenue growth. The size of the bubble represents valuation.
Voodoo last raised $370M from GBL in August 2021 at a valuation of $1.8B. It has raised $570M (excluding an undisclosed investment by Tencent) and its valuation/revenue multiple of 5.2 is in the same ballpark as its competitors in the hyper-casual game genre, such as 5.3 of AppLovin (parent company of Lion Studios), 7.2 of IronSource (parent company of Supersonic Studios), and 6.9 of Embracer Group (parent company of Crazy Labs).
Product
Voodoo is the third-largest app publisher globally, with only Meta and Google having more app downloads. It has over 200+ hyper-casual game titles with 6 billion downloads and 300M+ MAU.
Hyper-casual games are simple, usually free mobile games that generally require little to no instruction to play and are played for short bursts of time multiple times a day. They primarily monetize through in-game ads. The first major hyper-casual mobile game was Flappy Bird, downloaded 50 million times and drove $50K in revenue per day. Voodoo recently launched consumer apps that target specific user segments. These include
A social app for teens called Wizz with 3M downloads and 150K DAU
A social app for mothers called WeMoms with 1.2M downloads
Blitz brings Voodoo's games on a single app, lets users play with each other and win cash prizes. It has 150,000 MAU and aims to reach 1M MAU in 2022.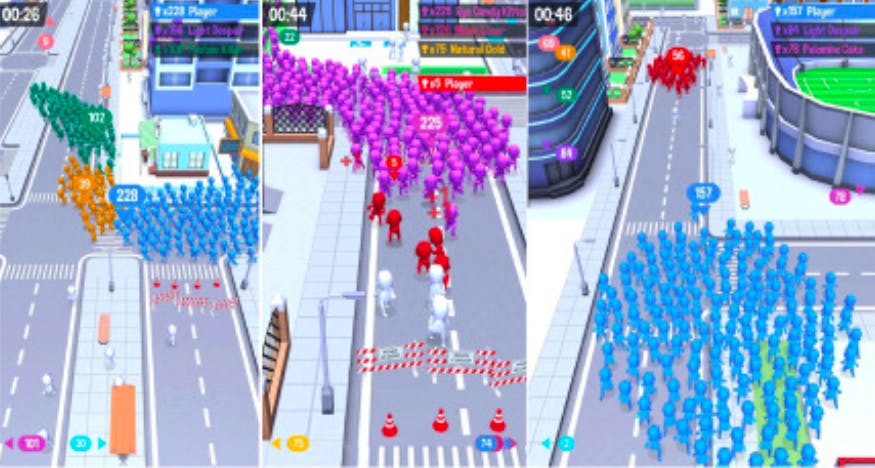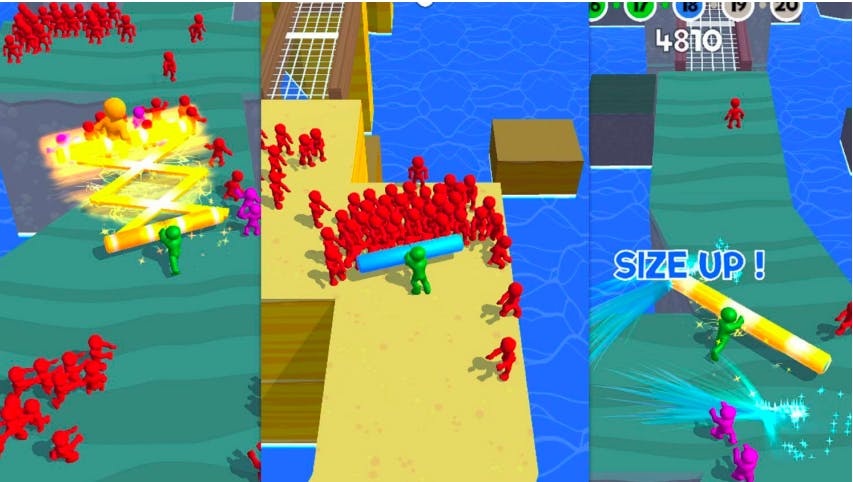 The mobile game market has almost doubled in size over the last 5 years to reach $110B in 2021. Mobile games got a shot in the arm in 2019 and 2020, as people found mobile games to be an easy way to spend time and stay entertained during COVID-related lockdowns.
Hyper-casual games were the biggest beneficiary of this trend as they have simple game mechanics, are free to play, and require no set-up. These games grew their share by downloads from a meager 12% in 2017 to 50% in 2021, with 15B downloads in 2021.
Hyper-casual games were the only mobile gaming genre that continued to grow in terms of downloads in 2021 as all other genres struggled.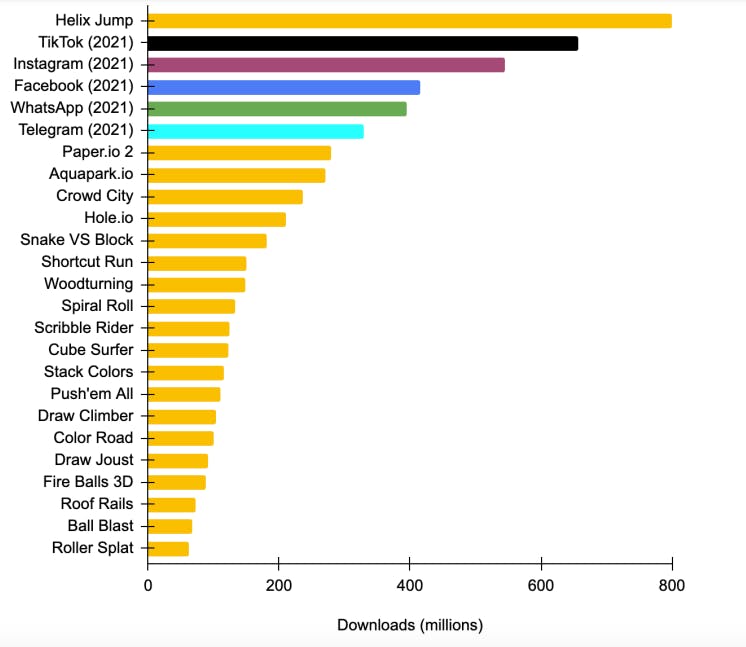 Download counts for Voodoo games vs. the largest mobile apps
Product-Market Fit
Voodoo started developing casual games in 2013 but pivoted to hyper-casual games in 2015. Instead of working on a game for many years before release, Voodoo decided to release game prototypes every week, capture user behavior data, and use it to improve the next prototype version before releasing it.
This approach led to its first successful hyper-casual game, Paper.io, in 2016 with 83M+ downloads. This iterative game publishing process allows Voodoo to launch new games in 3 to 4 months, compared to 1 to 2 years for many other developers. Voodoo scaled this process to become a game publisher and include external game studios in 2017.
Game studios submit ideas on Voodoo's website. Selected studios are assigned game publishing managers to help filter out bad ideas and develop prototypes. For each successful game, hundreds of prototypes and built and scrapped. Game developers use Unity or Unreal engine and Voodoo's asset library to make it easy to create prototypes and iterate from one version to another.
Instead of fully fleshed-out, complex games, these prototypes have just one core game mechanic. After soft-launching with some marketing spend, Voodoo iterates based on retention and cost per install metrics.
Games that successfully move beyond this stage are scaled up by the game ops team to increase retention and playtime. This includes polishing the game visuals, level design, and gameplay. Voodoo cross-promotes them aggressively in its other games to drive downloads.
Game studios have milestone-linked payments. Voodoo pays $20,000 when the game is soft-launched and $180,000 for a confirmed release. Post-release, payments depend on the number of downloads. On average, a game with 10M+ downloads makes $1M.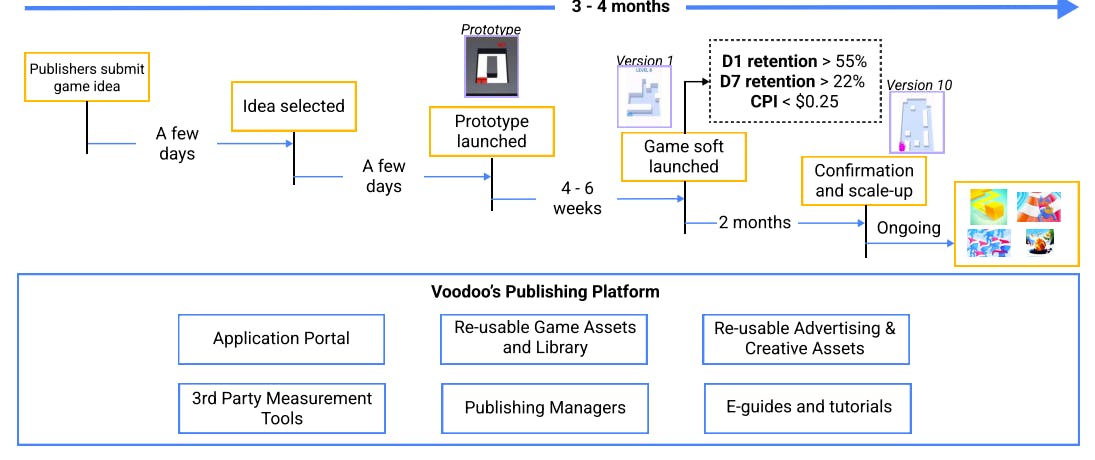 Voodoo's game publishing progress

Screenshots from Voodoo's presentation showing progression in development of Crowd City
Business Model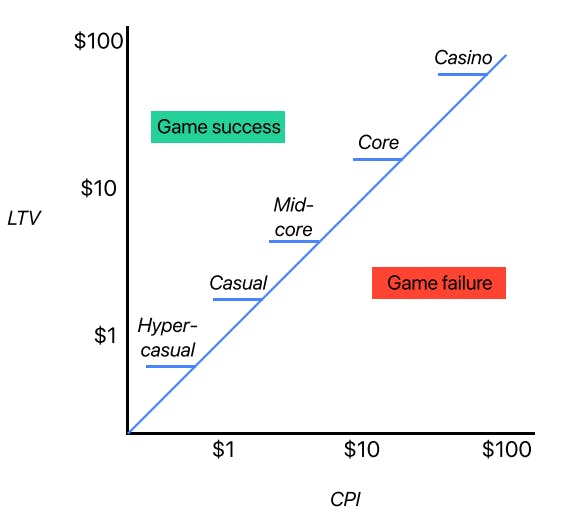 Before the success of hyper-casual games, in-app purchases were the primary drivers of mobile game revenue. However, these purchases were made by a small subset of high-value spenders, who were expensive to acquire and made the revenue unpredictable. Hyper-casual games created a new model of making money from players without asking them to pay by showing in-game ads. But the per-user revenue, aka LTV for hyper-casual games, is very low, ranging between $0.5 to $1.5. Hence, the key to making money from a hyper-casual game is to keep the cost per install (CPI) as low as possible and acquire new users rapidly. As long as the CPI is lower than LTV, the excess amount can be reinvested to acquire more users, leading to sustainable user acquisition.
In-game Ads
By showing ads, Voodoo makes money from the entire user base without relying on just a few paying players. This makes for a lower per player but steadier revenue stream. It partners with several ad networks to sell ad inventory on its games, such as AppLovin, InMobi, Mintegral, IronSource, and others. There are four popular ad formats - rewarded video, interstitial, banner, and offerwall.
User acquisition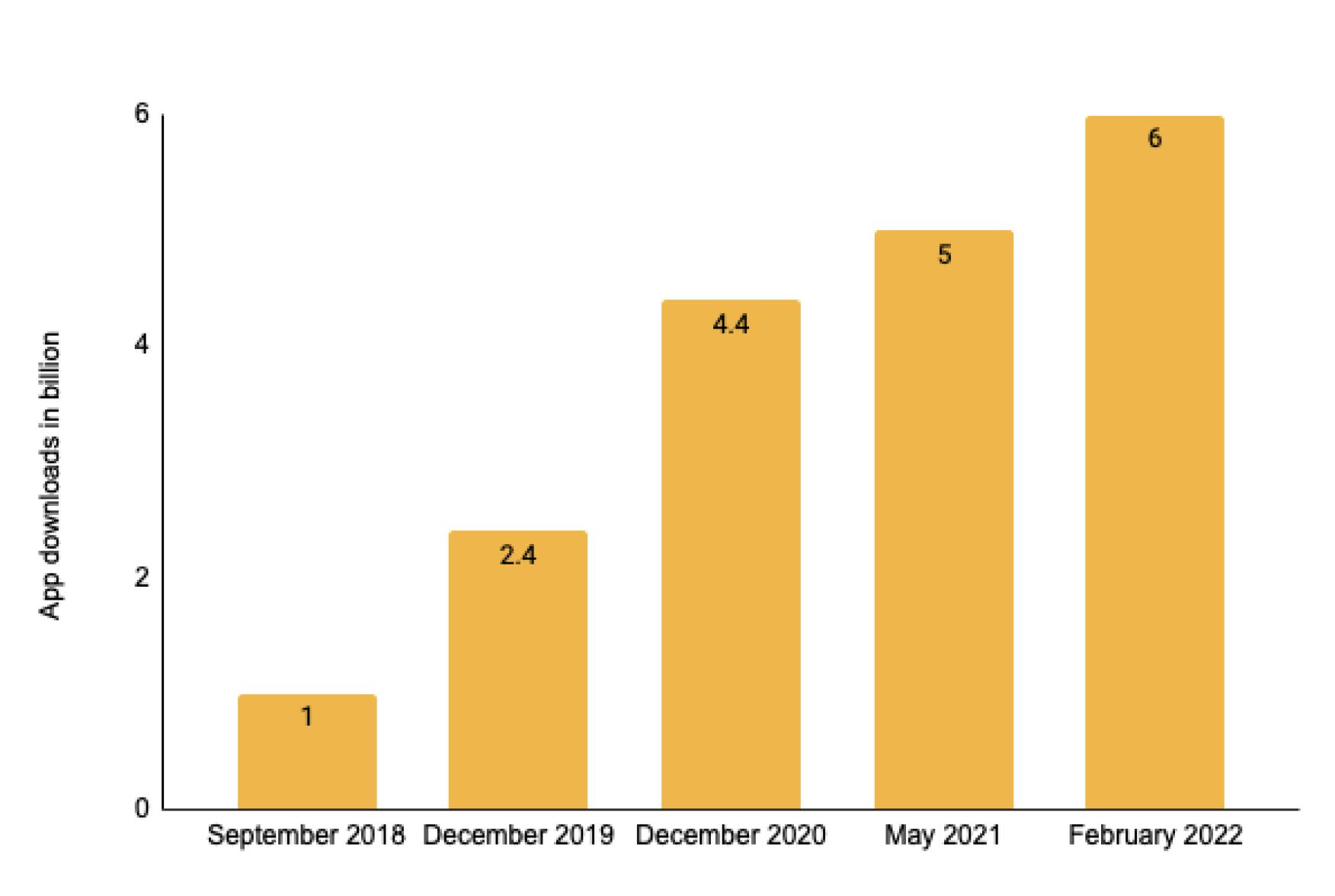 Hyper-casual games are super-simple and cannot engage players for a long time. Hence, these games have a high churn rate. 70% to 75% of players uninstall the game within 24 hours, and only 10% to 12% of players are active on day 7. Thus, new players have to be acquired inexpensively to build a large player base that can be monetized through ads.
As Voodoo acquires more users, it can show ads to more users, effectively reducing the cost of serving ads. Voodoo lowers the cost of new user acquisition in three ways:
It cross-promotes new games on ad inventory of owned games.
It aggregates user data across all its games, improving the quality of ad targeting.
It automates the advertising process through re-usable creative templates, ad inventory level integration with social platforms, and programmatic ad serving, reducing the cost of serving ads.

This enabled Voodoo to grow from 1 billion downloads in September 2018 to 6 billion downloads in February 2022, averaging 122M downloads per month.
Competition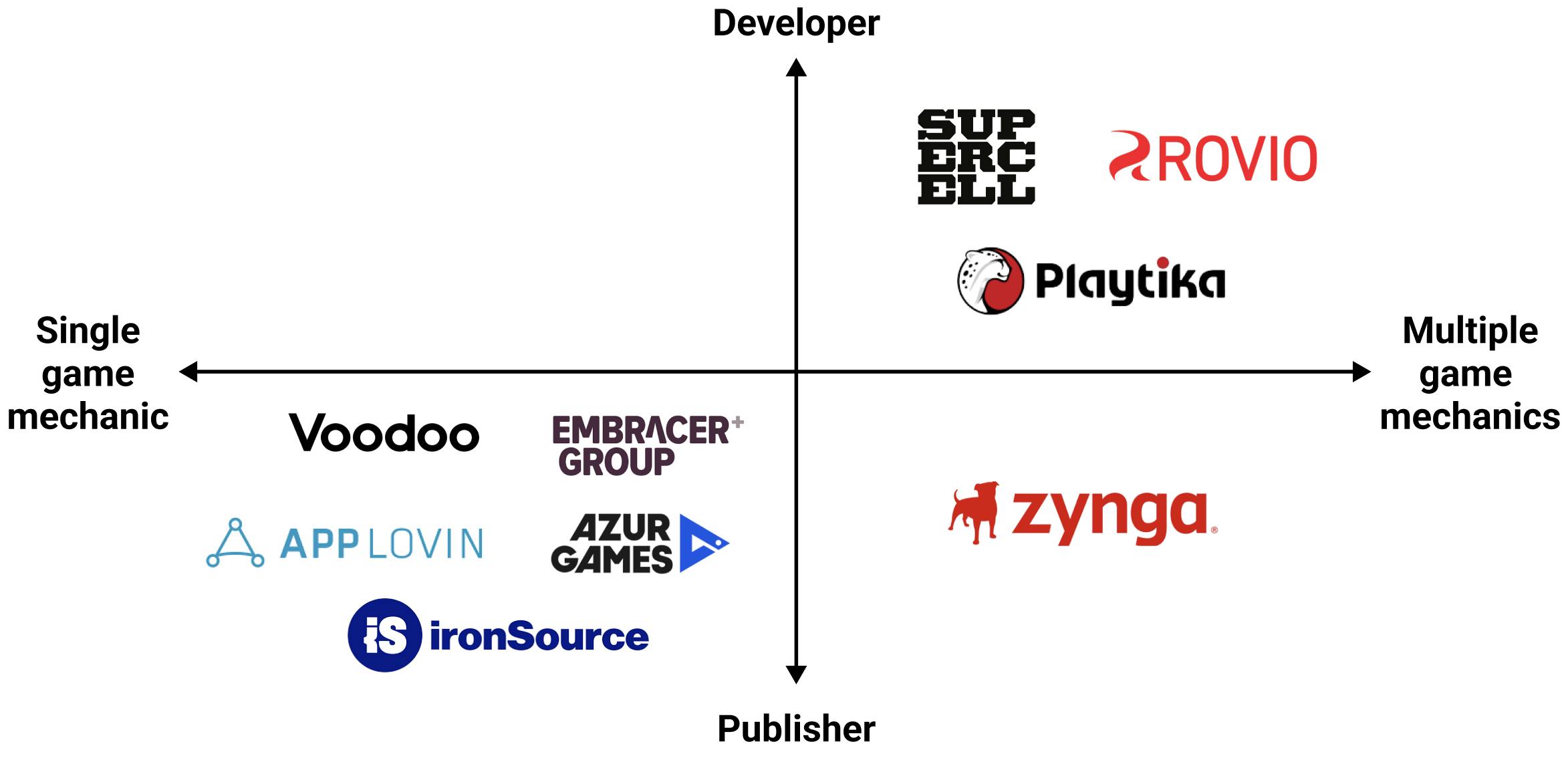 Voodoo competes with other mobile game companies in the hyper-casual and casual games genres. Both genres have simple gameplay, are played for short durations many times a day, and don't involve learning a new skill. Hyper-casual games Independent game studios develop hyper-casual games, which are released by large publishers such as Voodoo. The success of hyper-casual games attracted several new gaming studios in the last two years.
This mushrooming of game studios has led to rampant copying of any new successful game or a new game mechanic. For instance, Wordle, a popular word-based hyper-casual game, has 30+ clones.
Due to this, the focus in hyper-casual games has shifted from improving gameplay to improving ad-based monetization by serving ads with better targeting and launching new ad inventory.
Voodoo ceded market share to its competitors in 2021. Its market share among the top ten hyper-casual game publishers dropped to 13.8% in 1H2021, compared to 27.5% in 3Q2020. In 1Q2022, it slipped to the sixth largest global app publisher, compared to the third spot in 1Q2021.
Casual games are played for longer durations and are not uninstalled as frequently as hyper-casual games because of better level design and in-depth gameplay. Most large casual game publishers develop their games in-house and stretch their longevity as much as possible to get the most juice out of in-app purchases.
For instance, Clash of Clans, a casual game released in 2015, has made $4.5B to date, out of which ~$1B were made in the last 2 years. Similarly, Angry Birds 2, launched in 2015, has made €576M to date, out of which €214M came in the last two years.
Many users are turning away from hyper-casual games due to excessive ads and poor graphics by the new hyper-casual game publishers. In fact, in 2021, the revenue of casual games grew by 40%, which is 3X of the revenue growth of hyper-casual games at 13%.
TAM Expansion
Voodoo's large user base gives it a strong driver for future growth. Its games have been downloaded over 6B times, and over 300M people play them every month. This lends itself to two large upside opportunities: new games and ad network.
New games
Voodoo has recently made a foray into casual games by acquiring game maker Beach Bum and investing in another casual game maker Teskin. Bubble Buster 2048, released in 2021, was its first successful casual game, with 4M+ downloads and revenue of $8M+. Casual games make money from in-app purchases (IAP) such as ad removal, buying accessories for characters, unlocking new levels, or a subscription.
One of the challenges of hyper-casual games is that the gameplay is basic, and while the users scale up very fast, it is tough to retain them. Most hyper-casual games start losing market share to casual ones once they go past the 1M DAU mark. On the other hand, casual games retain 40% of the market share at every DAU size.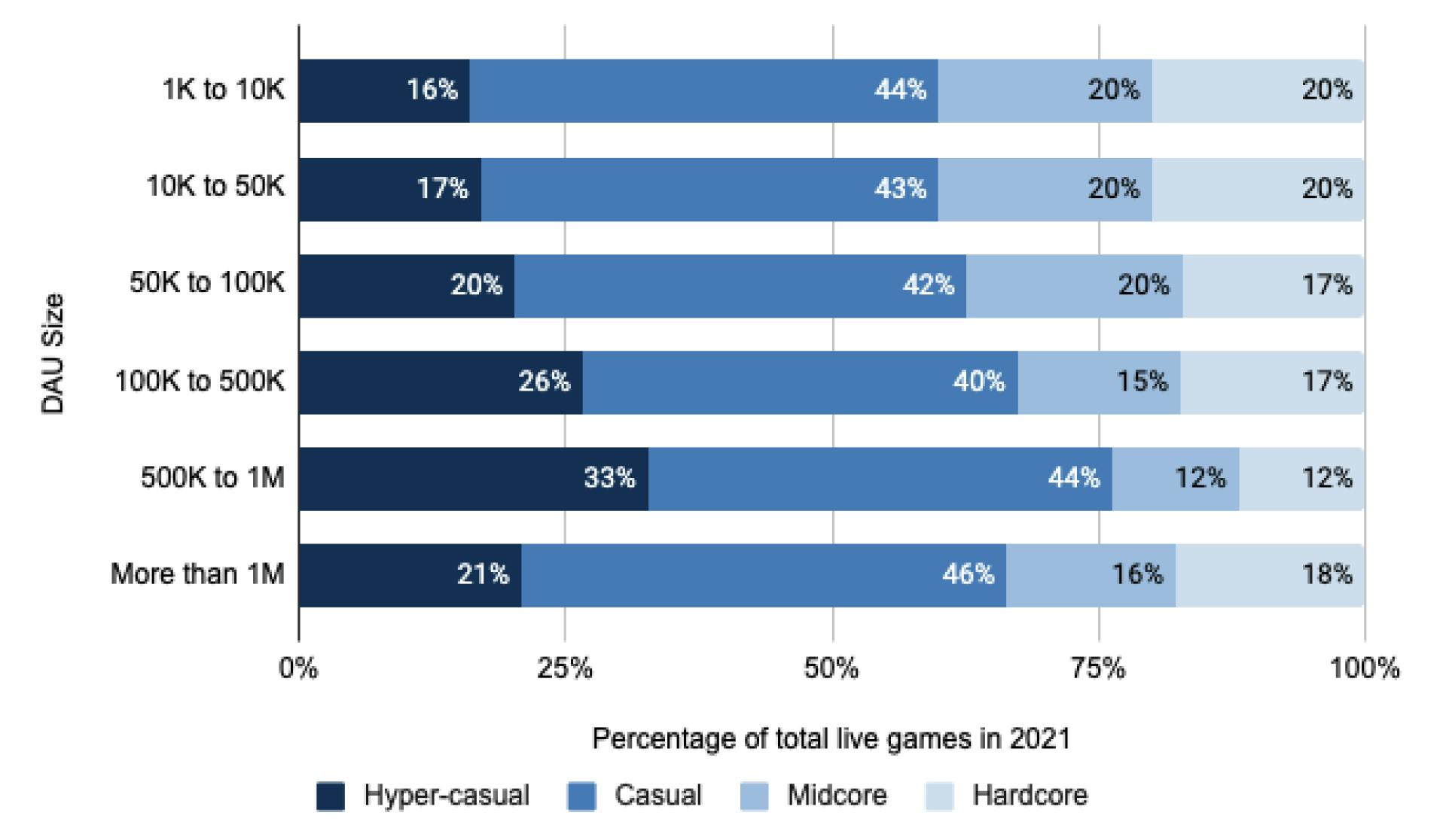 Launching casual games provides Voodoo a ladder to migrate engaged users to deeper gameplay, retaining them on its platform and monetizing through in-app purchases rather than letting them drop off. In the long run, hyper-casual games could act as a top-of-the-funnel acquisition engine that feeds users to the more profitable casual games.
Casual games have a higher revenue per user than hyper-casual games. For instance, Rovio's revenue per monthly paid user is $43.7, and for AppLovin, it is $41. Both have ~1% of their MAU as paying users. If 50% of Voodoo's 300M MAU converts to casual games, it creates net incremental revenue of $720M.
Assuming this conversion happens over 3 years, it generates $240M annually, even without an MAU increase. This is on top of Beach Bum's existing annual revenue of $70M.
Voodoo's advantage over the other casual game makers is its substantial installed base and ad inventory. This gives Voodoo more control over advertising new casual games and makes the user acquisition cost-effective. Most casual game makers rely on third-party ad networks for user acquisition.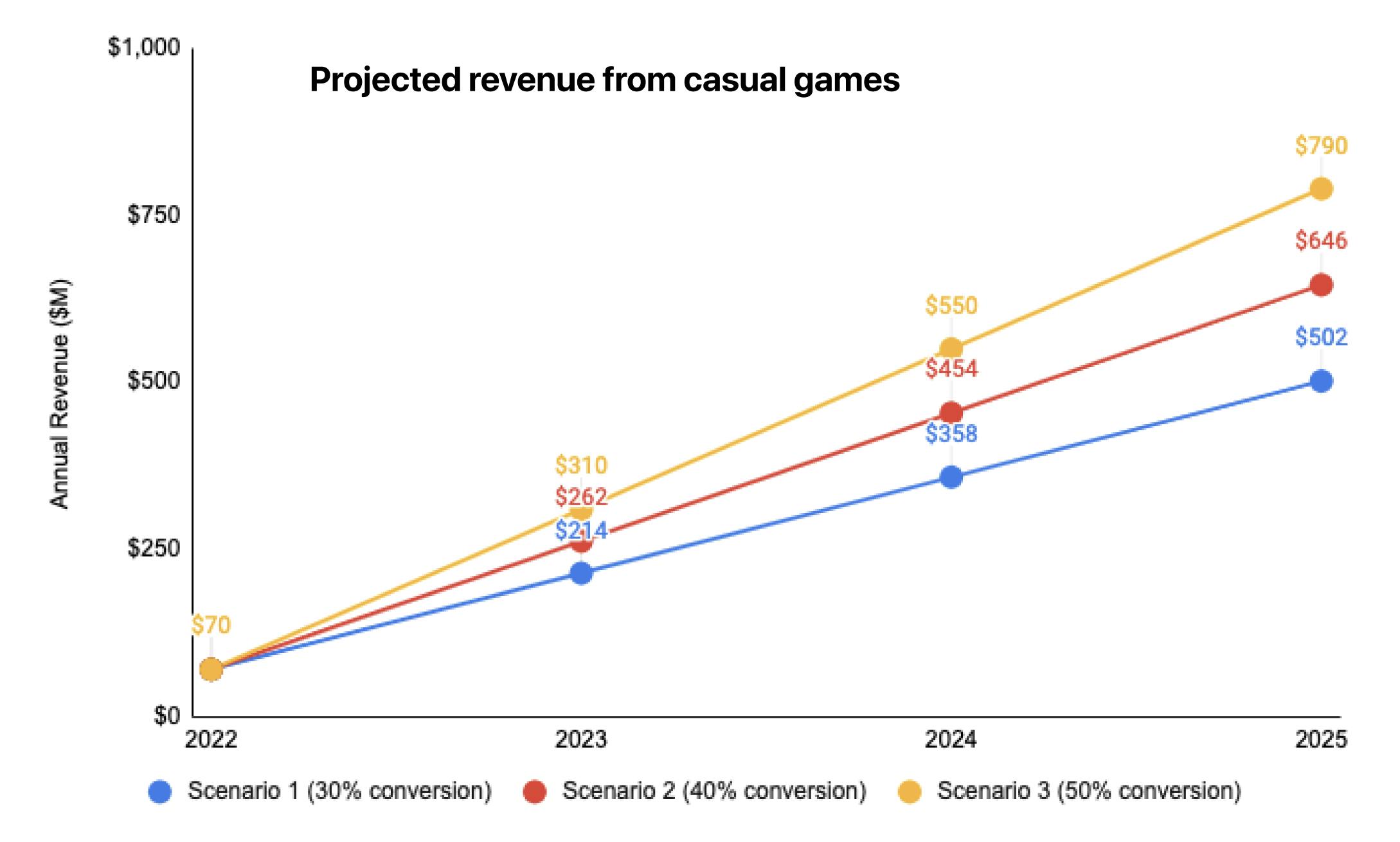 One of the key tailwinds for the gaming industry is social gaming with massively multiplayer, cross-platform games where users don't just play games but meet and socialize with their friends. Games such as Fortnite, Roblox, and Minecraft encourage social interactions. For instance, 2.5B chat messages were sent in Roblox in 2021. ~28M players attended the Travis Scott concert in Fortnite in April 2020. Voodoo only makes single-player games that can not be played with friends. Voodoo partnered with Snap Games and Facebook Gaming to launch its most popular titles as instantly playable, natively multiplayer games to overcome this.
Snap Games was launched in 2019 as a way for friends to play mini-games together without leaving Snapchat. Snap Games' users grew by 3X from 100M in 2020 to 300M in 1Q2022. During this time, Snapchat's DAU increased from 238M to 332M. Voodoo has released five mini-games on Snap Games, including Aquapark.io, Cube Surfer, and Crowd City, which have been played by 80M Snapchat users, ~40% of users playing Snap Games.
Voodoo is releasing 20 more titles on Snap Games and five titles, including Paper.io and Aquapark.io, on Facebook Gaming.
Another sizeable social gaming opportunity for Voodoo is integrating with Tencent's WeChat messenger as mini-games. WeChat integrates various apps such as e-commerce, payments, finance, and games as mini-programs into its messenger app. WeChat has over 1.2B MAU, out of which ~500M users play mini-games every month. Tencent is a strategic investor in Voodoo.
Voodoo is doubling down on blockchain games by investing $200M and inviting game studios to partner with it.
Play-to-earn blockchain games had a watershed year in 2021 with $4B invested by VCs. The DAU of the popular blockchain game Axie Infinity grew 12X in just 6 months to reach ~3M. Blockchain games' revenue is expected to grow to $40B by 2025, from $3B today.
As most blockchain games are played on desktops, Voodoo has the opportunity to bring blockchain gaming to mobiles. Voodoo can also consider bringing some of its most popular games to the blockchain. For instance, Neowiz expanded two of its titles, Golf Impact and Brave Nine, to the blockchain by making them play to earn.
Ad network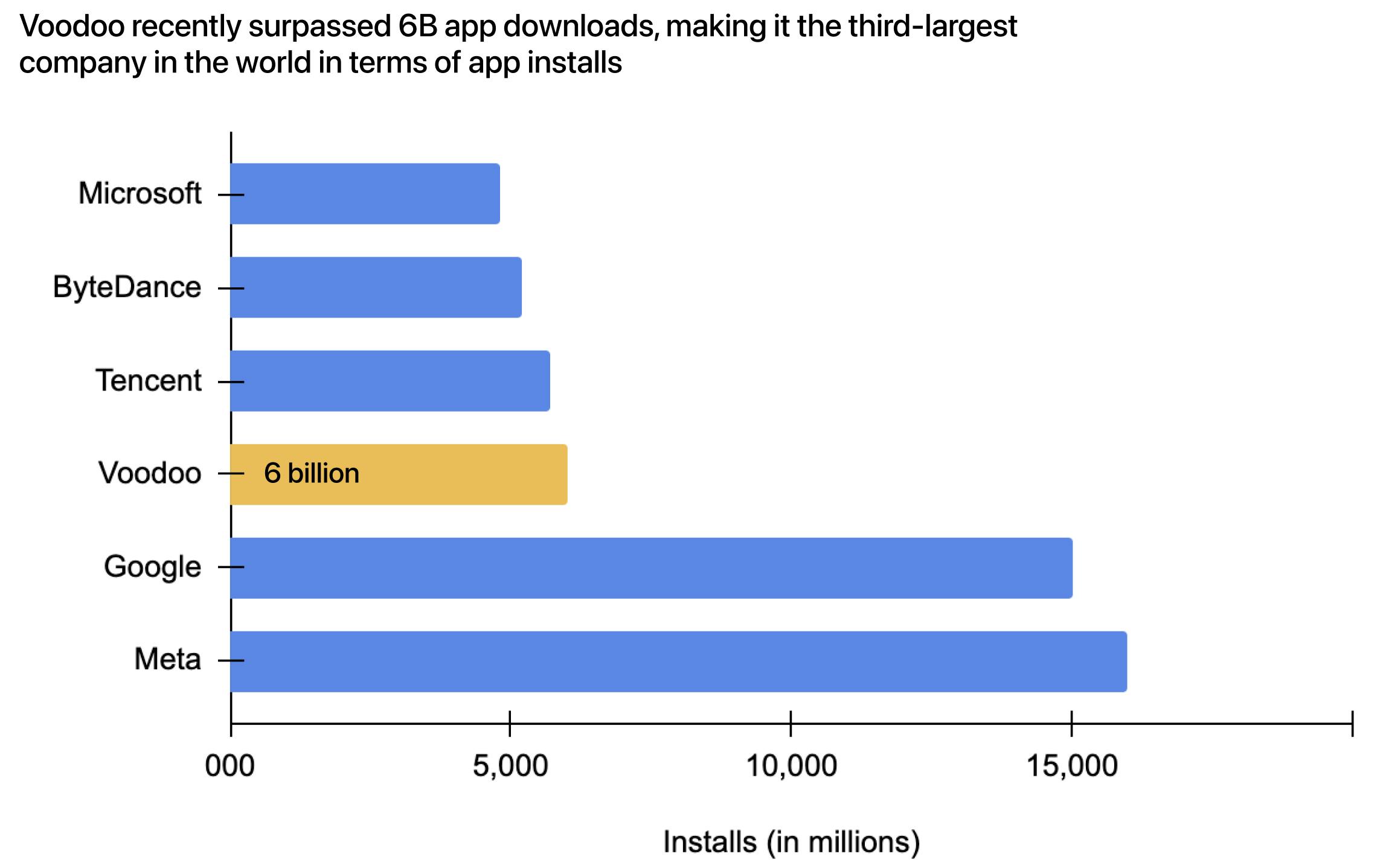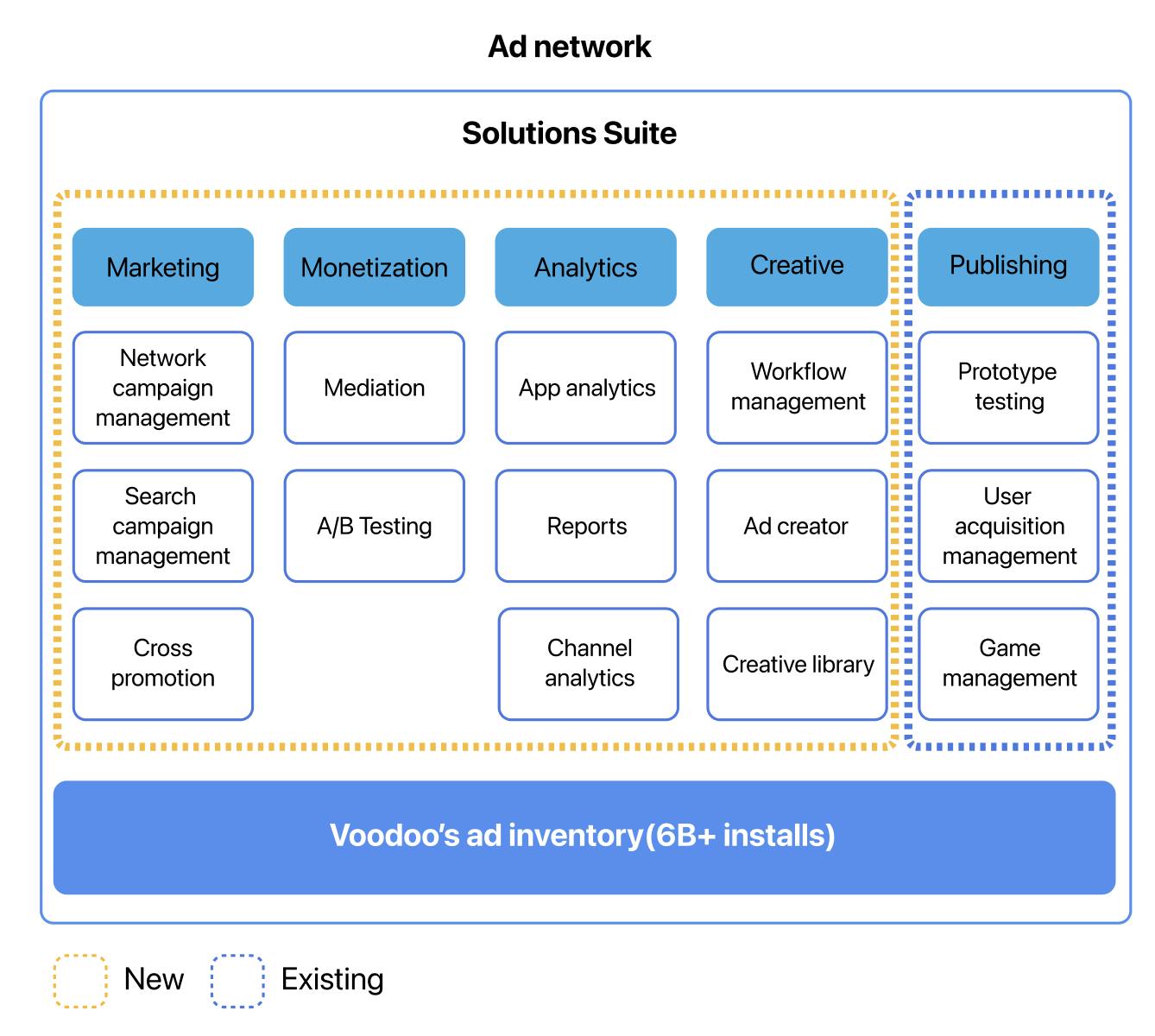 Earlier in 2022, Voodoo announced it surpassed 6B app downloads—more than Tencent, ByteDance (owner of TikTok), and Microsoft, and fewer than only Google and Meta.
In parallel, mobile ad spending has been rising rapidly, reaching $295B in 2021. It is expected to grow to $350B in 2022. As the 3rd largest mobile apps publisher, Voodoo has the opportunity to aggregate its ad inventory under its own ad network and provide app developers tools for user acquisition, marketing, monetization, analytics, and app publishing.
Two of Voodoo's largest competitors, IronSource (owner of SuperSonic Games) and AppLovin (owner of Lion Studios), started as ad networks and rapidly acquired adtech companies over the last two years. Both launched game studios to get first-party data because of the changes in iOS and Android privacy rules. AppLovin made $1.34B, and IronSource made $553M from their platforms in 2021.
Voodoo's start as a game publisher gives it access to first-party data of 6B+ game downloads, more than AppLovin and IronSource and next only to Meta and Google. It also makes economic sense for Voodoo as it can save the money it's paying to these ad networks.
One way to achieve this is through acquisitions. Zynga (casual game publisher) bought Chartboost, one of the largest mobile ad networks, in May 2021. Voodoo made some progress in this direction by acquiring Bidshake, a marketing automation platform, in June 2021.
Risks
Compared to other mobile games, hyper-casual games are fast and straightforward to develop. This has led to an influx of new publishers and studios, leading to intense competition. Most hyper-casual game publishers jump onto trending ideas, rapidly releasing copycat games at incredibly high speed. This increases the CPI as all identical games fight for installs. Ad networks start committing ever lower CPI to advertisers leading to a race to the bottom for CPI. There is also increasing competition for developers, with new publishers happy to lower their share of game revenue to attract developers.
These dynamics are putting a strain on Voodoo's profitability. In 2020, its EBITDA declined to 16.1% from 23.4% in 2019. The EBITDA is expected to further decline to 12.6% in 2021. As competition in the hyper-casual segment increases, Voodoo's margin will remain stressed. Stagnation in hyper-casual revenue
The revenue from hyper-casual games stagnated in 2021, even though the number of downloads continued to rise. To juice out maximum revenue from every install, publishers are throwing more ads at players, almost breaking down the gameplay. This leads to games being uninstalled as soon as they are downloaded, inflating the download figures but hardly moving the revenue needle. The stagnant revenue, coupled with the increasing CPI, can break down the hyper-casual monetization model, which works on a wafer-thin margin. Easy entry and exit
Publishers such as Say Games, SuperSonic, and Crazy Labs have come out of nowhere to garner billions of downloads with chart-topper games. Many of them just copied the playbooks of existing publishers such as Voodoo and Lion Studios. Hyper-casual genre is also notorious for the low staying power of incumbents in the face of intense competition. Publishers such as Ketchapp and Cheetah Mobile that dominated the charts in 2017/18 have almost disappeared. The volatility of hit games
Voodoo's success depends on consistently releasing hit games. Over the last few years, Voodoo's games have been pushed out of the top by new publishers. In 2021, Voodoo did not have any games in the top 20 games by download, in contrast to 2018, when seven out of the top 20 games were from Voodoo. This can be seen in Voodoo's revenue, which has grown at a much slower pace from 2018 to 2021.
Team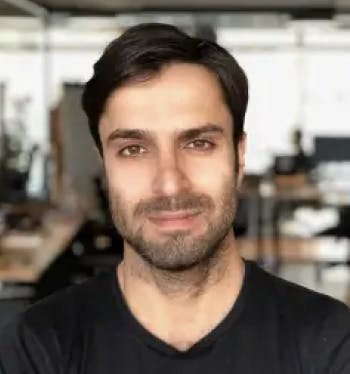 Alexandre Yazdi
CEO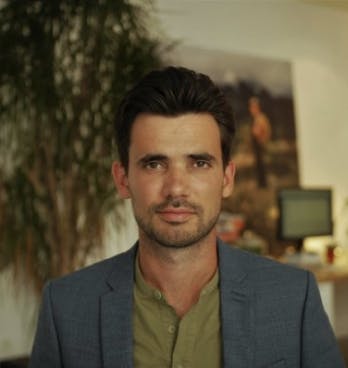 Laurent Ritter
Co-Founder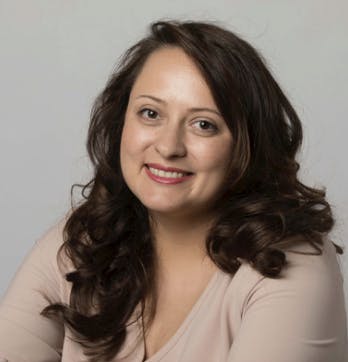 Julie Verlingue
Chief People Officer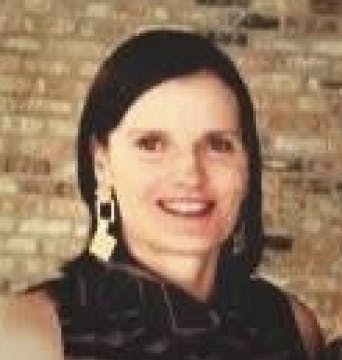 Chief Growth Officer
Marianne Brucy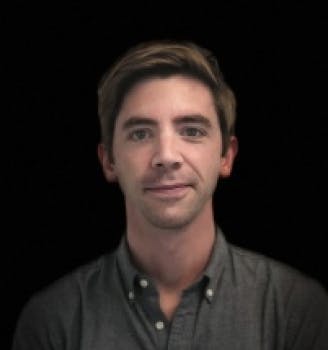 Alexander Shea
Head of Publishing
Fundraising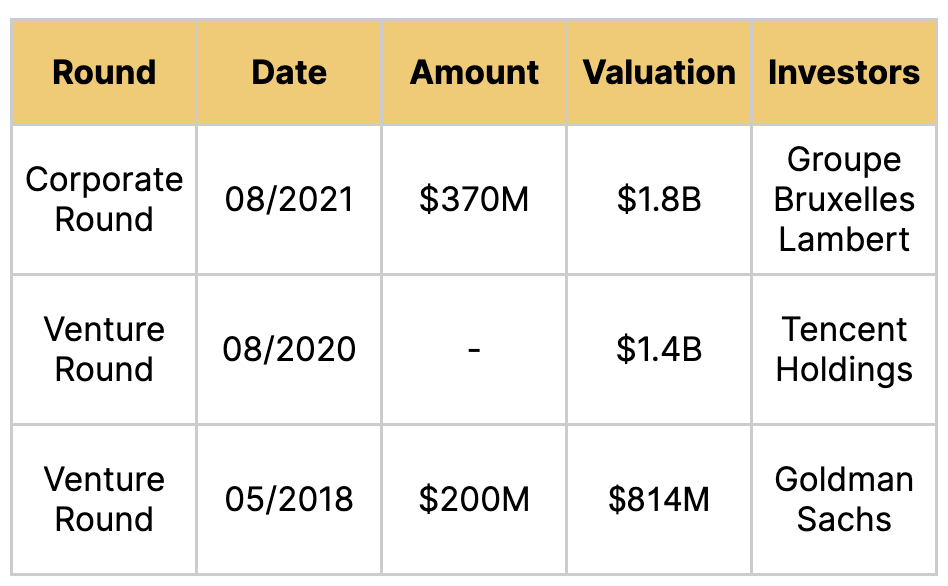 Disclaimers
This report is for information purposes only and is not to be used or considered as an offer or the solicitation of an offer to sell or to buy or subscribe for securities or other financial instruments. Nothing in this report constitutes investment, legal, accounting or tax advice or a representation that any investment or strategy is suitable or appropriate to your individual circumstances or otherwise constitutes a personal trade recommendation to you.
Information and opinions presented in the sections of the report were obtained or derived from sources Sacra believes are reliable, but Sacra makes no representation as to their accuracy or completeness. Past performance should not be taken as an indication or guarantee of future performance, and no representation or warranty, express or implied, is made regarding future performance. Information, opinions and estimates contained in this report reflect a determination at its original date of publication by Sacra and are subject to change without notice.
Sacra accepts no liability for loss arising from the use of the material presented in this report, except that this exclusion of liability does not apply to the extent that liability arises under specific statutes or regulations applicable to Sacra. Sacra may have issued, and may in the future issue, other reports that are inconsistent with, and reach different conclusions from, the information presented in this report. Those reports reflect different assumptions, views and analytical methods of the analysts who prepared them and Sacra is under no obligation to ensure that such other reports are brought to the attention of any recipient of this report.
All rights reserved. All material presented in this report, unless specifically indicated otherwise is under copyright to Sacra. Sacra reserves any and all intellectual property rights in the report. All trademarks, service marks and logos used in this report are trademarks or service marks or registered trademarks or service marks of Sacra. Any modification, copying, displaying, distributing, transmitting, publishing, licensing, creating derivative works from, or selling any report is strictly prohibited. None of the material, nor its content, nor any copy of it, may be altered in any way, transmitted to, copied or distributed to any other party, without the prior express written permission of Sacra. Any unauthorized duplication, redistribution or disclosure of this report will result in prosecution.