Salesforce, Amplitude, and the fat data layer in B2B SaaS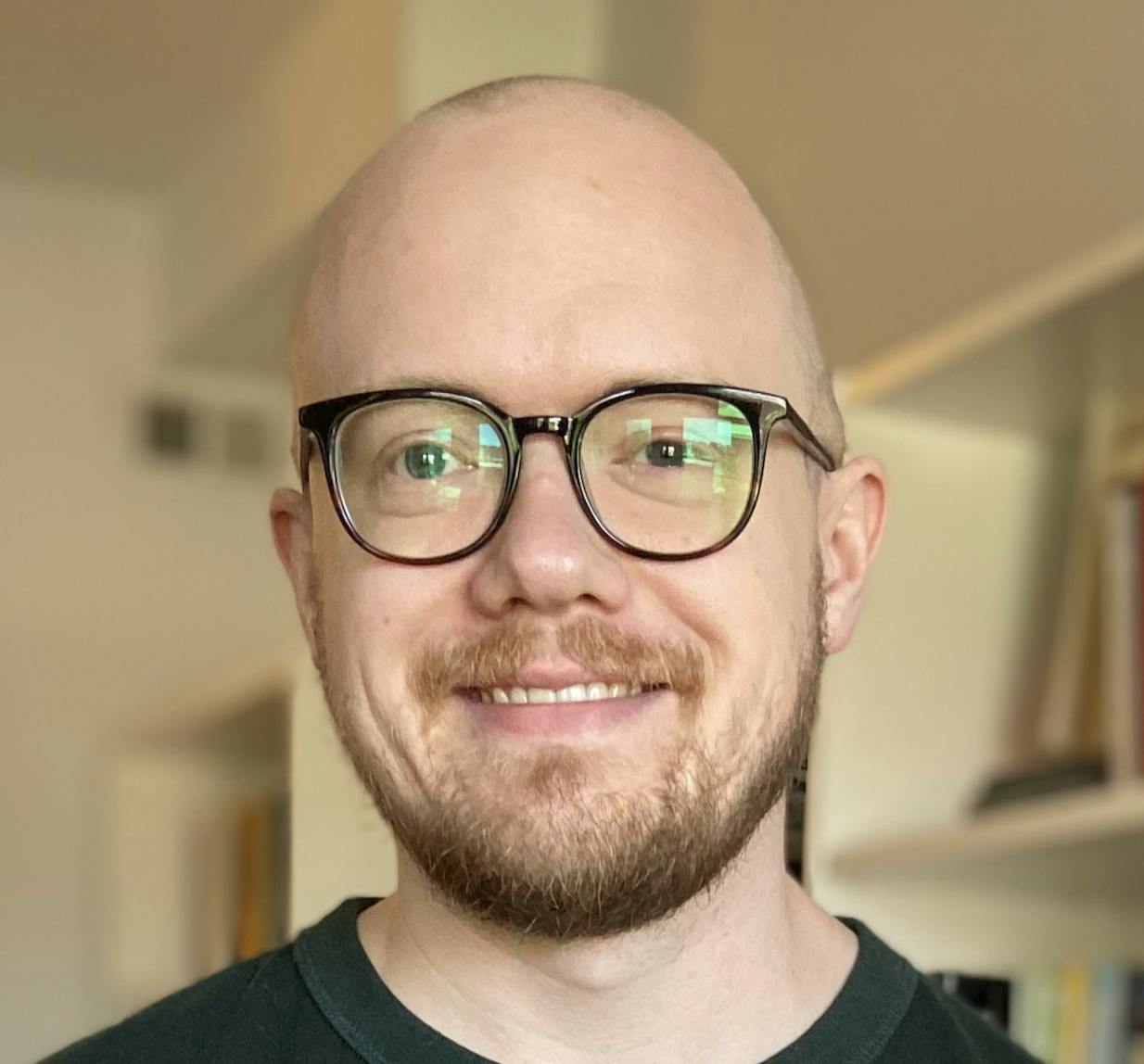 Jan-Erik Asplund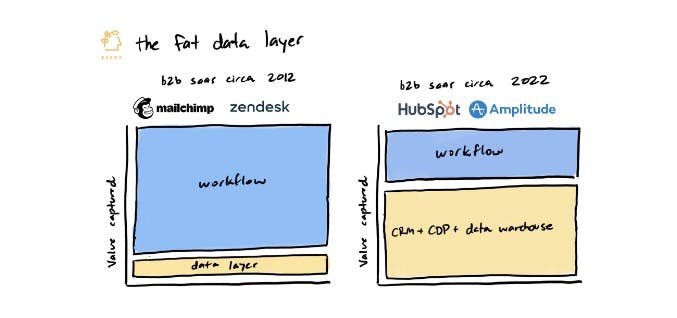 Get more private company metrics, insights, and analysis in your inbox.
Success!
Something went wrong...
Web analytics pioneers like Google Analytics, KISSmetrics and Mixpanel tracked user behavior on your website via a Javascript snippet that you dropped in your app. The snippet would ingest data from your website (and later, mobile apps) and use it to populate analytics dashboards and funnels useful for marketing teams to understand who was visiting.
In 2012, Segment created the first modern customer data platform ("CDP") by accident when they launched analytics.js, a universal JS snippet you could drop into your app to send data to any destination. Instead of dropping JS snippets each individually for Google Analytics for web traffic, Intercom for in-app messaging and Mixpanel for product analytics into your app, Segment enabled you to do it just once and then turn on any destination app to which the user event data would be sent. (link)
Being this core router for customer data made Segment hard to rip out and gave them control over a formidable strategic position inside the customer's application code. Segment's core product-market fit was with marketing and ads teams that wanted an all-in-one solution that would put all of their customer data in one place, clean it up, and allow them to create custom audiences to target. (link)
Just as Zapier threatened to commoditize productivity apps into a catalog of triggers and actions, Segment threatened to commoditize sales and marketing B2B SaaS apps into a catalog of sources and destinations. If you're using Segment to pipe information about your customers and audiences into e.g. Mailchimp, it makes it a lot easier to rip out and replace with a Customer.io than it would be if you relied on Mailchimp to manage your customer data.
In 2011-2012 around the same time, sales and marketing SaaS like Klaviyo and Intercom found strong product-market fit with marketing automation products built on top of beefy CRMs with robust data models and custom fields. They had vertically integrated marketing automation sales and support workflows built on top of a CRM that was populated in part with user data piped in from the JS snippet you dropped in on your site.
As growth hacking came into vogue to combat rising CAC on superplatforms like Google and Facebook, Segment became a core component of the stack—routing data to tools like Braze, Iterable and Klavyio to help send highly targeted messages. Growth teams and technical marketers were moving away from the "batch and blast" approach of tools like Mailchimp and building personalized campaigns based on the actions users were taking in their apps. (link)
Segment hit $10M ARR growing at 300% YoY with the rise of Amazon Redshift, with the CDP the best fit at the time for sending data into a cloud data warehouse. The launch of Redshift was a seismic shift for the industry that drove insane PMF for Segment, which was perfectly positioned to ride the wave of companies suddenly wanting to pipe all their data into a data warehouse.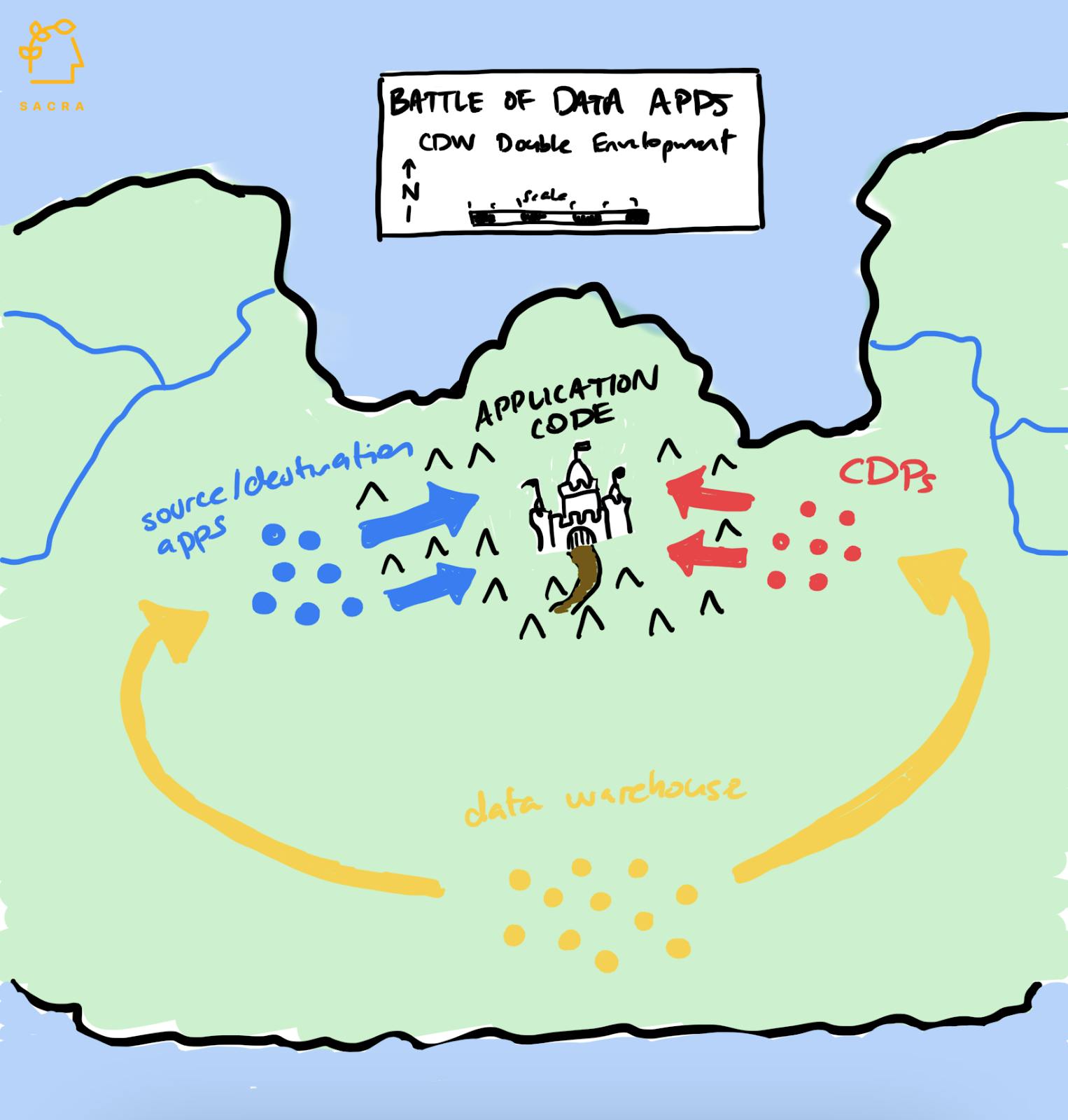 While CDPs like Segment had closed ecosystems, bringing data into the warehouse brought it into an open ecosystem where everything played nice via SQL, enabling companies like Fivetran and Airbyte (data integration), dbt (transformation) and Census and Hightouch (reverse ETL) to break off pieces of what Segment was doing and do them native to the warehouse. By decoupling data storage from the integration and transformation, tools like Fivetran and dbt enable teams to work across heterogeneous data sets and tooling. (link) 
The rise of the product-led growth ("PLG") playbook came in reaction to the siloed nature of growth hacking, and required teams to ingest a much larger number of data points, further drove the growth of the data warehouse. Where growth hacking was predicated on ad hoc experiments run primarily by growth teams, PLG relied on a more interdisciplinary collaboration between marketing, sales and success.
To fight back, CDPs launched private label source/destination apps that competed with their catalog of integration partners—Twilio with Engage in 2021, mParticle with Indicative in 2022—to serve customer needs end-to-end (expansion revenue) and keep their customers' data in their ecosystem (retention). To compete with data warehouses, the CDPs have tried to do "just enough" for their customers—maintain that canonical user model and ship their data into a range of other apps—so that they don't have to go use a data warehouse.
In the last few months, source/destination apps like Amplitude and Klaviyo have launched their own CDPs to reduce friction in piping data to increase lock-in to the vendor ecosystem and drive revenue retention. Getting a customer's data into your tool is a big onboarding hurdle—but once it's in, it becomes more difficult for that customer to leave.
Under the threat of the center of gravity of customer data shifting to the data warehouse, SaaS platforms like Salesforce and Amplitude are building direct integrations so customers can pull data from and push data to Snowflake. By using a SaaS tool's CDP with a direct integration to the data warehouse, it can make it easier for companies to both push data into Snowflake and pull data from other tools into that SaaS.
An increasing amount of value is now accruing to the "fat data layer" made up of the CRM, CDP and the data warehouse, in contrast to 10~ years ago where most value in SaaS accrued at the workflow layer. We've gone from tools like Mailchimp with their thin, native, siloed CRMs to tools like Klaviyo with their own in-built CDPs and integrations into other tools and the data warehouse.
The upshot is that today, every SaaS family of products like Salesforce, HubSpot—and rising ones like Amplitude—need a CRM, a CDP, and data warehouse integrations. Just as every social app from Instagram to Reddit to Twitter built out DMs in the wake of Facebook Chat, every SaaS tool is protecting its strategic positioning by building a CDP and giving users the ability to pipe in data and pipe it back out into a data warehouse.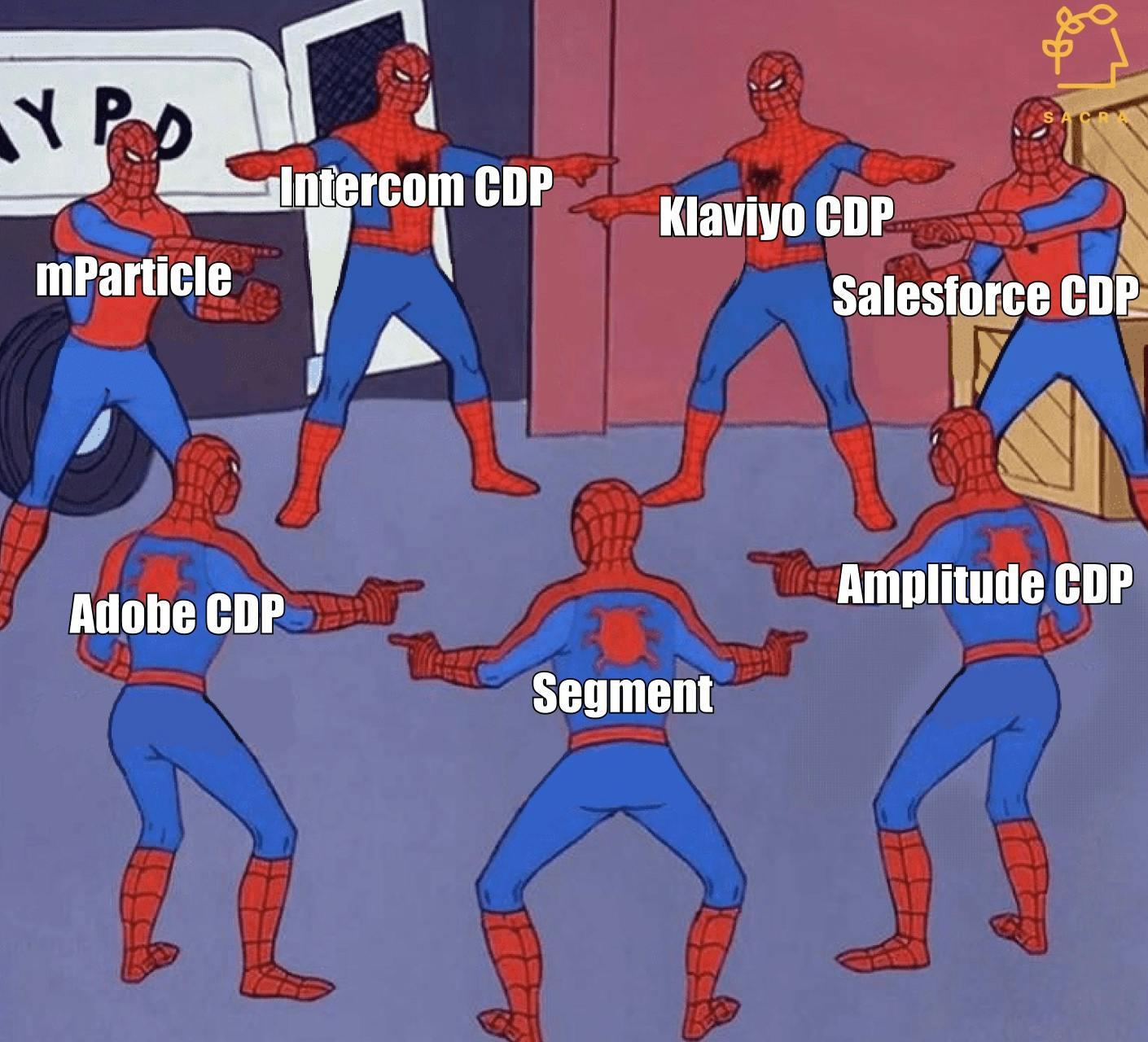 Read more from
Read more from