Pulkit Agrawal, co-founder of Chameleon, on software that drives product adoption
Featuring
Chameleon is a platform that helps companies onboard new users and drive engagement.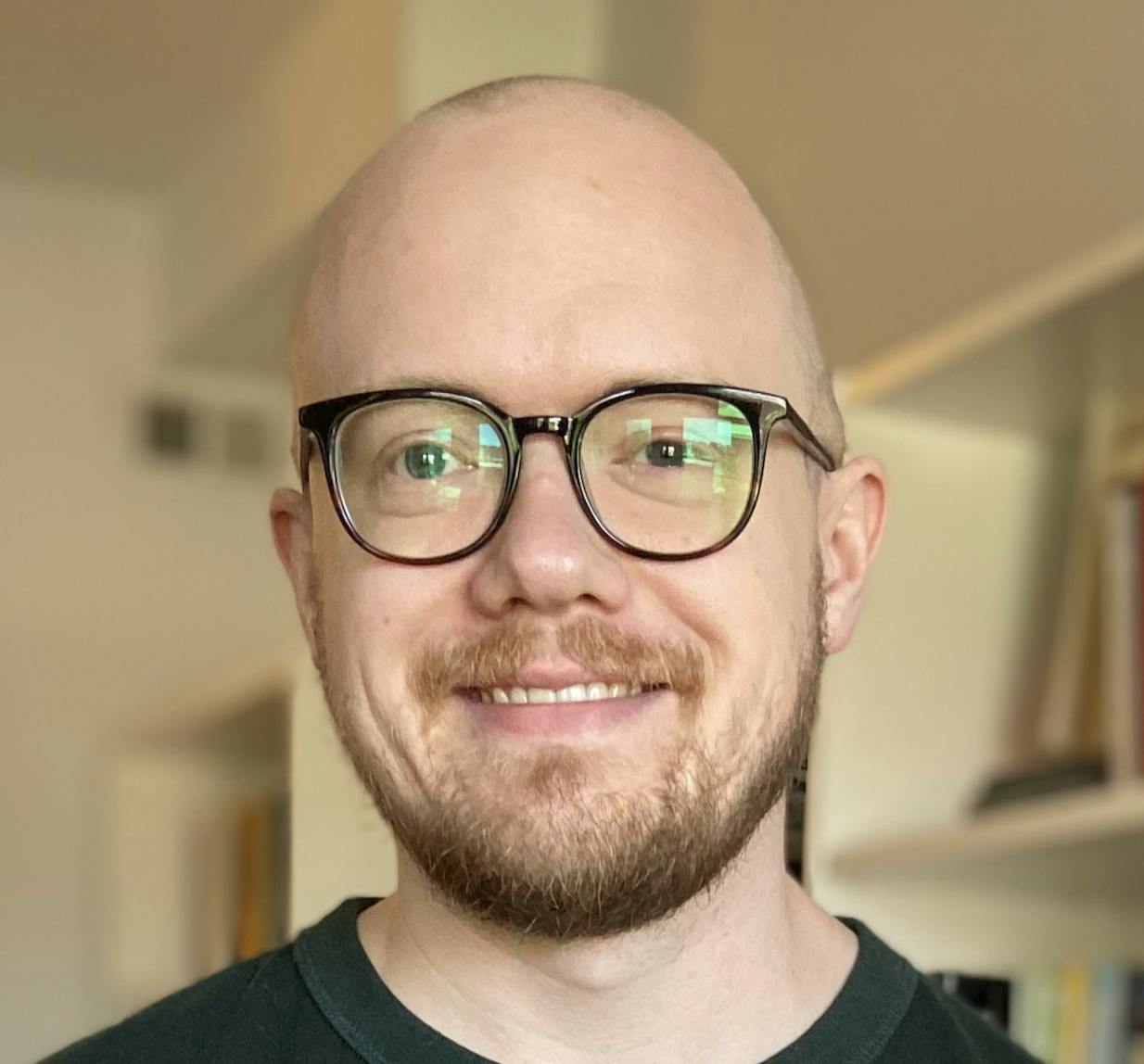 Jan-Erik Asplund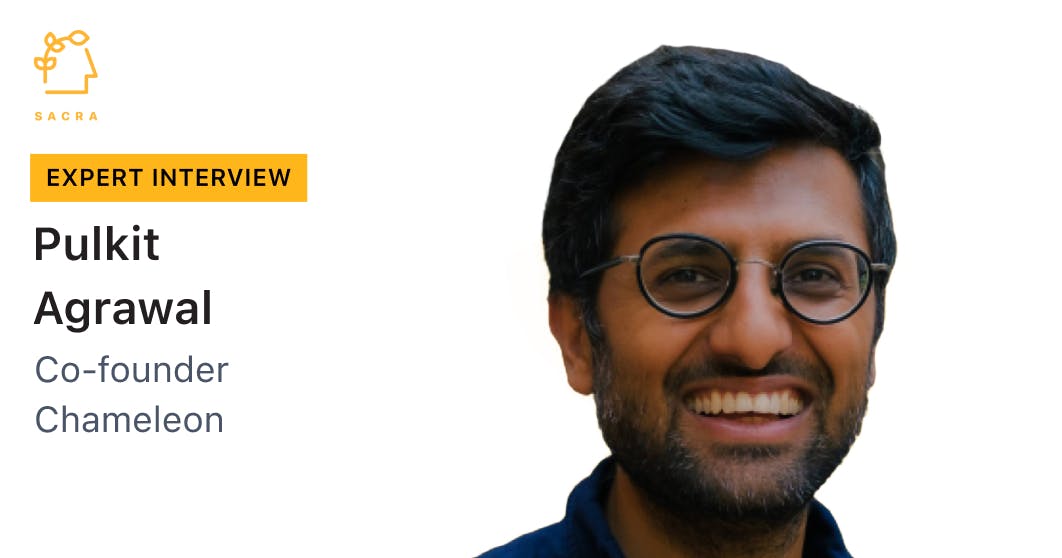 Background
Pulkit Agrawal is the CEO and co-founder of Chameleon. We talked to Pulkit to better understand the product-market fit of customer onboarding and activation tools, Chameleon's positioning with respect to companies like WalkMe and Pendo, and the transition from generation 1 customer onboarding tools to generation 2 and generation 3.
Questions
Interview
Chameleon is a platform to help you drive more usage of your product. You can use it to create product tours for onboarding, but also for banners, for downtime, micro-surveys to collect customer satisfaction, as well as checklists and launches to enable people to discover new features.
There's a whole variety of use cases, but the mission is about making it easy to personalize your user experience so that users get what they need to help find value in the product.
You've been building Chameleon for eight years. What did the initial product-market fit look like, and how has that evolved over time? How did you find that product-market fit, and then what does it look like today?
I think it looks better today than it was before, but we got validation of our problem pretty quickly when we were starting out Chameleon.
We talked to a bunch of people and they all said user onboarding was really important, but they only ever fixed it like once a year, and it was a big cross-functional effort, it took a lot of time and it didn't feel like the iterative process that it needed to be. It's quite similar to website conversion in a way, where people are making a judgment or a decision when they're on the website of whether they want to move forward.
Nowadays, they do a lot of that in the product, they're making a decision and evaluating, so it needs to be iterative. But initially when we went to market, we were very focused around that single use case of user onboarding, less so around product-led growth, feature adoption, upsell, all of that stuff that it's evolved into.
One of the biggest differences that informed product-market fit in the early days is we were a fully self-serve platform. Now, a fully self-serve platform combined with technical implementation and working within someone else's product, combined with a new category—people didn't really know how to do this before—all meant that we didn't have a solid product-market fit. We had pretty high activation churn, people couldn't figure it out and would leave after a few months. We had people use it as a set and forget thing. Like, "Oh, let me build my one welcome tour, and then I'll forget about it for a year."
Eventually, we pivoted to a sales-assisted motion—which, essentially, is still product-led in many ways, because you can sign up without speaking to anyone. You can still try the product, you can install the product, there's a sandbox, you can put a credit card in—it's still product-led, it's not sales-led. But we do offer an assisted trial, we have customer success, but it also meant we were able to work with bigger companies for whom this thing was actually really valuable.
Our initial customer might have looked like a five-person start up—today, it's more of your 300 to 500 person, Series B or Series C type of company, where there's a growth PM or someone in a product marketing function responsible for driving adoption, something like that—versus just a founder being like, "Hey, let me hack together a few things."
Through that time, it seems like the category that Chameleon is in has changed a lot, and I'd love to get your perspective on how the category has evolved.
Yeah, the category has a crappy name, which is digital adoption platforms. I didn't name it—it was named by the OG of the category, which is WalkMe.
WalkMe started out as a tool primarily for training people on Salesforce. So you have a bunch of sales reps all needing to use your CRM effectively and how do you train them? That's where it began—it sold to internal teams. That was the V1 training-oriented product.
V2 is when Pendo came along. Pendo had a good insight, which is, "Actually, if you're going to be effective with in-product experiences, you need to have some good data about how people are using the product."
When Pendo was founded, all of the analytics products that were available at the time, like Mixpanel, Amplitude or even Heap, didn't give you the data. They didn't offer data to any other tool. They were greedy with data. You could send data to them from different places, but the data would stay there for visualization and analysis. Pendo had this insight that if they do data and in-product experiences together, that will give people a chance to be more effective. That, I think I would call it the V2 of the category. Appcues came around the same time following the same trajectory, where they offer click-to-track analytics and they're going broad.
Now there's a new age of tooling that's coming about, which looks slightly different from a Pendo or a WalkMe. You've got a CommandBar which has search functionality, but it offers some in-product experiences. You've got a Candu, which is about building core web app functionality on the interface. You've got Dopt, which is a solution focused for engineering teams, so it's not a low code solution, it's a code solution.
It's interesting because they're also attacking the same problem today and they're getting funded today, which tells us that this category has not been nailed. The promise of product adoption has not been met, and that's what we are trying to solve for now is, "Hey, we don't want to do the stuff that the old players did," but we have a level of maturity that allows us to lean in and do more innovation and really get to the point of product adoption, which is personalized UX rather than these annoying popups, which is what some people might have the memory of with using these tools.
Would you lump MagicBell into the third group, or other infrastructure for notifications or specific trending product features that it feels like everyone needs, like you mentioned CommandBar?
The boundaries become fuzzy. We're seeing more tooling for product teams now than we did before, and there's componentization of functionality. And there's others like Courier and others that do notifications in-app on mobile, push.
That's maybe more of an evolution of the infrastructure that Twilio created. I don't think it's direct, but I think it's an open question, how much engineering do teams want to put behind this versus how much freedom do they want to give their teams to run without requiring engineering each time.
You mentioned generation one versus generation two, and this notion of where the analytics live. Now, with the modern data stack, data is moving around between all these tools, coinciding with the rise of PLG. How has PLG and the modern data stack changed the user onboarding category, and also the nature of customer demand for Chameleon?
I'll talk about both. I'll talk about PLG and then modern data stack.
PLG—essentially it's a new name for the old self-service, firstly—it's not a particularly special new concept, but it's a good reframing, and it's led a lot of companies to rethink how they do product-led growth and self-service. Companies that used to be very sales-led, and were comfortable being sales-led, have had a chance to rethink how they enable this.
Naturally, it's led to a demand for solutions like Chameleon, because we do very much enable that kind of motion. You can show upsell prompts at the right time to the user.
Disclaimers
Read more from
Read more from