Gumroad: The Android of the Creator Economy that Powered $142M in GMV
Featuring
Gumroad is an online checkout for creators.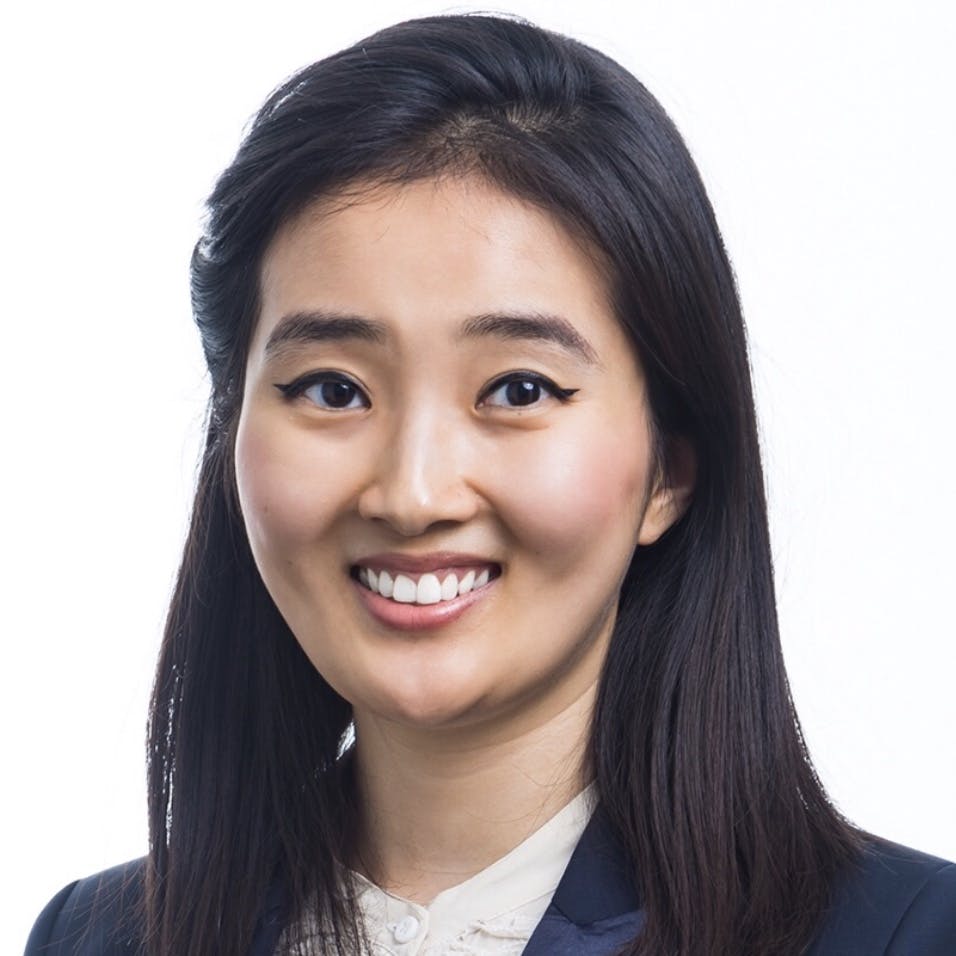 Nan Wang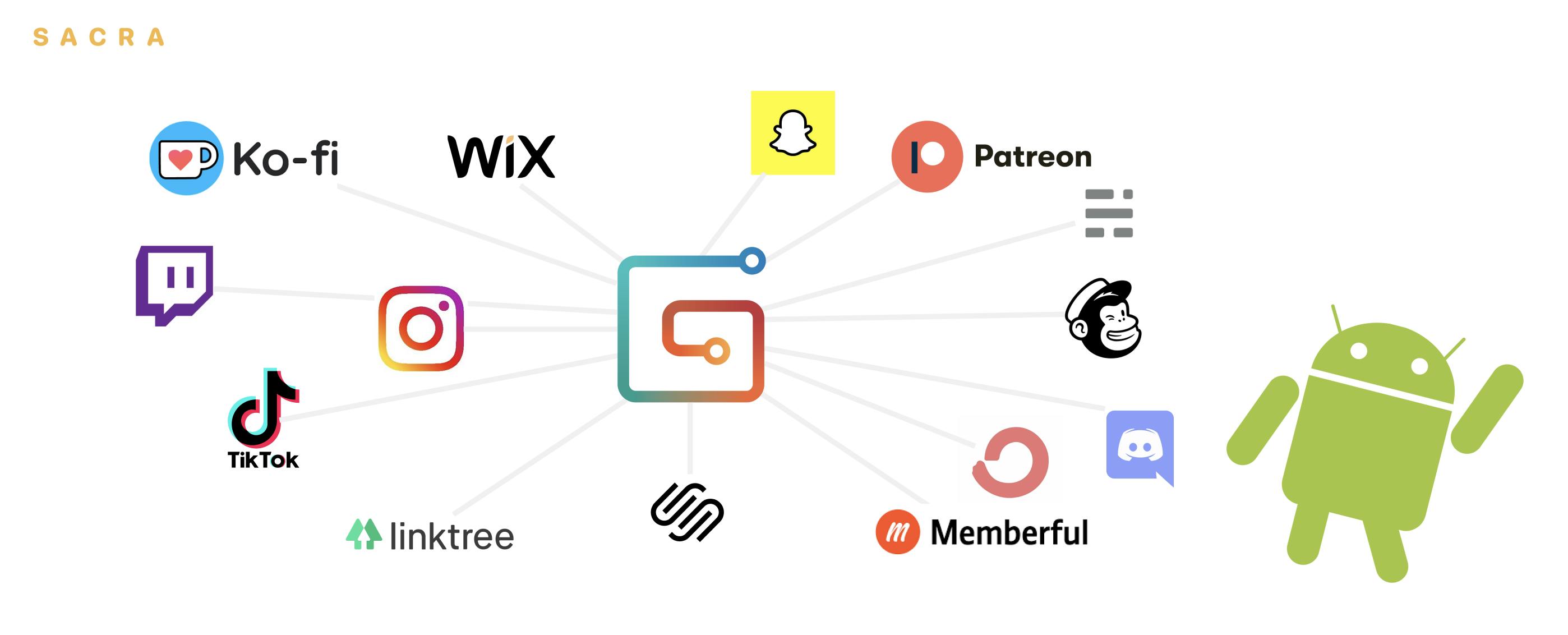 This report contains company financials based on publicly available information and data acquired by Sacra during the preparation of the report. Sacra did not communicate with Gumroad or receive any compensation from Gumroad for the report. This report is not investment advice or an endorsement of any securities. Click here to read our complete disclaimers.
The checkout layer of the creator economy
Join our list for more of our exclusive private markets research and company coverage.
Success!
Something went wrong...
When Gumroad CEO Sahil Lavingia had to lay off almost his entire team six years ago, he made the decision to keep the startup running instead of shutting it down because of the thousands of creators who'd come to rely on their Gumroad products to make a living.
The company redoubled its commitment to serve those creators. Revenue grew slowly, just cracking $3M a year in 2018. Gumroad seemed destined to stay what VCs call a "lifestyle business" forever.
Then came 2020 and COVID-19. Gumroad's gross merchandise value doubled from the previous year to $142M, while revenues nearly doubled to $9M on sales to nearly 600,000 customers. Only 180,000 people had made purchases on Gumroad in 2018, demonstrating that sometimes the key to building a big business is staying alive long enough.
What's becoming clear today, as the creator economy explodes, is just how big and non-zero-sum that business could be. As the massive and fragmented creator ecosystem has begun rebundling, two distinct types of businesses have emerged: all-in-one "Apples" and interoperable "Androids". 
The all-in-one platforms, like Apple products, index on end-to-end cohesion rather than integrating with other platforms. They allow creators to do their production, distribution, marketing and community management all in one place.
Gumroad, on the other hand, like Android, has focused on building for extensibility and interoperability, creating a checkout experience creators can use to sell digital goods to their fans no matter what other platforms and tools they want to use.
Rather than do everything, Gumroad has focused on doing one thing well. That's made Gumroad's business relatively unsexy, but it also makes it resilient—along with Gumroad's bootstrapper mentality, history of creator alignment, and low fees, it's helped them earned the trust of their creators. And that trust may buy Gumroad the time that they need to build the creator checkout of the future.
Key points
Gumroad is an online checkout and product page for creators. The site began as a way to host and sell digital downloads but has recently expanded to memberships and physical items.
Gumroad will likely price itself at $100M pre-money in its March 2021 crowdfunding round. For Gumroad to produce a double-digit internal rate of return (IRR) for investors at this valuation, our model indicates Gumroad needs to grow about 40% per year for the next ten years through a combination of revenue growth and margin expansion.
Gumroad is popular with creators making under $10,000 per year because of their low, transaction fee-based costs for beginning creators and ease of setup and onboarding—above $10,000 per year, creators reach an equilibrium point where going to a vertical-specific SaaS platform can cost the same but provide more features.
COVID provided strong tailwinds to growth beginning in March 2020. Gumroad facilitated $142M GMV over the course of the year, up 94% from $73M in 2019. Their five-year GMV CAGR is 37%.
In 2020, the company generated just over $9M in revenue. Revenue has been growing broadly in line with GMV, mainly due to its stable take rate of around 6.5%. That's significantly lower than other marketplaces like eBay (10%) and Cameo (25%).
Gumroad's gross margin increased from 20% in 2016 to 35% in 2020. Gumroad became profitable in 2017. 
Gumroad has low switching costs. That said, Gumroad has a strongly creator-aligned brand and a strong rate of adoption with new, beginning, and lower-income creators.
Gumroad has built a company that does one thing well—product pages and checkout—while companies like Teachable, Kajabi and Podia have built all-in-one platforms to enable creators with their marketing, communication, content and distribution.
By serving the 'head' of the creator ecosystem, these kinds of all-in-one platforms can drive higher ARPU and LTV. The low-income and beginner creators that Gumroad is focused on serving, meanwhile, have been externally benchmarked churning at rates as high as 20% per month.
Ultimately, however, Gumroad's creator-alignment and tight focus on checkout may be to its advantage. By indexing on interoperability and leveraging their marketplace's scale like Shopify did, Gumroad has the opportunity to build the dominant checkout platform for the creator economy.
In our bear case, high churn cuts into Gumroad's primary customer base and the company also loses higher-income creators to more fully-featured platforms. In our bull case, Gumroad becomes a $1B company and a core platform of the creator economy.
Valuation: How Gumroad can justify its $100M price tag
Gumroad will likely price itself at $100M pre-money in its March 2021 crowdfunding round. For Gumroad to produce a double-digit internal rate of return (IRR) for investors at this valuation, our model indicates Gumroad needs to grow about 40% per year for ten years through a combination of revenue growth and margin expansion.
This kind of growth is not out of the question. Over the last 5 years, Gumroad's GMV has grown by a CAGR of 37%. Gumroad hit $142M gross merchandise value (GMV) in 2020, up 94% from $73M in 2019.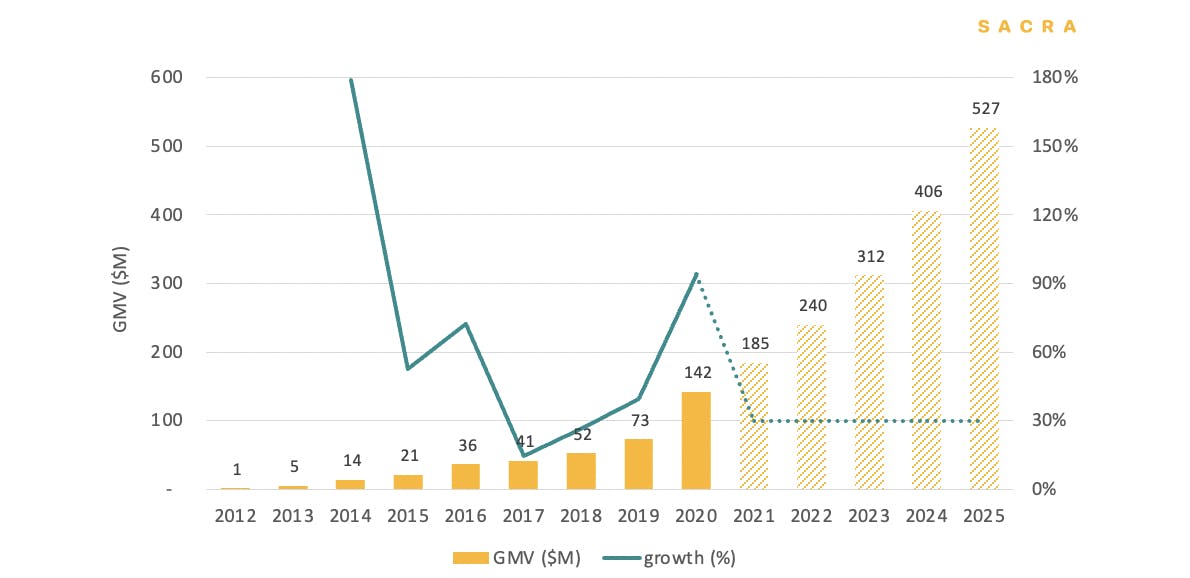 Gumroad facilitated $142M GMV in 2020, up 94% from $73M in 2019.
GMV growth per creator and per buyer has been a modest +15% and +6% respectively, on par with larger peers, such as Shopify and Etsy.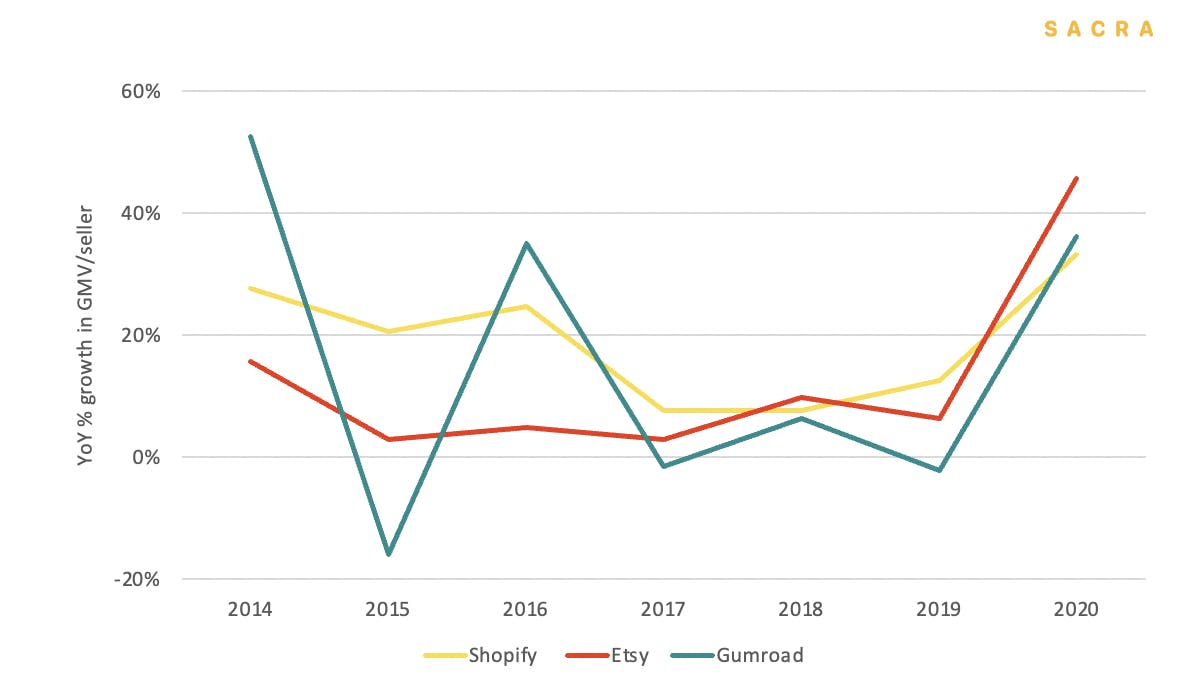 Growth in GMV/creator has been broadly in line with larger e-commerce peers.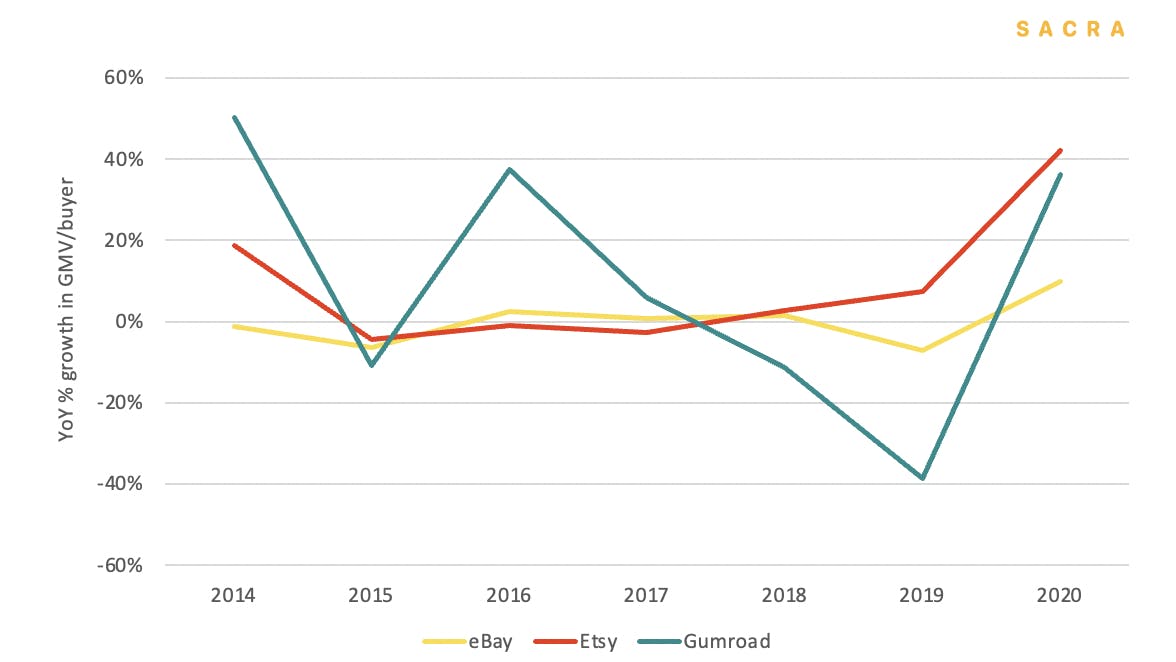 Growth in GMV/buyer has also been in line with larger peers, albeit more volatile. 
Gumroad generated $9M in revenue in 2020, up 84% from 2019. Revenue growth has been in line with GMV growth over the last several years, mainly due to a stable take rate of around 6.5% overall.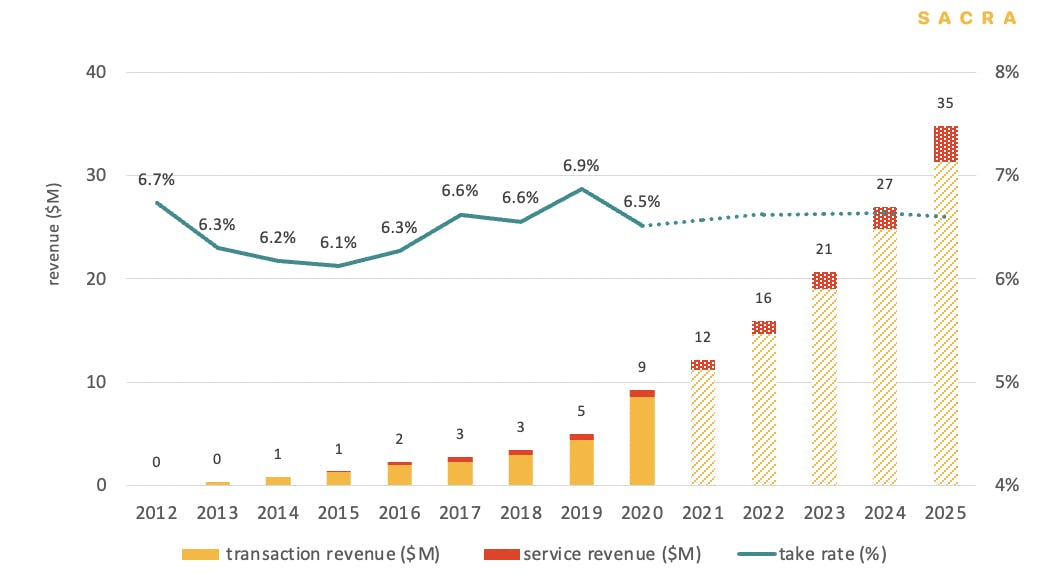 Transaction-based fees account for 92% of Gumroad's total revenue and grew 92% year on year in 2020. Services revenue accounts for the other 8% and comes from services like the $10 per month subscription that gives creators access to a lower take rate and custom CSS.
Our base and bear cases for Gumroad depend on execution—how well Gumroad can continue to serve creators and maintain its current levels of growth—while the bull case depends on more rapid creator economy adoption and retention. 

Our bear, base and bull cases show a ten-year IRR of 0%, 10% and 30% respectively. 
In our base case, we assume Gumroad grows around 40% per year for the next ten years. Gumroad continues to grow the overall number of creators on the platform while also expanding GMV per creator.  
In the bear case, Gumroad struggles to empower its lower-income creators to gain upward mobility, while losing higher-income creators to other platforms. Mobile-native web builders and tools could also attract beginner creators with other low-cost offers.
In the bull case, Gumroad builds the $1B central checkout of the creator economy by focusing on building an open platform and helping creators optimize at the point-of-sale.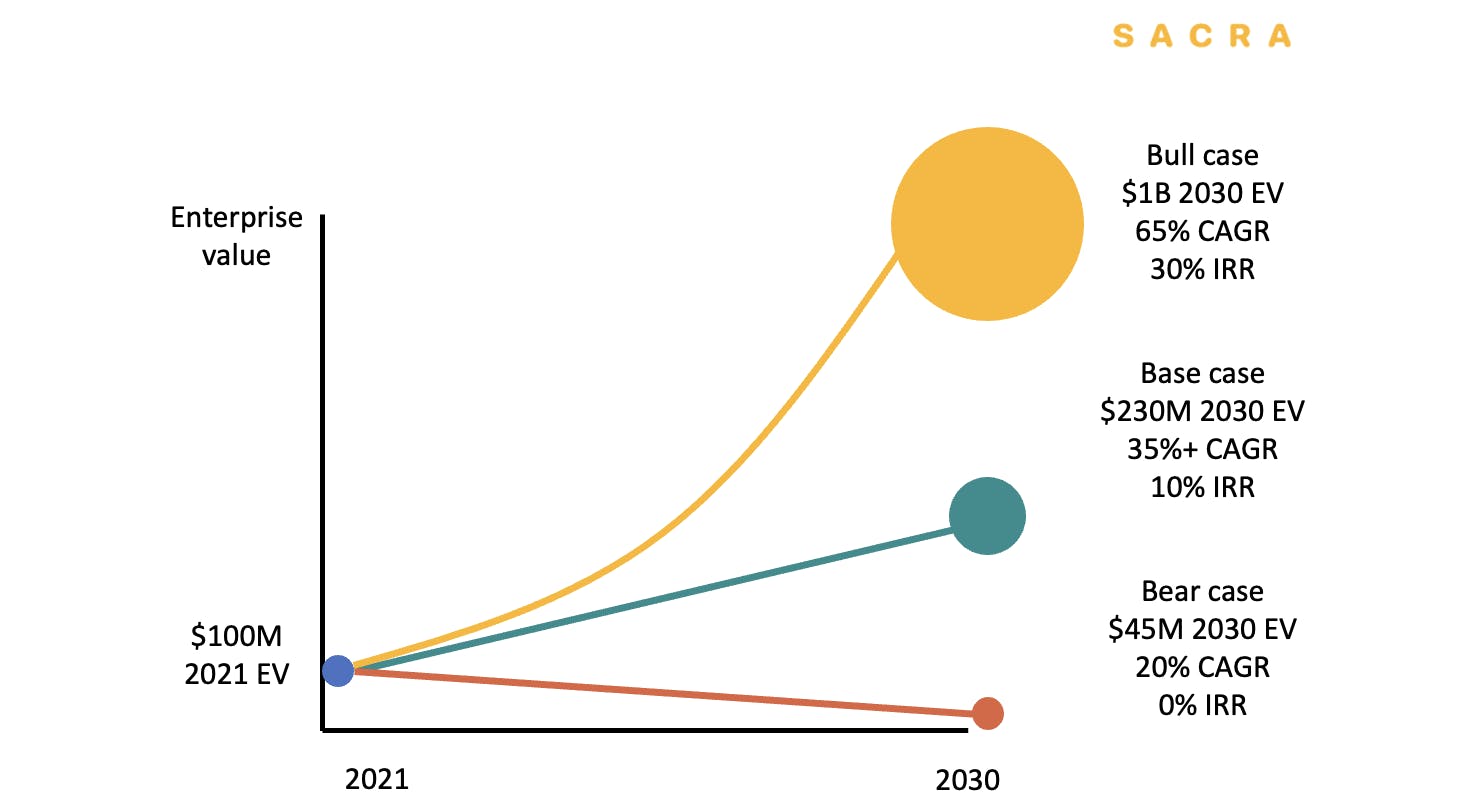 In the bear case, Gumroad fails to grow its share of the market and loses creators to churn. In the bull case, they continue to improve creator monetization via their checkout product en route to building a $1B business.
The creator economy is in a similar position to e-commerce in the mid-2000s, when consumer behavior changes and infrastructure improvements powered a long growth runway. Our base case assumes year-over-year earning growth of 38% for the next ten years, but Gumroad's growth rate and runway, due to the inherent unpredictability of the creator economy's future, could be much higher.
As an executive at one of the creator economy companies we interviewed for this report said, we are at an inflection point in history, and no one knows how big it is going to be:
I think the most important overriding thing, and this is true for Gumroad, it's true for any creator economy company, is that this is where e-commerce was in 2005 when Shopify was trying to raise money and investors didn't understand what the TAM was, because they thought it was just going to take over some of the market share of people currently selling on Amazon. (Click here to read the full interview)
While the exact TAM and current penetration are difficult to come by, we think a long growth runway is plausible from both offline to online migration and TAM expansion. 
To further contextualize the growth rate implied by Gumroad's $100M price tag, we have modeled the following key assumptions. 
We do not assume any take rate expansion because Gumroad wants to prioritize utilities for creators. Charging a higher take rate would contradict this goal.
We assume that revenue grows at 30% CAGR in line with GMV growth before reaching a 3% long-term growth rate in 2031.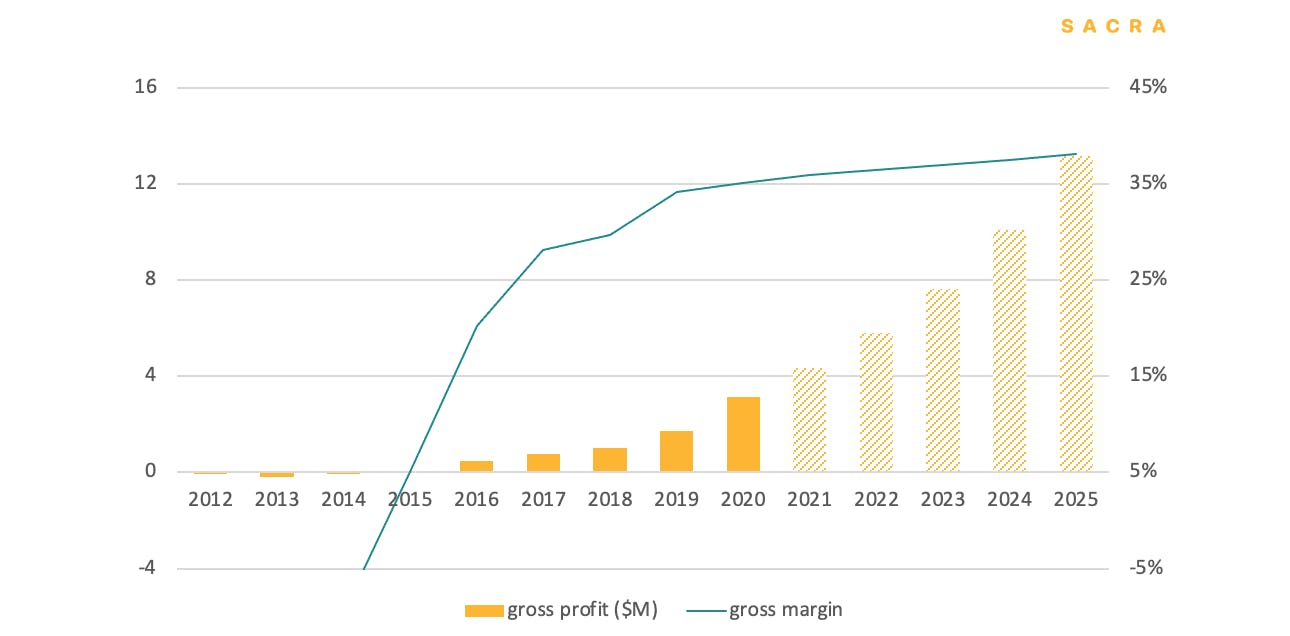 Given the high variable cost associated with content hosting, we assume a minimal gross margin expansion, from 35% to 40% by 2030.
We assume a minimal gross margin expansion from 35% in 2020 to 41% by 2030. Our primary research suggests that most of Gumroad's COGS would be content hosting costs, which do not benefit from economies of scale. 
We assume the operating margin would expand from 6% in 2020 to 13% by 2030. Gumroad has been capital efficient in its growth. It benefits from an organic referral mechanism in its customer/creator acquisition. 
Gumroad does not have the same risk/reward profile as a classic early-stage private investment. Nevertheless, Gumroad has more financial independence, which allows Gumroad to prioritize creators and build long-term alignment.
Product: The creator's checkout page that processes $142M a year
Gumroad is a platform for creators to host and sell products directly to their customers. Launched in 2011 as a way to easily share and sell digital downloads, Gumroad today supports more than 18 product categories, including animations, e-books and digital music as well as physical products and Patreon-like memberships.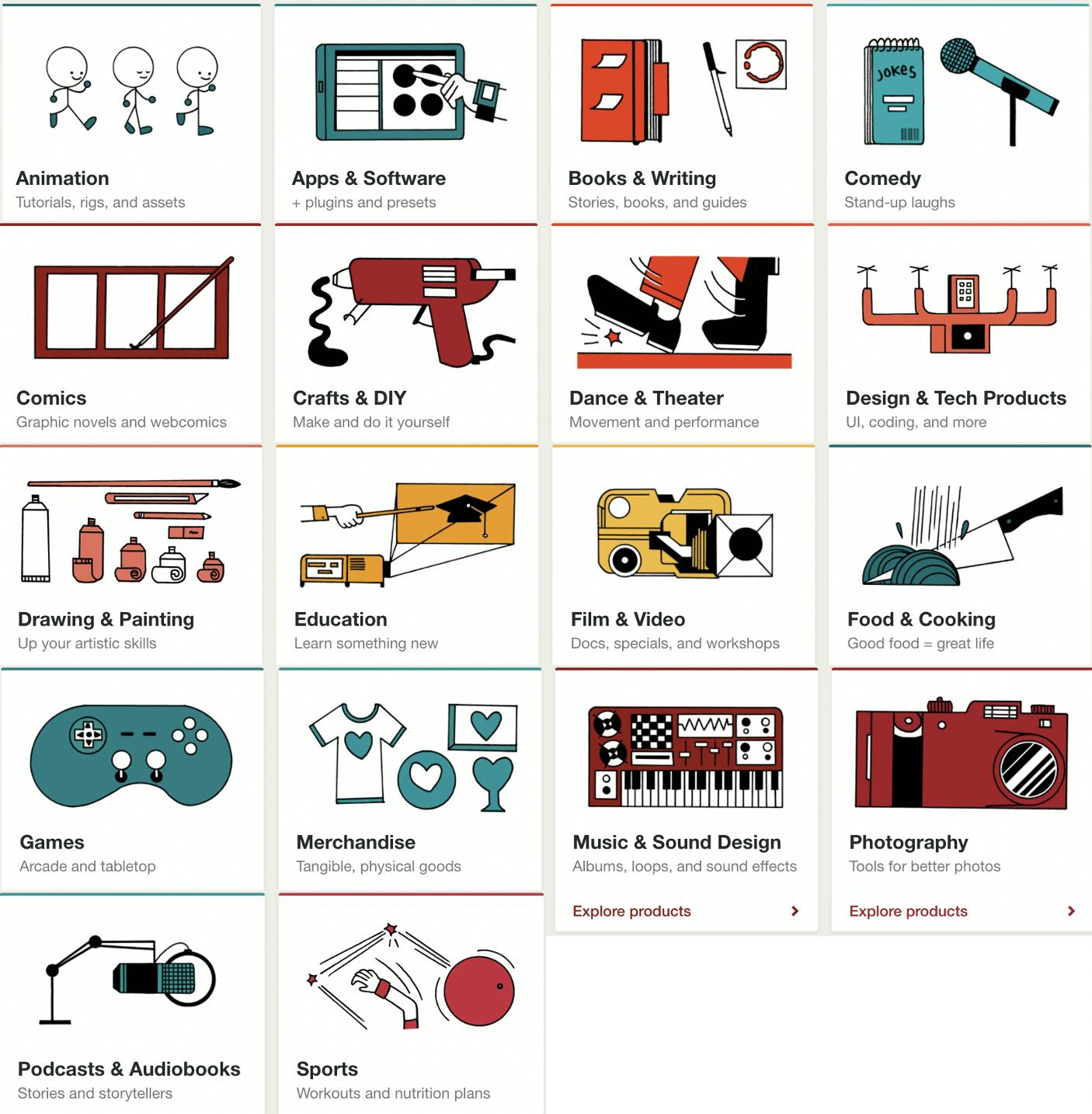 Standardized infrastructure enables creators to sell online goods across a number of categories with minimal technical effort. 
Creators upload their product to Gumroad, add a name, preview image and product description, and then accept payments through credit cards or PayPal.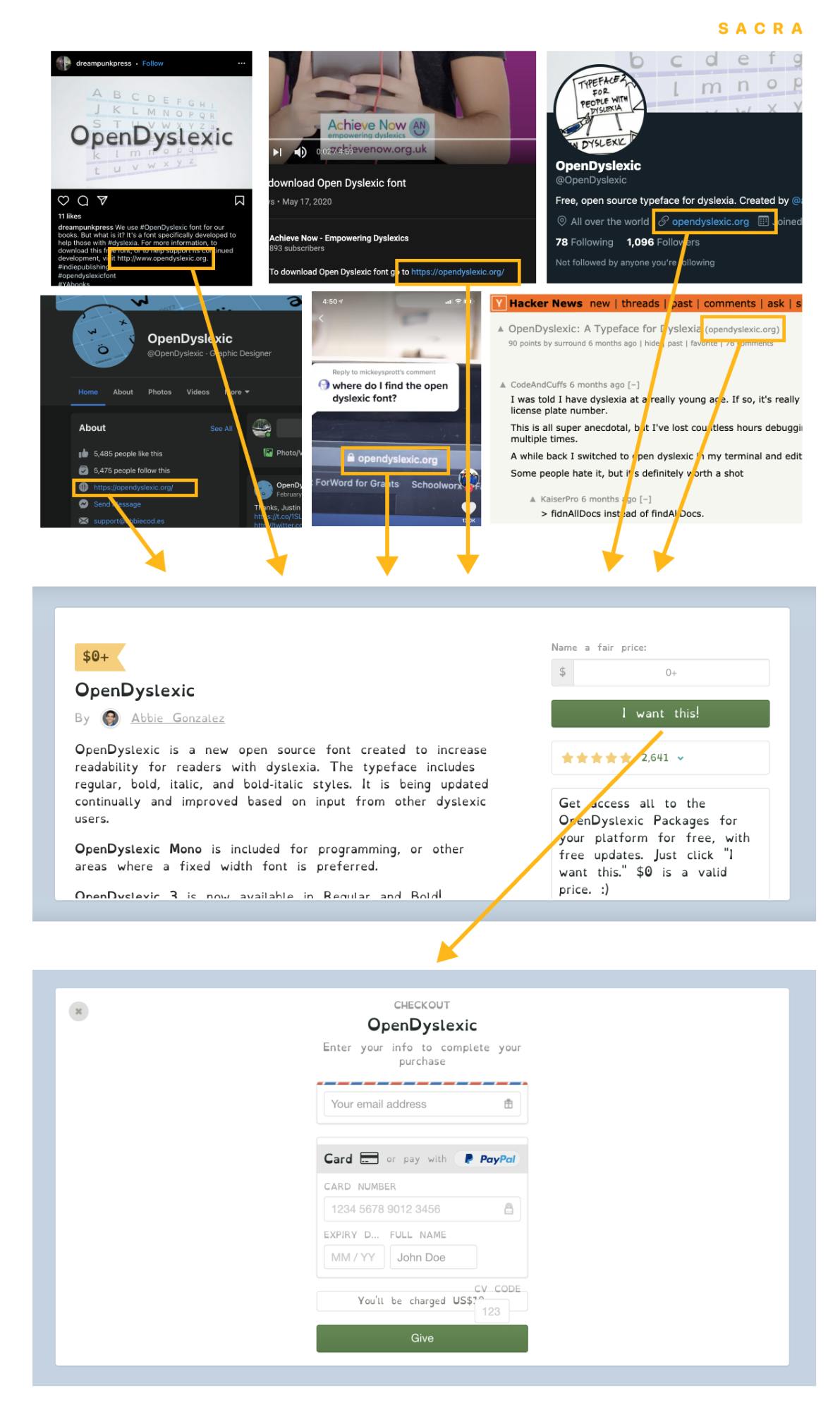 Gumroad provides a simple purchase flow and payment processing from any platform.
Creators can put their Gumroad link anywhere in order to bring people to their personal checkout: in their TikTok bio, in a pinned message in their Discord community, in an email, and so on.
Using their unique Gumroad link, creators can either direct customers to their Gumroad landing page or embed a checkout widget on their personal website, which allows them to sell directly from other online presence and incorporate Gumroad into their sales funnel.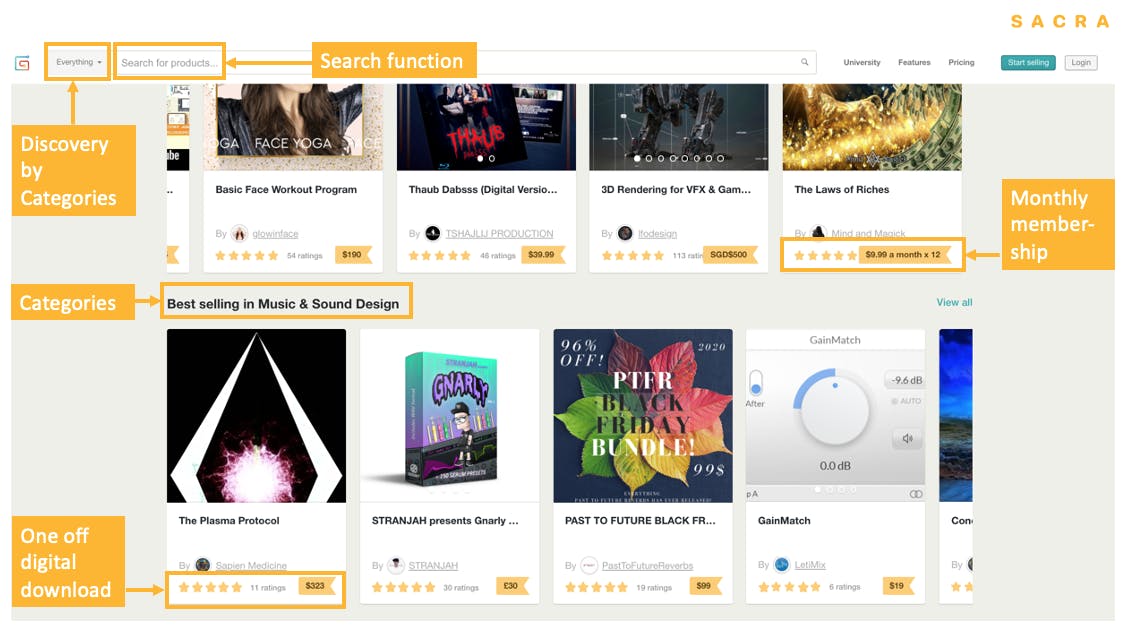 Gumroad also intends to help creators to solve discovery through its marketplace. 
Gumroad also provides Discover, a marketplace for Gumroad creators that can drive incremental traffic and be a source of inbound sales with no additional effort from creators. 
Gumroad has two pricing tiers and charges an additional 10% take rate on its marketplace. 
There are two types of business models in the creator economy, marketplaces and SaaS. Gumroad is a hybrid of both. It has a standard and a premium pricing model. It also charges an additional 10% take rate on products sold via the marketplace.
A major advantage of selling via Gumroad, as opposed to via a third-party middleman, such as eBay or Amazon, is that creators can build an email list of all their customers. Through this direct-to-consumer approach, creators can provide after-sales services and have the option to build a community. 
Besides this core business, Gumroad also hosts University, a suite of educational materials for beginning creators, and is rolling out infrastructure to support online courses in 2021.
Analysis: Why the creator economy split between Apples and Androids
The rise of the creator economy unbundled the functionality of platforms like YouTube that were at the forefront of the first wave of creator monetization. Vertical solutions emerged for everything from content production to discovery to marketing and community.
But as the market for creator tools has exploded, fragmentation across functions and data gaps have made it become increasingly challenging for creators to get a bird's eye view of their business.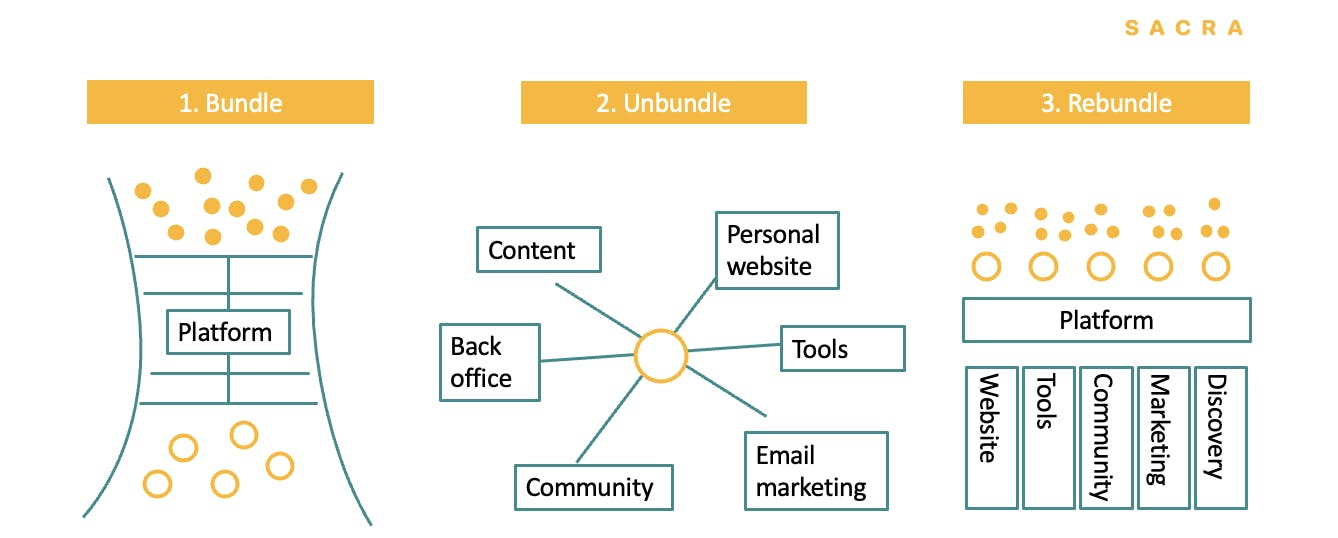 As the creator bundle represented by tools like YouTube and Twitch has given way to a market of verticalized solutions, the need for a unified creator view has grown. 
We're now seeing a rebundling in this ecosystem across two kinds of platforms:
"Apples": comprehensive, all-in-one suites that help creators manage their businesses—Kajabi, Teachable, Podia, Stir, etc.
"Androids": interoperable, flexible solutions that solve a core need—Gumroad, Patreon, etc.
Gumroad's 'Android' approach, built as it is on the principles of interoperability and adaptability, could end up being a great fit for a highly independent, pro-creator industry that's still in its early days. Innovations like NFTs could drastically change the way creators monetize over the next few years, making flexibility key, while concerns around data portability—the ability to export your own email list with your customers, for example—present an inherent challenge to would-be all-in-one platforms.
Gumroad's bootstrapped mentality has kept it from expanding its scope as all-in-on creator platforms have propagated, and as a result it's remained (mostly) a product page and checkout tool. 
But that niche quality, in the end, could be key to Gumroad's ability to thrive in an ecosystem where creators are still innovating and the structure of the market is still shaking out.
1. How Gumroad built a $9M/year business being creator-aligned
Gumroad's success has been built in large part on its popularity and alignment with low-income and beginner creators—it's easy to get a store with digital products up and running, and the fees make it the most cost-effective platform at lower sales volumes.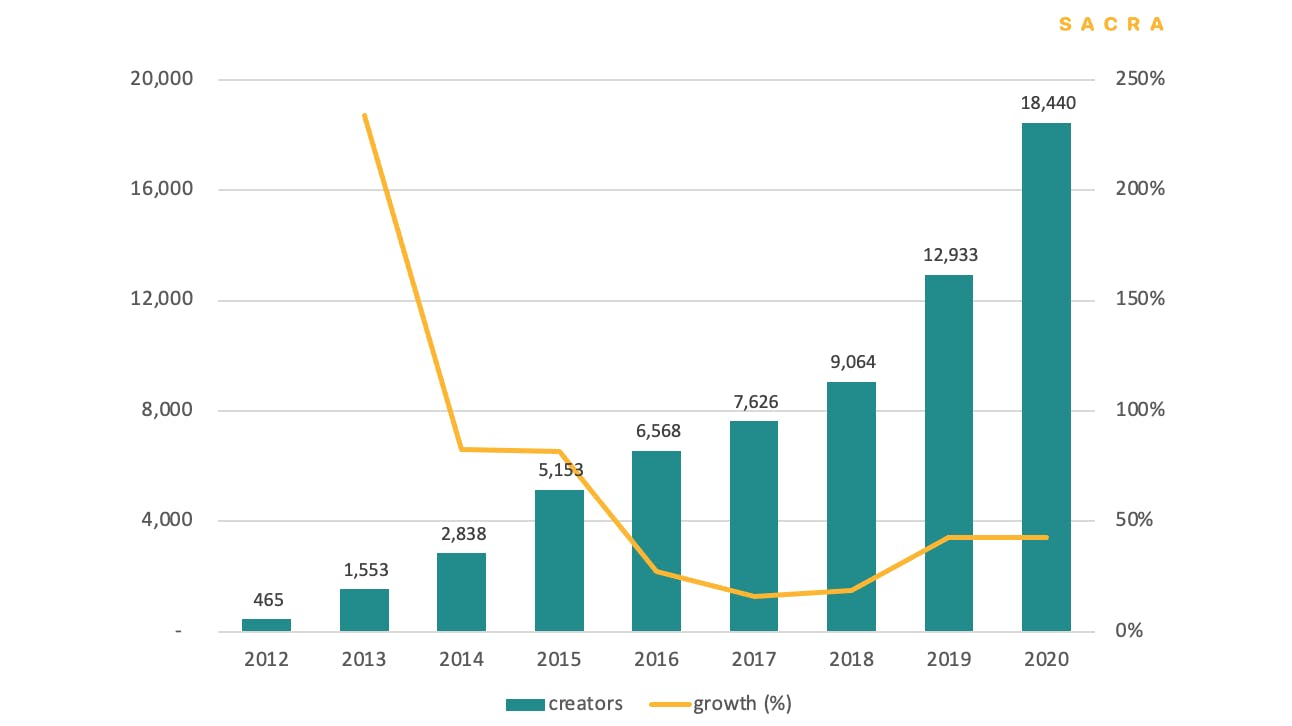 18,440 creators sold on Gumroad in December 2020, with a five-year CAGR of 24%.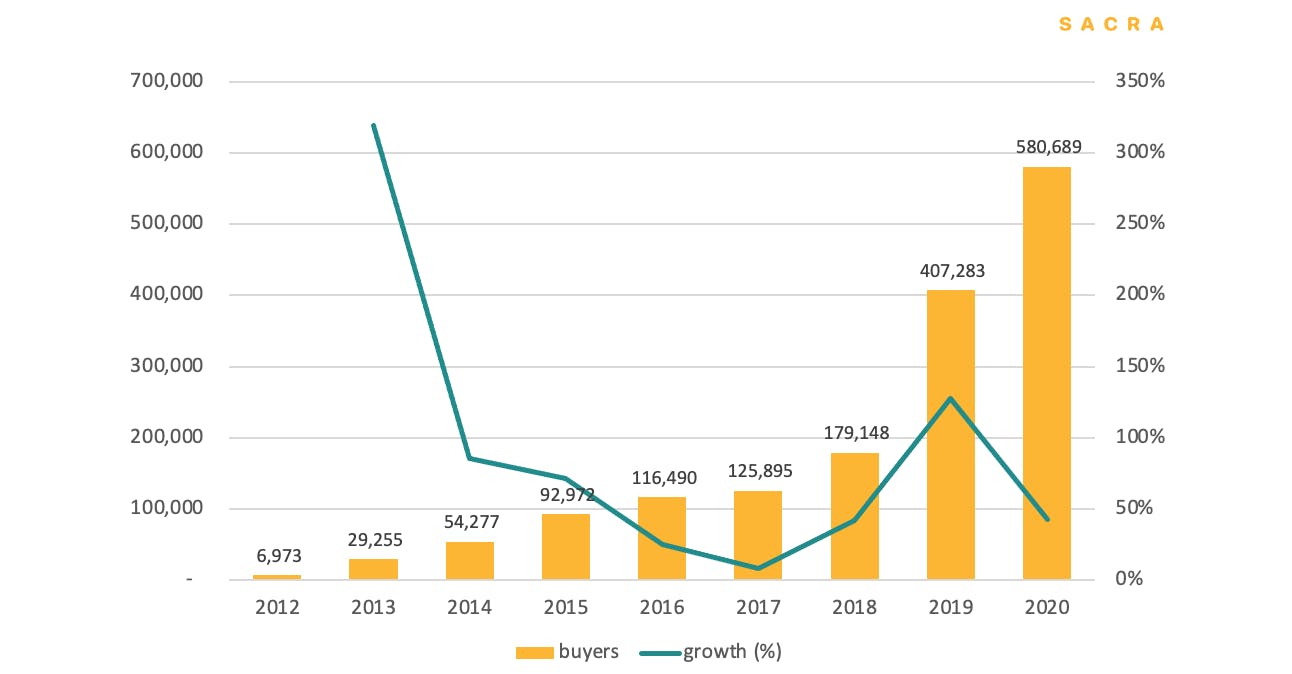 Over half a million customers bought via Gumroad in December 2020, with a five-year CAGR of 36%.
Platforms like Thinkific and Teachable charge a $29-$39 monthly fee—equivalent to selling $450 to $600 GMV per month on Gumroad with a blended 6.5% take rate. This means that for creators who make under $10,000 per year, Gumroad is going to be the economical choice.
Gumroad has facilitated over $400M in GMV since its inception, with 45,917 creators selling to 3.5M unique buyers in 2020 alone. Growth has been strong over the last few years. Gumroad's creator base has grown by a five-year CAGR of 24%.
One of the most distinctive aspects of Gumroad's business is the degree to which it is set up to remain aligned with supporting this core group of creators versus moving upmarket toward bigger creators or bigger profits.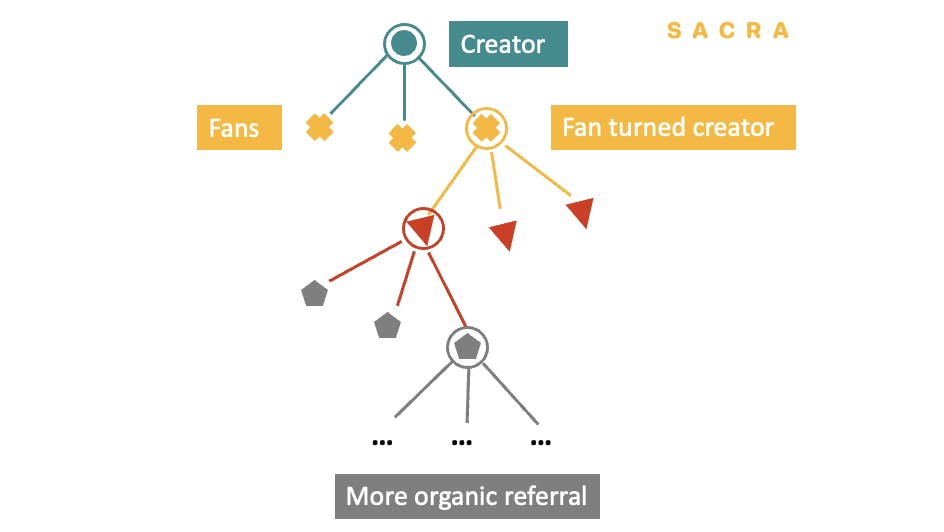 Gumroad's product-market fit with creators fuels an efficient growth machine built on referral.
Gumroad's focus on serving its core creators has fueled a highly capital-efficient user acquisition funnel driven by referral—we believe the company spent a minimal amount on marketing in 2020, much lower than the average of 30% of revenue for other SaaS companies.
According to our expert interviews, fans who buy content from creators on Gumroad are more likely to become Gumroad creators themselves later, expanding the overall fan base further and driving higher GMV on the platform.
Gumroad's creator alignment is also reflected in its fundraising strategy. By prioritizing checks from creators in their March crowdfunding campaign and thereby helping their creators become owners of the business, those creators are likely to develop a long-term sense of affinity and belonging towards Gumroad.
And, in giving creators the opportunity to own a stake in the platform where they monetize, Gumroad creates a class of owner-operator-creators incentivized to serve as brand ambassadors.
The trust between Gumroad and its creators is strengthened by the fact that Gumroad has raised minimal capital and has publicly pronounced its intention to operate as a sustainable, long-term business, with its creators at the center, rather than attempting to grow fast. Other platforms have struggled with balancing these two priorities, like when Patreon raised the ire of its creators by instituting a flat 35-cent charge on all pledges (plus a 2.9% fee)—effectively a 20-40% hike on the price of the $1-$2 pledge that many smaller creators get from their fans. 
That change was reverted after widespread protest. But Gumroad's comparatively long history of providing a stable home for all of its creators, as well as its refusal to embrace a "growth at all costs" mentality, means it enjoys a degree of alignment with its core base of users that few other platforms can claim.
One reason that alignment is key is because unlike the gig economy, which generates linear time-based income, the creator economy compounds content, knowledge, skills and economics. As a result, incremental revenue generation gets easier over time. 

The fundamental difference between gig and creator economies: creators' economic upsides compound over time. 
We believe that the industry is moving in a creator-first, community-oriented direction such that creators own their own distribution and economic upside versus that distribution and upside being owned by big platforms like YouTube and TikTok.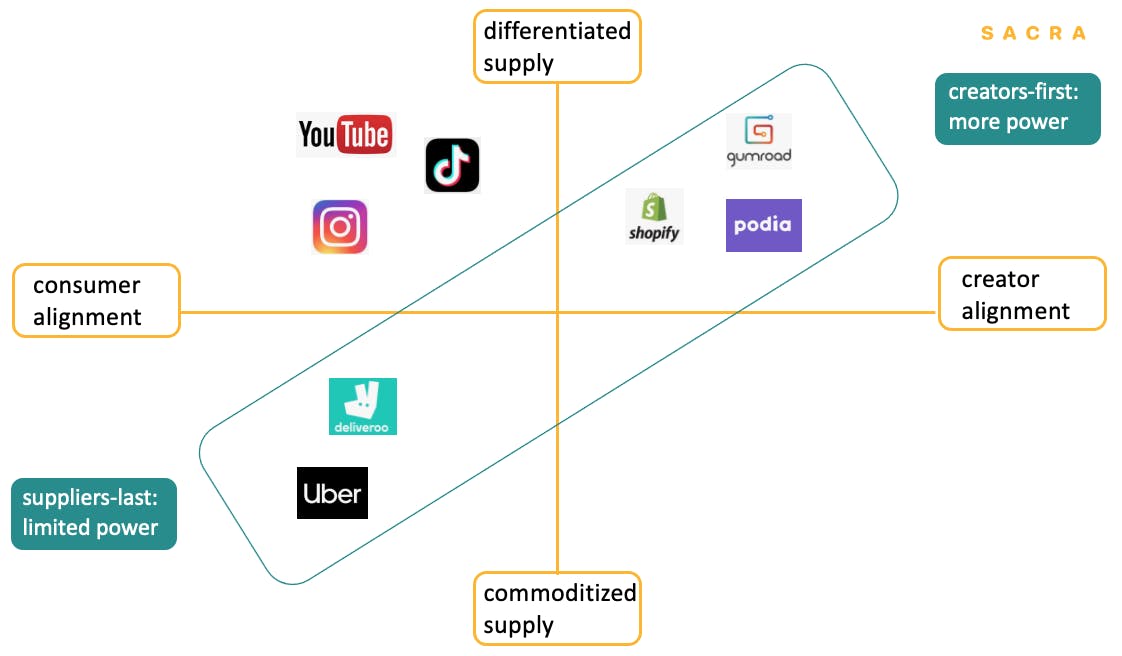 When supply is differentiated, creators are likely to move from consumer-aligned platforms (where incentives for creators are lower) towards creator-aligned platforms.
Creator alignment is the most important quality in this kind of world, and Gumroad's history and fundraising strategy and roadmap have all been carefully tailored for creator-alignment from the start.
2. Gumroad's product positioning paradox and how they can resolve it
Gumroad is a decade-old company. To continue to grow and thrive in a creator economy that's changing faster than ever, Gumroad needs to clarify and evolve its positioning.
Ostensibly, Gumroad has two products—a SaaS platform that lets creators upload and sell content, and a marketplace that allows people to find new content creators. But today, compared to creator platforms like Teachable and Kajabi that offer custom websites, landing pages, email marketing, and more, Gumroad's platform is lacking in features. 
And unlike newer marketplaces like Cameo and Depop, Gumroad's marketplace doesn't drive meaningful demand. Gumroad creators get their inbound from social media, not from Gumroad itself.
This means the company essentially has two lines of business
a SaaS platform that isn't fully-featured
a marketplace that doesn't drive discovery
This positioning creates competitive as well as core business challenges for Gumroad. 
One problem has to do with how Gumroad makes money. Gumroad monetizes like a marketplace, charging a 3.5%-8.5% take rate on each transaction. Because the marketplace doesn't drive a meaningful amount of demand, however, they have to continually add more creators to grow their GMV.
Another problem is Gumroad's core customer base compared to that of the more fully-featured SaaS platforms. Gumroad's primary value is that it's an easy-to-use and economical platform for digital creators selling less than $10K per year worth of goods.

It is more economical for creators who make below $10K a year to choose Gumroad, or below $60K a year if they pay for the monthly fee.
Above that $10K per year price point, there's an equilibrium point where the transaction fees a creator is paying to Gumroad are equivalent to what they'd pay for a more fully-featured SaaS platform. 
At that point, it can make sense to switch over, because they'd be paying the same amount but getting access to other features—like email marketing, a personal website, or in-app messaging.
In other words, even though Gumroad monetizes on GMV, it's set up to attract low-GMV creators—who have been benchmarked churning as high as 20% a month—and gradually lose its high-GMV creators.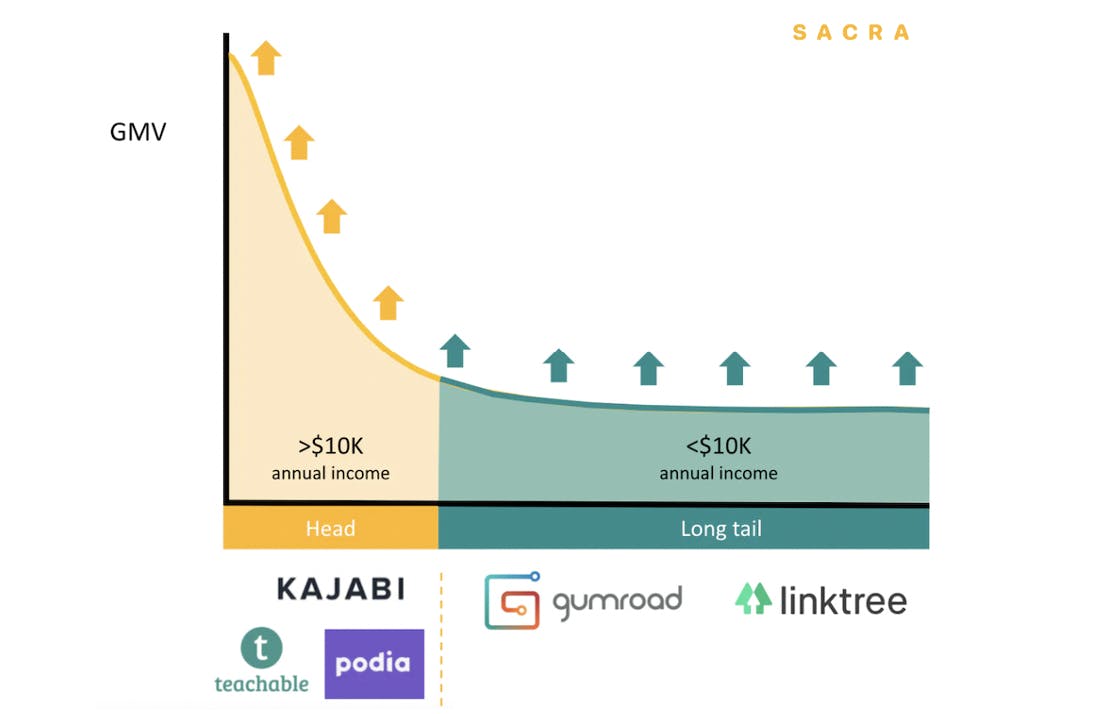 Kajabi/Teachable/Podia and other creator platforms are competing for a different customer base than products like Gumroad and Linktree.
The upside for Gumroad is that the long tail of creators that makes up Gumroad's customer base is massive and growing quickly. 4,000 creators made a sale on the platform in October 2019. That number was up to 5,000 by March 2020 and hit 6,500 by April: that's 8% month-over-month growth, or 164% CAGR.
With COVID-19, a transition that was already in motion—the emergence of a new class of creators and tools to enable them—was accelerated.
Within this new economy, Gumroad serves a different segment and purpose than the all-in-one platforms like Kajabi, Teachable and Podia. 
Where those platforms are designed for bigger creators, Gumroad is designed to be for the masses. No matter what discovery mechanisms a creator uses (TikTok, YouTube, Instagram) or marketing tools they rely on (ConvertKit, Ghost, Mailchimp), or how they built their community (Slack, Discord), Gumroad can function as their product page and checkout function. It is fully interoperable, which makes it adaptable not just to the needs of their creators but to changes in the creator economy itself.
3. How Gumroad can build the $1B creator checkout of the future
Many of the newest wave of creator economy tools have taken an Apple-like approach to the customer experience, building a product that takes care of as many creator needs as possible. Gumroad has gone in a more Android-like direction, building a product focused entirely on checkout but designed to be interoperable with as many other creator tools as possible.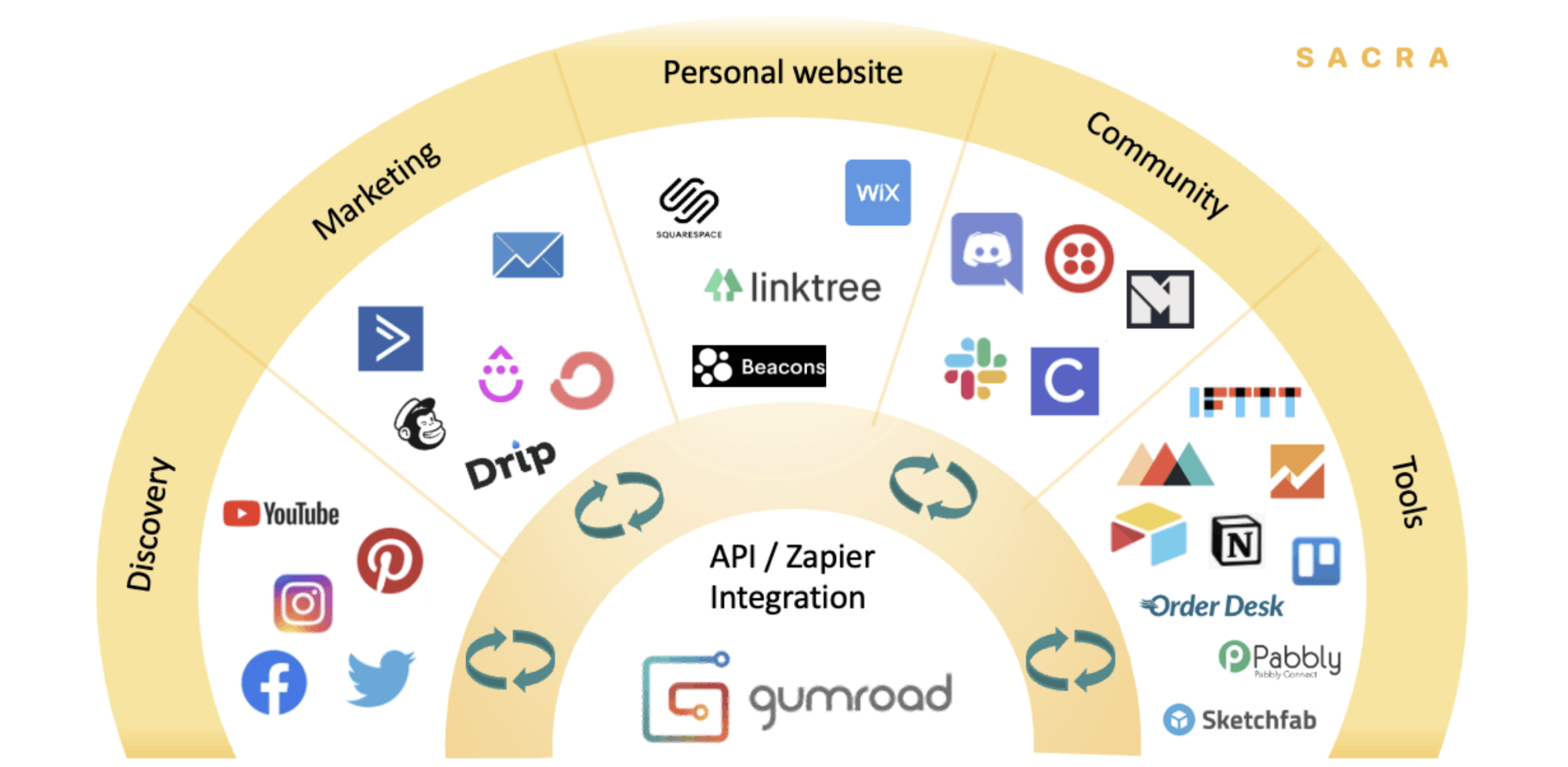 With Gumroad as their checkout, creators can stitch together the rest of their stack from the universe of creator tools.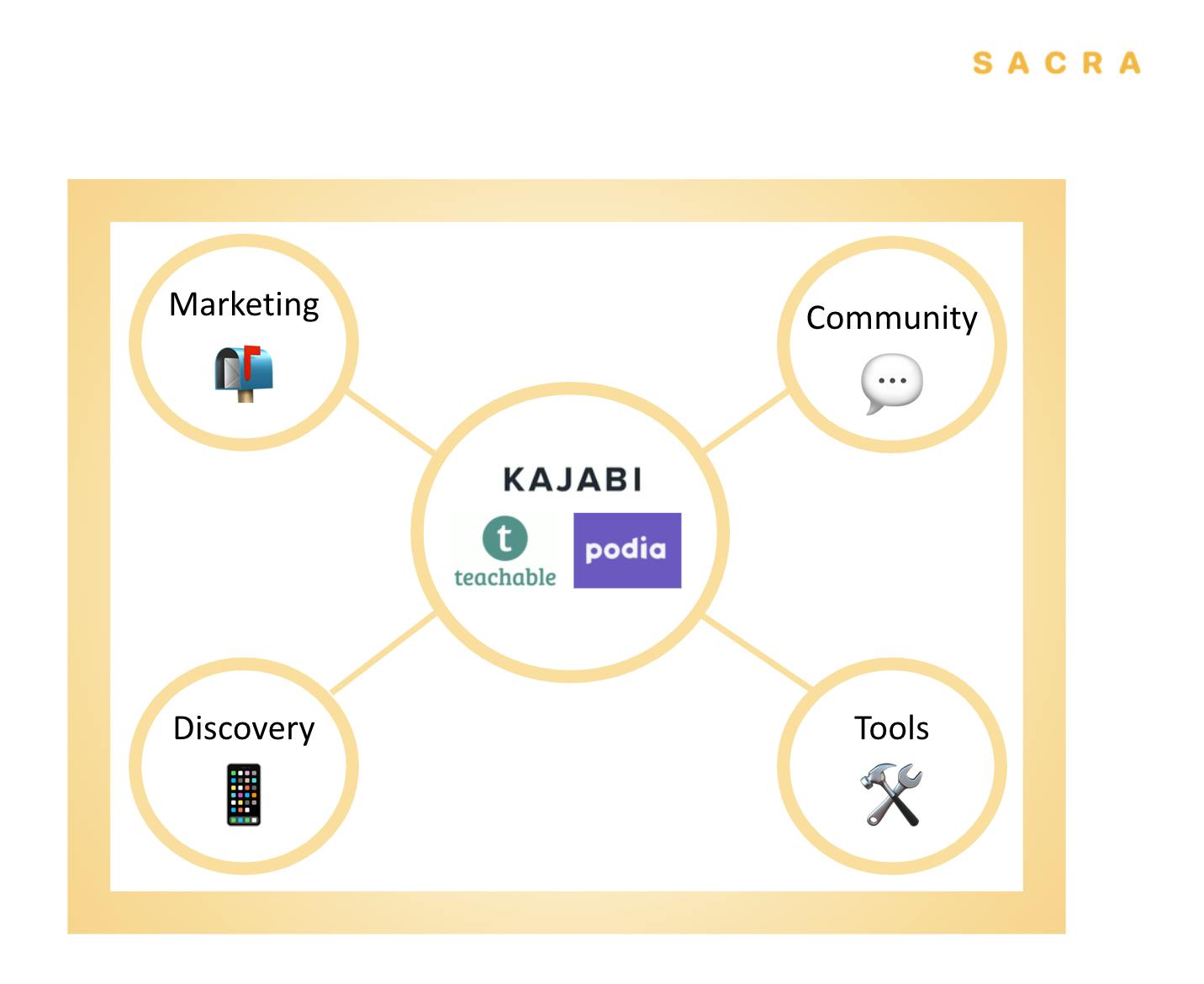 All-in-one platforms manage more of a creator's needs, but also expose their APIs to select external products.
On one hand, you have these purveyors of end-to-end experiences and mostly-walled gardens with carefully defined interfaces for outside integrations. On the other, you have Android—the ultimate open platform, designed to be as flexible and facilitate as much third-party integration as possible.
Gumroad helps creators sell across 18 different categories of products—ebooks, digital downloads, art, memberships, and more. Next on the roadmap is courses. And Gumroad only wants to help you monetize. You can build virtually any kind of personalized stack of tools for email or community or support or building your personal website and still use Gumroad for checkout.
In a creator ecosystem where switching costs are low and creators expect to own their own data, this emphasis on interoperability could end up being the secret to Gumroad's success. It's also the core reason why platforms like Podia and Kajabi are not Gumroad's real competition.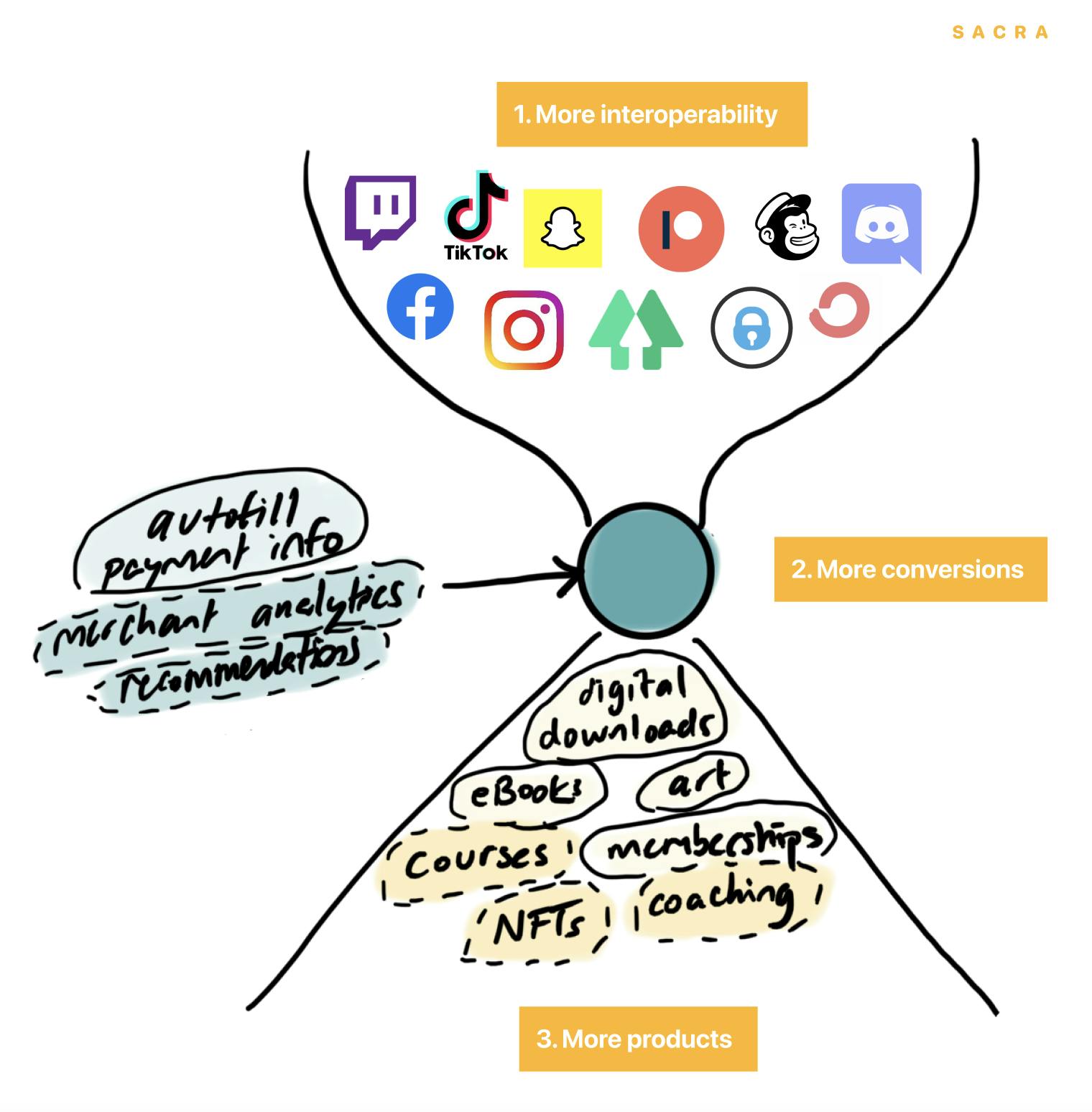 There are three main areas where Gumroad can help creators make more money: by increasing the number of ways they can bring in new customers, by helping them convert more of their customers at checkout, and by helping them sell more types of products.
Gumroad's focus on the checkout experience means that its long-term strategic trajectory looks less like that of Podia or Teachable and more like a Bolt or Shopify.
Gumroad grows the GMV on their marketplace and the GDP of the creator economy itself by continuing to build a better checkout for creators.
Where Gumroad sits in the toolchain—at the point of monetization—gives it three primary levers it can pull to do that:
More interoperability: Integrating natively with more 3rd-party providers so that customers can e.g. buy via Gumroad buttons embedded in emails or other apps
More conversions: Helping merchants create more sales by leveraging data gained from operating at large scale
More products: Enabling creators to monetize in more ways, such as services, experiences, and crypto-assets like NFTs
Building the best checkout for creators has the potential to grow Gumroad into a big business while at the same time not compromising Gumroad's dedication to creator-alignment. If anything, it strengthens it further: the more that Gumroad can help its creators monetize, the more money Gumroad will make.
The future of Gumroad
Out of the crowded marketplace for creator tools we have today, we're going to see best-in-class tools emerge for specific functions alongside all-in-one platforms that help creators manage whole workflows.
Android won out over other mobile OSes like Nokia's Symbian by making their platform easy for developers to connect to. By focusing on building an open ecosystem, Android could win and keep the massive low end of the mobile market. 
If it wants to build the ultimate checkout function for the creator economy, Gumroad must do the same, indexing on extensibility and interoperability with other platforms while never losing sight of the needs and priorities of the core creators on their own.
Appendix
Disclaimers
Sacra has not received compensation from the company that is the subject of the research report.
Sacra generally does not take steps to independently verify the accuracy or completeness of this information, other than by speaking with representatives of the company when possible.
This report contains forward-looking statements regarding the companies reviewed as part of this report that are based on beliefs and assumptions and on information currently available to us during the preparation of this report. In some cases, you can identify forward-looking statements by the following words: "will," "expect," "would," "intend," "believe," or other comparable terminology. Forward-looking statements in this document include, but are not limited to, statements about future financial performance, business plans, market opportunities and beliefs and company objectives for future operations. These statements involve risks, uncertainties, assumptions and other factors that may cause actual results or performance to be materially different. We cannot assure you that any forward-looking statements contained in this report will prove to be accurate. These forward-looking statements speak only as of the date hereof. We disclaim any obligation to update these forward-looking statements.
This report contains revenue and valuation models regarding the companies reviewed as part of this report that are based on beliefs and assumptions on information currently available to us during the preparation of this report. These models may take into account a number of factors including, but not limited to, any one or more of the following: (i) general interest rate and market conditions; (ii) macroeconomic and/or deal-specific credit fundamentals; (iii) valuations of other financial instruments which may be comparable in terms of rating, structure, maturity and/or covenant protection; (iv) investor opinions about the respective deal parties; (v) size of the transaction; (vi) cash flow projections, which in turn are based on assumptions about certain parameters that include, but are not limited to, default, recovery, prepayment and reinvestment rates; (vii) administrator reports, asset manager estimates, broker quotations and/or trustee reports, and (viii) comparable trades, where observable. Sacra's view of these factors and assumptions may differ from other parties, and part of the valuation process may include the use of proprietary models. To the extent permitted by law, Sacra expressly disclaims any responsibility for or liability (including, without limitation liability for any direct, punitive, incidental or consequential loss or damage, any act of negligence or breach of any warranty) relating to (i) the accuracy of any models, market data input into such models or estimates used in deriving the report, (ii) any errors or omissions in computing or disseminating the report, (iii) any changes in market factors or conditions or any circumstances beyond Sacra's control and (iv) any uses to which the report is put.
This research report is not investment advice, and is not a recommendation or suggestion that any person or entity should buy the securities of the company that is the subject of the research report.  Sacra does not provide investment, legal, tax or accounting advice, Sacra is not acting as your investment adviser, and does not express any opinion or recommendation whatsoever as to whether you should buy the securities that are the subject of the report. This research report reflects the views of Sacra, and the report is not tailored to the investment situation or needs of any particular investor or group of investors.  Each investor considering an investment in the company that is the subject of this research report must make its own investment decision.  Sacra is not an investment adviser, and has no fiduciary or other duty to any recipient of the report.  Sacra's sole business is to prepare and sell its research reports. 
Sacra is not registered as an investment adviser, as a broker-dealer, or in any similar capacity with any federal or state regulator.