Ben Ruedlinger, CINO at Wistia, on the video hosting infrastructure stack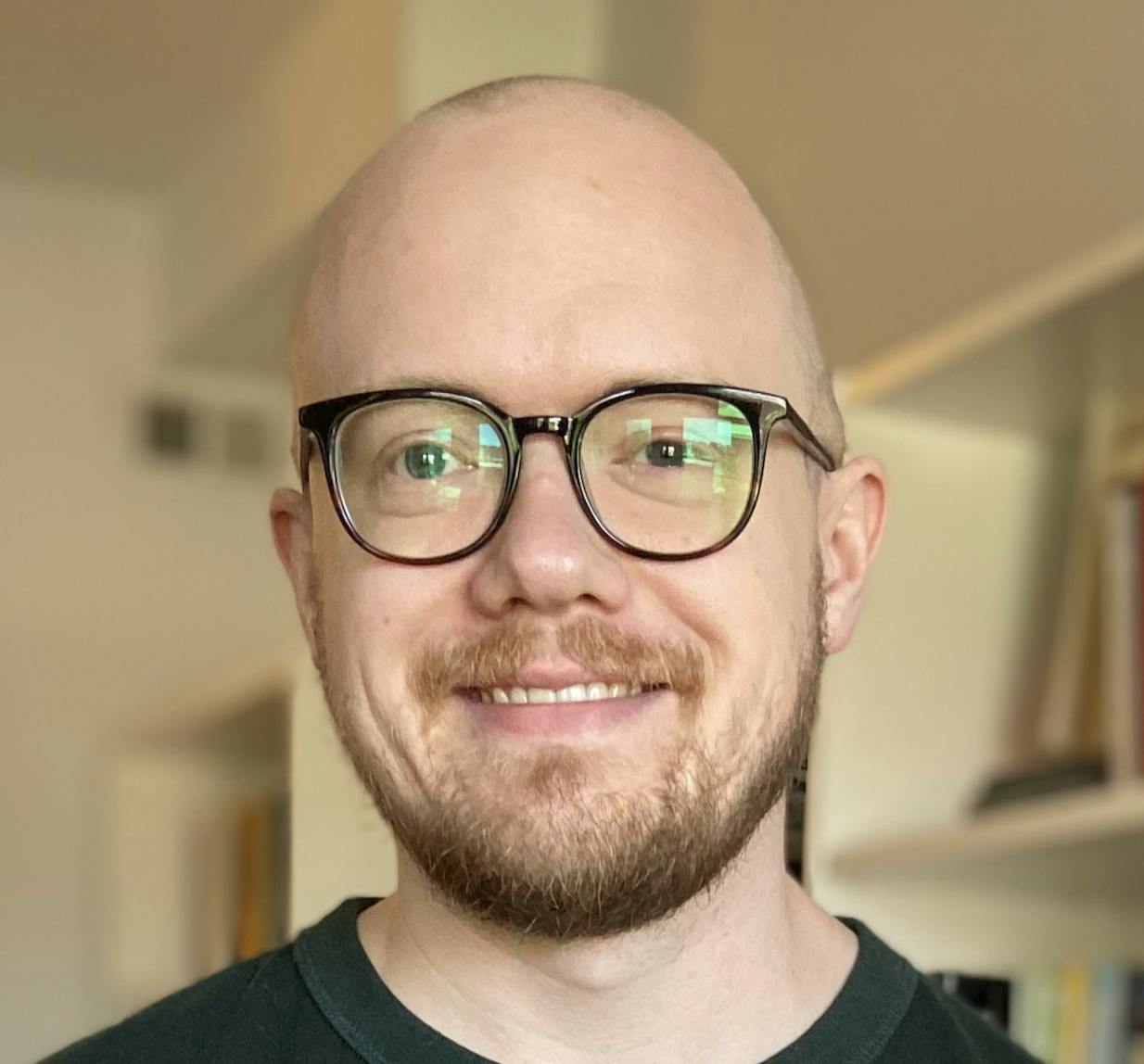 Jan-Erik Asplund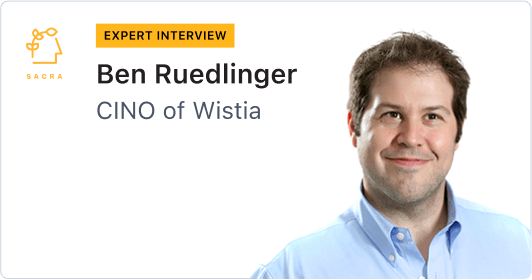 Background
Ben Ruedlinger was employee #1 at business video platform Wistia and today is Chief Innovation Officer. We talked to Ben about the economics of Wistia's video stack, the difference between being categorized as COGS and sales & marketing, and what the future looks like for how businesses are using video.
Questions
Interview
Let's start by talking about your role at Wistia and how it evolved over time.
Ben: I started working with Chris and Brendan back in late 2007, early 2008. They had just hit on and shipped the first incarnation of Wistia at that point, and it was before there was any funding or anything like that. We were working out of Brendan's bedroom in Cambridge -- the typical startup story. It was very clear that they were onto something in terms of businesses using video and that it was something that wasn't being addressed at that point. And it was clear that it was going to eventually be a big market. The question was just what the shape of it would be, how it would mature, and what the different segments of that would be.
My original title was VP of engineering, but I've done pretty much every job at Wistia over the years. Everything from handling finance for the first seven or eight years; dealing with HR and real estate; building parts of the product; I was the salesperson on two or three of the first 20 customers; marketing; I did probably 80% of the support for the first three or four years of the business. It was all hands on deck, whatever needed to be done.
Over the years, I transitioned into a business operations role, where I was dealing with the operational aspects of the business. Then in 2017, post launching Soapbox, I became the general manager of our main Wistia product, which we internally call the more video marketing side of the house. I was the general manager responsible for P&L, marketing, product -- the whole ball of wax there -- for a couple years.
I transitioned at the beginning of 2020 into the chief innovation officer. I'm really focused there in thinking significantly further out. Where is video going? What do we need to be doing over the next several years to steer towards the direction that the market is going?
You mentioned the marketing use case as being the main product. What other sort of use cases and customers do you have?
Ben: The absolute core of our business is the marketing use case. Throughout the years, we've dabbled in different areas. One is video infrastructure for other companies, but we haven't really been focused on that for probably the last four or five years. We still have a number of customers in that space, but our growth and bread-and-butter is really around the marketing use case and helping marketers use video effectively in their businesses, brands, and campaigns.
How do you think the use of video in business has changed since you started working with Chris and Brendan?
Ben: In many ways, it was the early days of web video. I mean, YouTube was new. If you said web video, people thought cat videos and funny 30-second, low-resolution videos. If you said business video, people would generally think either DVD training videos or multi-million dollar conference rooms outfitted with live streaming technology by Cisco. The use of video wasn't particularly pervasive in businesses at that point.
We saw that was going to change very significantly. The question was just how quickly that was going to happen. There are a bunch of different segments that started to evolve. There is the marketing use case, which obviously we're very wired into. There are more learning and development type areas, using video and LMS (learning management systems) and other systems like that. There is intra company communication. Basically it evolved that video is starting to touch every aspect of the business.
I remember -- this was probably 2016 or 2017 -- Chris and Brendan making what seemed like a somewhat outlandish statement at the time, which was that every person at every business will use video every day. Think back to 2016/2017: you kind of squint and go, "Well, maybe someday that'll be the case." Along comes the pandemic and it is a huge accelerant on all of this. That has really changed the landscape in terms of how significantly and ubiquitously businesses are using video in all aspects of their operations. I mean, we hired a huge amount of people during the pandemic, never having met them in person, relying on video as the medium to make those connections and make business critical decisions.
That's the power of video. Because the thing that video does that so many other mediums don't is that it helps establish that human connection. It's the closest thing aside from being in person. It allows you to read people's facial expressions and body language and pick up subtleties. So much of communication is actually nonverbal. The human brain is built to crave narrative and storytelling, and video is often the best way to do that. You connect that all together, so you have the human connection, the storytelling, the emotion that can be conveyed. It really is a unique medium from that perspective. As a result, businesses have come to realize this: that it is a more effective means of communicating with others, communicating their message to the market, communicating with prospects in a sales cycle. All of these things are key in terms of how businesses are using video now.
Let's dive into different use cases within Wistia. One that I'm thinking of is to upload your videos to Wistia and then embed them on your site or share them internally or with customers. Another is to use the Wistia API to create video, making video a feature of the product. How many customers are using the front-end versus the back-end?
Ben: The vast majority of our customers and revenue are on the marketing front-end side. That is the key area and really the use case that we market now. We do still support a lot of back-end customers and love the customers in that space. But it's a very different business, and those customers are often looking for significantly different things than, for instance, marketers.
Could you talk about the infrastructure stack behind Wistia and the role that CDNs and Mux play there?
Ben: Brendan was building the first versions of the systems back in the 2007 timeframe. The landscape was radically different then in terms of infrastructure. S3—Amazon's simple storage service—had been out, and they were just starting to introduce EC2, but it was very limited. There were some other cloud hosting providers that were coming out, but there certainly weren't any of the higher level services that we think of today with regard to infrastructure or video.
What that meant was that, as we wanted to build a video service and build different capabilities, we had to do that ourselves. There was no Zencoder, Encoding.com or Mux, or any of those players back in that timeframe. Even the basic core level video encoding -- which is a key thing that's necessary for anybody doing anything with online video, whether they know it or not -- we have our own encoding service that we've built, extended and maintained for the past 13 or 14 years that is now at a scale that is mind-boggling. Last time I calculated, we process about 1% of the amount of minutes of video that YouTube processes, which for a business video service is pretty impressive given that YouTube is one of the top five internet destinations in the world. So we've had to really scale that.
Same thing with things like analytics. We use Mux's data product for performance data. We were probably one of their first five customers for that product. We use that largely to evaluate performance: how video is performing out in the field to help us debug when we see issues and figure out what's going on.
The other side of analytics is what we would call more customer-facing analytics. I don't know how familiar you are with our analytics offerings, but we track how every person watches every video down to the second. That's a lot of data. We built that out back in 2008/2009 and now have scaled it massively. We've had to build a very advanced analytics data pipeline in order to handle that, make that data available whenever and wherever people need it, and process it effectively in real-time, such that it's available to people and actionable in terms of making business decisions based on it.
On the CDN side, over the years we've used a variety of CDNs and made sure that we had good coverage all over the world. Early on, there was a number of different CDNs that were good at different things. Some were better at domestic delivery. Some were good at international delivery or APAC delivery. Some were good at solving the more "nooks and crannies" problem of people in rural areas in far-away places. Each CDN had a different flavor to it.
As time has gone on, a couple of things have happened. There's been more consolidation in the industry and more commoditization. As that's happened, that has allowed us to go more and more up-market. Today, we use largely a combination of Akamai and Fastly for our CDN delivery. We try to keep things as simple and generic as possible to give us flexibility. We've always used multiple CDNs for redundancy and to give us the ability, if there are any issues, whether it's regional or overall with one of those networks, to dynamically adjust and make changes to support the changing situation on the ground. Back to the commoditization part, it also gives us some amount of negotiating power as we're continuing to grow and increase commitment levels and contract sizes and things like that. The more locked in you are with a single vendor, the more challenging it is to get leverage there and get the best pricing.
How do the different vendors that you are using affect how you monetize on video with those variable costs?
Ben: Video is one of those really tricky things. We are a SaaS business, but most SaaS businesses don't have the compute costs for encoding, the delivery costs for the video, the storage costs for the video. We store many petabytes worth of data in terms of video library. You might upload a five gigabyte video, and then we create maybe eight different versions of it, all of which we have to store and pay for. So our model is not as simple as a generic SaaS business that has a bunch of app servers and scales their database and calls it a day. We have real world constraints there.
If you look at the more public companies in this space, their gross margins are generally lower than the SaaS space. One of the things that we've been able to do is to make that a competitive advantage for us in terms of getting gross margins to a level that we're really happy with and that give us a lot more operating capital for the rest of the business.
Talking about vendors, how does Wistia think about the build versus buy question?
Ben: A lot of times, it comes down to: "How critical is this service going to be to whatever it is we're doing? And what scale do we need to do it at?" Video encoding is a good example. If we had to go out in the market and use a third-party provider to do video encoding, the costs would be absolutely off the charts. It would eat up tens of points of gross margin in terms of the cost because they're making money. So we built out our own system for doing that. We've scaled it to be efficient. We're able to do it generally at least ten times cheaper than we could do it in the market, so it's example of an area where scale is really driving that decision.
Likewise with something like analytics, there are now numerous generalized analytics tools and combinations of analytics pipelines and databases that we could potentially use. But it's so critical to our value proposition to our customers that we need to have complete control over it. We can't have a situation where we want to do something and we go to a vendor and they say, "Well, we're not going to be able to get to that until Q4 of 2022." That's just not an option.
So the things that are more critical to the value prop user experience that are infrastructure-related, we need to own as much of those as we can. The situations where it's just not feasible for us to own that -- things like the CDNs or general server infrastructure -- we need to work with either one of the big players in the space, so that we can build out our own redundancy, or create that redundancy and resiliency on our own through having multiple players there.
How do you think about being a customer of Mux and also potentially competing with the Mux Video product that they're launching? Have you considered using Mux Video as part of the stack?
Ben: Because of scale and costs, I think Mux Video wouldn't be viable for us. And again, from a business risk perspective, we wouldn't feel like we could outsource pieces that are mission critical for us.
These days, we don't really see folks in that space as particularly competitive with us. That's one of the things about video and how it's progressed. Early on, it was a shoving match for customers and who would get what. The market's really gotten big. There's room for a lot of players, and we have seen some very clear segments emerge. That's why companies entering that space, like Mux or Bitmovin or Cloudflare, don't feel particularly threatening. It feels pretty far removed from what we do.
It's a different game, too, because it runs the risk of getting into that more commoditization space because it's more infrastructure. It's more seen as a cost and part of your COGS number, instead of as an application or platform that the company has on the other side, which is helping generate revenue, and that's where we play today.
I'd love to hear more about how you see this difference between being COGS and being sales and marketing playing out.
Ben: I think those are the two ends of the spectrum. When you're in the COGS bucket, the negotiations on pricing are very different. It's a race to the bottom -- the same sort of things that we do with the CDNs in terms of having multiple providers and leveraging one against the other, trying to keep things generalized so you're not using specific aspects and aren't locked in. That leads to more pricing pressure as time goes on. And as things get easier, there's more of an attitude of, "Well, we can do this. We'll roll our own on AWS."
So you have to really differentiate yourself in that space. You have to have the tool that developers really want to work with because it simplifies their lives. In adjacent spaces, Stripe and Twilio are cases of companies that developers fell in love with because they solved the problem so elegantly for them and made their lives so much easier. We saw that opportunity for video as well, but as we looked at what our competitive advantages were as a company, they were more on the end user experience, ease of use, and being innovative on that side of things, rather than on the back-end and being developer-centric.
On the marketing side, when somebody buys Wistia, a lot of times it is a marketing department and it is as one of the tools in their martech stack, along with maybe HubSpot, Mailchimp or some of the other players that are seen as critical tools in helping accomplish the marketing job. As a result, as long as there's ROI and value being shown there and you're saving people time, helping them get more leads and better ROI on the leads that they are getting, and giving them the data to make better decisions, it becomes much easier to justify whatever the price is. You have to justify the price based on the value you provide, whereas on the COGS side, it's more like: "What is my cost and how do I continue to push that down?" Obviously, people don't want to pay more than they have to on this side. We have the burden of ensuring that we provide continuous value there and help them achieve their goals with respect to marketing.
There's a fuzzy area in between that's like a hybrid of both, which is the learning and development area that I talked about. It's not in the revenue generation pipeline but it is more user-facing and less back-end, so it's kind of a hybrid between those two in terms of still being seen as a cost center and so customers are very price-sensitive and it becomes harder to justify the ROI there. There are companies that have done well in terms of nailing that. Kaltura, which is really big in the education and learning and development space, just went public recently and has really made their business there.
One advantage I would think that you would have with the developer-centric approach is potentially giving people the ability to build crazy custom video experiences, and one might posit that we're moving towards a greater desire for interactive, more short-form video -- like what TikTok is doing -- and maybe more live video. I'm curious how you think about what the future of business video looks like, how Wistia thinks about that, and how you think about responding to these kinds of new desires from the market.
Ben: One of the things that we saw -- and this was probably four or five years ago as well -- was that more and more online tools and applications were starting to trend towards more native video, like building video into their product. We looked at this and said, "Is this something that we should be in? We know this is going to happen."
Let's say you build the new TikTok and you start to get scale on it. Very quickly, the costs start to run away a little bit, and it becomes a more critical part of your business, so you're like, "Okay, now I'm really building a video business here. This is a critical piece of my infrastructure and business risk." Sometimes that will cause companies to bring that closer and more in-house. So there is this question of: How far do people go before they really feel that they need to own that more fully than what an outside vendor can provide?
That said, there are a number of companies that have scaled and continued to use us at very significant scale as the back-end infrastructure. We have multiple customers that literally store millions of videos with us and upload millions of minutes of new video every month. It can be done, but I think there is a challenge there in terms of: How much can you own, in that as the scale goes up, the pricing pressure goes up as well? It becomes difficult because those customers become a bigger and bigger percentage of a company's overall revenue. There ends up being concentrated customer risk there as well, if you do get one of the ones that's a hit. If the pie of the video market were staying the same size or shrinking, I think it would be more of a concern. With the pie growing as much as it is and as much as it has been, it's a little less of a concern at this point.
The other thing is that the more video infrastructure play is a generalized play. You're trying to be a tool that really any developer can use. You're targeting one segment of the market, and they have a particular use case, set of needs, set of customer needs, and way they want to buy and be charge. This is actually not that different from what we're doing. We're focusing on a particular function within the business as well, which is marketing. They have a very different set of needs, and they want to pay and buy in a completely different way. In some ways, it's more alike than it seems at first blush.
How do you see the role of video changing over time within businesses, both in general and within marketing?
Ben: It's increasingly growing in importance, across the business and in marketing as well. I think the original situation was, "Oh yeah, we got a video made, we're going to put it on our website. It'll be great. It'll help us." Now you have whole teams that are responsible for social video. You have companies that are plowing significant portions of their ad budget into making video shows and podcasts -- for instance, what Mailchimp did with Mailchimp Presents. We've talked about it a lot in terms of what we call brand affinity marketing: you can either rent the audience and buy ads on these shows, or you can own the podcast or the show and then have that audience as your own, rather than paying ad fees every month and at the end of the day being left with nothing. Making those investments into more brand content really helps build audience. That's a big movement that's going forward.
Then there are things that are more forward-facing like connected TV, which is basically doing for television what the digital advertising movement did with the web. In terms of advertising, you could put ads in the paper or on radio and reach large general audiences. Digital advertising and what Google and many others have done is allow you to be able to target individual people with demographic constraints to be more efficient with your marketing spend. Up until recently, the same has been true with broadcast TV. You can buy advertising on broadcast TV and reach a very wide swath, but it's very expensive and only the biggest players can do it. With connected TV, we're able to take all of those ad units and break them up and sell them off individually based on demographics and everything else, and make more efficient use -- both for the advertiser as well as the publisher of those ad units -- to really meet the needs of the consumer. That's another area where there's a lot going on.
And live streaming is a big thing. People have become more comfortable -- whether it's companies, businesses, marketing teams -- doing webinars, going live on Facebook, YouTube, or LinkedIn, and having more event-driven type content. This really turned the corner as a result of the pandemic. There were many companies that relied on in-person events as a big part of their marketing strategy, and that overnight went poof. As a result, they had to figure out a plan B. That has in large part driven a much bigger move to live online events, and even hybrid events now as things start coming back.
This is a trend we expect to continue because having a live event is great, but you can greatly increase your reach if you're not constrained by geography. So companies are doing more of these live events and trying to make those connections again, whether it's a casual livestream on their Facebook page, a webinar, or co-marketing with a partner company. There's a lot of space in between there, and it's a space that more and more companies are starting to take advantage of.
Is there anything that we haven't touched on that you feel would be valuable to talk about?
Ben: I think consumers -- whether strictly consumers or buyers at a business -- have come to realize how important video is. They've also started to realize that they need more help and more tools. So much of the video journey is about figuring out how to do this piece and that piece: How do I encode my video? How do I change the aspect ratio to format it for Instagram? There are all these different aspects that come together to create the video, and that goes through distribution and measurement as well. Our perspective is that the time we're at is one where the customer, regardless of the space, is looking for more help doing these things and a more seamless experience across the whole video journey. Where we're really focused now is to help companies -- and specifically marketing teams -- with the end-to-end video experience: everything from creating the video through the whole production process, and through the distribution and analysis and integration with everything else within the martech stack. It's a really big problem.
As more people use video, some of these problems are going to become more and more clear. Over the past year and a half, I would say we've probably seen more video startups than we did in the past TEN years. They're starting at a scale that is smaller because they're leveraging a lot of the services, like Mux Video and some of the other more infrastructure-based services, so they're not having to spend as much time thinking about the nuts and bolts of video. They're able to have APIs and widgets out of the box that allow them to accomplish relatively high level things.
In some ways, it's much like payments. Implementing payments in a web application in 2008 was an arduous and painful experience. Now with tools like Stripe, a not particularly skilled developer can do it in 15 minutes with very little hassle and actually follow all the rules and compliance and everything else. That's a big change, and it's very similar with video. There are many ways to do video. Many of them are not particularly good in terms of end user experience. The number of times we've seen: "I host a file on my server, and it's an hour and a half long video. And yeah, I'm just serving it through an HTML player." Days later, they wonder, "Why is my web server down?" Well, there are 50 people watching the video with long running connections, and they've essentially killed the server because it's serving huge files. And it's not doing it particularly well because they're all over the world, and the server is in Indianapolis or something like that. So all of these tools allow you to do video tasks right out of the box, correctly the first time.
It's the same thing that we've done at a different layer of the stack for marketers. Marketers aren't particularly well versed in terms of the ins and outs of video and codecs. "Should I be using MP4? Should I be using HLS? What are the differences? How do I do captioning?" All these different aspects of video that just right out of the box work. They don't even have to think about it, and that's the magic. That's where the value comes, because now we have enabled them to do something that before seemed impossible. We think about it as like giving marketers super powers when it comes to video. Being able to drop a form that pops up 15 seconds into your video and captures leads, and then send them directly over to HubSpot, and then send the data associated with what they're viewing into the contact record in HubSpot so that the salesperson can see exactly what they've watched and when they watched it. These are things that ten years ago felt like science fiction to marketers. Now it's become significantly more commonplace and achievable.
Sacra: In a way, it feels like a parallel to Wistia getting started when AWS was just coming out, making it suddenly possible for Wistia to exist hosting files, with Mux being potentially an AWS-like source for video businesses to exist. But Wistia having already built that infrastructure itself over a decade gives you an advantage on gross margin and other things.
Ben: Exactly, and it's also given us some really good perspective. Starting a video business today, you would never think, "Should I roll my own video encoding service?" No way. You couldn't do it. You wouldn't be competitive. You'd get beat to market by the five other people that chose another solution. Just like ten years ago, if you were starting a web service and you said, "Should I get colocated servers in a cage at cogen? Or should I get an AWS account and pay by the hour?" It became very clear. It enables the creation of more experiences more quickly. That's again this acceleration of enabling technologies that enable more technologies on top of them. It's building the tower with these critical components.
At what point, what gets commodified within that tower? You spoke to that with regard to CDNs, and I think potentially the same question is there for companies like Mux and for other ones: What's the commodity? And where is the value created?
Ben: I think the burden on them is to differentiate and to provide things that are either specific to the customers that they serve or cannot be replicated easily by competitors. For instance, Bitmovin had built out a set of technology that -- I forget exactly what it was called, but it was an encoding technology that, when you uploaded the file, it basically split the file into hundreds of pieces, sent them to different encoders on different machines that each encoded that particular segment, then brought them all together, so you could encode a one hour video in five seconds. Having instantly available video encoding has been a competitive advantage for them because video encoding generally takes quite a while. The general rule of thumb is, whatever the length of the video is, that's about how long it takes, within a factor of two, to encode it. So being able to have instantaneous encoding is pretty attractive and a pretty big differentiator.
There are a number of different strategies that companies can pursue in this space to really differentiate their offering, whether it's through ease of use, raw technology, or things that they can do to give price advantages that other competitors can't. But you've got to pick one, or else you do run the risk of falling down the commodity rabbit hole.
Disclaimers
This transcript is for information purposes only and does not constitute advice of any type or trade recommendation and should not form the basis of any investment decision. Sacra accepts no liability for the transcript or for any errors, omissions or inaccuracies in respect of it. The views of the experts expressed in the transcript are those of the experts and they are not endorsed by, nor do they represent the opinion of Sacra. Sacra reserves all copyright, intellectual property rights in the transcript. Any modification, copying, displaying, distributing, transmitting, publishing, licensing, creating derivative works from, or selling any transcript is strictly prohibited.
Read more from
Read more from