Sign Up Today!
To get these right in your inbox
Box passed $300M ARR through its 2015 IPO as a single-product company. Later that year, Box went multiproduct, and they would go on to launch enterprise solutions for data governance (Box Governance), encryption key management (Box KeySafe), security (Box Shield), and workflow automation (Box Relay).
Today, only 36% of Box's revenue comes from customers of its core product alone. Roughly 64% of revenue comes from multi-product customers, and 35% comes from its enterprise bundle of 3+ products, up 3x from 12% two years ago.
Going multiproduct has become critical to driving and extending SaaS growth at scale, particularly when growing upmarket to serve complex enterprise-scale business problems. The same dynamics are playing out across SaaS companies like Block, Datadog, Monday.com, and Elastic as multiproduct customers increasingly eat up the revenue mix.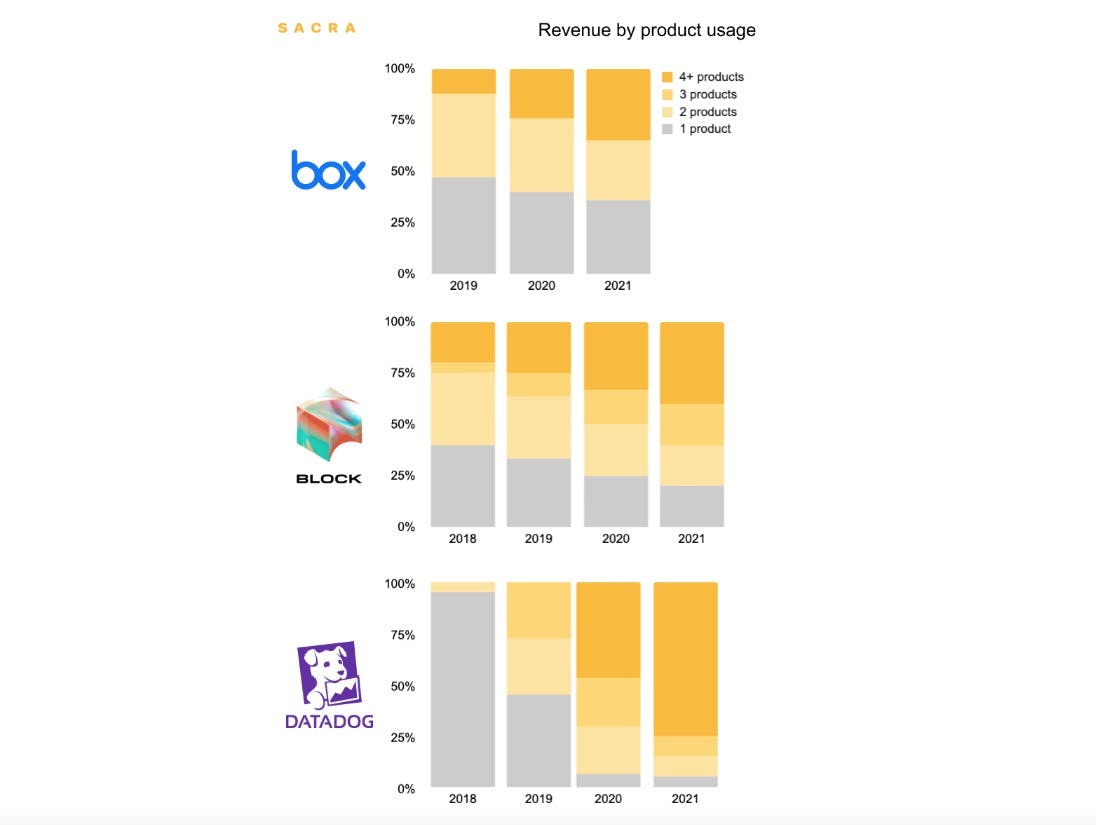 Two private companies that have raised up rounds and defied The Great Regression to the Mean of 2022 are Rippling ($12B) and Ramp ($8B). Both of them not only went multiproduct, but did so from day 1. Parker Conrad calls Rippling a "Compound Startup", which combines a set of related point solution systems into one coherent product to solve a much larger problem for businesses. 
Compound startups bring together:
Rippling combines ADP ($90B) with payroll, Workday ($40B) with talent, Okta ($10B) with single sign-on, and Jamf ($3B) with device management, all built on its employee data platform.
Ramp brings together American Express ($120B) with their corporate card, Bill.com ($10B) with B2B payments, TripActions ($7B) with corporate travel, and Expensify ($2B) with expense management, all built on its transaction data platform.
Peak idealism for the "consumerization of the enterprise" died when Microsoft Teams crushed Slack with its bundle and Salesforce subsumed it into its bundle.
In 2022, repeat founders like Conrad (Rippling and previously Zenefits) and Eric Glyman (Ramp and previously Paribus) are taking second and third stabs at building in the same space, with accumulated knowledge and vision for building "fat" startups—not lean startups—raising several millions to build multiple parallel products from the earliest stages of their companies.
The multiproduct generation
For more on the rising crop of startups raising big rounds and going multiproduct from the beginning, check out our interviews with:
If you have other companies you'd like to learn more about, let us know what they are by replying to this email.
New & upcoming interviews
Reply to this email to offer questions you'd like us to ask upcoming interviewees, request specific interviewees and offer feedback.
New
Upcoming
New company pages
Here are the company profiles we added last week:
Reply to this email to let us know what other companies you'd like us to cover.