We're thrilled to announce this week's exclusive with Paige Finn, Syndicate Lead, author (Seed to Harvest) and operator (Developer Success Engineer @ WorkOS)! Paige has taken the venture & startup ecosystem by storm, deploying over a quarter of a million dollars for her syndicate in the first two months and authoring countless VC articles that have gone viral! An investor, author & community builder, we sat down to talk shop about all things cap table related, including:
👁👄👁 and the power of community
How she creates 'approachable' venture capital content ✍️
The biggest challenges GenZ founders are tackling 🌍
Cap table advice & tips ⼏
The state of venture capital in 2030 🔮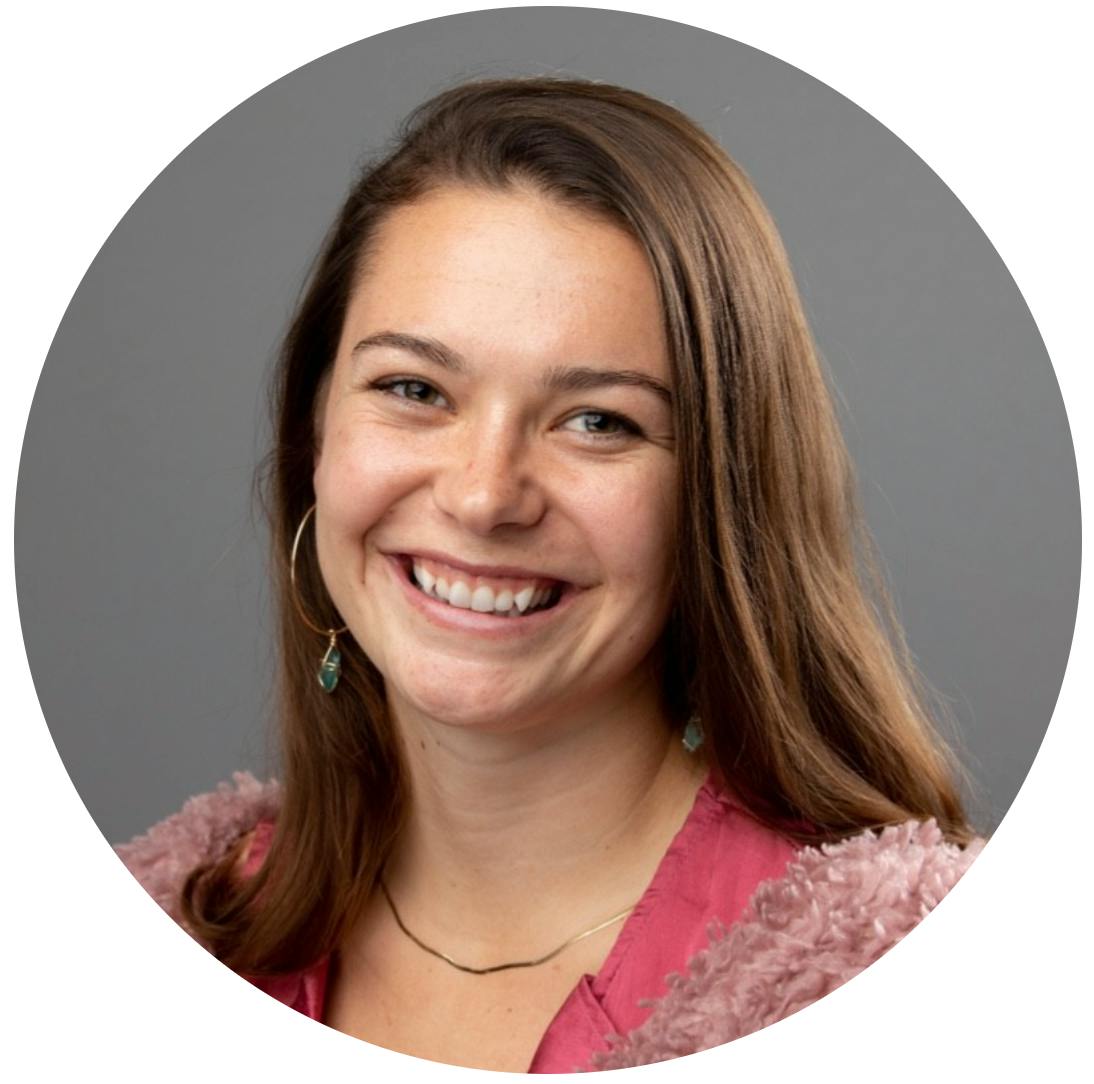 TCT: How did you start out with regards to your career?
Managing rappers didn't work out. I'm like 85% kidding — but I've always had a love for music. When I was younger, I could never afford to go to as many shows as I wanted to. So, I realized if you interviewed artists, you got a press pass to the show. I got great at cold emailing managers & in college, I was interviewing a couple artists a week at shows. I think I have some minor hearing damage — but I have some amazing memories. 
Turns out cold emailing & interviewing people are very transferable to lots of different industries — and I started emailing a lot of founders to hear about the companies they were building. I was fascinated — I got a front row seat to the future they were creating from their visions. There was so much playfulness and malleability in the way they melded narratives, products, business models and I was hooked on learning more. 
I got involved in SDSU's Lavin entrepreneurship program, and joined our first venture capital investment competition team. After we took second place to the reigning national champs, I got recruited by a $400m b2b saas growth equity firm in town. I learned a lot there — cold calling, retention analysis, meeting other investors, LP relationships.
Often being the only woman in the room inspired me to be more public about what I was learning and build a community on Twitter — and also contributed to my ten year goal of helping 1000 people write their first angel checks, 500 organize their first syndicate, and seeding 100 emerging managers, especially underrepresented folks. 
You're writing an illustrated children's book for adults on how venture capital works. Can you tell us more about the inspiration behind this, and your goals for publishing this? 
Shortly after I spoke on a panel with him, my friend Nikhil wrote one on medical trials. Hilariously, I retweeted his announcement and was basically like — I'm doing the same for venture capital, dm me your email if you want the first draft. The punchline was — there was no first draft. 
The morning I was supposed to send the draft out, I woke up at 3am with this bingo moment of the analogy of farmers, wrote ten pages, and received feedback from ~80 people from long time investors, to high school friends, to my mom. I repeated that a couple of times, launched a gofundme, raised over $5,000 to self-publish & now my youngest brother is working on the illustrations (my stick figures weren't going to cut it). Text "seed" to +1 (858) 203-2966 for pre-sale and launch updates!
My inspiration started in necessity (not having a short, easy to understand primer about venture) and has evolved into an effort to inspire the next generation of investors. Representation matters, so we're making the illustrations as inclusive as possible. I would be lying if I said I don't tear up a bit when investors remark on how glad they are that their little girls will have a book where they can see themselves represented.
You were a part of  👁👄👁 ("it is what it is") movement last year, sweeping VC twitter by storm, hyping a private beta of an unnamed product, which then led to 30k+ people signing up for "early access" within 2 days, which was then was used to help raise $200k+ for charitable foundations. At what point did you realize this was bigger than a funny TikTok trend? What role does hype and community play in launching a product, and what have you learned from that experience?
We were all just vibing online for a while, posting memes — and I think when we started to get some VCs dm'ing us about investing that we realized we should divert the attention into a more worthwhile cause — organizations supporting black lives. I think the funniest part is — our team actually designed a really thoughtful social app in Figma and definitely could have raised millions of dollars. Andrew Chen (jokingly?) offered me a Series A term sheet in a hundred-person Clubhouse room at one point. And we turned it all down to make a point about the exclusivity of tech & the importance of including and amplifying diverse voices within tech and vc.
Community is part of my core thesis while investing, and my experience in EyeMouthEye strengthened that belief. I learned so much about the impact that a small group of people online can have when they are vocal and aligned on specific things — whether that's memes or social issues. 
My friend Gaby wrote a great piece on this here.
You recently announced that you'll be joining the newest cohort of angels at OnDeck, congratulations! What does this program entail and what are you most excited about?
Thank you — yeah, I feel really lucky that Erik Torenberg invited me to join ODA. It's an eight-week cohort program with angels. I'm most excited about meeting the other fellows, learning others' due diligence processes & their paths to conviction with an investment. 
You run a syndicate, investing in early stage-stage product led growth founders, and have deployed over a quarter of a million dollars in the first two months of organizing 🤯. You note that all of your deal flow is inbound from "approachable venture capital content on Twitter". How do you approach creating venture content? Where do you get your weekly inspiration for creating this new content?
A lot of things I write about are things people consider "dumb questions." In school, I studied computer science — and I asked a lot of dumb questions. People after class would tell me they were afraid to look dumb, but they also had those questions. I think the same is true in venture, so I write answers to a lot of those "dumb questions," which are often about implicit norms. Here's what my writing process looks like(I follow my own thesis of product led growth):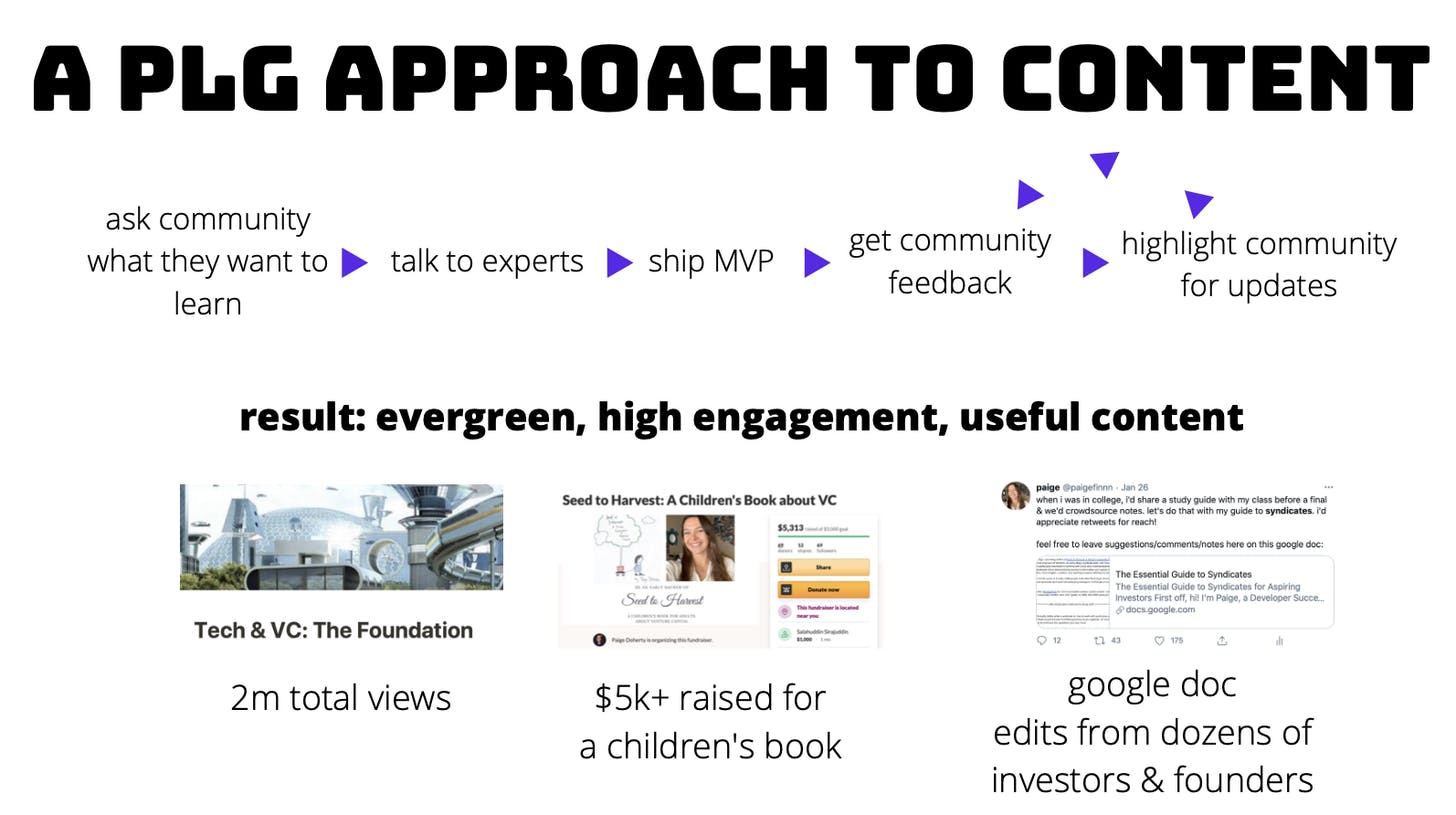 You've co-invested with funds like the Accel & KP scout funds, a partner at Bessemer, and operator angels like Sahil Lavingia. How did you build this network, and how long did it take to generate dealflow?
Just vibing online, making transparent content, helping other people. It took me a year to build a community of 10k incredible founders & investors, but I've been talking with founders & investors for the past four years.
You're a Developer Success Engineer at WorkOS, a Seed stage Developer API. As someone who constantly vets startups for your syndicate, how do you decide on being an operator vs. investor in a startup? What framework would you recommend to others vetting a startup they would like to work at?
I love working with early stage founders & Michael pitched me on exactly that when I joined WorkOS. We make APIs for single sign on & directory sync, so you don't have to build all the fragmented IT stuff when you're selling to large enterprises. It's like Stripe but for infrastructure. I honestly put on my investor cap when evaluating companies to join — the most valuable investment you can make is your time.
What tools do you use to stay organized for your syndicate and deal flow? (pipeline, notes, SAFE's, etc.)
Notion for a list of investors and founders, Texts.com & Superhuman for managing inbound twitter dms / emails / texts etc, Assure for the backend. Working on incorporating clay.run, airtable, close, and notion fully!
What's the best pitch deck you've seen recently, and what made it stand out? Emojis or no emojis?
Not that I'm biased, but I'm pretty proud of our LP deck. Lots of bright colors & bold fonts.
You're intentional about making your deals accessible to and working with first time angels. What advice do you have for first-time angel investors? 
So first, a disclaimer: angel investing is really risky — definitely make sure you're making sound financial decisions with 401ks / savings and that you can afford to lose the money you'll invest in start-ups.
The hardest bridge to cross is never writing that first check, it's identifying as an investor. I think my advice is you should start to see yourself as an investor, weave it into your narrative, before you write a check. You start by helping founders with intros & strategic advising. You'll find someone you have table thumping enthusiasm for one day, and I'd advise you follow your gut there. 
Write an investment memo highlighting the top three highlights & risks, as well as how they'll be handling the risks & share with some friends who have already made angel investments. Based on this feedback, write a check (or if you don't have the money, try organizing a syndicate).  
Sign Up Today!
To get these right in your inbox
What are the biggest problems and markets Gen Z founders are passionate about solving in 2021 and beyond?
GenZ's have an incredibly high bullsh*t detector. We grew up on the internet, we understand how to organize en masse, we understand that people are behind software. We're also some of the loneliest and have the highest rates of mental health issues.
Mental health and wellness are huge markets I'm passionate about exploring, as well as the creator infrastructure — supporting people to do what they love!
I think play is going to be a huge theme going forward — there's a certain tongue in cheek vibe that I think we'll see pop up more in marketing and product especially. 
What are you passionate about outside of work?
My family, friends, and health! I'm a plant mom, I love to read (Mari Andrews is one of my faves), I'm getting back into surfing. I live in San Diego, so of course — long walks on the beach.
What's your secret for getting on the cap table?
Empathy, positivity, and transparency go a lot further than people think. Also, there's not many other 22 year old women investing — I think that's refreshing for a lot of founders to see one of their peers on the other side of the table. 
On the flip, what's your biggest cap table "mistake"?
I will let you know in 7 to 10 years ;)
What advice would you give to other Gen Z's looking to get into venture capital?
The game is long, and we've got so much time to learn. Send lots of cold emails and DMs — infinite upside & no downside. Build a network of your peers — we're all here to help. Meagan Loyst is doing a lot of great things with the GenZ VC community.
The year is 2030. What's the state of venture capital?
Community-driven & collaborative. Lots of super angels, syndicates, rolling funds. 
Democratized. I honestly have hella beef with the accredited investor definition, so hopefully that's expanded far past what it is today. I think we'll see a much more diverse group of funders - based more off of us raising our own funds than it is taking a traditional route.
Follow Paige on Twitter (@paigefinnn) for more insights on venture capital, angel investing & startups!
Seed
Series A
Series B
Series C
Series D
OwnBackup: $167,500,000 led by Insight Partners, Salesforce Ventures, Sapphire Ventures. OwnBackup provides backup and recovery solutions for companies that use Salesforce.
Series E
Lyra Health: $187,000,000 led by Addition. Lyra helps companies improve access to effective, high-quality mental health care for their employees.
Bloomreach: $150,000,000 led by Sixth Street. Bloomreach is an API company that helps eCommerce customers create, personalize, and scale commerce experiences.
Splashtop: $50,000,000 led by Sapphire Ventures. Splashtop is a provider of remote-desktop support software for business, MSPs, IT, helpdesks, and schools.
Series F
Sila Nanotechnologies: $590,000,000 led by Coatue. Sila Nanotechnologies is a provider and manufacturer of revolutionary car batteries.
Sources: Crunchbase, Twitter, LinkedIn