Our guest this week, Darian Shirazi, recently joined the Sacra Discord to discuss his high conviction / high velocity approach to early-stage investing, how he evaluates founders' ideas and the quality of their organic demand, and how he's built Gradient's reputation as the Tiger Global of early-stage investing.
If you're an early-stage founder working on B2B, AI, or DeFi, and you'd like an introduction to Darian, reply to this email and let us know!
We host weekly events for Sacra members, if you'd like to hear more about the membership, send us an email at founders@sacra.com.
Darian founded Radius, a B2B customer data platform, serving as the company's CEO for 7+ years. He grew the company to 100+ employees, raised $100MM+ in funding before being acquired by Kabbage. 
Darian is an early investor in companies like Lyft, Udemy, Carbon Health, Palantir, and serves on the board at MainStreet, Contractbook, and Chili Piper, and others.
He dropped out of UC Berkeley after working at Facebook as a Software Engineer reporting to Mark Zuckerberg.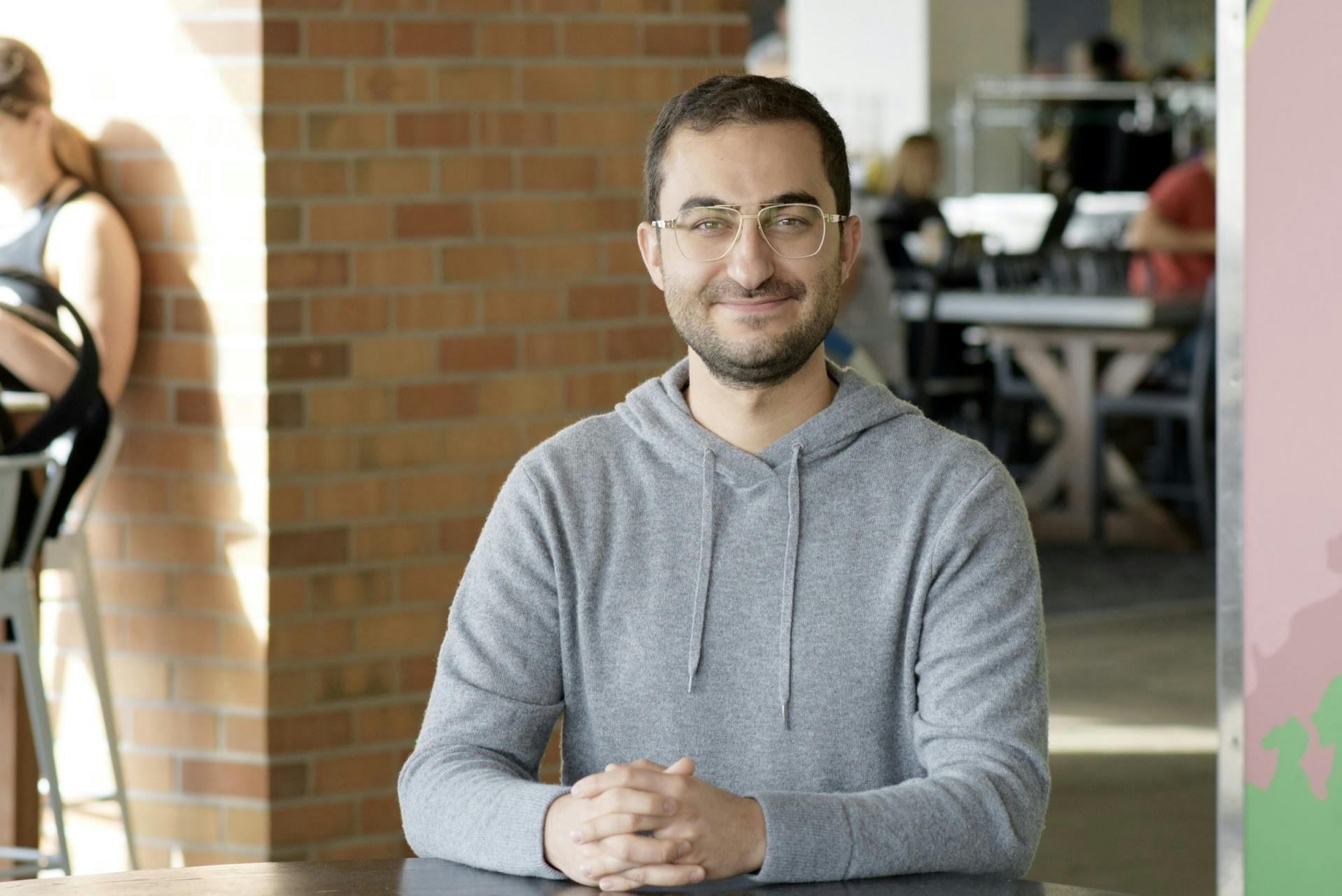 TCT: Can you tell me more about Gradient Ventures and your role there?
Darian: Gradient Ventures is Google's early stage, AI-focused venture fund founded by our Managing Partner, Anna Patterson, in 2017. We help founders build transformational companies, navigate challenges in developing new technology products, and provide significant operational support across marketing, talent, sales, engineering and design. We invest for financial return and don't have a strategic mandate. My role as a GP is to make investments in Seed and Series A companies that have high growth potential.
TCT: You recently welcomed Wen Wen as a new partner at Gradient. Can you tell us more about what she'll be focusing on and how you'll be teaming up together? 
Wen Wen is our fourth investment partner on the team. She's a former YCombinator founder who built her own startup in the travel space, a challenging industry during the pandemic. She sold her company to TravelPerk earlier this year, and has a wealth of operational experience. For founders who are building a company for the first time, having Wen Wen on their board will allow them to navigate tough times. That really speaks to the DNA of our fund: founders first.
TCT: What's your typical check size and how often are you doing deals? 
Our median check size is about $4 million. We've done 95+ investments and invested multiple times in most of our companies. We've done checks as small as $500k and as large as $10M.
TCT: Like you mentioned, you invest at different stages. What's your due diligence like?
We're all technical, so we know what's feasible and what's not. We don't like to waste founders' time, so we try to limit our diligence to one week. Our focus is mostly on the founding team's idea, the problem they are solving, and how knowledgeable they are. We also analyze the volume and quality of inbound interest. Organic demand is a strong indicator of future success. For enterprise software, David Sacks calls this bottoms up SaaS. If you look at Mainstreet, Mural, UnitQ, Contractbook, and many of our other portfolio companies, they've all had strong organic demand since the beginning.
TCT: Speaking of, you've won over some hot deals (MainStreet Seed, Mural Series A, Oura Series B). What's your closing pitch and how are you winning over these deals?
When we invested, these were not 'hot' companies. We try to look for companies in markets where no one else is looking. If you start to pattern match, you end up funding companies that have high customer acquisition costs. At the end of the day, picking a VC is all about fit; it's a sorting process. We are genuine with our founders, and we like founders who respond to that.
TCT: Venture capital as an asset class has a low barrier to entry but an extremely high barrier to succeed. It takes 7 - 10 years to see realized performance and know whether a strategy generated alpha. How do you balance such delayed gratification with the pressure to deploy capital in the short term? 
You can get marked up if you invest in good companies, and that's how you show progress to your LPs. Although there's a lot of capital available now, companies can only raise $100 million in follow-on financing if they have real traction, revenue, and growth. Buying preferred stock in a company with strong growth and retention is unlikely to yield a loss in a downside scenario. Therefore, it's a pretty safe asset class, especially as we've seen the market expand.
TCT: How are you thinking about fund allocation (new deals vs. follow on %'s)?
When our companies raise big growth rounds, we usually participate. That's a big benefit for our portfolio. We can continue to engage with the company, and help them through the whole lifecycle.
TCT: Can you talk a little bit about the relationship with Google?
Our relationship to Google is similar to any fund's relationship with their LP. Since we're ROI focused, our fund is not designed to create a pipeline for future strategic acquisitions. We run independently of Google and there are strict boundaries between Gradient and Google to prevent confidential information about any of the funds' portfolio companies from being shared with Google or any other Alphabet entities. We focus on the success of our founders and their companies.
TCT: The pace of innovation is accelerating. What challenges do you experience in staying on top of the emerging trends and technologies? What do you do to adjust and overcome them? 
I think it's about seeing as many pitches as possible, analyzing which companies work and don't work, talking to customers and enterprise companies, and thinking deeply about markets. Staying engaged with the startup community keeps us informed as these technologies develop.
TCT: For emerging managers who don't have a deep rolodex like yourselves for due diligence and referrals, what would you advise them to do to separate signal from noise? 
Talk to founders, and learn from them.
TCT: Which investor has influenced your thinking the most and why? 
Keith Rabois was one of my biggest influences. I first met him at Sports Club LA in San Francisco 12 years ago. He was nice enough to meet with me once a month for a while, and I learned a ton. We spoke about portfolio companies, what was working at Yelp (where he was on the board and an early investor), and other investment related topics. We've kept up over the years and he's been wildly successful. I introduced him to the Udemy team, which ended up being a fantastic outcome for both of us.
TCT: You were one of the first checks into Loft, which just raised $100M at $2.9B post-money valuation. How did you meet the founders and can you tell us more about how you got into this deal?
The credit for this one goes to my wife Hilary who runs Corporate Development at Pinterest. She went to college with Florian, one of the founders. Once I met him and figured out what he was doing, I told him we'd love to invest, and he gave us a small allocation. In an early stage company, the founder's goal is to build their network and have people pulling for their success. Therefore, they often welcome more investors.
TCT: How do you stay organized with your investments (managing notes and SAFEs, pipeline, etc)? 
For now, spreadsheets. There's no real programmatic way to do this and win.
TCT: What was your first 100x/10x and how did you get into that deal?
Udemy is the first deal that I did. I was very fortunate - the company was founded by Eren Bali and Gagan Biyani. I had known Gagan from high school. We debated against each other at Lincoln Douglas tournaments. He was a much better debater than I was! We both went to Cal, but I dropped out to work on and invest in startups. He told me: 'hey, I met this guy, Eren, and he's brilliant. I'm going to start a company in the ed-tech space with him.' People were creating more and more digital content. Video was on the rise after Google's YouTube acquisition. I thought to myself: 'this seems interesting'. Now, Udemy is a well-known brand. But it's not just that: Eren started Carbon Health, Gagan started Sprig and now has started Maven. I was very lucky to get connected to them.
TCT: What's your secret for getting on the cap table?
Find people who start companies, get conviction early, and prove that conviction to the founder. If you can get conviction within 48 hours, it shows the founder 'I want to work with you', and that you are an investor who is easy to work with. A founder has no time to waste: they need to focus on the business and its challenges, and are putting out fires all day. Another secret is founder references. When you build strong relationships and have great references, it'll help you get on the cap table.
TCT: What's your biggest miss (a company you saw but passed on)?
There are some big ones I passed on. In the past year it was Deel, which just raised at a $1.2 billion dollar post-money valuation. That was just nine months ago, but since then they've already grown dramatically. Alex Bouaziz is a fantastic entrepreneur. I clearly underestimated the growth potential of the business.