Home

&nbsp>&nbsp

Companies

&nbsp>&nbsp

Retool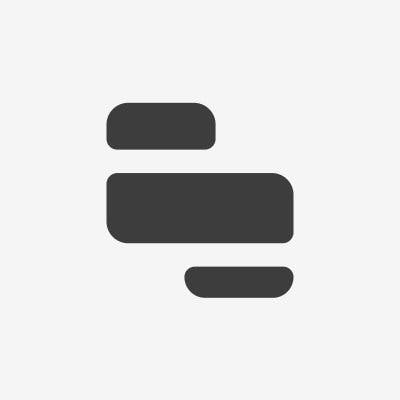 Retool
Retool is a developer utility that makes it easy to build simple internal tools like dashboards and admin panels.
Growth Rate (y/y)
173%
2022
Revenue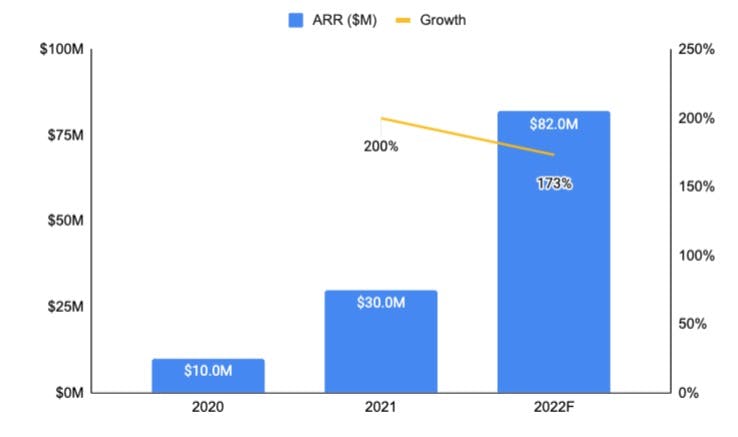 Revenue at Retool grew from $10M ARR at the end of 2020 to $30M at the end of 2021. Retool makes money by selling SaaS-style subscriptions with a freemium pricing model. As of November, we estimate Retool is on track to hit $82M in ARR in 2022, implying a CAGR of 186% over the last two years.
Valuation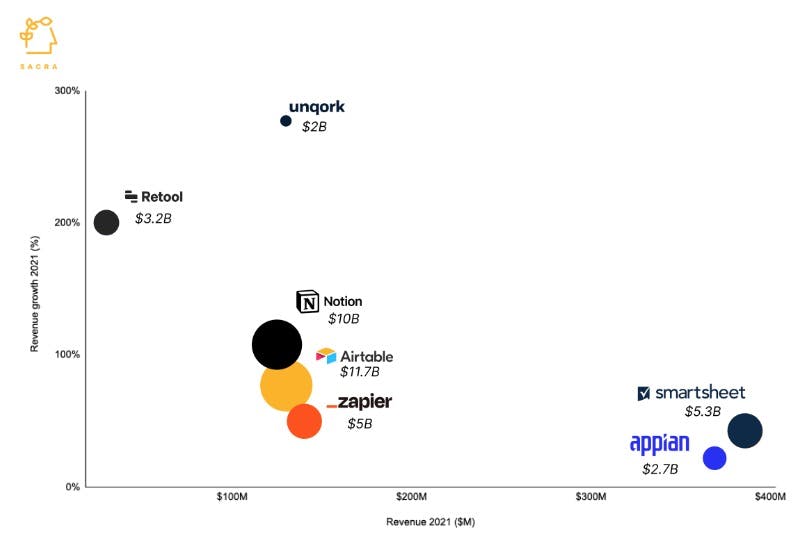 Retool has raised $140M from Sequoia Capital and Y Combinator, and angel investors like Elad Gil, Patrick Collision, Nat Friedman and Paul Graham. Its last private valuation is $3.2B at a 2021 revenue multiple of 107x.
Product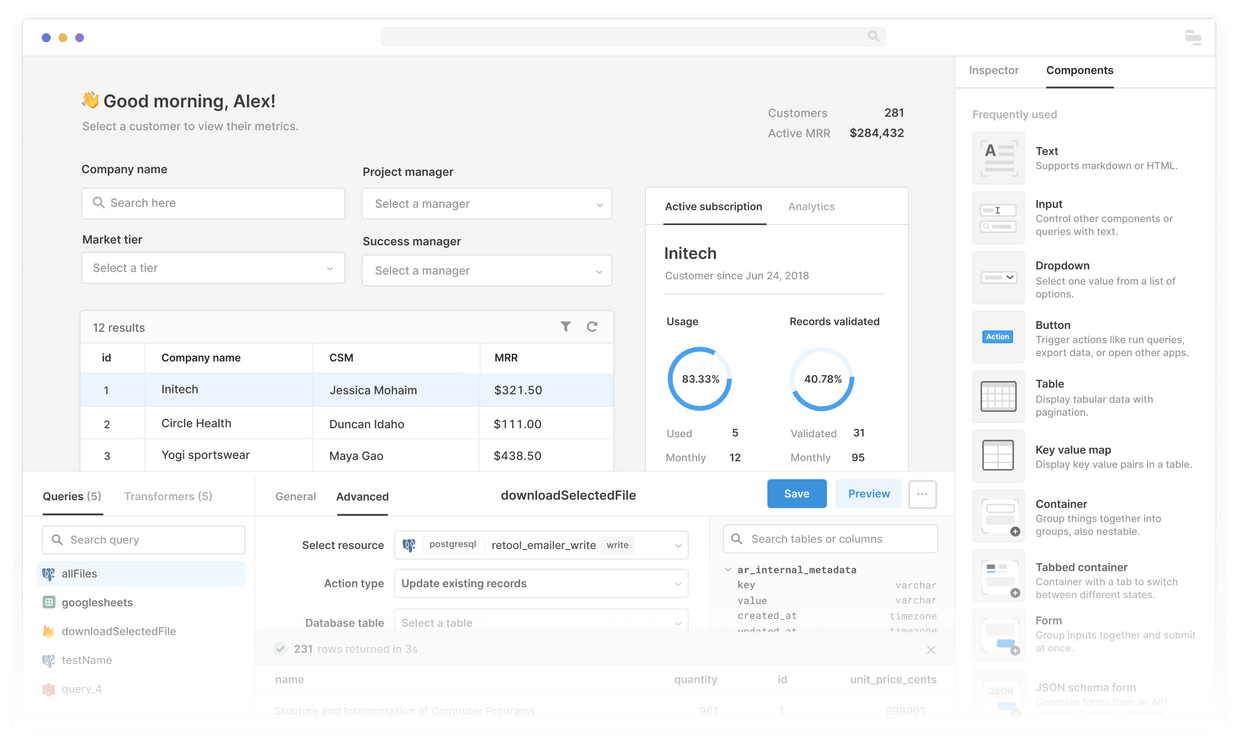 Retool is a platform that enables engineers to build custom tools and applications that connect to their company's data stores. Retool's main use case is building tools on top of production databases that allow internal teams to build simple CRUD tools like admin panels, internal dashboards, customer order managers, and others.
Retool has found particular traction with businesses that need to build tools that handle physical and logistical tasks, like fintechs handling loan approval processes and marketplaces handling large volumes of customer orders and returns.
The platform is designed to be used by engineers: first, Retool hooks into their production databases, APIs, and SaaS apps. Then, engineers write SQL to pull data out and join it across different sources. Users can drag-and-drop from 100+ pre-built Retool components, and then write simple Javascript to move data in and around those pre-built components.
Business Model
Retool is a subscription SaaS company that prices based on the number of seats a customer needs. 
Companies pay the same amount per-seat for a developer (actively building and editing new internal tools in Retool) and each consumer (someone simply logging into Retool internal tools and using them).
Retool has 4 core pricing tiers:
Free: Unlimited web and mobile apps, limited to 5 users per month
Team ($10): Unlimited users, staging and production environments, release management, version control

Business ($50): Unlimited development environments, granular access controls, audit logs
Enterprise: SSO integration, Git-based source control, custom branding

The key feature motivating teams to upgrade from Team ($10) to Business ($50) has historically been the granular access controls which allow teams to pick and choose which users can read/write to their internal tools.

Enterprise plans are required for companies that need on-premises deployment—common with companies with sensitive security needs such as healthcare companies working with patient records. On-premises deployment has been one of the biggest triggers for enterprise upsells, though Retool recently launched a self-serve on-premises deployment option for teams with less than 25 overall users.

Retool faces headwinds on expansion revenue similar to Airtable because they charge per seat—with a fixed price of whether you're a creator or consumer—and that limits expansion compared to a Figma, where it's able to spread throughout the org and only monetize seats of editors/creators, or Zapier, which has top-tier net revenue retention because of its usage-based model.
Competition
All the major low/no-code platforms are converging on the same MVC-esque structure, building overlapping tools like Retool with Workflows (Zapier) and Database (Airtable), Zapier with Tables (Airtable) and Interfaces (Retool), and Airtable with Interface Designer (Retool) and Automations (Zapier). All three platforms are building the same low/no-code app builder with a database layer, a logic layer, and an interface builder.
Lots of other companies are fast following Retool on the internal tools opportunity—Budibase, Appsmith, Superblocks and others—differentiating on their core framework (e.g. Appsmith with React) or being open source.
Enterprise no-code app builders like Unqork, Appian and Pegasus Systems tend not to compete with Retool on enterprise deals because they target a different customer segment—non-technical management vs. technical engineers.
TAM Expansion
Because engineers trust Retool with writing to production databases, Retool have a strong position to move from an internal app builder into any other apps—internal or external—that the company needs. To expand beyond internal tools, Retool will have to solve for a higher degree of customizability and more unpredictable usage.
With their new mobile app builder, Retool is going after marketplaces like Instacart and vertical SaaS like ServiceTitan ($300M ARR), where software powers a distributed workforce of non-employee contractors that need software to interact with production data. Retool is riding the blurring of internal and external apps that is tied to the blurring of employment boundaries between employees and contractors.
Risks
A lack of expansion revenue biases companies like Retool towards de-emphasizing self-serve and focusing on closing enterprise deals, but they do that at the risk of leaving the bottom end of the market vulnerable to competition.
Disclaimers
This report is for information purposes only and is not to be used or considered as an offer or the solicitation of an offer to sell or to buy or subscribe for securities or other financial instruments. Nothing in this report constitutes investment, legal, accounting or tax advice or a representation that any investment or strategy is suitable or appropriate to your individual circumstances or otherwise constitutes a personal trade recommendation to you.
Information and opinions presented in the sections of the report were obtained or derived from sources Sacra believes are reliable, but Sacra makes no representation as to their accuracy or completeness. Past performance should not be taken as an indication or guarantee of future performance, and no representation or warranty, express or implied, is made regarding future performance. Information, opinions and estimates contained in this report reflect a determination at its original date of publication by Sacra and are subject to change without notice.
Sacra accepts no liability for loss arising from the use of the material presented in this report, except that this exclusion of liability does not apply to the extent that liability arises under specific statutes or regulations applicable to Sacra. Sacra may have issued, and may in the future issue, other reports that are inconsistent with, and reach different conclusions from, the information presented in this report. Those reports reflect different assumptions, views and analytical methods of the analysts who prepared them and Sacra is under no obligation to ensure that such other reports are brought to the attention of any recipient of this report.
All rights reserved. All material presented in this report, unless specifically indicated otherwise is under copyright to Sacra. Sacra reserves any and all intellectual property rights in the report. All trademarks, service marks and logos used in this report are trademarks or service marks or registered trademarks or service marks of Sacra. Any modification, copying, displaying, distributing, transmitting, publishing, licensing, creating derivative works from, or selling any report is strictly prohibited. None of the material, nor its content, nor any copy of it, may be altered in any way, transmitted to, copied or distributed to any other party, without the prior express written permission of Sacra. Any unauthorized duplication, redistribution or disclosure of this report will result in prosecution.