Product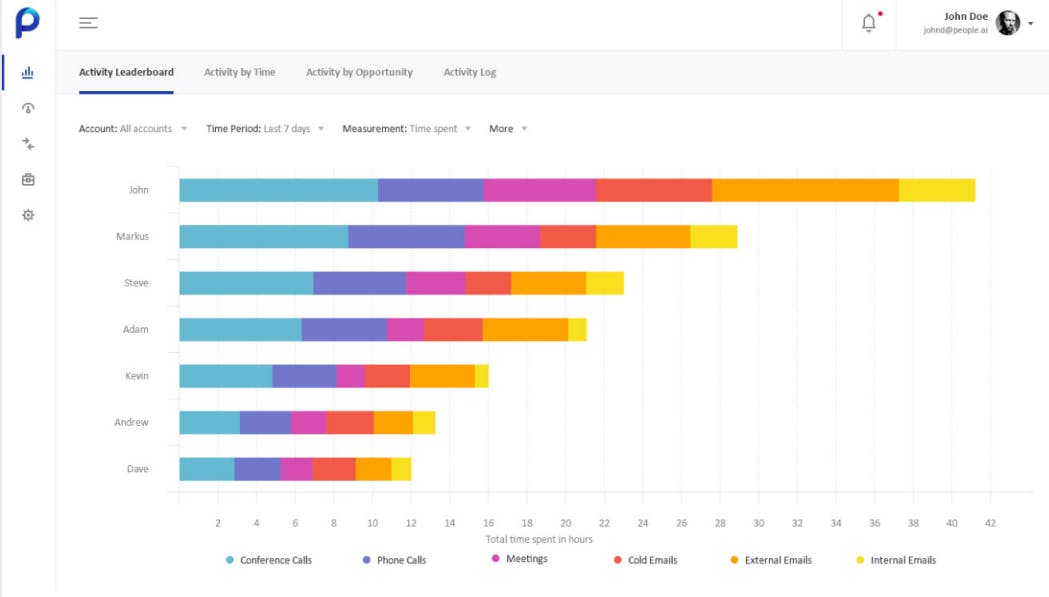 People.ai, a revenue intelligence platform, was launched in 2016 in response to the need for an efficient data collation tool in the B2B sales market. Previously, sales reps across companies would use spreadsheets rather than Salesforce and resort to manual data entry to record their progress in winning deals. People.ai eliminated time-consuming data entry processes, accurately measured progress of sales teams' deals, and indicated employee performances. In fact, since its launch, the tool has speeded-up and collected better data than Salesforce while upping sales teams' productivity.
Not only does the tool automatically move data from spreadsheets into Salesforce but it also connects with reps' inboxes, calendars, phones, and virtual conference platforms and collates information like total time spent on calls and meetings, emails exchanged, and contacts engaged. Leveraging AI, it then matches that data to the corresponding opportunity, contact, and buyer records in Salesforce. With People.ai, sales managers can spot what their salespeople are dup to at various stages of the deal without chasing them for data entry.
People.ai's products products include: Data Platform, Account Management, and Salesforce Data Management.
Data Platform: This is People.ai's core product which automates Salesforce data entry using Artificial intelligence. People.ai leverages data from human interactions such as emails, calls, and calendars, and digital interfaces such as marketing automation platforms (Marketo), sales engagement tools (Outreach), and social platforms (LinkedIn). Its AI algorithms use the learning from data ingested over the years, including 350 million sales activities, 40 million contacts, and $100 billion in closed deals. People.ai correlates the sales activity data with Salesforce data on opportunities/deals closed to surface insights on those activities that enable top performers to close more deals and coaching opportunities for salespeople falling behind. It also matches activity data with the company's historical trends and industry standards to proactively flag low buyer engagement deals, single-threaded deals, or missing executive engagement. These insights are available natively in Salesforce to avoid cross-tabbing by salespeople.
Account Management: This tool is built on top of ClosePlan, a Salesforce app that People.ai acquired in October, 2020. It leverages the contacts and deals data in People.ai to automate various account management processes such as organization charts, account scorecards, and account engagement dashboards. Sales managers and reps get a window into the health of an account and can find untapped revenue areas or at-risk accounts to focus on.
Salesforce Data Management: This tool is built on the acquisition of Hero Research in May, 2021 and branded as PeopleGlass. It provides a spreadsheet-type interface for salespeople to enter data into Salesforce. It replaces the spreadsheets maintained by salespeople for regular information updates thereby, reducing data-entry effort while improving Salesforce data quality.