Home

&nbsp>&nbsp

Companies

&nbsp>&nbsp

People.ai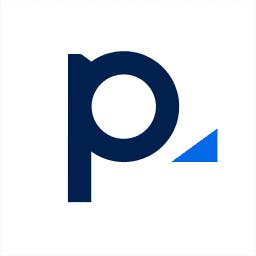 People.ai
People.ai is a revenue intelligence platform for B2B salespeople.
Growth Rate (y/y)
100%
2022
Revenue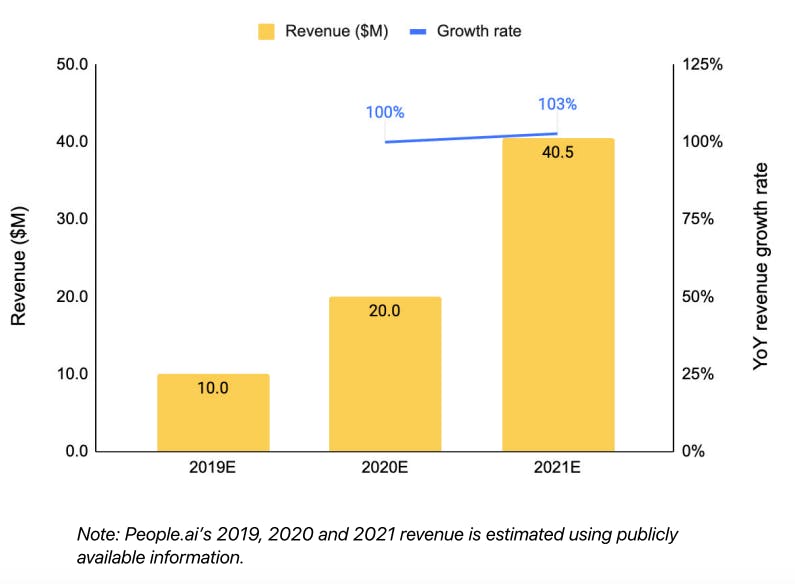 People.ai's revenue (2021) is estimated at $40.5M having grown about 100% year-on-year over the last two years propelled considerably by the 260% growth in customers in 2021. People.ai makes money via a SaaS-style monthly subscription. Pricing is on a per-seat basis and starts at $50 per user per month.
Valuation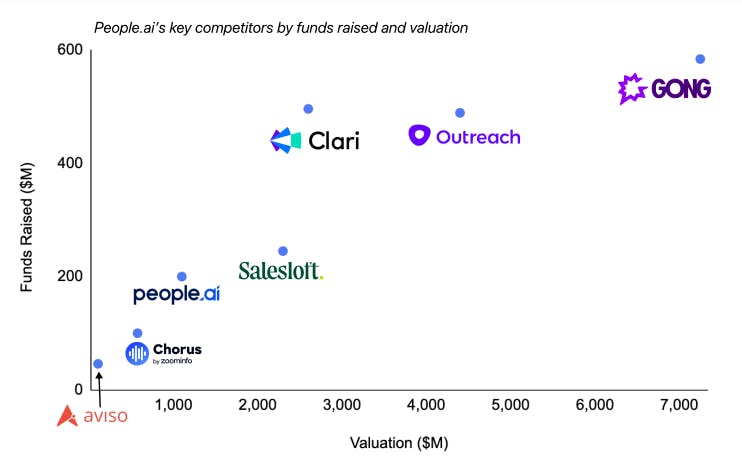 People.ai raised $200M (excluding an undisclosed debt funding round) and was most recently valued at $1.1B. In August, 2021, it had raised $100M at twice the valuation of its previous funding round in 2019. Its closest competitor in the revenue intelligence industry, Gong, is valued at $7.25B with an estimated revenue of $100M (2021) while another competitor, Chorus.ai, was bought by ZoomInfo in July, 2021 for $575M. People.ai competes with large revenue operations and sales engagement startups such as, Clari ($2.6B), Outreach ($4.4B), and Salesloft ($2.3B).
Product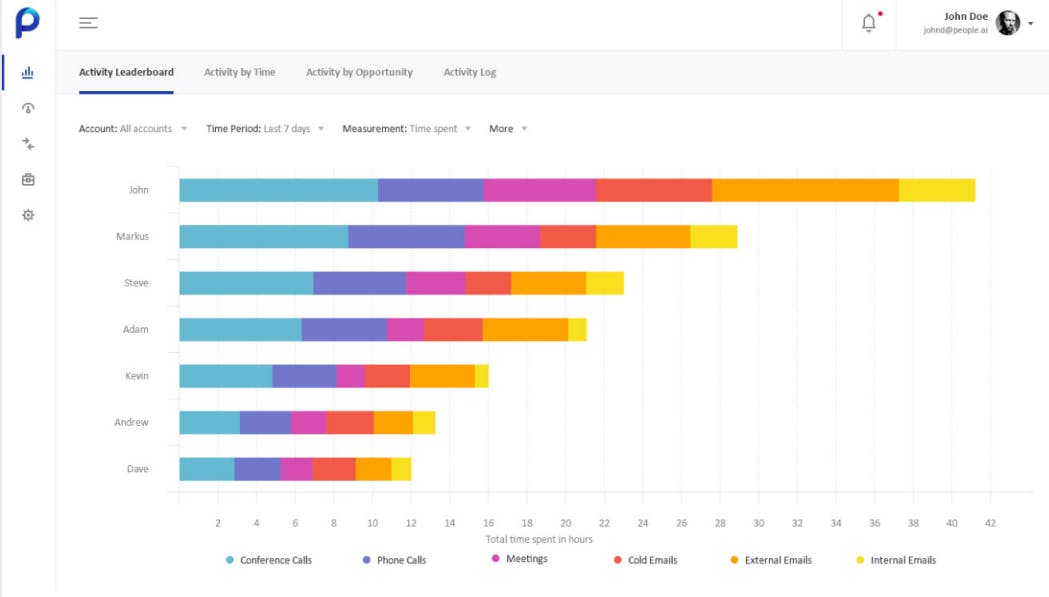 People.ai, a revenue intelligence platform, was launched in 2016 in response to the need for an efficient data collation tool in the B2B sales market. Previously, sales reps across companies would use spreadsheets rather than Salesforce and resort to manual data entry to record their progress in winning deals. People.ai eliminated time-consuming data entry processes, accurately measured progress of sales teams' deals, and indicated employee performances. In fact, since its launch, the tool has speeded-up and collected better data than Salesforce while upping sales teams' productivity.
Not only does the tool automatically move data from spreadsheets into Salesforce but it also connects with reps' inboxes, calendars, phones, and virtual conference platforms and collates information like total time spent on calls and meetings, emails exchanged, and contacts engaged. Leveraging AI, it then matches that data to the corresponding opportunity, contact, and buyer records in Salesforce. With People.ai, sales managers can spot what their salespeople are dup to at various stages of the deal without chasing them for data entry.
People.ai's products products include: Data Platform, Account Management, and Salesforce Data Management.
Data Platform: This is People.ai's core product which automates Salesforce data entry using Artificial intelligence. People.ai leverages data from human interactions such as emails, calls, and calendars, and digital interfaces such as marketing automation platforms (Marketo), sales engagement tools (Outreach), and social platforms (LinkedIn). Its AI algorithms use the learning from data ingested over the years, including 350 million sales activities, 40 million contacts, and $100 billion in closed deals. People.ai correlates the sales activity data with Salesforce data on opportunities/deals closed to surface insights on those activities that enable top performers to close more deals and coaching opportunities for salespeople falling behind. It also matches activity data with the company's historical trends and industry standards to proactively flag low buyer engagement deals, single-threaded deals, or missing executive engagement. These insights are available natively in Salesforce to avoid cross-tabbing by salespeople.
Account Management: This tool is built on top of ClosePlan, a Salesforce app that People.ai acquired in October, 2020. It leverages the contacts and deals data in People.ai to automate various account management processes such as organization charts, account scorecards, and account engagement dashboards. Sales managers and reps get a window into the health of an account and can find untapped revenue areas or at-risk accounts to focus on.
Salesforce Data Management: This tool is built on the acquisition of Hero Research in May, 2021 and branded as PeopleGlass. It provides a spreadsheet-type interface for salespeople to enter data into Salesforce. It replaces the spreadsheets maintained by salespeople for regular information updates thereby, reducing data-entry effort while improving Salesforce data quality.
Competition
People.ai competes not just with other revenue intelligence companies, but also with revenue operations and sales engagement organizations for market share. These companies have overlapping features that target the same use cases: SFA automation, sales activity insights, and salespeople performance-tracking.
Revenue intelligence companies such as Gong (valued at $7.25B) and Chorus.ai ($575M) are two of the largest revenue intelligence companies. Both connect with salespeople's audio/video apps and use AI to not just scrape activity data like People.ai but analyze what's being said on sales calls. They use it to improve salespeople's performance. For instance, Gong provides automated reminders for follow-up, cites topics for salespeople to discuss on calls, elaborates how much they should talk vs. listen, and shares conversation styles of successful sales reps.
Chorus.ai was recently acquired by ZoomInfo and acquired a direct on-ramp into their proprietary information/tools. In the last couple of years, revenue operations and sales engagement companies have released considerable revenue intelligence features to offer all-in-one tech solutions for sales teams.
Revenue operations companies are typically used by sales teams for sales forecasting, pipeline management, and account management. These include companies such as Clari (valued at $2.6B) and Aviso ($106M). Sales engagement companies such as Outreach.ai ($4.4B) and Salesloft ($2.3B) that provide communication tools for reaching out to prospects and building the sales pipeline have also added revenue intelligence features. These companies have the benefit of an existing customer base to whom they can cross-sell the revenue intelligence products. Revenue Intelligence features offered by these companies are not best-in-class yet, compared to dedicated revenue intelligence companies but they are evolving fast.
TAM Expansion
Overview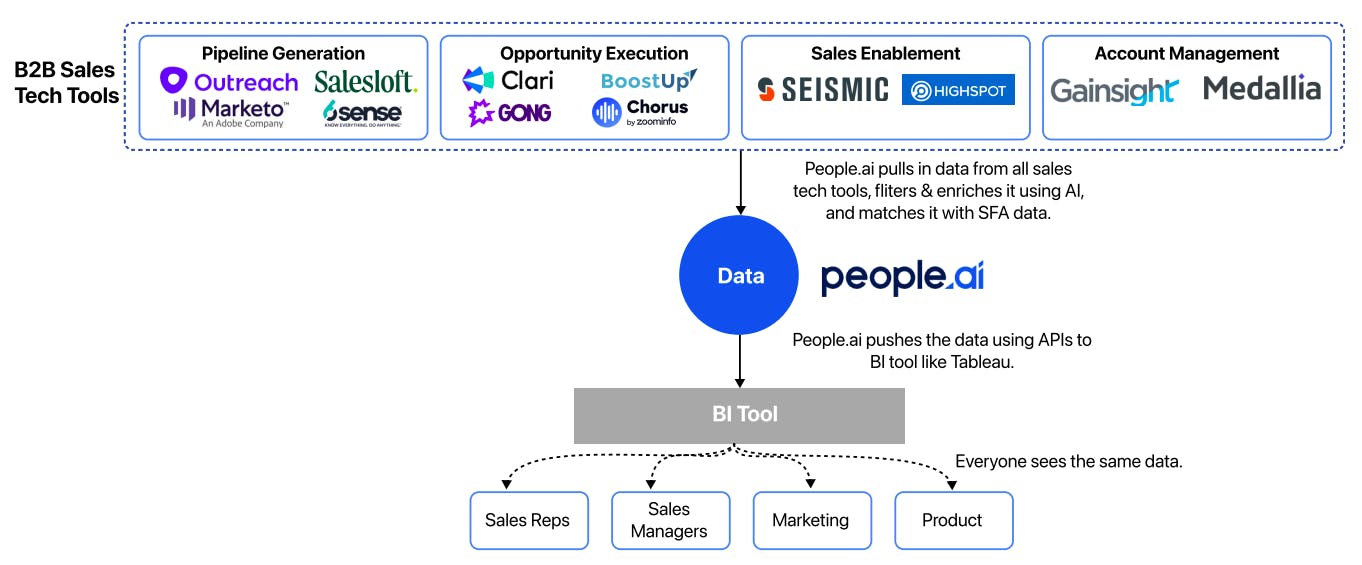 People.ai is betting big on moving beyond revenue intelligence and aggregating the data of entire sales tech stack. It's assisted by a few tailwinds:
Over the years, B2B sales leaders have added sales tech tools to plug-in holes left after implementing Salesforce/SFA. However, these tools don't talk to each other and every tool reports slightly different values for the same metrics as they interpret data differently. An average enterprise sales rep uses 5-10 sales tech tools and the sales data is split across silos.
COVID has fuelled the transition of B2B sales from physical to digital. It is estimated that by 2025, ~80% of buyer-seller interactions will happen digitally. This creates an enormous digital data footprint, which compounds the problem of fragmented data across different tools.
People.ai aims to unify this data by building infrastructure that integrates with other sales tech solutions rather than competing with them. As the single source of all sales data for the B2B sales companies, it plans to send the data using APIs to any BI tool that companies use so that everyone gets to view the same data irrespective of sales tech tools used. In theory then, People.ai can take a much larger chunk of sales tech market, compared to just being a revenue intelligence company. However, it will need a strong GTM to convince B2B sales companies to make more investment in a new data infrastructure. These companies have already invested heavily in Salesforce/SFA and expect it to be their single window for data.
Risks
Commoditization of revenue intelligence as a feature
Revenue operations and sales engagement companies are aggressively rolling out revenue intelligence features. While these are not as good as dedicated solutions right now, these can improve to the extent that the entire revenue intelligence category becomes a feature of revenue operations/sales engagement products.
Falling behind in the core revenue intelligence features
People.ai may fall behind the curve in core revenue intelligence innovation as it focuses on the data management layer and not on applications. Some of its features are already considered lagging behind Gong and Chorus.ai, and it risks losing out on customers that want cutting-edge revenue intelligence features. If its GTM for the data layer doesn't deliver as expected, it risks being stuck with a dated product.
Team

Oleg Rogynskyy
Founder & CEO

Art Harding
COO

Thomas Wyatt
CPO & CSO

Joel Hofman
Chief Customer Officer

Mariana Prado Cogan
CMO
Fundraising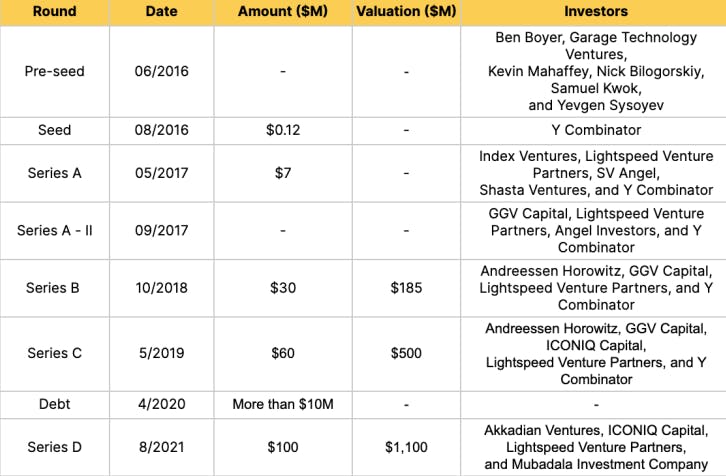 Disclaimers
This report is for information purposes only and is not to be used or considered as an offer or the solicitation of an offer to sell or to buy or subscribe for securities or other financial instruments. Nothing in this report constitutes investment, legal, accounting or tax advice or a representation that any investment or strategy is suitable or appropriate to your individual circumstances or otherwise constitutes a personal trade recommendation to you.
Information and opinions presented in the sections of the report were obtained or derived from sources Sacra believes are reliable, but Sacra makes no representation as to their accuracy or completeness. Past performance should not be taken as an indication or guarantee of future performance, and no representation or warranty, express or implied, is made regarding future performance. Information, opinions and estimates contained in this report reflect a determination at its original date of publication by Sacra and are subject to change without notice.
Sacra accepts no liability for loss arising from the use of the material presented in this report, except that this exclusion of liability does not apply to the extent that liability arises under specific statutes or regulations applicable to Sacra. Sacra may have issued, and may in the future issue, other reports that are inconsistent with, and reach different conclusions from, the information presented in this report. Those reports reflect different assumptions, views and analytical methods of the analysts who prepared them and Sacra is under no obligation to ensure that such other reports are brought to the attention of any recipient of this report.
All rights reserved. All material presented in this report, unless specifically indicated otherwise is under copyright to Sacra. Sacra reserves any and all intellectual property rights in the report. All trademarks, service marks and logos used in this report are trademarks or service marks or registered trademarks or service marks of Sacra. Any modification, copying, displaying, distributing, transmitting, publishing, licensing, creating derivative works from, or selling any report is strictly prohibited. None of the material, nor its content, nor any copy of it, may be altered in any way, transmitted to, copied or distributed to any other party, without the prior express written permission of Sacra. Any unauthorized duplication, redistribution or disclosure of this report will result in prosecution.