Home

&nbsp>&nbsp

Companies

&nbsp>&nbsp

ManoMano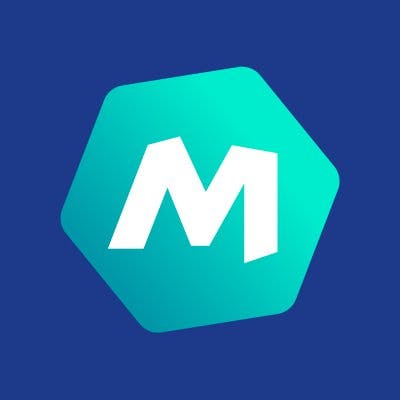 ManoMano
ManoMano is a vertical marketplace for DIY, home improvement and gardening products.
Growth Rate (y/y)
44%
2022
Revenue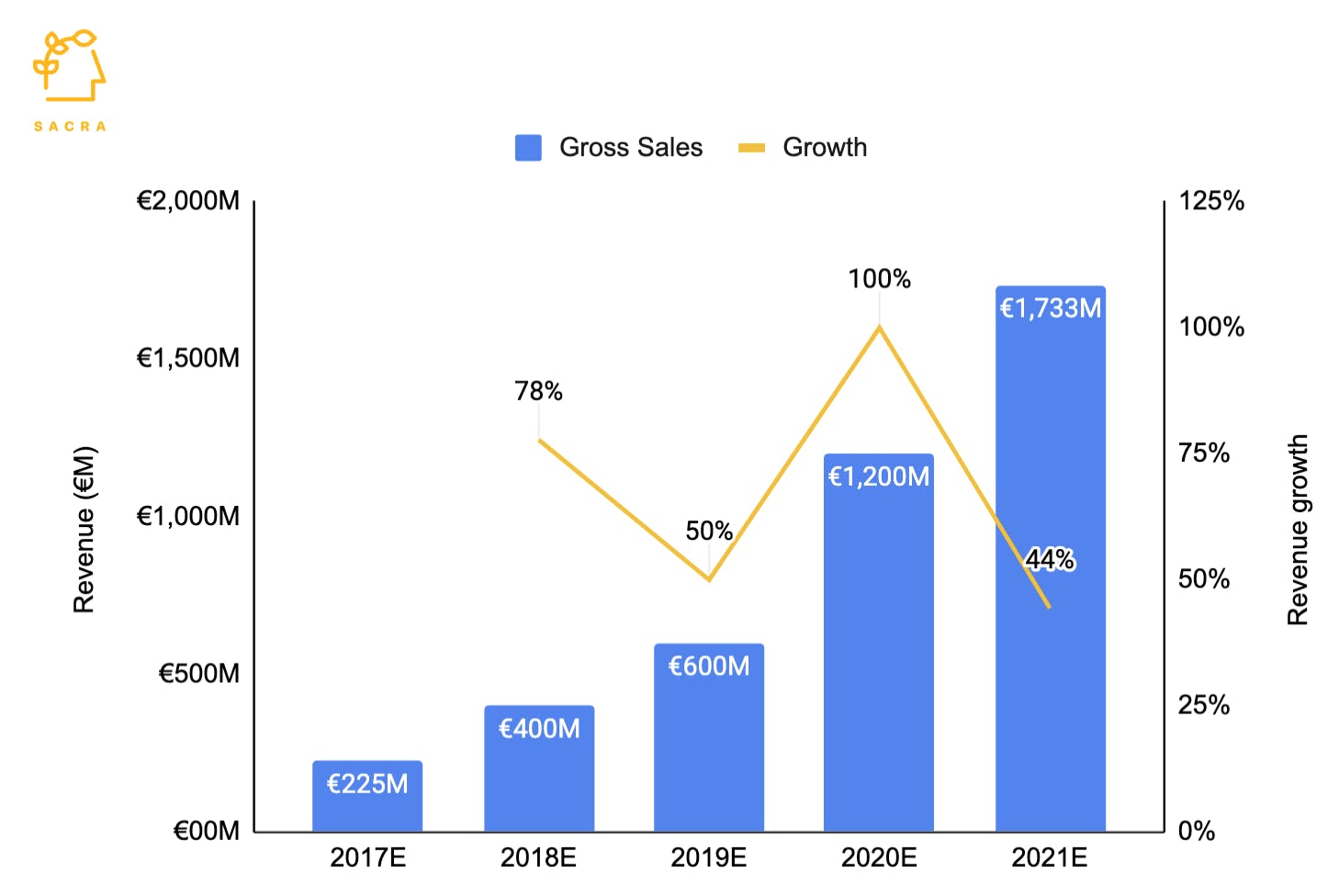 Note: Revenue and growth rate estimated as per publicly available data.
ManoMano doubled gross sales to €1.2B in 2020, driven by COVID lockdowns that accelerated the penetration of ecommerce and grew demand for DIY and outdoor home projects.
We estimate 44% revenue growth in 2021, returning to pre-COVID levels, with the DIY ecommerce market in Europe expected to grow at 26% year over year.
ManoMano operates across Europe and in 2020, generated 60% of sales from France, 9.4% from Germany, 8.75% from the UK, and the rest from Italy, Spain, and Belgium. The UK was ManoMano's fastest-growing market, with a 240% YoY increase in sales. Monthly website visitors grew by 70% to 50M, and active monthly customers grew by 100% to reach 7M.
ManoMano's is made of two marketplaces. One is the B2C marketplace for individual buyers/DIYers who want to upgrade/renovate their homes. Second is the B2B marketplace for tradespeople, ManoMano Pro, where they can buy items in bulk at lower prices and get them delivered directly to their worksites.
ManoMano sells 10M SKUs sourced from 3600+ retailers and has three revenue streams: 1) A fee from retailers for selling on its marketplace, comprising a fixed monthly fee and a category-based commission ranging from 18-20%, 2) fees paid by retailers for using the ManoMano fulfillment service, and 3) paid listings used by retailers to promote their products.
Like other marketplaces, we expect commissions from transactions to be the largest driver of revenue.
Valuation

Note: All figures for private companies estimated as per publicly available data. All figure for public companies taken from public filings.
ManoMano has raised $708M from investors like General Atlantic, Dragoneer, and Temasek. It was last valued at $2.6B on a valuation/revenue multiple of 1.5x. ManoMano's revenue multiple comes in slightly above those of most other publicly listed DIY companies in Europe and the US, which have multiples less than 1x—though ManoMano is also growing the fastest out of all our comps. The revenue multiple for the brick and mortar DIY stores category has hovered around 1.4x over the last few years, however, the average multiple of online consumer marketplaces has dropped to 3.2x, from a high of 6.4x in 2020. When compared to the other online consumer marketplaces, ManoMano at 1.5x looks more attractively valued for future investors.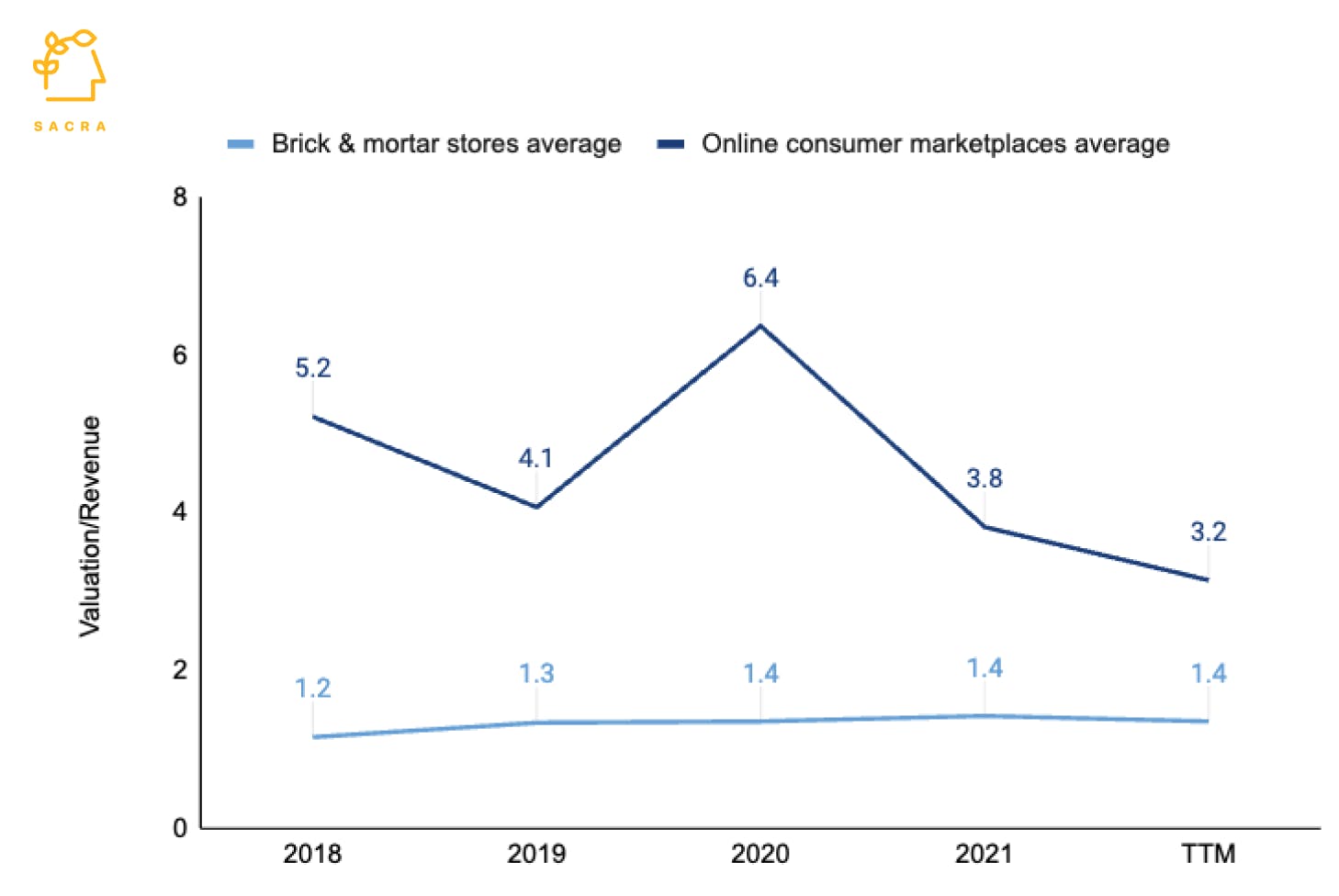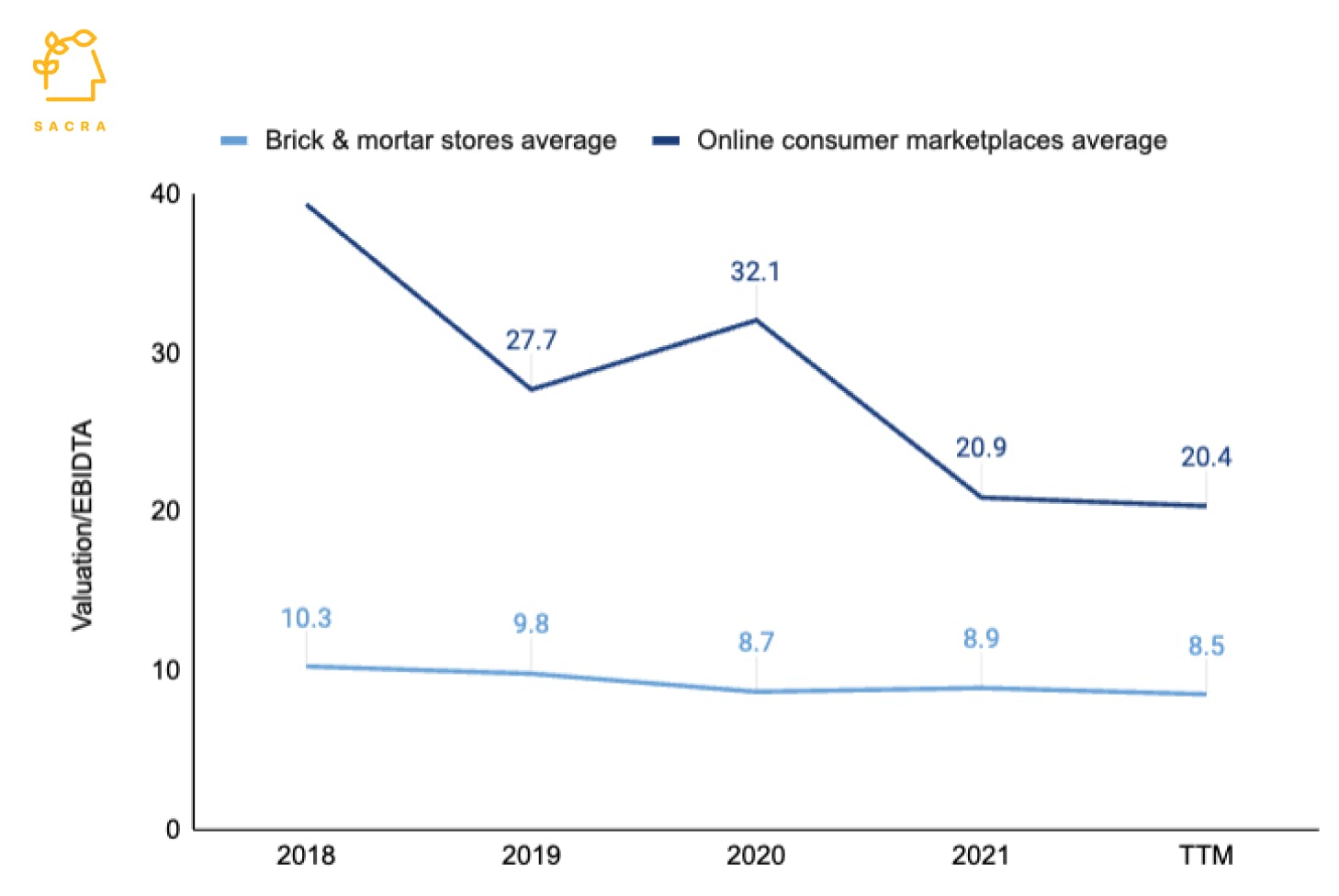 Note: Brick and mortar stores category includes Kingfisher brands, Hornbach, Home Depot, Tractor Supply, and Lowe's. Online consumer marketplaces include Etsy, Ebay, Amazon, and Wayfair. 
Business Model
Launched in 2013 in France, ManoMano is a verticalized online marketplace that specializes in selling DIY, gardening and home improvement items to consumers (B2C) and to contractors and other professionals (B2B).
It is a pure-play marketplace that doesn't hold any inventory or offer private label products and all listings are from third-party retailers.
There are four notable aspects of ManoMano's business model: demand and supply aggregation, asset-light operations, vertical-specific customer experience, and its reputation system.
Demand and supply aggregation
Before ManoMano, the European market for DIY/home improvement shopping was fragmented and limited largely by constraints of geography and location.
To make a purchase in what was predominantly a brick-and-mortar market, customers would typically go to the nearest big-box retailer, with around 50 to 60 thousand SKUs, without knowing if they would find the product they wanted. If they did find it, they would have no way to know if they were getting the best price short of going from shop to shop comparing prices. This lack of price discovery gave those big-box retailers tremendous pricing power—in addition, few if any stores across Europe could offer a truly comprehensive collection of outdoors/DIY products ala Home Depot or Lowe's in the United States.
Specialized small and mid-sized retailers, on the other hand, were generally limited to serving only a few thousand customers due to the need to be within a drivable distance of their customers.
ManoMano aggregated product catalogs across SMB retailers to create a portfolio of 10M SKUs that customers can purchase from anywhere, making geography redundant. The ability of customers to compare products coupled with retailers selling directly to customers led to a reduction in prices, and customers also get the convenience of having large products shipped to their homes.
At the same time, the SMB retailers get access to a significantly larger international customer base without spending anything on customer acquisition. For instance, a patio furniture maker in Manchester can sell its products to a customer in France, and a customer in Spain can order power tools from a retailer in Berlin, with ManoMano managing the logistics using its fulfillment service. This demand and supply aggregation is at the core of ManoMano's business model.

Multiple DIY/hardware stores within 15 to 30 minutes in mid-sized towns in France
Asset-light operations
ManoMano started as an aggregator marketplace, which only managed product listings and payment flow from customers to sellers. The sellers managed logistics on their own. This provided ManoMano with an asset-light business model, closer to a SaaS company than an ecommerce company, which allowed it to scale rapidly.
In 2018, ManoMano launched a fulfillment service with warehouses in France, Spain, and Italy to manage shipments from retailers to customers. However, unlike Amazon, which runs the warehouses and delivery logistics in-house, ManoMano outsourced most of the operations, focusing on tech and customer experience. For instance, the warehouses are managed by vendors like ID Logistics and Katoen Natie. Similarly, the collection and delivery of packages are outsourced to various shipping companies. 
For consumers, shipping solves the problem of trying to fit large home improvement products in cars to bring them home.
Vertical-specific customer experience
Horizontal marketplaces like Amazon attract millions of customers as they serve them across many categories, due to which vertical marketplaces cannot match its scale. But Amazon provides a one-size-fits-all customer experience across all categories, unlike vertical marketplaces that can create a tailor-made customer experience for their category.
ManoMano does a better job categorizing the SKUs than Amazon by using terms specific to DIY/home improvement, making it easier for customers to find a product quickly.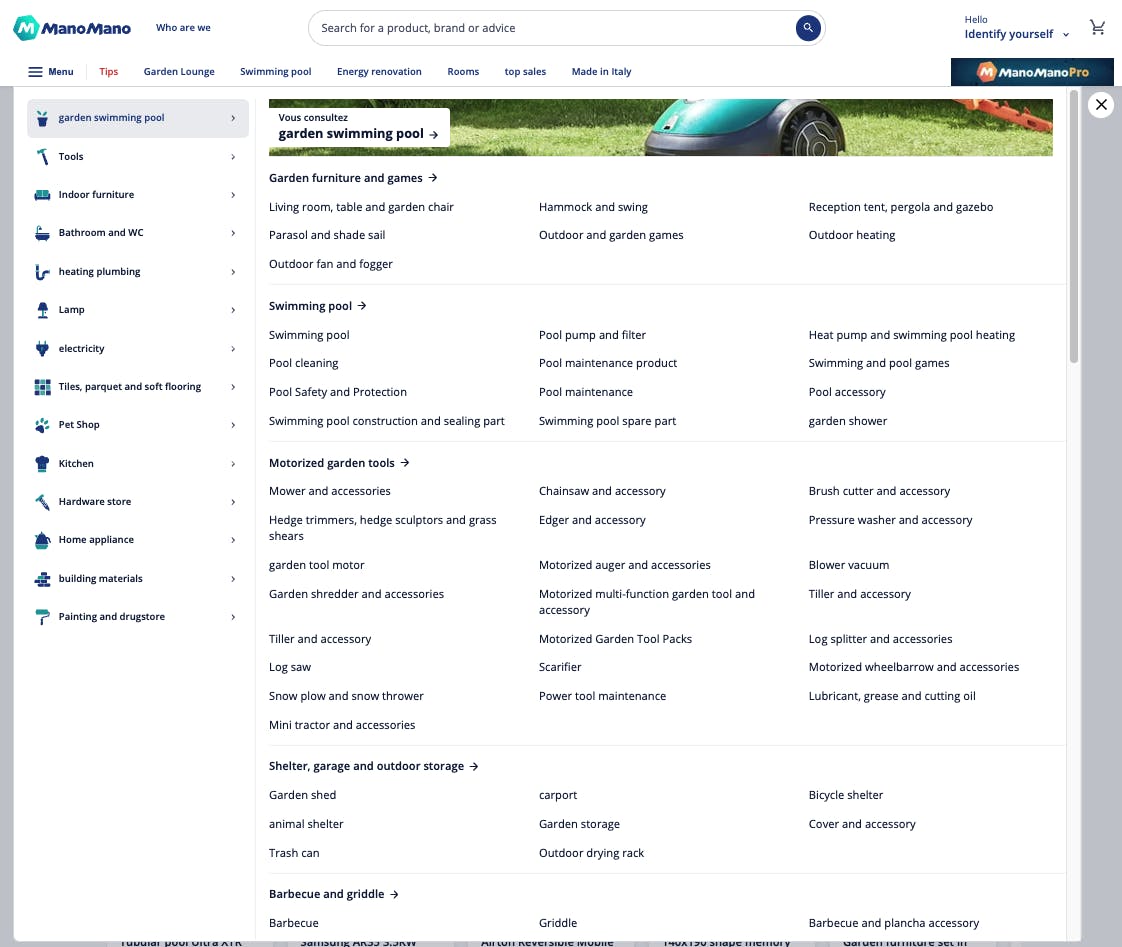 ManoMano's categorization and tagging are highly granular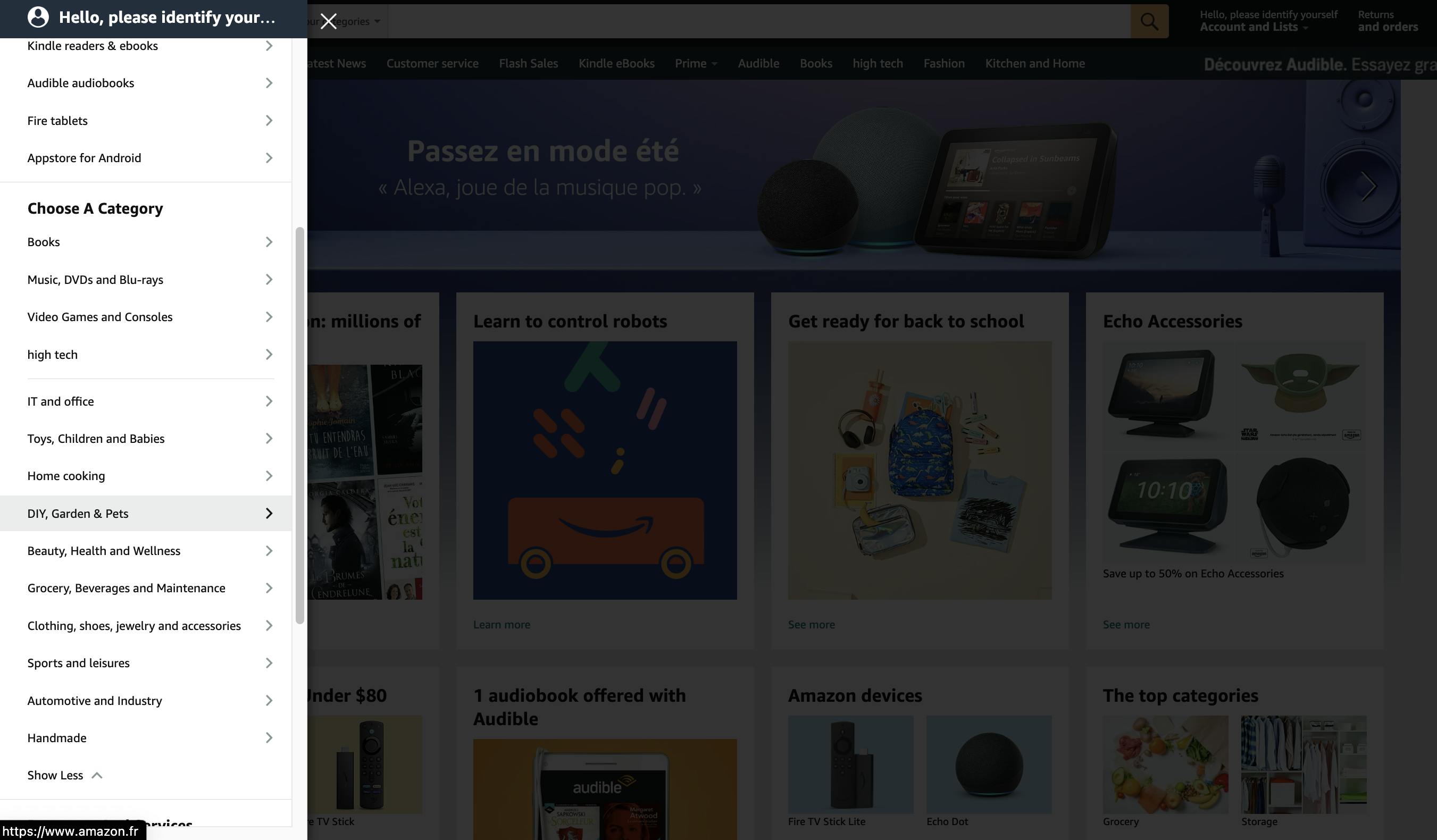 Amazon's categorization is not customized for DIY/home improvement
ManoMano benchmarks price with Amazon across categories. For standardized items like Bosch drills, it cannot beat Amazon as Amazon prices them aggressively, but it offers lower prices for medium and long-tail products than Amazon by selecting retailers who can offer such prices.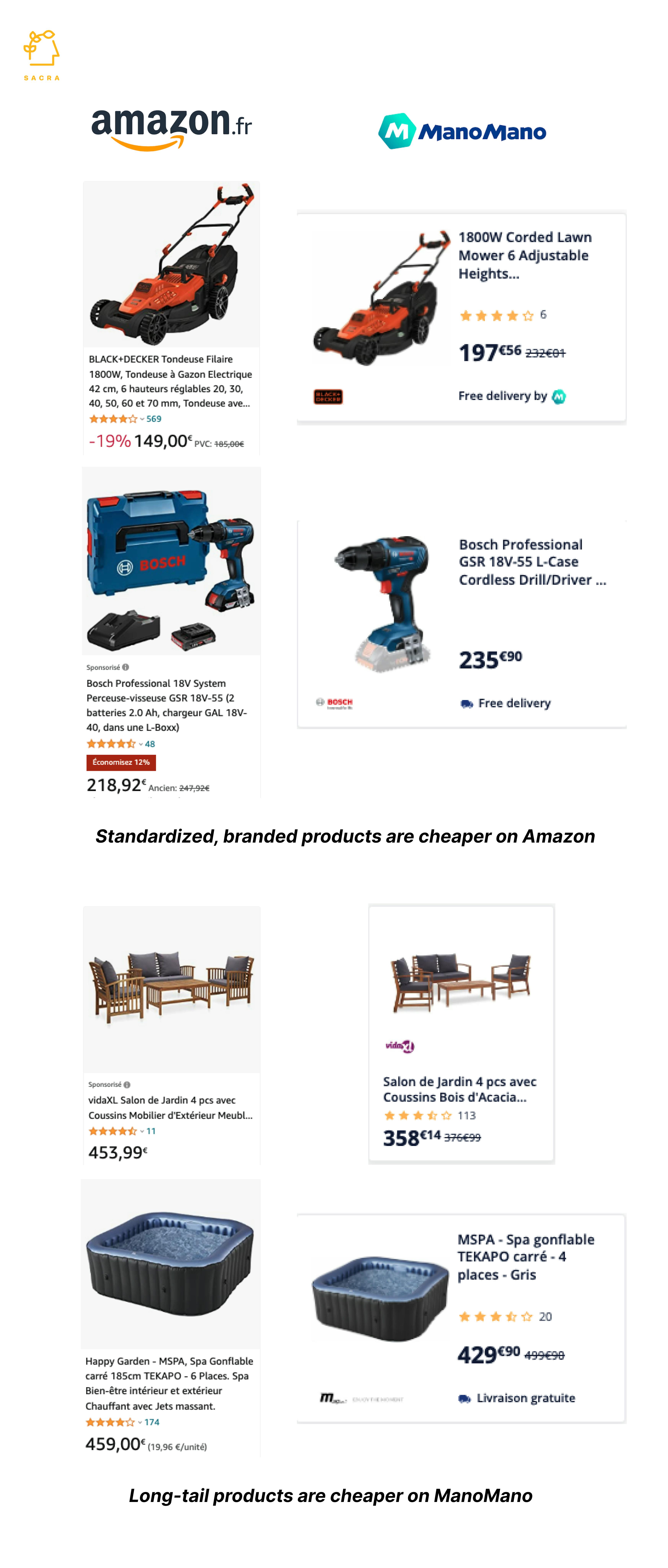 ManoMano has built a community of DIY experts on top of its marketplace, called Manodvisors. Customers can talk to them anytime using the chat widget on the website to get advice about their purchases. In 2020, customers initiated 2.3M conversations with Manodvisors, more than double of 1M conversations in 2019. ManoMano screens all Manoadvisors and pays them a commission when customers place an order. Amazon or another horizontal marketplace cannot replicate this feature as finding experts across hundreds of categories is nearly impossible.
Offering expert advice gives ManoMano a key point of differentiation on the sale of larger, high-value goods that are a large part of the catalog at a home improvement retailer. Before making large purchases like this, many consumers like to consult with experts to better understand the product as well as answer basic product questions that can't be determined from generic product descriptions.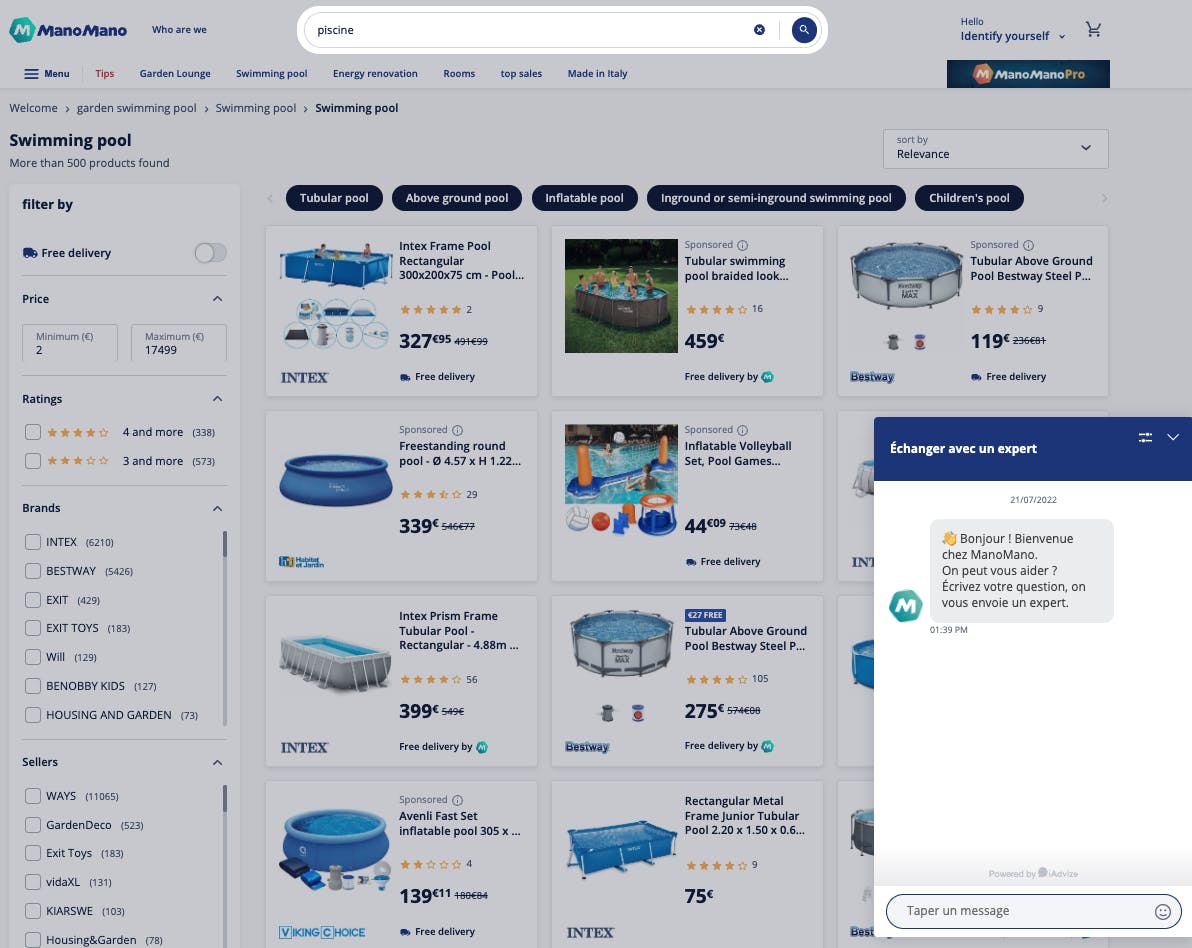 ManoMano's website with chat box for starting a conversation with Manodvisors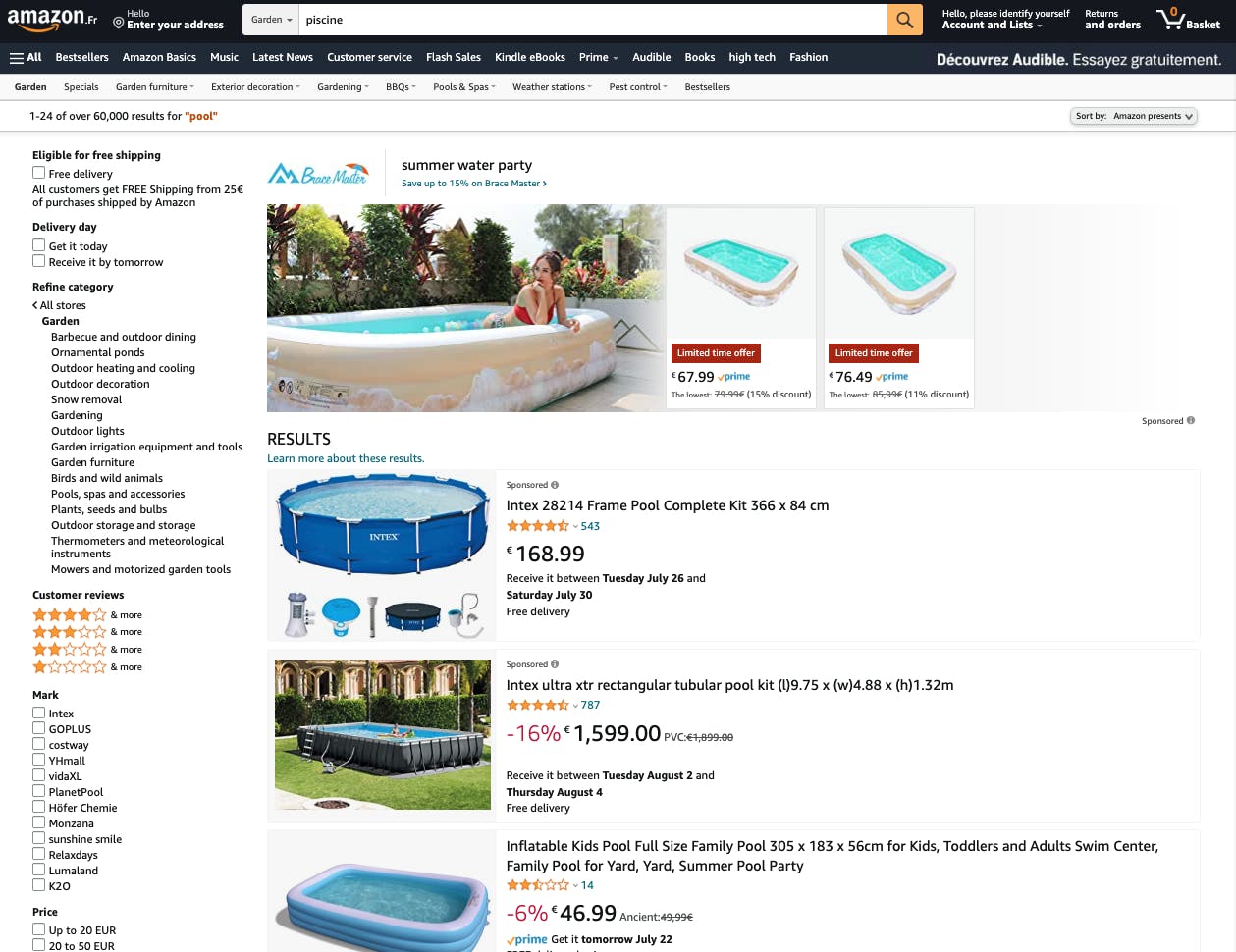 Amazon doesn't have a chat feature for expert advice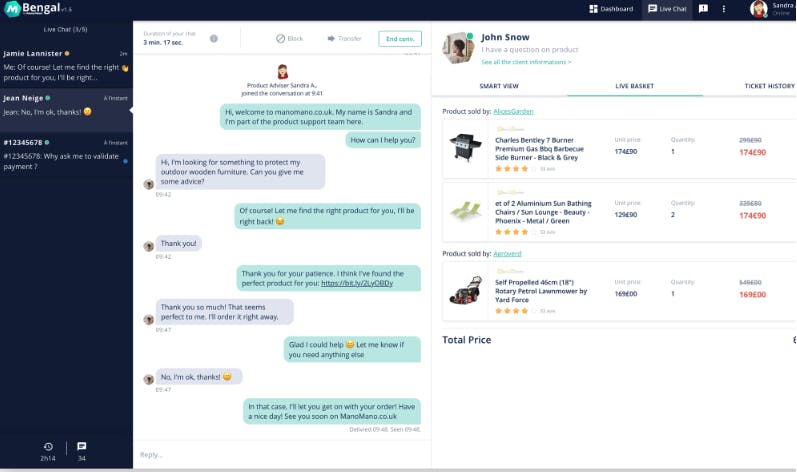 Manodvisors get a portal to chat with customers where they can see what they've in their cart and answer their questions
ManoMano offers an installation service through Frizbiz for product installation, which the customers can select at the time of purchase. This makes it easier for customers to use their newly purchased products without spending time or finding a professional online.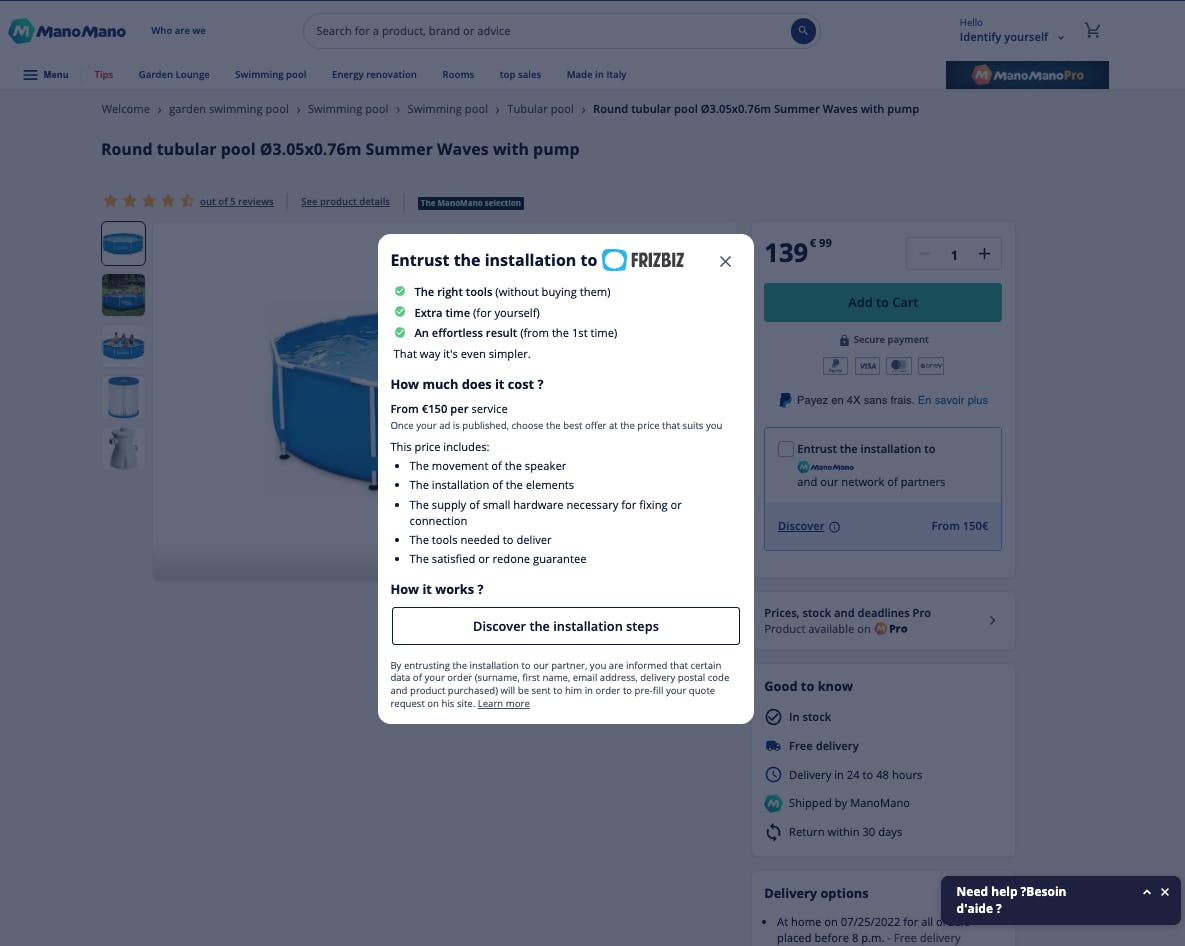 Reputation system
One of Amazon's biggest innovations was building a user review system that helped customers understand how good or bad are the product listings from unknown third-party sellers. This helped Amazon in converting more customers and improving the marketplace's popularity. 
A reputation system is essential in the home improvement/DIY marketplace as most products are unbranded, standardization is low, and the quality of sellers can vary drastically. ManoMano's Amazon-style rating system gives it an advantage over brick-and-mortar retailers, where customers rely on salespersons. ManoMano screens the sellers and validates their product catalog before onboarding, to maintain quality.
Another way in which ManoMano brokers trust is through its fulfillment service. The items managed by ManoMano are labeled as 'shipped by ManoMano,' thus transferring the proof of trust from an unknown third-party retailer to ManoMano.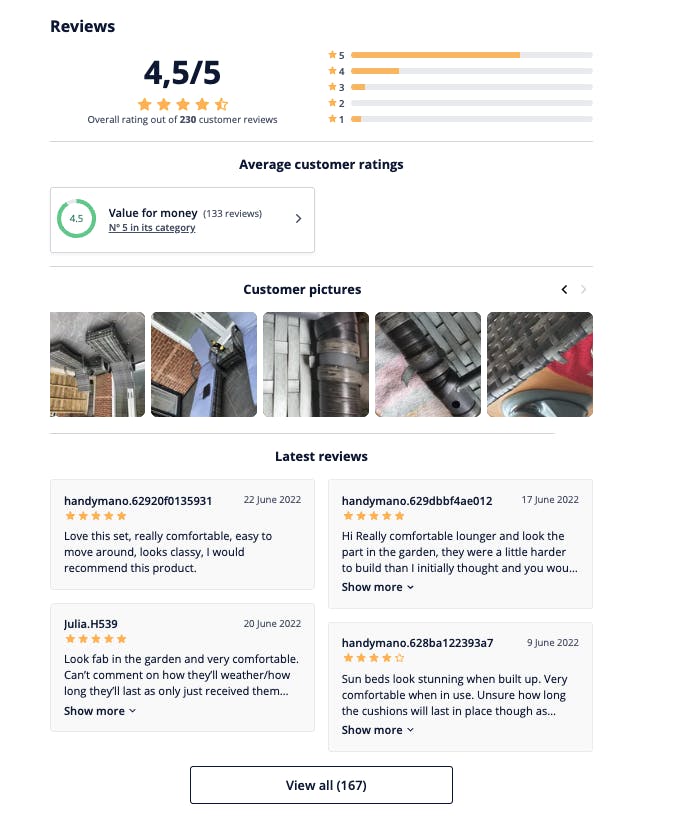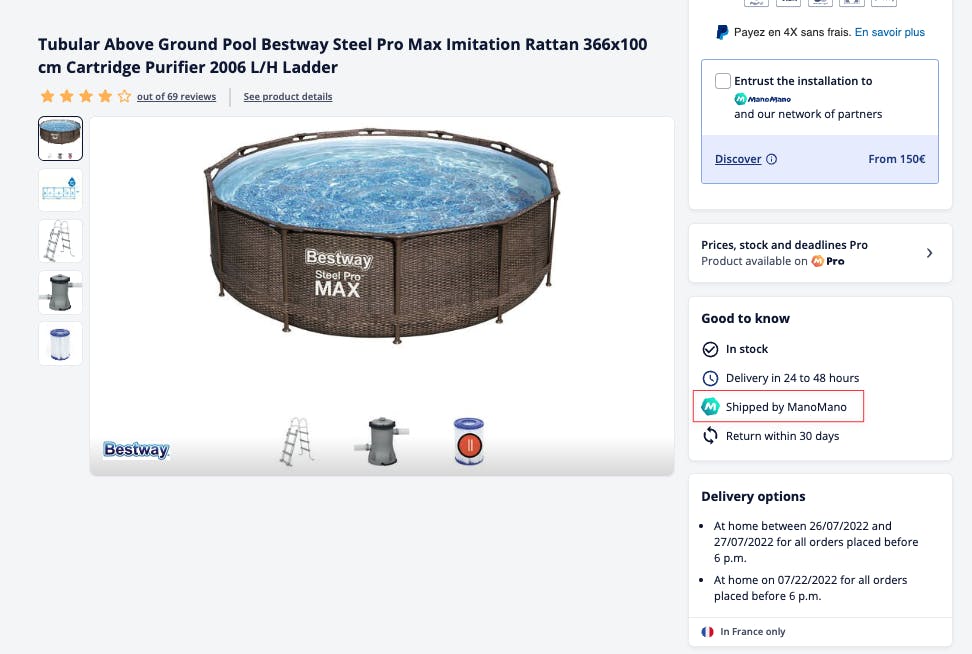 Product
ManoMano has two key parts to its product: a marketplace portal where DIYers or tradespeople can search product listings, and a seller backend through which retailers can register their product catalogs.
Each country has a different ManoMano website and ManoMano has two apps, one for DIYers/individual customers and another for tradespeople. Sellers can integrate with popular ecommerce software like WooCommerce and Magento to manage inventory, orders and deliveries. ManoMano facilitates payments between customers and sellers through cards and PayPal. 
The ManoMano fulfillment service provides sellers storage of their products at its warehouses, door to door logistics, and delivery tracking. ManoMano has warehouses in France, Spain and Italy. Sellers can choose to sell part of their catalog through ManoMano fulfillment service and manage the delivery of the rest of the catalog on their own. Customers can take the deliveries at their homes/offices or pick them up from relay points managed by Relais Colis, a logistics company (only in France).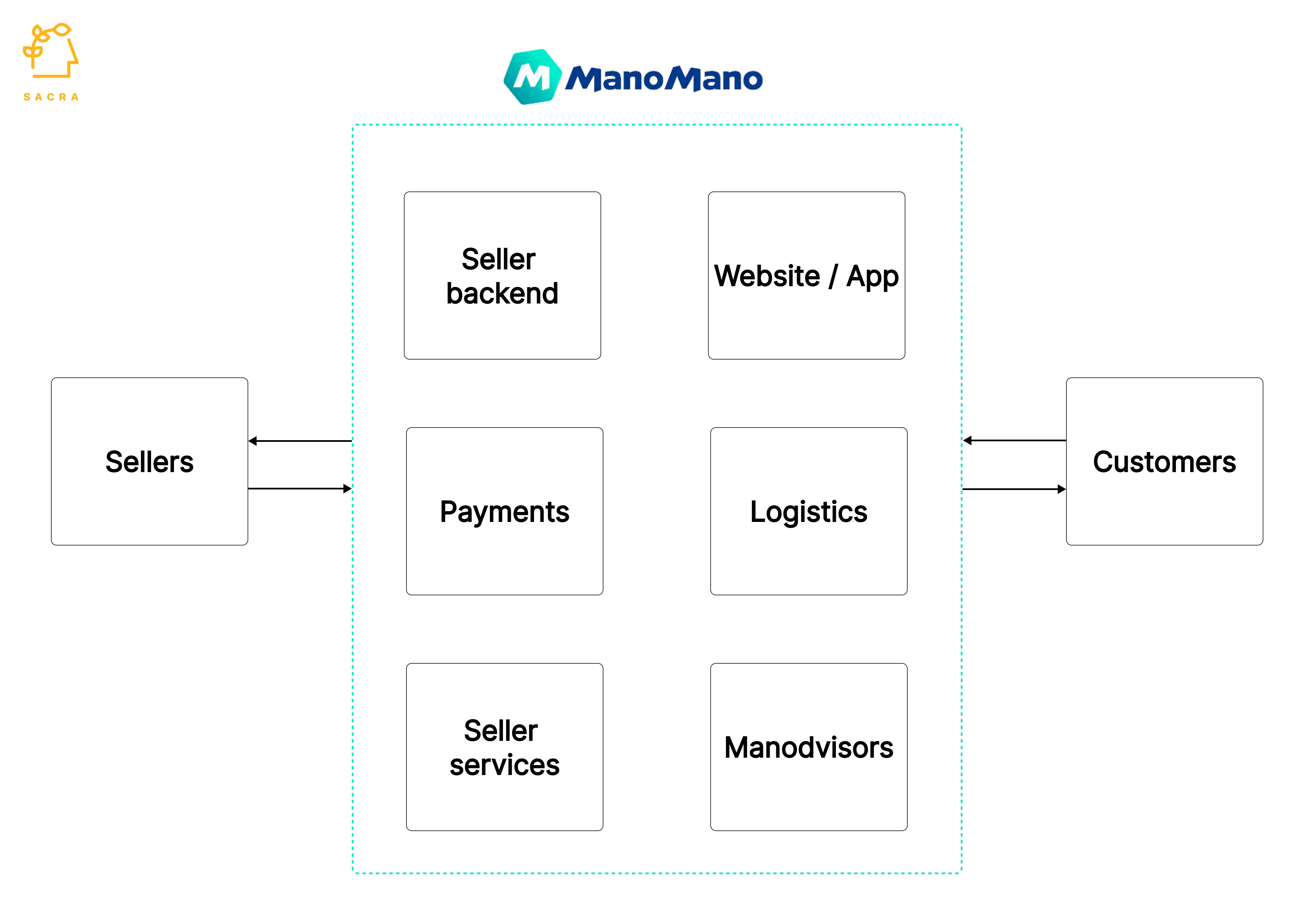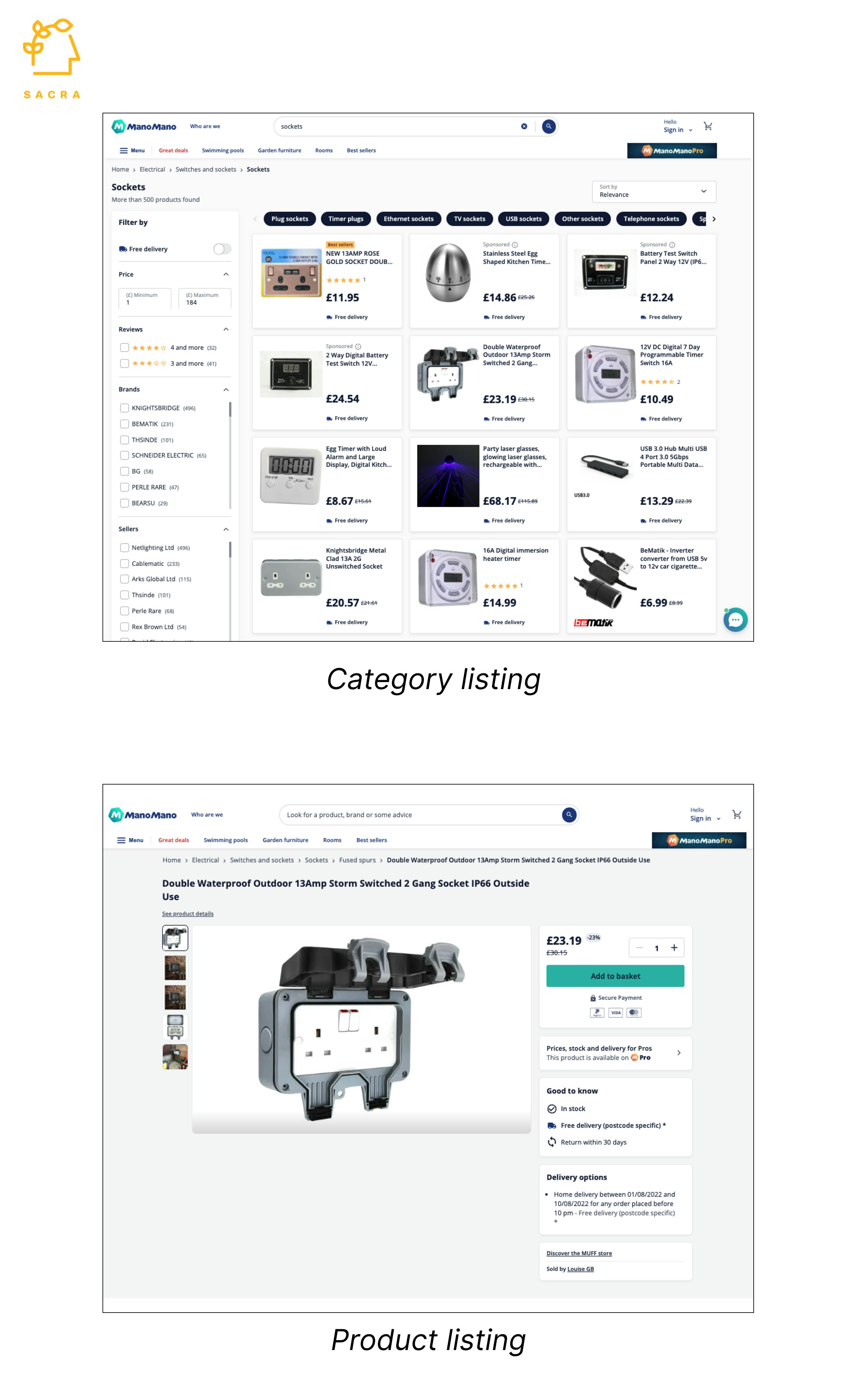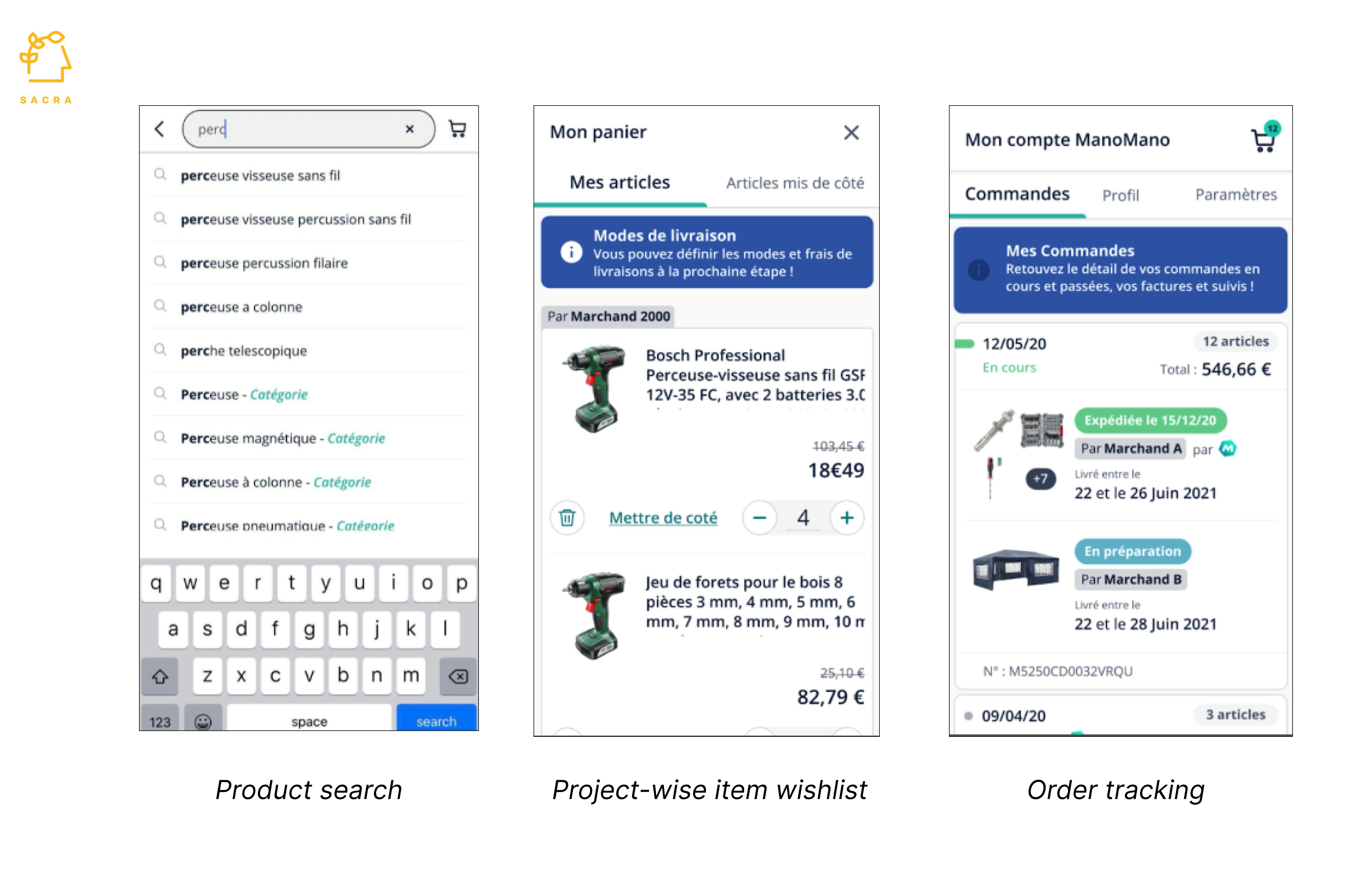 Competition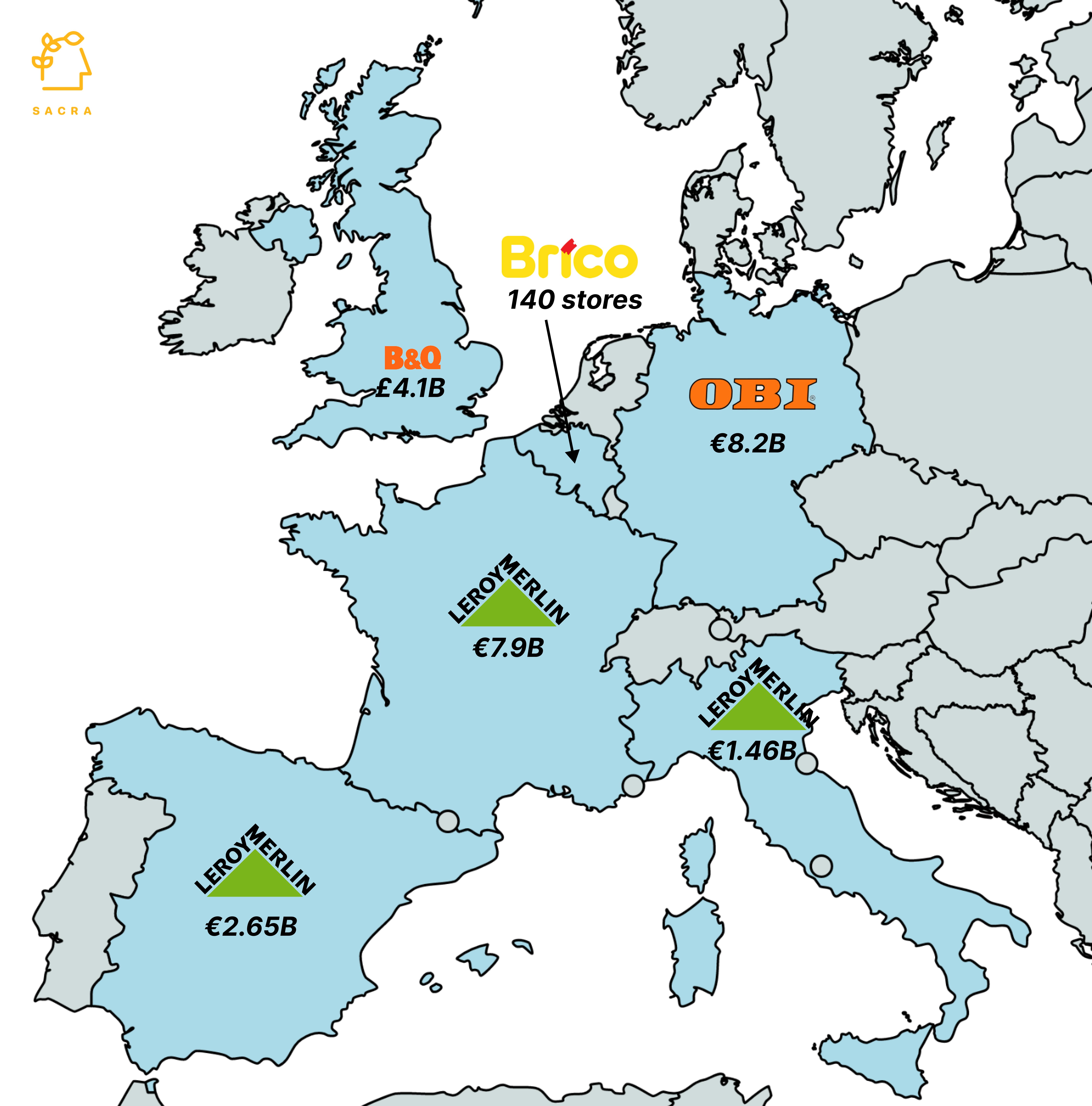 Europe's DIY/home improvement market is estimated to be worth $230B. Traditionally the market has been dominated by specialized brick-and-mortar chain stores, with the top 25 chains having a 40% market share. Three companies—Groupe Adeo (France), Kingfisher (UK), and OBI (Germany)—own multiple brands and have ~20% market share. The market is very competitive as DIY retailers have similar product assortments, and customers often choose a store by proximity. In the ecommerce space, there are specialized DIY marketplaces like ManoMano and horizontal marketplaces like Amazon.
Trends
Four trends are shaping the competition in the European market: growth of ecommerce, rise of remote working, changes in DIY vs DIFM (Do-It-For-Me), and changes in expectations around delivery speed.
Growth of ecommerce in Europe
The ecommerce share of the retail market has increased 1.5x to 3x across all countries in Europe in the last five years. However, country-by-country penetration levels vary.
UK's ecommerce sales are a third of the total retail market, while in Spain and Italy, they are just 10%. For comparison, the ecommerce share of retail in the US is 13%. The ecommerce growth is driven by marketplaces like Amazon, Alibaba, and ManoMano, which grew twice as fast as first-party ecommerce, driven by wider selection and cheaper products. Amazon emerged as the largest marketplace in Europe, with sales of €51B.
Traditionally dominated by brick-and-mortar stores, the DIY/home improvement market has shifted online more slowly than other categories. The share of ecommerce grew to 11% in the DIY category, up from just 1% in 2013, but it's still low compared to 40% in apparel. In the UK, ecommerce's share in DIY sales is 20%, and in many other countries, it is less than 5%.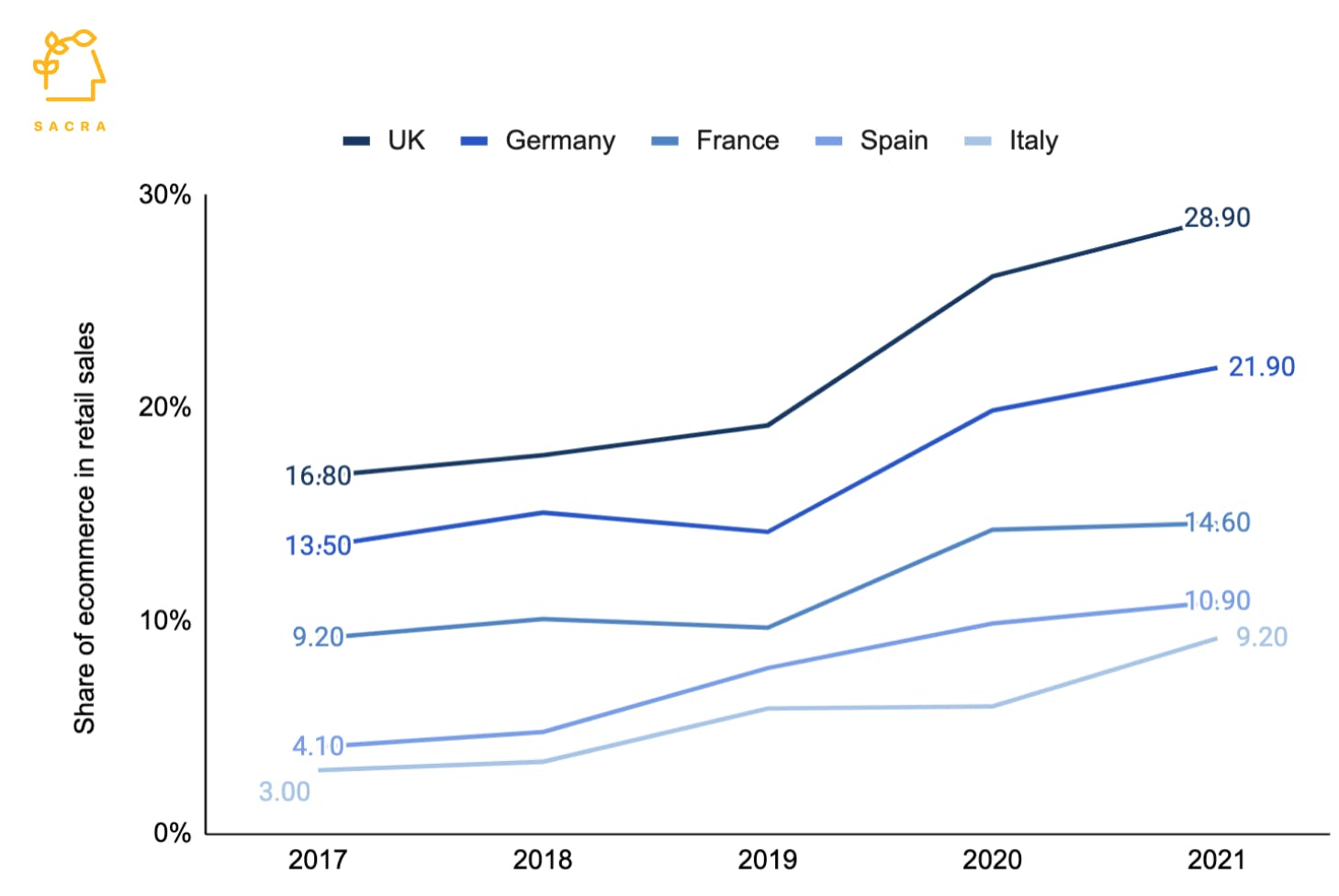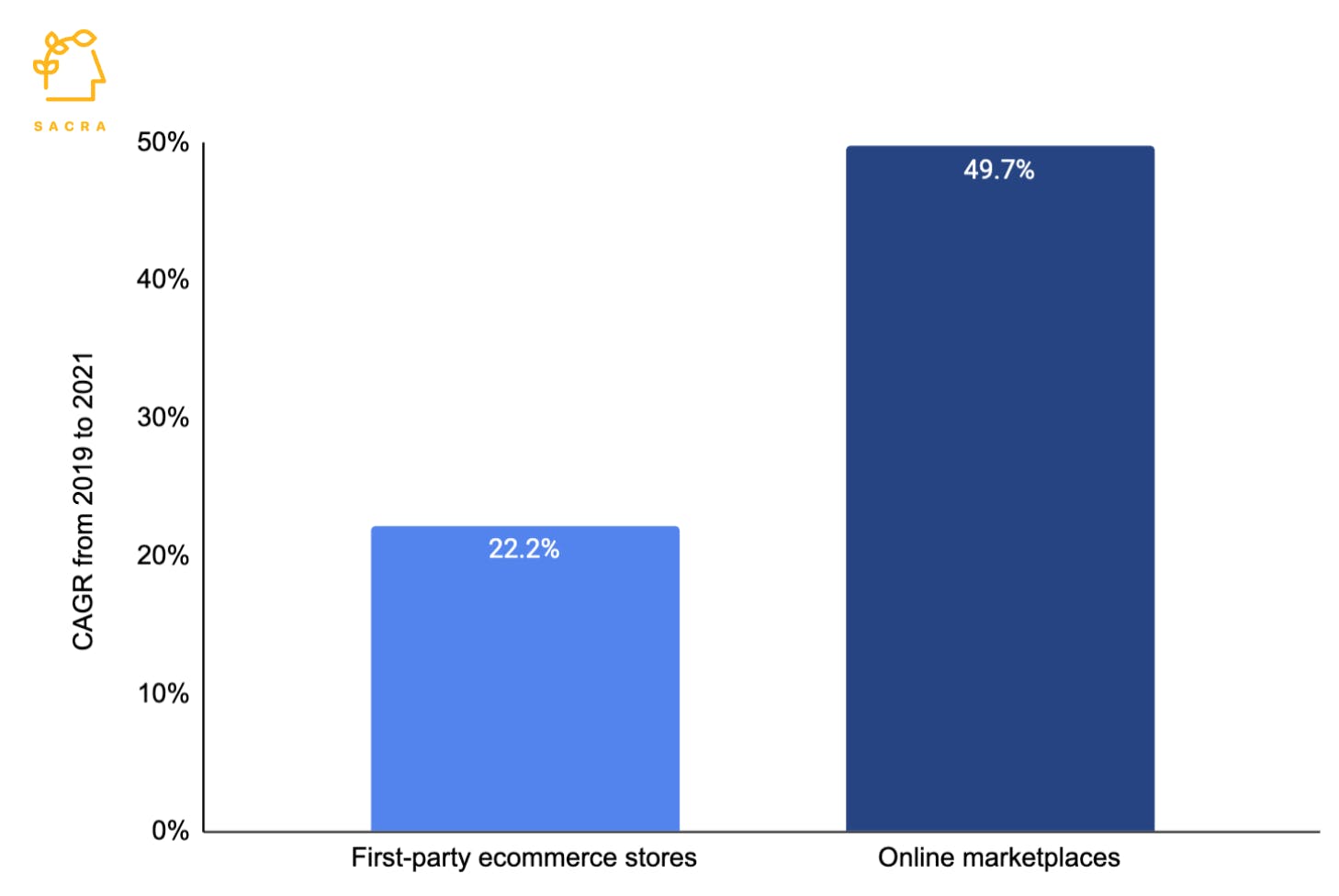 Before COVID, ~5% of Europeans worked remotely, which increased to 12% post-COVID in 2021, with the number of remote workers in capital regions reaching 25%. As people have spent more time at home, they've also grown to value it more: 76% of European consumers say they love their homes more post-COVID. Eight in ten French and Spanish people and nine in ten Italians consider DIY projects a good way to fill time. Even as COVID's impact is waning, remote working is unlikely to return to pre-COVID levels.
Changes in DIY and DIFM (Do-It-For-Me) dynamics
The growth of "DIFM" projects (comprised of things like contracted installation services) has increased over the last several years, driven primarily by generational change. With the DIY-focused Baby Boomer generation growing too old to do tasks themselves, and millennials/Gen Z expressing a preference to spend time elsewhere, more and more previously DIY jobs have moved to tradespeople.  
At the same time, we've seen the DIY market grow since 2019, driven by rising labor costs. COVID further pushed more people to do projects themselves as they had more time and didn't want to spend much due to uncertain economic conditions. It is estimated that 58% of 18-29 years olds did more DIY during the last two years and half of 18-29 years olds intend to do more DIY projects in the future.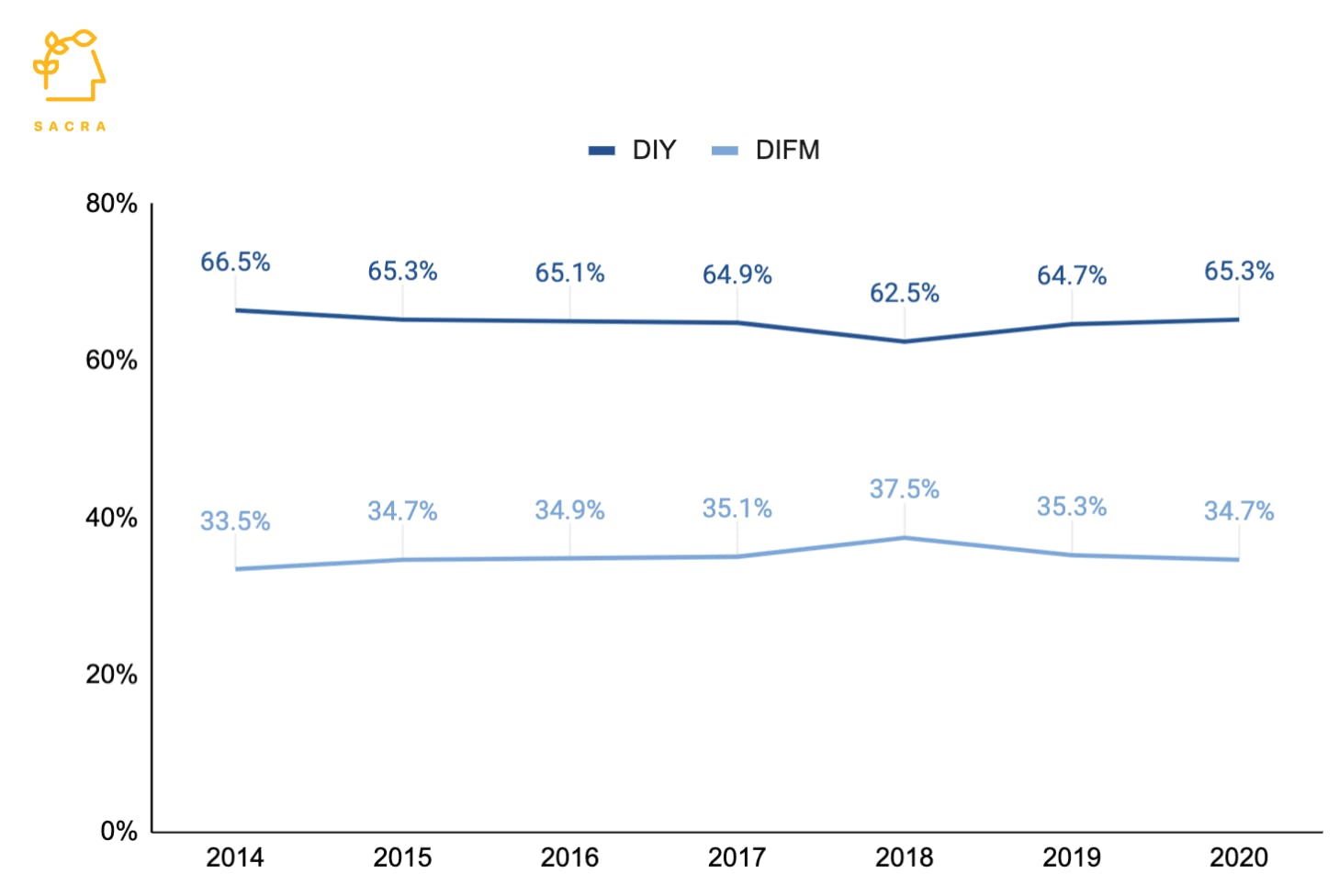 Delivery speed expectations
Delivery speed has emerged as an essential criterion in ecommerce, with customer expectations driven by the likes of Amazon offering free one-day and two-day delivery and by quick commerce companies such as Gorillas and Getir that deliver grocery items in minutes. 
DIY/home improvement category companies have historically believed that customers are in no rush and prefer scheduled deliveries over faster deliveries. However, updated customer expectations have forced even DIY companies to focus on delivery speed in the last several years. ManoMano launched its fulfillment service in 2018, providing options for one-day and two-day delivery. Brick and mortar retailers like Screwfix offer 60 minutes delivery in the UK, and Castorama in France offers 2 hours pick-up from its stores.
Country-by-country dynamics
ManoMano competes with different companies across different countries. Here's a look at its competitors in France, the UK, and Germany. 
The DIY market in France is worth €34B and grew by 10% in 2021. The growth came from the high percentage of home ownership (64%) and young DIYers picking up new skills, reflected by the increase in sales of power tools and paints. The specialized DIY brick-and-mortar stores like Leroy Merlin and Castorama have 71% market share, and online retailers like ManoMano and Amazon have 11% market share. 
Key company: Leroy Merlin 
Leroy Merlin is France's largest DIY brick-and-mortar store, with 141 stores and sales of ~€7.9B in 2020, of which 7.5% came from its website. A typical Leroy Merlin store is located in the suburbs with an area of 6,000 to 17,000 sq m. Leroy Merlin has come under criticism for its decision to continue its operations in Russia in the light of the Ukraine-Russia war. 
Leroy Merlin is owned by the Adeo Group, the third largest DIY chain globally, with 464 stores in 12 countries and €24.5B in sales. Leroy Merlin is the preferred DIY brand among millennials who spend 3x more than Castorama and 20x more than ManoMano at Leroy Merlin.
Castorama is a part of Kingfisher and the second largest DIY chain in France, with sales of £2.3B in 2021 and 93 stores. ~6% of its sales come from its website. Most of Castorama's stores are in the 2000 to 8000 sq m range, located in the suburbs. It recently started opening smaller footprint stores with 300-800 sq m concept stores in high street areas and 1000 - 2000 sq m stores in urban areas.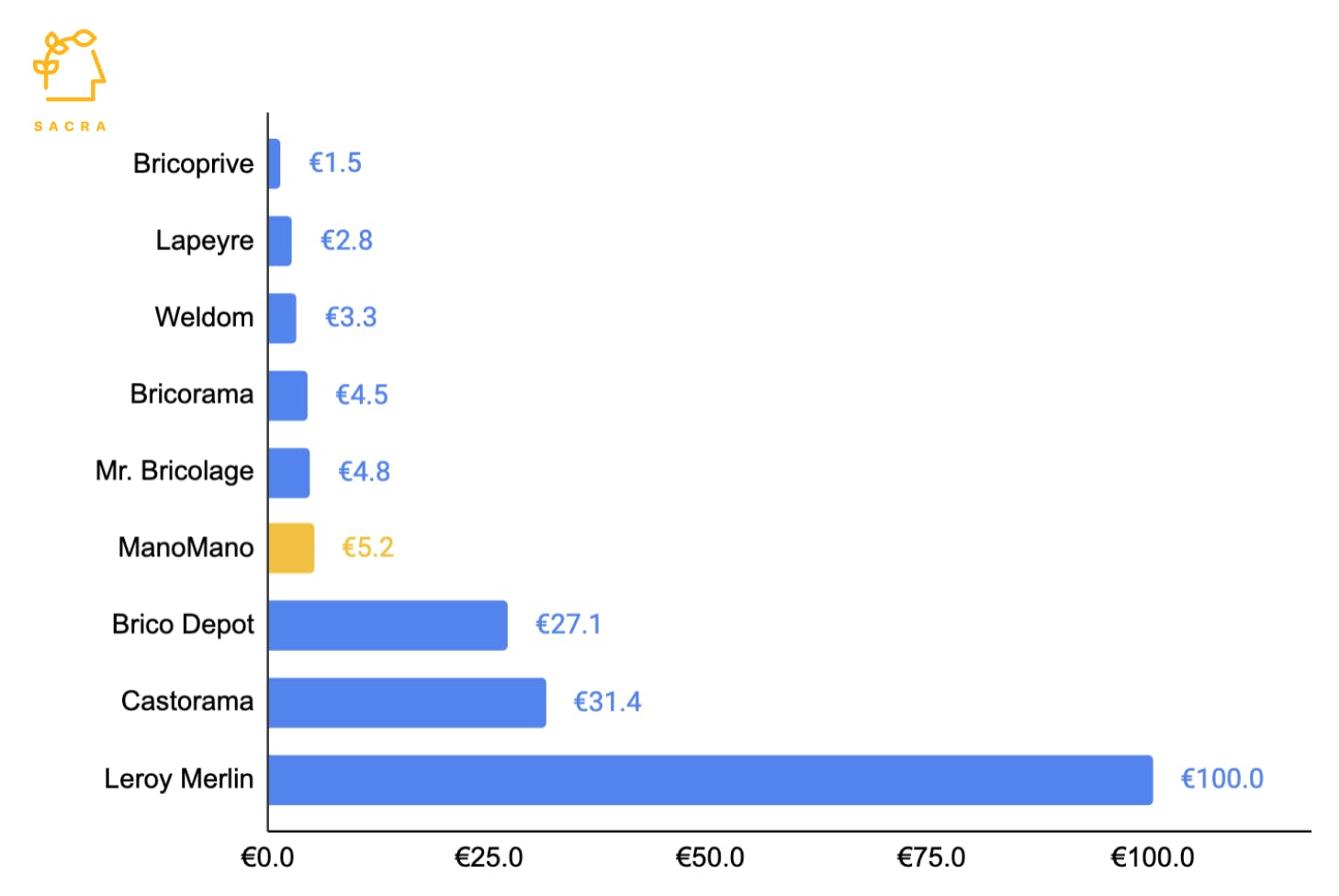 Amount spent at DIY stores in France by Millennials for every €100 spent at Leroy Merlin
Other notable chains include Mr. Bricolage, Brico Depot (owned by Kingfisher) and Bricorama. 
The DIY/home improvement market in the UK is worth £26.5B, expected to grow 2.5% annually for the next few years. 73% of customers purchase DIY/home improvement products in-store with 58% purchasing online. However, ecommerce penetration of retail sales is 29%, the highest across Europe. The growth of the UK's home improvement market in the near term is expected to come from DIFM projects.
Key companies - B&Q and Screwfix
Kingfisher owns two of the largest DIY chains in the UK, B&Q and Screwfix. B&Q focuses more on home improvement, gardening, and home furnishing products and Screwfix is a retailer of hardware tools and building material for tradespeople. Together they have 1100 stores in the UK and Ireland. B&Q made £4.1B in 2021, 12.7% increase YoY with 11% sales from ecommerce. Screwfix made £2.3B in 2021, 14.3% YoY, with ecommerce comprising 67% of its sales. In March 2022, Kingfisher launched a ManoMano-like third-party marketplace in the UK. 
Other notable chains include Wickes, Homebase, Argos and B&M. 
Germany's DIY/home improvement market is estimated to be worth €26B and shrank by 9% in 2021. This is primarily due to the COVID-related reset post the spike in demand in 2020. The market is expected to grow at a CAGR of 4% for the next few years. ~20% of sales come from ecommerce, and ecommerce sales grew by 16% in 2021, even though the market shrank. 
OBI is the largest DIY/home improvement retail chain in Germany, with revenue of €8.2B and 668 stores in Europe, of which 351 are in Germany. Obi is also the largest online store in Germany with more ahtn $500M sales. 
Hornbach operates 98 stores in Germany and 169 in Europe. It made €5.9B in 2021, a growth of 7.7% YoY. The average size of a Hornbach store is 10,000-11,000 sq m with 50-60,000 SKUs. Online sales amounted to 17% of its revenue and grew by 10.5% in 2021. Hornbach is the only brick-and-mortar DIY chain in Germany whose revenue grew in 2021, even as the market shrank.
Other large DIY chains are Bauhaus, Hagebau and Toom. 
The DIY/home improvement market in Spain is worth €13B and expected to grow 2% to 3% annually. The largest chain in Spain is Leroy Merlin with a turnover of €2.65B out of which €160M comes from distance sales (online and telecalling). 
The DIY/home improvement market in Italy is estimated to be worth €4.6B. The largest player is Leroy Merlin with €1.46B sales, followed by Obi with €432M sales. 
Amazon
Amazon entered Europe in 2013 and today is the largest ecommerce store in Europe, with $55B in sales. Manomano competes with Amazon in all the six countries where it operates, and Amazon is the largest horizontal ecommerce website in all of them.
Amazon UK makes £4.4B in the DIY category, just a fraction behind Kingfisher, which makes £4.7B. Amazon is expected to overtake Kingfisher as the largest DIY retailer in the UK in the next two years. Amazon is also the preferred search engine in Europe for searching DIY products online. 42% of searches happen on Amazon and only 15% on DIY retailers' websites. Amazon has a much higher share of searches in the countries where ManoMano operates.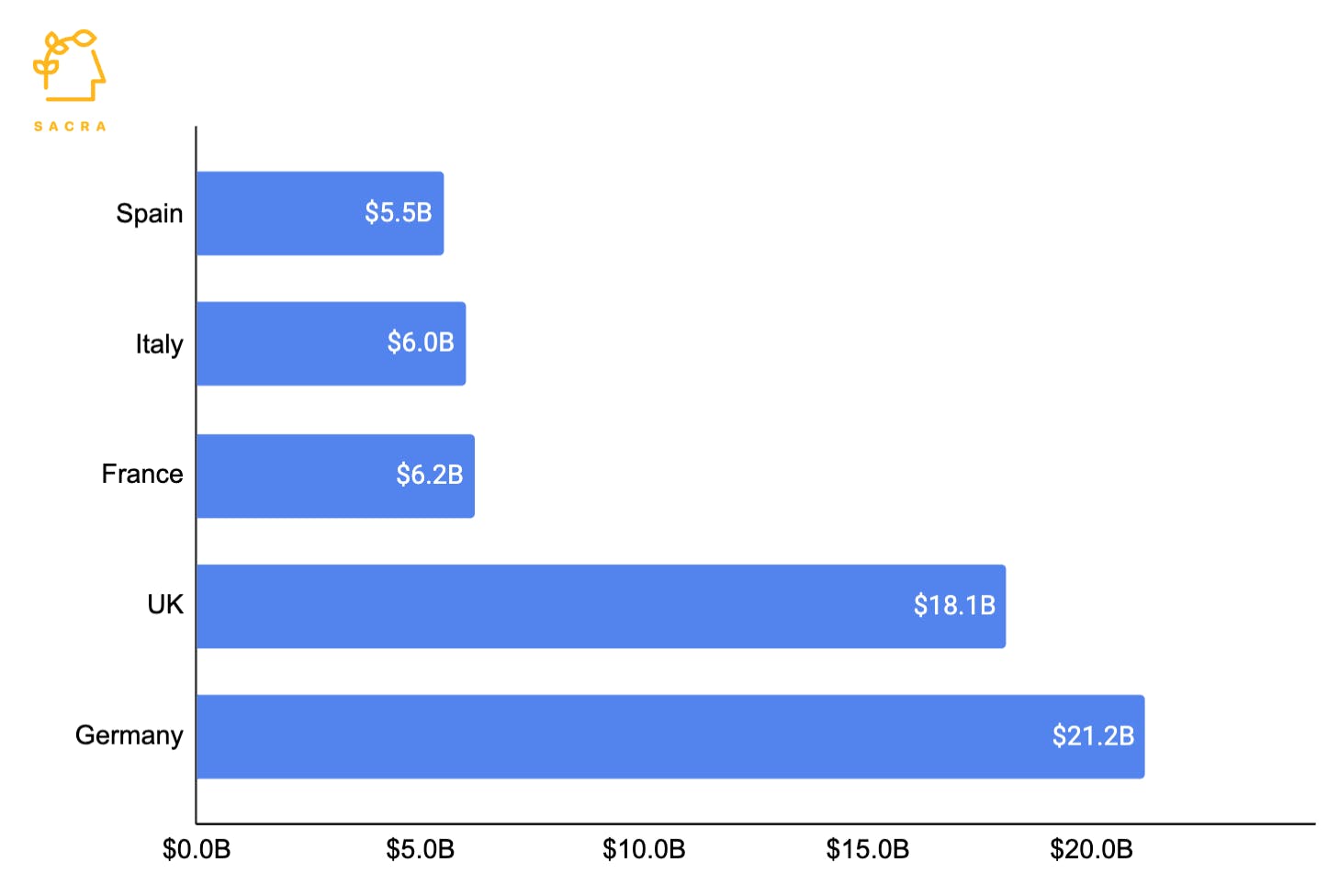 Amazon's ecommerce sales in Europe (2021)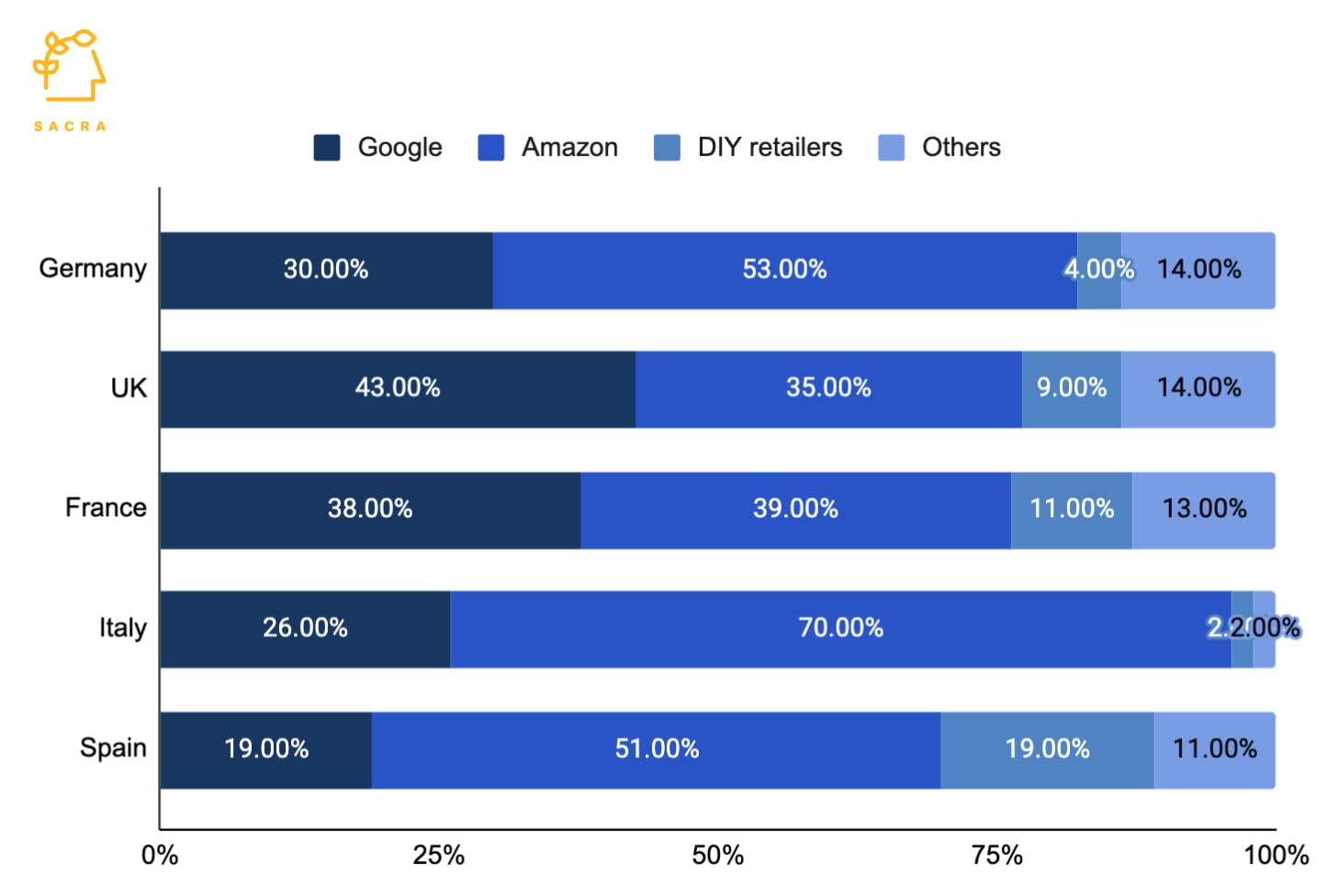 Share of Amazon in the online searches for DIY products in Europe
TAM Expansion
ManoMano Pro
One of the ways for B2C marketplaces to grow is to add a B2B marketplace to their product portfolio. For instance, Wayfair, a US-based B2C furniture marketplace, started selling to businesses in 2017. Today the B2B marketplace clocks $1.5B annually, contributing 10% to Wayfair's topline and growing 30% annually. In Europe, Kingfisher gets half of its sales from the DIFM and tradespeople segment.
One of the advantages of selling directly to professionals is the larger order size than retail customers/DIYers. For ManoMano's peers, the professional average order value is 1.5x for DIY customers, which increases to 5.7x for highly engaged professionals using apps to place orders. Also, as professionals move to new worksites, they place new orders, creating a recurring revenue stream that's more predictable than retail customers/DIYers.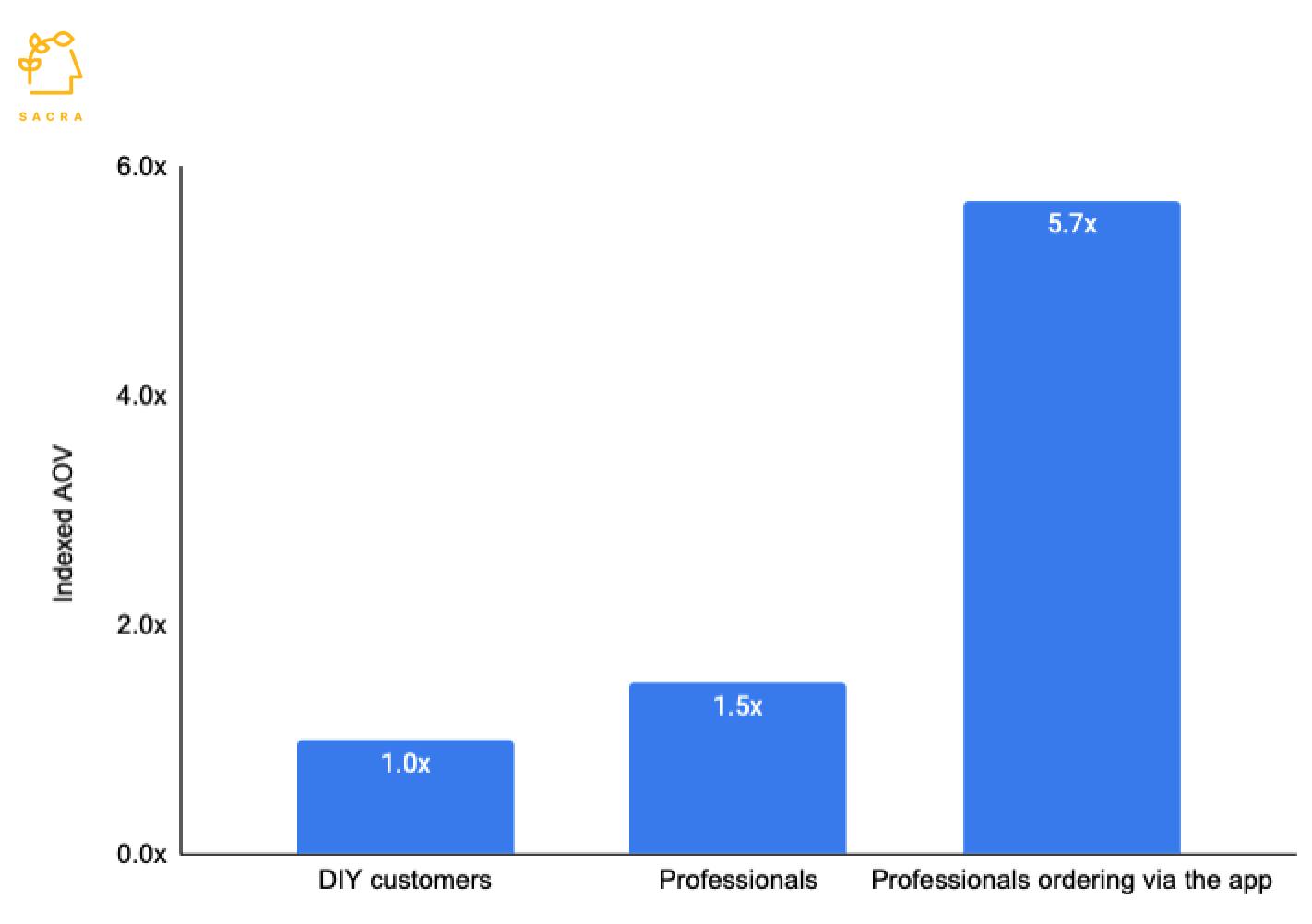 Comparison of average order value of DIY customers vs. professionals/tradespeople at a DIY chain.
Like the retail market, the European professional market is also highly fragmented, with just the UK having more than 1 million trade companies with fewer than ten employees who currently rely on brick-and-mortar stores for their business. This dependence means the professionals are geographically constrained to buy most of their items from the store closest to their worksites. ManoMano's B2B marketplace, ManoMano Pro, removes this constraint for the professionals like it does for the DIYers by aggregating a product catalog of over 1M SKUs readily available to professionals, which is way more than any brick-and-mortar store can stock.
Launched in 2019, ManoMano Pro sells directly to tradespeople such as electricians, plumbers, masons, and carpenters. Professionals can register through its website or dedicated Pro app for reduced prices, on-site delivery, and order tracking. ManoMano Pro provides a single place to track invoices and chat with experienced Manodvisors. It is available in France, Spain, Italy, and the UK, typically used by small professional firms with 1 to 5 people. ManoMano Pro app has been downloaded over 250,000 times in France, and ManoMano Pro already constitutes 10% of the company's revenue in France, clocking more than €100M in GMV.
Apart from large AOV, it gives ManoMano a way to build a pool of tradespeople and embed into their workflows. ManoMano could leverage this to launch an Upwork-like product to help those tradespeople find work and help retail customers find professionals for installation/repair. For professionals, that platform could expand into a vertical SaaS-like solution to manage payments and invoicing dispute management and customer relations.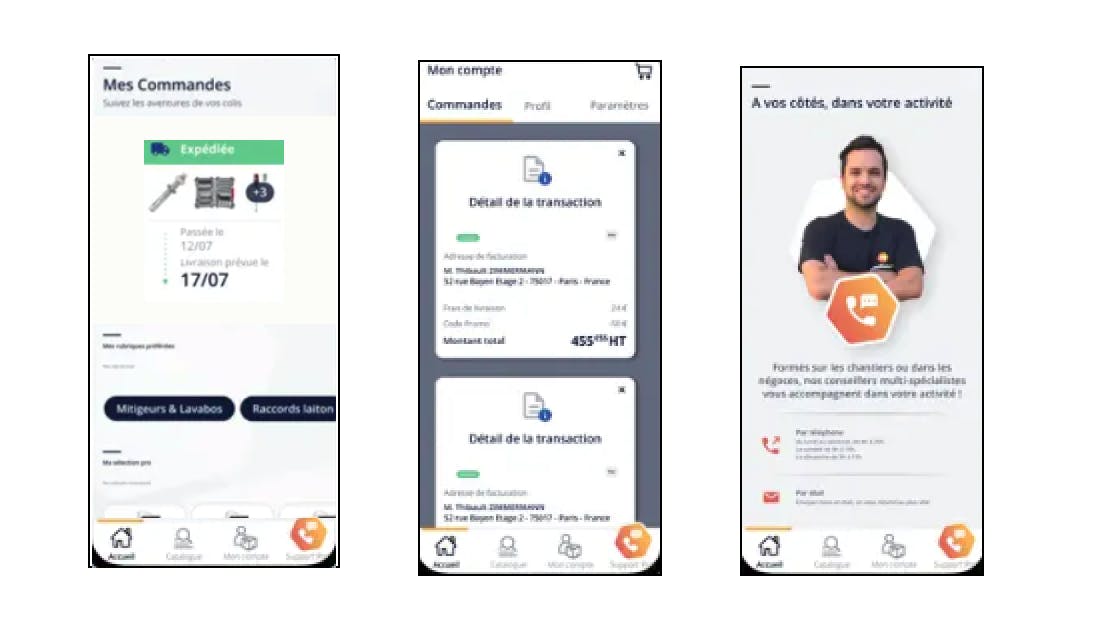 ManoMano Pro app with delivery tracking, invoice hub and chat with pro advisors.
Cross-border commerce
The European cross-border commerce market generated €200B in 2020, with €115B coming from marketplaces. Online marketplaces have the advantage of being untethered to any one location as they don't hold any inventory, compared to first-party ecommerce companies and brick and mortar retailers. As a result, it's easier for them to sell cross-border, which can be a big driver of revenue. For instance, Fruugo, a UK-based marketplace, makes two-thirds of its revenue from cross-border sales.
Certain countries are known for high-quality products in the DIY/home improvement category. For instance, Spain and Italy are well-known for their faucets, bathtubs, and showers. France is known for electrical products, and Germany is popular for power tools. As ManoMano expands its fulfillment service, it can ship more items to customers within 24 to 48 hours and thus list more foreign sellers on its websites and garner a greater share of cross-border commerce.
Advertising
Another large opportunity for ManoMano is to offer paid listings to its sellers like Amazon and Wayfair. Given the sizable digital traffic marketplaces generate, they are highly valuable places for sellers to get visibility and drive sales of their products. For instance, Amazon started offering paid listings to its sellers in 2012 and made $32B in 2021 from ads, putting it behind just Google and Meta as the 3rd largest ads platform globally. ManoMano has recently started offering paid listings on its websites, and with 50M unique website visitors per month, it can scale up advertising revenue over the next few years.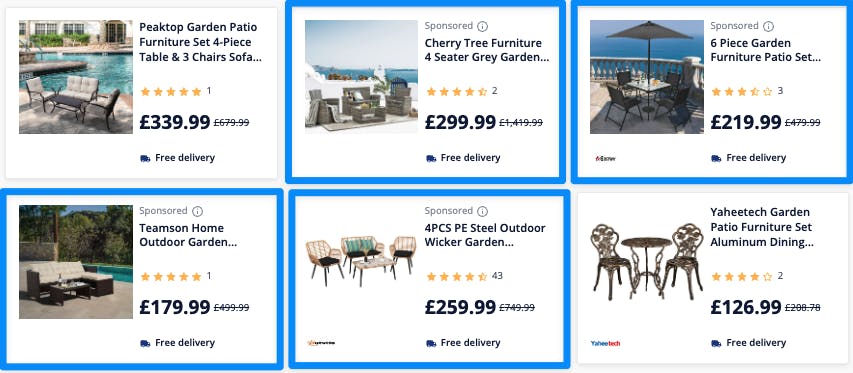 Risks
Competition from incumbents
One of the biggest challenges for ManoMano is to counter the competition from incumbents, which are rapidly adopting the online sales model post-COVID. Companies like Leroy Merlin and Kingfisher already make $600M and $2.8B from online sales. The incumbents have two competitive advantages.
One is that they use their physical stores for last-mile delivery, reducing the delivery time to a few hours.
The other is that they have a strong network of tradespeople and dedicated retail brands that cater to them. Tradespeople typically have higher average order value than individual customers.
Many are also rapidly rolling out new features to attract customers to their online stores. For instance, Screwfix launched Screwfix Sprint in the UK, which delivers products to tradespeople in less than an hour. Kingfisher recently launched a third-party marketplace similar to ManoMano to go beyond first-party and private label brands. 
Inflation and the post-COVID reset
The inflation rate in Europe has increased from 2.5% in July 2021 to 9.6% in June 2022. This makes DIY/home improvement products costlier and increases labor wages, making DIFM more expensive. At the same time, the DIY/home improvement market is cooling down after the spike in sales due to COVID.
For instance, the German DIY market shrank in 2021 as people spent time on other activities as cities opened up. These two dynamics together can dampen the consumer demand for DIY/home improvement products in the near term.
Fundraising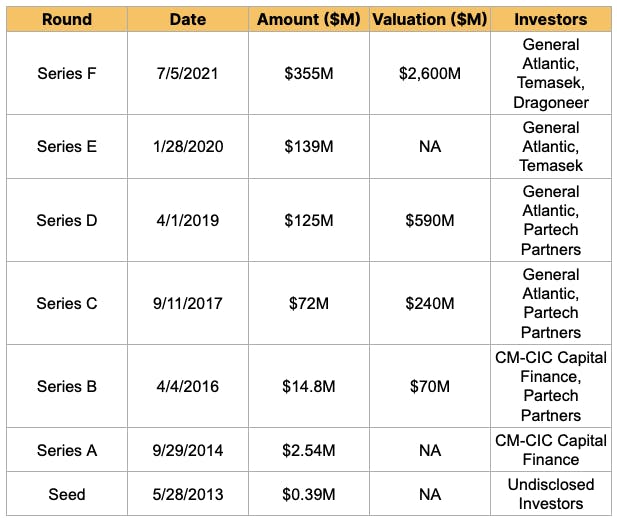 Team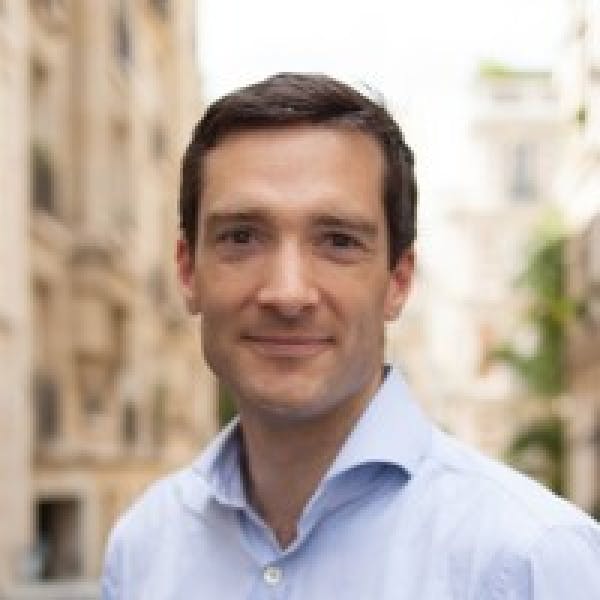 Philippe de Chanville
Founder and Co-CEO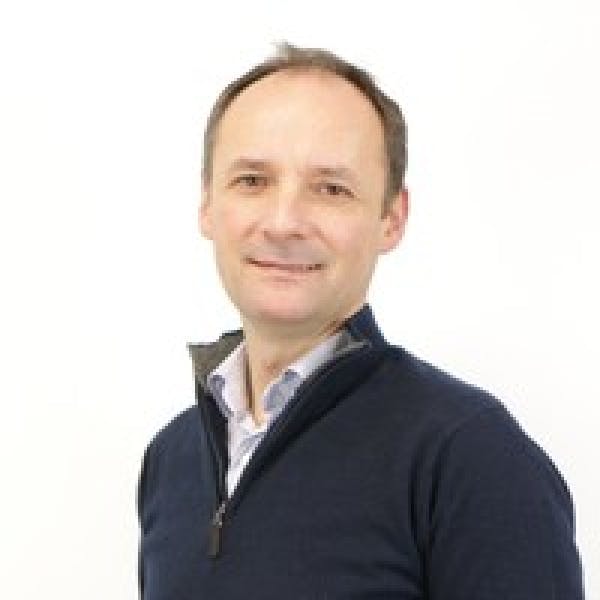 Christian Raisson
Founder and Co-CEO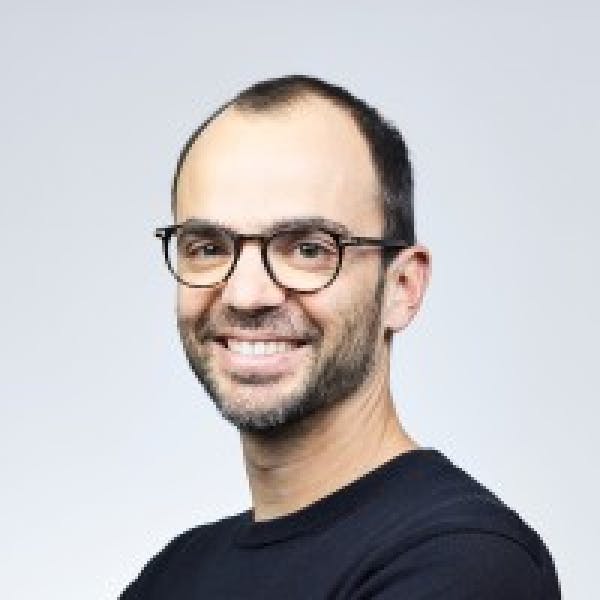 Olivier Vaury
CFO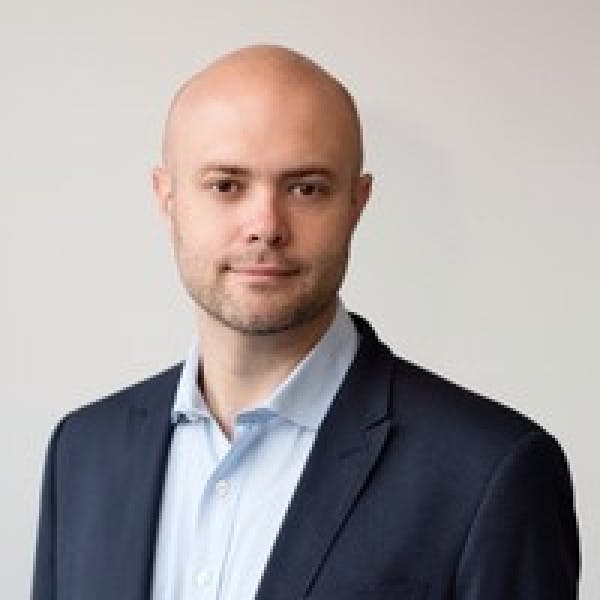 Matthieu Cornec
Chief Marketing and Data Officer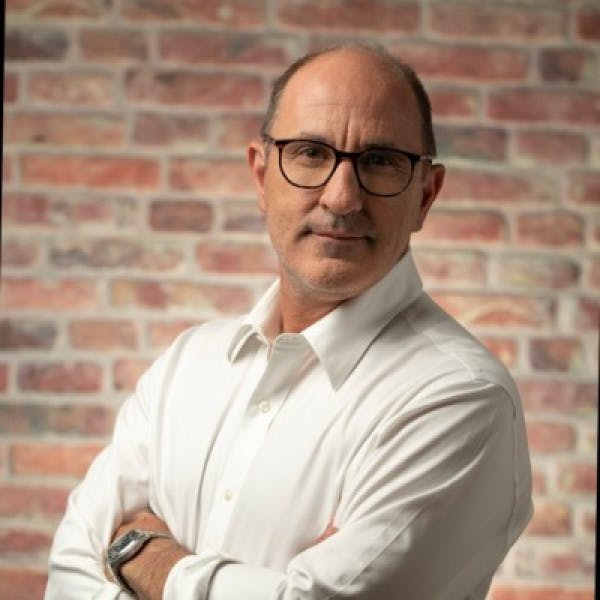 Stéphane Priolet
CTO and CPO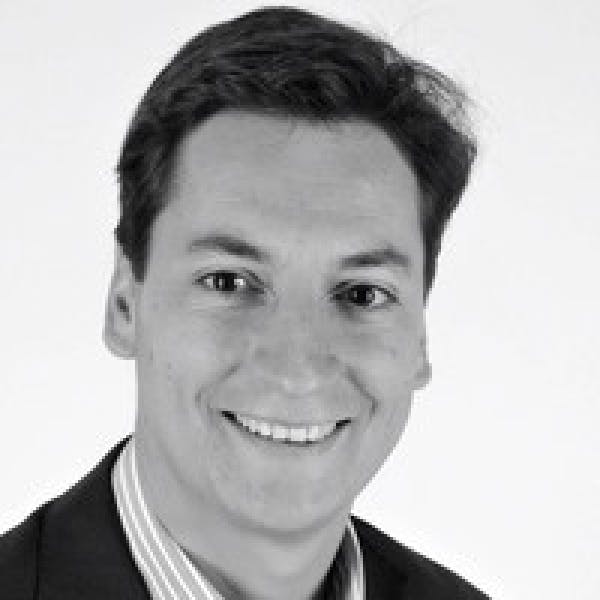 Christophe Dargnies
Chief People Officer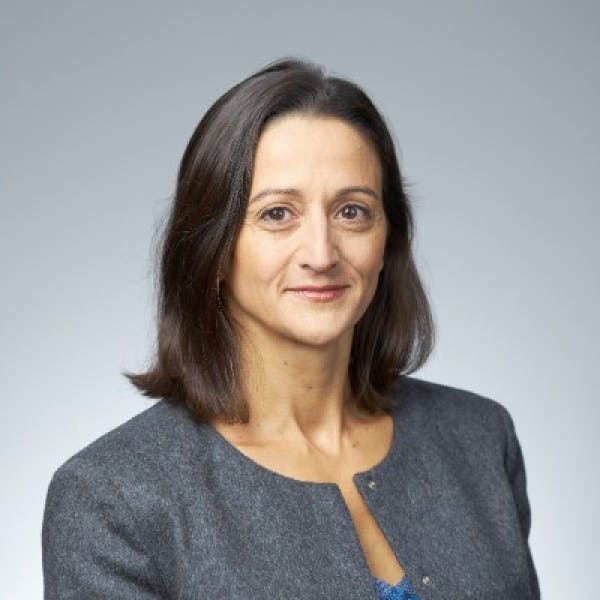 Celine Vuillequez
COO
Disclaimers
This report is for information purposes only and is not to be used or considered as an offer or the solicitation of an offer to sell or to buy or subscribe for securities or other financial instruments. Nothing in this report constitutes investment, legal, accounting or tax advice or a representation that any investment or strategy is suitable or appropriate to your individual circumstances or otherwise constitutes a personal trade recommendation to you.
Information and opinions presented in the sections of the report were obtained or derived from sources Sacra believes are reliable, but Sacra makes no representation as to their accuracy or completeness. Past performance should not be taken as an indication or guarantee of future performance, and no representation or warranty, express or implied, is made regarding future performance. Information, opinions and estimates contained in this report reflect a determination at its original date of publication by Sacra and are subject to change without notice.
Sacra accepts no liability for loss arising from the use of the material presented in this report, except that this exclusion of liability does not apply to the extent that liability arises under specific statutes or regulations applicable to Sacra. Sacra may have issued, and may in the future issue, other reports that are inconsistent with, and reach different conclusions from, the information presented in this report. Those reports reflect different assumptions, views and analytical methods of the analysts who prepared them and Sacra is under no obligation to ensure that such other reports are brought to the attention of any recipient of this report.
All rights reserved. All material presented in this report, unless specifically indicated otherwise is under copyright to Sacra. Sacra reserves any and all intellectual property rights in the report. All trademarks, service marks and logos used in this report are trademarks or service marks or registered trademarks or service marks of Sacra. Any modification, copying, displaying, distributing, transmitting, publishing, licensing, creating derivative works from, or selling any report is strictly prohibited. None of the material, nor its content, nor any copy of it, may be altered in any way, transmitted to, copied or distributed to any other party, without the prior express written permission of Sacra. Any unauthorized duplication, redistribution or disclosure of this report will result in prosecution.