Home

&nbsp>&nbsp

Companies

&nbsp>&nbsp

Linktree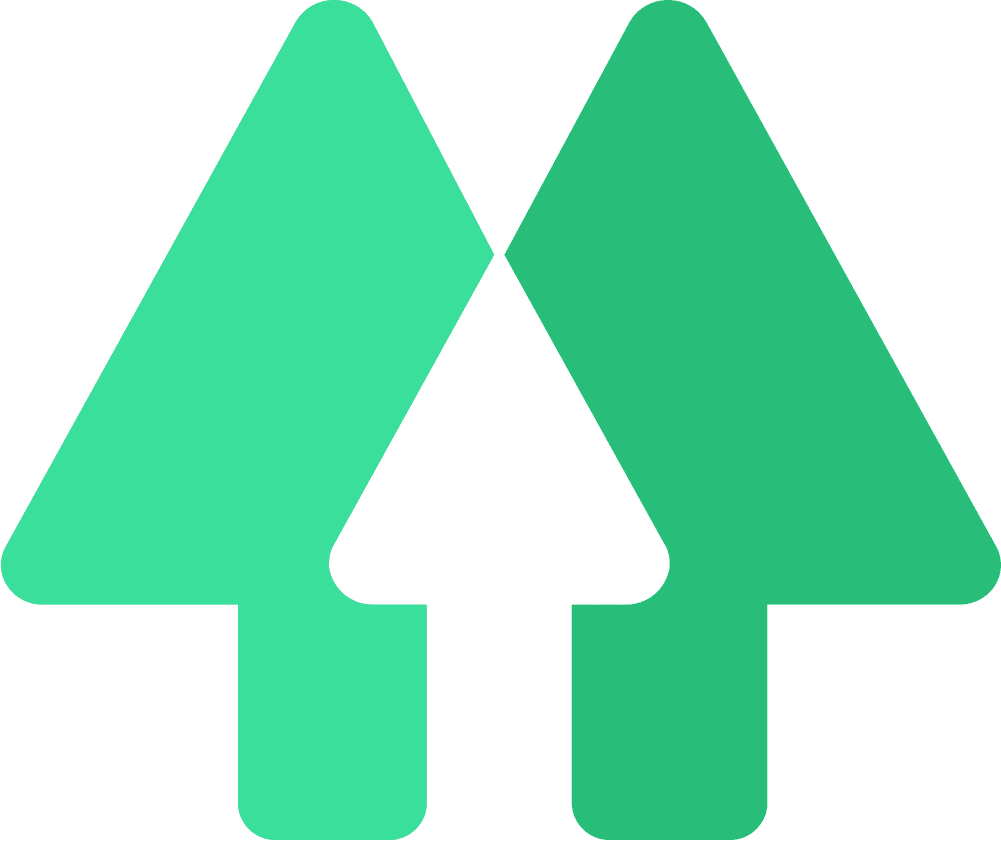 Linktree
Linktree is a link-in-bio product for creators to monetize their social media traffic.
Growth Rate (y/y)
29%
2022
Revenue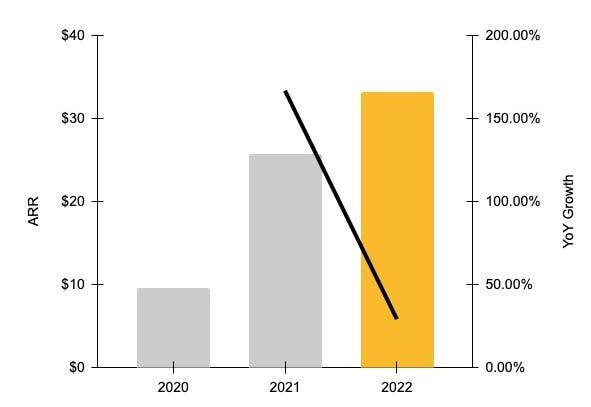 Linktree monetizes via subscription SaaS—they offer a free tier and 3 paid tiers, from Starter ($5 per month) to Pro ($9 per month) to Premium ($24 per month).
Linktree ended 2021 with 24M users and $26M ARR—today, we estimate that they're at around $33M ARR with ~31M users, growing 29% YoY.
Valuation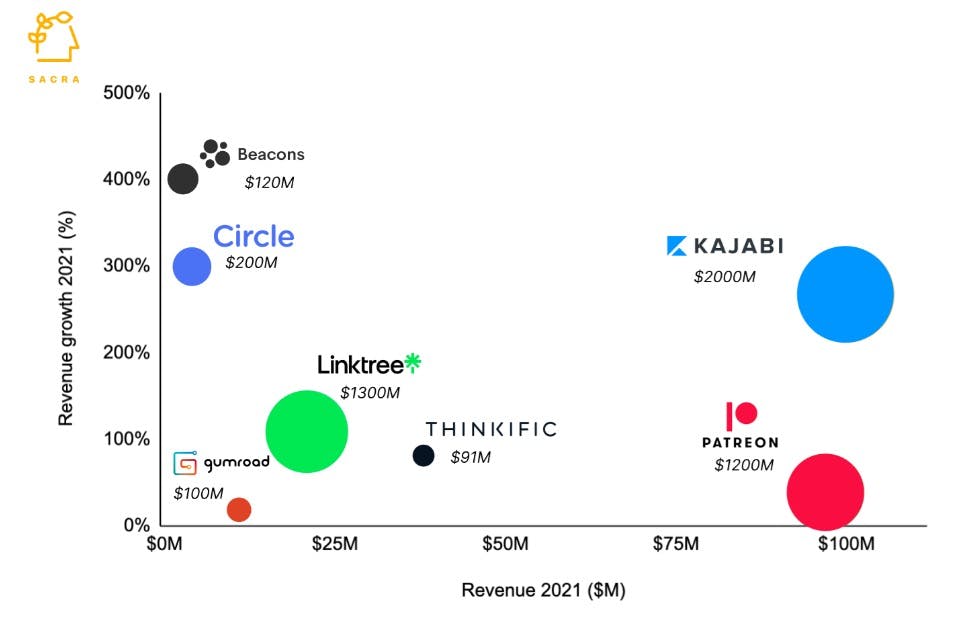 Linktree has raised a total of $165.7M from 3 rounds of fundraising. The lead investors on their Series C and Series B were Coatue and Index Ventures.
Product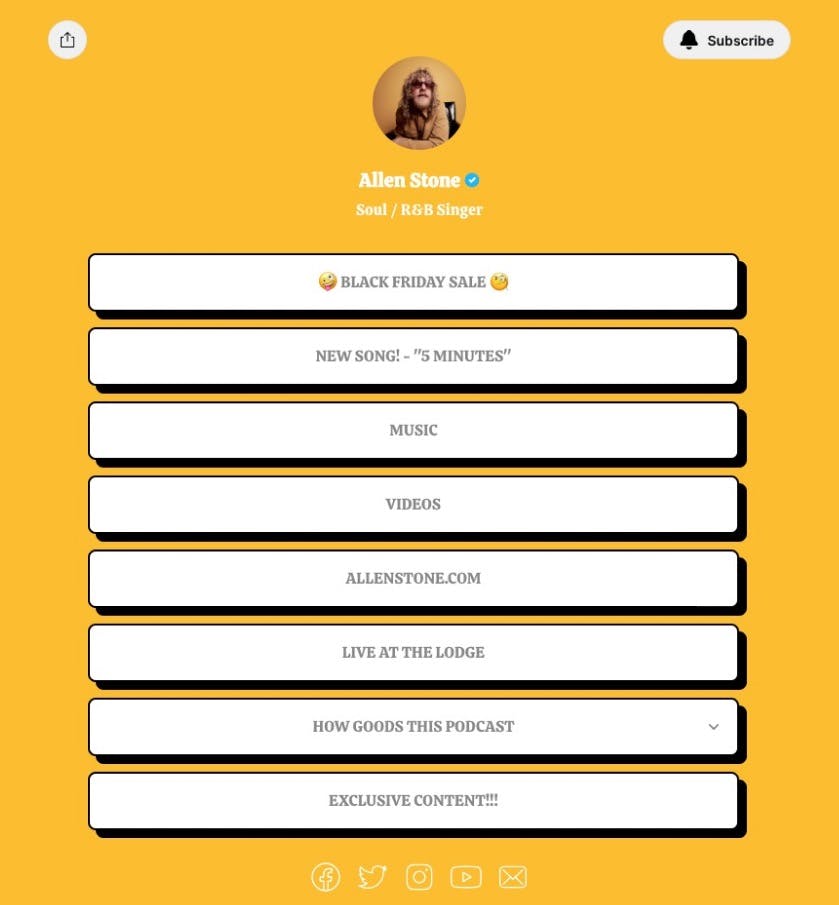 Linktree is a website generator that aggregates creators' on average ~6 social media profiles and other monetization channels and links into a single link they can drop into their bio.
Link-in-bio companies like Linktree found their initial product-market fit as a demilitarized zone (DMZ) between social media platforms like TikTok and Instagram and more debaucherous, prosperous monetization channels like OnlyFans—allowing for peaceful co-existence.
Creators' potential customers can discover them via the social media platforms, but have to go through the link-in-bio to get to and purchase their more explicit SKUs.
Premium tiers of Linktree's service include features such as the ability to customize the appearance of the user's Linktree link, access to analytics and metrics, and the ability to add more links and content to your Linktree page.
Creators can use their Linktree page to collect emails and phone numbers from their fans, embed content like YouTube videos or tweets, paywall content, use analytics to understand their audience, and market to their fans.
Competition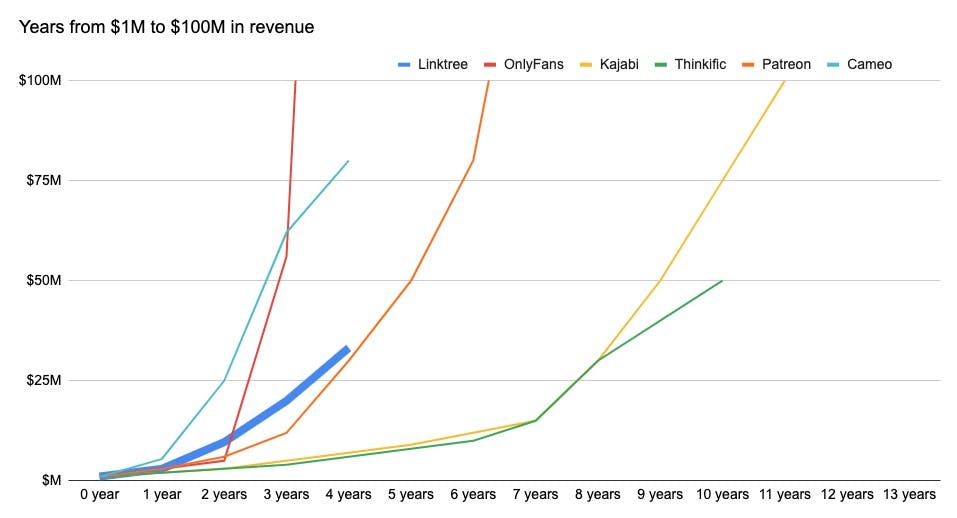 Linktree competes head-to-head with 40+ other link-in-bio companies, from Beacons ($29M raised) to Koji ($36M raised) to Snipfeed ($6.4M), most of which are targeting specific creator segments like Linkfire ($2.7M raised) with musicians to differentiate.
All the major social media platforms are taking a stab at helping their creators monetize through ecommerce, between YouTube (live shopping videos), Pinterest (live shopping stream), Meta (daily live shopping streams), TikTok (shopping livestreams), and Twitch (live game shows with giveaways).
At the same time, all-in-one, vertical-specific creator platforms like Playbook, Circle, Stem, and Gump are adding public profiles to their suites of content creation, community, and back-office tools.
TAM Expansion
There are a few big categories for expansion available to Linktree:
"Enterprise" creators: Linktree could expand revenue by launching its own upmarket product offering for creators whose business has outstripped the capabilities of the core Linktree product. A parallel example here would be Shopify Plus, which Shopify launched as a product for bigger ecommerce brands and starts at $2,000 per month compared to $29 per month for the base Shopify service.
Vertical SaaS for creators: Linktree could build a range of other features to help creators manage their business—revenue splitting, sponsorship management, tax support, etc.—and then monetize by collecting a take rate on each transaction, giving them an additional revenue stream while better locking in their users. At scale, transactional revenue can become a key driver of revenue: today, transactional sources represent 75% of Shopify's revenue ($4B of $5.5B).
Risks
Growth at link-in-bio companies like Linktree and Beacons has slowed in 2022 alongside both a general slowdown in the economy and a cratering in funding to creator economy companies. If this "creator recession" continues and the reality of the growth of social commerce and creator platforms falls short of expectations, it could be a powerful headwind for the link-in-bio companies.
Fundraising

Disclaimers
This report is for information purposes only and is not to be used or considered as an offer or the solicitation of an offer to sell or to buy or subscribe for securities or other financial instruments. Nothing in this report constitutes investment, legal, accounting or tax advice or a representation that any investment or strategy is suitable or appropriate to your individual circumstances or otherwise constitutes a personal trade recommendation to you.
Information and opinions presented in the sections of the report were obtained or derived from sources Sacra believes are reliable, but Sacra makes no representation as to their accuracy or completeness. Past performance should not be taken as an indication or guarantee of future performance, and no representation or warranty, express or implied, is made regarding future performance. Information, opinions and estimates contained in this report reflect a determination at its original date of publication by Sacra and are subject to change without notice.
Sacra accepts no liability for loss arising from the use of the material presented in this report, except that this exclusion of liability does not apply to the extent that liability arises under specific statutes or regulations applicable to Sacra. Sacra may have issued, and may in the future issue, other reports that are inconsistent with, and reach different conclusions from, the information presented in this report. Those reports reflect different assumptions, views and analytical methods of the analysts who prepared them and Sacra is under no obligation to ensure that such other reports are brought to the attention of any recipient of this report.
All rights reserved. All material presented in this report, unless specifically indicated otherwise is under copyright to Sacra. Sacra reserves any and all intellectual property rights in the report. All trademarks, service marks and logos used in this report are trademarks or service marks or registered trademarks or service marks of Sacra. Any modification, copying, displaying, distributing, transmitting, publishing, licensing, creating derivative works from, or selling any report is strictly prohibited. None of the material, nor its content, nor any copy of it, may be altered in any way, transmitted to, copied or distributed to any other party, without the prior express written permission of Sacra. Any unauthorized duplication, redistribution or disclosure of this report will result in prosecution.