Home

&nbsp>&nbsp

Companies

&nbsp>&nbsp

Kry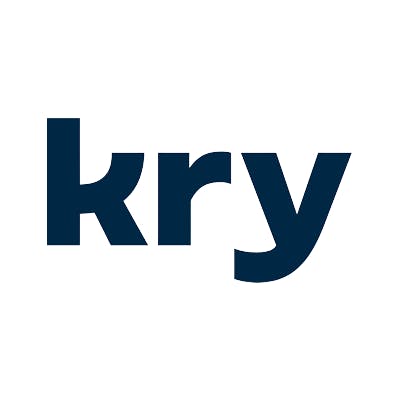 Kry
Kry is a digital healthcare platform that connects doctors with patients through its app and primary health clinics.
Growth Rate (y/y)
100%
2022
Revenue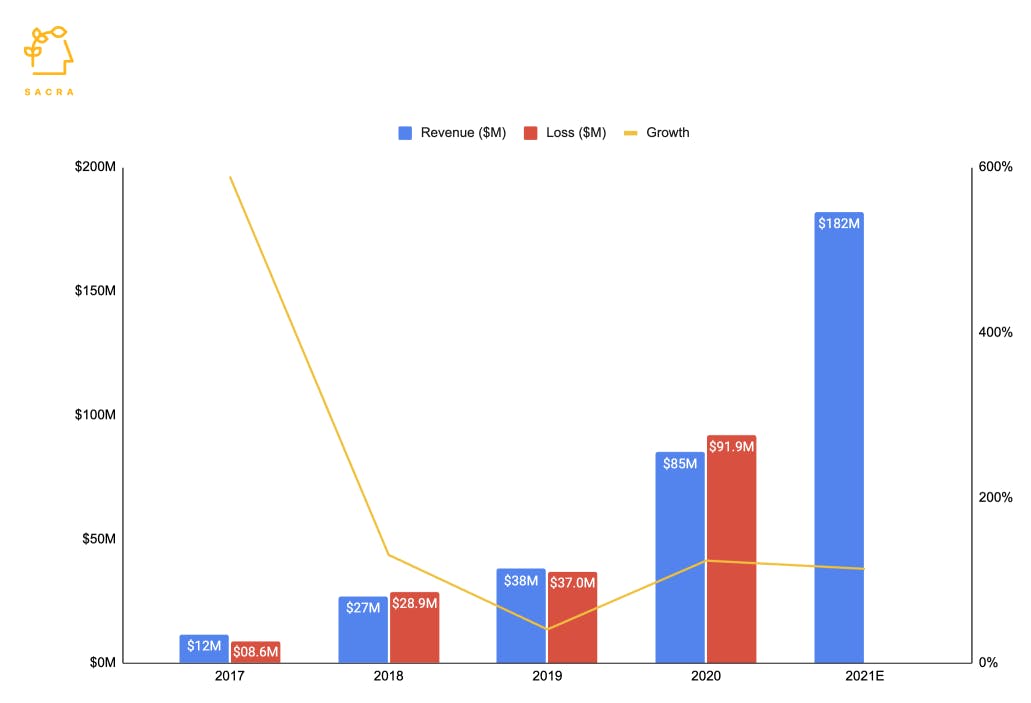 Note: Financial data from 2017 to 2020 is from the annual accounts filed by Kry International with the regulators in Sweden. Currency conversion from SEK to USD uses the yearly average conversion rate. 2021 revenue estimated using publicly available data.
Kry made $85M in 2020, growing 100% YoY. We expect it to grow by 100% again in 2021, reaching $182M in 2021. Kry has three revenue streams:
• Software sales to doctors and clinics.
• Referral payments from partners such as pharmacies and labs.
Consultation fees is Kry's largest source of revenue, of which 90% comes from public payers such as the NHS in the UK and county councils in Sweden, and 10% from private insurers or out-of-pocket from patients. The teleconsultation fee is typically set as per Government guidelines and varies across countries and age groups and even within a country across different cities/regions. For instance, in Stockholm (Sweden's capital), Kry charges $24, but in Uppsala (a smaller Swedish city), it charges $9. Similarly, in the UK, it charges $45, but in France, it charges $25. When it comes to SaaS revenue, most of it comes from the UK, where it acquired Mjog, a patient engagement tool used by 60% of the UK GPs.
~90% of Kry's revenue comes from its home country Sweden, followed by France (5.82%) and the UK (4.6%). 3M patients have used Kry's platform for teleconsultations, and it has 27 brick & mortar clinics, 26 in Sweden and 1 in France.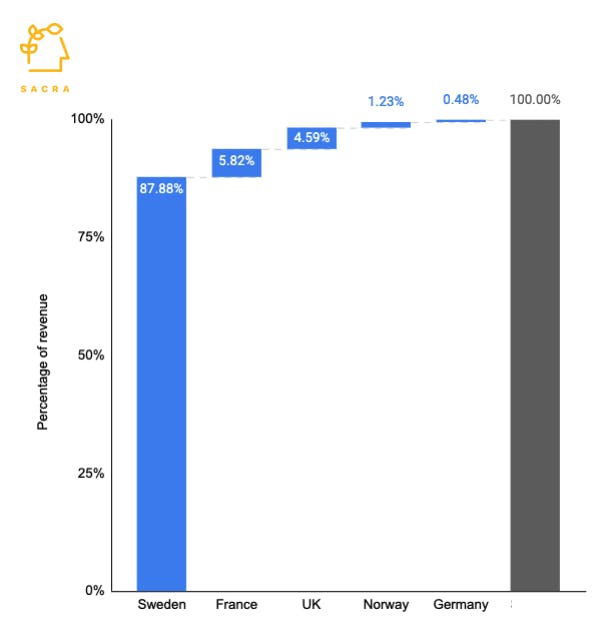 Country-wise breakdown of Kry's revenue .
Valuation

Note: All data sourced from publicly available information.
Kry has raised $731M from investors like Accel, Index Ventures, Creandum, and Project A Ventures. It was valued at $2B in its last funding round, with an estimated valuation/revenue multiple of 11x. The valuations of telehealth and digitally-led primary health companies soared in 2020 as COVID forced patients and doctors to consult digitally. In 2020, telehealth companies had a revenue multiple of 17.9x and digitally-led primary health companies 8.1x. However, these companies lost value as COVID subsided, with telehealth companies losing 70% market cap in the last 12 months. In current macro conditions, Kry appears richly valued compared to its peers.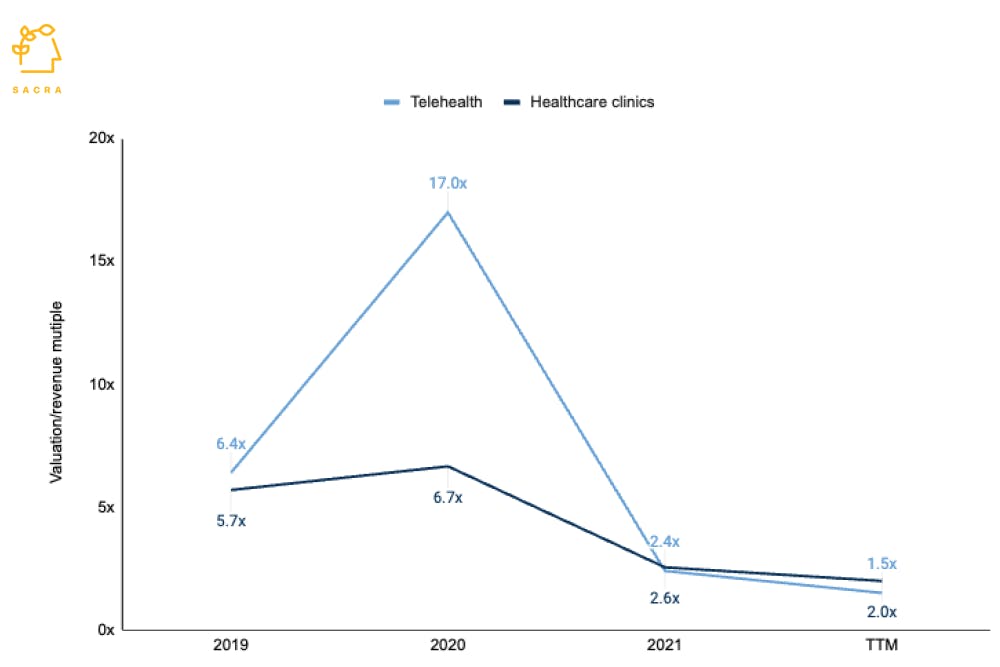 Note: The telehealth companies cohort includes Babylon Health, Accolade, Teladoc, Amwell, Hims & Hers, LifeMD, UpHealth, Talkspace, Ontrak, and Dialogue Health. The healthcare clinics cohort includes Oak Street Health, OneMedical, InnovAge, Care Max, Cano Health, TerveyStalo, and Agilon Health.
Business Model
Launched in 2014 in Sweden, Kry is a telehealth platform that allows patients to consult doctors online through their app and website, get prescribed medicines, and order home lab tests. Recently it also started primary healthcare clinics for in-person consultations. It operates under the brand name Kry in Sweden, Norway, and Germany, and Livi in the UK and France. 
There are four notable aspects to Kry's business model: D2C healthcare, wallet share expansion, healthcare cost reduction, and geographical expansion.
D2C healthcare
Kry flipped the healthcare delivery model from being doctor-centric to patient-centric by making it as easy to fix a doctor's appointment as starting a Zoom call. Prior to Kry, a patient's chances of being treated within a day of contacting a doctor depended on the doctor's availability in their nearest primary care clinic. In Sweden, almost a quarter of patients wait for more than a day to get a primary care appointment, and more than 50% wait over a month to meet a specialist, similar to other European countries.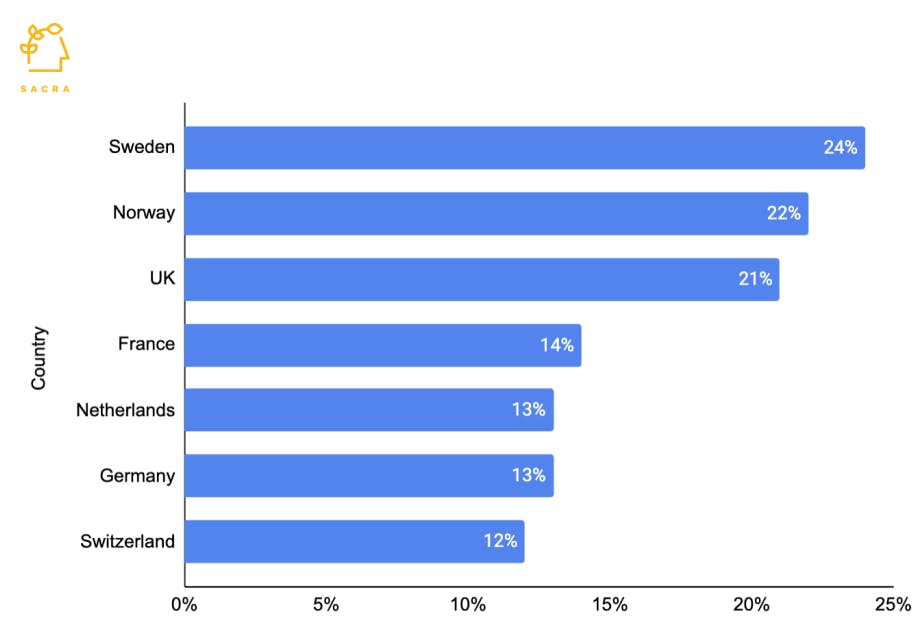 The share of people who sometimes, rarely, or never get an answer from their regular doctor's office on the same day.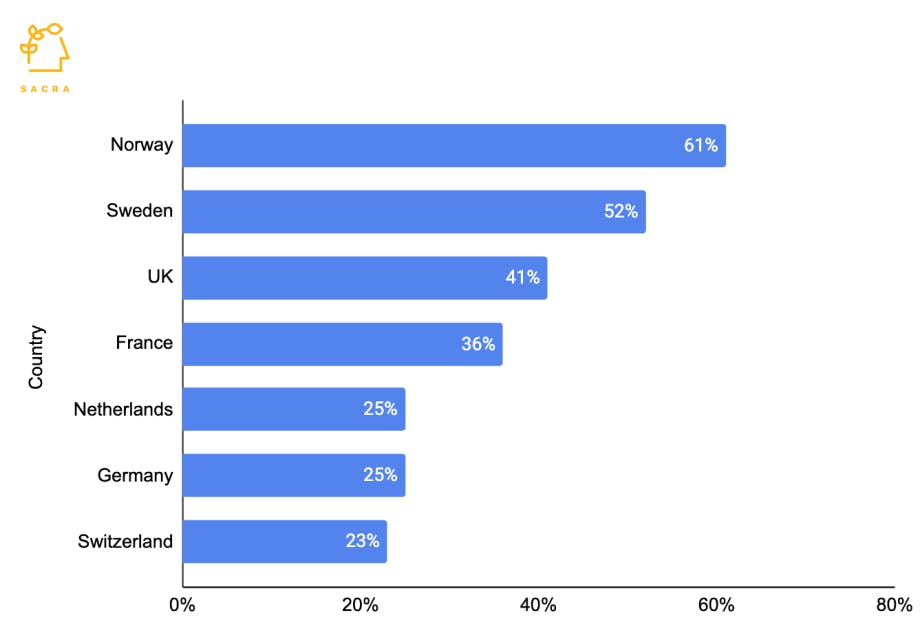 The share of people waiting one month or more for a specialist appointment.
Customers who get on-demand services with easy sign-up, zero-friction onboarding, and instant delivery across banking, education, ecommerce, and entertainment expect the same from healthcare providers. In the WebMD era, people have a better understanding of what's wrong with them and are generally more health-conscious and hence want to access healthcare when they need it, rather than depending on the doctor's calendar.
Using Kry, a patient can fix an appointment with a doctor in any part of the country. Kry's location-agnostic model improves doctors' fill rates and helps them monetize their spare capacity, while reducing the wait time for patients from days to minutes. By unbundling a doctor's expertise from their physical location and converting it into bits that can be video-streamed anywhere, Kry scaled rapidly across a previously impossible large number of patients, growing its patient base by 100x in just five years. Kry monetizes this model by charging patients per consultation and is paid either by the patient (who can later claim it from their public/private insurer) or directly by the insurer.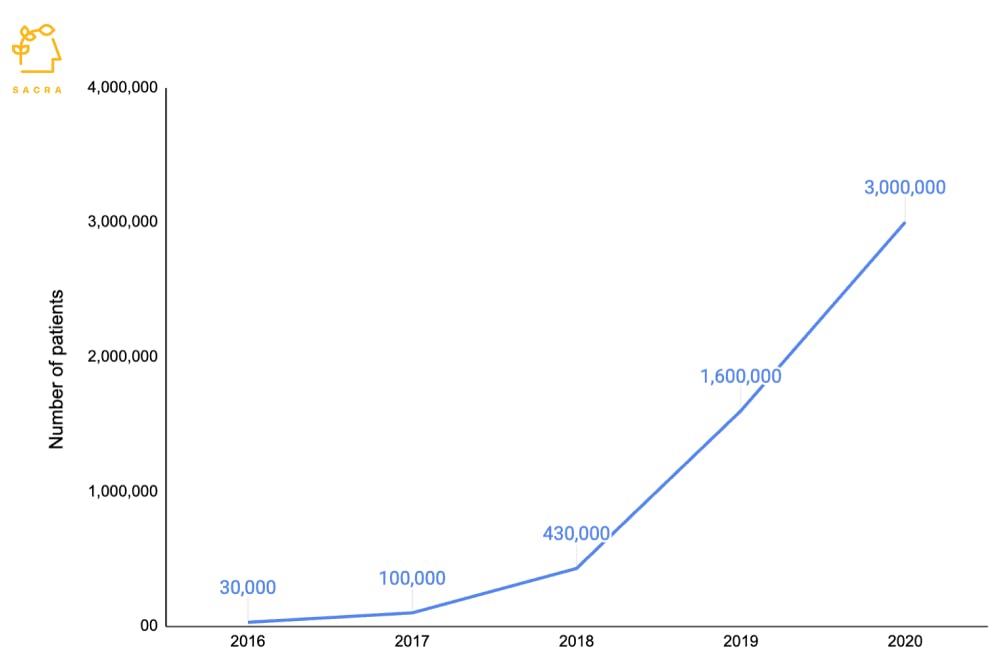 Kry's user growth over the years.
Wallet share expansion 
IInstead of becoming just a Zoom replacement for doctors, Kry has layered additional products to capture more use cases and expand its share of customers' healthcare spend. 
Higher engagement with existing patients
One way it has done this is by letting patients fill prescriptions, order lab tests, and book vaccinations within the app while storing their historical medical records. Kry makes its customer relationship sticker by being their inbox for historical health data. While it started as a primary care service, Kry added specialist secondary care like mental health, women's health, pediatrics, and dermatology to get repeat visits from existing patients for new ailments.
Unlike the marketplace model of telehealth startups in the US like Ro and Hims & Hers, Kry employs 1300+ doctors and healthcare workers full-time/part-time. Its common induction program, standardized administrative support, and templatized operating procedures provide a better patient experience and effective healthcare quality management at scale.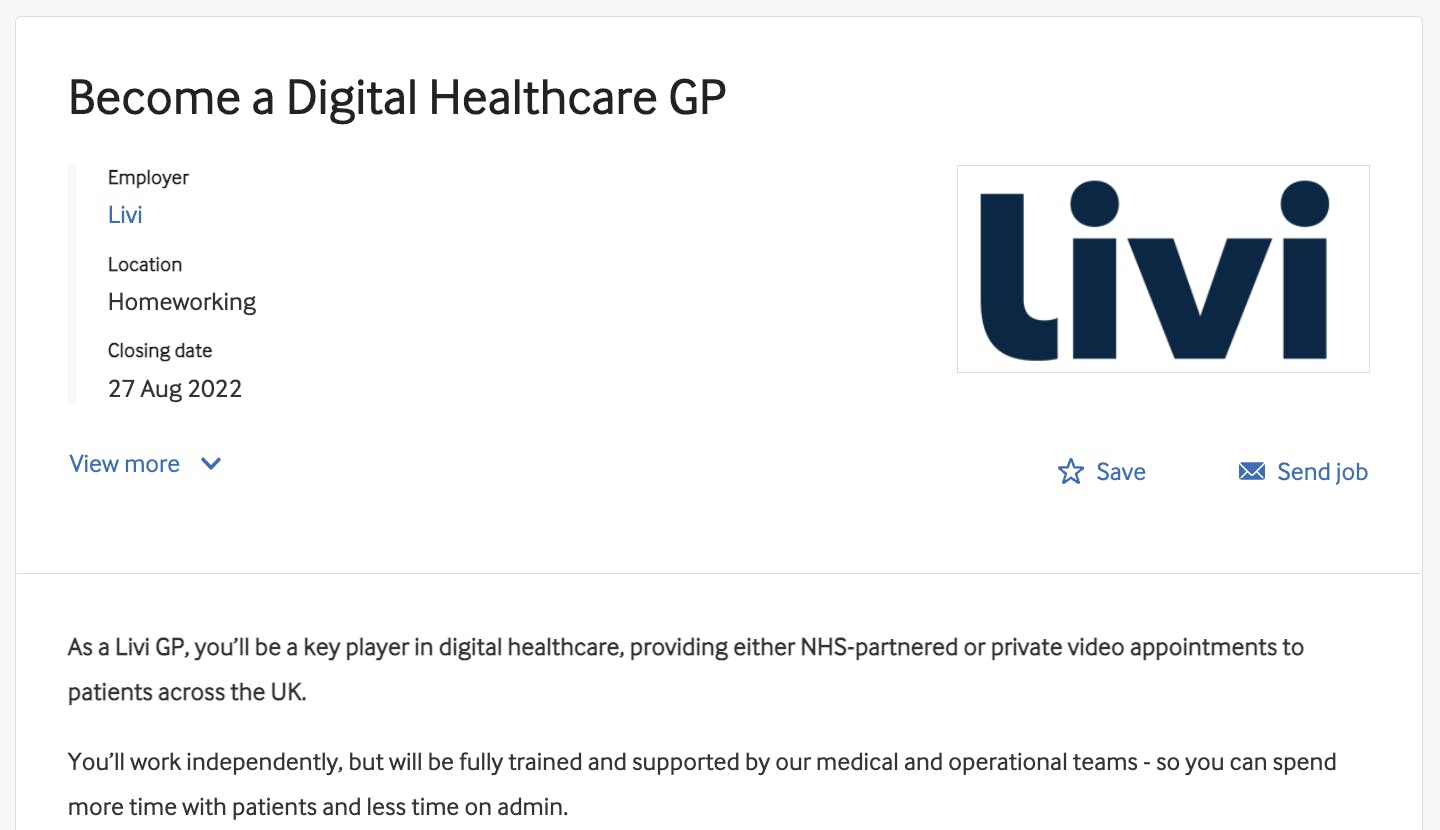 Job listing for a GP in the UK from Livi (Kry).
Partnerships and acquisitions
Kry scaled its products through partnerships with other companies, which increased the number of conditions it can treat. For instance, initially, patients typically used Kry for skin conditions, UTIs, eye infections, and prescription renewals. But after integrating with lab-test referrals, it can now handle 60 of the 100 most common primary healthcare conditions. In 2019, Kry acquired the mental wellness app Enjo and integrated it into its app to offer mental wellness support. In 2020, it acquired Helsa to add 15 primary care clinics to its product offering.

Kry in 2015 was a Zoom call replacement for healthcare.

Kry in 2022 has added many services through partnerships and acquisitions.
Healthcare cost reduction
Being more cost-effective than in-person consultations makes it easier for Kry to sell its services in a market where the taxpayers and the Government pay for 75% of the healthcare expenditure. Unlike the US, the healthcare expenditure for most of the population in Europe is covered by government schemes or compulsory tax-payer-funded schemes. Thus, any wastage of money in the healthcare system is an opportunity cost of not providing healthcare to someone else in need. 
Telehealth consultations are estimated to cost 40% less than in-person consultations, even at a low volume of a few thousand consultations per month. Telehealth consultations also indirectly reduce costs by reducing the waiting time; otherwise, patients who can't see their regular doctor show up in emergency rooms, which is way more expensive for the healthcare system. Then there are hidden costs, such as €200M spent by Sweden annually on translators, which could be easily solved by matching patients with multi-lingual doctors. There are also societal costs, such as taking time off work to visit a doctor, even for minor ailments, leading to absenteeism. 
Geographical expansion
Scaling telehealth products in Europe is complex as every country has different regulations and healthcare maturity levels. For instance, in Germany, the largest healthcare market in Europe, public insurance didn't cover teleconsultation fees until 2019, while in the UK, NHS started covering it many years ago. There are also differences in how public healthcare funds are managed. The UK manages it centrally through the NHS, funded by taxes and national insurance contributions. However, in Germany and Sweden, healthcare spending is decentralized and managed locally by regional governments.
Thus, most telehealth companies struggle to expand beyond one or two countries. For instance, Qare and Medadom are only in France, UK's PushDoctor and Sweden's MinDoktor are yet to expand outside home countries even after eight years of launch, and Doctolib is in just two countries. Kry is one of the few telehealth companies that expanded meaningfully beyond its home country by localizing its business model. 
In the UK, Kry tweaked its business model to partner with NHS federations and deliver healthcare to their registered patients free of cost at the time of consultation. This is in contrast to its business model in Sweden, where it asks patients to register directly with Kry as their primary healthcare provider, de-register from their existing provider, and pay at the time of consultation.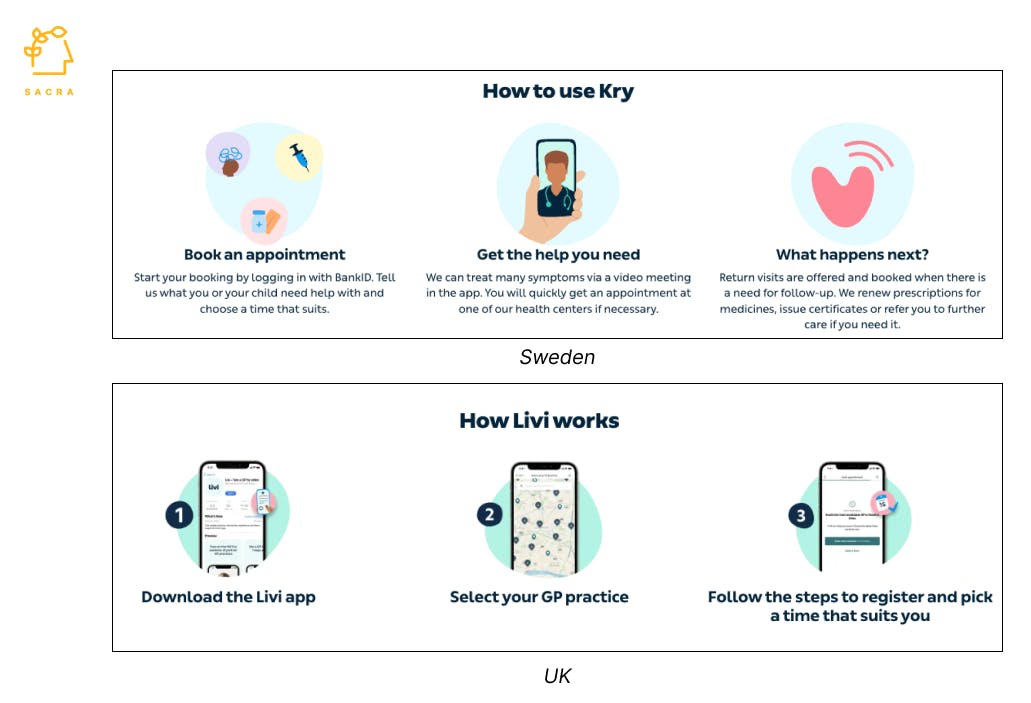 Kry's model in Sweden vs. the UK.
Product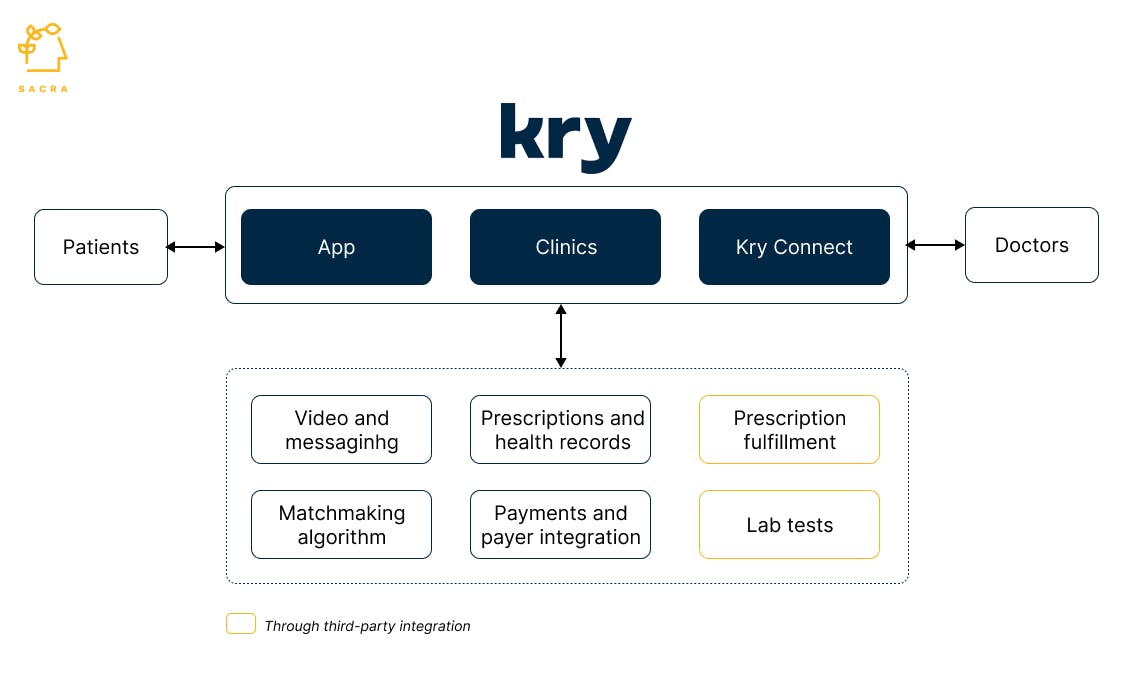 Kry connects patients and doctors through three services: its app, healthcare clinics, and Kry Connect. Kry's core product is a telehealth app that patients use to consult doctors online. Once a patient creates an account in the app, they select the condition they want to be treated for, answer a few questions about their symptoms, attach any images of their symptoms, and select their preferred date/time for an appointment. The doctor video-calls them at the scheduled time, writes a prescription, asks for lab tests, or refers them to a specialist for an in-person examination. The app tracks prescription shipments and lab tests and notifies the patients when their status change.
There are some variations in how the app works based on country-specific regulations. For instance, in the UK, the app acts like a video-based extension of existing GP practices. Patients can seek an appointment with their registered GP practice and don't have to pay consultation fees.
Patients can also use the app to book appointments with Kry's clinics. The clinics treat a larger spectrum of conditions than the app, carry out lab tests, and many are open on weekends and late evenings. 
During COVID, Kry launched the Kry Connect app, which doctors use for teleconsultations with patients even if they are not working with Kry. Once they register, doctors get a Zoom-like link for the video call that they can send to their patients through SMS or email.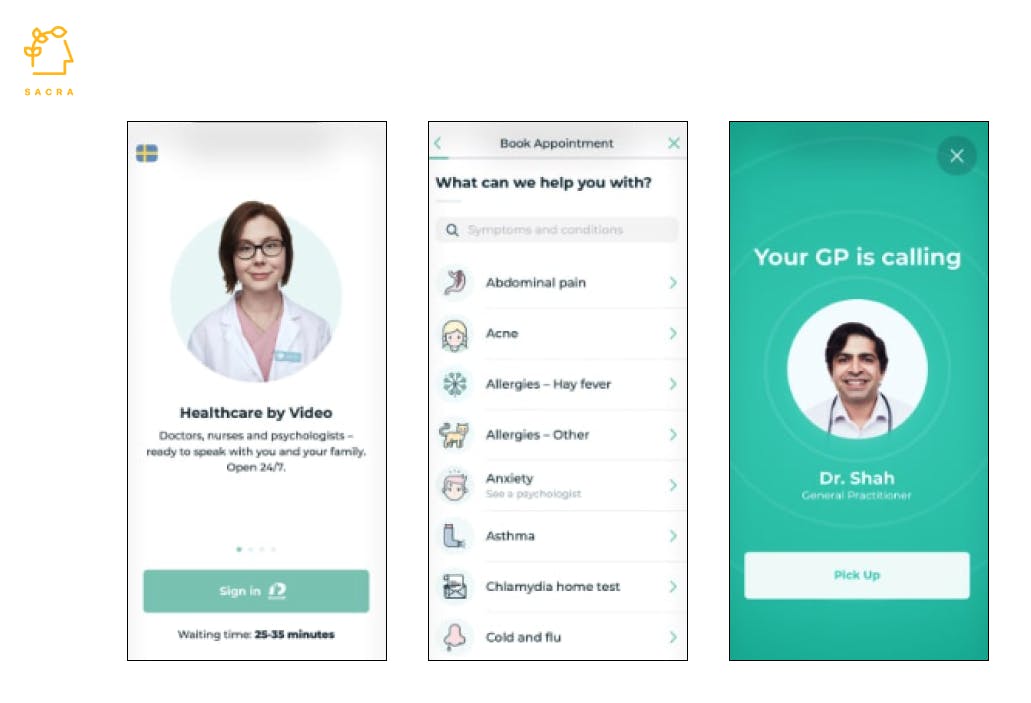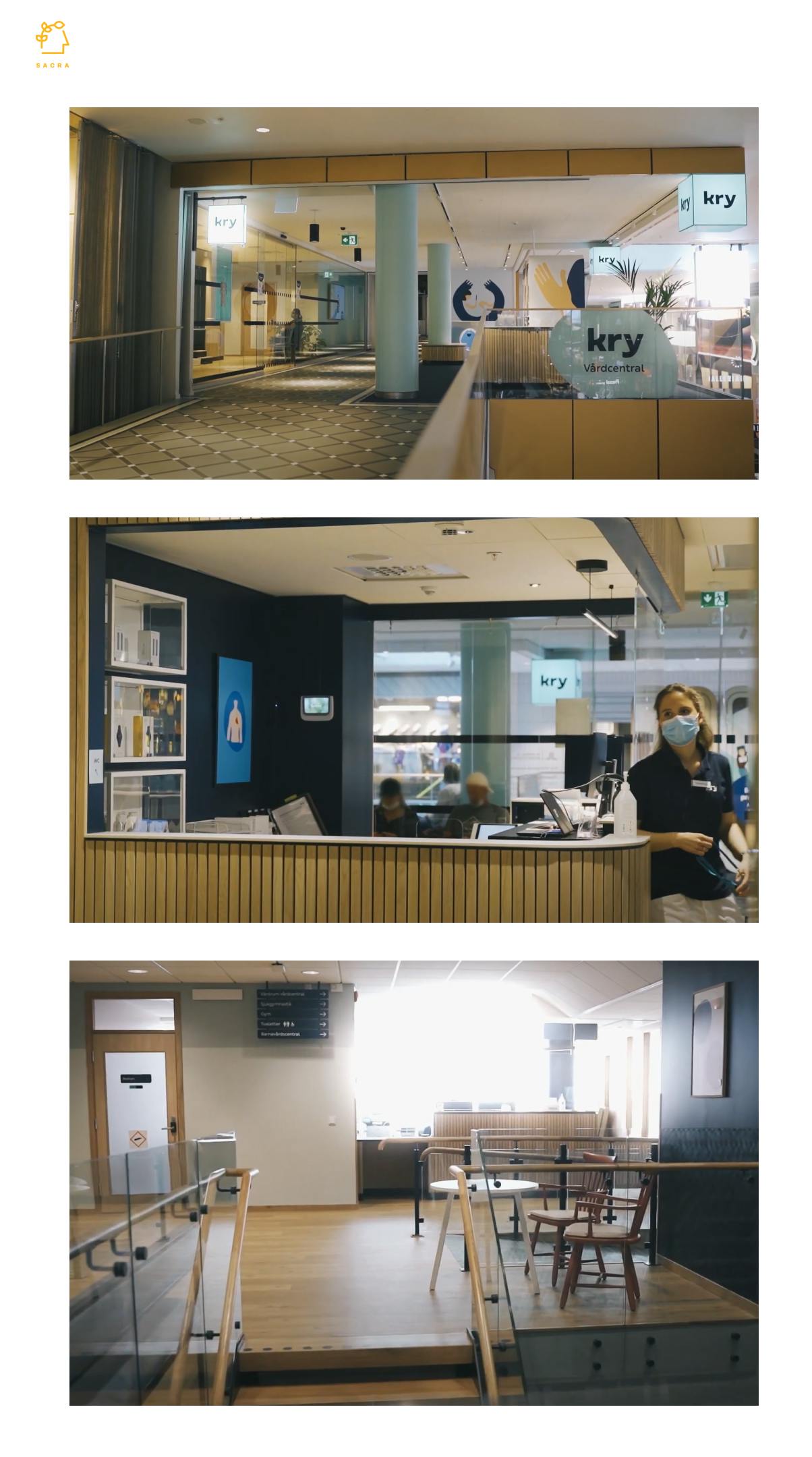 A glimpse of Kry's clinics in Sweden.
Competition
The European telehealth market is seeing a boost in telehealth app usage across all countries due to COVID-19. There's no one size fits all business model or one telehealth company that dominates the market. Kry is one of the largest telehealth startups but faces stiff competition from other telehealth startups and brick-and-mortar clinics.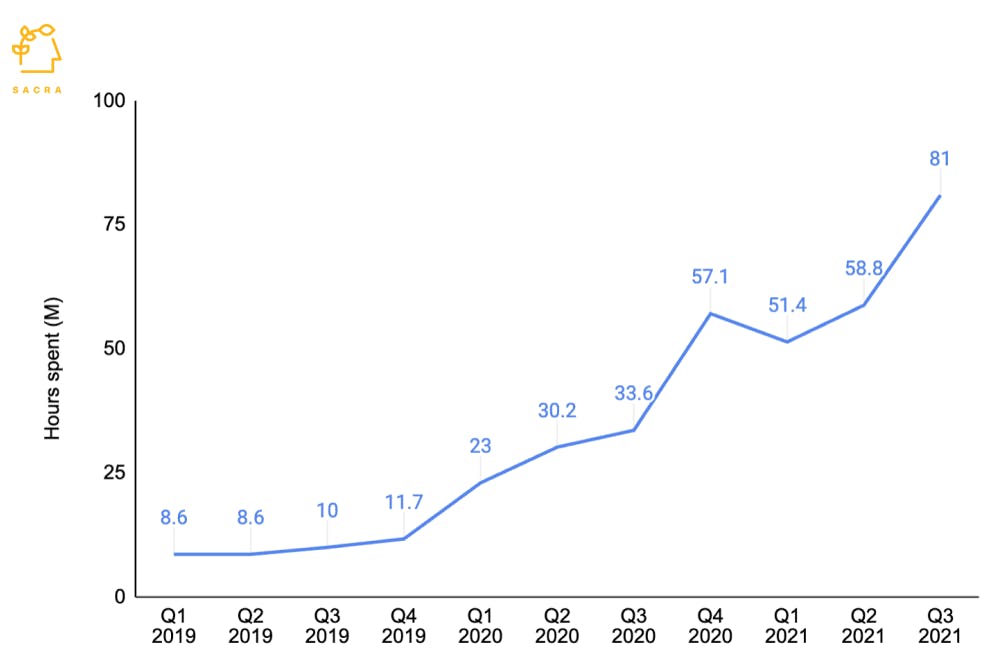 Hours spent on doctor apps in Europe spiked during COVID.
Aging population
The percentage of people over 65 in Europe has grown from 15.8% in 2001 to 20.8% in 2021. This trend is expected to continue, with 30% of the European population expected to be above 65 in the next 20 years, adding 32M people with high healthcare needs to the European population. Equally importantly, three in five 65 years old believe they don't have good health, compared to just one in five for less than 65 years.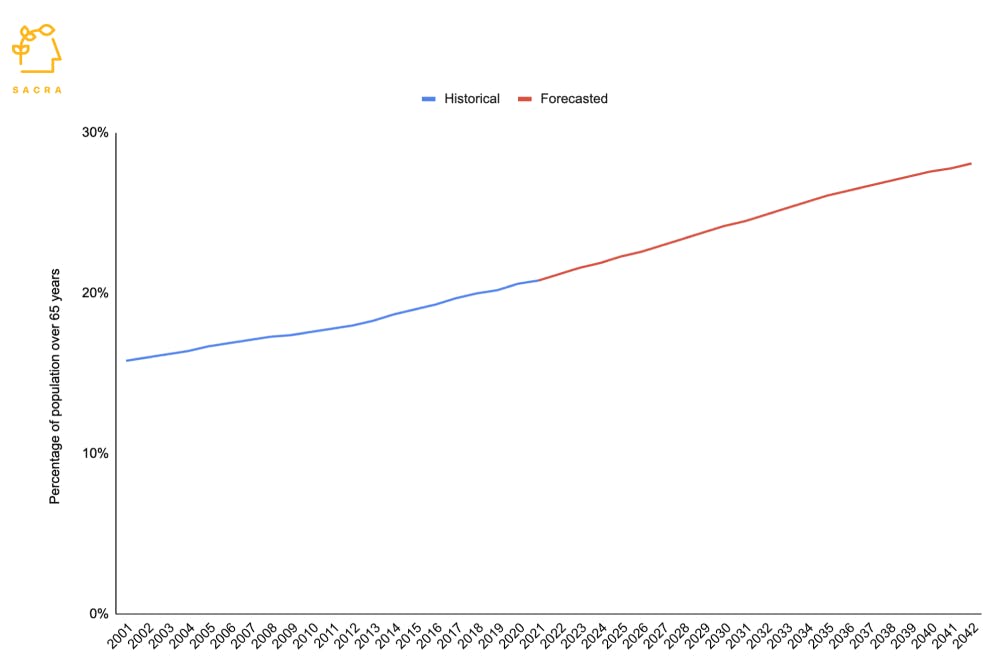 In the next 20 years, ~30% of Europe's population will be more than 65 years.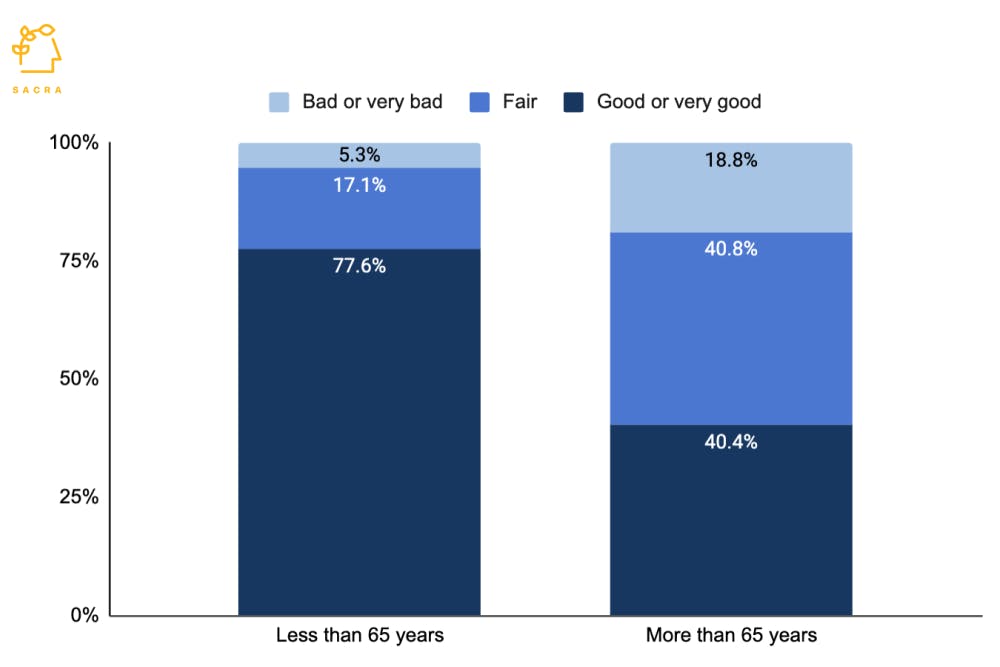 3x people over 65 believe they are not well, compared to people under 65.
Shortage of healthcare professionals
Most European countries have a shortage of healthcare professionals, such as nurses, GPs, and specialists. Out of 30 countries in the EU, 18 mention that they are severely short on nursing professionals, and 12 mention that they are short on GPs. In France, there are 9% fewer GPs than ten years ago, and in Germany, ~3500 practices are without a doctor. Unless Europe finds 230,000 more doctors, ~13.5% of its population will be without adequate healthcare coverage, especially in rural areas. One of the key reasons for this is that doctors are aging, and many have retired or reached retirement age. Coupled with the aging population, the shortage of medical professionals is testing the European healthcare system.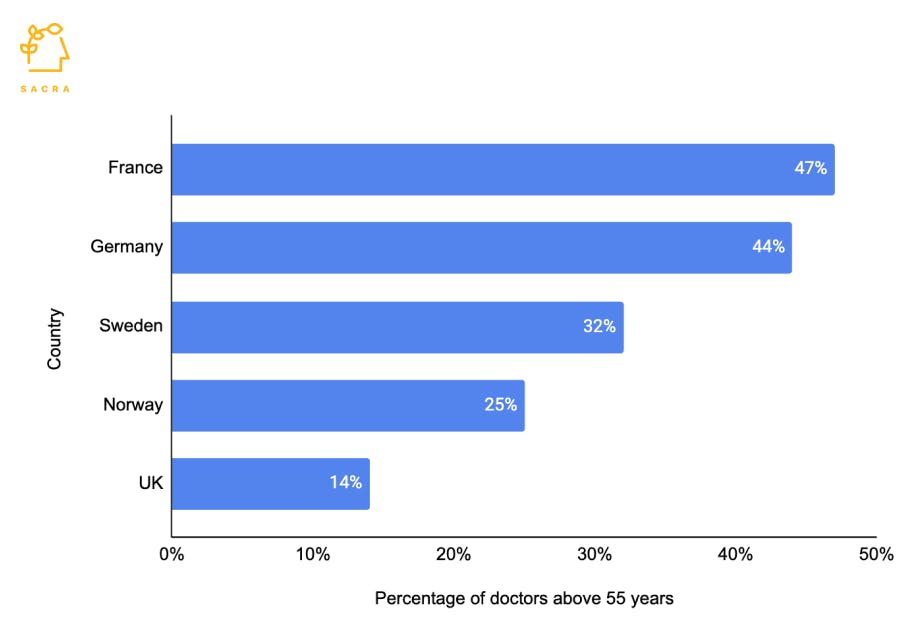 Percentage of doctors above 55 years.
Shift towards digital healthcare
For a long time, everyone in Europe has had the technology for telemedicine, such as the internet, smartphones, and laptops. But pre-COVID, most telehealth apps had low adoption due to regulatory challenges such as teleconsultations not being covered by public health schemes. However, COVID has pulled forward the pace of change by at least three to five years, accelerating the shift toward digital healthcare.
In 2019, Germany adopted the Digital Healthcare Act (DVG) that sets the framework for doctors to prescribe telehealth apps to their patients and cover the teleconsultation fees under public insurance. Before this, only out-of-pocket or private insurance payments could be made for teleconsultations.
All Germans covered under public insurance are now entitled to national electronic health records.

In 2020, Germany approved its first two telehealth apps, reaching 24 in 2022. 
During COVID, Germany waived the rule that only 20% of a GP's patient turnover could be through telehealth.
France allowed GPs to fix teleconsultations with their patients in 2018 and in 2019 adopted a new healthcare act as a part of the 'My Health 2022' plan. The Government wants to improve data interoperability, roll out national electronic health records, and promote the use of telehealth in public health delivery.

During COVID, the French Government waived many requirements for teleconsultations. These include the need to know patients before teleconsultation, seeing the same GP in all consultations, and allowing all teleconsultations to be reimbursed 100% by the national insurance fund.
The UK launched a long-term NHS plan in 2018 to provide digital healthcare access to all UK citizens. It launched the NHS app in 2018 for patients to access their digital health records and fix teleconsultation appointments. The app has been downloaded over 22M times, and more than 1M teleconsultation appointments have been booked through it.
In the recently launched NHS recovery plan to clear the COVID-related backlog of appointments, digital tools play a key role in managing the waiting lists better.
Country-by-country dynamics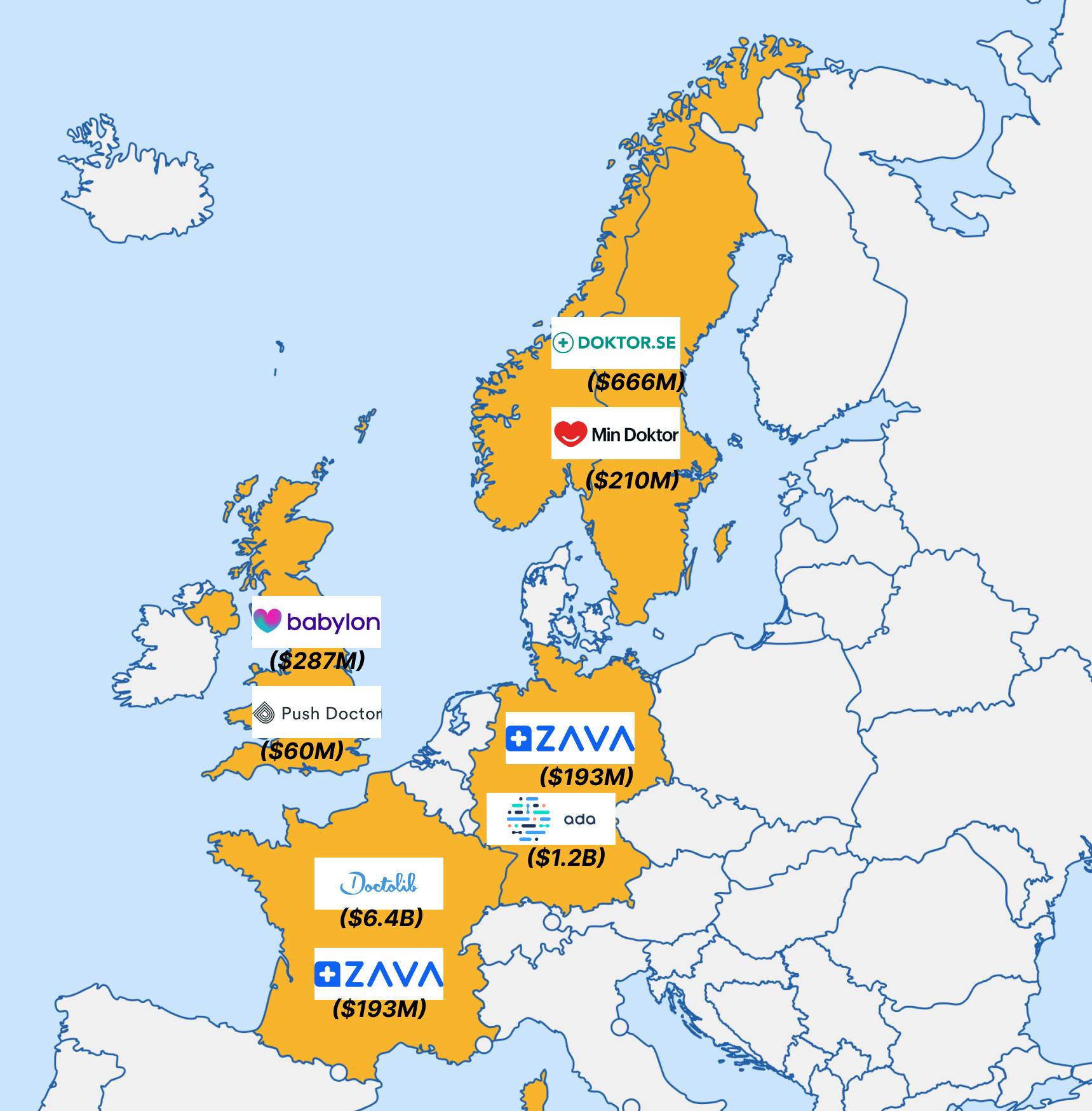 Key telehealth apps in different countries. Figure in parentheses reflects valuation. 
Sweden's healthcare system covers all citizens and is decentrally managed by counties and local authorities. It is financed through taxes levied by county councils and municipalities. Sweden has one of the most mature telehealth ecosystems in Europe, and even pre-COVID, ~7% of all consultations happened digitally. Telehealth companies such as Kry, Min Doktor, and Doktor.se started almost a decade back to address long waits for doctor appointments and poor patient experience.
Min Doktor was launched in 2013 and provides chat-based digital consultations and in-person consultations through primary care centers. Min Doktor is valued at $210M and has raised $83M. It states that it has handled 2M consultations to date. It operates two brick-and-mortar specialist clinics and 20 nurse-led clinics in Sweden. 
Doktor.se offers video teleconsultations and runs 11 primary care clinics in Sweden. It has 1M app users and 130,000 patients registered with the primary care clinics. In 2021, it made $78M, growing 54% YoY, and is valued at $666M after raising $220M. It recently started selling its telehealth platform to healthcare providers as a SaaS product. 
Healthcare is free for UK citizens at the point of delivery, with the cost covered by the National Health Service (NHS), a centrally run entity, funded by general taxation and insurance contributions from employees and employers. Even pre-COVID, telehealth was popular in the UK, accounting for 25% of GP consultations, increasing to 71% during COVID.
Key company: Babylon Health
Babylon Health started in 2013 and provides digital health tools, video consultations, SaaS to healthcare providers and runs brick & mortar clinics. It made $322M in 2021, of which 27% came from the UK and the rest from the US. It has lost 90% of its market cap after listing at $4.8B through a SPAC in October 2021 at NYSE.
Germany is the largest healthcare system in Europe, but it's a laggard in digital health. Even post-COVID, on average, 26 times more traditional prescriptions are written in a single day than health apps prescribe in a year. Germany allowed GPs to prescribe telehealth apps to their patients and cover teleconsultation fees under the public health system in 2018. Since then, it has fast-tracked digital health initiatives such as seven new bills on e-health, electronic health records for all German citizens, and a digital health framework for telehealth apps to easily plug into the public health schemes. However, all telehealth apps go through a long approval process, and such low digital prescription rates limit the upside for a startup.
Ada, founded in 2011, has raised $167M and is valued at $1.2B. Ada's app is a chatbot that asks users about their symptoms, uses AI to indicate probable cause, and suggests what they should do next. It has 12M users and has done 28M symptom checks. Ada makes money through partnerships with health providers, insurers, and life sciences companies which integrate it into their systems for better screening and faster diagnosis. 
Zava provides teleconsultations and e-prescription services in Germany, France, the UK, and Ireland. It has raised $32M in funding and is valued at $193M. Out of the 7M consultations it has done, ~20% are from Germany.
Like Germany, France is also a late mover in the telehealth space, with the French Government allowing public health schemes to cover teleconsultations recently in 2018. Even then, the use of telehealth apps peaked at 40,000 consultations per month till COVID provided a boost to telehealth apps, increasing the percentage of teleconsultations from less than 1% to 11%, making it a promising market for telehealth startups. 
Doctolib is a platform for patients to book in-person or virtual consultations with doctors. It is used by 60M patients in France, Germany, and Italy and lists over 300,000 healthcare professionals. The app is free for patients and makes money by selling SaaS to doctors for consultation scheduling and patient engagement. Doctors can use Doctolib to start teleconsultations from within the app. It has raised $815M and is valued at $6.4B.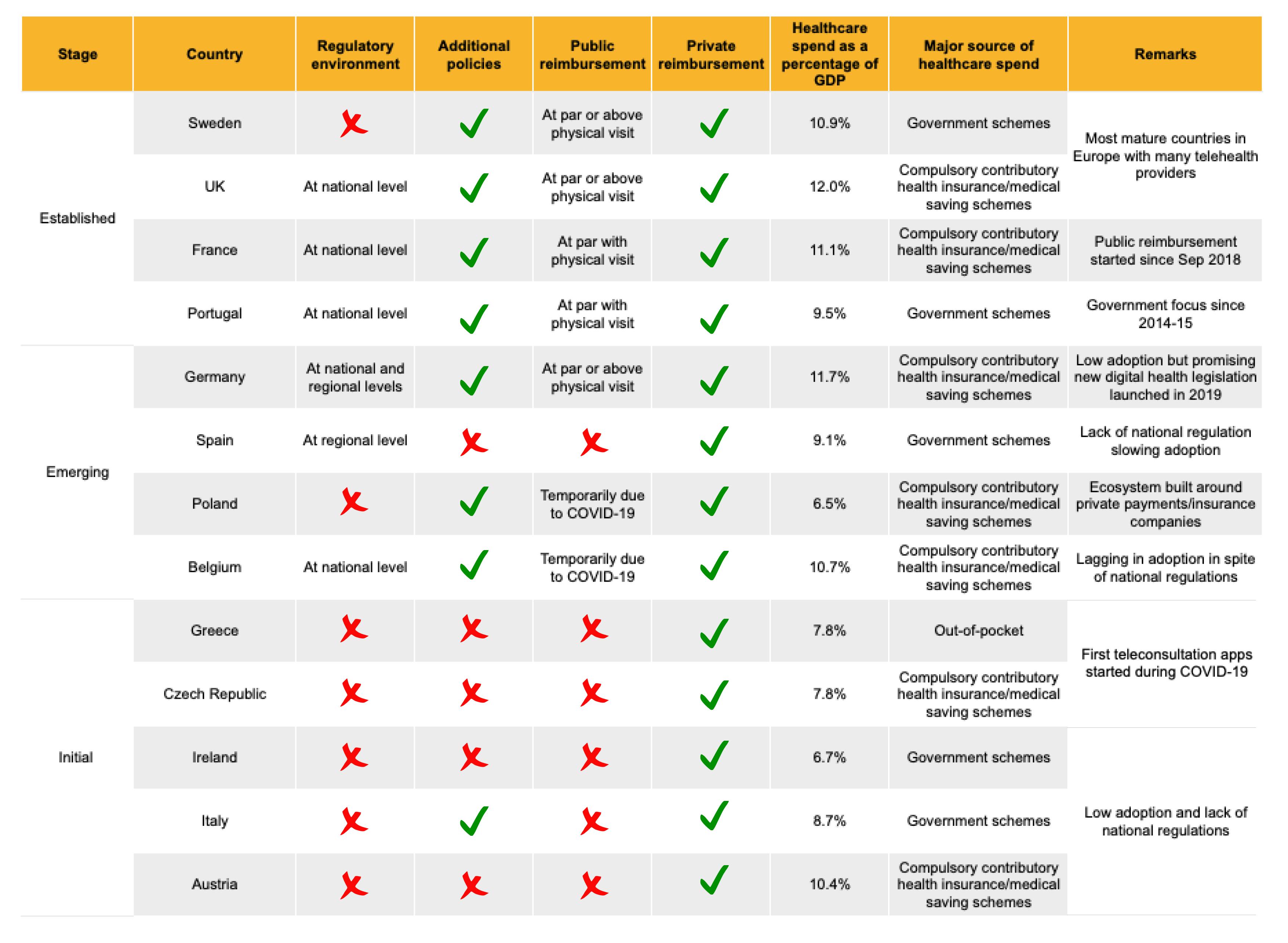 Maturity of telehealth ecosystem across key European countries.
TAM Expansion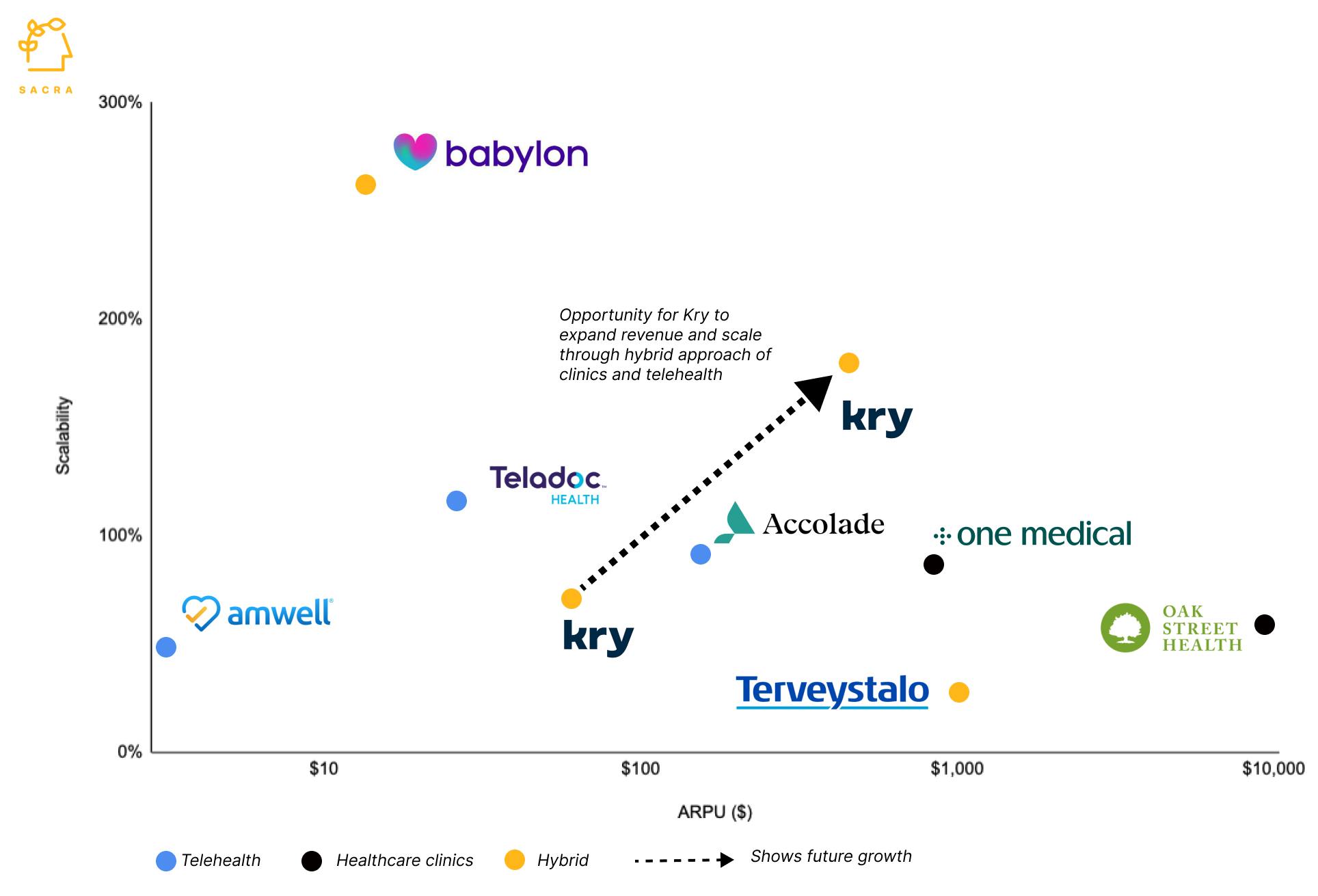 Scalability is the sum of the CAGR of revenue from 2020 to 2022 and the estimated gross margin in 2022. It reflects how easy or difficult it is to scale a startup's business model. ARPU is revenue in 2021 divided by the number of users. The horizontal axis is on a log scale for visual clarity.
Companies like Oak Street and One Medical that run healthcare clinics have high ARPU but low scalability, as brick-and-mortar clinics are difficult to scale rapidly. They typically have low margins, making reinvestment in growth difficult. On the other hand, telehealth companies like Babylon Health and Teladoc can scale rapidly, with healthy margins but have low ARPU. With its hybrid approach, Kry can scale the patient volume profitably through telehealth and expand its revenue by opening more healthcare clinics. In the long-term, the telehealth app becomes a top-of-the-funnel channel, which gets in as many patients as possible, and funnels down high-value patients with chronic conditions or conditions that need in-person treatment to its clinics, growing scale and ARPU at the same time. 
Healthcare clinics expand revenue in two ways:
Reduced patient drop-offs: If a patient needs an in-person appointment and Kry refers them to a specialist outside its network, it is a poor experience for the patient and lost revenue from follow-up consultations for Kry. With more clinics, Kry can keep 100% of the revenue by reducing patient drop-offs and referring them to one of its clinics. 
Revenue from ancillary services: At the clinics, Kry gets to keep 100% of revenue from ancillary services such as lab tests rather than getting a referral commission from its lab test partners when its telehealth patients undertake a test.

Kry's immediate focus is to expand the clinics in Sweden, France, and Norway. In France, it's opening clinics in partnership with ELSAN, a hospital healthcare provider. It also experimented with an asset-light model in partnership with Boots, a Pharmacy chain in the UK. Patients get basic diagnostic tools like blood pressure monitoring in Boots' store and access Kry's teleconsultation app from the store through dedicated terminals. 

Geographic expansion

~90% of Kry's revenue comes from Sweden, even though it's present in 5 countries. France and the UK have the highest potential for Kry of the other four countries. Post-COVID, telehealth consultations were 71% of total consultations in the UK and 11% in France. While these numbers may decrease as COVID subsides and patients return to in-person appointments, there are strong tailwinds in the UK and France to support telehealth. For instance, in the UK, 6M people are on the waiting list for hospital treatment due to the backlog created by COVID. The NHS sees telehealth as a critical way to address this waitlist. In France, the Government plans to invest €650M in digital health initiatives as a part of the Health Innovation 2030 plan to support start-ups, research, and education. 

SaaS for healthcare professionals

In 2020, Kry acquired Mjog, a patient messaging app used by 60% of the UK GPs. It's doubling down on launching new SaaS tools for healthcare professionals. In 2021, it created a new role of Senior Vice President of SaaS (filled by Luke Buhl-Nielsen, now the CSO), who headed its new SaaS Business Unit. Kry's in-house doctors give it the advantage of better understanding their requirements, testing new apps/features, and iterating quickly with shorter feedback loops. France's Doctolib is one of the largest healthcare SaaS startups in Europe, valued at $6.4B, used by 300,000 healthcare professionals at an estimated ARPU of $800 per user.

Specialist services

Kry is scaling its mental health product portfolio by launching the internet cognitive behavioral therapy  (ICBT) program, available in Sweden, to other countries. ICBT can be used for booking telehealth consultations for depression, anxiety, and stress. App-based consultations protect the patient from the stigma of visiting a mental health doctor and make follow-up consultations easier. Patients today are more aware of mental health issues and proactively search for solutions to manage their mental health, making app-based consultations a good fit. Mental health has become a major crisis post-COVID, with ~150M people in Europe estimated to have mental disorders, but only one-third of them receive the mental health care they need.
Risks
Commoditization of video calls
Teleconsultation video calls are a commodity and will exist as an app feature rather than the whole app. SaaS healthcare startups, like Doctolib, integrate video calling as a feature on their platform that fits better with a doctor's workflow than using a separate video call app. At least one-third of the public health regions in Sweden offer video calls to patients that don't use any of the telehealth apps. As telehealth becomes more popular, providers may end up dictating which app to use for their patients rather than the patient-centric approach taken by Kry.
Intense country-specific competition
With 90% of Kry's revenue coming from Sweden, the next phase of its growth is expected to come from other countries. However, each country has different complex regulatory requirements preventing Kry from replicating its success in Sweden in other countries. Most startups compete in one to two markets, making them highly focused on getting more market share in their home countries. In contrast, Kry is spread across countries and may find it difficult to spend money on growing equally fast in all of them.
Fundraising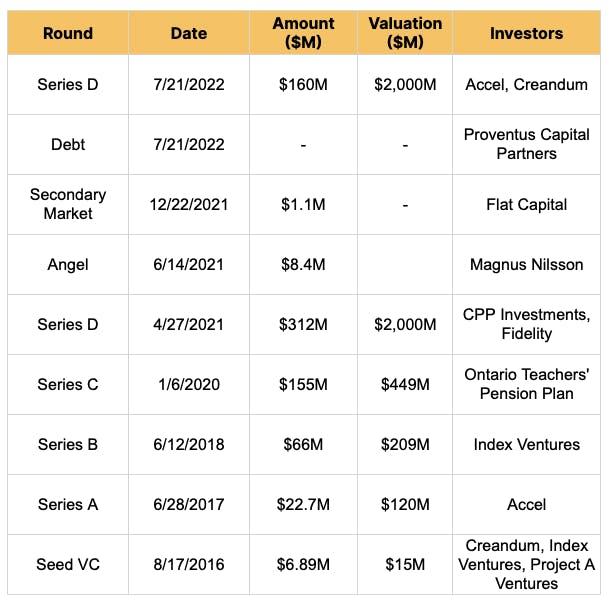 Team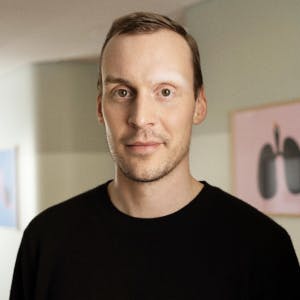 Johannes Schildt
CEO (serial entrepreneur)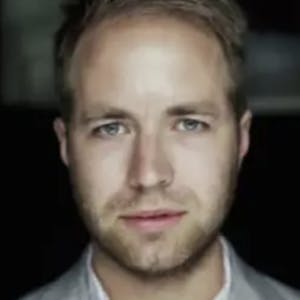 Fredrik Nylander
CTO (joined 2021) - Ex CTO at Oscar Health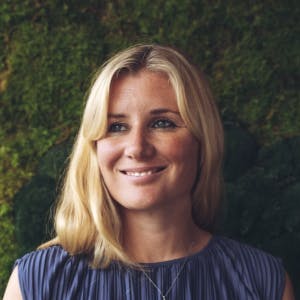 Juliet Bauer
CMO (joined 2019) - Ex Chief Digital Officer at NHS England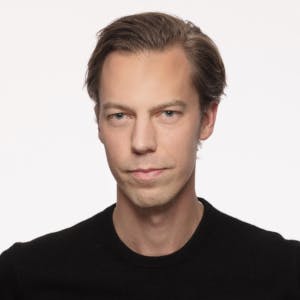 Peder Stahle
CPO (joined 2017) - Ex CPO at iZettle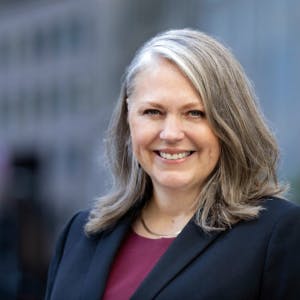 Trish Young
SVP Global Ops (joined 2022) - ex Head of Ops at Babylon Health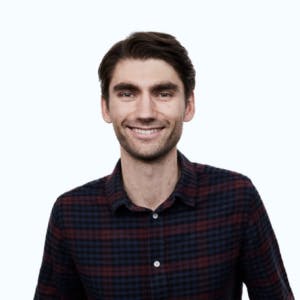 Luke Buhl-Nielsen
CFO (joined 2018) - ex-Index Ventures, McKinsey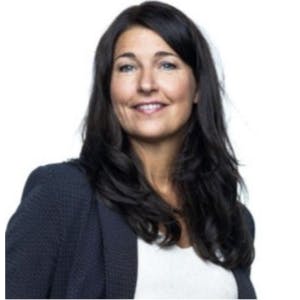 Helena Dino
SVP People & Culture (joined 2022) - ex HR Director at Castellum, Volvo Cars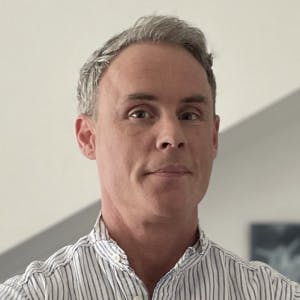 Kalle Conneryd-Lundgren
COO (joined 2021) - Ex CIO and COO at Karonliska University Hospital
Disclaimers
This report is for information purposes only and is not to be used or considered as an offer or the solicitation of an offer to sell or to buy or subscribe for securities or other financial instruments. Nothing in this report constitutes investment, legal, accounting or tax advice or a representation that any investment or strategy is suitable or appropriate to your individual circumstances or otherwise constitutes a personal trade recommendation to you.
Information and opinions presented in the sections of the report were obtained or derived from sources Sacra believes are reliable, but Sacra makes no representation as to their accuracy or completeness. Past performance should not be taken as an indication or guarantee of future performance, and no representation or warranty, express or implied, is made regarding future performance. Information, opinions and estimates contained in this report reflect a determination at its original date of publication by Sacra and are subject to change without notice.
Sacra accepts no liability for loss arising from the use of the material presented in this report, except that this exclusion of liability does not apply to the extent that liability arises under specific statutes or regulations applicable to Sacra. Sacra may have issued, and may in the future issue, other reports that are inconsistent with, and reach different conclusions from, the information presented in this report. Those reports reflect different assumptions, views and analytical methods of the analysts who prepared them and Sacra is under no obligation to ensure that such other reports are brought to the attention of any recipient of this report.
All rights reserved. All material presented in this report, unless specifically indicated otherwise is under copyright to Sacra. Sacra reserves any and all intellectual property rights in the report. All trademarks, service marks and logos used in this report are trademarks or service marks or registered trademarks or service marks of Sacra. Any modification, copying, displaying, distributing, transmitting, publishing, licensing, creating derivative works from, or selling any report is strictly prohibited. None of the material, nor its content, nor any copy of it, may be altered in any way, transmitted to, copied or distributed to any other party, without the prior express written permission of Sacra. Any unauthorized duplication, redistribution or disclosure of this report will result in prosecution.