Home

&nbsp>&nbsp

Companies

&nbsp>&nbsp

Kraken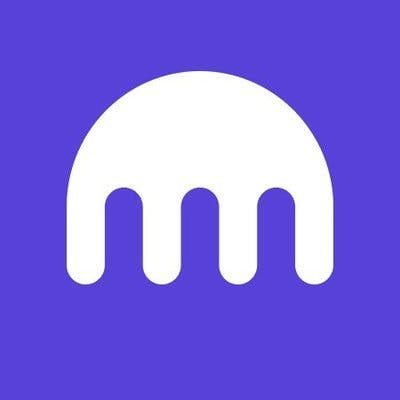 Kraken
Kraken is a bitcoin and cryptocurrency exchange and digital bank.
Growth Rate (y/y)
327%
2022
Revenue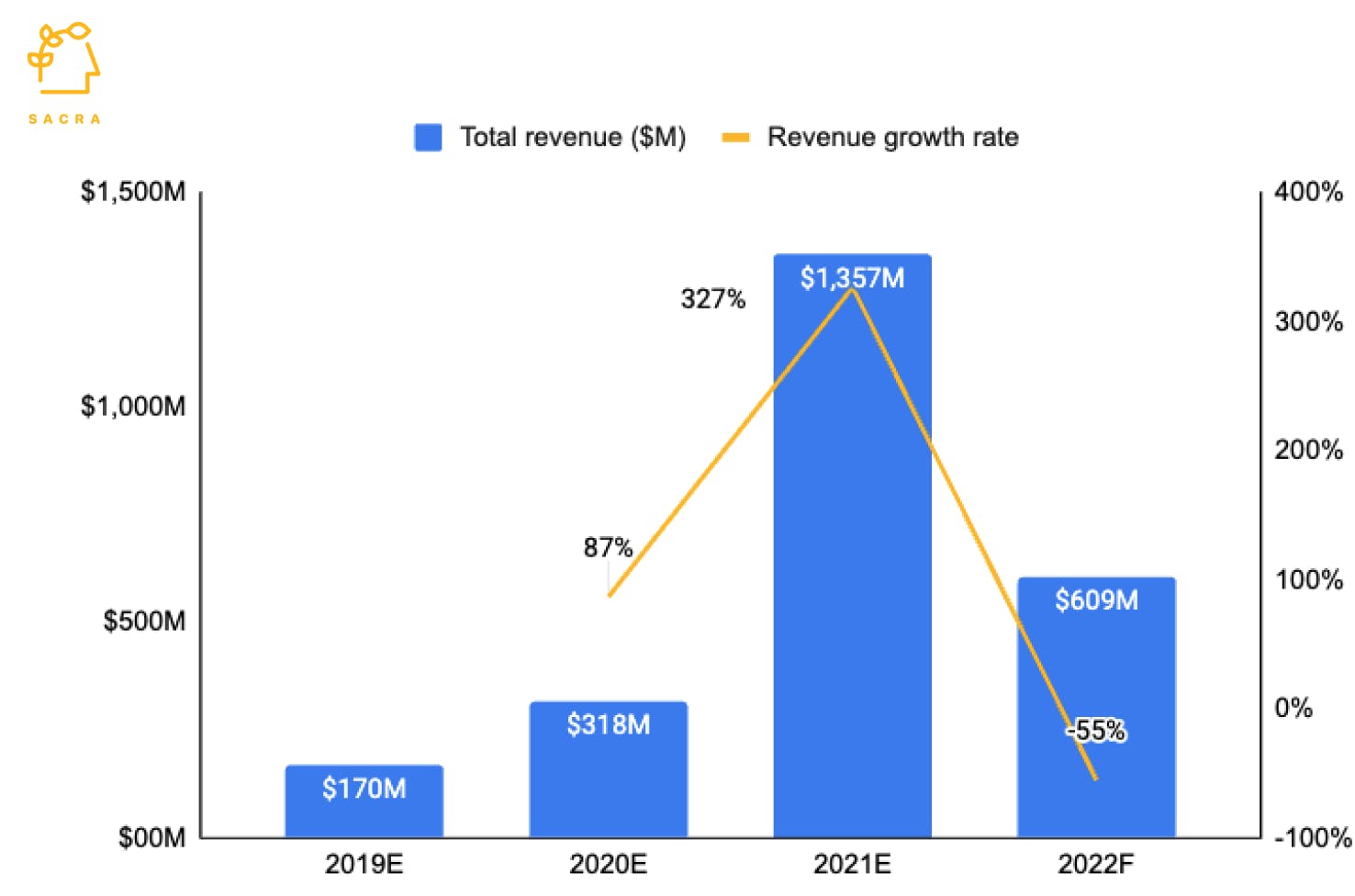 Kraken's revenue was expected to grow 327% from $318M in 2020 to $1.35B in 2021, given tailwinds from the rising price of cryptocurrencies and increased trading activity. A substantial portion of Kraken's revenue comes from the transaction fee it takes from each trade on the platform, making its revenue dependent on the volume of cryptocurrency trading. With the sharp fall in cryptocurrency prices and trading volume in 2022, we estimate that Kraken will make $609M, with a YoY decline of 55%.
Projections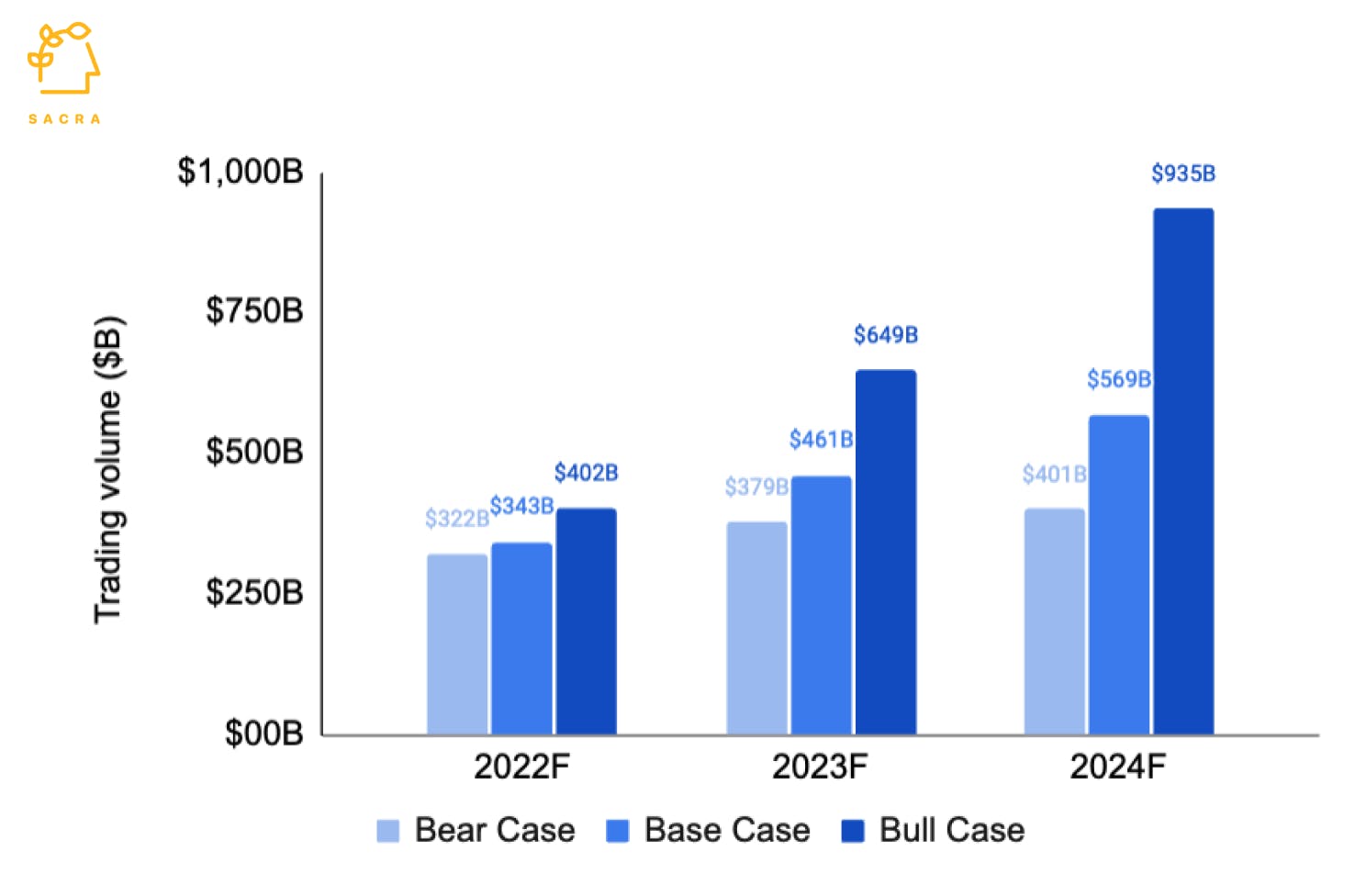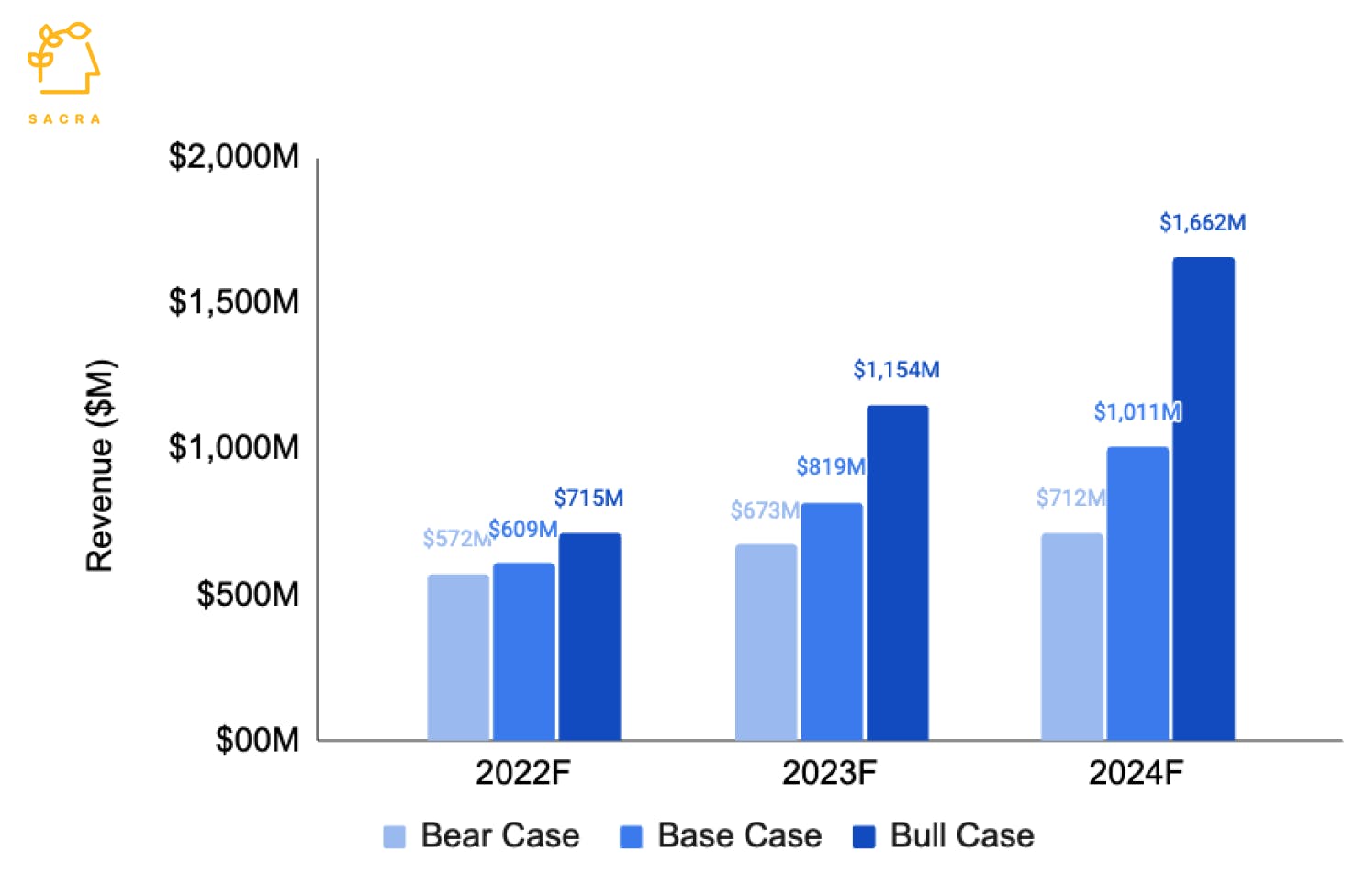 In 2021, Kraken had 4.26% of the global spot crypto-trading volume, compared to 5.6% in 2020 and 7.3% in 2019. Our base case projections estimate that Kraken will be able to maintain its market share at 4.26% and the revenue will grow to ~$1B in 2024, after the dip in 2022 and 2023. However, if the decline in its market share due to heightened competition continues, it may lose market share.
Our bear case projections estimate revenue of $712M in 2024 while our bull case estimates Kraken to reach ~$1.6B in 2024 at 7% share of global crypto-trading volume in 2024, with Kraken finding synergies between its exchange and bank operations.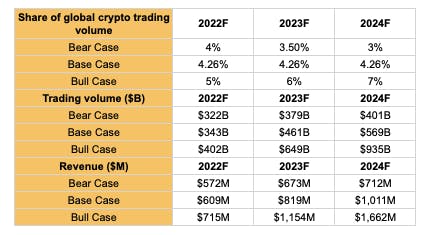 Valuation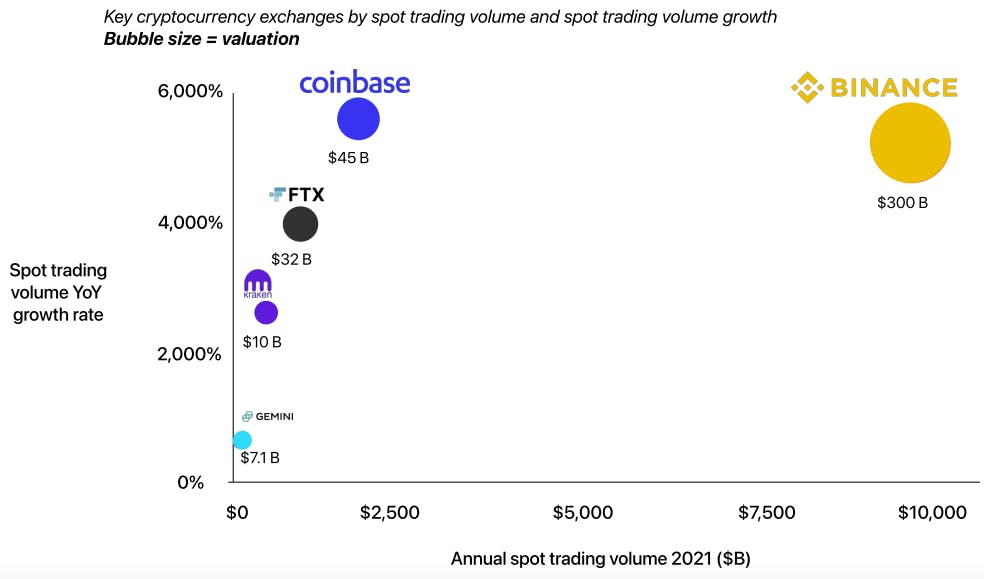 Kraken has raised just $129 million in venture capital since 2011, significantly less than Coinbase ($547M) and FTX ($1.8 billion), two of its larger competitors. Kraken's current valuation is estimated to be $10 billion, putting it at valuation/revenue multiple of ~7.4X. This is higher than the market cap/revenue multiple of publicly traded Coinbase (5.5X) but lower than the largest private crypto exchange Binance (15X). Kraken's competitors, Binance and Coinbase, grew at nearly the same pace in 2021 but Binance has a much higher valuation of $300 billion as it processes ~4X crypto trading volume, compared to Coinbase.
Product
Kraken's main product is a centralized bitcoin and cryptocurrency exchange (currently the fourth in the world by volume) with features like margin trading, staking, and the trading of futures derivatives. Kraken has both, a core platform for consumer trading and an advanced platform, Kraken Pro, with lower transaction fees for more active traders. Kraken also offers direct access to OTC and spot trading desks, access to a dedicated account management team, and programmatic trading for institutional customers. Kraken monetizes through transaction fees that typically depend on the volume of trades over a 30 days rolling period.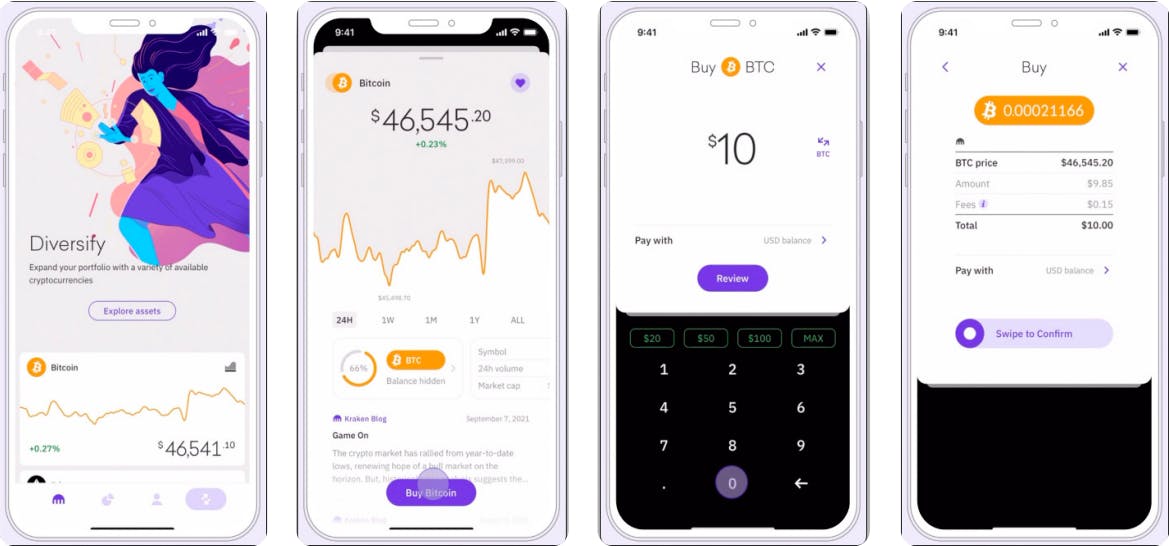 Kraken's consumer experience on iOS enables users to buy from across 70+ cryptocurrencies with a minimum deposit of $10.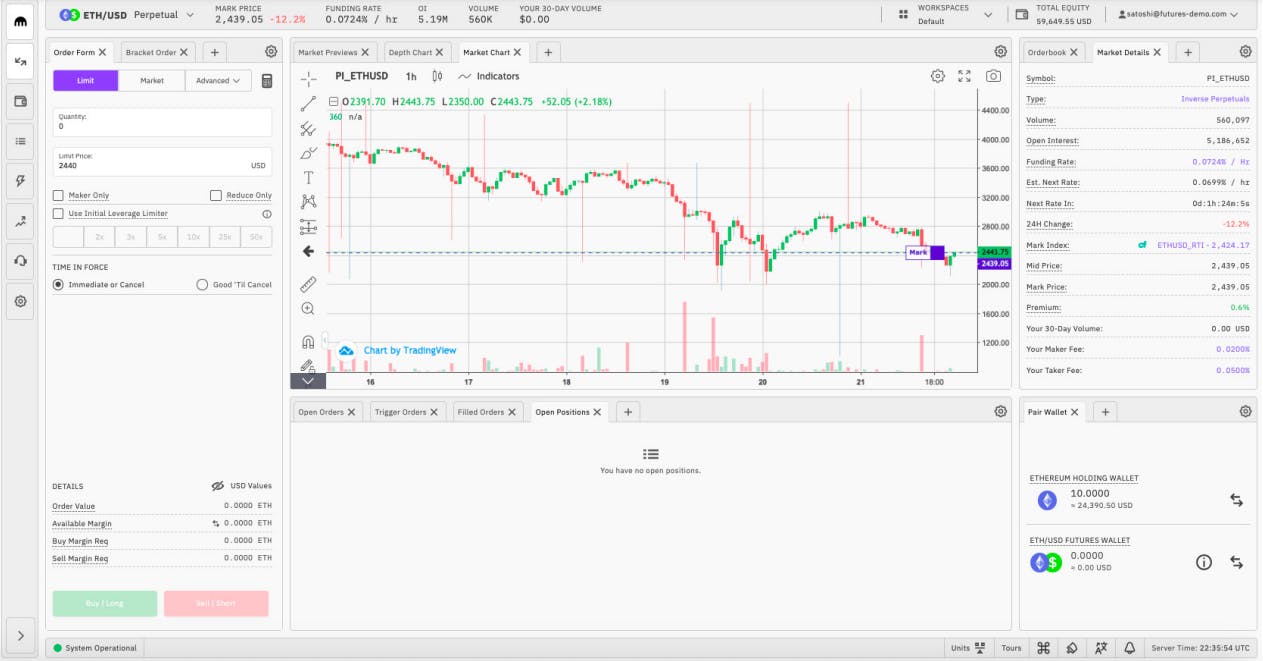 On the web, Kraken offers a fully-featured order book and trading interface that can be customized by the user.
Kraken positions itself as a secure and regulation-compliant exchange. It holds 95% of deposits in air-gapped, geo-distributed cold storage and has not faced any hacking/coin theft incidents since its launch. It is registered with key regulatory bodies such as FinCEN (US), FINTRAC (Canada), FCA (UK), and AUSTRAC (Australia). For comparison, Binance (largest crypto exchange by volume) doesn't provide any details on customer deposit safety measures. It had a large-scale security breach in 2019, resulting in the theft of $40 million in Bitcoin.
Kraken acquired a Special Purpose Depository Institution Charter from the state of Wyoming in 2020, and as a result, plans to begin bank operations for digital assets in 2022. This is essential to Kraken's vision of being the most trusted bridge between the crypto economy and the existing financial system—acquiring an SPDIC means that Kraken can offer new products such as custodial services, US dollar deposits, debit card, salary accounts, and stock trading. The license does come with a few restrictions—most notably, that Kraken Bank becomes a 'custody bank' and cannot use its crypto deposits for lending. Also, it is required to hold reserves backing 100% of customer deposits in the form of US Treasury securities, corporate debt, and other investment-grade debt instruments.
Product-Market Fit

Kraken is one of the earliest cryptocurrency exchanges that are still in operation. Jesse Powell (CEO and Founder) established Kraken in 2011 to build a stable and secure exchange and launched it to the public in 2013. Jesse helped Mt. Gox (an early, dominant crypto exchange) respond to a major hack in June 2011 and realized that a secure crypto exchange is pivotal for a thriving crypto ecosystem.
At launch, Kraken partnered with Germany's Fidor Bank AG, making it the only exchange at the time where people could buy Bitcoin with Euros. Building the only Euro on-ramp to crypto made Kraken a key piece of crypto infrastructure for Europe.
Today, Kraken is the largest crypto exchange based on Euro trading volume. Kraken's early growth was driven by its addition to the Bloomberg Terminal to provide market data of bitcoin trading, making it popular among the trader community. A big jump in Kraken's user base came when Mt. Gox shut operations in 2014. Kraken was selected to lead the search for 650,000 missing Bitcoins and redistribute Mt. Gox's assets to creditors. For this, all Mt. Gox creditors opened trading accounts with Kraken, providing them with early liquidity
Competition
Centralized Exchanges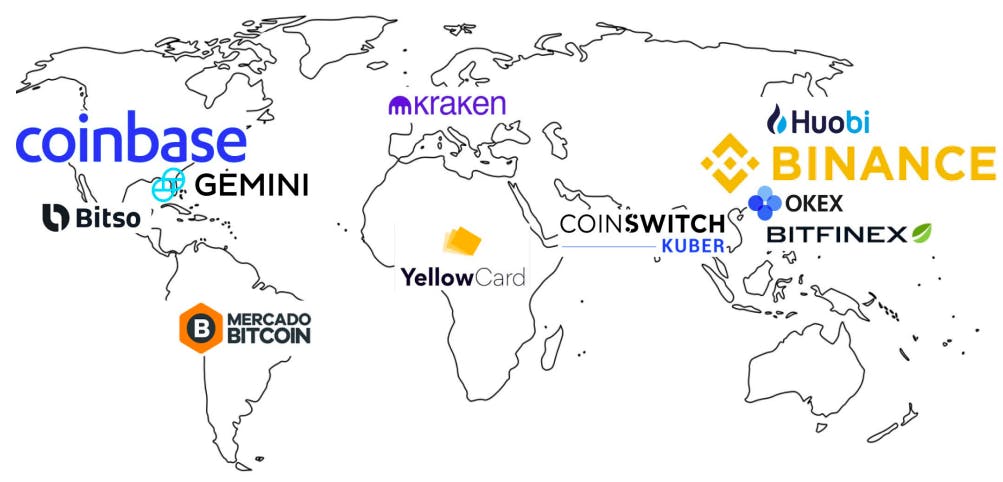 Kraken is the fourth-largest Centralized Crypto Exchange globally, with a ~3.2% share of crypto spot volumes in 2021. Its key competitors include Binance (66% share of crypto spot volumes), Coinbase (12.3%), and FTX (6.6%). Different regulatory regimes and challenges with cross-border transactions worldwide have led to the formation of country and region-specific crypto exchanges, creating a relatively fragmented market of players.
Kraken's early advantage of being the only on-ramps to crypto trading in Euro has made it the largest crypto exchange in terms of Euro trading volume. However, Kraken has grown at a slower pace compared to the explosive growth of other crypto exchanges. For instance, Binance and FTX were launched in 2017 and 2019, respectively, but both are now larger than Kraken. One of the reasons is that FTX and Binance introduce features and new currencies faster than Kraken. These exchanges also offer high reward-high risk trading options that Kraken doesn't have.
A few examples of this include:
FTX and Binance allow access to exotic trades such as Tokenized Stocks (tokens follow the price of shares in public companies), Prediction Market (traders can bet on events such as the US Presidential election), and Leveraged Tokens (allows leveraged position in a cryptocurrency, multiplying gains or losses from trades). Kraken offers relatively more straightforward options such as derivatives, margin trading, and staking that are increasingly getting commoditized.
FTX and Binance allow 20X leverage to traders, compared to 5X offered by Kraken. While traders may not use 20X leverage, it's definitely an attraction.
Kraken listed Shiba Inu (meme coin) almost six months after Binance and FTX as it spent more time in the review process. Currently, Binance lists 500, and FTX lists 275 cryptocurrencies, compared to ~70 of Kraken. New coins attract more users to the platform, increase engagement, and create more liquidity for existing users. Kraken has chosen not to invest aggressively in mass marketing like Coinbase, FTX, and Binance. Coinbase spent $663 million in Sales and Marketing in 2021, an 11X increase over 2020. This includes ~$400 million in digital advertising. Coinbase also has a multi-year deal with NBA star Kevin Durant as the face of the brand and invested ~$6.5 million in SuperBowl 2022 'bouncing QR code' advertisement. Similarly, FTX has signed deals with celebrity endorsers such as Tom Brady (NFL star) and Gisele Bundchen (Brazilian supermodel), while Binance recently signed-up NBA star Jimmy Butler.
Decentralized Exchanges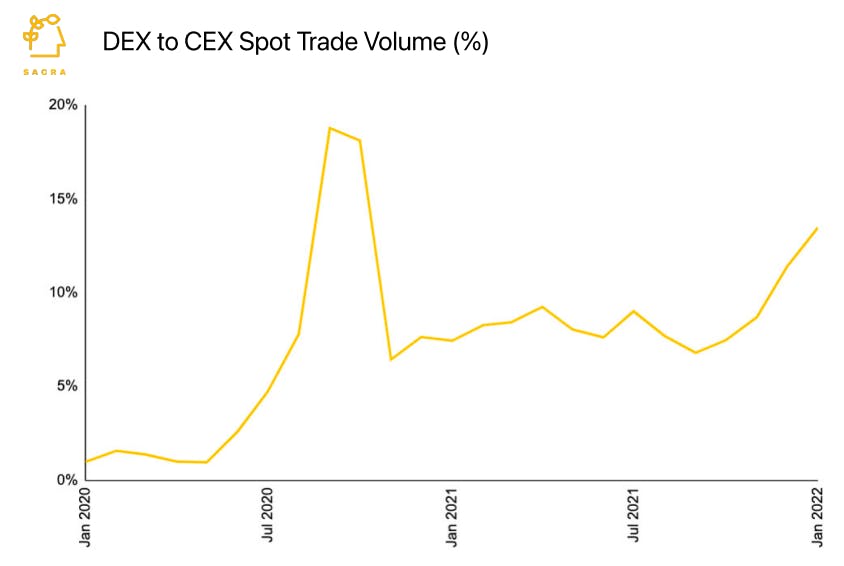 In the last two years, Decentralized Exchanges (DEX) have emerged as significant competition to the Centralized Exchange (CEX) model. A DEX operates without an intermediary for clearing transactions and relies on self-executing smart contracts for trading. A DEX enables instantaneous trades at a lower cost compared to CEX. DEX to CEX spot trading volumes have increased from ~1% in January 2020 to ~14% in January 2022, with a peak of ~19% in September 2020. Trading volume on decentralized exchanges crossed $1 trillion in 2021, growing by 7.7X from $115 billion in 2020.
Statistics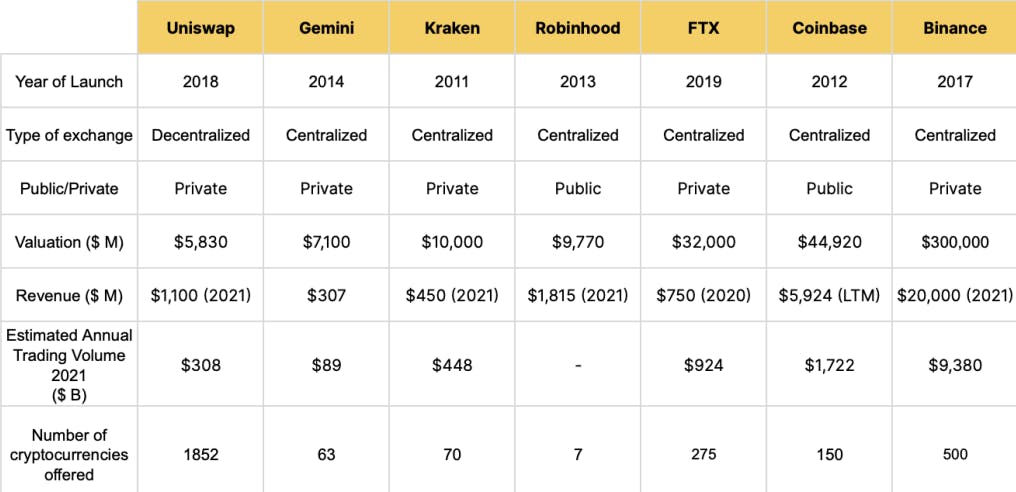 TAM Expansion
Financial Services
The financial services world is broken into various silos that do not play well with each other—lending, brokerage, crypto, banking, among others. This requires the consumer to move across apps/platforms for different use cases. However, the consumer doesn't want to be bothered by the back-end infrastructure and prefers to access all financial products in a seamless experience within one app.
Being an SPDI charter bank allows Kraken to build a financial services app that solves this problem as the charter brings many financial services silos under a single regulatory umbrella. Kraken can provide various services—cards, bill payment, salary payment, deposits, trading, etc. within a single app without having the user jump across multiple apps.
Kraken's advantage over other players in the crypto ecosystem attempting to solve this problem is that the charter gives Kraken access to the Fed's payment rails. So, Kraken can do all of this in-house and at a lower cost than other crypto ecosystem players.
Liquidity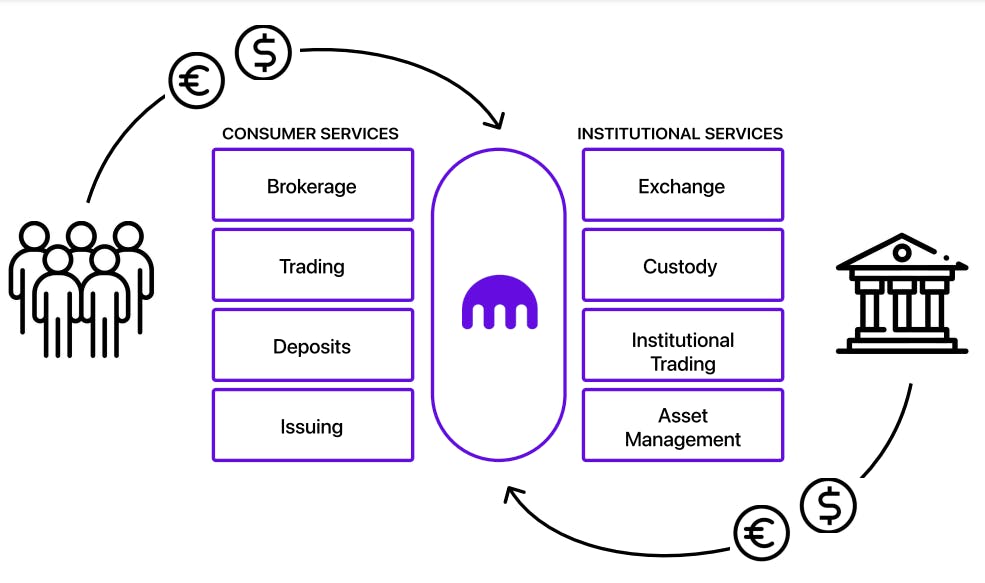 Kraken now can build a crypto finance house with both consumer and institutional wings a la JP Morgan, addressing the massive liquidity gap in the crypto market today. They can expand their consumer offering, and on the institutional side, manage assets and conduct custodial and other kinds of financial activities. These new products mean the potential for massive new inflows of capital. Kraken could also use that capital to provide liquidity to the institutions, crypto companies, and miners that need liquidity—to run their book on leverage, to take out loans against their assets, or to buy hardware without selling equity, respectively—but can't get it from the traditional financial ecosystem today.
To keep user capital coming in, Kraken must continue to expand its range of services to stay competitive with exchanges like Coinbase and other emerging services. The exchange business model is quickly becoming commoditized, with players like Robinhood and Block building easy on-ramps into crypto with millions of on-boarded users.
To continue to strengthen Kraken's value proposition as a place to hold funds, Kraken built a staking business, which grew to $16 billion in transaction volume at the end of 2021 (950% growth year-over-year) and acquired the non-custodial staking platform Staked to add to their staking portfolio in December. They also announced the launch of an NFT marketplace that would allow users to borrow against their NFTs, similar to what DeFi platforms like Nexo and Arcade offer.
Team

Jesse Powell
CEO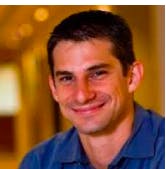 David Ripley
COO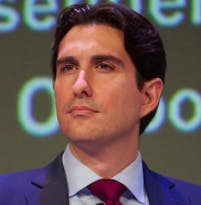 Marco Santori
Chief Legal Officer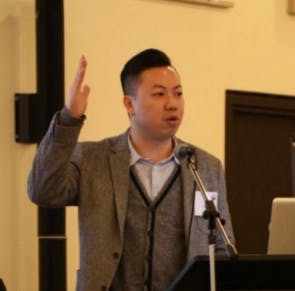 Kaiser Ng
CFO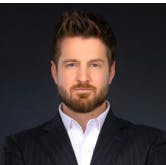 Jeremy Welch
CPO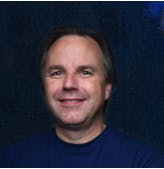 Steve Hunt
VP, Engineering
Fundraising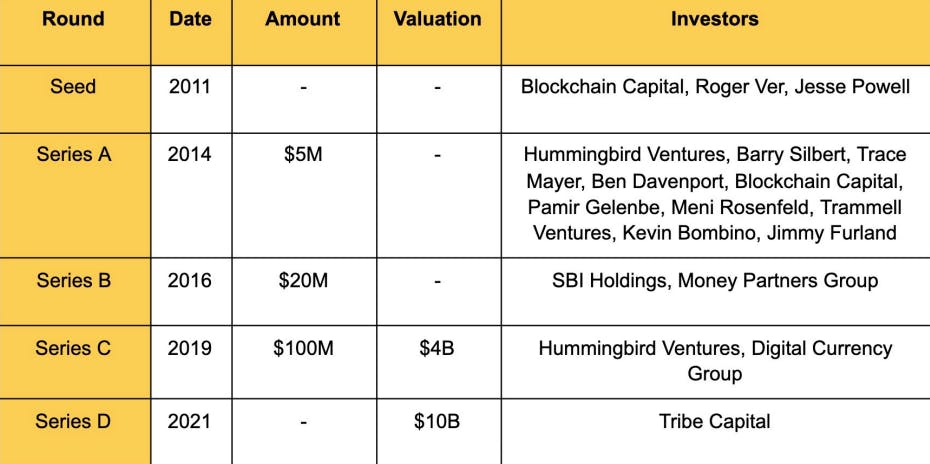 Disclaimers
This report is for information purposes only and is not to be used or considered as an offer or the solicitation of an offer to sell or to buy or subscribe for securities or other financial instruments. Nothing in this report constitutes investment, legal, accounting or tax advice or a representation that any investment or strategy is suitable or appropriate to your individual circumstances or otherwise constitutes a personal trade recommendation to you.
Information and opinions presented in the sections of the report were obtained or derived from sources Sacra believes are reliable, but Sacra makes no representation as to their accuracy or completeness. Past performance should not be taken as an indication or guarantee of future performance, and no representation or warranty, express or implied, is made regarding future performance. Information, opinions and estimates contained in this report reflect a determination at its original date of publication by Sacra and are subject to change without notice.
Sacra accepts no liability for loss arising from the use of the material presented in this report, except that this exclusion of liability does not apply to the extent that liability arises under specific statutes or regulations applicable to Sacra. Sacra may have issued, and may in the future issue, other reports that are inconsistent with, and reach different conclusions from, the information presented in this report. Those reports reflect different assumptions, views and analytical methods of the analysts who prepared them and Sacra is under no obligation to ensure that such other reports are brought to the attention of any recipient of this report.
All rights reserved. All material presented in this report, unless specifically indicated otherwise is under copyright to Sacra. Sacra reserves any and all intellectual property rights in the report. All trademarks, service marks and logos used in this report are trademarks or service marks or registered trademarks or service marks of Sacra. Any modification, copying, displaying, distributing, transmitting, publishing, licensing, creating derivative works from, or selling any report is strictly prohibited. None of the material, nor its content, nor any copy of it, may be altered in any way, transmitted to, copied or distributed to any other party, without the prior express written permission of Sacra. Any unauthorized duplication, redistribution or disclosure of this report will result in prosecution.