Home

&nbsp>&nbsp

Companies

&nbsp>&nbsp

Figma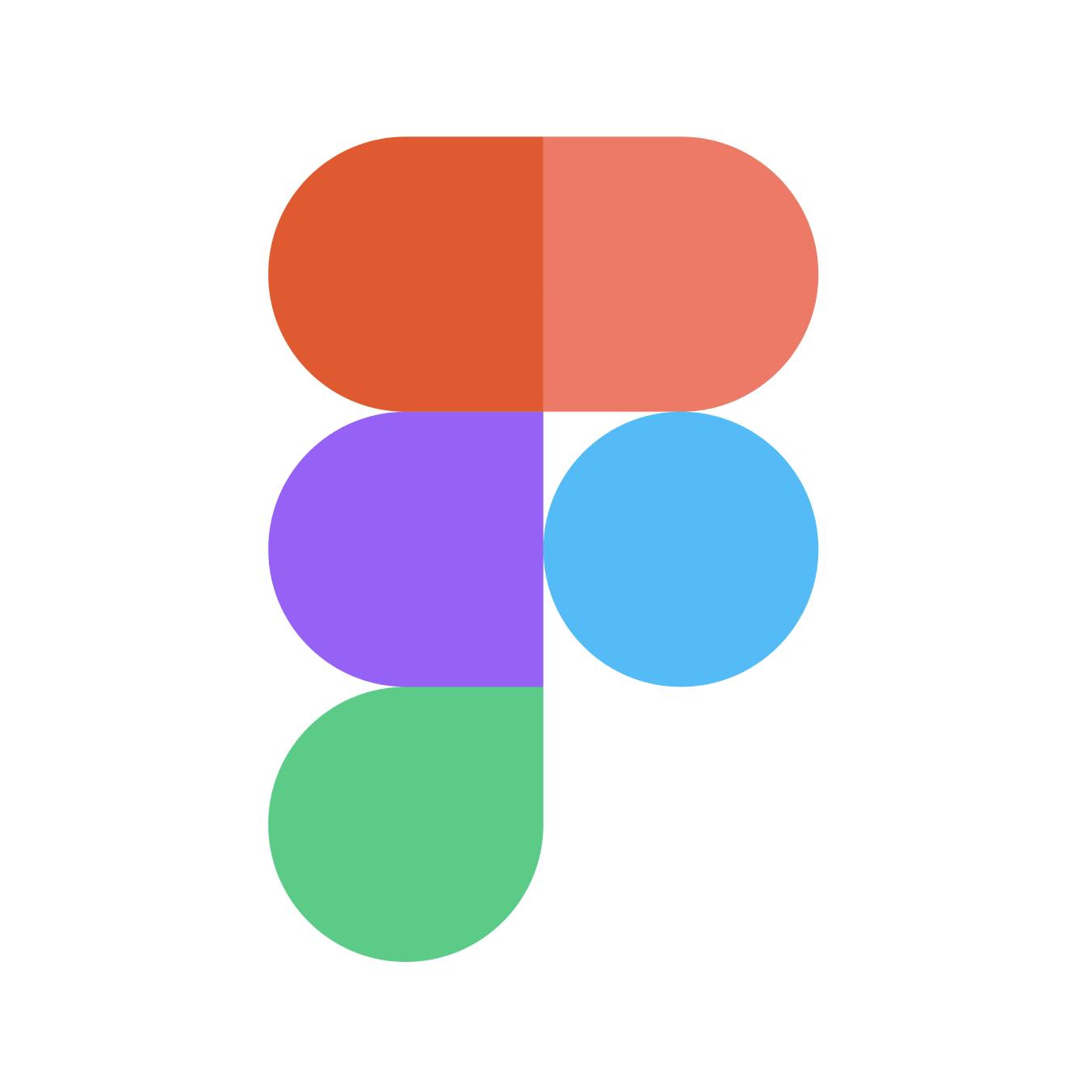 Figma
Figma is a collaborative, web-based vector design tool that lets businesses design, test, and prototype new products and features.
Growth Rate (y/y)
100%
2022
Revenue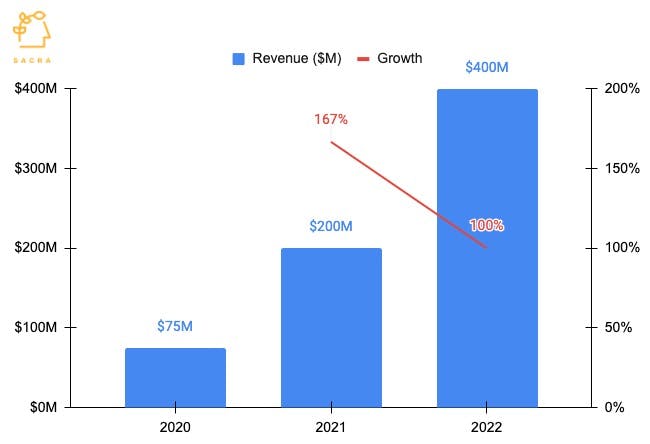 Figma crossed $400M in annual recurring revenue (ARR) at the end of 2022, up 100% from 2021 when it hit $200M in annual recurring revenue. In 2021, Figma more than doubled from $75M in 2020.
At the time of Adobe's announced acquisition of Figma in 2022, the company reported 90% gross margins and 150% net dollar retention.
Product
Figma's disruption of Sketch and Photoshop followed a similar formula as Google Docs displacing Word and Slack displacing email. Via the web, Figma replaced a siloed, asynchronous, file-based experience with a real-time, collaborative, whiteboard-like experience.

Figma consolidated their victory by tapping into an intolerant minority—designers. Figma smoothed out many of the kinks in Sketch and Adobe XD (like the designer-developer handoff). Many designers today refuse to use other tools. 
Most of Figma's growth to date has been through product-led growth. Their freemium model and short implementation cycle have contributed to their sales efficiency, while product decisions and purchase decisions are made by the same people, e.g. head of design, as opposed to the head of IT. Contract size has not (yet) grown sufficiently large for end-users and decision-makers to decouple though we would expect this to happen at some point.
We believe that Figma has an attractive land and expand dynamic within an organisation. An example of wall-to-wall expansion is that product and brand designers start to use Figma, then product managers, content designers, engineers and UX writers gain editor access to comment or repurpose the work for their own needs.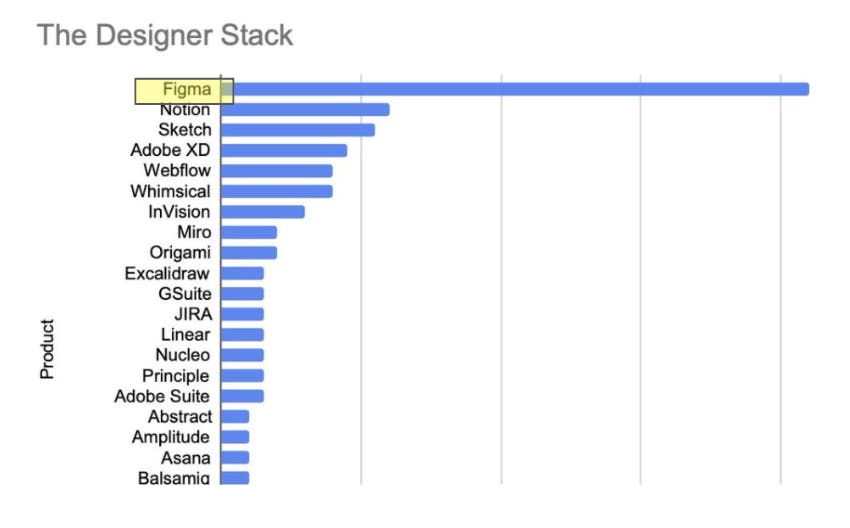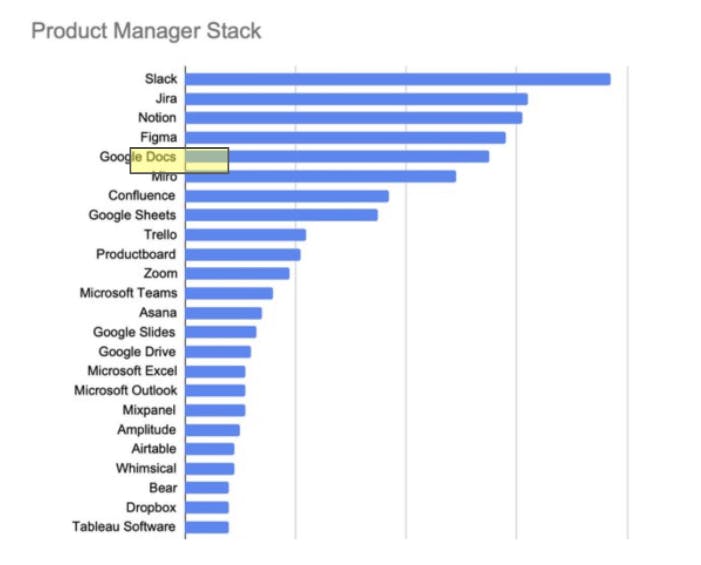 Part of the core strength of Figma's web product is how it facilitates sharing and expansion across the organization. As the charts above show, Figma is a core tool for designers today, and it is becoming a core tool for product managers.
It is still in the early days to assess how well Figma will adapt their PLG approach into a sales motion that can sell into the enterprise. Some of Figma's current enterprise customers include Microsoft, Airbnb, Square, Coinbase, Zoom and Uber. Our research turned up that about 10% of Canva's revenue today is from the enterprise. Teams upgrade from the self-serve pro plan to organization plan when the company wants to have single sign on, to manage access control, to boost security and to discuss bulk pricing discounts when they have more than 500 users.
Competition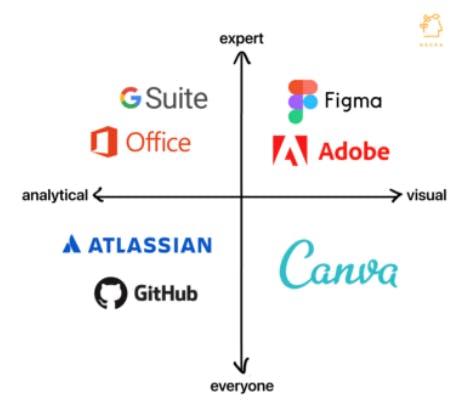 Figma does compete with Adobe and its 22M+ paid subscribers via Adobe's UX design tool XD. Many organizations are deep in the Adobe ecosystem because of legacy must-haves like Photoshop, and via that bundle, get access to the Figma-comparable XD.
Today, that tends not to stop organizations from using both. What we've found from our research is that organizations will pay for Adobe Creative Cloud because there are certain professional tools they need, but they will also pay for Figma—because their designers won't use Adobe XD.
Our interviews and research indicate that in some organizations, tools like Adobe XD or Sketch are no longer seen as direct substitutes for Figma because Figma has become more than a designer tool. Figma not only replaces Adobe XD or Sketch, but also eliminates the cost of exporting mock-ups to create design documents. It becomes a source of truth and a place where product decisions are made.
TAM Expansion
There are three core drivers of Figma's growth at the moment:
Growth of market share: Continuing gain of market share from Sketch, InVision, and Adobe XD. Survey respondents using Figma grew from less than 20% in 2018 to almost 60% in 2020, while at the same time, respondents using Sketch fell from about 35% to 20%.
Seat expansion: By making design more accessible/collaborative and releasing new products like FigJam, Figma gains more users inside organizations. Canva illustrates where this kind of expansion can go—it started off as a graphic design tool, but today, Canva displaces multiple categories of products from productivity tools, video editing, print services to graphic design.
Budget growth: With the move to remote post-COVID, companies' budgets for tools like Figma are expanding. Office rent spared from going remote is being reallocated to productivity and collaboration tools. Multinationals will routinely pay for all of Figma, Adobe Creative Cloud and Canva.
Additionally, designers are growing important as an influence in buying decisions. An increasing number of design leaders see allowing their teams to use their own tools as critical to attracting the best talent.
Disclaimers
This report is for information purposes only and is not to be used or considered as an offer or the solicitation of an offer to sell or to buy or subscribe for securities or other financial instruments. Nothing in this report constitutes investment, legal, accounting or tax advice or a representation that any investment or strategy is suitable or appropriate to your individual circumstances or otherwise constitutes a personal trade recommendation to you.
Information and opinions presented in the sections of the report were obtained or derived from sources Sacra believes are reliable, but Sacra makes no representation as to their accuracy or completeness. Past performance should not be taken as an indication or guarantee of future performance, and no representation or warranty, express or implied, is made regarding future performance. Information, opinions and estimates contained in this report reflect a determination at its original date of publication by Sacra and are subject to change without notice.
Sacra accepts no liability for loss arising from the use of the material presented in this report, except that this exclusion of liability does not apply to the extent that liability arises under specific statutes or regulations applicable to Sacra. Sacra may have issued, and may in the future issue, other reports that are inconsistent with, and reach different conclusions from, the information presented in this report. Those reports reflect different assumptions, views and analytical methods of the analysts who prepared them and Sacra is under no obligation to ensure that such other reports are brought to the attention of any recipient of this report.
All rights reserved. All material presented in this report, unless specifically indicated otherwise is under copyright to Sacra. Sacra reserves any and all intellectual property rights in the report. All trademarks, service marks and logos used in this report are trademarks or service marks or registered trademarks or service marks of Sacra. Any modification, copying, displaying, distributing, transmitting, publishing, licensing, creating derivative works from, or selling any report is strictly prohibited. None of the material, nor its content, nor any copy of it, may be altered in any way, transmitted to, copied or distributed to any other party, without the prior express written permission of Sacra. Any unauthorized duplication, redistribution or disclosure of this report will result in prosecution.