Home

&nbsp>&nbsp

Companies

&nbsp>&nbsp

Bolt Threads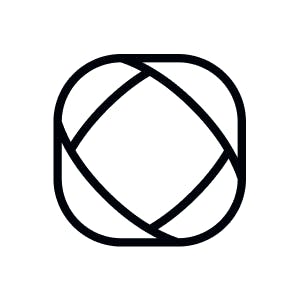 Bolt Threads
Bolt Threads is a sustainable materials company developing fibers and fabrics for the fashion industry.
Growth Rate (y/y)
35%
2021
Revenue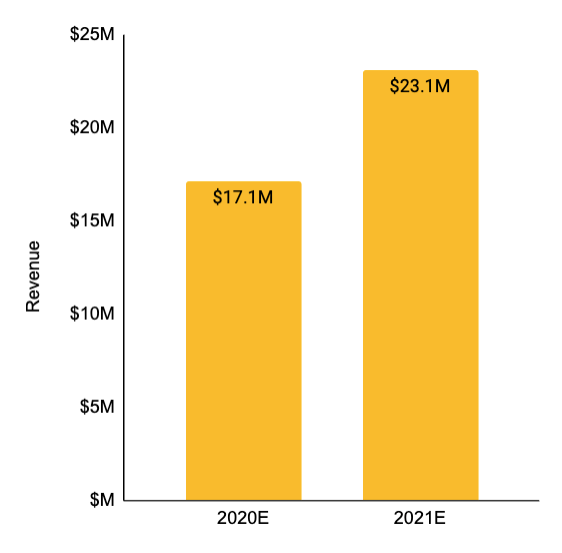 We estimate that Bolt Threads made about $23M in revenue in 2021, growing about 35% from 2020. Bolt Threads currently makes the majority of its revenue by selling raw materials and services to its partners, such as Lululemon and Adidas.
Valuation
At $1.15B, Bolt Threads is one of the highest-valued companies in the alternative materials space. It is also one of the best-capitalized, having raised $471M from investors such as Founders Fund, Foundation Fund, and Innovation Endeavors.
There are no "true" public comps for Bolt Threads. Comparable private companies that grow cell-cultivated leather include MycoWorks, valued at $437M, and Modern Meadow, valued at $500M. Among the companies using plant-based ingredients to create alternative leather, Natural Fiber Welding has the highest valuation at $300M and has raised $155M.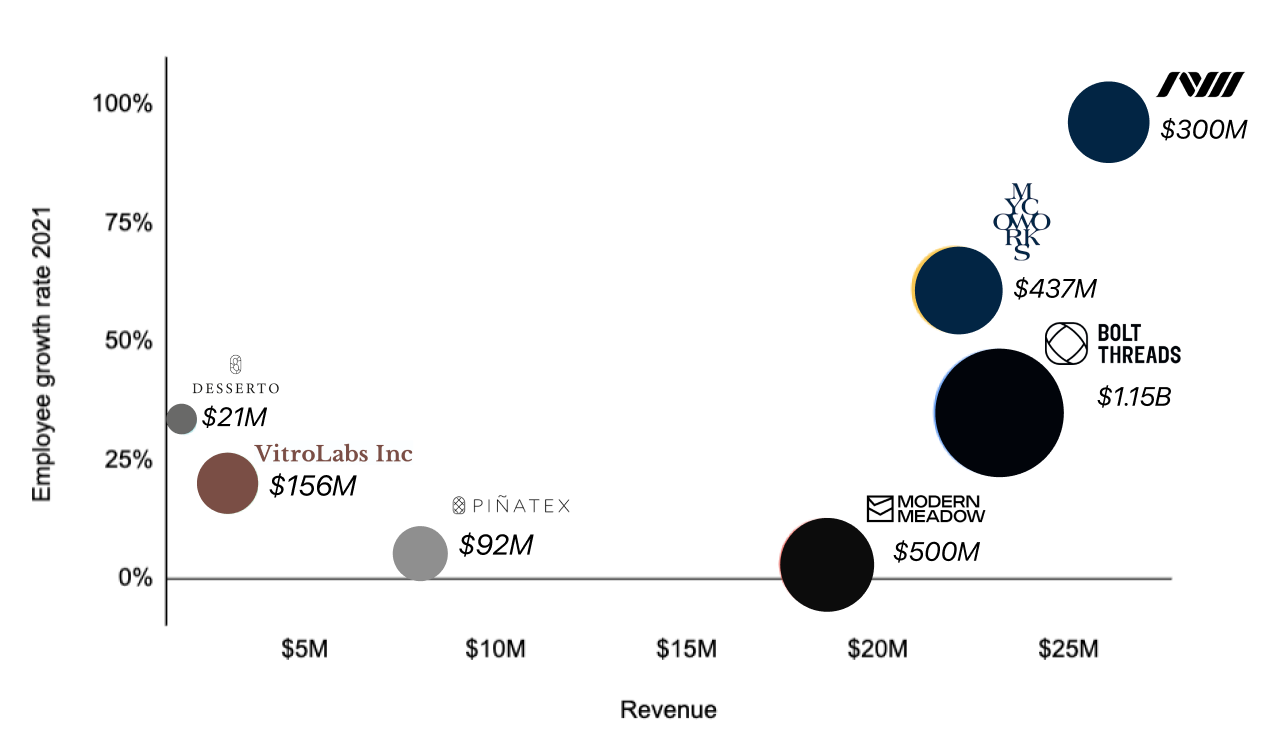 Note: Revenue growth for all companies is estimated using employee growth in 2021. Desserto's revenue is estimated using publicly available information. Valuations of VitroLabs and Piñatex are estimated using publicly available information. Bubble size corresponds to company valuation.
Product
Bolt Threads uses bioengineering to produce sustainable fibers, powder, and leather-like fabrics. These fibers and fabrics can then go on to replace synthetic and animal-based raw materials used in the fashion and apparel industries. Bolt Threads's products have a smaller environmental footprint, take less time to produce, and have similar durability to those traditional synthetic and animal-based products.
Bolt Threads has three primary products: Mylo, which is a fungi-based fiber grown in vertical farming facilities, Microsilk, which is an engineered protein fiber based on the silk produced by spiders, and b-silk protein, which is a similarly spider-inspired replacement for keratin and silicone in beauty products.
Mylo
Bolt Threads uses mycelium, the underground root structure of mushrooms, to build the leather-like material they call Mylo. Some of the core technology behind Mylo was produced in collaboration with Ecovative Design, a materials startup specializing in mushroom-based products.
Mylo is grown in vertical farms in large crates using a fermentation process where mushroom spores are mixed with sawdust and other organic material under controlled conditions of specific temperature and humidity.
While Mylo is not biodegradable, it consumes less water and emits fewer greenhouse gases than livestock. Moreover, it can be grown in weeks, compared to the years it takes to produce animal leather.
Bolt Threads has used Mylo in prototypes such as clothes by Stella McCartney, Stan Smith sneakers by Adidas, and a tote bag launched on Kickstarter.
In October 2020, Bolt Threads formed a consortium with Adidas, Stella McCartney, Kering, and Lululemon, which will be the first companies to launch Mylo products. Lululemon started selling bags featuring Mylo in February of 2022: the Meditation and Yoga Mat Bag retails for $238, and the Barrel Bag for $328.
Bolt Threads has shifted focus from Microsilk to Mylo as its key product in the last couple of years and raised $253M to scale production.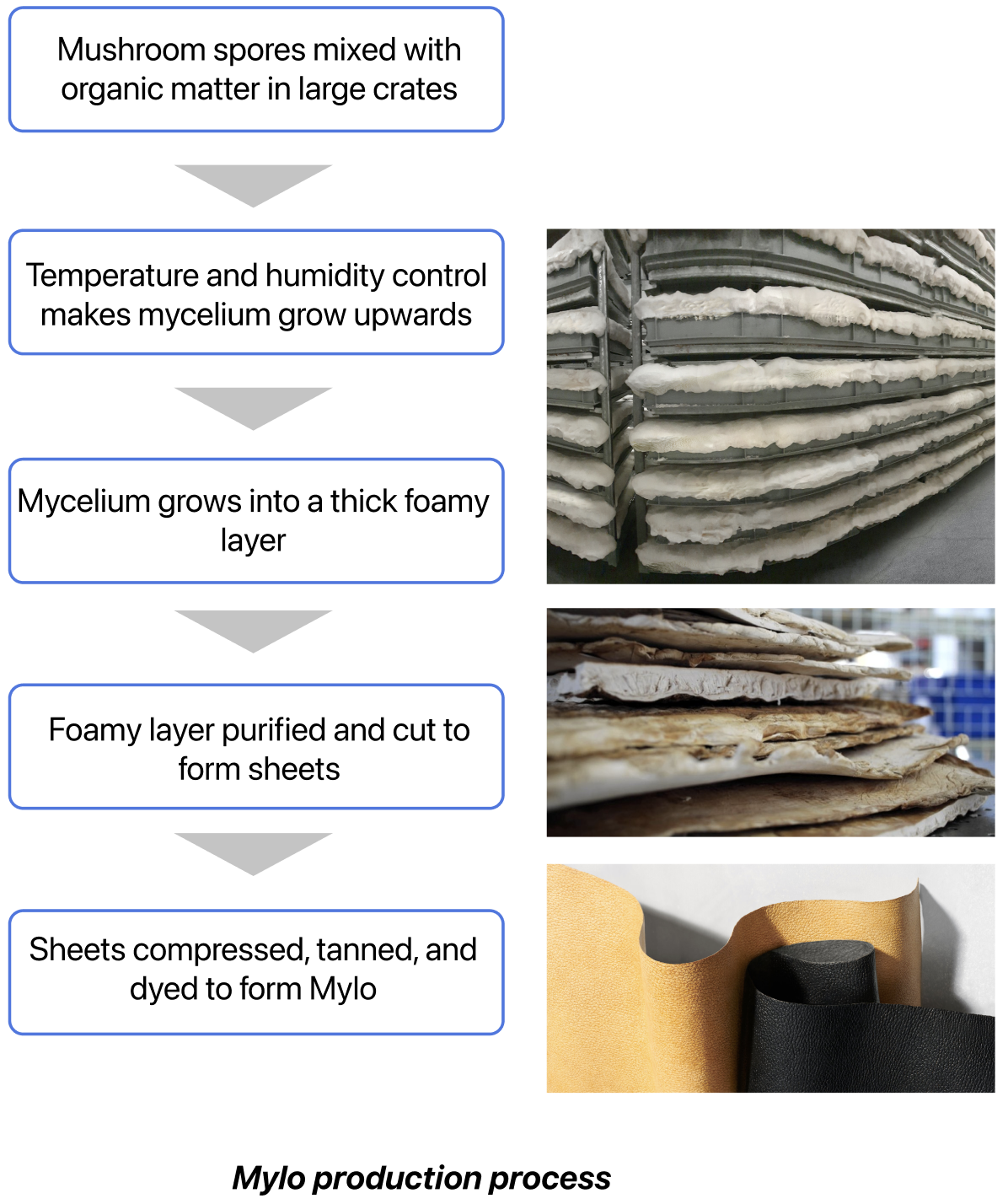 Microsilk
Microsilk is a proprietary fiber that mimics the versatility and strength of a spider's silk, created by injecting genes into yeast to develop proteins. Those proteins are then mass produced using fermentation, after which the silk protein is isolated, purified, and spun—similar to the production process for acrylic. The result is a fiber that can be spun into various types of fabrics and garments—for example, the $300 limited edition tie that Bolt Threads used to introduce Microsilk in March 2017.
Since launch, Bolt Threads has partnered with various designers and brands to launch prototypes of Microsilk products, such as a tennis dress by Adidas and Stella McCartney.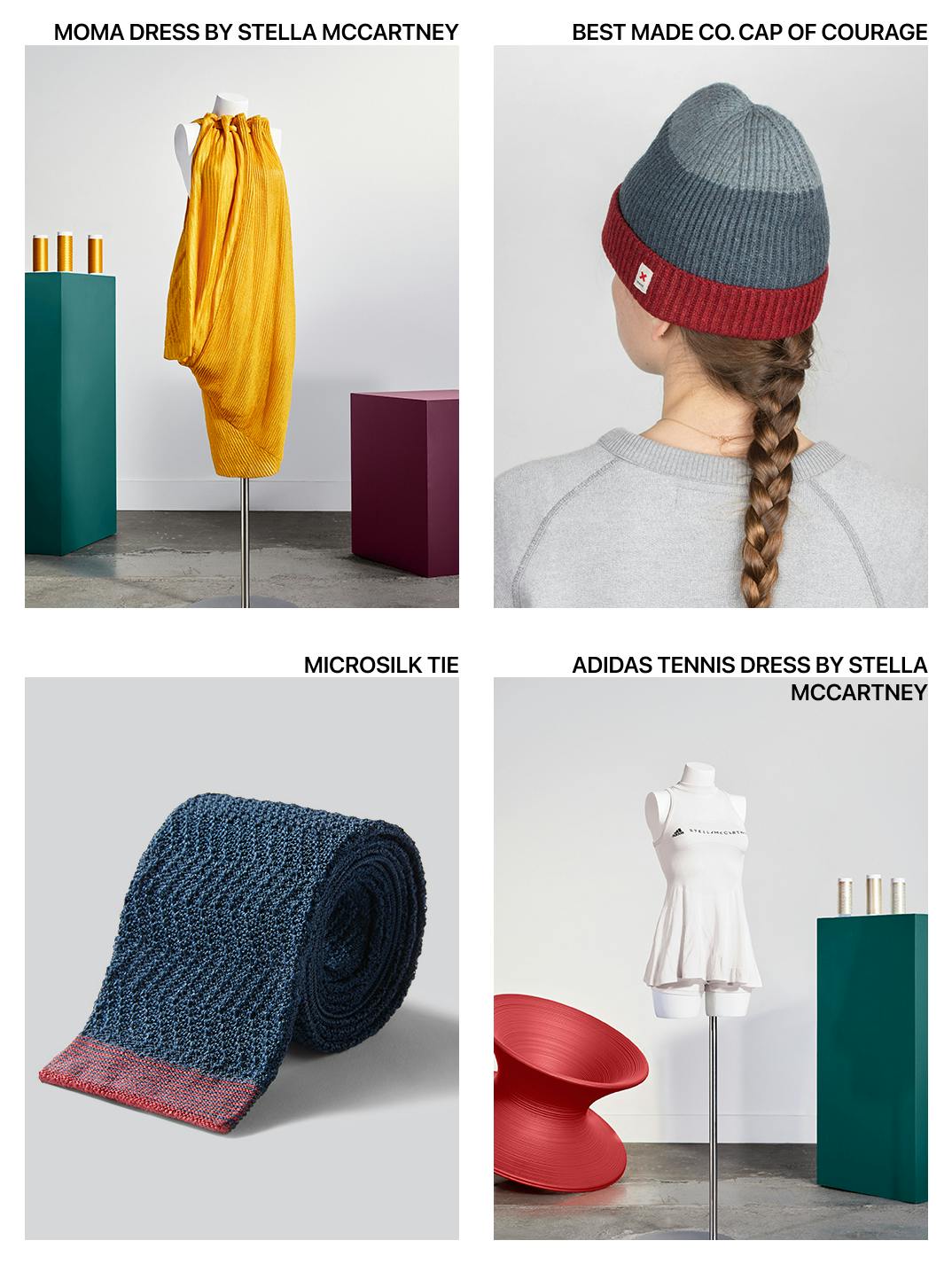 In 2017, it bought lifestyle company Best Made Co. to bring Microsilk fabrics directly to consumers and launched a limited edition $200 hat with wool and Microsilk. However, Microsilk is much costlier than existing fibers and hasn't been used in consumer goods yet.
B-silk protein
B-silk protein was designed to be a sustainable and animal-free replacement to ingredients such as silicone and keratin which are commonly found in many skincare, haircare, and beauty products. In March 2019, Bolt Threads launched Eighteen B, a skincare brand featuring b-silk protein, but shut it down in July 2020. B-silk protein is used by vegan beauty products company Vegamour, and Bolt Threads runs a beta testing program for in-house products.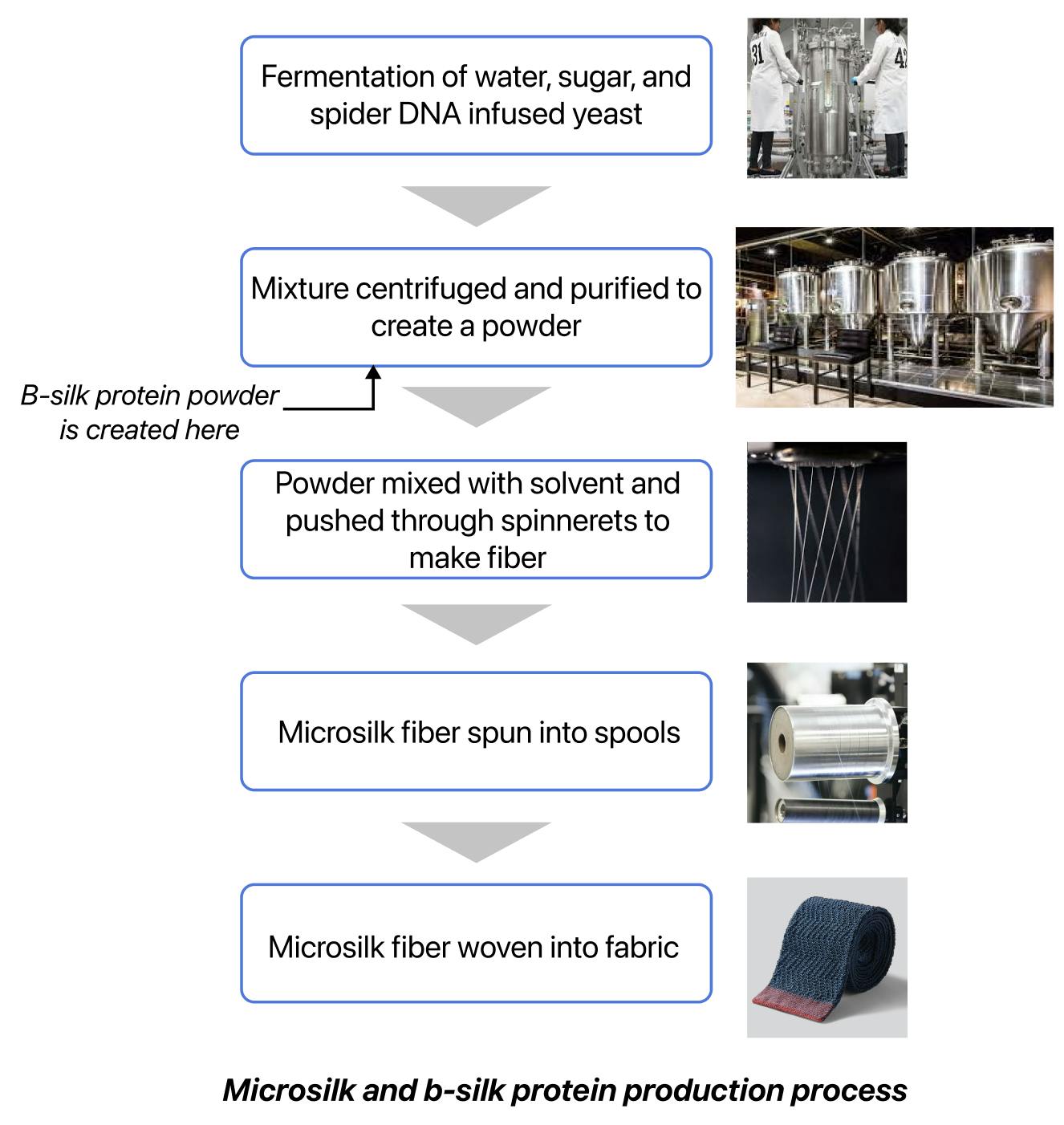 Competition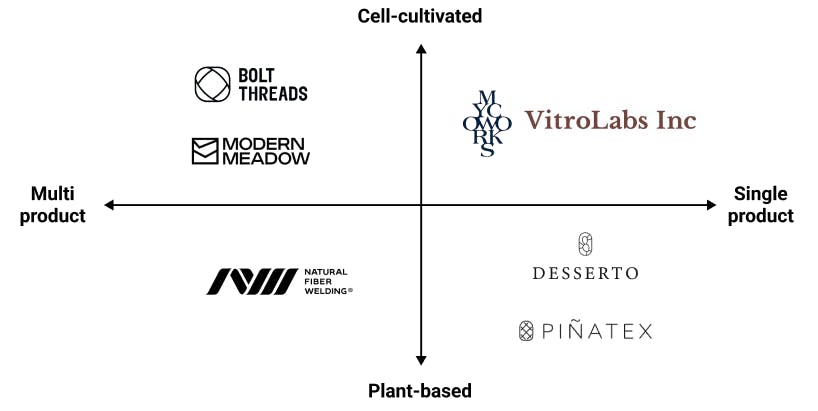 The market for sustainable material development has seen intense competition rise in the last few years. In 2021, VC firms invested $1B in startups creating alternatives to animal-based and plastic-based raw materials. Depending on their manufacturing process, these companies generally fall into two categories: cell-cultivated or plant-based.
Cell-cultivated
These companies grow raw material from inputs such as animal cells, spider DNA-infused yeast, or mushroom spores. In the right environment, seeds multiply rapidly to grow into a new material such as foam or molasses, which can be converted to powder, fiber, or fabric.
Bolt Threads is a cell-cultivated material company. Modern Meadow, MycoWorks, and VitroLabs are some of the other key companies in this space.
Modern Meadow creates leather-like material under the brand name Bio-Tex by fermenting yeast. It has raised $180M from Horizon Ventures, ICONIQ Capital, Evonik Venture Capital, and others and is valued at $500M. It recently announced a partnership with a leading Italian textile supplier Limonta and launched a tote bag with Everlane.
MycoWorks is another company like Bolt Threads that creates leather-like material from mushrooms under the brand name REISHI. It has raised $187M from 8VC, Natalie Portman, and Valor Equity Partners. It's valued at $437M. Recently it launched its first consumer product, a limited edition handbag in partnership with Hermès.
VitroLabs takes a different approach to cell-based growth. Instead of mushroom or yeast, it uses stem cells from a cow and regenerates them in a controlled environment to create a leather-like material. It recently raised $46M in Series A from Regeneration VC, Leonardo DiCaprio, and Kering.
Most of these startups have only launched prototypes in collaboration with fashion houses—widely available consumer products are still in early stages of production.
Plant-based
These companies use naturally available cactus, pineapple leaves, cork, coconut husk or other plant materials to create a leather-like substance that can be used in textiles. The manufacturing process typically involves drying and mixing the ingredients with a solvent, purifying the mixture, drying it, and rolling it to make sheets.
Natural Fiber Welding is one of the largest startups in this space. It creates both leather-like fabric and silk-like fiber from different plant ingredients. Its customers include Allbirds, BMW, Ralph Lauren, Patagonia, and H&M. It has raised $155M from BMW iVentures, Evolution VC, and Tidal Impact. It's valued at $300M.
Piñatex uses pineapple leaves, a natural agricultural byproduct, to create a leather-like textile. Its parent company Ananas Anam raised seed funding of $340K from Spark Ventures and Greater London Investment Fund. Ananas Anam sells Piñatex to a wide range of customers from fashion (Hugo Boss, Paul Smith), apparel (H&M), and furnishings (Hilton).
Similar to Piñatex, Desserto is a Mexican startup that uses cactus as a natural ingredient. It counts Adidas, H&M, Fossil, and BMW as its customers. Capri Holdings (formerly Michael Kors Holdings) took a 30% stake in Desserto for $6.4M, valuing it at $21.3M.
Tailwinds
Push for sustainability
As consumers around the world start to push brands towards more sustainable practices, the fashion and textile industry is in the spotlight. Fashion is one of the biggest polluters in the world, spewing out 1.2B tons of greenhouse gases a year—more than all shipping and international flights combined.
Popular brands like H&M, Zara, Old Navy, Adidas, and Nike have all stepped up efforts to reduce their environmental footprint and convince consumers that they're sustainable. This includes using alternative raw materials, promoting recycling and reuse, and investing in startups working on sustainable materials and practices for fashion. For instance, H&M has invested in companies like Fairbrics ($7M), Ambercycle ($21M), and Infinited Fiber ($35M), while Zara aims to eliminate all single-use plastics from its supply chain by 2023 and achieve net-zero emissions by 2040.
This drive towards more sustainable practices will be a powerful tailwind for Bolt Threads and its bioengineered fabrics and fibers.
Market growth
Sustainable apparel sales reached $6.3B in 2021, increasing at a CAGR of 6% since 2015. This growth contrasts with the stagnation in the overall apparel market's size during the same period. Sustainable apparel sales are expected to cross $10B by 2025.
Generational change
The majority of the demand for sustainable fashion today comes from millennial and Gen Z customers. Surveys indicate that 50% to 60% of millennial and Gen Z customers prefer to buy from sustainable brands and are willing to pay more than a 10% premium for it, compared to 20% to 30% of Gen X'ers and boomers.
Team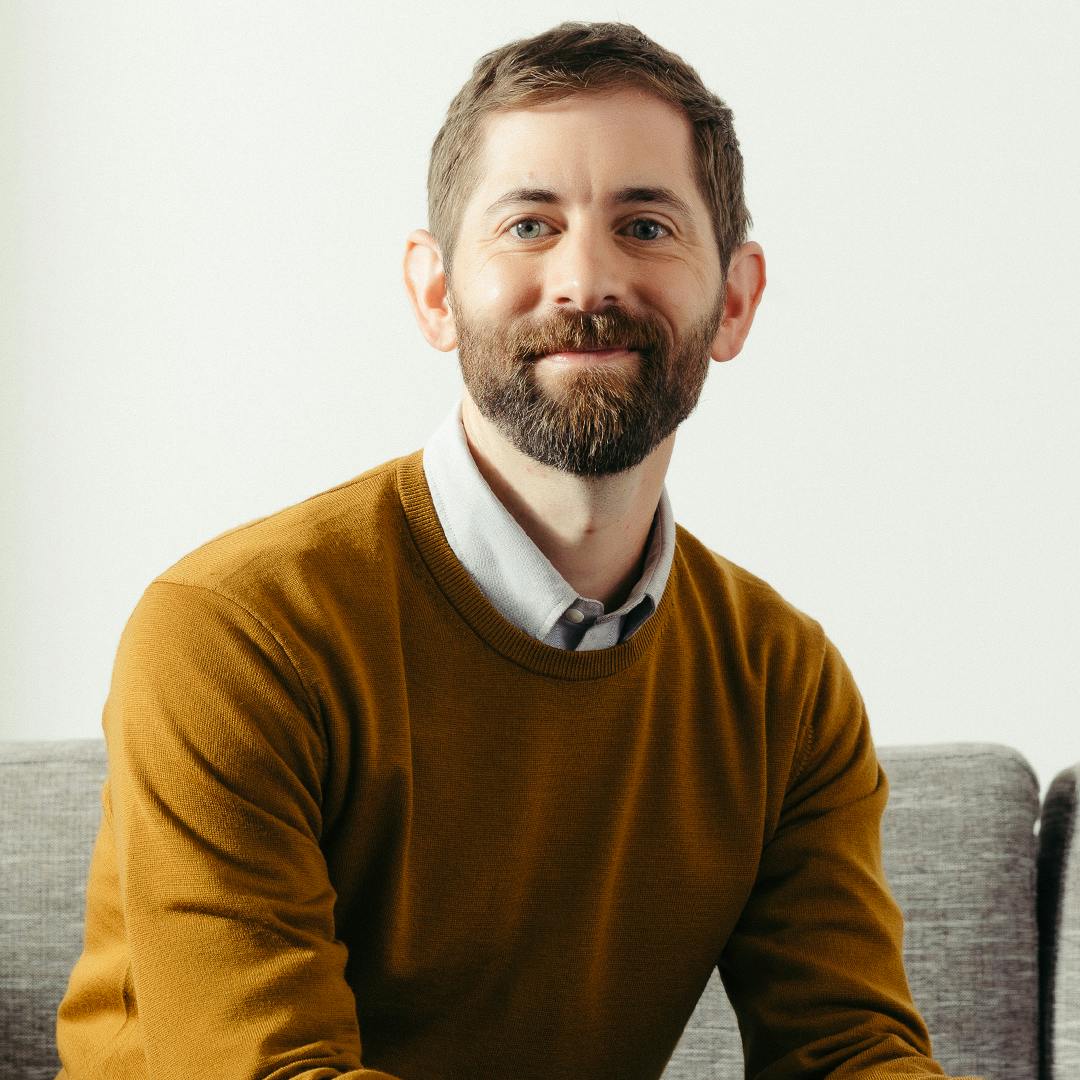 Dan Widmaier
Co-Founder & CEO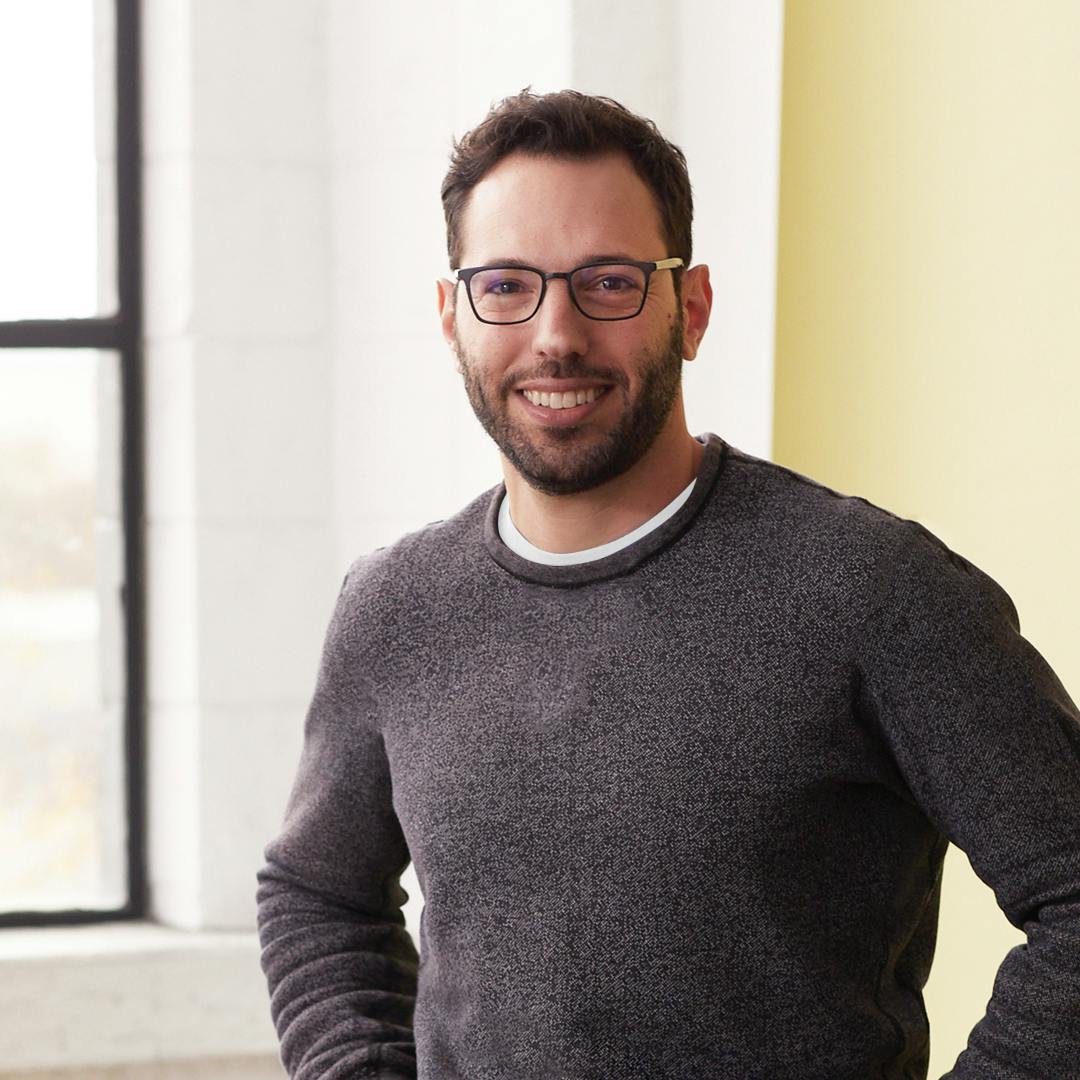 David Breslauer
Co-Founder & CTO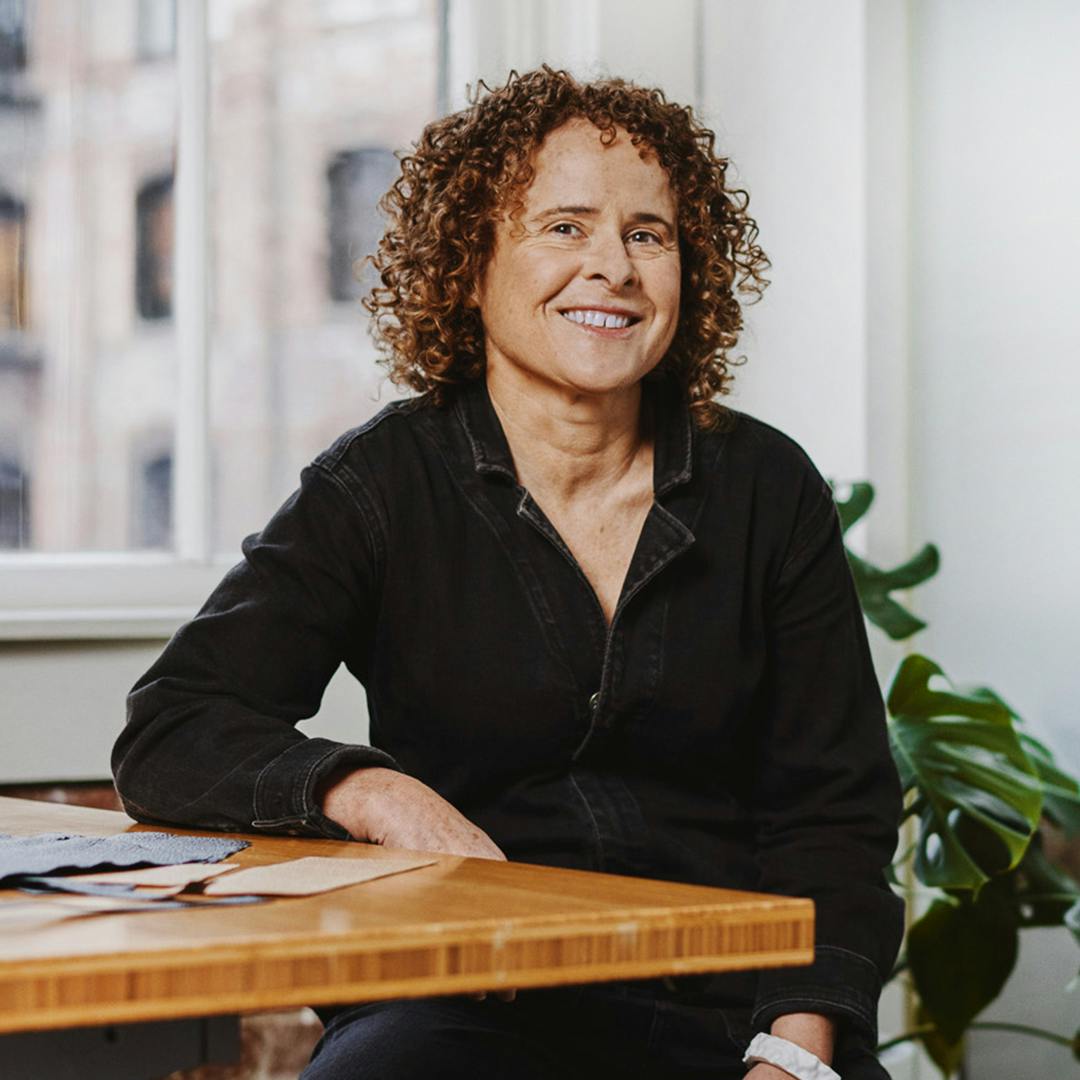 Sue Levin
CMO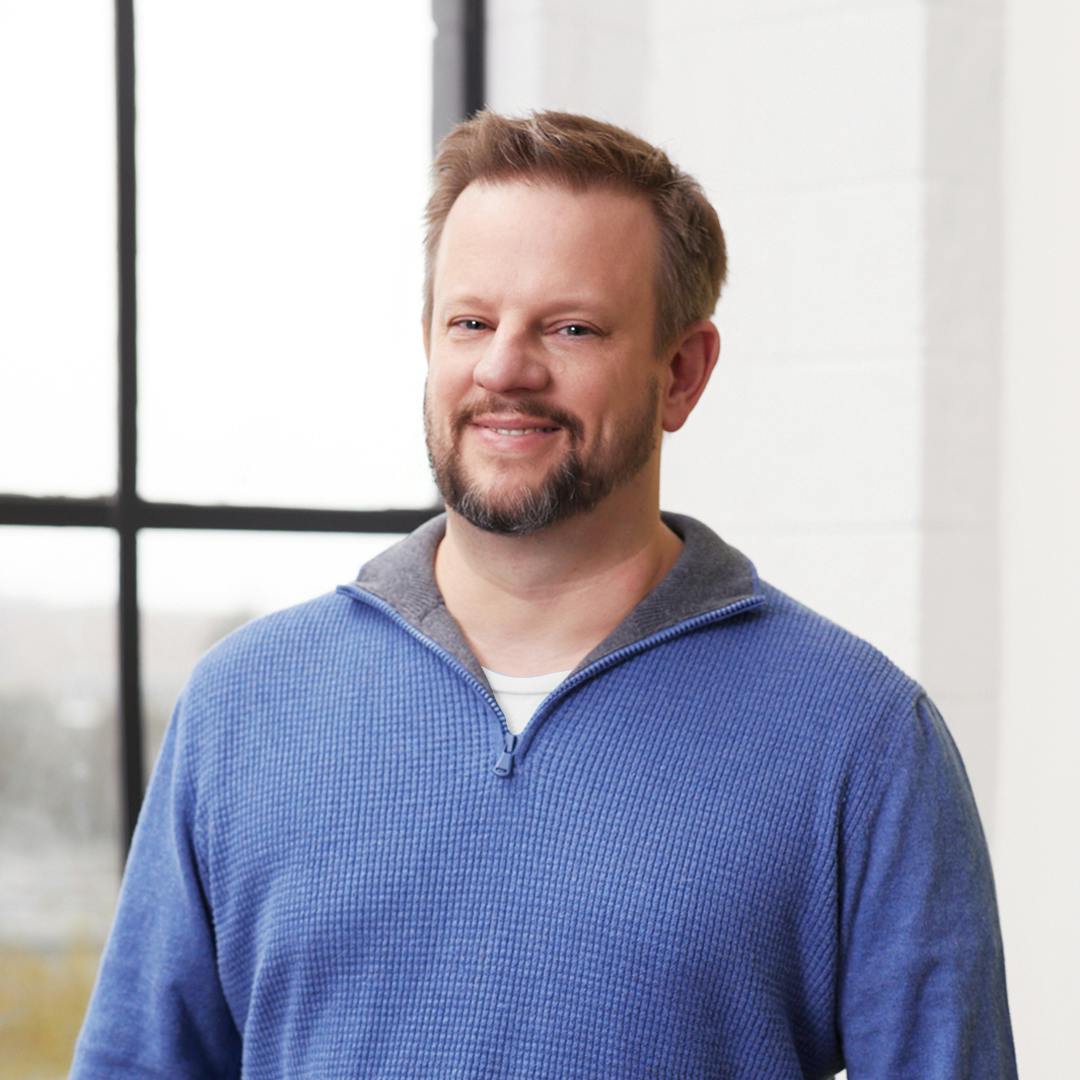 Randy Befumo
CFO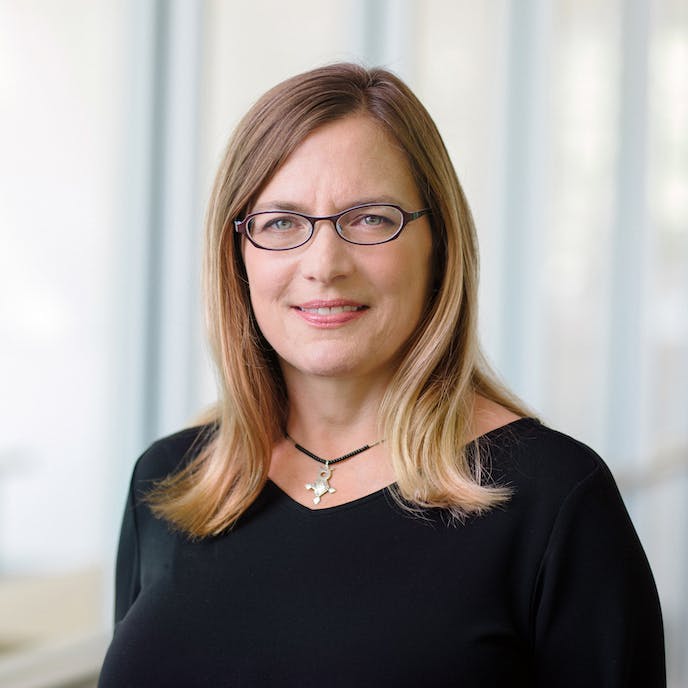 Deanna Chechile
General Counsel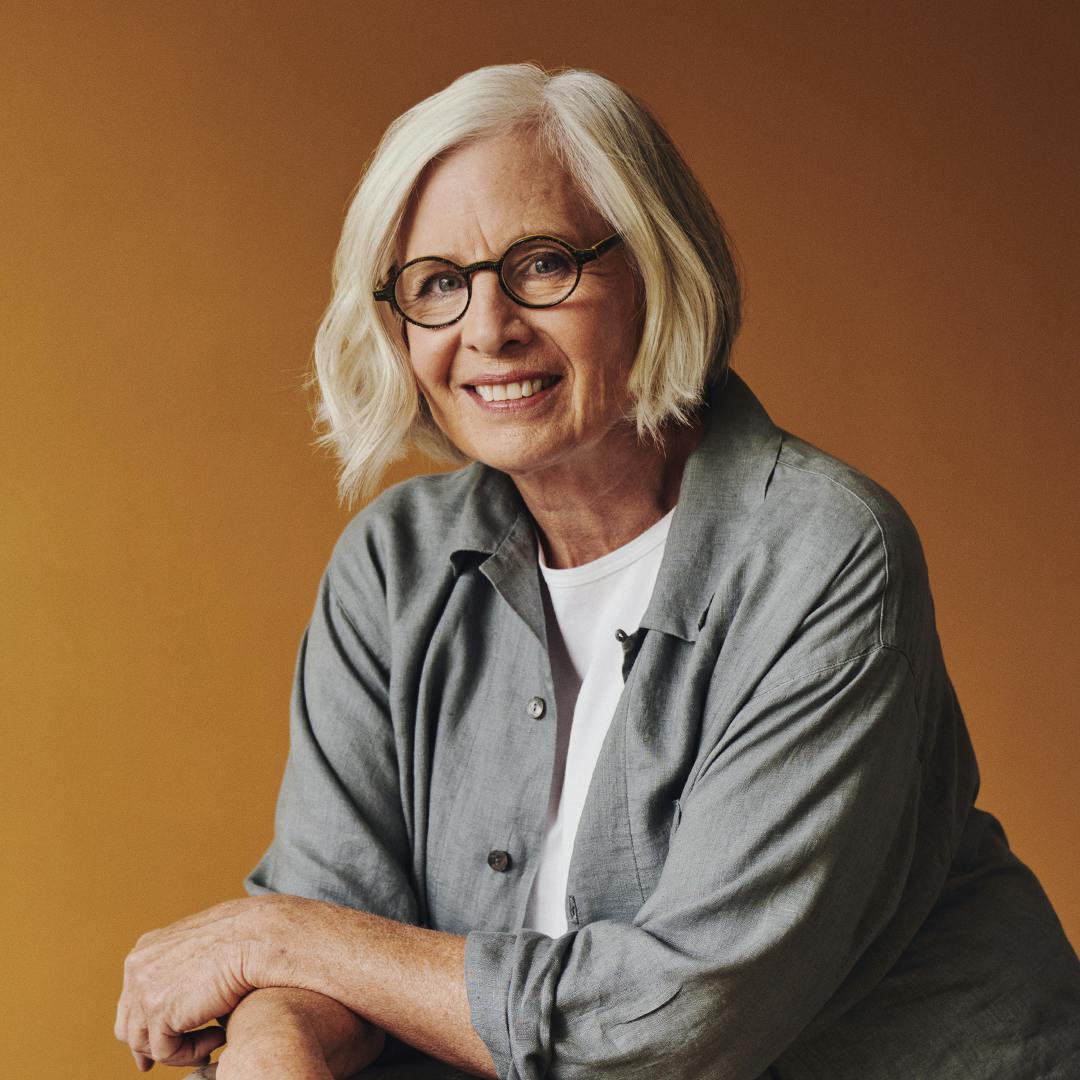 Jamie Bainbridge
VP of Product Development
Gen Z and millennials are, crucially, becoming the largest consumer base in the global economy—their spending power is now over $143B.
Fundraising
Disclaimers
This report is for information purposes only and is not to be used or considered as an offer or the solicitation of an offer to sell or to buy or subscribe for securities or other financial instruments. Nothing in this report constitutes investment, legal, accounting or tax advice or a representation that any investment or strategy is suitable or appropriate to your individual circumstances or otherwise constitutes a personal trade recommendation to you.
Information and opinions presented in the sections of the report were obtained or derived from sources Sacra believes are reliable, but Sacra makes no representation as to their accuracy or completeness. Past performance should not be taken as an indication or guarantee of future performance, and no representation or warranty, express or implied, is made regarding future performance. Information, opinions and estimates contained in this report reflect a determination at its original date of publication by Sacra and are subject to change without notice.
Sacra accepts no liability for loss arising from the use of the material presented in this report, except that this exclusion of liability does not apply to the extent that liability arises under specific statutes or regulations applicable to Sacra. Sacra may have issued, and may in the future issue, other reports that are inconsistent with, and reach different conclusions from, the information presented in this report. Those reports reflect different assumptions, views and analytical methods of the analysts who prepared them and Sacra is under no obligation to ensure that such other reports are brought to the attention of any recipient of this report.
All rights reserved. All material presented in this report, unless specifically indicated otherwise is under copyright to Sacra. Sacra reserves any and all intellectual property rights in the report. All trademarks, service marks and logos used in this report are trademarks or service marks or registered trademarks or service marks of Sacra. Any modification, copying, displaying, distributing, transmitting, publishing, licensing, creating derivative works from, or selling any report is strictly prohibited. None of the material, nor its content, nor any copy of it, may be altered in any way, transmitted to, copied or distributed to any other party, without the prior express written permission of Sacra. Any unauthorized duplication, redistribution or disclosure of this report will result in prosecution.